Are you a cupcake fan? I am! I love cake, but never want a whole cake, so cupcakes are my jam. Stuffed Cookie Dough Cupcakes combine my two favorite desserts: cake and edible cookie dough. Yum!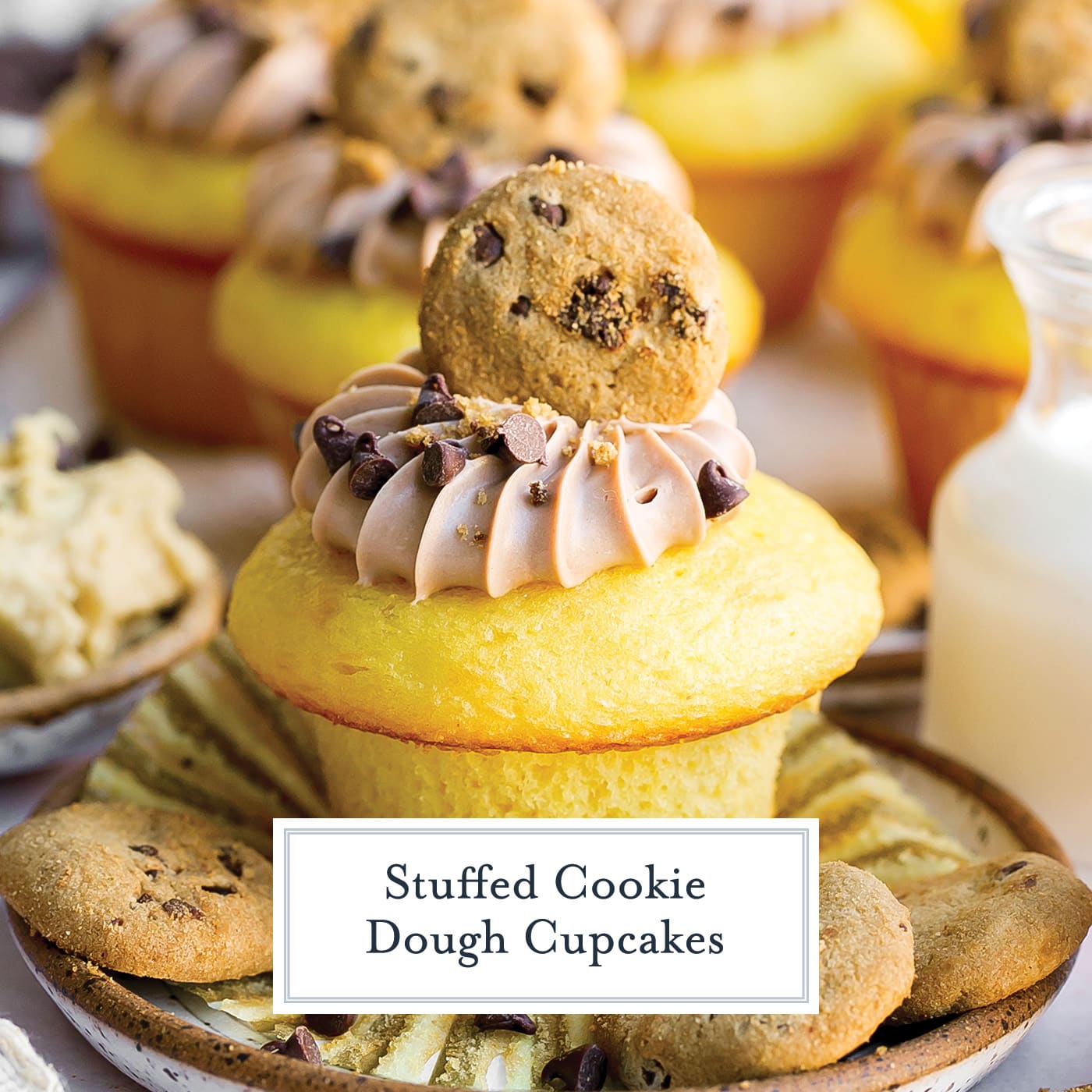 Just when I make a recipe that I think it over the top, that only I could be craving, it goes viral. Such is the case for my Edible Chocolate Chip Cookie Dough, closely followed by Eggless Single Serve Peanut Butter Cookie Dough.
I don't care what you say about me, I like raw cookie dough. I know I shouldn't. And I know some folks think it is gross, but I like it and I won't make any excuses about it.
Turns out there is also a market for Cookie Dough Cupcakes! I mean, why not? A tender crumb filled with creamy chocolate chip cookie dough and then topped with fluffy chocolate frosting. The best cupcakes you will ever taste!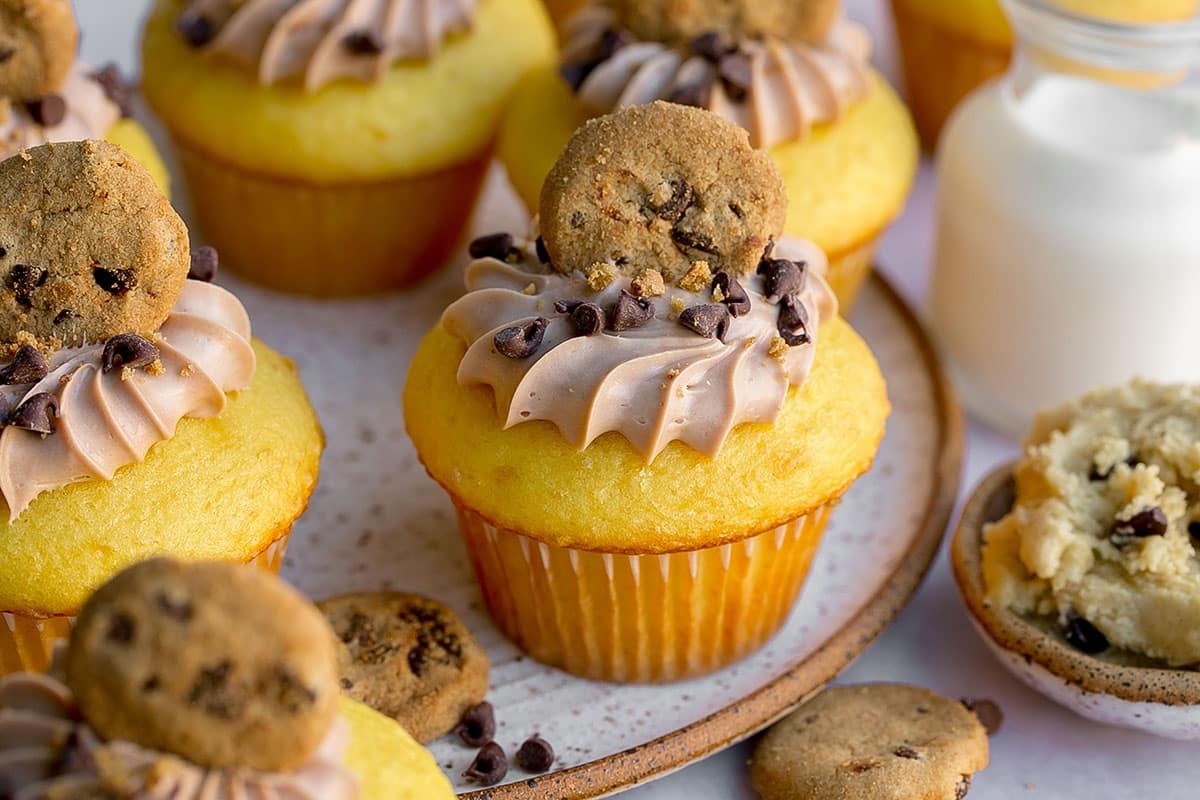 Chocolate Chip Cookie Dough Cupcakes are relatively simple to make, despite being a 3 part process: bake, scoop and frost. Ideal for sugar loving kiddos and indulgent book clubs, everyone is sure to love moist cake with creamy chocolate chip cookie dough.
I just use a boxed cake mix. You can use vanilla, chocolate or even funfetti. It is really your choice. I prefer plain old vanilla so I can really taste the edible cookie dough. You can also use a homemade cake recipe if you prefer.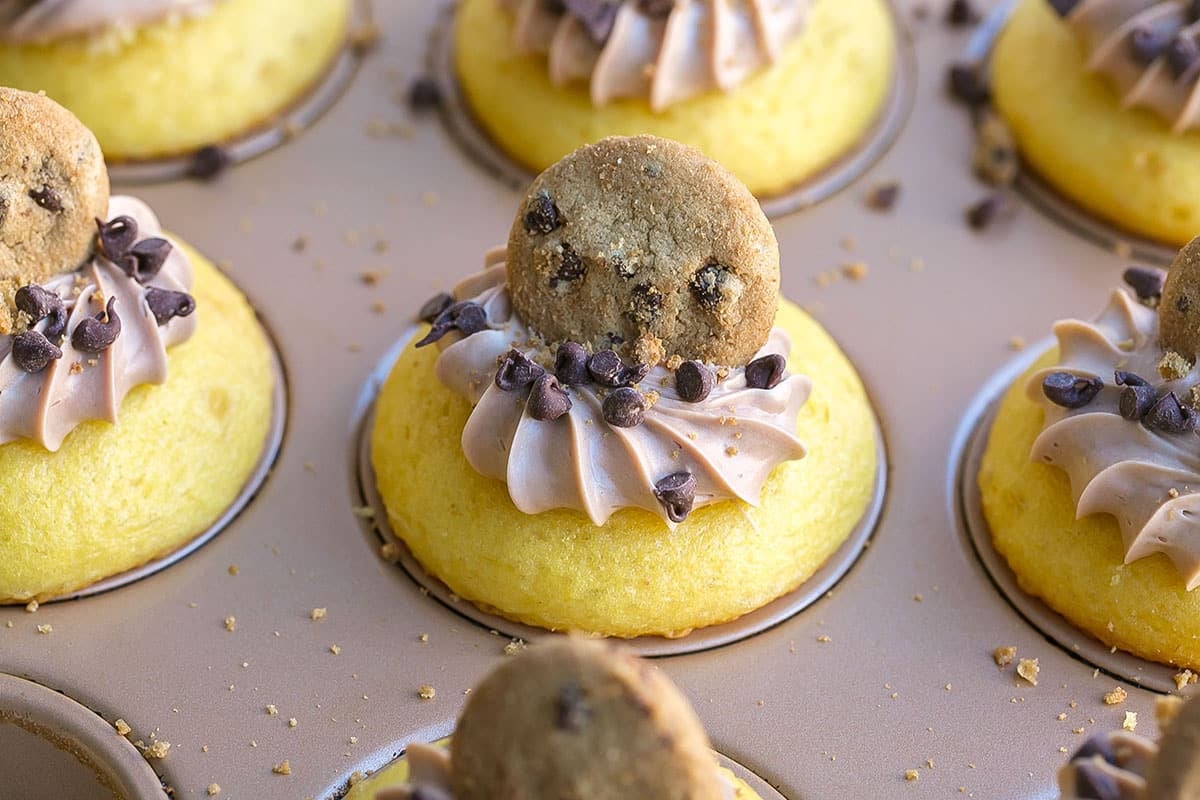 Heat-Treated Flour
Uncooked flour has a small chance of containing some yucky things, so to prevent this, pasteurize it at home. Microwaving is the quickest way. Place raw flour into the microwave (flour alone, not the dough) and heat on high for 20- 45 seconds. Please be mindful that all microwaves are different. Watch the flour closely so it doesn't burn.
The oven is another good option, simply place it in a thin layer on a baking sheet at 350°F for 5ish minutes. Just make sure it doesn't burn. This should be plenty to kill off any harmful bacteria.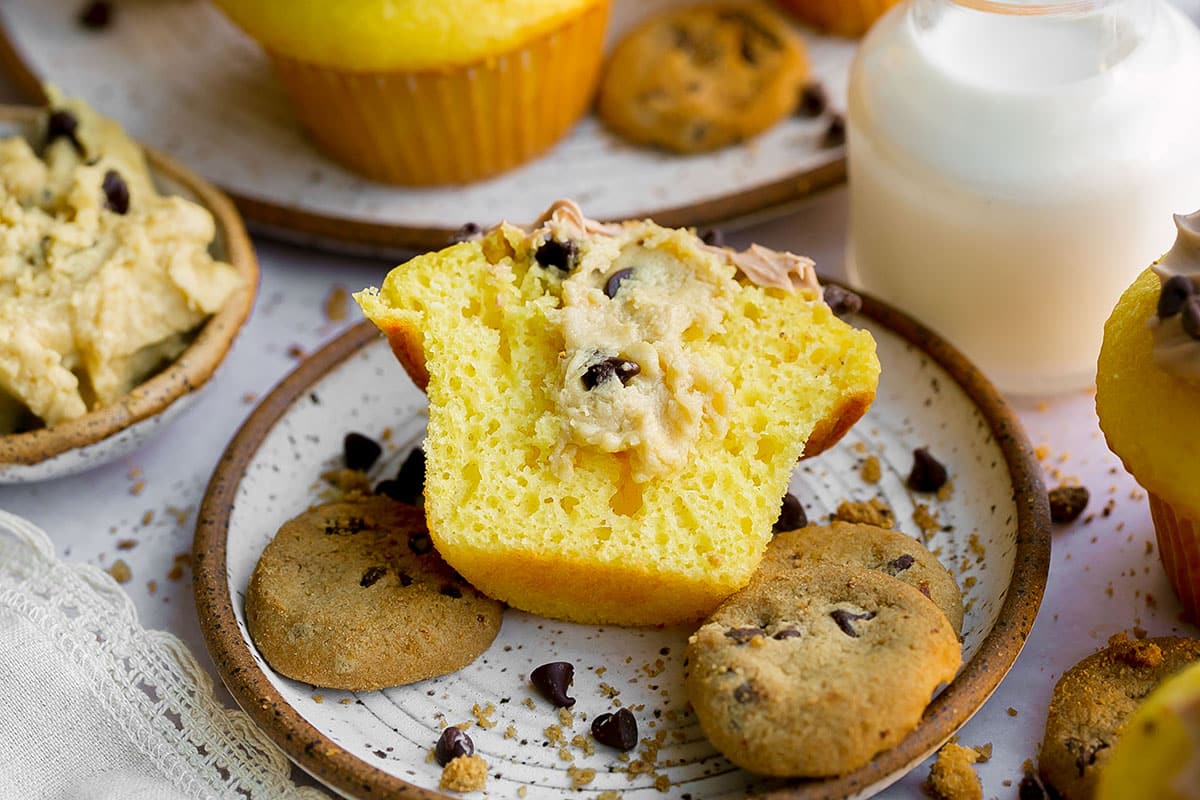 Stuffed Cookie Dough Cupcakes Ingredients
Besides what you need to make the cookie dough itself, the ingredient list for these cupcakes is really quite short.
Baked cupcakes – The best part about this recipe is that you can really change it up to your liking. I prefer to use a yellow box cake mix to make these cupcakes, but you can certainly use pre-made cupcakes. If you ask the bakery at your local grocery store, they should be able to give you unfrosted ones.
Chocolate chip cookie dough – One of my most popular recipes on the site is my edible cookie dough. It doesn't have raw eggs, and the raw flour is heat treated, so it's perfectly safe to eat.
Chocolate frosting – I feel that the combination of chocolate frosting with yellow cake really adds to the cookie dough flavor of these cupcakes.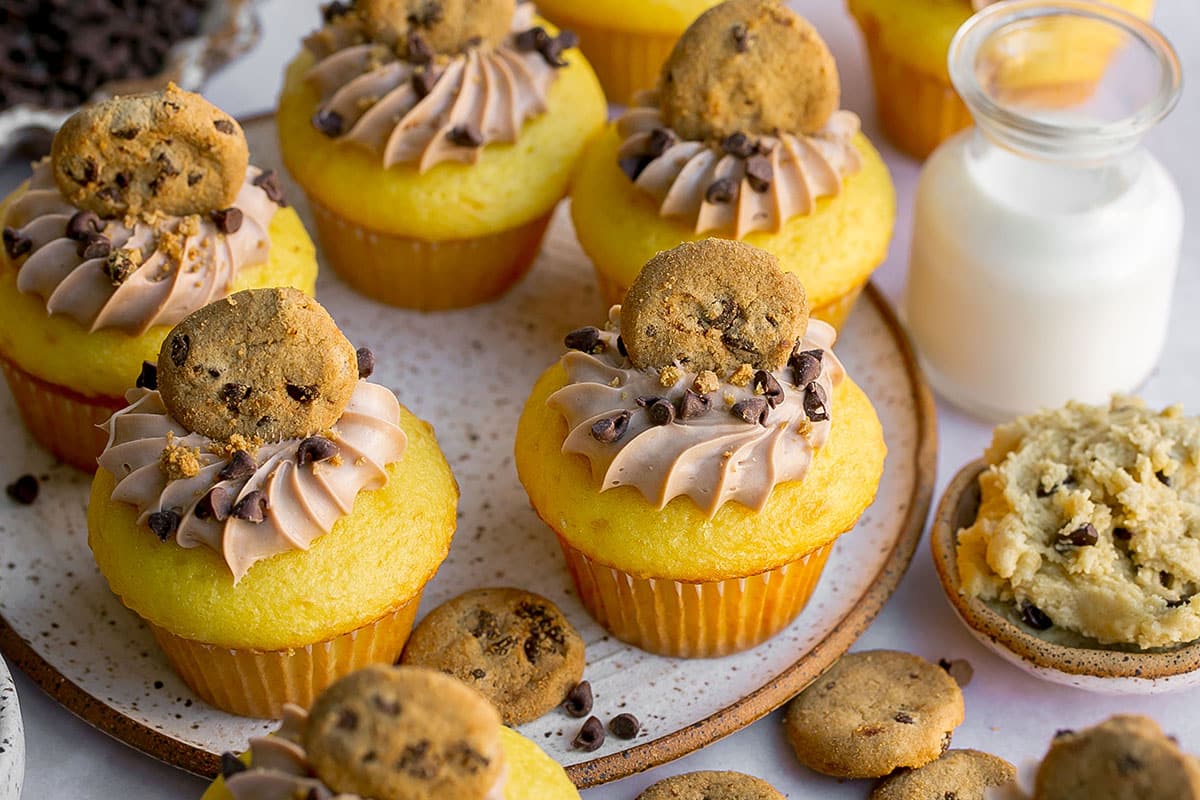 How to Make Edible Chocolate Chip Cookie Dough
For full instructions and measurements, you can find the recipe here. But this is the gist of it.
In a large bowl, cream together white sugar, brown sugar and softened butter.
Add milk/water and vanilla extract.
Mix in salt and all purpose flour with a spatula.
Lastly, add chocolate chips or other desired add-ins.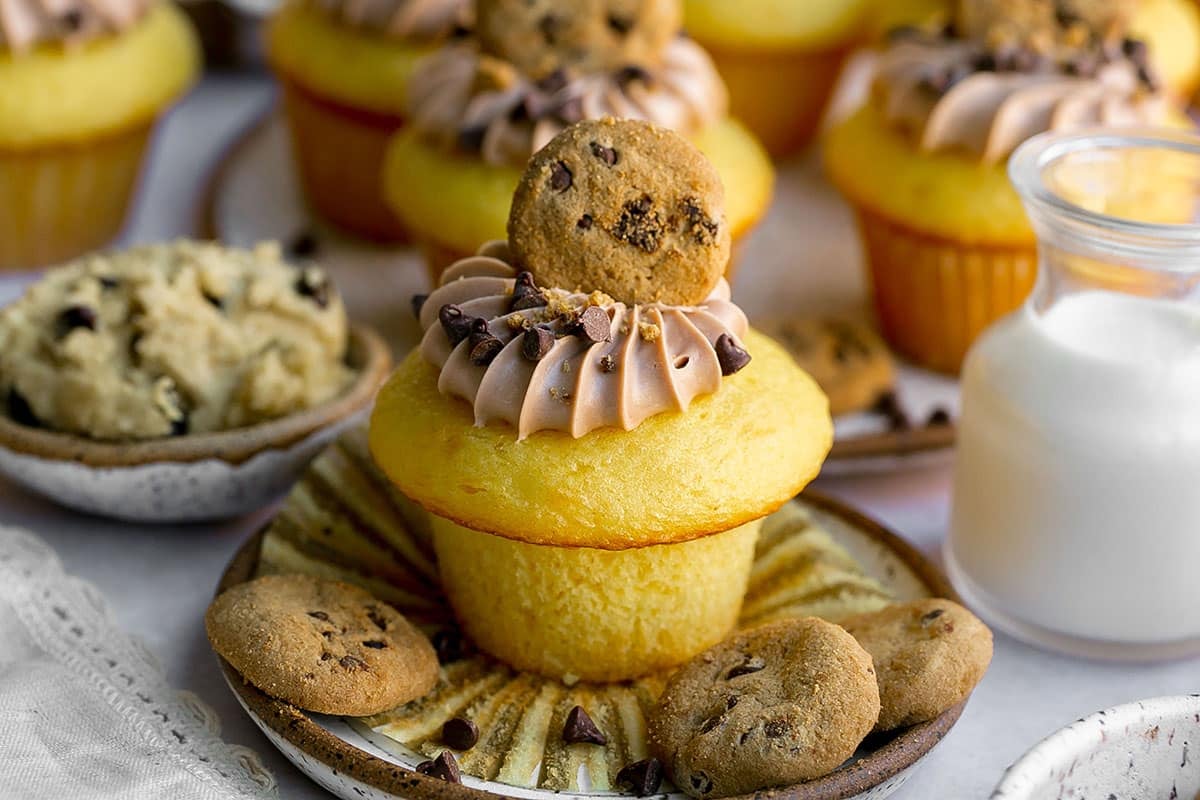 How to Make Stuffed Cookie Dough Cupcakes
Being that you only need three ingredients to make these cupcakes, you are going to love how easy they are.
Hollow out cupcake. Using a paring knife or cupcake corer, cut out a circular space in the center of each cupcake.
Add cookie dough. Spoon 1/2 tablespoon of cookie dough into each cupcake.
Top with frosting. Frost with chocolate frosting. I like to do this with a piping bag, but you can do it however you'd like.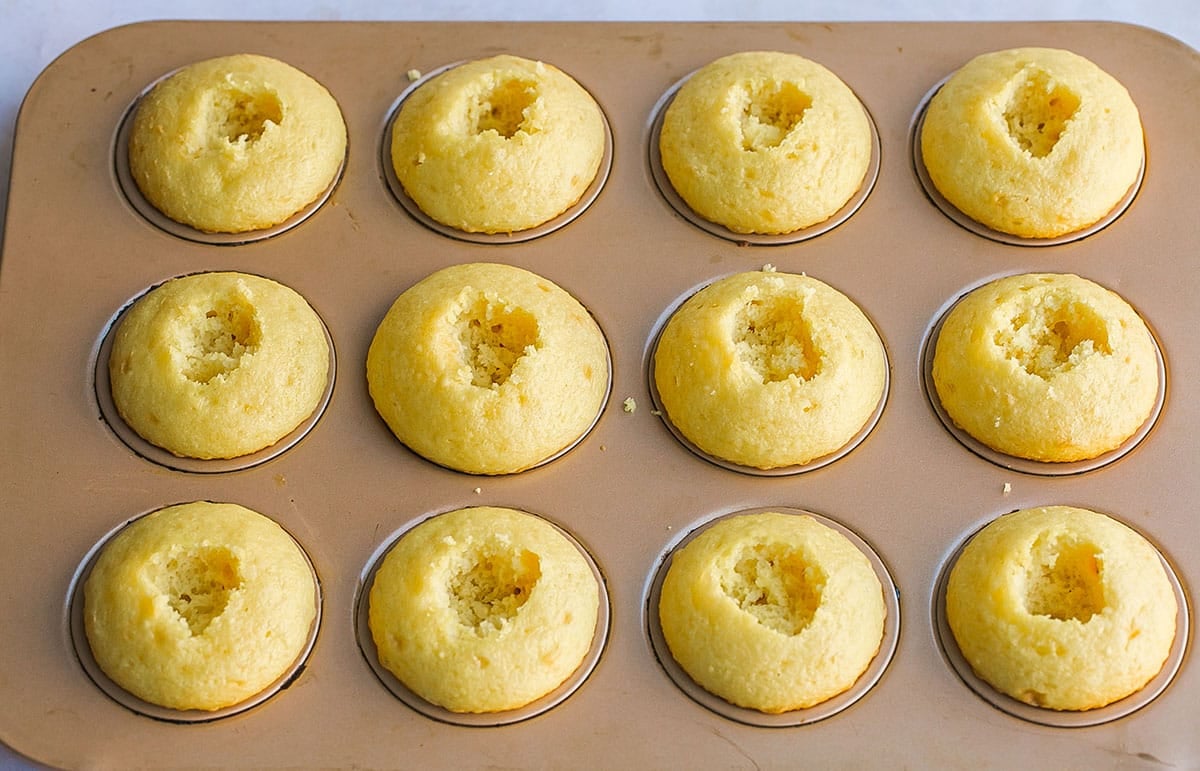 Stuffed Cookie Dough Cupcakes Variations
There are plenty of ways you can make this cookie dough cupcakes recipe your own. Here are a few of our suggestions.
Different cookie dough recipes – Try using peanut butter cookie dough, sugar cookie dough, cherry chocolate chip cookie dough or any other flavor you can think of.
Cupcake flavor – Instead of ordinary vanilla cupcakes, try a chocolate cupcake or even a chocolate chip cupcake to take things up a notch.
Frosting – You don't have to stick with chocolate! A chocolate chip cookie dough buttercream, vanilla buttercream or brown sugar buttercream would all taste delicious too.
Decoration – Besides the frosting, you could top these cupcakes with chocolate chips or chocolate sprinkles. You could even put mini chocolate chip cookies on top of each cupcake. You could also pick up fun and festive cupcake liners to make them colorful.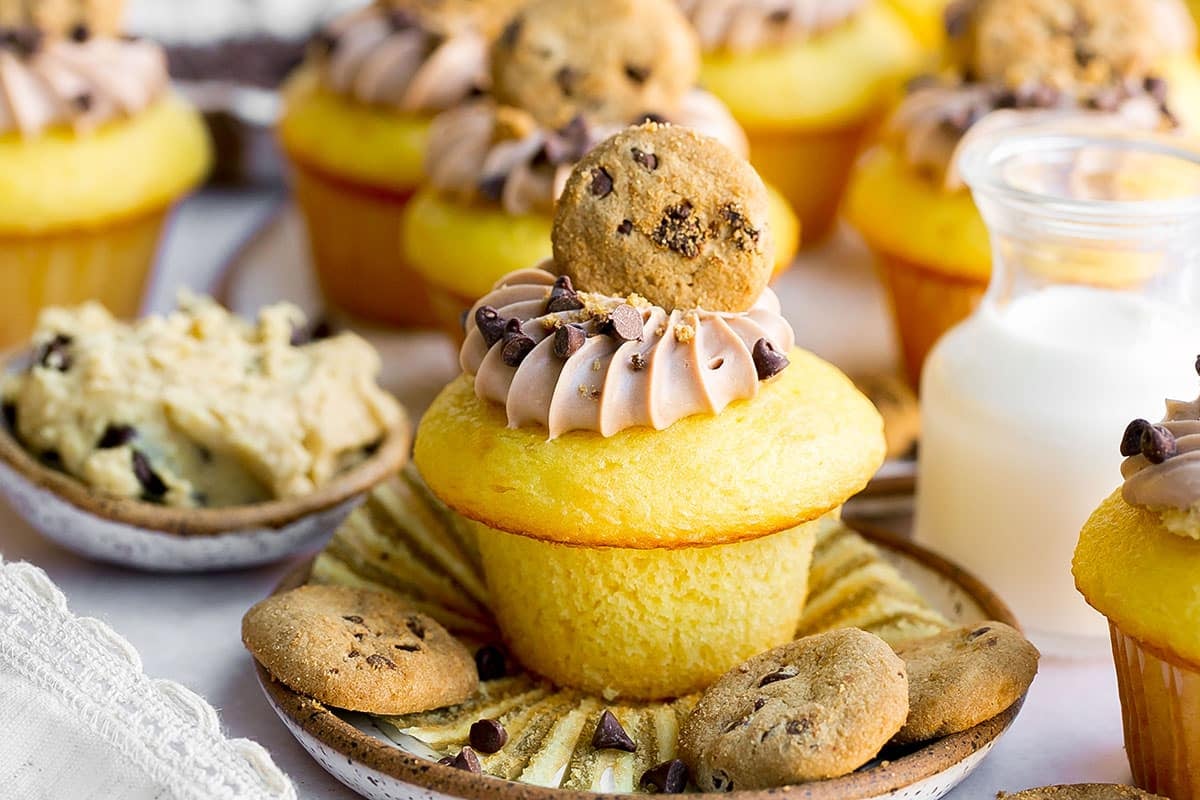 Storage and Freezing
Storage: Because there is no egg in the cookie dough, these cupcakes can be stored at room temperature in an airtight container. They will stay moist for about two to three days.
Freezing: I do not recommend freezing these cupcakes. You can, however, freeze the unfrosted cupcakes before they are stuffed and frosted. They will last about 3 months.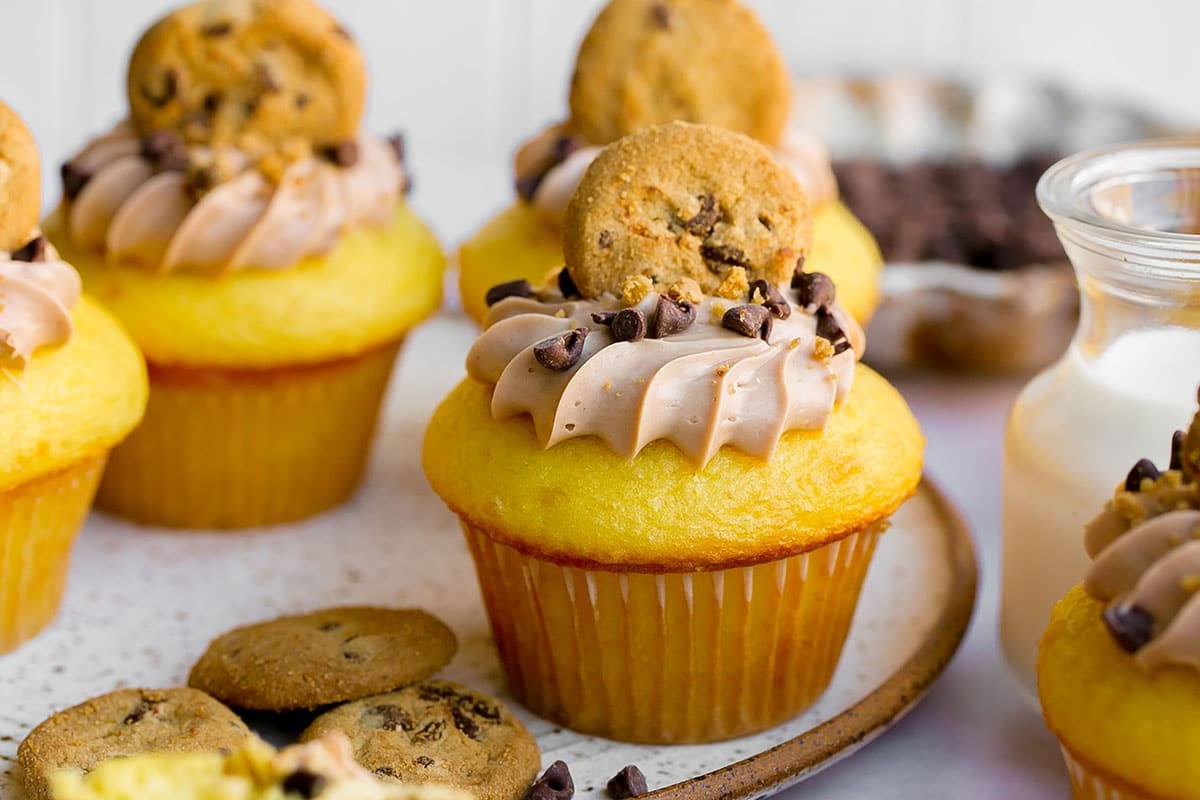 Tips for the Best Cupcakes
If you like a moist cupcake like I do, check out these tips to ensure they come out perfect every time.
Do not overmix the batter. The most commonly made mistake in making a cake is overworking the batter. This is actually made easier when you are using a stand electric mixer because we overestimate how long the batter has been beaten. Pay attention!
Sift the dry ingredients. Even if you are using a boxed cake mix, sift the cake mix to get out any clumps. This will make it blend better, but also make it less likely that you will over mix.
Eggs. Eggs make a cake moist and yolks make them even more moist. Try adding one or two extra yolks to your favorite cake recipe and watch the crumb get even crumblier. Yes, I made that word up!
Don't over bake your cake! This might seem like it is super apparent, but many folks wait too long before taking the cake out of the oven and presto, dry cake. Whomp, whomp.
Measure your flour. You might think you measure your flour, but are you doing it correct? Scoop flour into the measuring cup and level it off with a flat spatula or butter knife. Don't pack it down, just let is sit how it did when you scooped it. Additional flour makes cake dry and even have a slight heap on your measuring cup could be the culprit.
Never overfill the cupcake pan. Muffin tins should be just a little over half full unless the recipe specifies otherwise.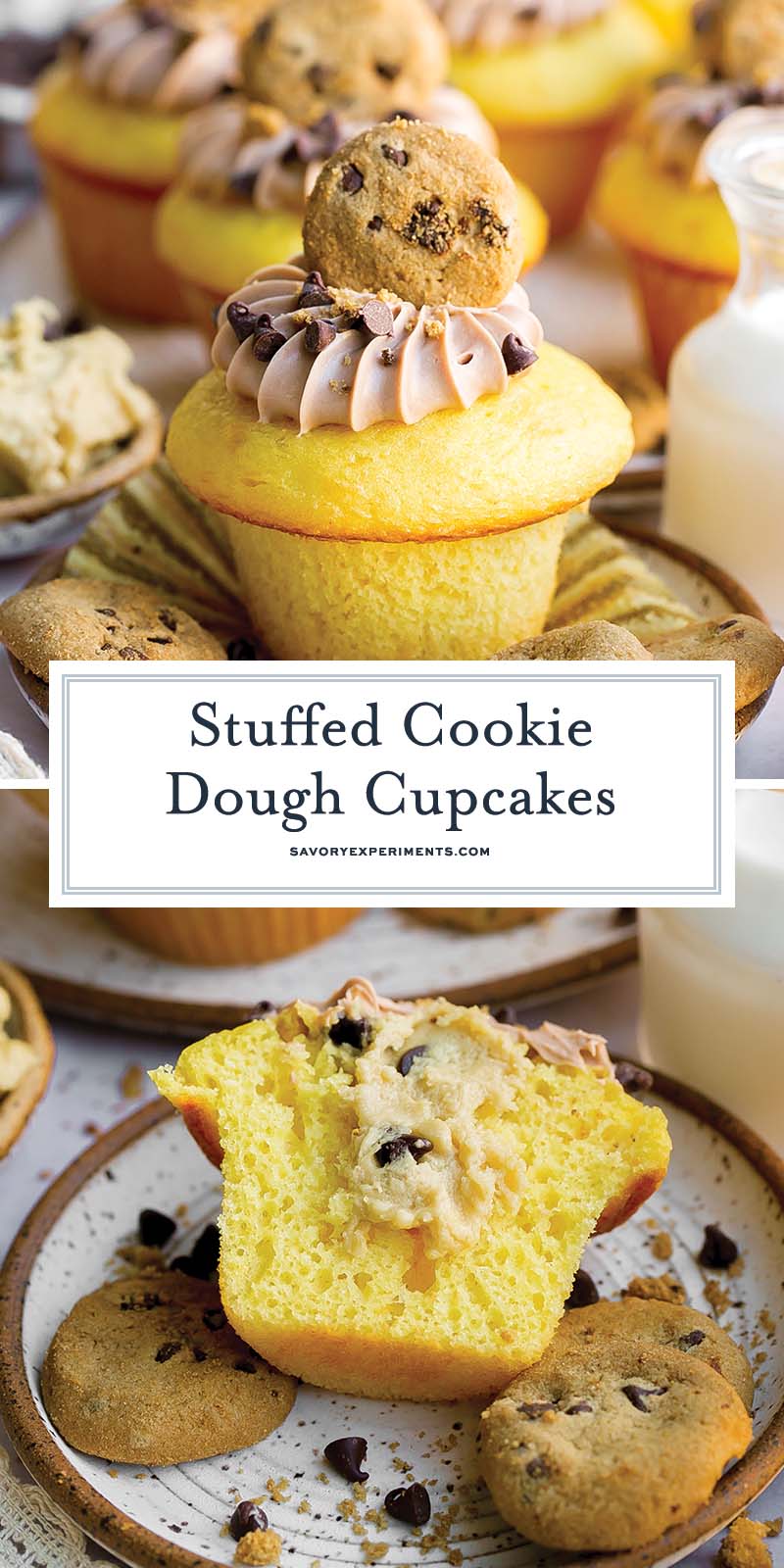 More Cupcake Recipes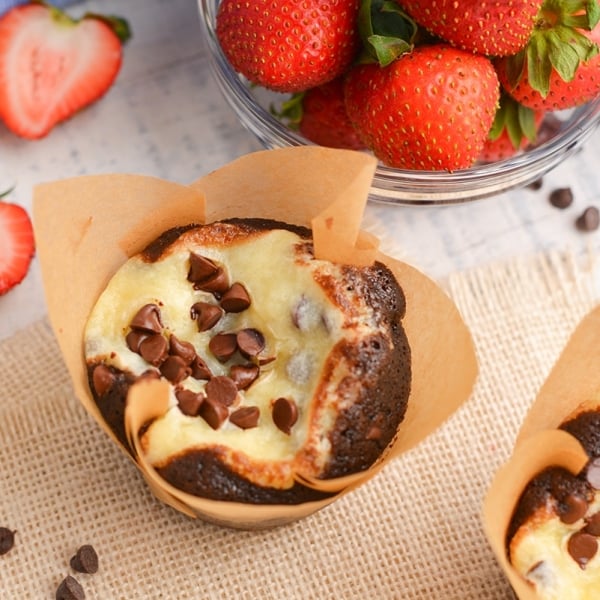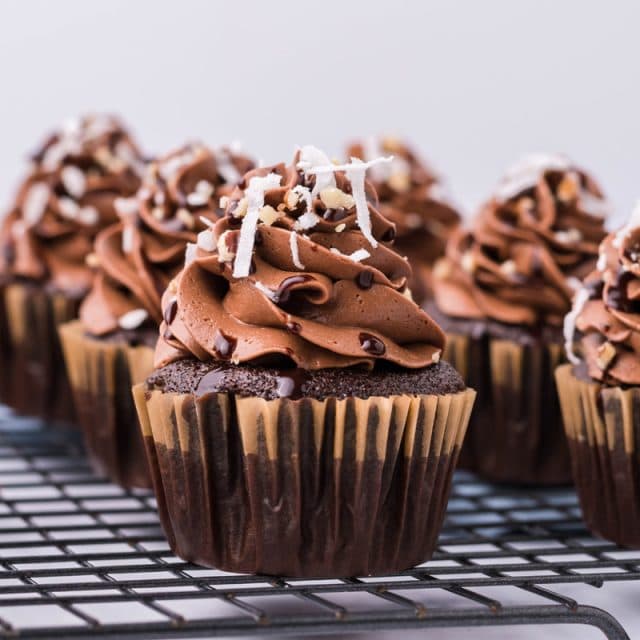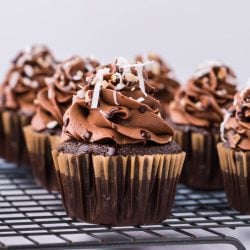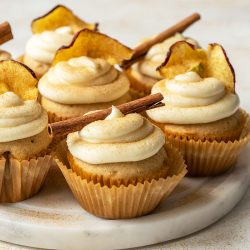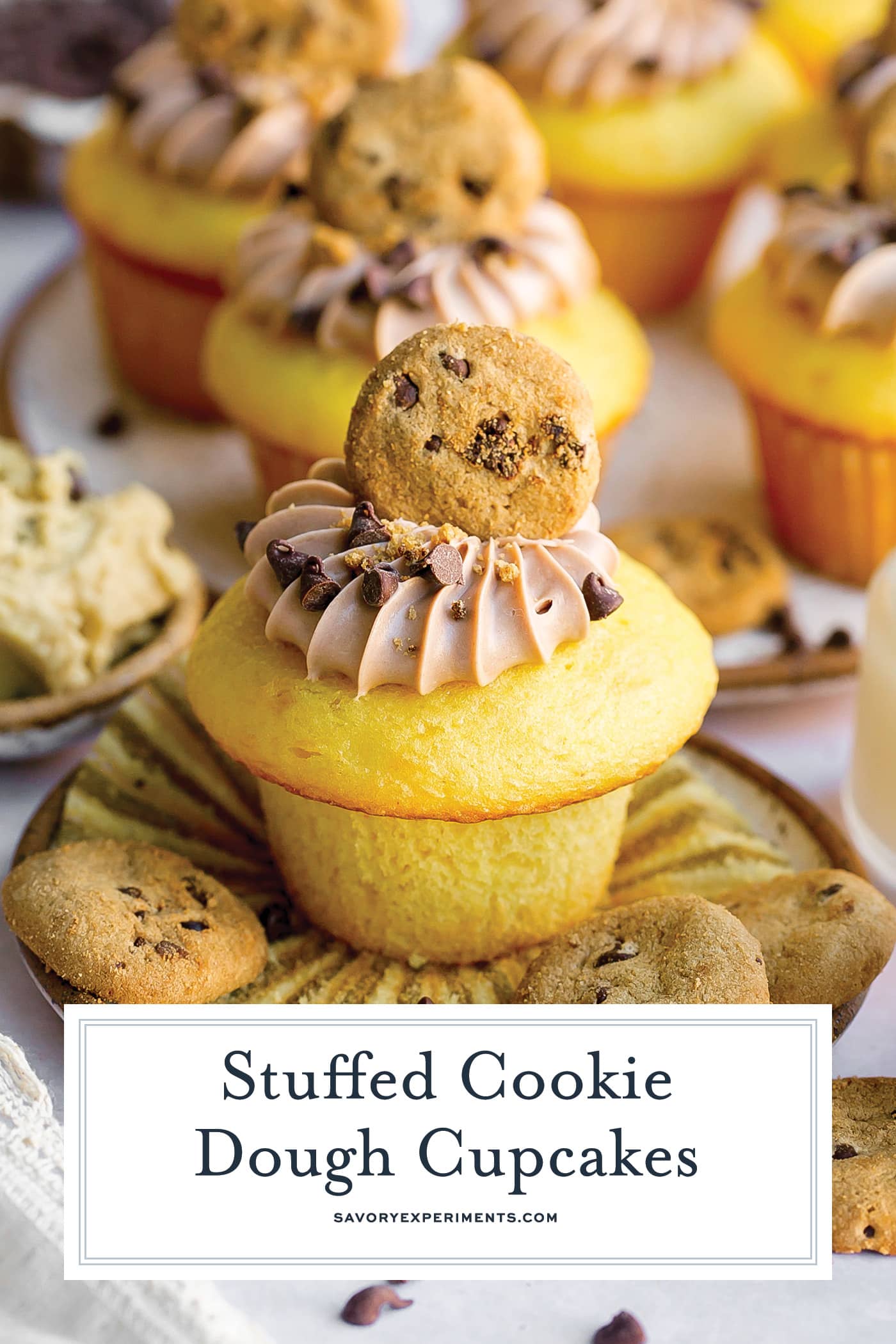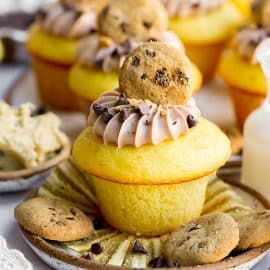 Cookie Dough Stuffed Cupcakes
Cookie Dough Stuffed Cupcakes are vanilla cupcakes stuffed with edible cookie dough and topped with whipped chocolate frosting. You won't beleive how easy these are to make!
Ingredients
12

cupcakes

baked and cooled
Instructions
Using a paring knife and spoon, cut out a 1 1/2 inch, circular space in the center of each cooked and cooled cupcake.

Spoon 1/2 tablespoons of cookie dough into each cupcake.

Frost cupcakes with the chocolate frosting.

If you've tried this recipe, come back and let us know how it was in the comments or star ratings.
Notes
Use your favorite homemade cupcake recipe or make it out of a box!
Nutrition
Calories:
153
kcal
,
Carbohydrates:
24
g
,
Protein:
2
g
,
Fat:
5
g
,
Saturated Fat:
1
g
,
Sodium:
140
mg
,
Potassium:
40
mg
,
Sugar:
15
g
,
Vitamin A:
20
IU
,
Vitamin C:
0.1
mg
,
Calcium:
56
mg
,
Iron:
0.6
mg