Are you a cupcake fan? I am! I love cake, but never want a whole cake, so cupcakes are my jam. Cookie Dough Cupcakes combine my two favorite desserts: cake and edible cookie dough. Yum!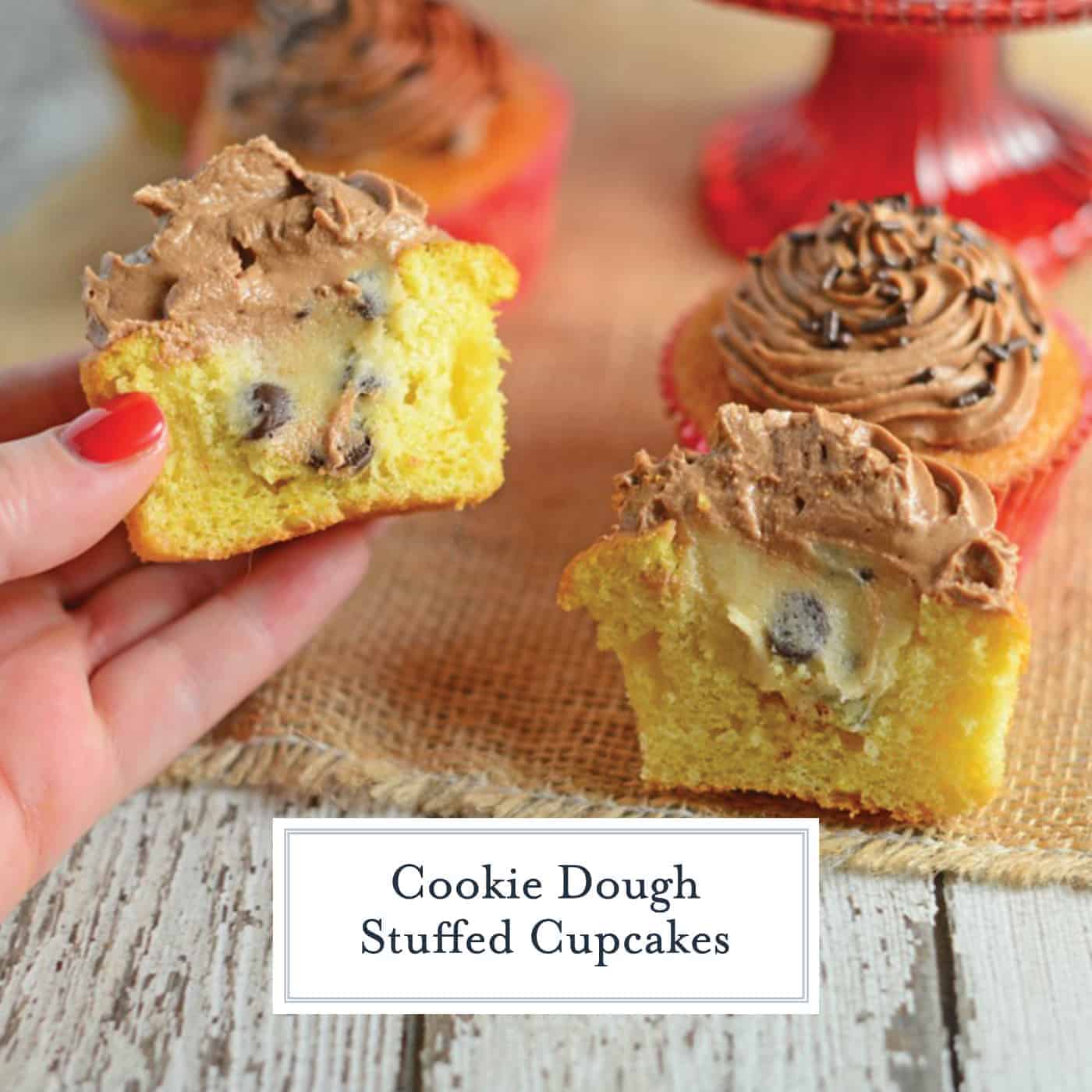 Cookie Dough Cupcakes are vanilla cupcakes stuffed with edible cookie dough and topped with whipped chocolate frosting. The best of cookie dough cake in single serving cupcakes.
Just when I make a recipe that I think it over the top, that only I could be craving, it goes viral. Such is the case for my Edible Chocolate Chip Cookie Dough, closely followed by Eggless Single Serve Peanut Butter Cookie Dough.
I don't care what you say about me, I like raw cookie dough. I know I shouldn't. I know some folks think it is gross, but I like it and I won't make any excuses about it.
And I know I'm not alone based on the amount of traffic that post gets. LOL. You can come out of the cookie dough closet! people get no flack for eating cookie dough ice cream, cookie dough cake or even the edible cookie dough stores that are popping up all over the country.
Turns out there is also a market for Cookie Dough Cupcakes! I mean, why not? A tender crumb filled with creamy chocolate chip cookie dough and then topped with fluffy chocolate frosting. The best cupcakes you will ever taste!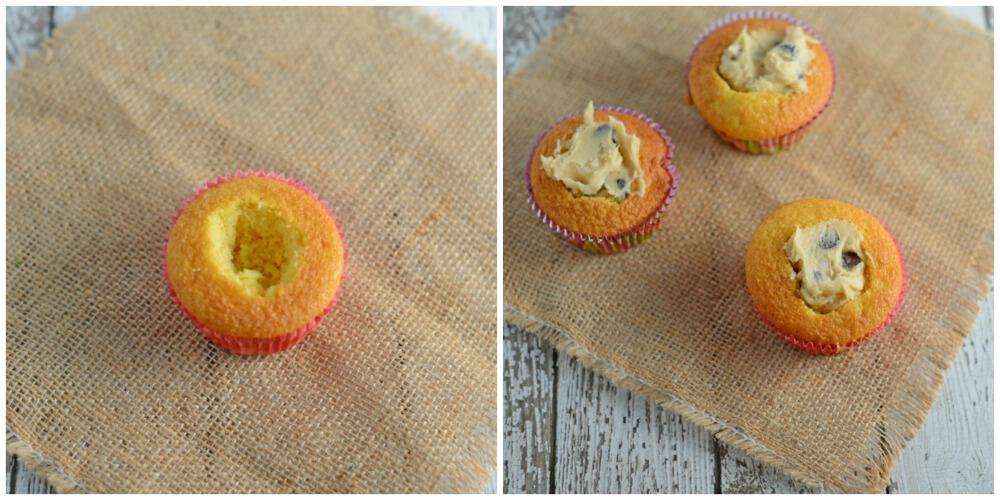 Chocolate Chip Cookie Dough Cupcakes are relatively simple to make, despite being a 3 part process: bake, scoop and frost. Ideal for sugar loving kiddos and indulgent book clubs, everyone is sure to love moist cake with creamy chocolate chip cookie dough.
I just use a boxed cake mix. You can use vanilla, chocolate or even funfetti. It is really your choice. I prefer plain old vanilla so I can really taste the edible cookie dough. You can also use a homemade cake recipe if you prefer.
Did you know that box cake mixes are actually moister than most from-scratch cakes? I know you don't want to hear it, but they are. The reasoning being they are oil based, which makes a moister cake than butter, even if it is melted.
A few tips for making the moistest cupcakes ever, boxed or homemade!
ONE. Do not overmix the batter. The most commonly made mistake in making a cake is overworking the batter. This is actually made easier when you are using a stand mixer because we overestimate how long the batter has been beaten. Pay attention!
TWO. Sift the dry ingredients. Even if you are using a boxed cake mix, sift the cake mix to get out any clumps. This will make it blend better, but also make it less likely that you will over mix.
THREE. Eggs. Eggs make a cake moist and yolks make them even more moist. Try adding one or two extra yolks to your favorite cake recipe and watch the crumb get even crumblier. Yes, I made that word up!
FOUR. Don't over bake your cake! This might seem like it is super apparent, but many folks wait too long before taking the cake out of the oven and presto, dry cake. Whomp, whomp.
FIVE. Measure your flour. You might think you measure your flour, but are you doing it correct? Scoop flour into the measuring cup and level it off with a flat spatula or butter knife.
Don't pack it down, just let is sit how it did when you scooped it. Additional flour makes cake dry and even have a slight heap on your measuring cup could be the culprit.
SIX. Never overfill the cupcake tins. They should be just a little over half full unless the recipe specifies otherwise.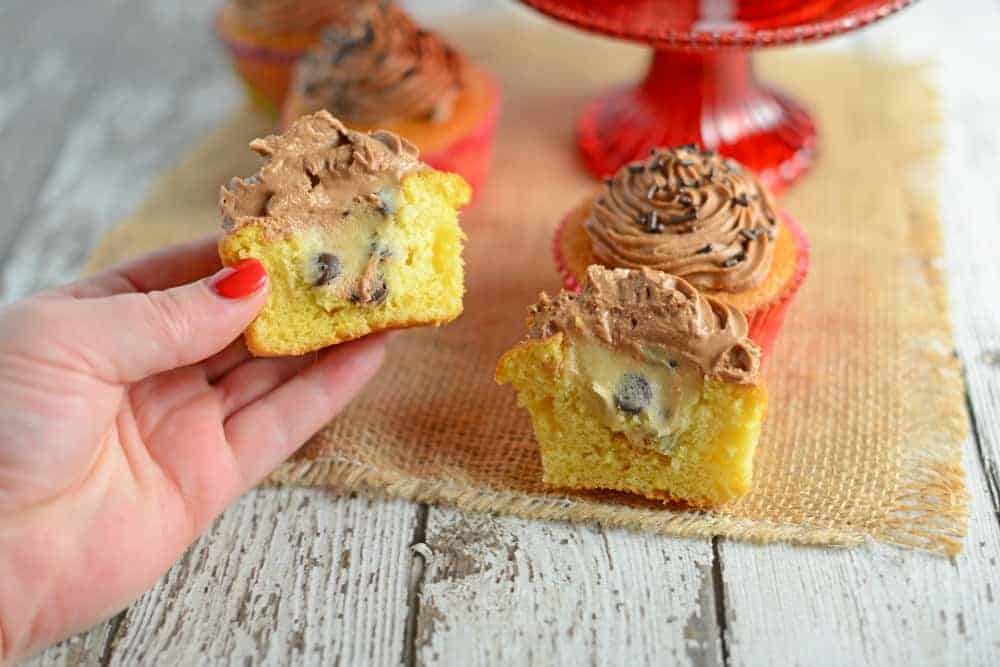 While you are more than welcome to buy a tub of frosting, I highly recommend making your own. You just can't beat homemade chocolate frosting.
I found that also using a cookie dough frosting was a little too much for my taste. And that is really saying something!

If you like this stuffed cupcake recipe, check these out:
Black Bottom Cupcake Recipe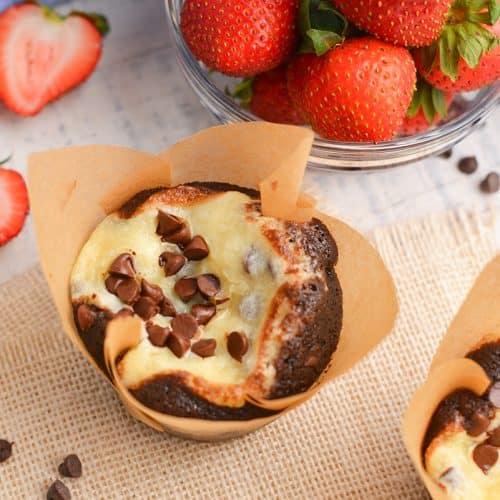 Black bottom cupcakes are a delicious combination of chocolate cupcake bottom, vanilla cream cheese filling and mini chocolate chips.
Stuffed German Chocolate Cupcakes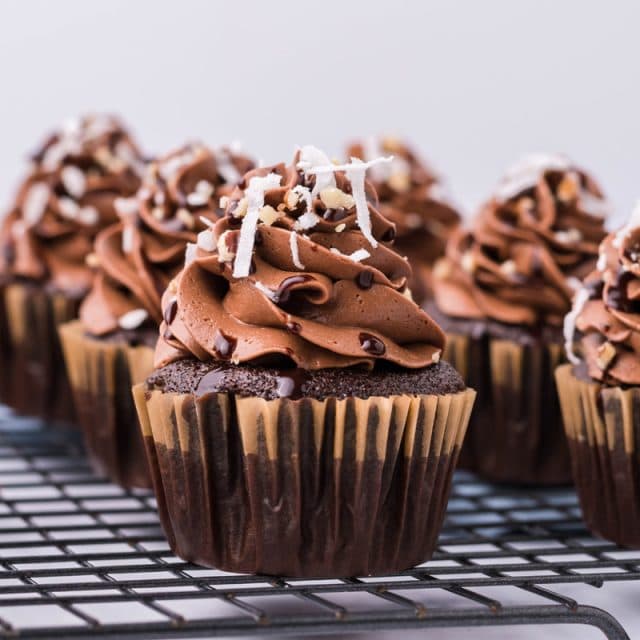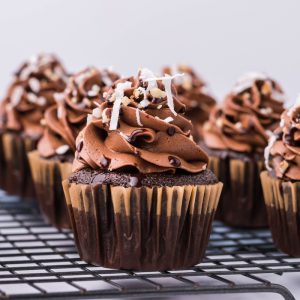 Decadent chocolate cupcakes with a coconut pecan filling and topped with a whipped chocolate frosting- the BEST German Chocolate Cupcakes!
Spice Cupcakes with Cream Cheese Frosting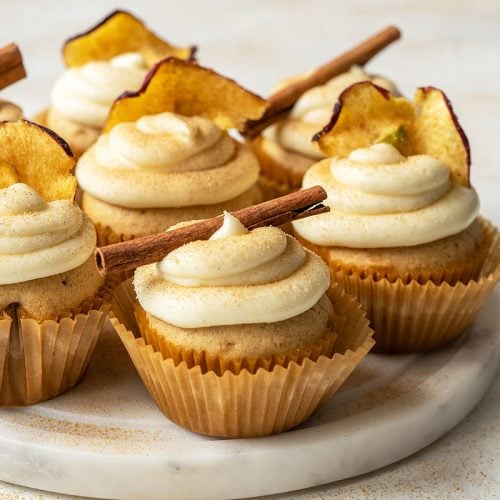 Spice Cupcakes are an easy cupcake recipe perfect for fall. Frost with rich cream cheese frosting and a few embellishments for festive fall cupcakes.
Tools for making Cookie Dough Cupcakes:
Stand Mixer- While this is an investment, I can guarantee you will use it more than you realize and will never regret the decision.
Sifter– Sifting makes all of your baked goods smooth and fluffy. No more lumps! I prefer a hand crank so I can switch directions and get more sifted through faster.
Muffin Tin– I really suggest having two muffin tins. It makes life a lot easier than baking in two batches and double the cook time.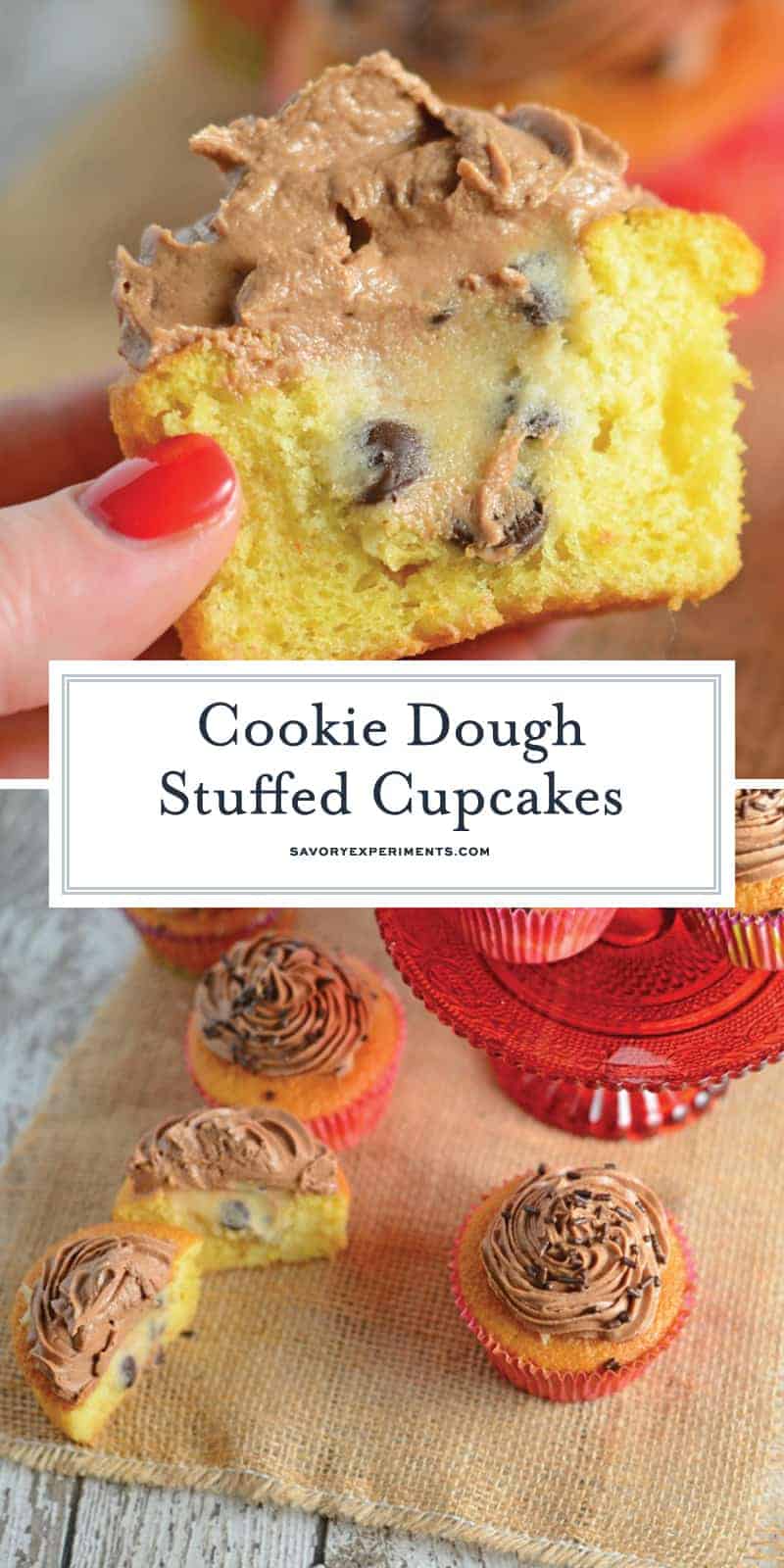 Cookie Dough Cupcakes are vanilla cupcakes stuffed with edible cookie dough and topped with whipped chocolate frosting. You won't beleive how easy these are to make!
Cookie Dough Stuffed Cupcakes
Cookie Dough Stuffed Cupcakes are vanilla cupcakes stuffed with edible cookie dough and topped with whipped chocolate frosting. You won't beleive how easy these are to make!
Ingredients
12

cupcakes

baked and cooled

Single Serve Chocolate Chip Cookie Dough
Instructions
Using a paring knife and spoon, cut out a 1 1/2 inch, circular space in the center of each cooked and cooled cupcake.

Spoon 1/2 tablespoon into each cupcake.

Frost with chocolate frosting.

If you've tried this recipe, come back and let us know how it was!
Notes
Use your favorite homemade cupcake recipe or make it out of a box!
Nutrition
Calories:
153
kcal
|
Carbohydrates:
24
g
|
Protein:
2
g
|
Fat:
5
g
|
Saturated Fat:
1
g
|
Sodium:
140
mg
|
Potassium:
40
mg
|
Sugar:
15
g
|
Vitamin A:
20
IU
|
Vitamin C:
0.1
mg
|
Calcium:
56
mg
|
Iron:
0.6
mg