Almond Lemon Cake Recipe
I made a New Year's Resolution, did you? Instead of making one to lose an astronomical amount of weight or even vow to be healthier (which I fail annually), I resolved to cook at least once per week from my ever growing collection of cookbooks. But this week I did make an Almond Lemon Cake from scratch!

Yogurt, fresh lemon and almond give this sunny loaf cake a unique flavor and texture that everyone will love. Perfect for brunch, tea or dessert!
It is now May and I fear I've failed at my resolutions once again. That was until I received my new favorite cookbook: Yogurt Culture, written by award-winning food writer Cheryl Sternman Rule.
I've long been a fan of yogurt, replacing it in my favorite savory recipes for anything that calls for mayonnaise or sour cream, but also in sweets and baked goods. Don't knock it until you try it- hubby didn't even notice a difference!
What is almond meal? Almond is sweet ground almonds. They are ground so fine, it resembles a traditional flour. It is made purely of almond, so it is gluten-free and does contain nuts!
Rule shares my love of yogurt with 115 tasty recipes that teach you how to pair yogurt not just with fruit but with meat, not just with sugar but with salt and not just with herbs but with fragrant spices.
Yogurt is a verstile and delicious ingredient that deserves to be celebrated! You can even make your own yogurt at home super easy in the Instant Pot.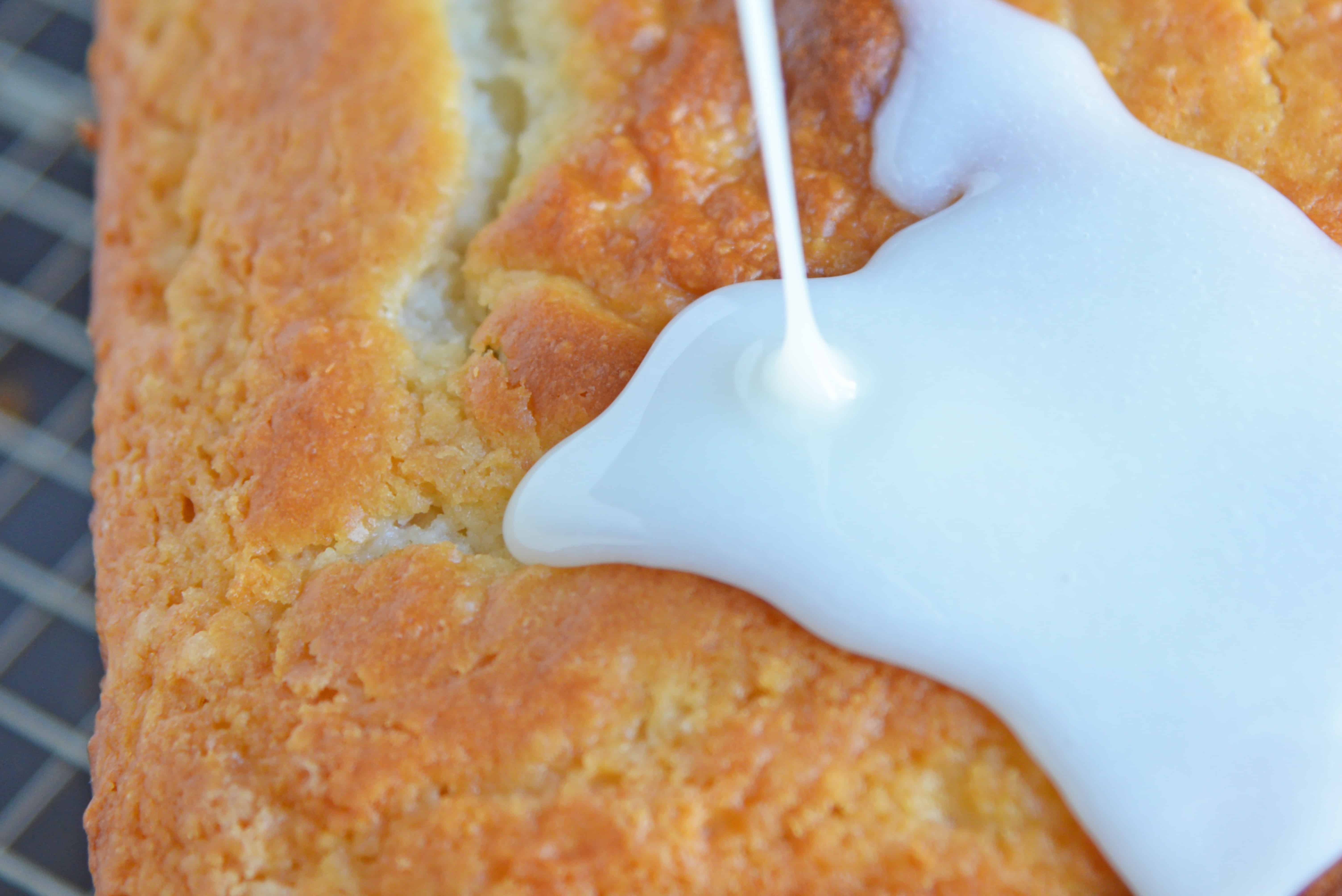 A recipe that I have prepared several times now is the Almond Lemon Cake, a versatile sweet treat that complements coffee or tea and can be served for any meal or course of the day. Some might call it a lemon pound cake, however the crumb is slightly less dense.
PRO TIP: Citrus zest adds more citrus flavor than juice. You can add it to or substitute for any recipe that calls for citrus.
Simple to prepare, I prefer to get my arm workout in and hand beat with my trusty whisk rather than lug out any heavy machinery. You can still use your stand mixer or an electric hand mixer if you prefer.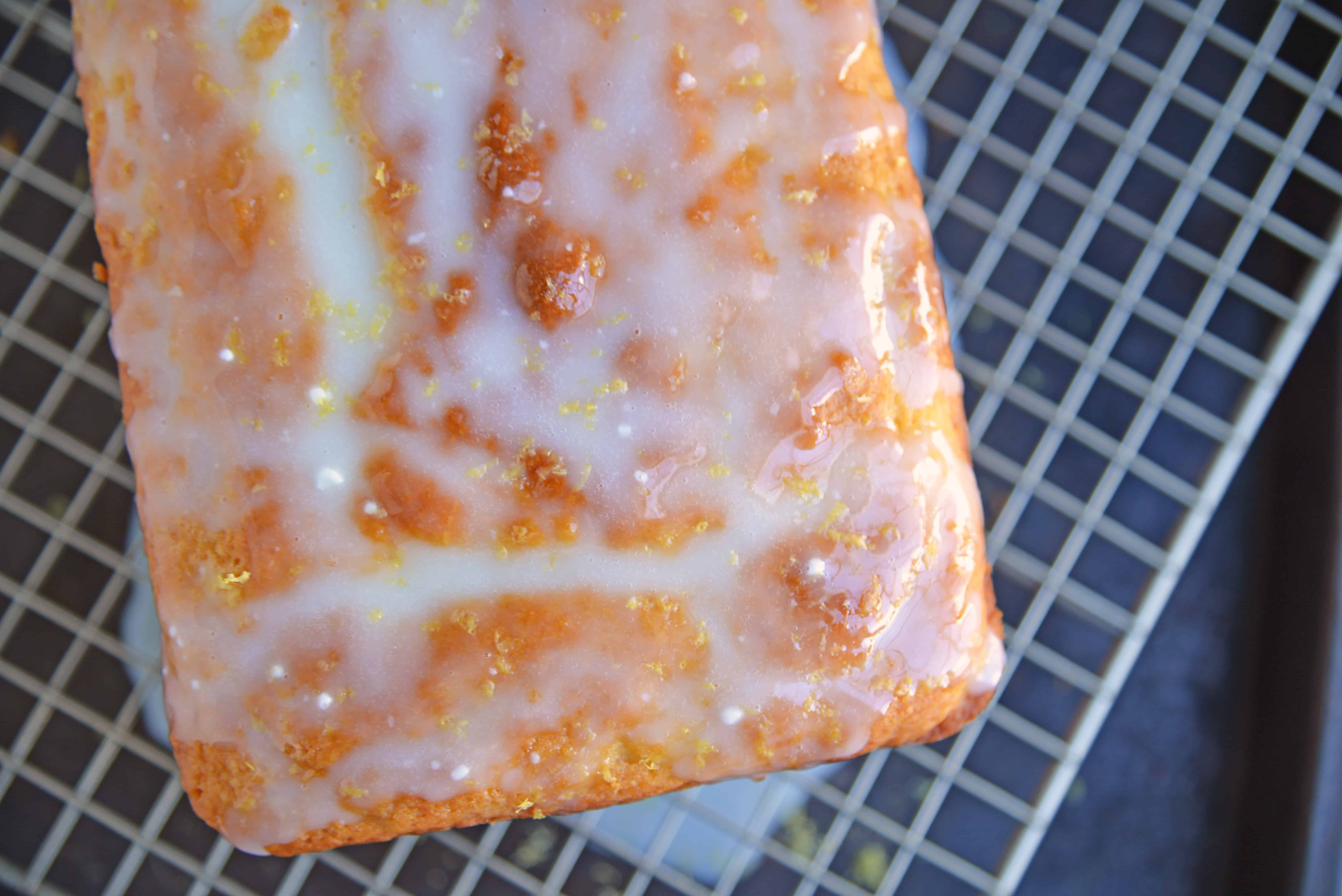 I always have all of the ingredients lying around to make a lemon loaf cake, especially an extra large container of plain Stonyfield yogurt, making it a no-brainer for last minute meals. I have also substituted other citrus flavors and vanilla for almond in a pinch.
PRO TIP: Use fresh lemon juice whenever possible. Bottled citrus juices are muted in flavor.
Using almond flour with all-purpose gives this loaf cake a slightly nutty and hearty texture different from other types of pound cake while also adding flavor.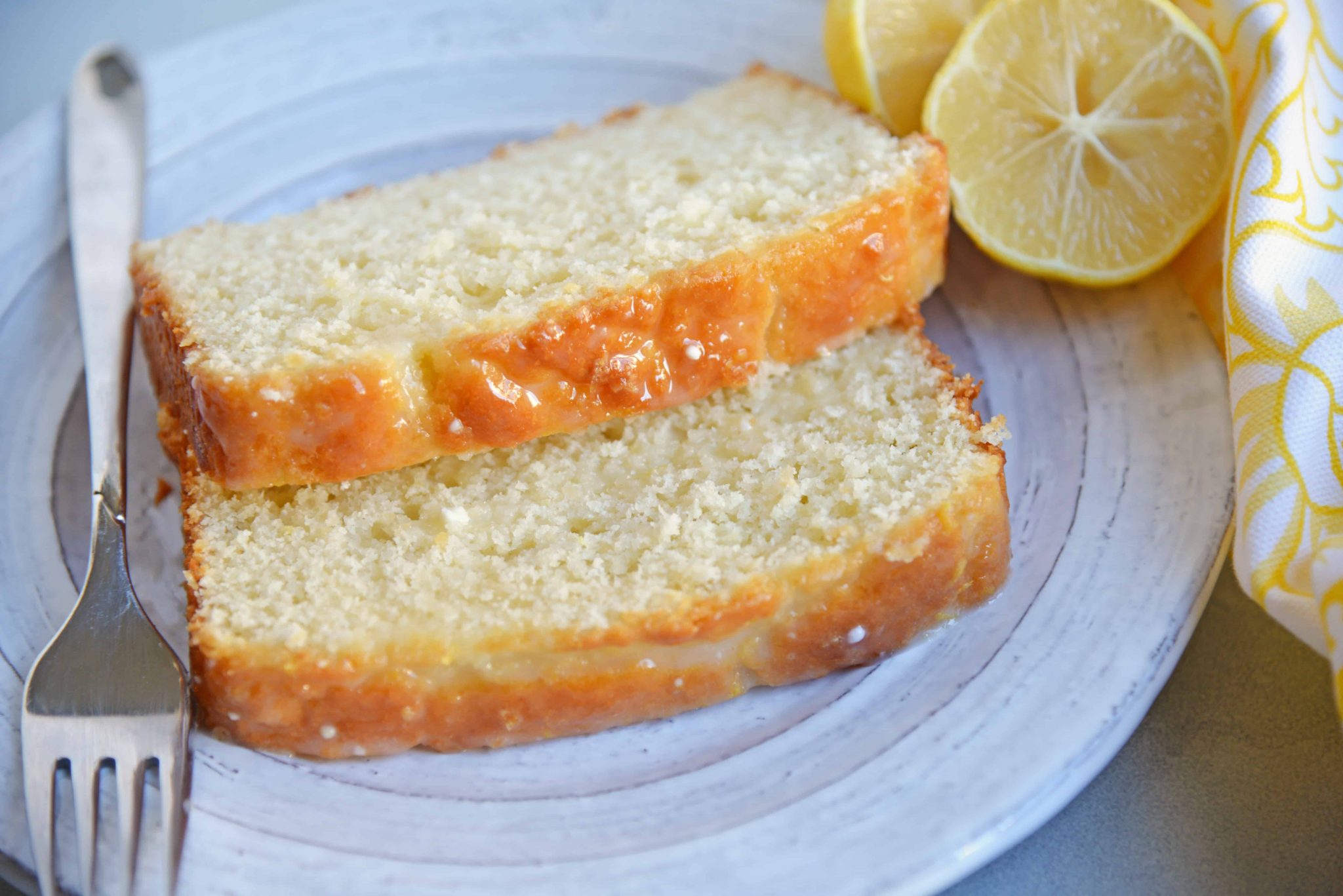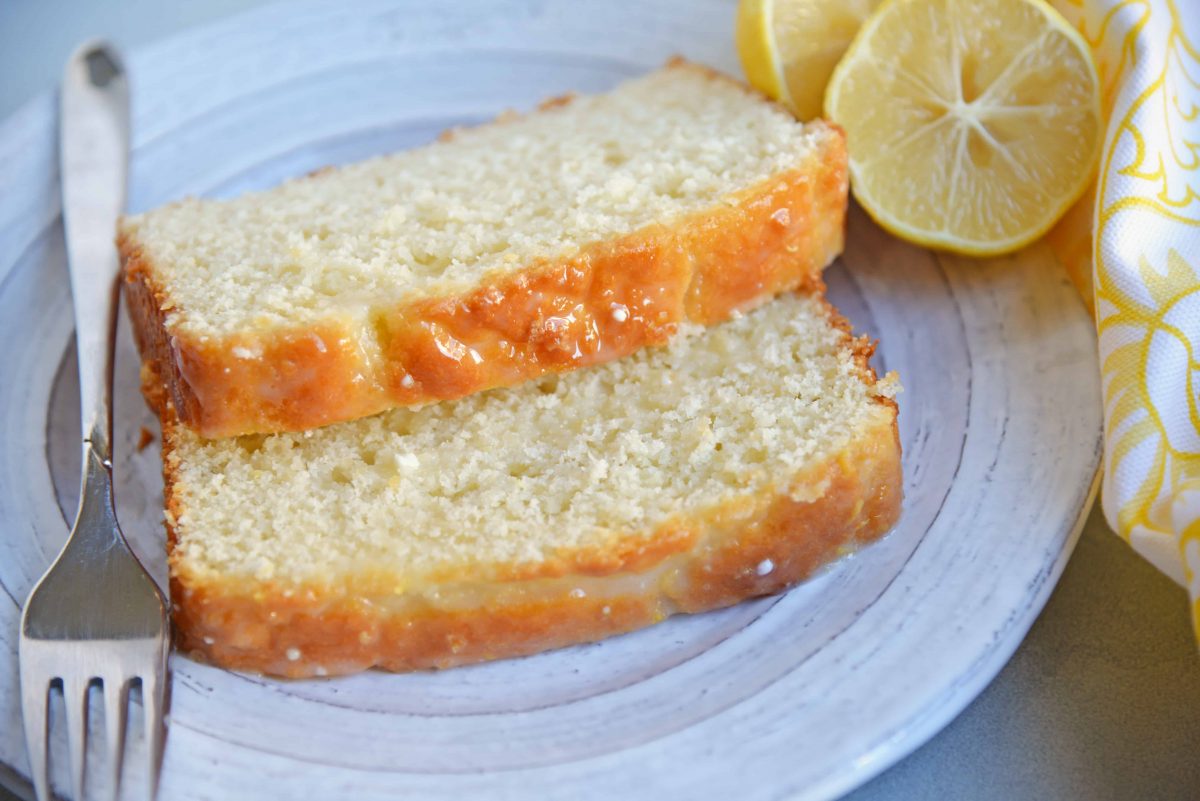 How do you make your own almond flour or almond meal?
Almond flour is very expensive, partially because almonds are so expensive! You can save a little bit of money buy making your almond meal or almond flour, which are the same thing and used interchangeably.
Almond flour is the easiest to be made in the food processor. Use one cup of raw or blanched almonds in a food processor fitted with the blade attachment and pulse for 50-60 times in 1-second increments.
PRO TIP: Do not overmix the batter! Mix until just combined, light and fluffy! Overmixing can result in dry cake.
Stop and scrape the sides of the bowl of the processor every 10 seconds to make sure that they are ground evenly.
One cup of raw almonds will result in about 3/4 cup almond meal. Of course since almonds are all different shapes and sizes, this can vary greatly.
PRO TIP: Always cream together butter and sugar before adding other ingredients. Butter won't blend in as well if not creamed first.
To get your lemon cake out of the pan easily, line the bottom of the loaf pan with parchment paper. Wait until it cools slightly, then invert and tap the bottom with a knife to release. Cool the rest of the way on a wire rack.
Cool completely before glazing otherwise the lemon glaze will just glob off. You can also leave the powdered sugar glaze off entirely and still have a fabulous cake.
Lemon Poke Cake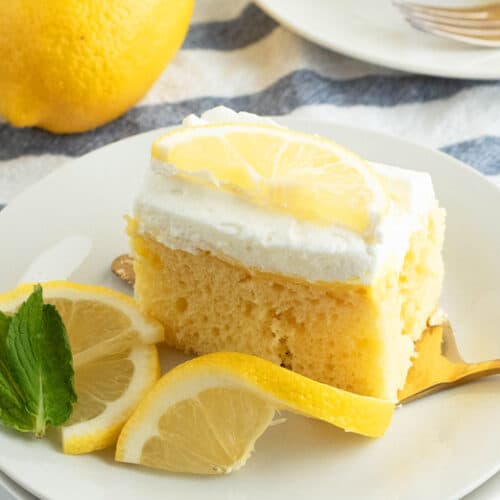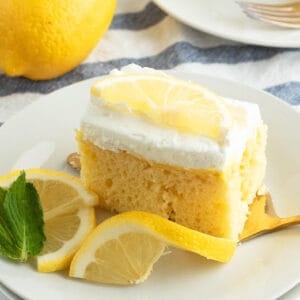 This deliciously moist BEST Lemon Poke Cake recipe is perfect for any occasion! It's made easy thanks to a boxed cake mix and instant pudding!
Lemon Cooler Cookies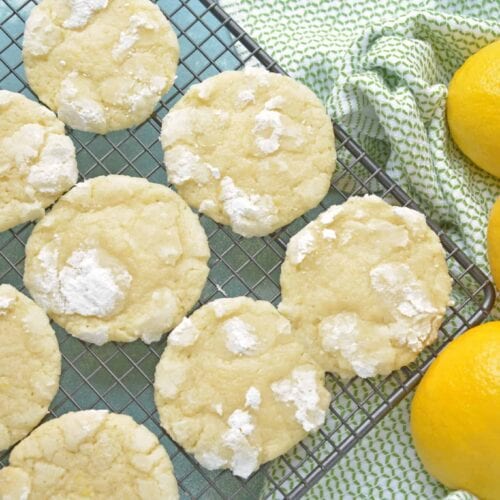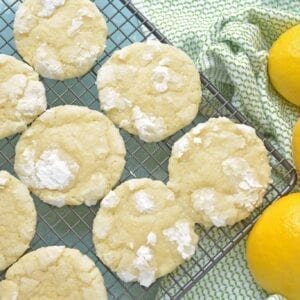 Lemon Cooler Cookies, also known as Sunshine Lemon Coolers, are a classic cookie recipe using fresh lemon and powdered sugar.
Pink Lemonade Cupcakes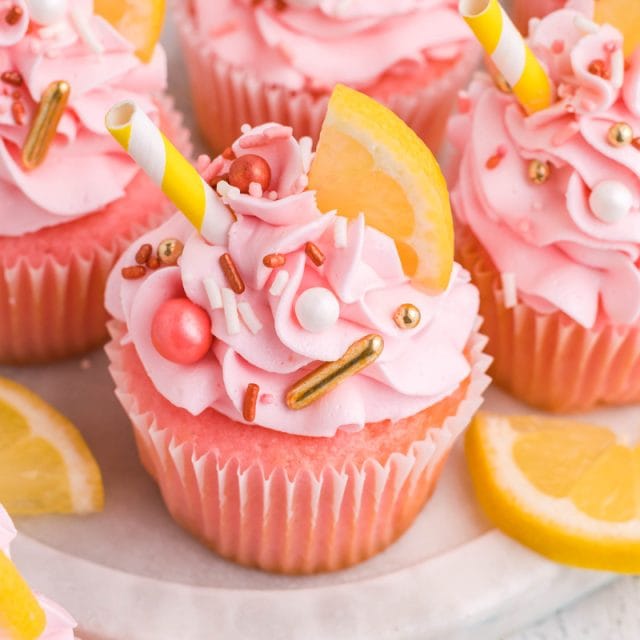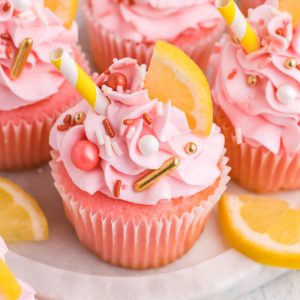 Pink Lemonade Cupcakes are an easy cupcake recipe using boxed cake mix with lemon flavoring and pretty pink food coloring. Perfect for any spring event!
Tools for making homemade lemon cake:
Mixing Bowls– make sure to check out my article on Using the Right Mixing Bowl, you'd be surprised how many people aren't!
Stand Mixer- While this is an investment, I can guarantee you will use it more than you realize and will never regret the decision.
Zester and Juicer– Another kitchen necessity! Whether it be a savory or sweet recipe, every house needs a way to zest and juice citrus. Also great for making.
Loaf Pans– I highly suggest making this cake in a loaf pan. This is not a recipe for a lemon layer cake or bundt cake and I can not guarantee it will work in different cake pans.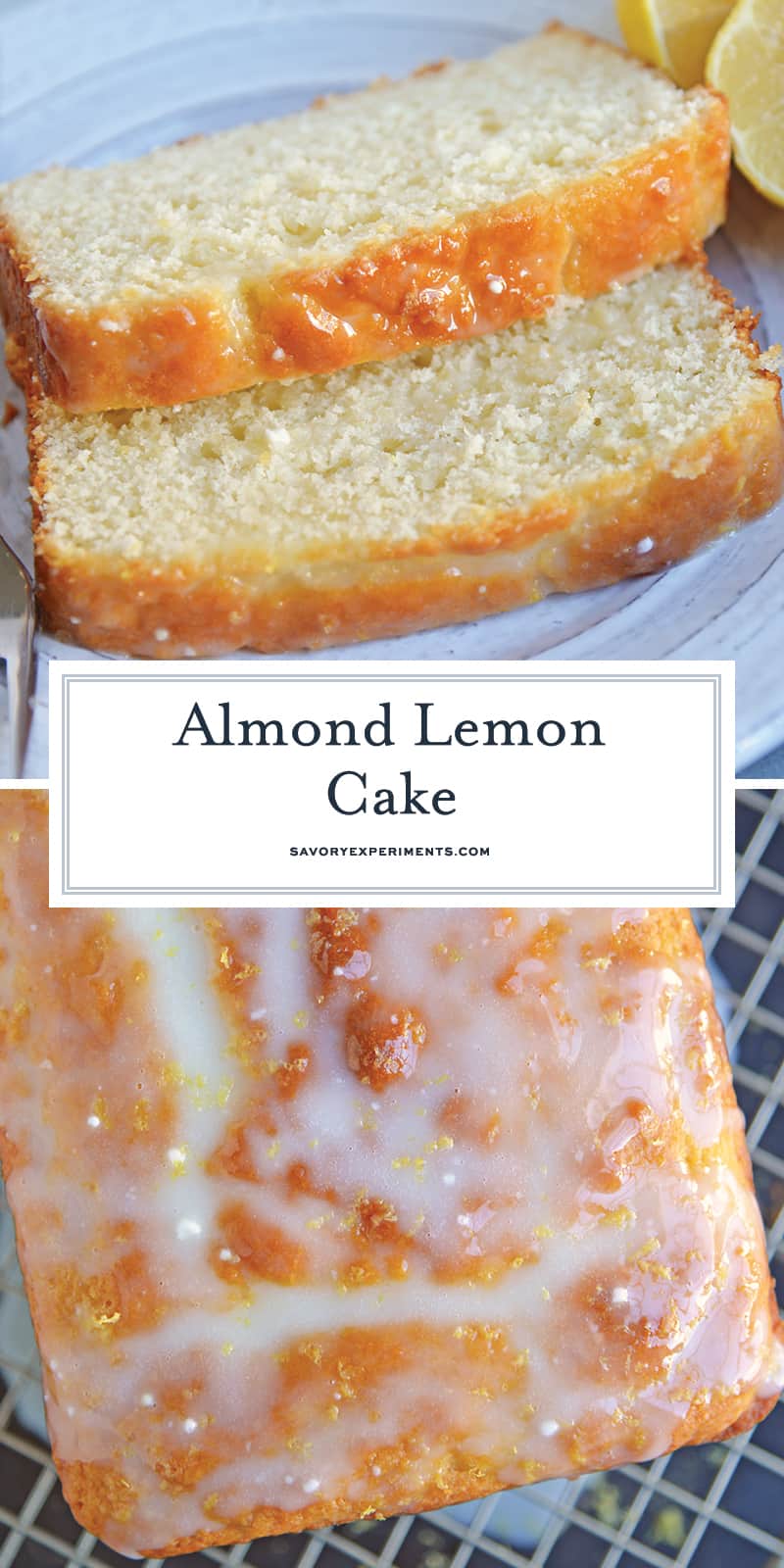 Questions you might have about how to make a lemon cake:
Can you freeze lemon cake? You sure can! Freeze the whole loaf or freeze it by the slice. If you do freeze the whole loaf, I highly recommend glazing it before you are ready to serve and not before you freeze it.
Can I use all flour and no almond meal? I have not tried it personally, but others have and reported success. We'd love to hear how it worked for you!
Can I just use almond meal and make this into a gluten free recipe? I do not suggest doing this. This recipe needs the gluten in the flour to rise and bake properly.
Can I omit the lemon all together? Don't like lemon? Sure! Make this into an Almond Loaf Cake instead! Omit lemon zest in the cake batter and use milk or water for the lemon juice in the glaze.
Can I make lemon cake in advance? I would make it no more than 24 hours in advance. Any cake is best served fresh.
Do I need to refrigerate my lemon cake? If you are planning to serve it within 24 hours, then no. If you are waiting longer, then yes. Be mindful that refrigeration does dry out cakes and other items so it won't be as moist.
What can I substitute for almond extract? If you don't have almond on hand, you can surely use vanilla extract. You can even use lemon for even more lemon flavor.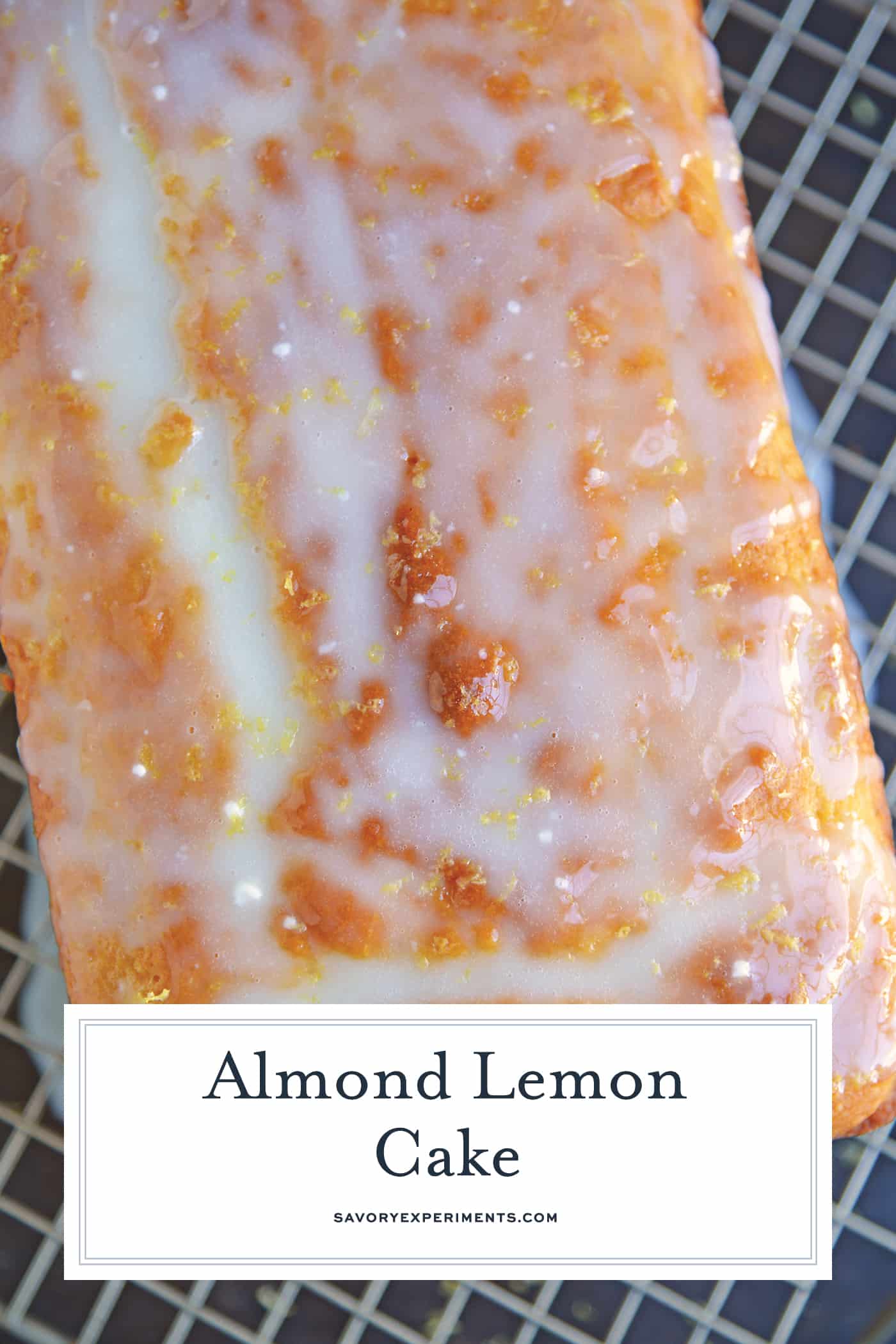 Yogurt, fresh lemon and almond give this sunny loaf cake a unique flavor and texture that everyone will love. Perfect for brunch, tea or dessert!
Iced Almond-Lemon Loaf Cake
Yogurt, fresh lemon and almond give this sunny loaf cake a unique flavor and texture that everyone will love. Perfect for brunch, tea or dessert!
Ingredients
For the cake:
10

tablespoons

unsalted butter

room temperature, plus soft butter for greasing the pan, 1¼ sticks

2

cups

flour

2

teaspoons

baking powder

1/4

teaspoon

baking soda

1

teaspoon

kosher salt

1/2

cup

almond meal

Zest of 2 large lemons

1

cup

granulated sugar

2

large eggs

room temperature

2

teaspoons

pure almond extract

1

cup

plain whole-milk or low-fat yogurt

not Greek
For the icing:
1/2

cup

confectioners' sugar

1

tablespoon

plain whole-milk or low-fat yogurt

not Greek

1

tablespoon

fresh lemon juice
Instructions
Preheat the oven to 350°F, with a rack in the center position. Generously butter a 9-by-5-inch loaf pan.

Into a large bowl, sift the flour, baking powder, baking soda, and salt. Whisk in the almond meal and lemon zest.

In a stand mixer fitted with the paddle, cream the butter and granulated sugar until light and fluffy, about 5 minutes. Reduce the speed to low and add the eggs one at a time, beating well after each addition and scraping down the sides as needed. Beat in the almond extract. Slowly beat in half the dry ingredients, then the yogurt, then the remaining dry ingredients until incorporated. Raise the speed to medium and beat for 1 to 2 minutes to develop some structure.

Bake the cake. Scrape the batter into the prepared pan and smooth the top. Bake until risen and lightly browned and a skewer inserted in the center comes out clean, 50 to 60 minutes.

Cool in the pan on a rack for 15 minutes. Slide a knife around the perimeter and invert the cake onto the rack. Cool completely, then flip right side up.

Ice the cake. Sift the confectioners' sugar into a medium bowl. Whisk in the yogurt and then the lemon juice, 1 teaspoon at a time, until the icing is smooth, thick, and drips slowly from the whisk. Wave the whisk over the cake to drizzle lines of icing, or scrape the icing over the cake and smooth with an offset spatula.

Store. Once the icing firms, cover the cake with plastic wrap. It can be kept at room temperature for up to 48 hours, or covered with a layer of foil and refrigerated for up to 5 days.

If you've tried this recipe, come back and let us know how it was!
Nutrition
Calories:
395
kcal
|
Carbohydrates:
53
g
|
Protein:
6
g
|
Fat:
17
g
|
Saturated Fat:
9
g
|
Cholesterol:
72
mg
|
Sodium:
318
mg
|
Potassium:
168
mg
|
Fiber:
1
g
|
Sugar:
30
g
|
Vitamin A:
485
IU
|
Vitamin C:
0.7
mg
|
Calcium:
98
mg
|
Iron:
1.8
mg