Every home cook needs a solid coffee cake recipe. A sour cream coffee cake will be moist and tender without being too sweet, allowing the streusel topping to shine.
Sour Cream Coffee Cake is an easy coffee cake recipe with a streusel ribbon and crumb topping. Super moist without being overly sweet. Perfect for brunch or dessert.
This breakfast cake is adapted from Ina Garten's Sour Cream Coffee Cake recipe. Even though I typically develop my own recipes, baking is more of a science than artistry and therefore I like to start with a basic blueprint and work from there.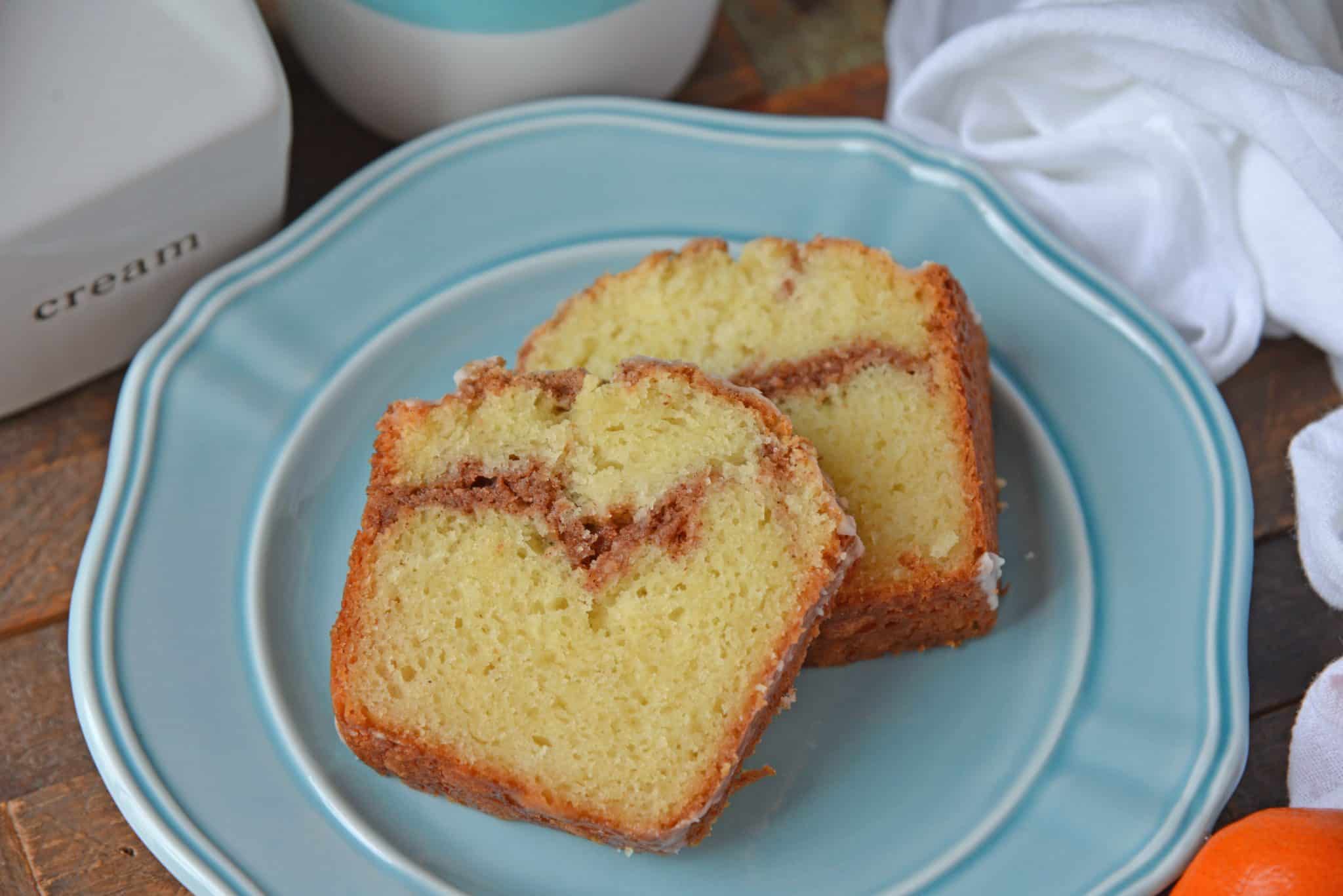 Only this easy coffee cake recipe was pretty good from the start and you shouldn't fix it if it isn't broken, right? So I only made a few minor adjustments.
However, I do have a few suggestions for making the best coffee cake that can be applied to any coffee cake recipe.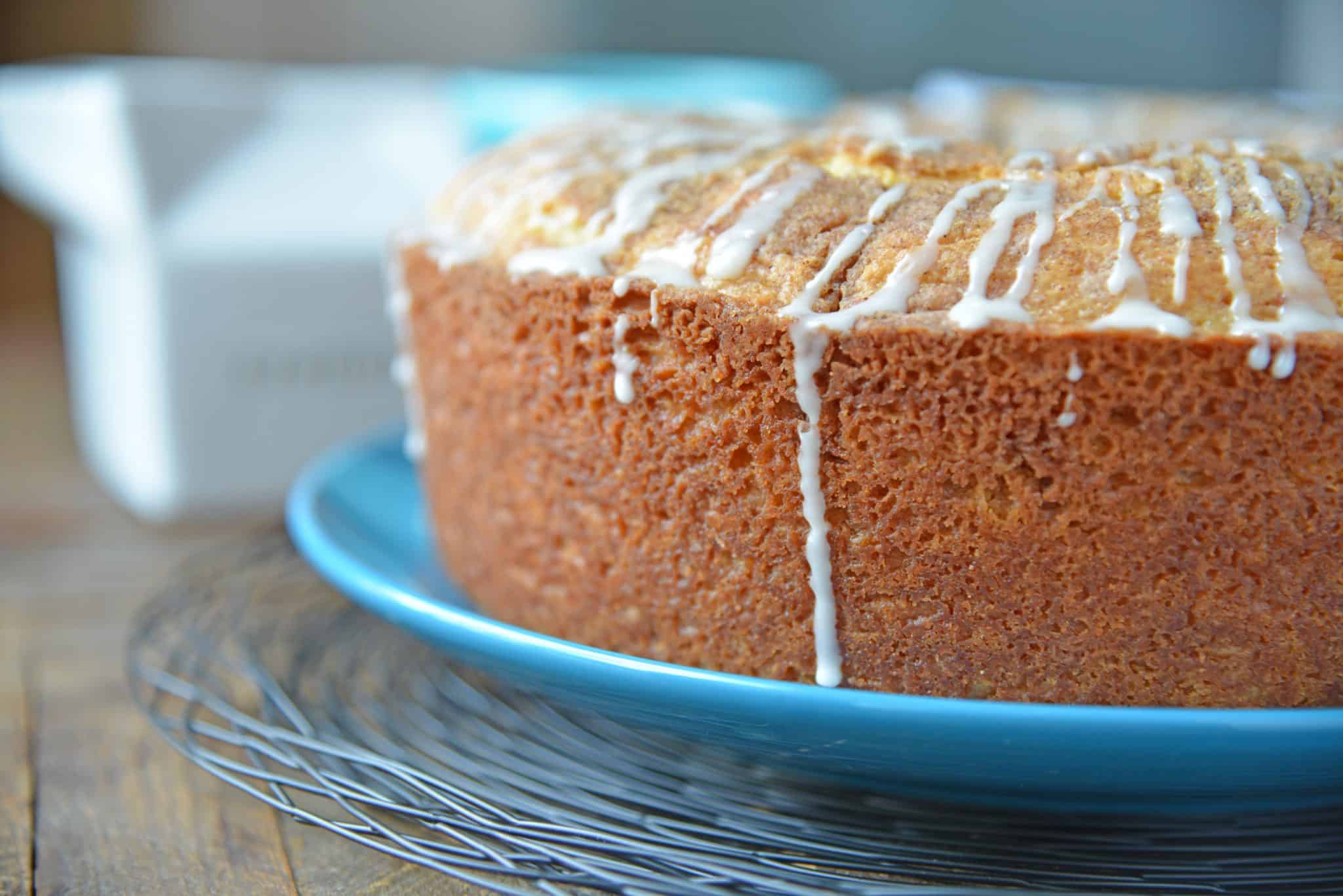 Tips for making coffee cake:
Beat butter well for at last 4-5 minutes until pale and fluffy. It will make the batter easier to work with and smoother.
Use cake flour instead of all-purpose flour. Cake flour results in a more tender crumb. Double check you are using regular cake flour and not

self-rising.

For streusel, grate cold butter instead of cubing it. Smaller pieces are easier to mix with flour and sugar.
Do not over mix. I feel like this is the number one mistake for bread and cake. Only mix until dry ingredients are combined. Overmixing will results in tough and dry cakes. No one wants that!
Soft butter in the morning can also be tricky, check out my tips on how to soften butter fast.
Specific to this sour cream coffee cake, make sure you use a real maple syrup. Many of the syrups on the market are just maple flavored. Real maple syrup is much thicker, has better flavor and will also be more expensive, but it is worth it!
There are a few types of maple on the market and anyone will do and it is because they are all the same maple sugar content of 66.9%.
The grades only have to do with the color and unlike other graded foods, like olive oil, the color of the syrup is largely based on when the syrup was produced, but this does impact the flavor as well.
Maple syrup ranges from pale golden to chocolatey brown. As the weather warms, the sap becomes darker in color, producing a darker syrup. Corresponding to color, the darker the syrup is, the stronger its flavor.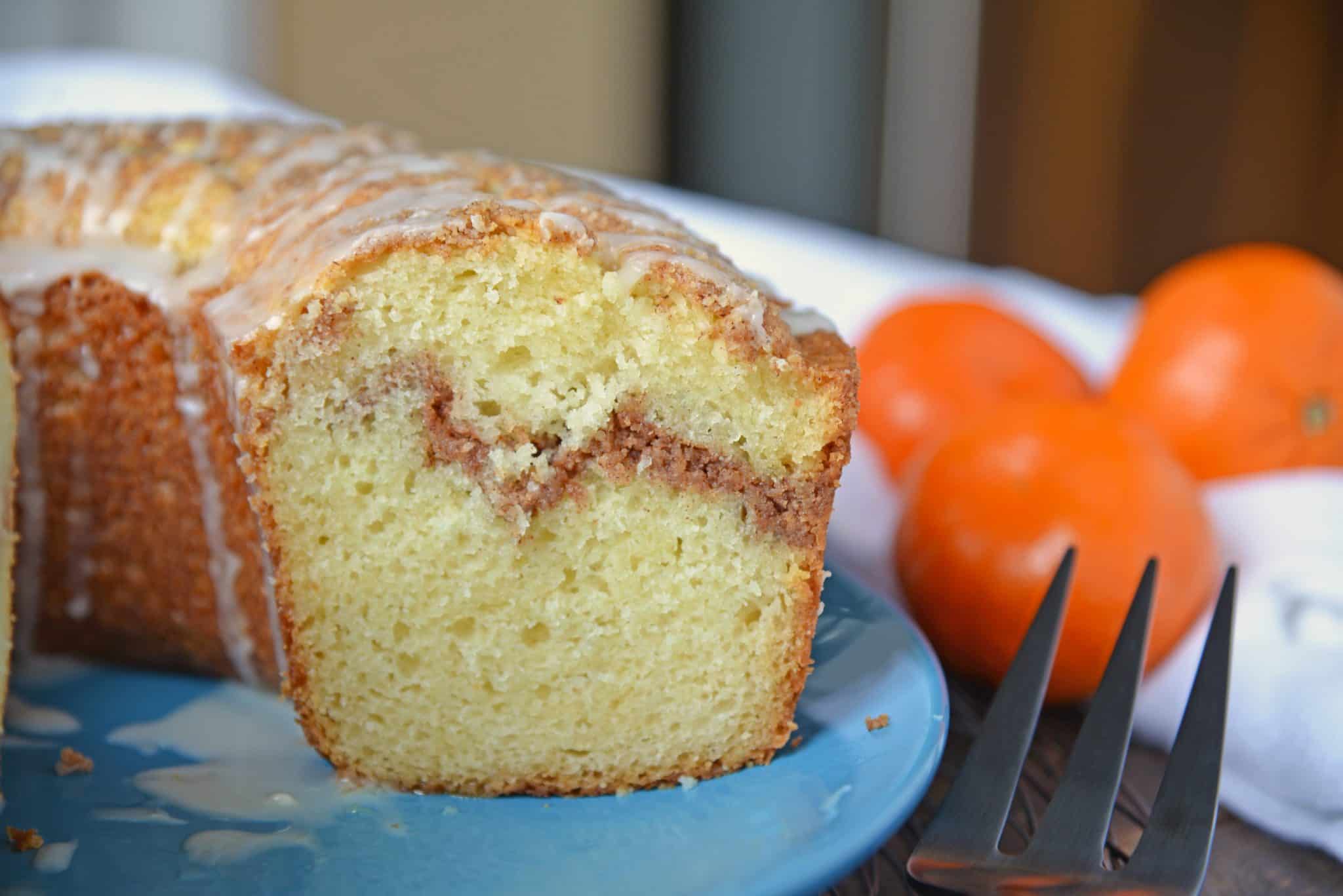 The State of Vermont, the maple syrup capital, distinguishes four maple syrup grades and colors. All of which are produced by the same process. They are:
Fancy
Grade A Medium Amber
Grade A Dark Amber
Grade B
Only you'll be able to tell which is your favorite, so have a taste test and check them out! My favorite is a Grade A Medium Amber followed by Fancy.
Coffee cakes are great for holidays and when you have guests visiting. You can also make it ahead of time, like the night before. Make sure you scroll all the way down to check out even more delicious coffee cake recipes for National Coffee Cake day!

Tools for making Sour Cream Coffee Cake:
Tube Pan
– sometimes known as an angel food cake pan, you can use it for any recipe that calls for a bundt pan.
Stand Mixer– I lived for years without one and I can tell you with 100% confidence that life with one is easier and it is worth the investment.
Sifter– Sifting makes all of your baked goods smooth and fluffy. No more lumps! I prefer a hand crank so I can switch directions and get more sifted through faster.
More breakfast cakes to get you going…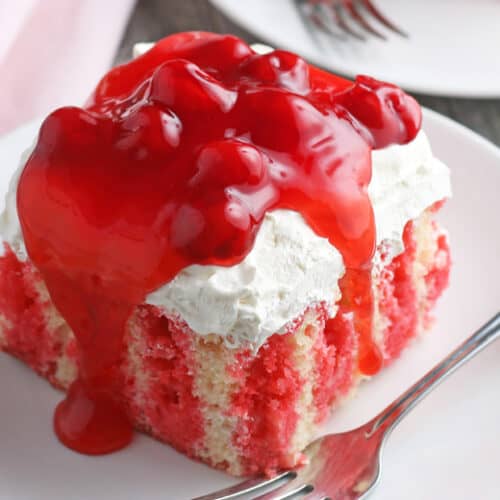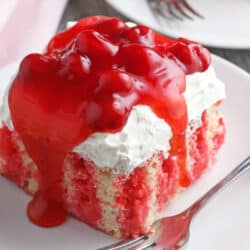 Cherry Poke Cake
Poke cakes are so fun, and this Cherry Poke Cake is no exception. Easier to make than just a white cake with cherry filling, and more delicious too!
See The Recipe!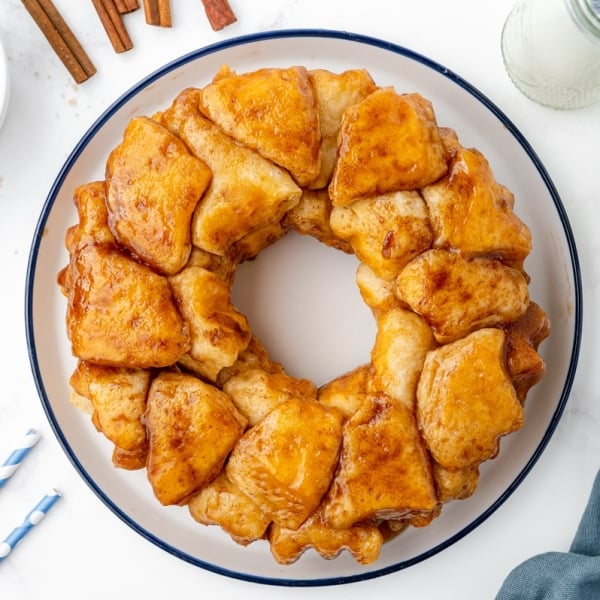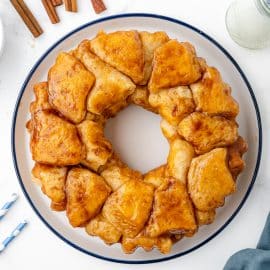 Easy Monkey Bread Recipe
This Easy Monkey Bread is made with only 4 ingredients and goes from the fridge to the oven in 5 minutes! This Monkey Bread with biscuits is perfect to make last minute and serve as an appetizer or dessert at brunch.
See The Recipe!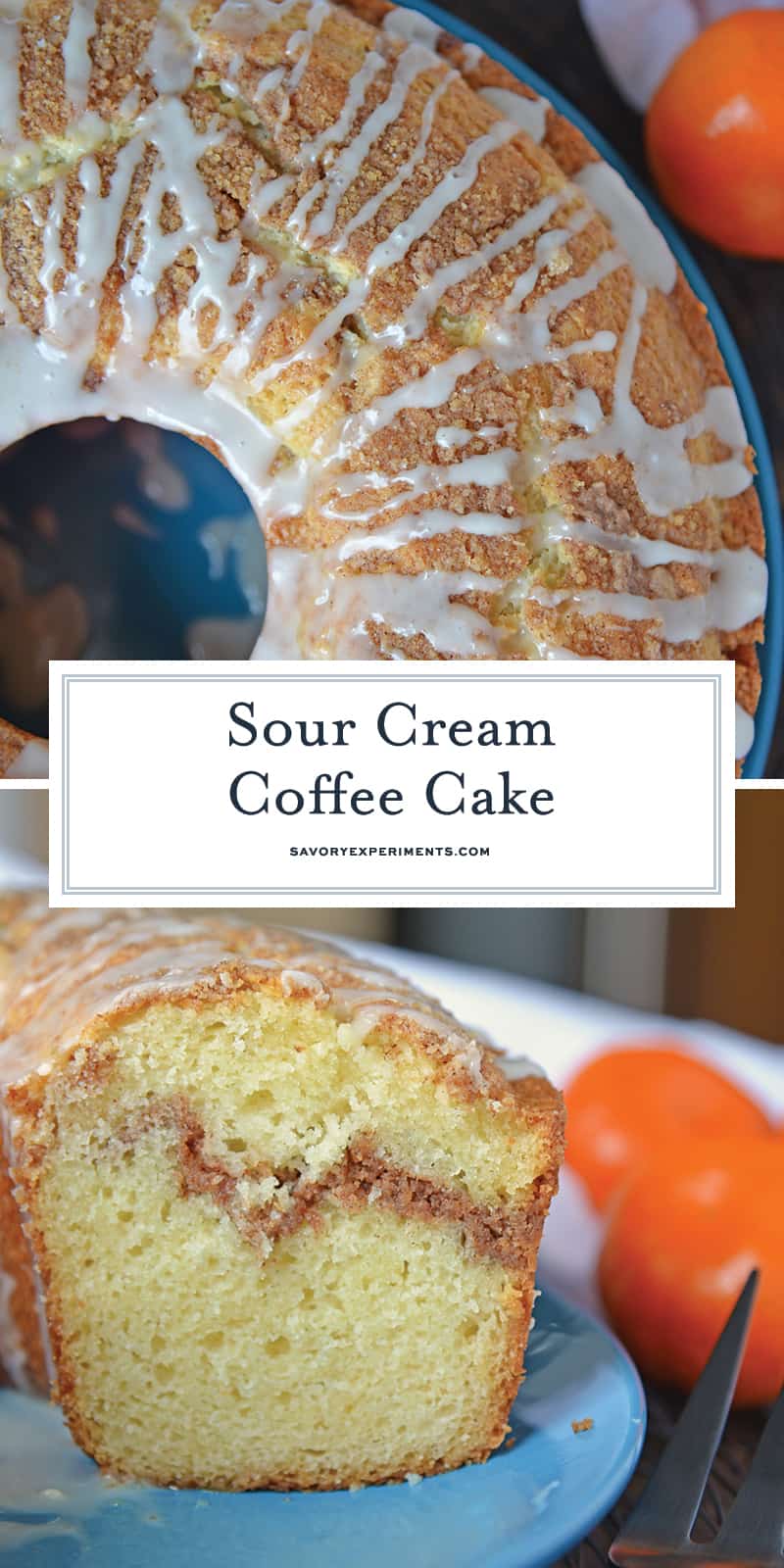 Questions you might have about how to make Sour Cream Coffee Cake:
Can I substitute something else for sour cream? If you aren't into sour cream, I recommend substituting the same amount of plain Greek yogurt. It will still add the richness and keep your cake moist.
Can I freeze cinnamon coffee cake? Package your cake well, wrapped in plastic wrap with little to no air getting in there and freeze for up to 4 months.
Can I make this sour cream coffee cake in a loaf pan? You can make this coffee cake in 2 loaf pans
. Bake for 35-40 minutes, or until it passes the toothpick test.
Can I make this coffee cake without strudel? You sure can! But, man, the strudel makes the coffee cake! You can even double the streusel if you'd like.
Does coffee cake need to be refrigerated? Not this cake. I would keep it well covered at room temperature. It should stay fresh and soft for up to 4 days.
Does coffee cake have coffee in it? Some coffee cakes have coffee in them, but mostly they are made to be served with coffee. I would classify this as more of a cinnamon coffee cake. If you do want a stronger coffee flavor, then I suggest substituting vanilla extract for coffee extract or strongly brewed coffee or espresso.
You can even omit the maple syrup from the glaze and use coffee as the liquid. In this case, the cake, will indeed have caffeine in it.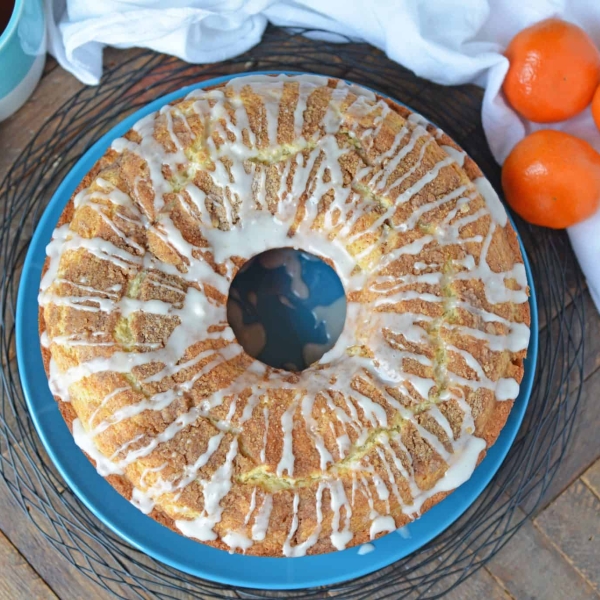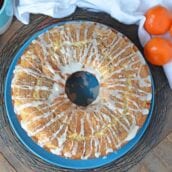 Sour Cream Coffee Cake
Sour Cream Coffee Cake is an easy coffee cake recipe with a streusel ribbon and crumb topping. Super moist without being overly sweet. Perfect for brunch or dessert.
Instructions
Preheat the oven to 350 degrees. Coat a 10-inch tube pan with cooking spray.

In a large mixing bowl with an electric mixer or in a stand mixer fitted with the paddle attachment, cream the butter alone for 3-4 minutes until light and pale.

Add sugar, creaming for an additional 2 minutes.

Add the eggs 1 at a time, then add the vanilla and sour cream.

In a medium mixing bowl, sift together cake flour, baking powder, baking soda, and kosher salt.

Add dry ingredients in 3 increments, only mixing until just combined. Do not over mix.

For the streusel, place the brown sugar, flour, cinnamon, salt, and butter in a bowl. Mash with a fork to combine. Set in refrigerator until ready to use.

Pour half the batter into the prepared tube pan, tapping to evenly distribute. Sprinkle with 3/4 cup streusel. Spoon the rest of the batter in the pan, spreading it out to cover the middle streusel layer. Top with remaining streusel.

Bake for 50 to 60 minutes, until it passes the toothpick test.

Let cool on a wire rack for at least 30 minutes. Carefully transfer the cake, streusel side up, onto a serving plate.

Whisk powdered sugar and maple syrup together, adding a few drops of water or milk if necessary, to make the glaze runny. Drizzle over cake before serving.

If you've tried this recipe, come back and let us know how it was!
Nutrition
Calories:
469
kcal
,
Carbohydrates:
65
g
,
Protein:
6
g
,
Fat:
20
g
,
Saturated Fat:
12
g
,
Cholesterol:
104
mg
,
Sodium:
282
mg
,
Potassium:
176
mg
,
Sugar:
41
g
,
Vitamin A:
665
IU
,
Vitamin C:
0.2
mg
,
Calcium:
86
mg
,
Iron:
0.9
mg
More Coffee Cake Recipes!
And the list goes on….