Broiled Lobster Tails with melted butter is the perfect meal to serve for a special occasion, date night at home or Valentine's Day. Lightly dusted with our simple seasoning and then drenched in lemon butter, you can't wrong for a 15 minute meal.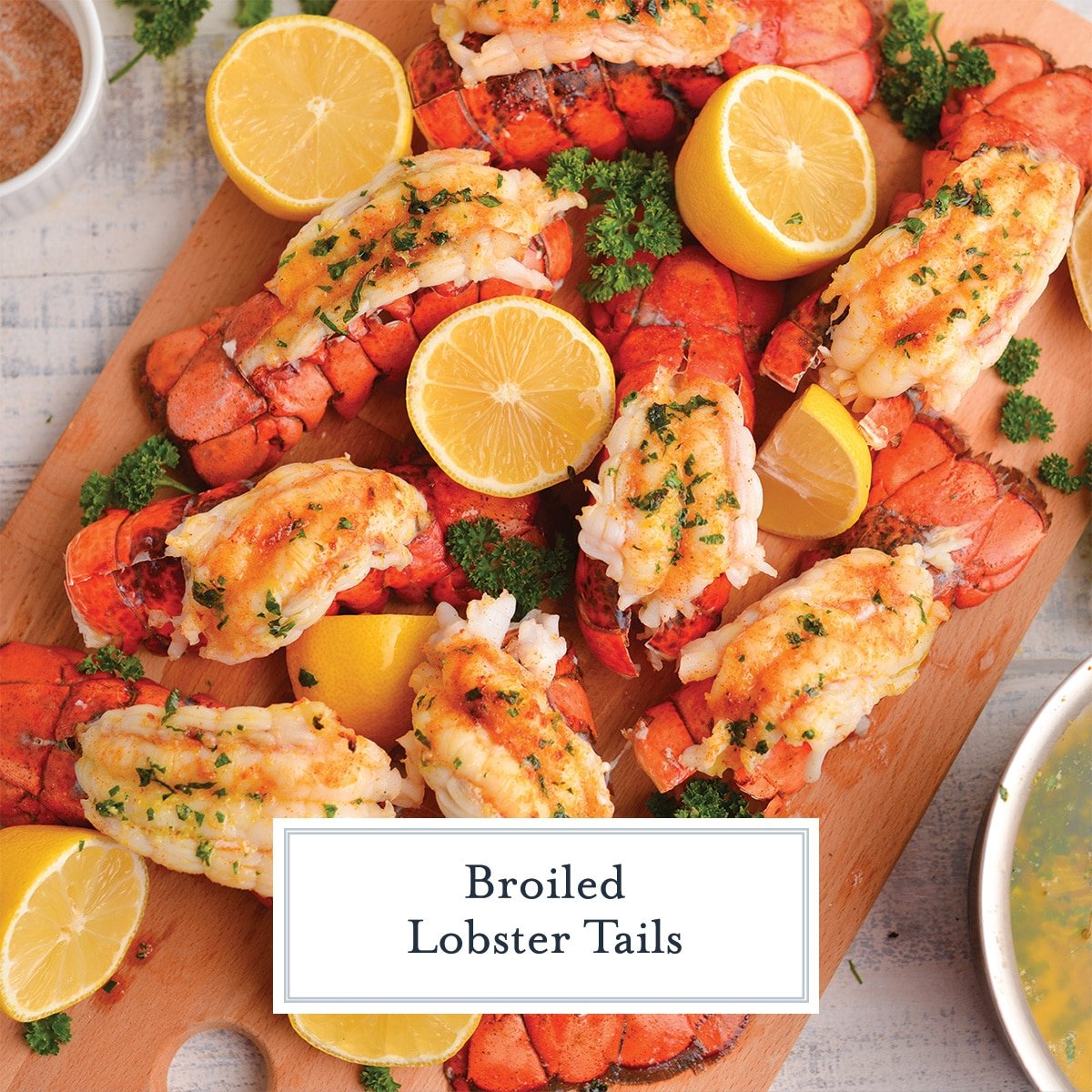 Making the perfect lobster tail might be easier than you think.
Lobster at Home
Lobster: fancy, special occasion, expensive! Because of all these reasons, people tend to be scared of cooking lobster tails.
They don't want to waste the money or ruin a celebratory event if they mess it up. I'm here to tell you that broiling a lobster tail does not have to be difficult or (that) expensive.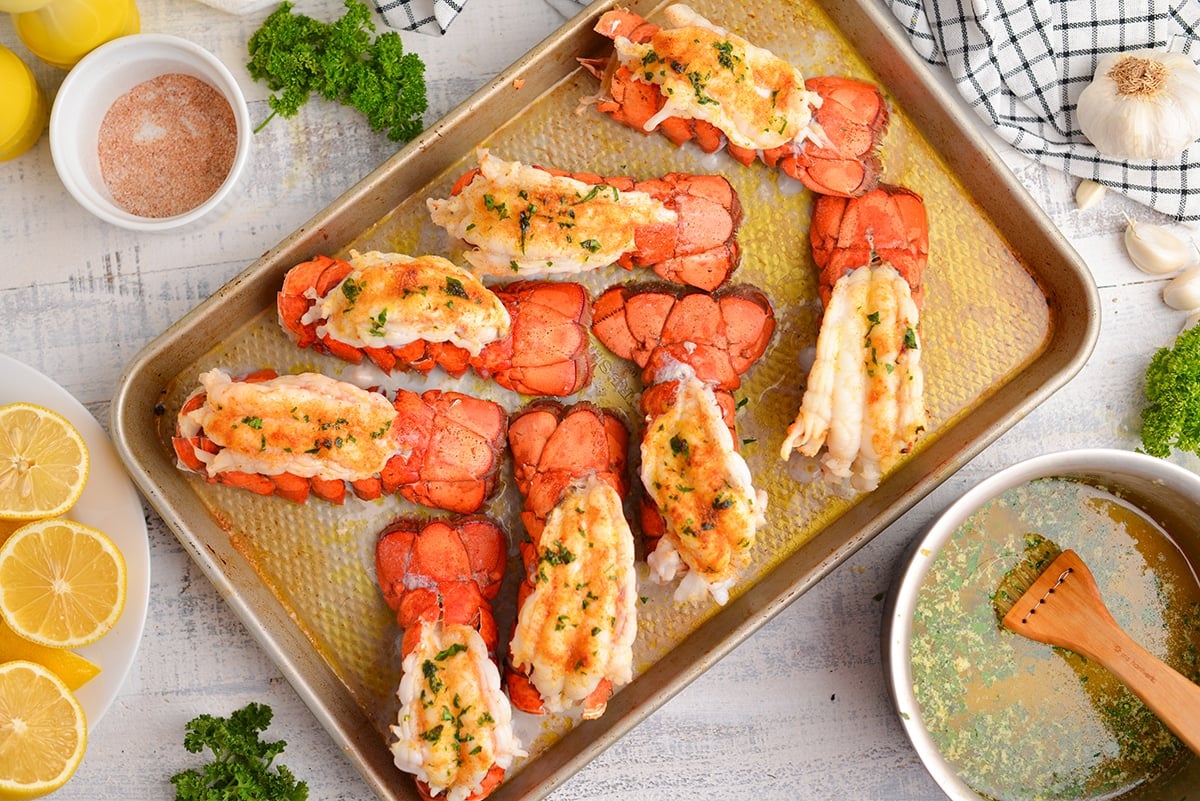 Plus I'll show you exactly how to cook lobster tails with ease. I find that knowing more about the food I am preparing helps me become more confident. So here are my thoughts on lobster tails.
What is the Best Size Lobster Tail to Eat?
The first thing to know is that size does matter… only the size you want is actually SMALLER. Yep, smaller lobster tail meat is better in this case. A large lobster tail might look impressive, but won't cook up at as juicy.
Smaller lobster are sweeter with a smoother texture. A large lobster tail will take longer to cook all the way through and thus become chewy and tough on the outside. Don't break the bank buying the tail. Also, keep a watchful eye for sales on frozen tails at your grocery store.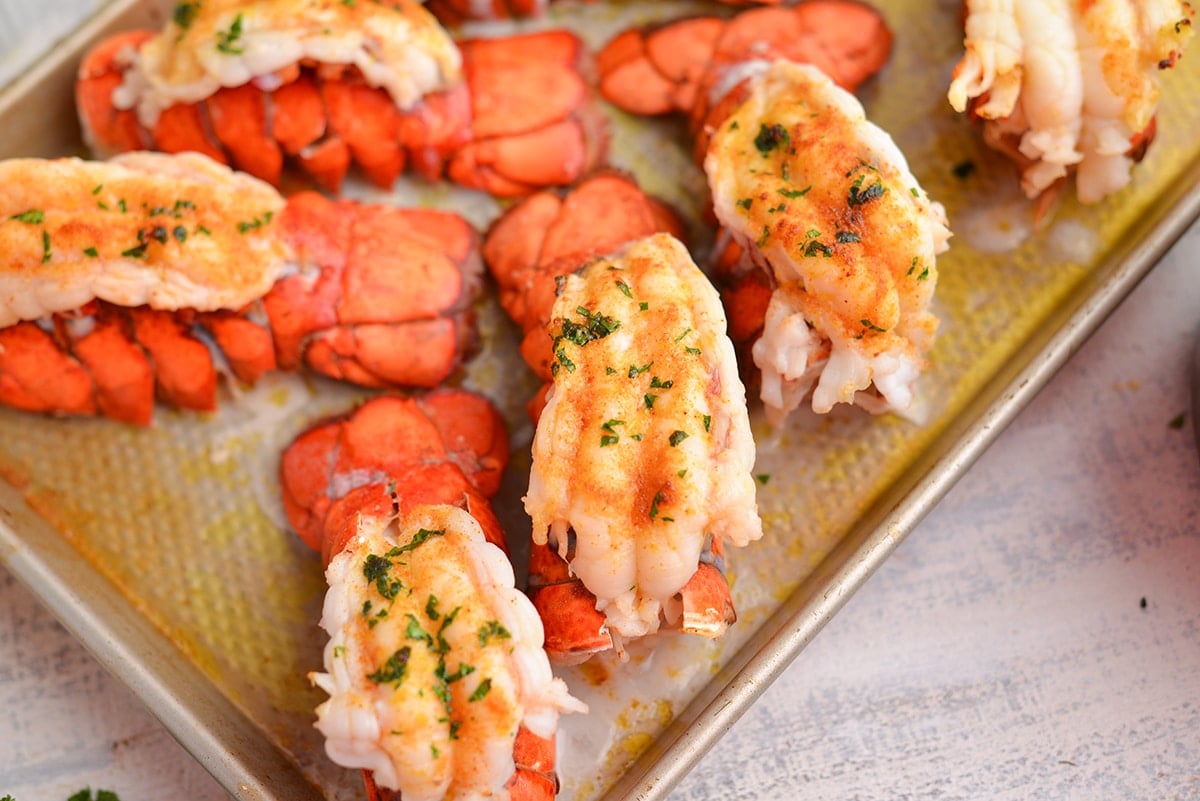 I can usually get decent 4-ounce frozen tails for $5 each on sale. Pair them with a steak and make it surf-and-turf. These sale tails are generally frozen, so buy them when they are cheap and save them for a special occasion.
Why are Lobster Tails Different Colors?
As you can see here, some of my tails are a pearly white while others more pink and peach, but they are all safe to eat and will taste exactly the same.
Pigment from the shells starts to migrate and penetrate the meat making it a rainbow of color. Did you know that for every two million lobsters there is a blue lobster? And that meat can be tinged blue!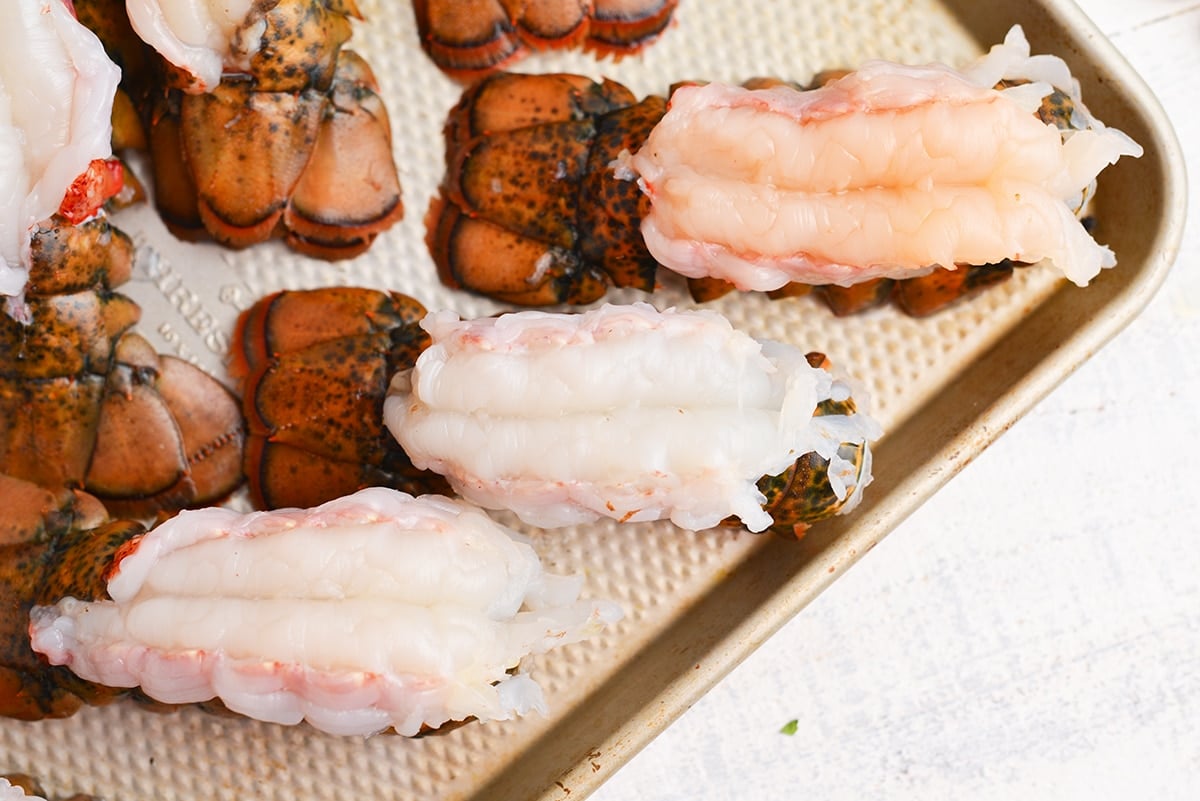 Is it Better to Bake or Broil Lobster Tails?
There are many good ways to cook a lobster tail, but broiling is high up there along with steaming and poaching. Grilling lobster is also a great method, but requires special equipment (a grill).
Due to the delicate nature of the lobster meat, it needs a quick and high heat or something that is more mild, but with a lot of moisture (steam) to keep them from drying out and that is why broiling is the best way (and also the easiest way). A larger lobster tail might benefit from poaching or steaming since it includes moisture.
And of course you can make whole lobster, but that can get a bit tricky and messy to crack open.
How Long Do You Cook Lobster Tails?
The general rule for broiling lobster tails is one minute more ounce at 4-5 inches away from the heating mechanism. I like to only cook them for 30 seconds less than the recommended time due to carry over cooking. And yes, you should still let them rest, just like meat.
Baking, searing and boiling are other options.
How Do You Butterfly Lobster Tails?
Butterflying the meat means removing it from the shell so it has direct access to the heat, cooking it fast and even. Setting it up on its own shell will allow heat to circulate around the whole tail, helping it cook evenly without drying.
Use sharp kitchen shears or a sharp knife to cut the top of the shell right down the center, keeping it attached at the base.
Run a finger around the bottom of the shell to loosen it. You might have some shell related injuries here, so be careful!
Meat will tear away from the shell allowing you to pull it up and out whole, setting it on top. Sometimes you need to bend in the bottom shell with your palms to pop it out.
If there is a black, brown or green vein through the center, gently pull to remove it and discard.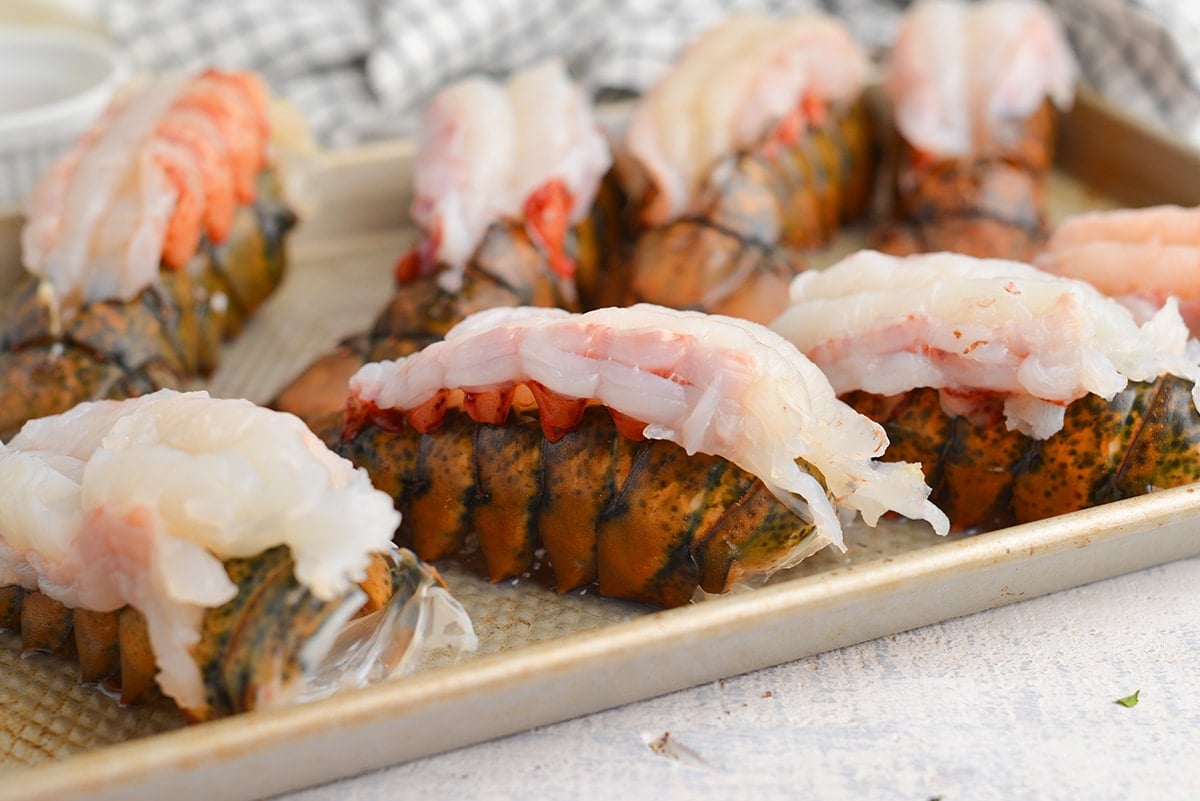 Do You Rinse Lobster Tails Before Cooking?
Generally speaking, lobster tails do not require being rinsed, however if you butterfly it and there are small shards of shell or pieces of the digestive tract were removed, you might want to give it a quick cold water bath.
If you do rinse or they are super wet, blot them dry with a paper towel so the seasoning and butter baste can stick to the meat.
What is Drawn Butter?
People use the term drawn butter and it does sound super fancy. So what is it and can I make it at home?
Drawn butter is just another term for clarified butter or ghee. This an unsalted butter has had all of the milk solids and water evaporated out leaving behind a liquid gold sauce.
Clarifying butter is pretty easily, it just involves simmering the butter and then spooning off the frothy white top. If you are really particular, you can run it through a fine mesh sieve. But if you are feeling lazy, grab a jar of ghee at the store. It is shelf stable and can be used in many different types of cooking. Here are instructions for making clarified butter.
You can also make a crab butter, which is basically butter seasoned with citrus and seafood seasoning.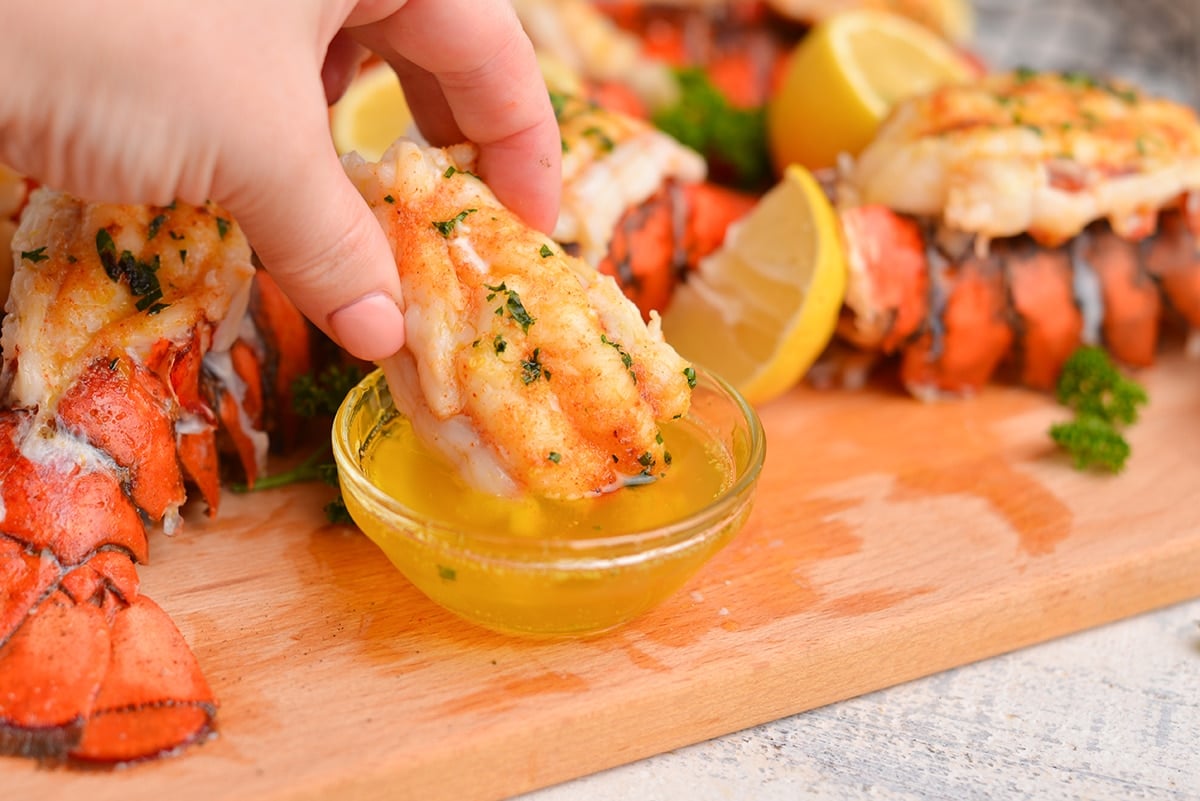 What You'll Need
The ingredient is list is pretty short. Feel free to modify the seasoning blend to your liking. The only two things I suggest not omitting are the lobsters and butter.
Lobster tails– Aim for small to medium tails and make sure they are fully thawed before cooking. Use fresh lobster tails or frozen (thawed).
Seasoning blend– Our blend is a simple mixture of garlic powder, onion powder, salt and smoked paprika. Sweet or spicy paprika can also be used. It pays to know your audience! White pepper is also a good addition.
Clarified butter or ghee- In a pinch you can use standard butter, but know that it might drop off easier before of the water content and the milk proteins will likely start to brown and burn under the intense heat of the broiler.
Flat parsley– Also known as Italian parsley, it adds a mild earthy flavor to the butter and it looks pretty.
Lemon Zest– Zest adds a pure lemony flavor without breaking the sauce like adding straight acid would do. It's light and refreshing.
Hot sauce- My secret ingredient! Only a couple of dabs will give your seafood butter zing; it won't be spicy. I learned this trick from my mother who used Tabasco in her butter baste for cornish game hens. It's delicious and will be the thing people "can't put their finger on".
Fresh lemon wedges- Has there ever beef a seafood that didn't benefit from a citrus spritz before serving? Adding lemon juice at the end preserved the true flavor and doesn't break the butter based sauce.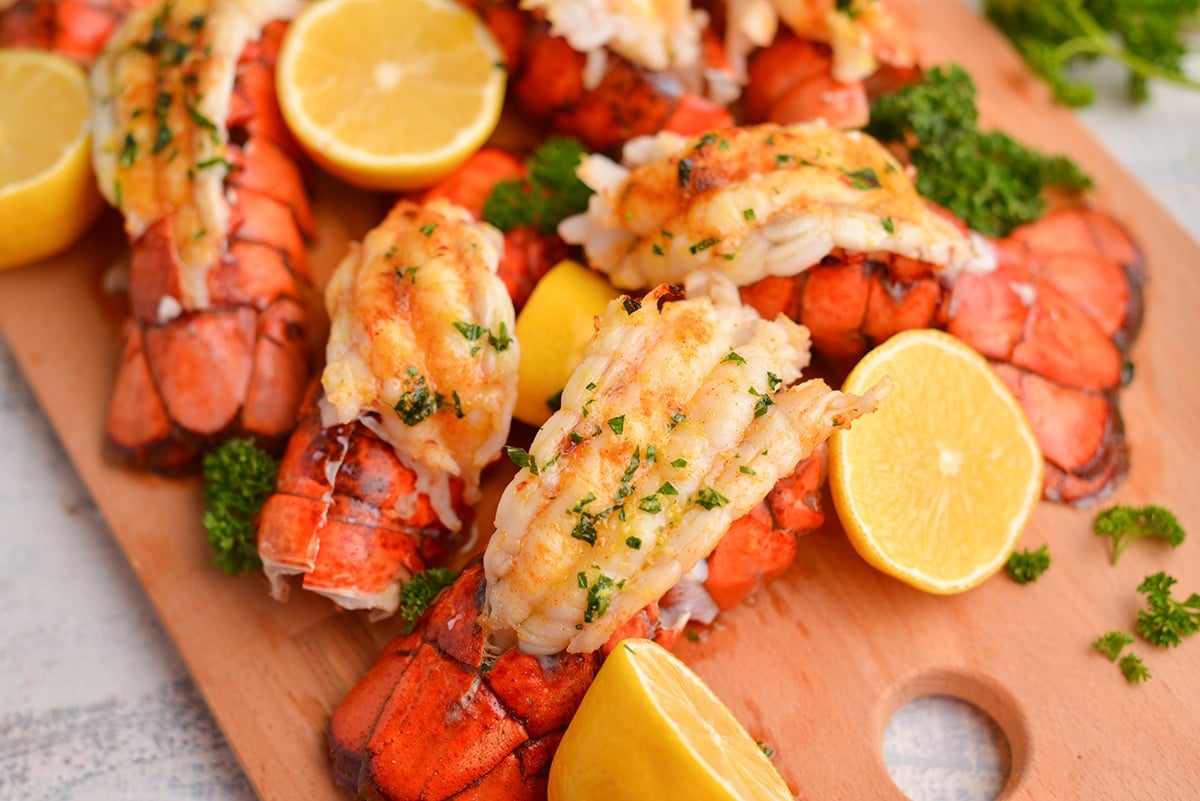 How to Cook Lobster Tails
Get ready- in just 15 minutes you'll have a meal worthy of a special occasion!
Preheat the broiler to high heat and place an oven rack 4-5 inches away from the heating mechanism. Grab a heavy duty rimmed baking sheet or a broiler pan. Thinner pans might warp under the extreme heat. Having sides ensures any loose butter won't escape to the bottom of the oven.
Butterfly using sharp kitchen shears and place lobster tails a rimmed baking sheet or broiler pan. Fanning out the tail fins can help them balance easier.
Melt the clarified butter and then whisk in the lemon zest, parsley and hot sauce, if using.
In a small bowl, whisk together the garlic powder, onion powder, salt and paprika. Depending on how large your tails are, you might not need this whole amount.
If the tails are wet or moist, dab dry with paper towels. Sprinkle the seasoning blend liberally over tail meat.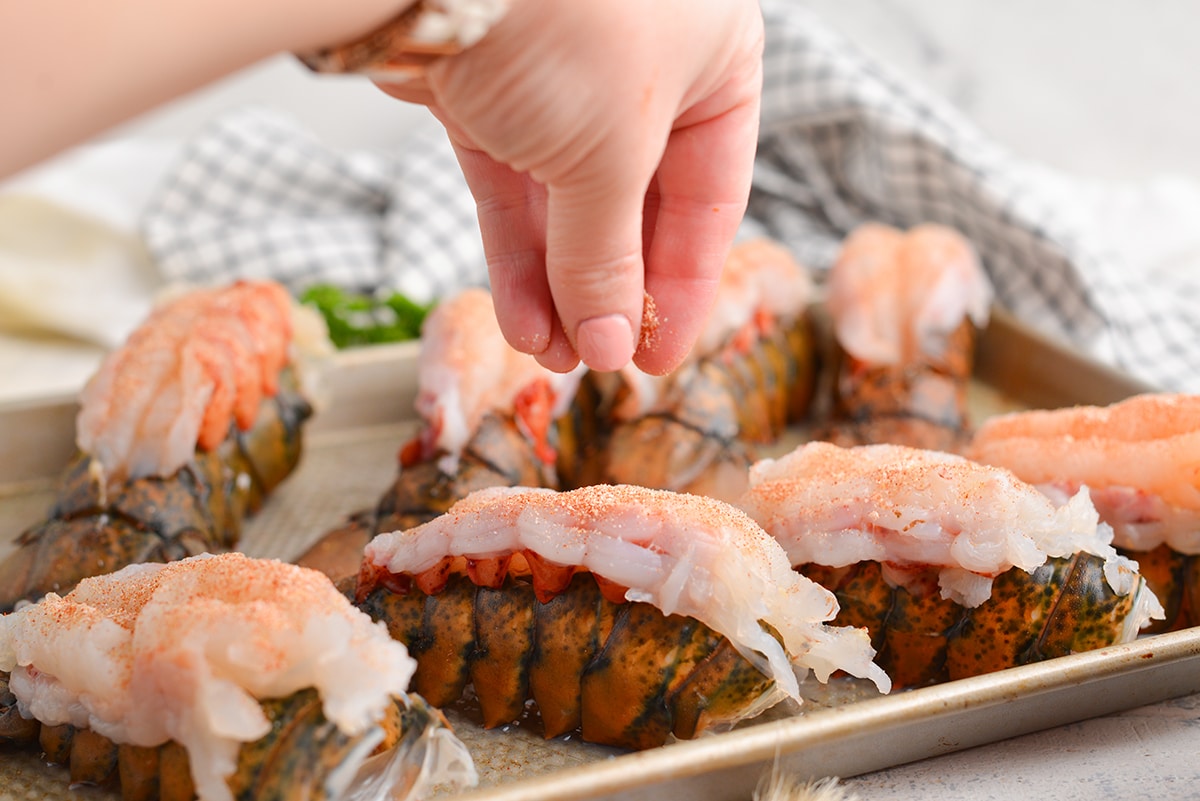 Using about half of the butter, baste the tails.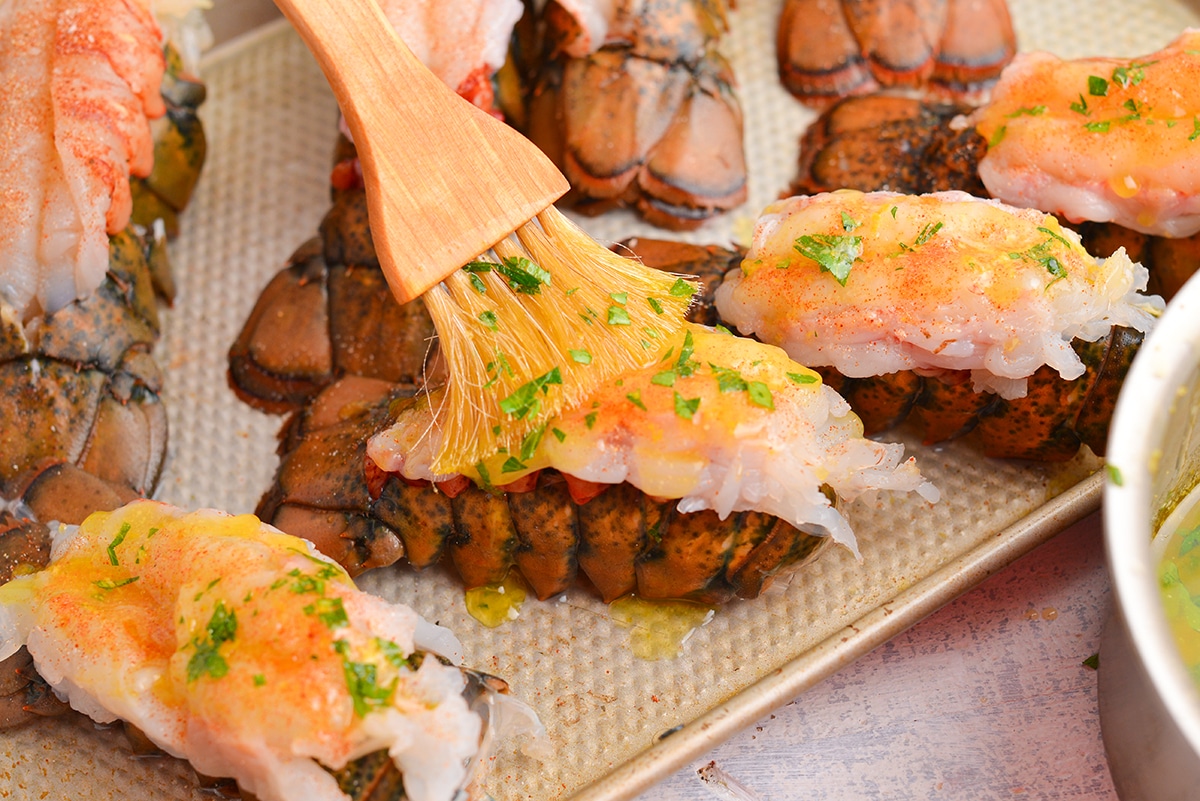 Broil for about 1 minute per ounce, but watch carefully! Remove when meat is opaque, but before it starts to brown. Cooking time with vary based on the size.
Remove and baste again with the butter mixture. Spritz with fresh lemon wedges.
What to Serve with Lobster Tails
Practically anything pairs well with lobster, it's a sweet buttery meat, but my favorite is always beef. Pan seared steak, steak frites, or even oscar style steak. Don't be afraid to pair this surf with more seafood either. Scallops, crab cakes and squid ink pasta are loads of fun.
But don't stop there- pair this with chicken or pork like baked chicken thighs, chicken piccata or pork tenderloin.
Amazing side dishes include artichoke hearts, linguine or butter swim biscuits.
How to Reheat Cooked Lobster
Leftovers can be stored in an airtight container in the refrigerator for up to 2 days. Reheating it tricky because of the delicate meat which gets a tad rubbery when reheated. I suggest reheating, covered, in the oven at 300°F or a quick pan fry in hot butter.
The other option is to enjoy leftover lobster tails cold or make them into a lobster salad or lobster rolls.