Broiled Lobster Tails with melted butter is the perfect meal to serve for a special occasion or for a date night at home. This recipe will change your perception on how easy it is to make lobster tails.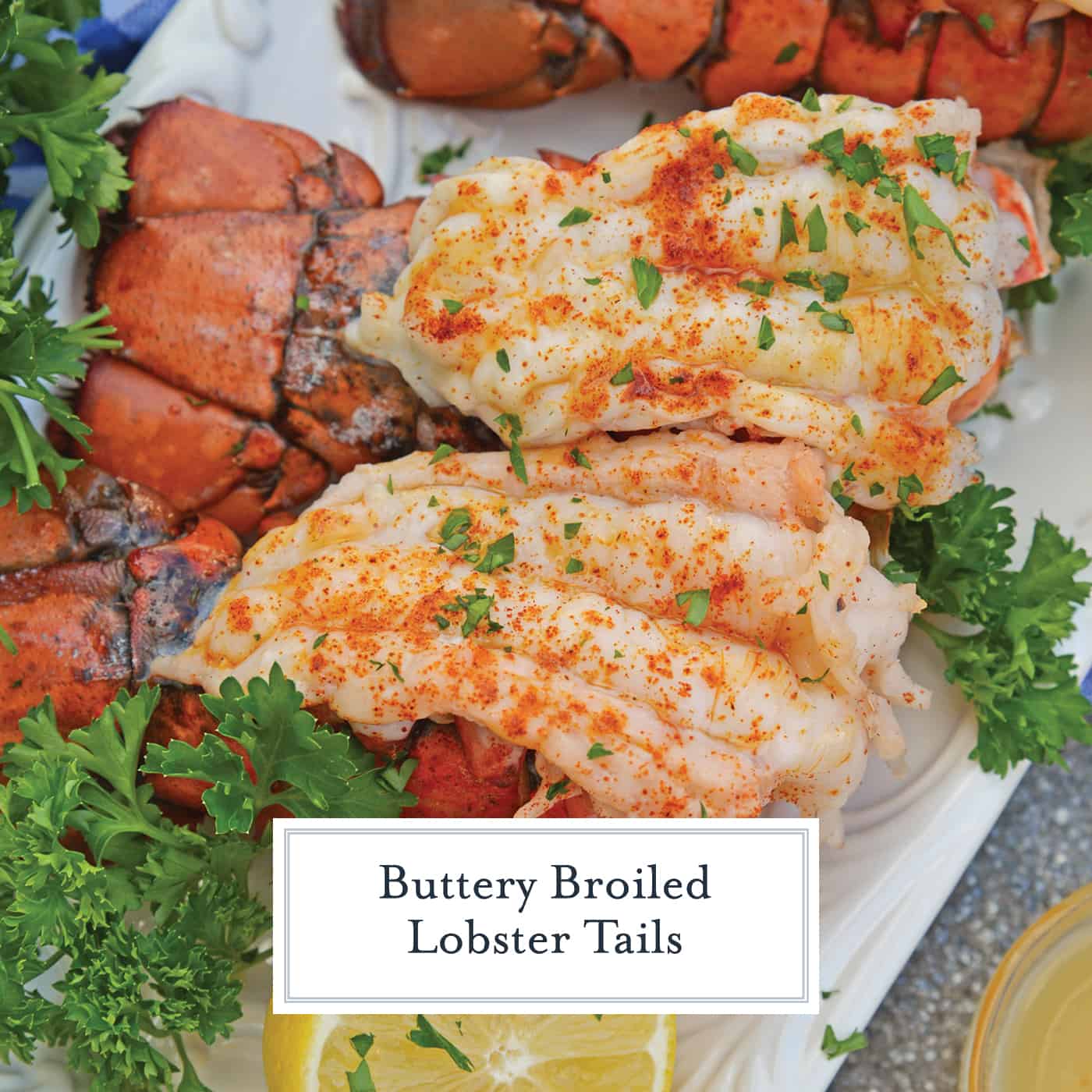 Broiled Lobster Tails with Lemon Butter brings the feel of a fancy seafood restaurant right to the comfort of your own home and is ready in just minutes!
This broiled lobster tail recipe is a lot easier than it seems and actually only takes 10 minutes or less to cook. The ultimate quick meal.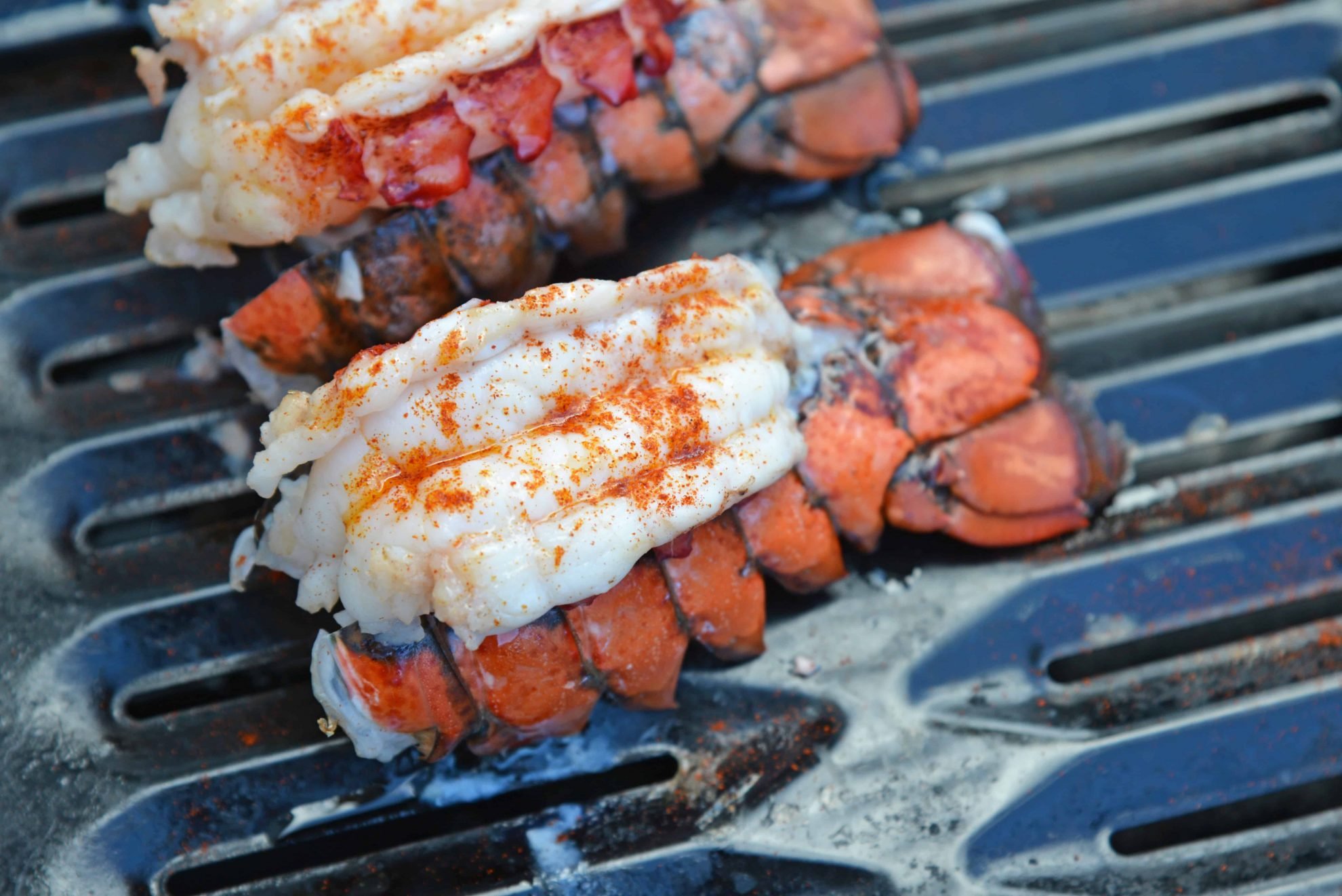 Lobster: fancy, special occasion, expensive! Because of all these reasons, people tend to be scared to make lobster at home.
They don't want to waste the money or ruin a celebratory event if they mess it up. I'm here to tell you that broiling a lobster tail does not have to be difficult or (that) expensive.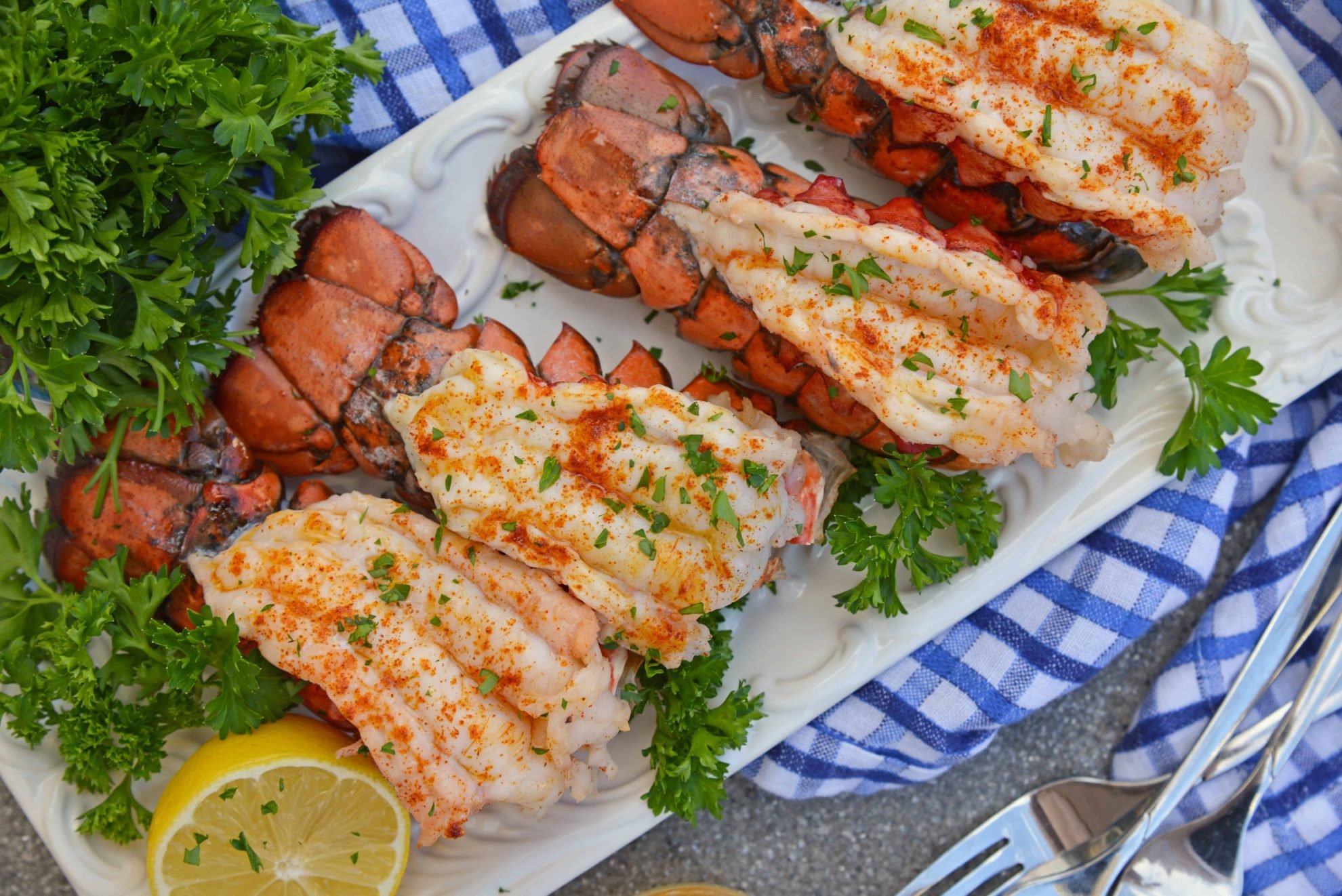 Plus I'll show you exactly how to cook lobster tails with ease. I find that knowing more about the food I am preparing helps me become more confident. So here are my thoughts on lobster tails.
The first thing to remember when broiling lobster tail is that size does matter… only the size you want is actually SMALLER. Yep, smaller lobster tail meat is better in this case.
A large lobster tail will take longer to cook all the way through and thus become chewy and tough on the outside. Don't break the bank buying the tail. Also, keep a watchful eye for sales on frozen tails at your grocery store.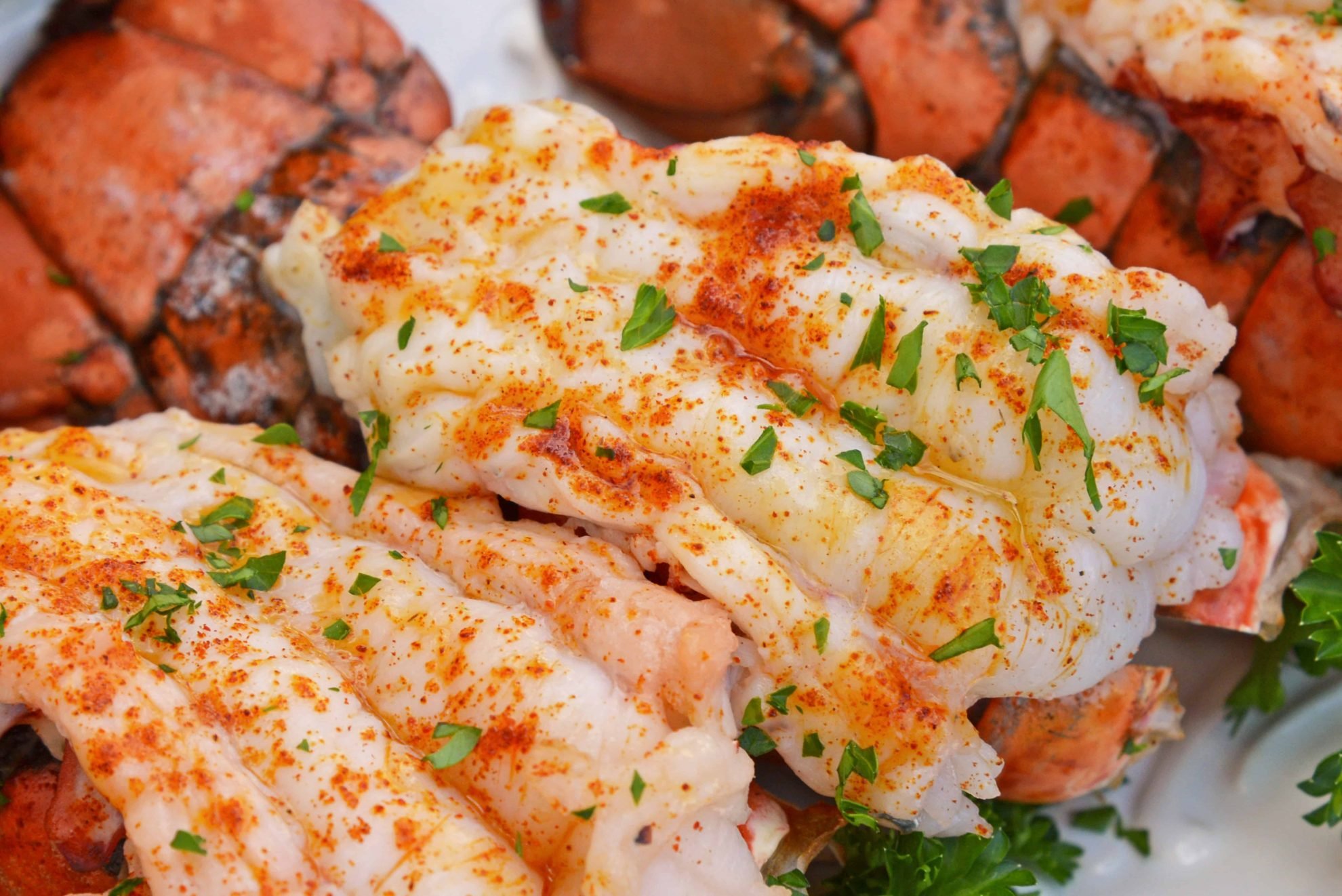 I can usually get decent 2-4 ounce frozen tails for $5 each on sale. You can get two and pair them with a nice filet mignon or plan for two each. It is the same price you'd pay for two good New York Strip steaks.
More expensive than your average weeknight meal, but much less than $19.99+/pound for a whole, live lobster where most of what you are paying for is inedible and shell.
If you know an event is coming or you just want a special dinner, buy a few and throw them in the freezer for the next occasion. Or buy them frozen and keep them that way.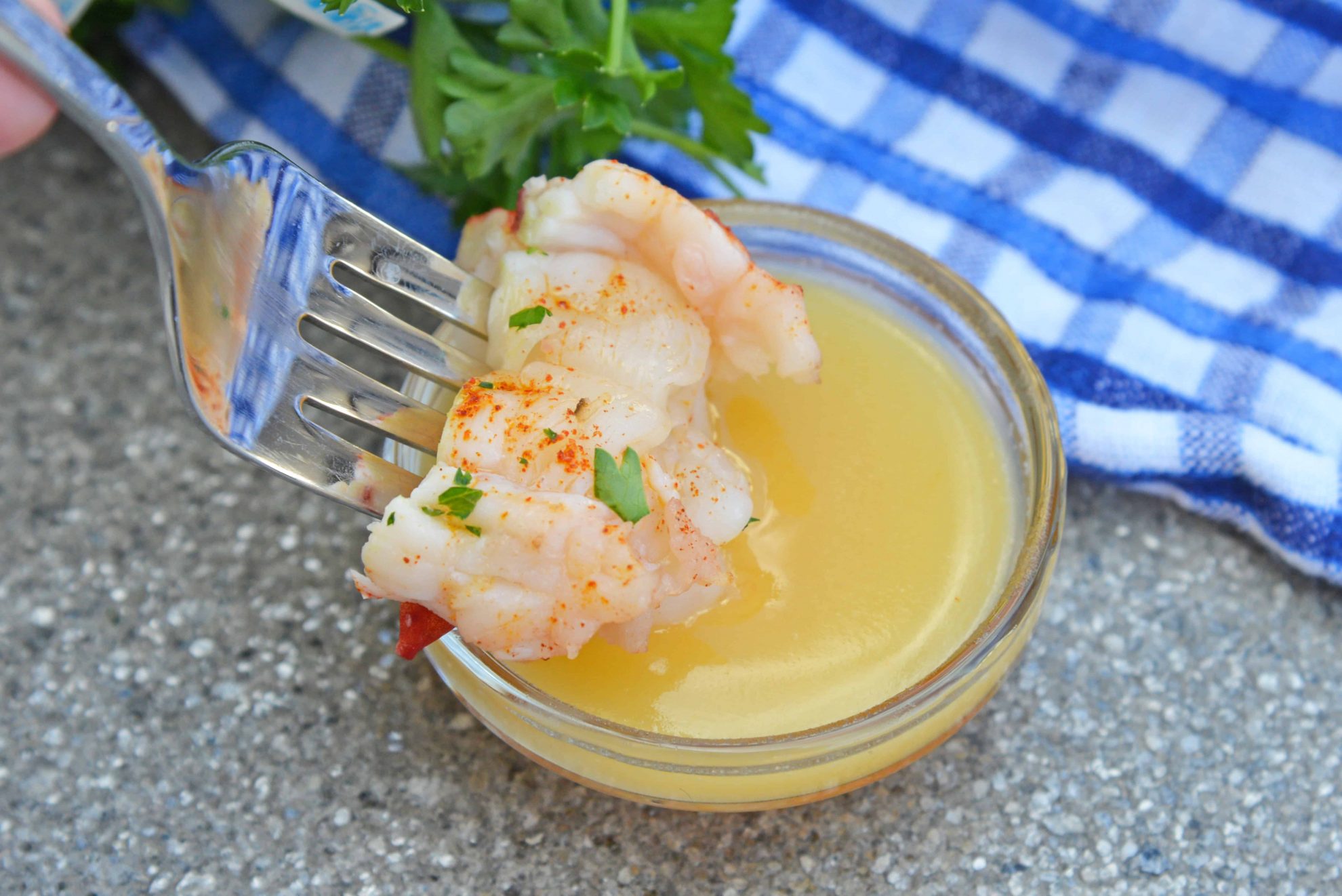 Secondly, you'll want to partially remove the lobster meat from the tail. Setting it up on its own shell will allow heat to circulate around the meat, helping it cook evenly without drying.
Simply use kitchen shears to cut the top of the shell and bottom of the shell. Meat should easily tear aways from the shell allowing you to pull it up and out whole, setting it on top.
Let's review how to broil lobster tail.
Preheat the broiler.
Cut the shells with kitchen shears.
Remove the lobster tail meat. Place lobster tails on a baking sheet.
Broil lobster.
Cook time will vary based on size, but watch for lobster meat to turn opaque and shells a brilliant red.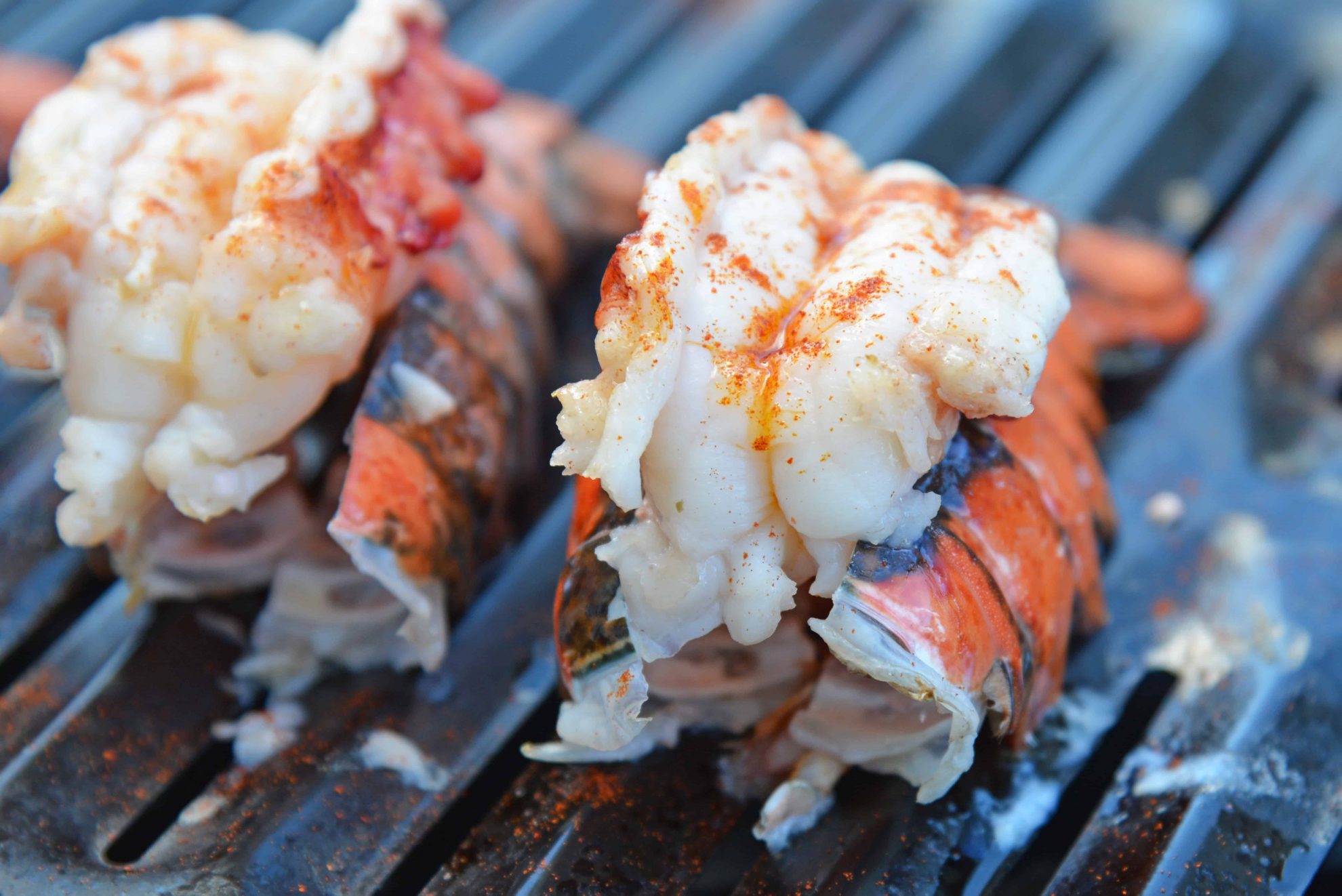 If you choose to use clarified lemon butter as your dipping sauce, it will take longer the prep and cook of the lobster. It is still pretty easy though.
Follow these easy instructions for clarified butter, or skip the clarifying process altogether and just make lemon butter with regular butter.
Although lobster is the main event for this meal, clarified lemon butter is delicious. In fact, my husband has been known to take a few tastes of it without anything to dip!
A brilliant gold color will light up your plate and your palate. Melted butter is liquid gold, I tell ya. Get some crusty bread for dipping the seasoned butter, you'll thank me.
Also serve with fresh lemon wedges. All seafood goes well with fresh lemon juice, but did you know that lemons are actually served with seafood for rinsing your fingers and getting rid of the stinky seafood smell?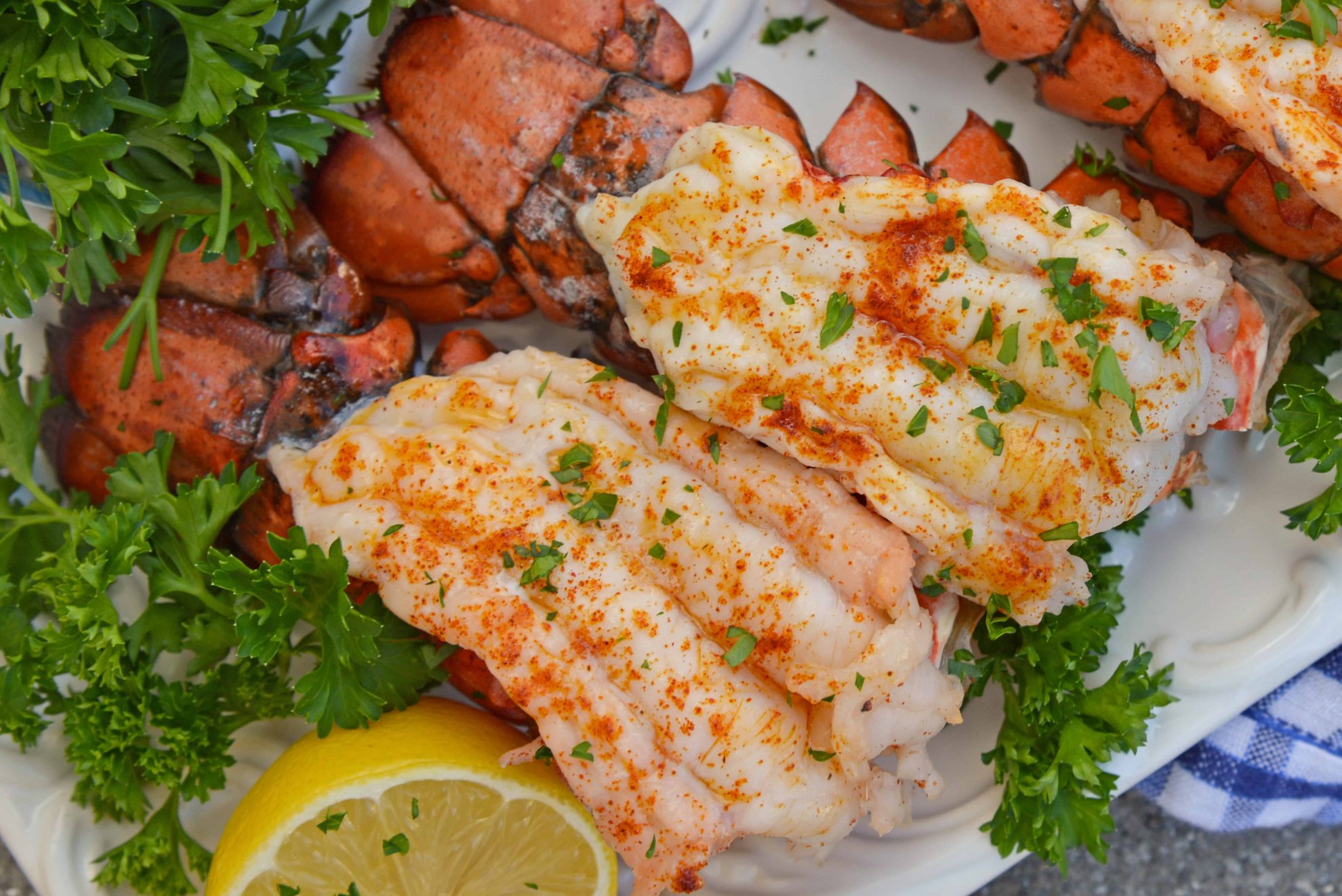 Tools for making Broiled Lobster Tail:
Kitchen Shears– From sniping herbs with ease to cutting lobster tails, kitchen shears are an essential element to any kitchen.
Broiler Pan– You can used a rimmed baking sheet, but a broiler pan hold the food up allowing liquids to drop without food being pooled and also letting heat circulate around for even cooking.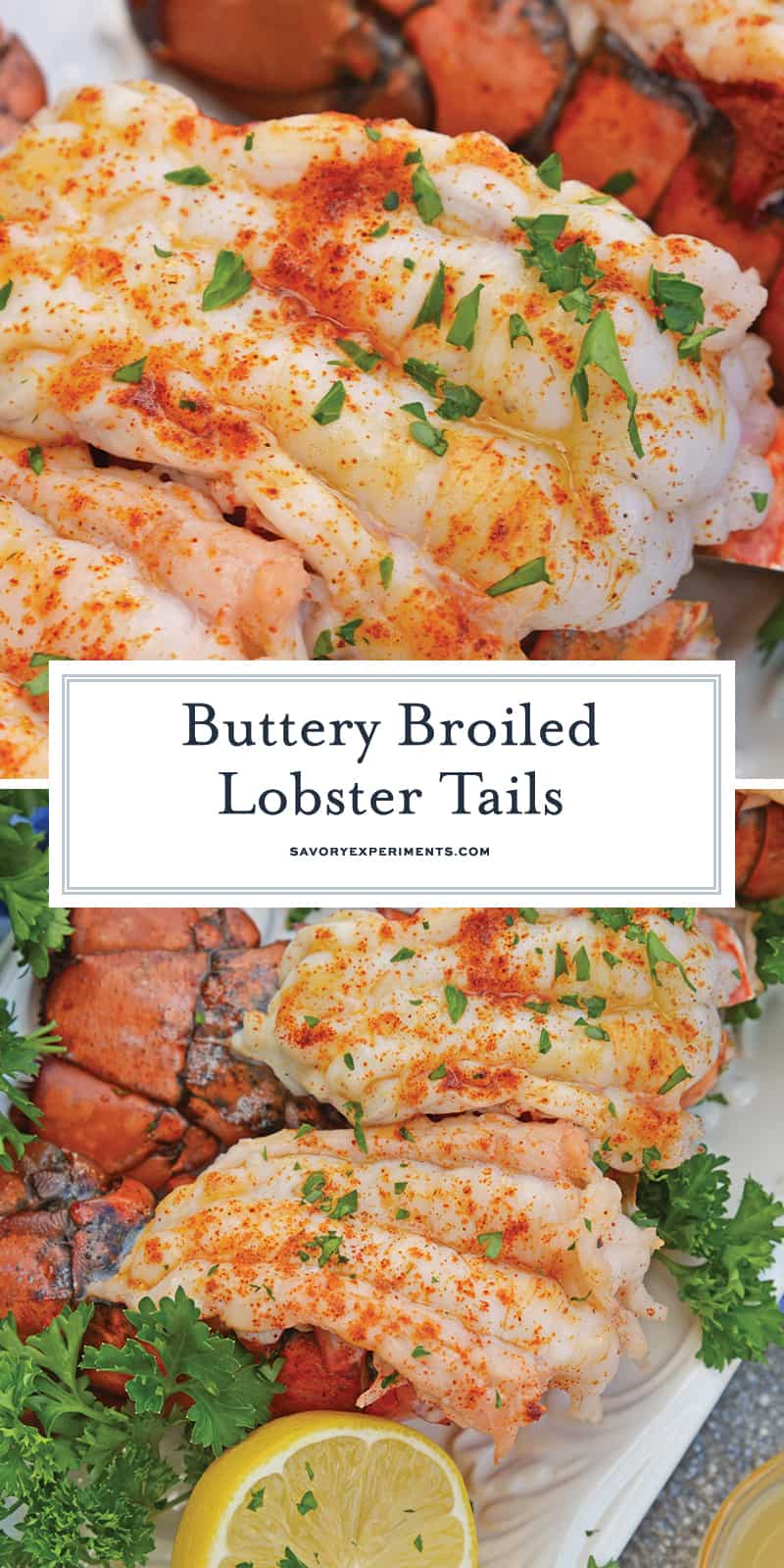 Here are a few fun facts about lobster for you dinner conversation:
During Colonial times, lobster was considered to be the "poor man's food", a bottom feeding crustacean, it was fed to livestock.
Only Maine lobsters have claws, Caribbean lobsters called spiny lobsters, have no claws.
Lobsters can live as long as 100 years. They rarely get "sick" and die, they need to be preyed on.
Lobsters continue to grow through their life, so a lobster can grow up to 40 pounds! That puts your pricy 7 pound lobster to shame. Ha!
Lobsters are a great form of protein, omega 3 fatty acids and are low in fat and calories (until you add the butter….)
Lobster molt their shells through the lifecycle, also known as soft-shelled lobster, kind of like soft-shelled crab. They are plentiful from July-October.
Live lobsters aren't red, they are blue, yellow or brownish.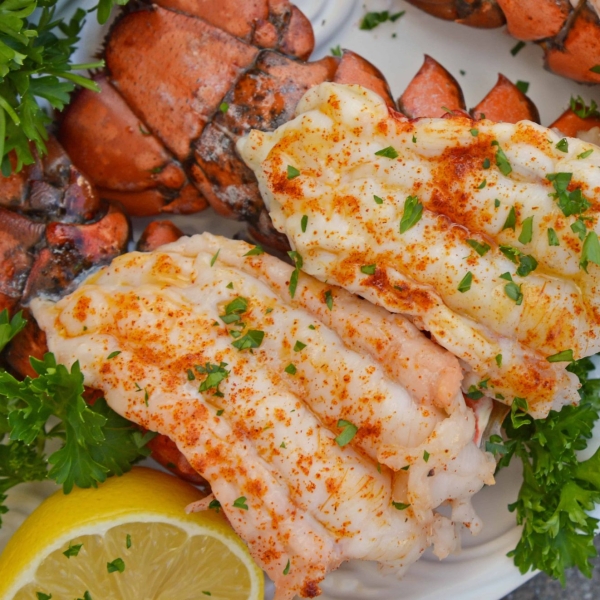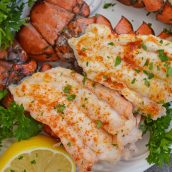 Broiled Lobster Tail Recipe
Broiled Lobster Tails with Lemon Butter brings the feel of a fancy seafood restaurant right to the comfort of your own home and is ready in just minutes!
Instructions
Lobster tails usually come whole and not de-shelled. Use kitchen shears to cut the top of the shell right down the center all the way to the fanned tail, then stop. You can also cut the bottom along the same route. Wiggle your fingers around the connective tissues to loosen the meat. Gently pull it up through the incision and set on top of the shell. Setting it on top is not only aesthetically pleasing, it allows the warm air to circulate around the meat to cook evenly. Repeat with remaining tails.

In a small saucepan, heat clarified butter with lemon juice, lemon zest and hot sauce over very low heat, just enough to keep it in liquid form.

Preheat broiler.

Place lobster tails on a broiler pan or rimmed baking sheet about 6-9 inches away from the broiler coils while keeping a watchful eye. Broil for approximately 3-4 minutes. Time will vary greatly depending on size of the lobster tail, your oven and distance from the heating mechanism. Lobster tails are done when the meat has turned an opaque white and the shells a brilliant red.

Baste the top of the lobsters tails with clarified lemon butter and sprinkle with smoked paprika.

Remove and serve immediately with a side of clarified lemon butter.

If you've tried this recipe, come back and let us know how it was!
Nutrition
Calories:
245
kcal
,
Protein:
10
g
,
Fat:
22
g
,
Saturated Fat:
14
g
,
Cholesterol:
137
mg
,
Sodium:
268
mg
,
Potassium:
126
mg
,
Calcium:
53
mg
,
Iron:
0.2
mg