Herb Garlic Pork Tenderloin is a seasoned piece of lean pork made into a sheet pan meal with potatoes, Brussels Sprouts and carrots. Delicious, easy and super colorful.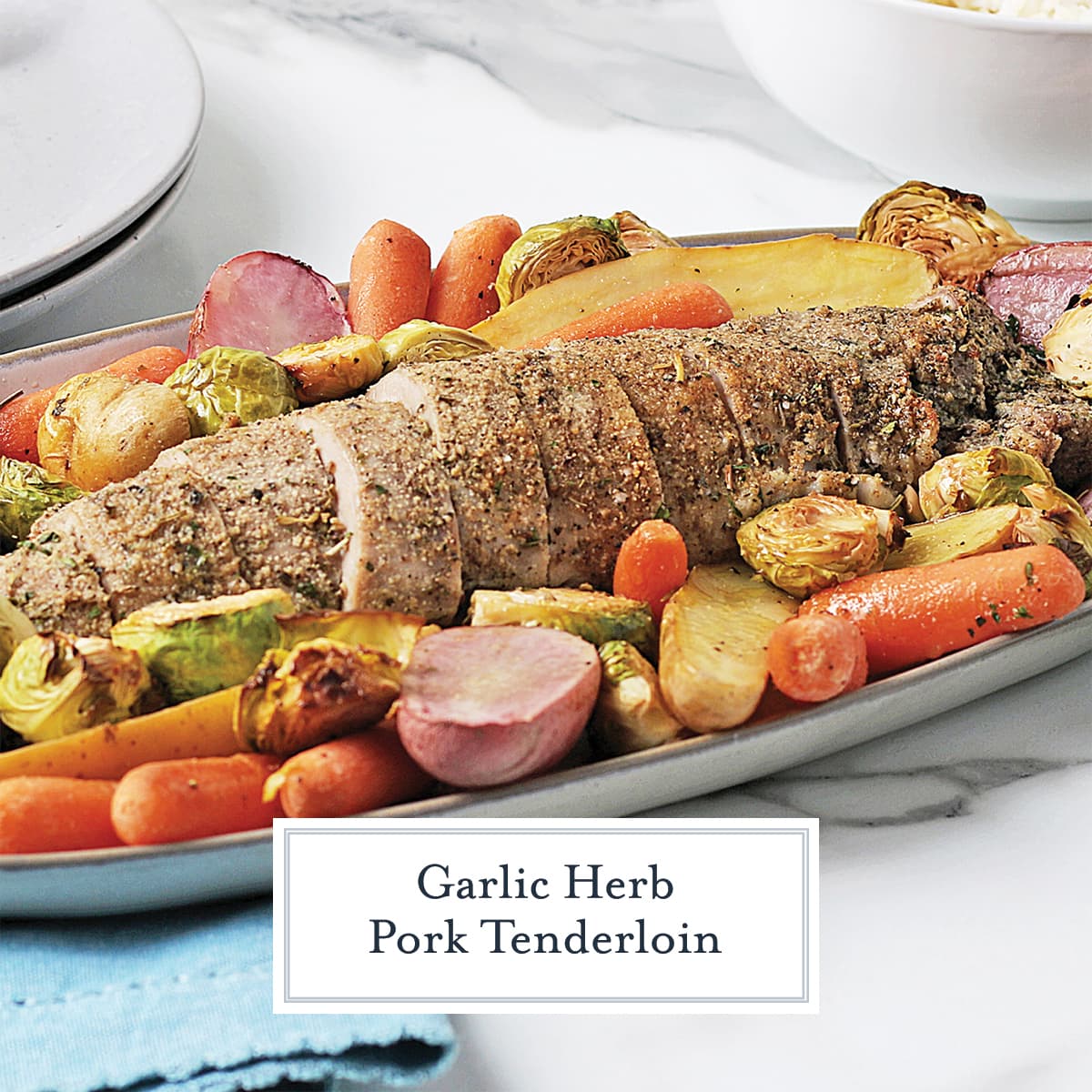 How To Cook Pork Tenderloin
When is comes to cooking pork tenderloin, there are many ways to achieve a perfectly juicy roast. You can grill, smoke, sous vide, slow cook or even pressure cook. But from what I've found, a simple recipe is the best recipe for a melt in your mouth cut of pork.
But the most traditional method is of course a baked pork tenderloin. Most people would actually refer to it as a roasted pork tenderloin, but since this thin, lean cut of meat doesn't take that long to cook, it really isn't roasting!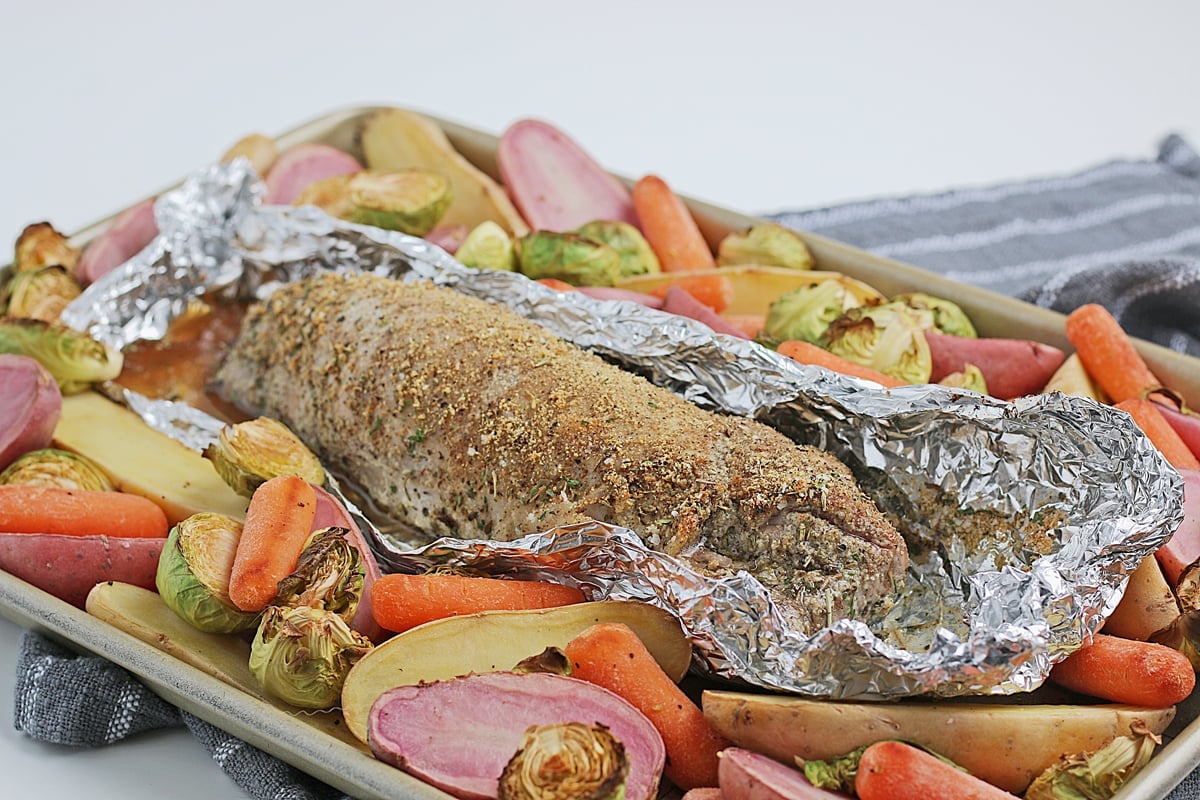 Pork Tenderloin Sheet Pan Meal
What are sheet pan meals? They are meals that can be prepared all on one sheet! Just like this tender and juicy pork tenderloin recipe, it makes cleaning up so much easier and really allows all of the flavors to combine perfectly!
Pair it with quick cooking rice, couscous or even mashed potatoes and you have yourself a well rounded meal in less than 30 minutes. All the flavor and no sacrifices.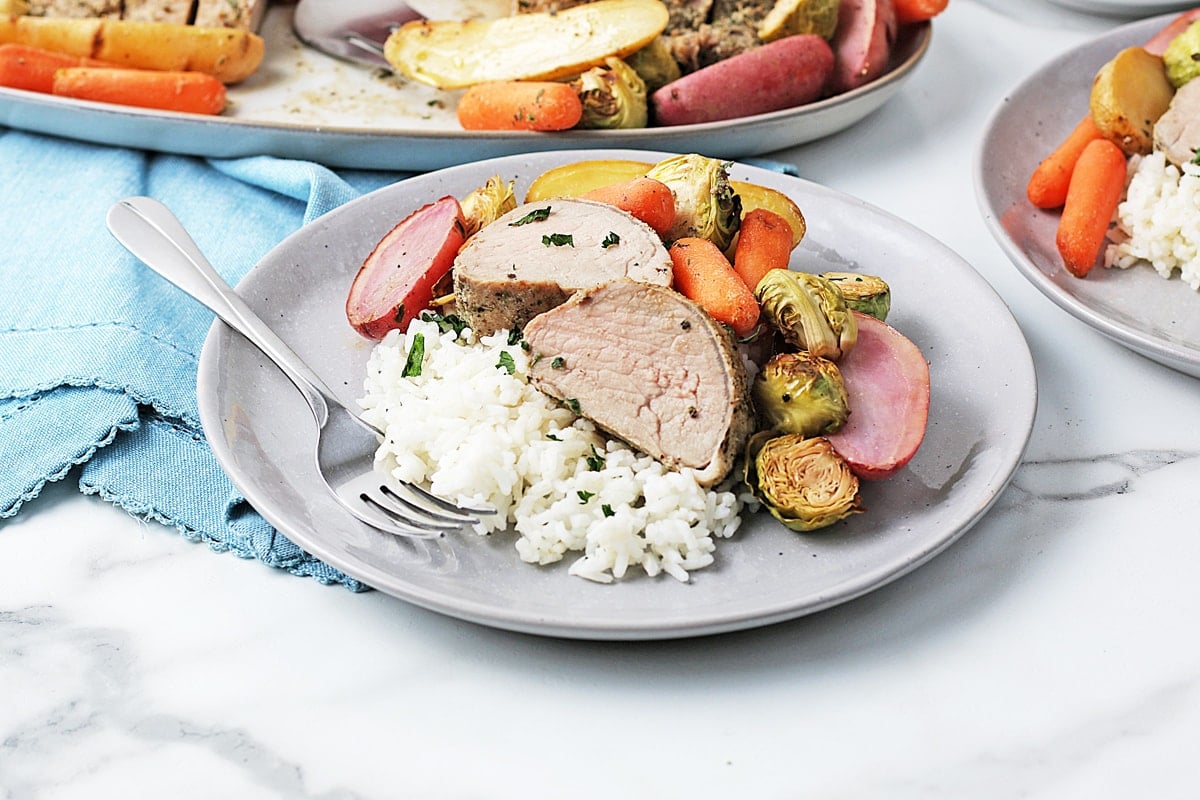 Here are my favorite starchy pairs:
Ingredients & How to Make
Grab your ingredients, including:
Pork Tenderloin
Seasonings: garlic powder, onion powder, coarse Kosher salt, Italian seasoning, ground black pepper
Vegetables: Carrots, Brussels sprouts & potatoes
Red Wine Vinegar
ONE. Mix together seasonings in a small bowl, rub onto pork tenderloin. Create a "boat" with aluminum foil and place onto a baking sheet.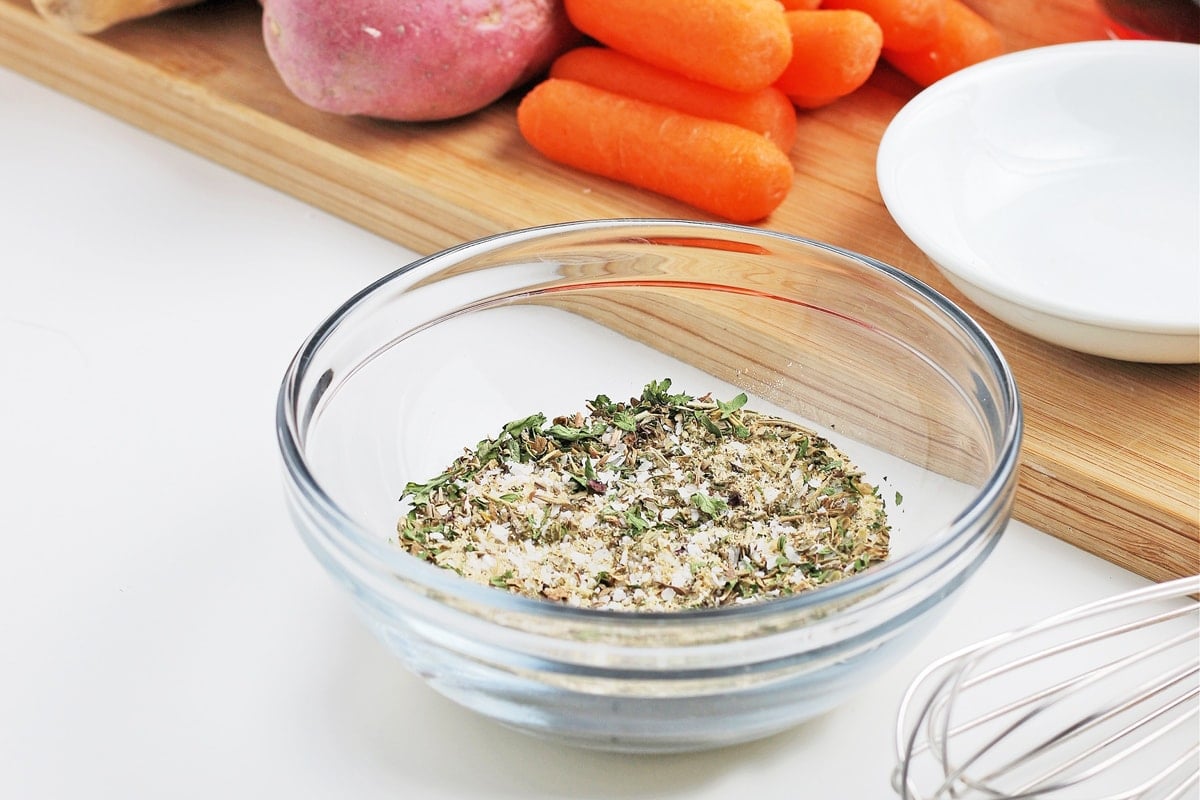 TWO. Toss vegetables with red wine vinegar and season with salt and pepper. Arrange around tenderloin.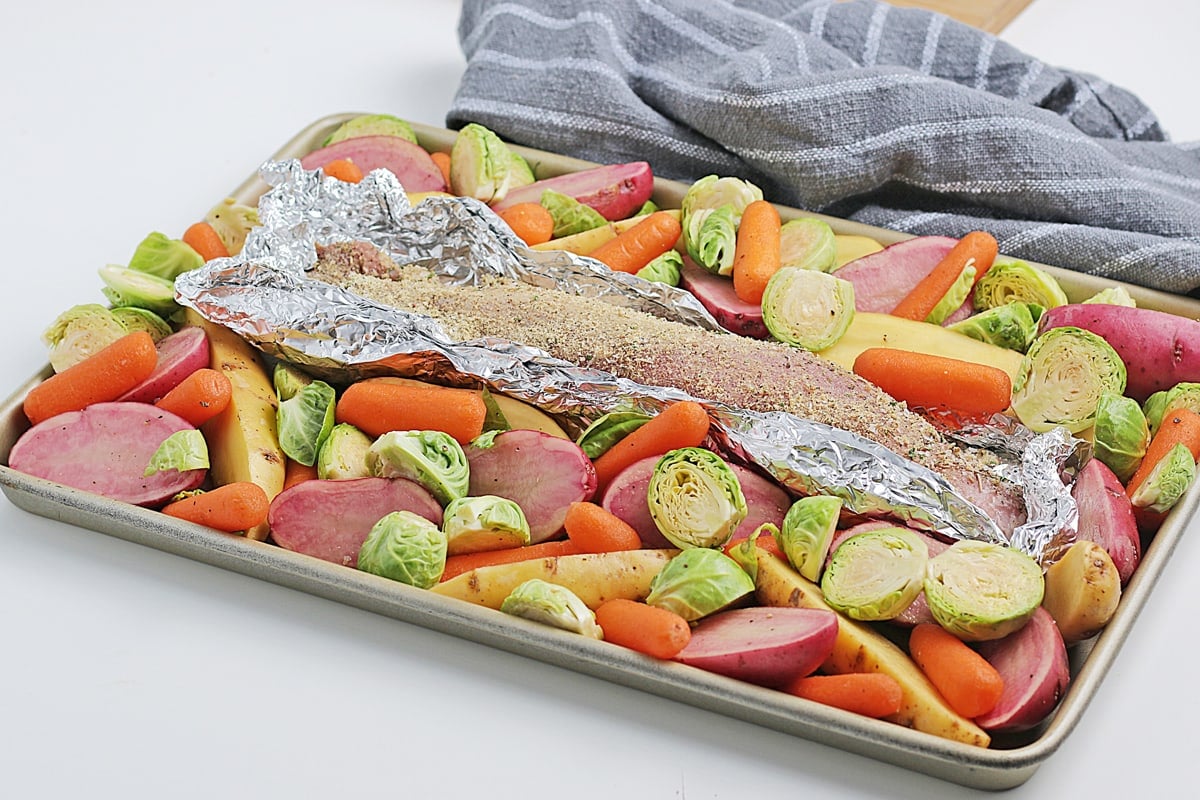 THREE. Roast for about 23 minutes.
FOUR. Rest, slice and serve!
How Long To Cook Pork Tenderloin
This question depends on the size of your tenderloin. The average cut will be about 1 pound and 3 inches thick, but this of course varies greatly. This will feed 3-4 people with about 3-4 medallions per person.
Cook for 23-25 minutes per pound at 350°F. Make sure to use the meat thermometer!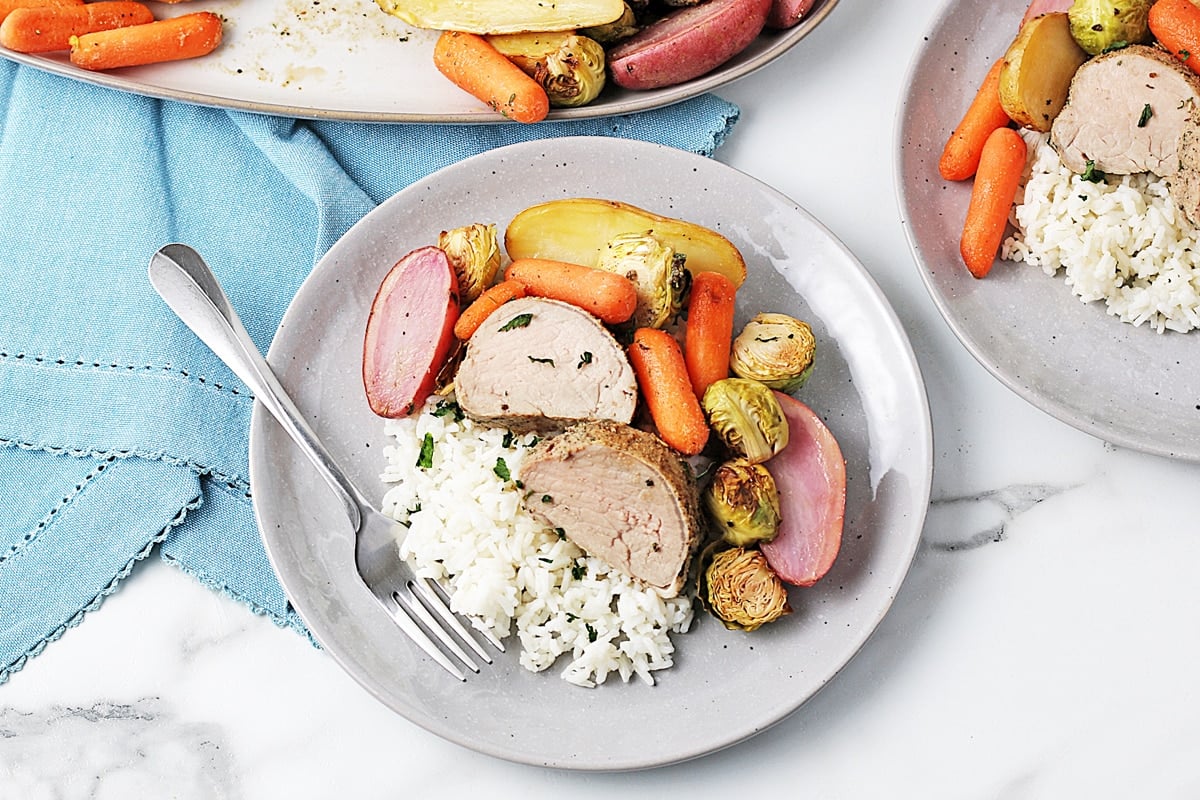 Pork Tenderloin Temperature
One of the biggest complaints that folks have about pork is that it can be dry. There is a huge fear of under cooking and thus, it ends up overcooked.
It is a misnomer that pork is required to cooked to well-done, it can actually be safe to eat at medium, a temperature of 145°F. Then allow for a 4-5 minute resting period.
Use an instant read digital thermometer for best results.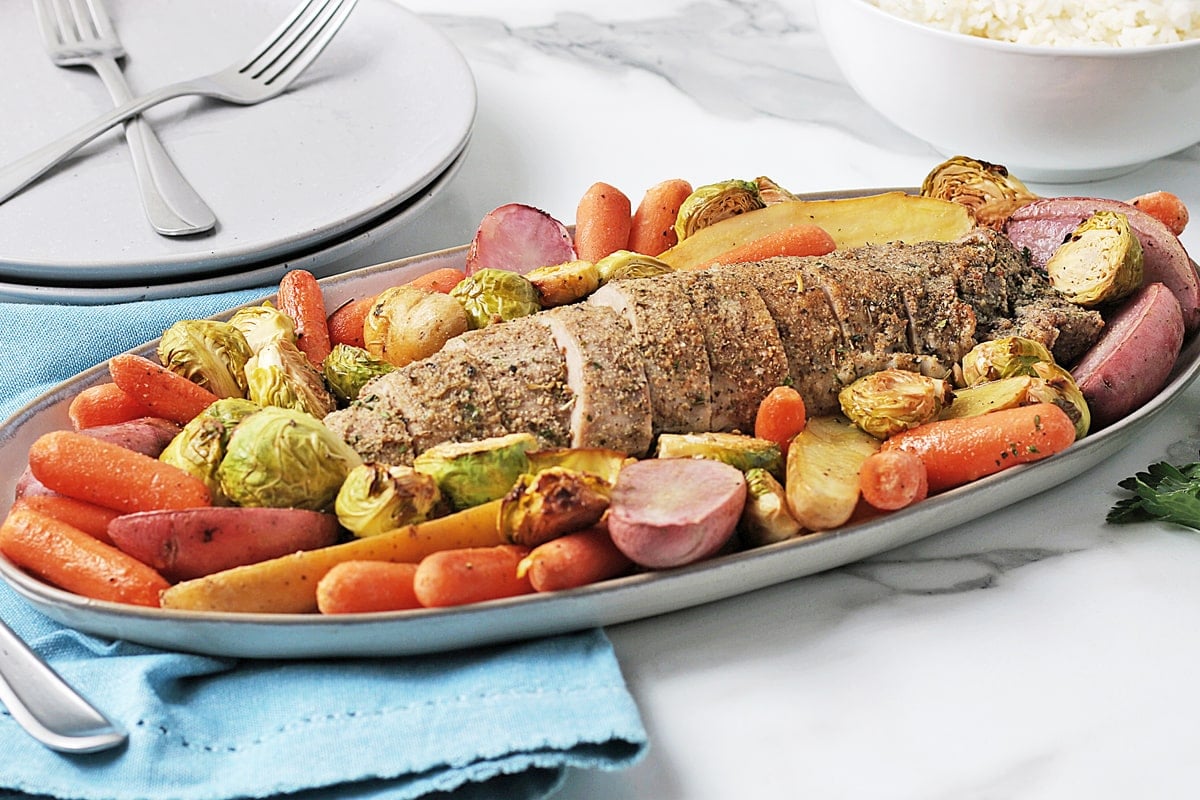 Should I Allow Pork to Rest?
It is important to allow pork to rest just as you would beef or chicken. When meat is hot, the fibers contract and push out moisture.
If you cut into it too soon, all those tasty juices will leak out onto your plate instead of staying put where they belong: in your pork. Let the pork sit for 4-5 minutes so juices reabsorb back into the meat.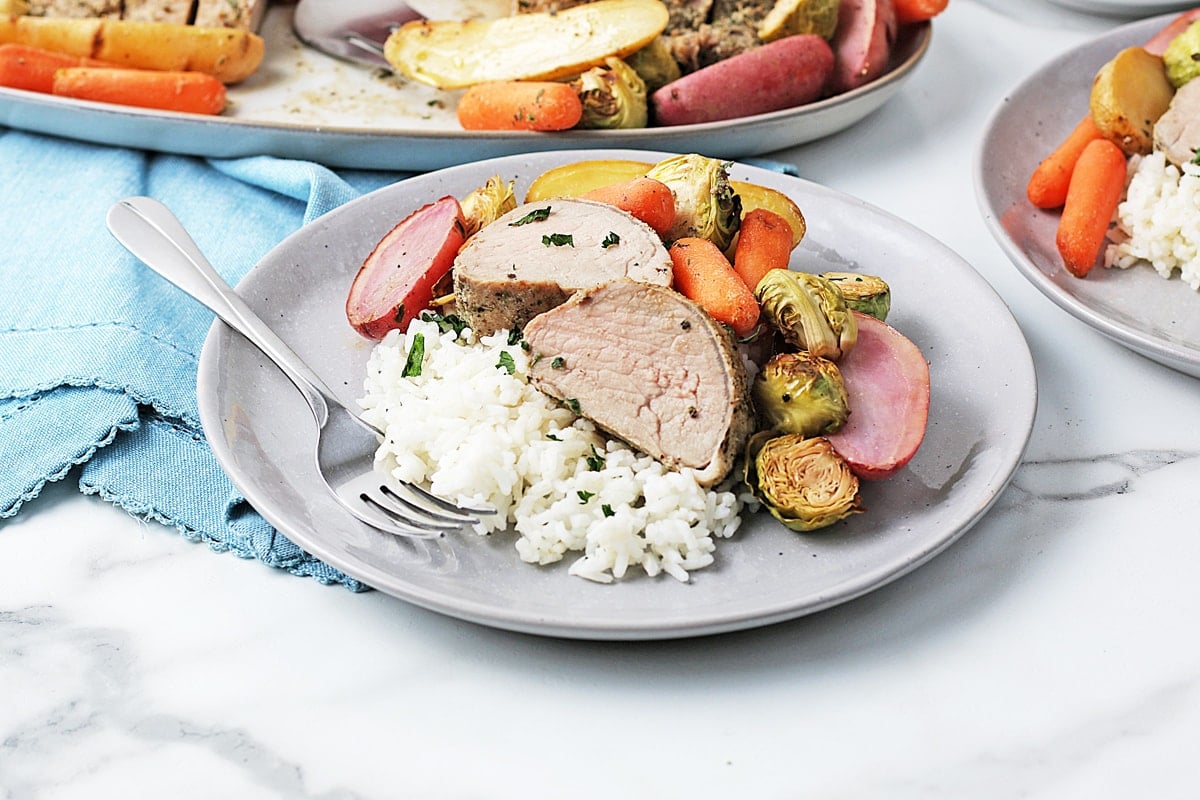 Pork will not cool to the point of being cold, or even near cold, in this amount of time, but if you are concerned, tent it loosely with a piece of aluminum foil.
Pork Tenderloin vs Pork Loin
Tenderloin versus loin can be a little confusing they sound the same, but they are very different. Both are fairly lean and tubular shaped, but they come from different areas and are also different sizes.
A pork tenderloin is a cut of meat that comes from the muscle that runs along the backbone and is skinny and long. Pork loin comes from the back and can be bone-in or boneless. It is larger, wide and flat.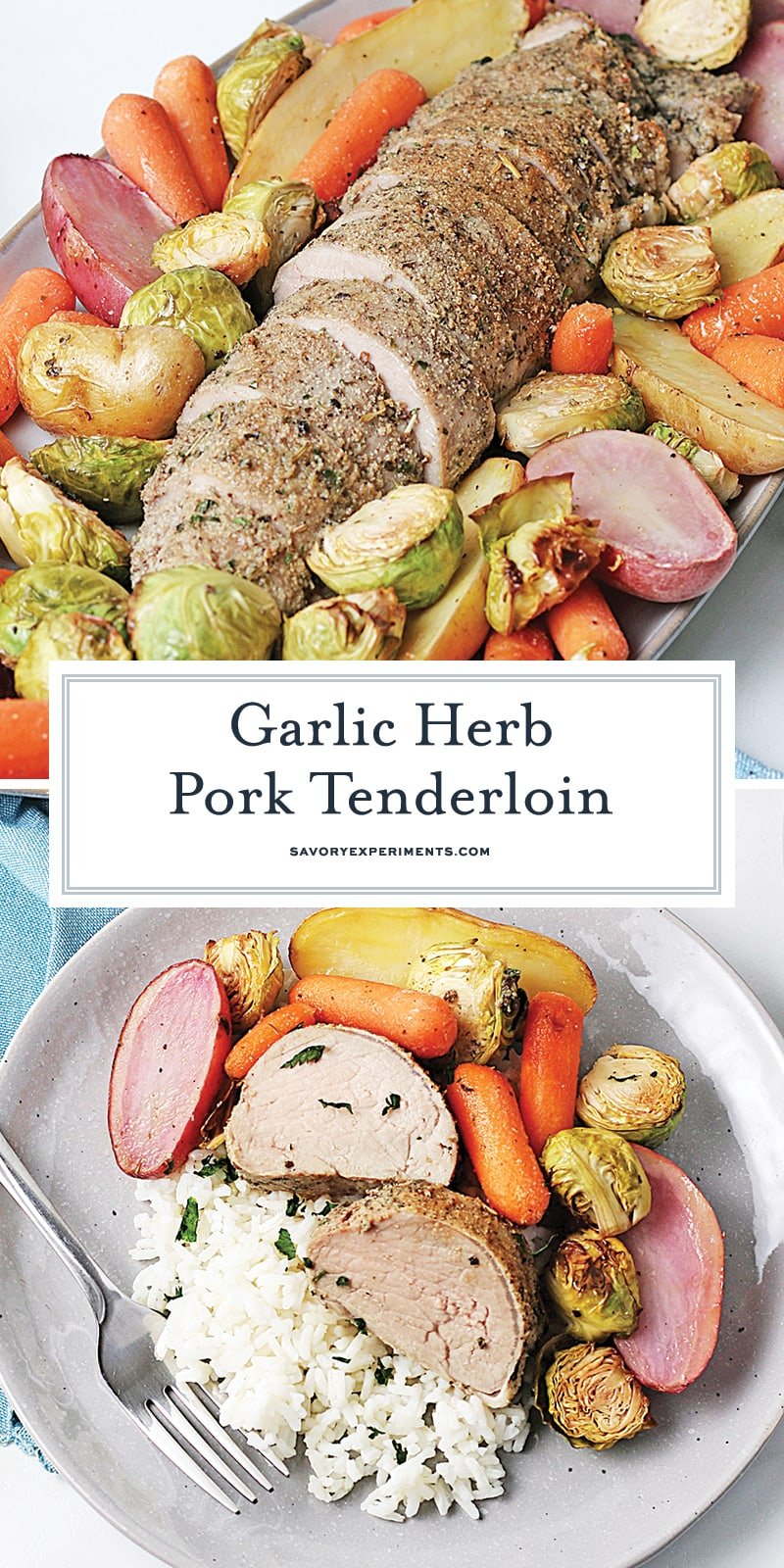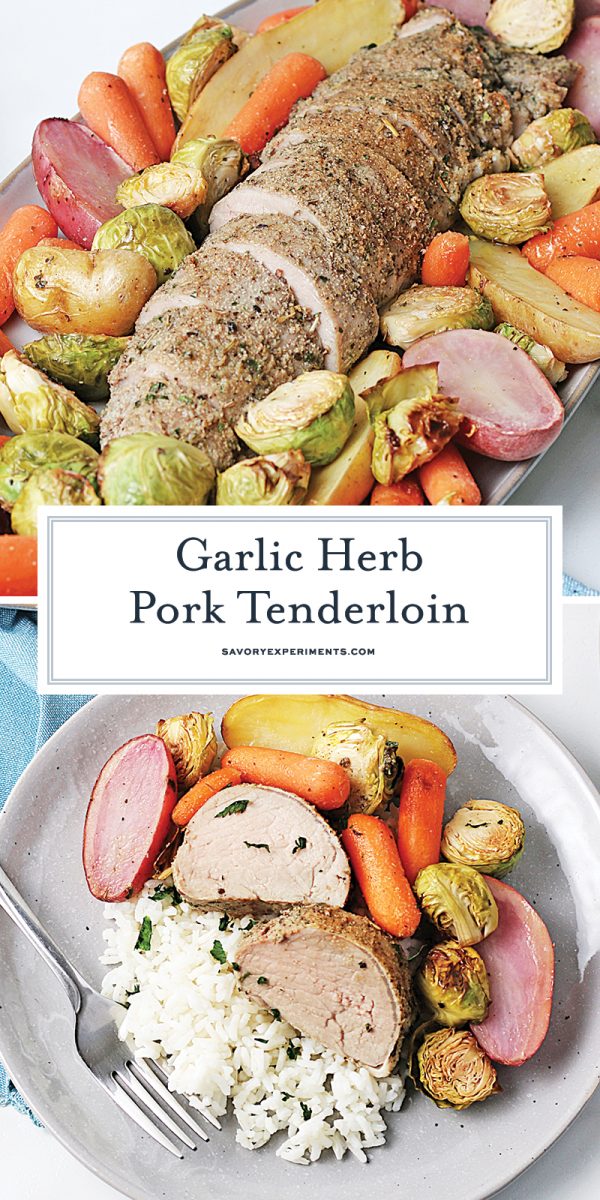 More
easy pork recipes: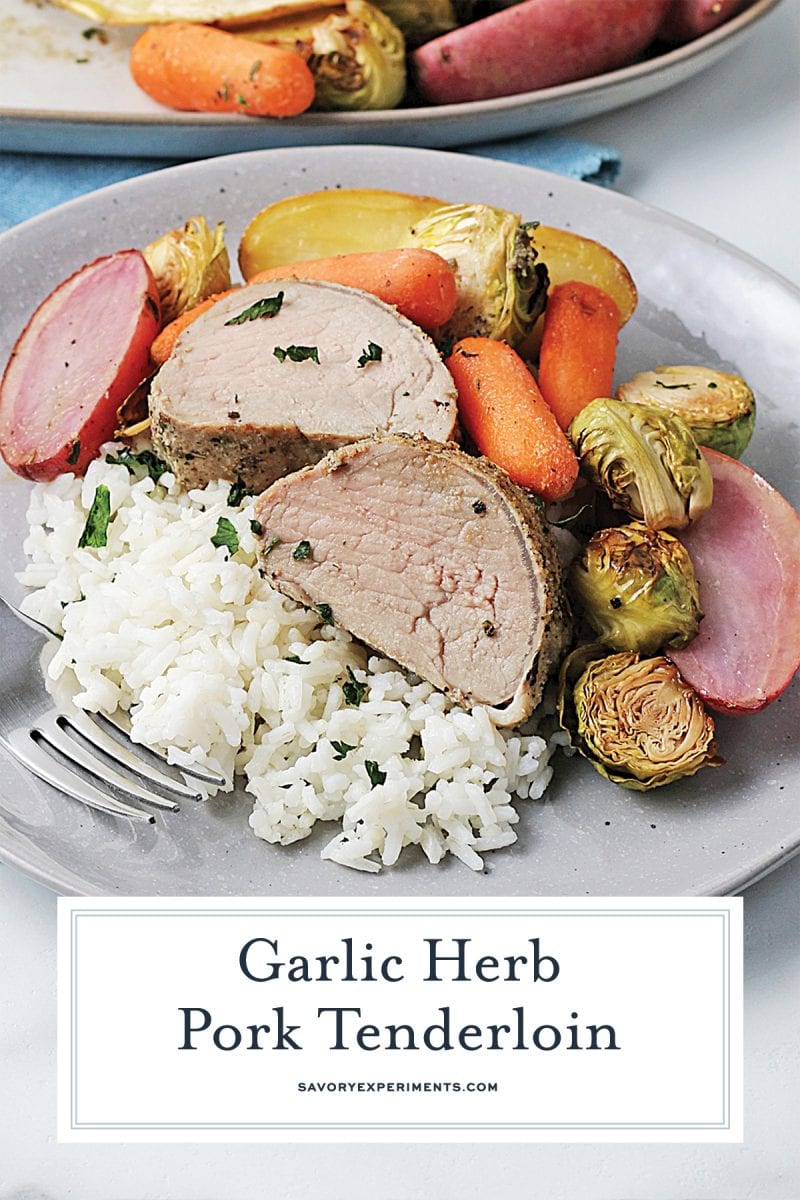 Visit Smithfield.com for even more meals with Real Flavor, Real Fast!