This 3 Layer Cake has all of the classic banana pudding flavor you know and love baked into a delightfully elegant and delicious dessert.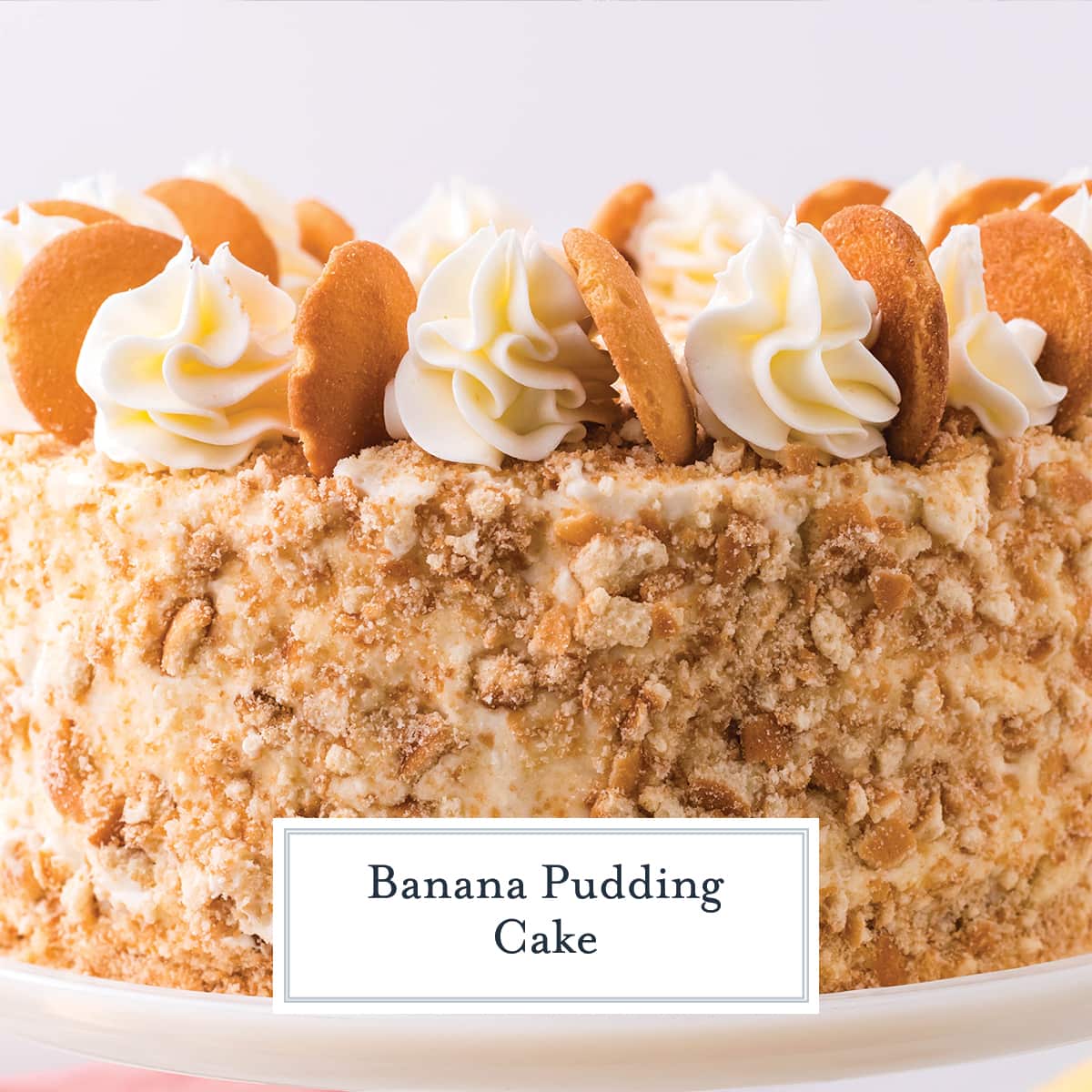 This Banana Pudding Cake recipe gives layer upon layer of perfectly moist cake and creamy banana pudding. Finish it off with a sweet cream cheese frosting and a garnish of crushed Nila wafers for a beautiful dessert the whole family will love.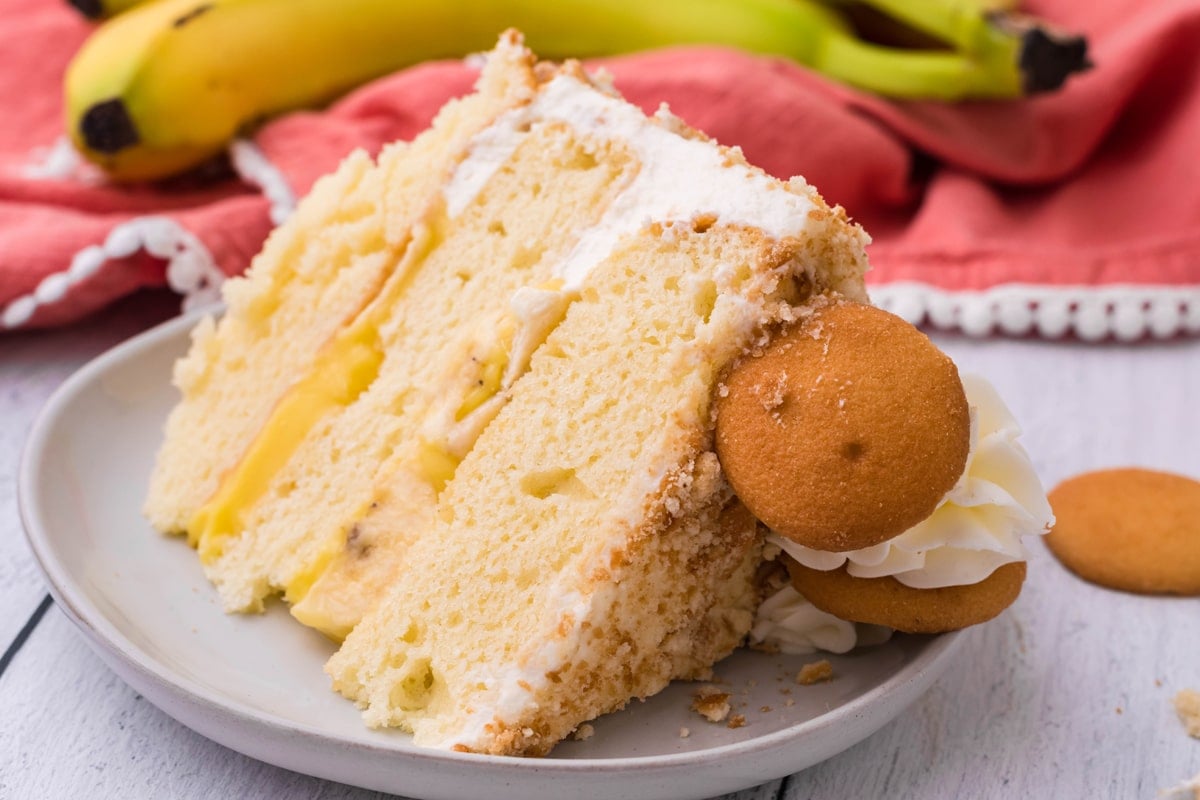 Think you can't make one? Think again!
Ingredients
While this yummy cake recipe has a few more ingredients than an ordinary boxed cake, most of the ingredients are basic kitchen staples and many repeat themselves. So get ready to make a mess.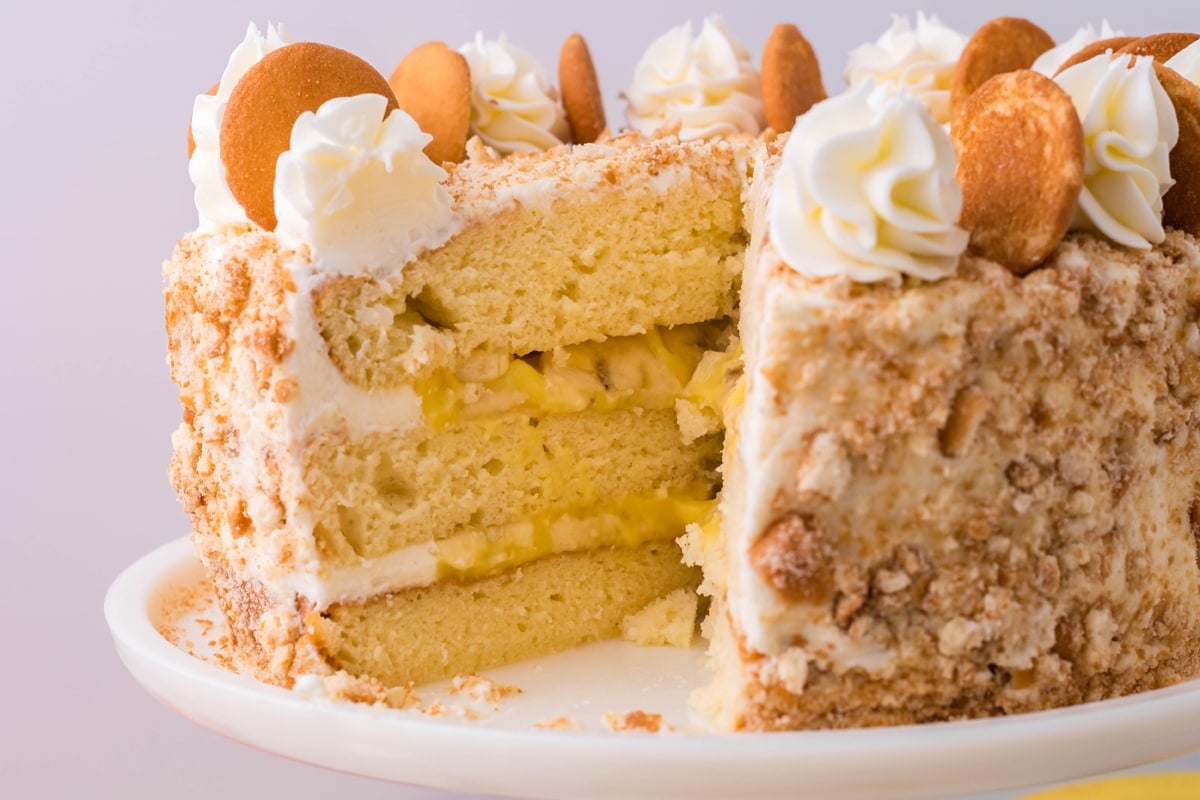 Layer Cake Ingredients
Vanilla Cake Mix– Yep, just the stuff out of a box! This will save you a little time. We liked vanilla cake mix, but feel free to use white or another light colored mix.
Eggs – Adding more eggs than the box recipe calls for will not only increase the volume of batter so we have enough for 3 layers, but also add richness.
Buttermilk– As we discuss in our cake mix hacks, buttermilk as the liquid give a little tang and also loads of moisture to any cake batter.
Vegetable Oil– Part of the fat needed to bake any cake.
Sour Cream– Looking for a super soft crumb? Sour cream is your missing ingredient.
Vanilla Extract– While the cake mix has some vanilla goodness, we want just a little more.
Banana Cream Instant Pudding– This is where things get interesting! We are going to put banana goodness right into the actual layers of cake!
Banana Pudding Filling
The filling and the frosting are slightly different here. We are going to line the layer edges with frosting to prevent the filling from escaping.
Instant Vanilla Pudding Mix – Just whisk based on the box instructions, just like you would for regular banana pudding.
Milk- Instant pudding has the tendency to get watery if you use anything less than 2% milk, so skip the skim on this one. Whole milk is the best option.
Fresh Bananas– Look for perfectly ripe bananas. Overly ripe are great for bread and cookies because they have a high sugar content, but they are also a little mushy. A nice, taunt banana that will give a little texture is the goal.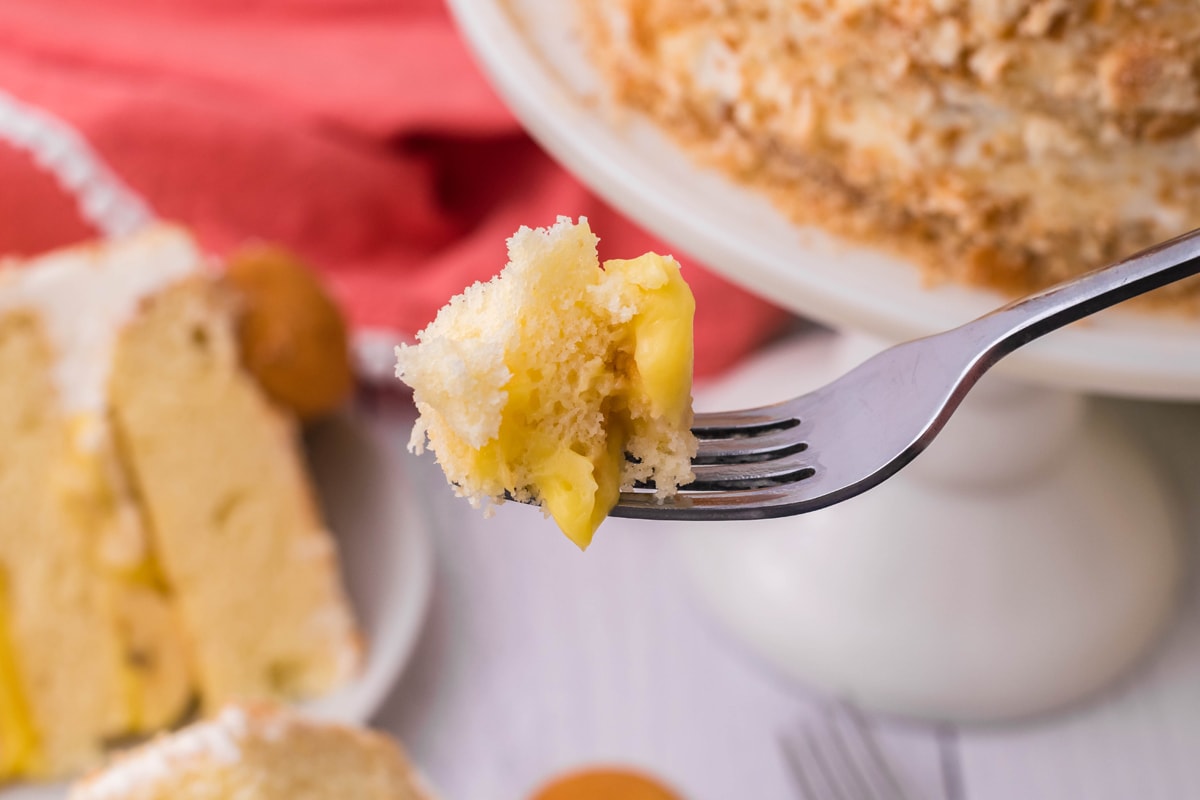 Cream Cheese Frosting
Usual banana pudding has whipped cream, we are elevating it with cream cheese whipped cream. A heavenly blend of my favorite frosting and the traditional ingredients. You might just want to eat the frosting…
Cream Cheese– Full fat will be best to blend it all together and adhere to the cake.
Powdered Sugar– For structure and sweetness.
Vanilla Extract– For flavor. If you want to switch this up, imitation butter or almond are other good choices. Sometimes you can even find a banana flavor which will really give you oodles of banana goodness.
Heavy Cream– For giving it the loft.
Nila Wafers– Because banana pudding isn't banana pudding without crunchy cookies. Nilla wafers and Chessman cookies are the classic choices, but since we are crushing them it seemed silly to spend extra money on Chessman. You can also use generic Vanilla Wafers.
Not only can you put pudding between layers of cake, once you try it, you'll want to try all sorts of different flavor combinations.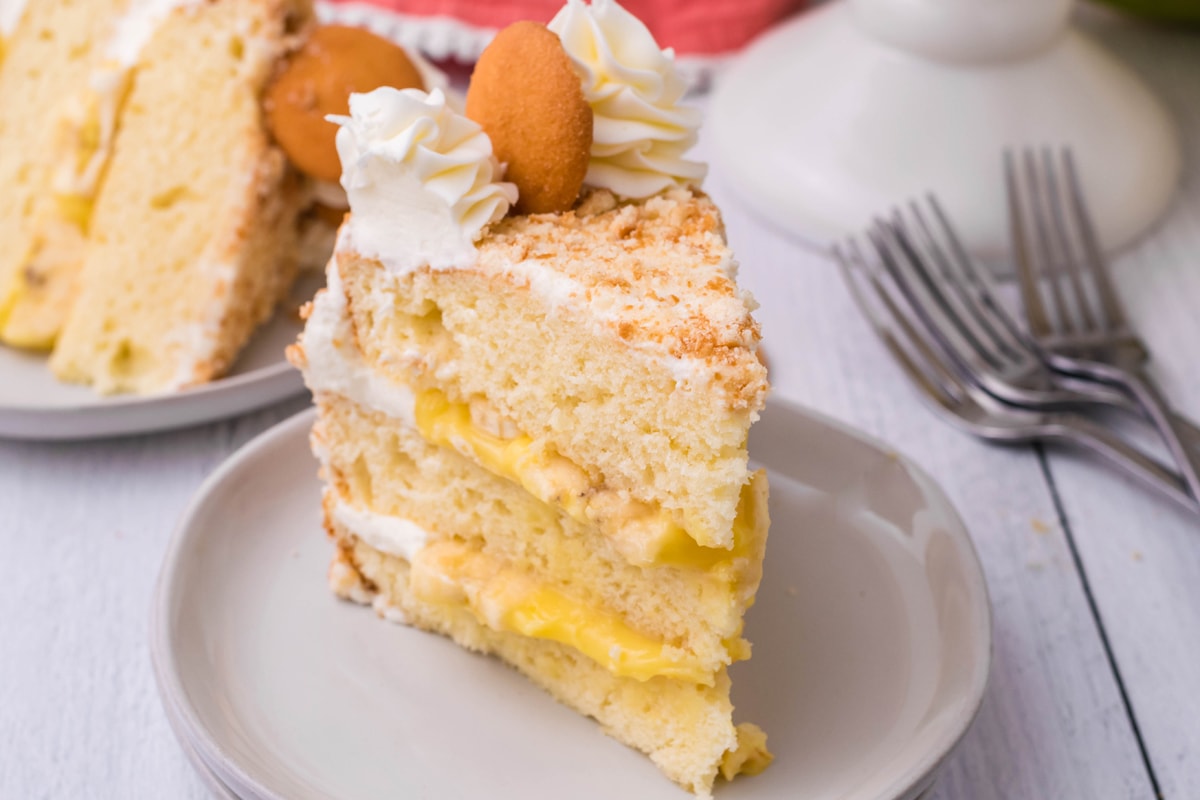 Let's Make It!
While this Banana Pudding Cake is a little more work than making traditional banana pudding or just a sheet cake, I promise it the effort is worth the reward. You're guaranteed to fall in love with the classic flavors from the first bite and also get a ridiculous amounts of accolades from friends, family and social media. Make sure to tag us on social media when you make!
Make The Cake
Preheat the oven and prep cake pans by greasing and flouring. You can also add a layer of parchment to the bottoms if you are worried about sticking.
Combine wet ingredients in one bowl and dry ingredients in another bowl, stirring both to combine. Then whisk together in a large mixing bowl, but don't overmix, in fact, we don't even suggest using a stand mixer on this one.
Divide batter evenly between the three cake pans. You can eyeball it or use a scale to get it perfect. Tap each pan gently on the counter to release any air bubbles in the batter. Bake times can vary and you might need to rotate cakes in the oven to get an even bake. Check frequently.
While the cakes are baking, combine the pudding mix and milk and let it chill until the cakes are baked and fully cooled.
If the cakes aren't fully flat, trim so they are using a cake leveler or you can prevent this by using cakes strips along the pans.
For The Frosting
Don't skip this step: beat cream cheese until smooth and fluffy. We DO recommend using a stand mixer or electric hand mixer for this one. Or do it by hand of you have awesome arm muscles.
Add the powdered sugar and vanilla until completely combined, then add cream until the mixture thickens. After a few minutes, soft peaks will form and you'll have billowy frosting.
To Assemble
Place a layer of cake face down on your serving tray. This is where it will live, so choose how you want to display it now and don't plan on moving it.
Place frosting into a large frosting bag, you don't even need a tip. Make a thick circle of frosting around the edge of the cake.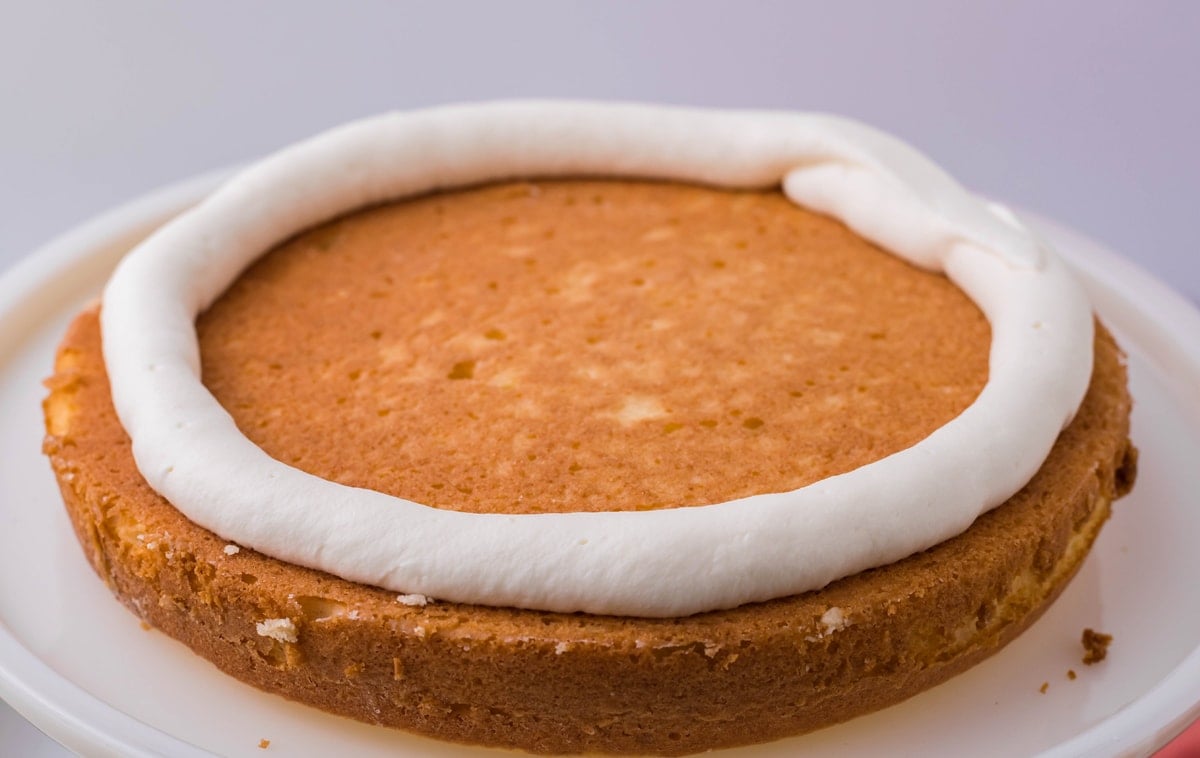 Fill the center of the circle of frosting with half of the pudding mixture and sliced bananas.

Repeat this process with your next layer of cake.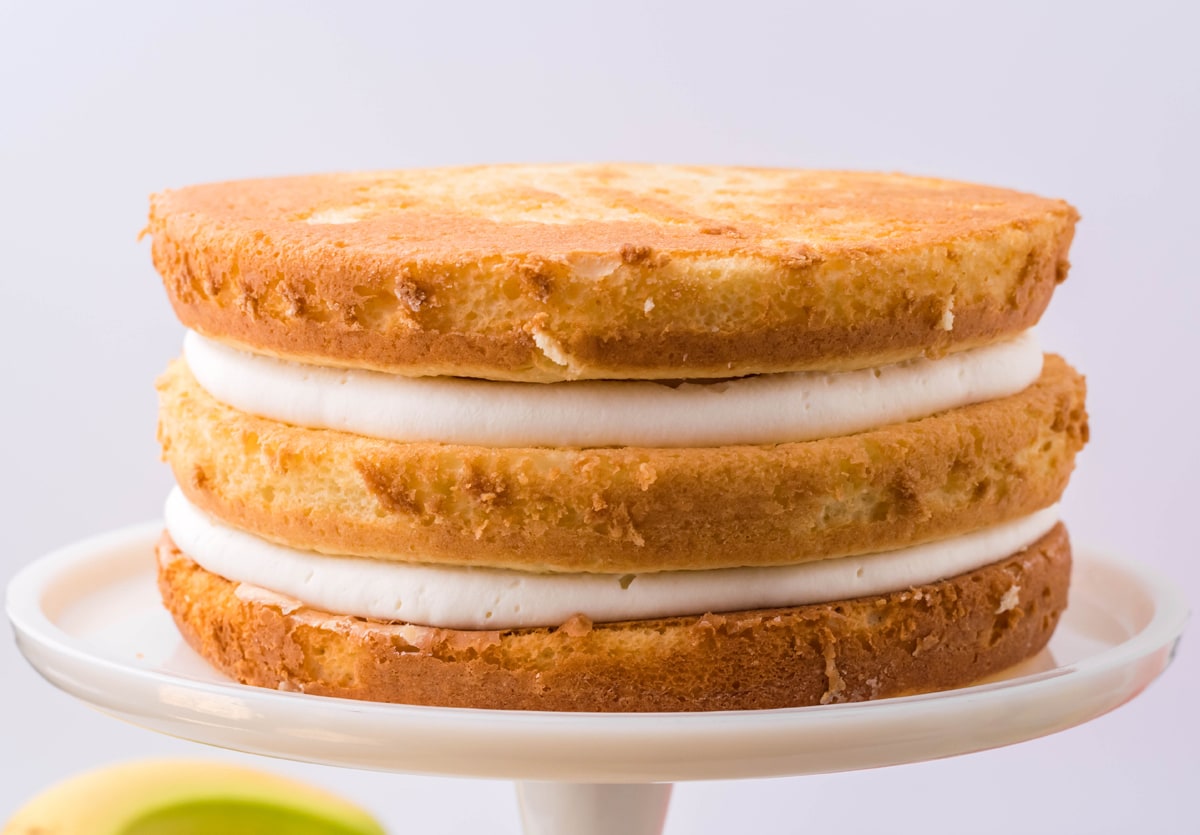 Finish with the final layer of cake and then frost the outsides of the cake. Don't worry about it being perfect because the cookie crumbs will hide imperfections.
Press crushed Nilla Wafers into the top and sides of the frosted cake.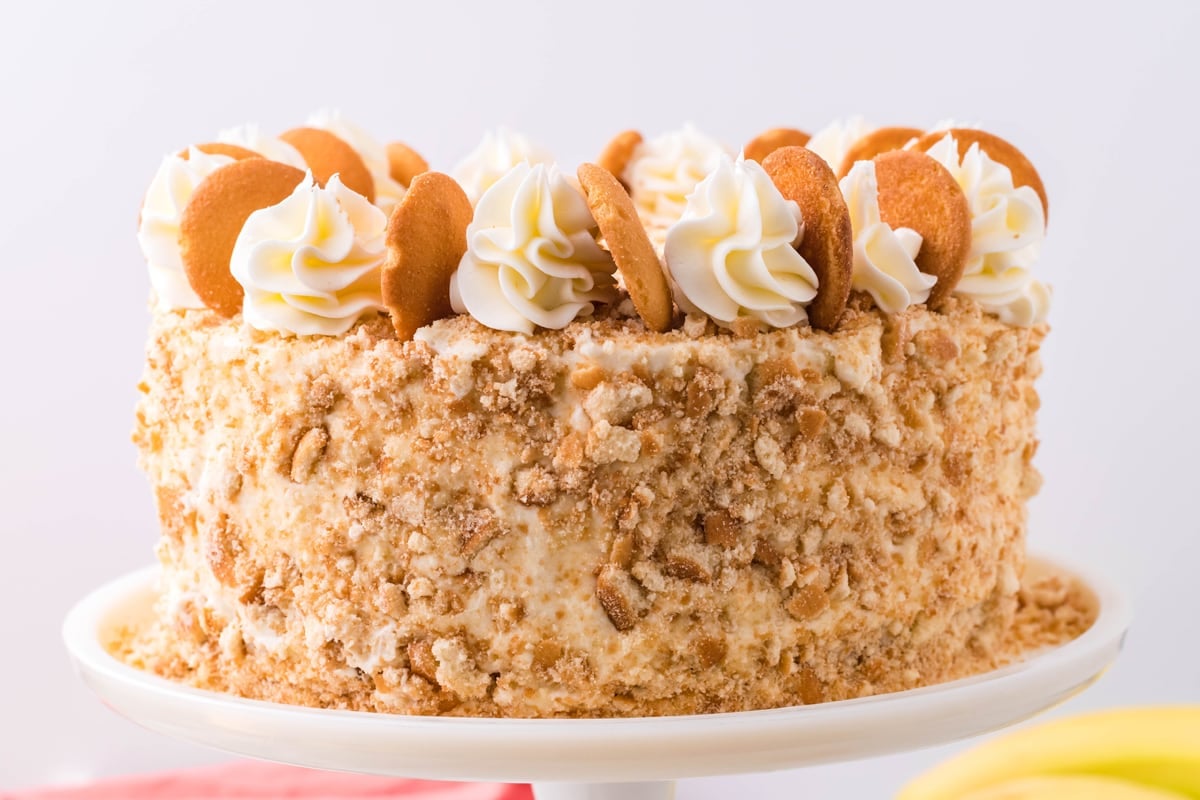 You can leave it here or garnish further using a star tip to make pretty dollops on the top around the edges and adding more whole Nilla wafers. You can also use plain stabilized whipped cream or Cool Whip for this part.
Leftovers & Freezing
Many of my cake recipes can be made ahead of time and frozen. And if you're in a pinch, you can always make the cake layers and freeze them ahead of time. However, the filling does not defrost well. So, for the best bite, make this cake when you and your family is ready to enjoy it.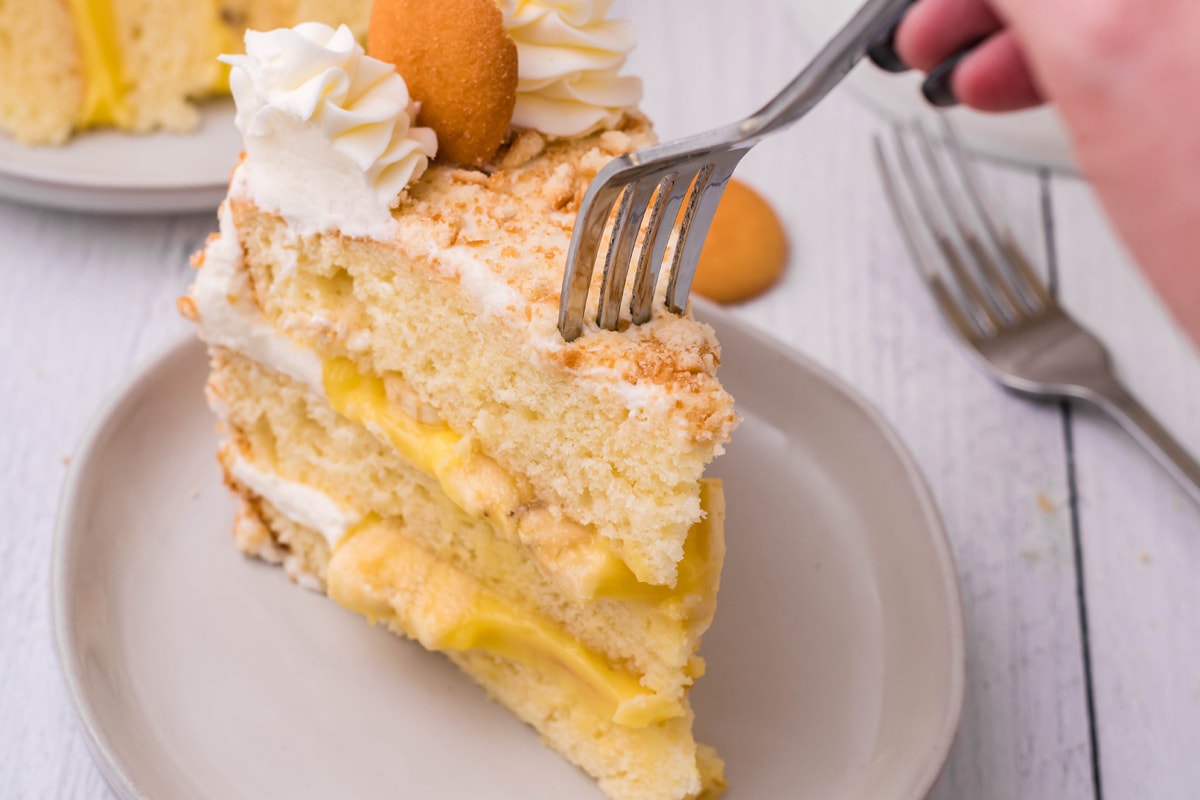 Once you're finished enjoying this Banana Pudding Cake, you'll want to save the leftovers to sneak a bite of. Luckily it stores really easily and tastes just as delicious -if not even better- the next day!
Simply cover your cake in an airtight container (careful not to ruin that beautiful Nilla Wafer garnish) and store in your refrigerator for up to 3 days. For extra crunch, feel free to add fresh crushed wafers before serving up your next slicem, they do tend to get a little mushy after soaking up the frosting.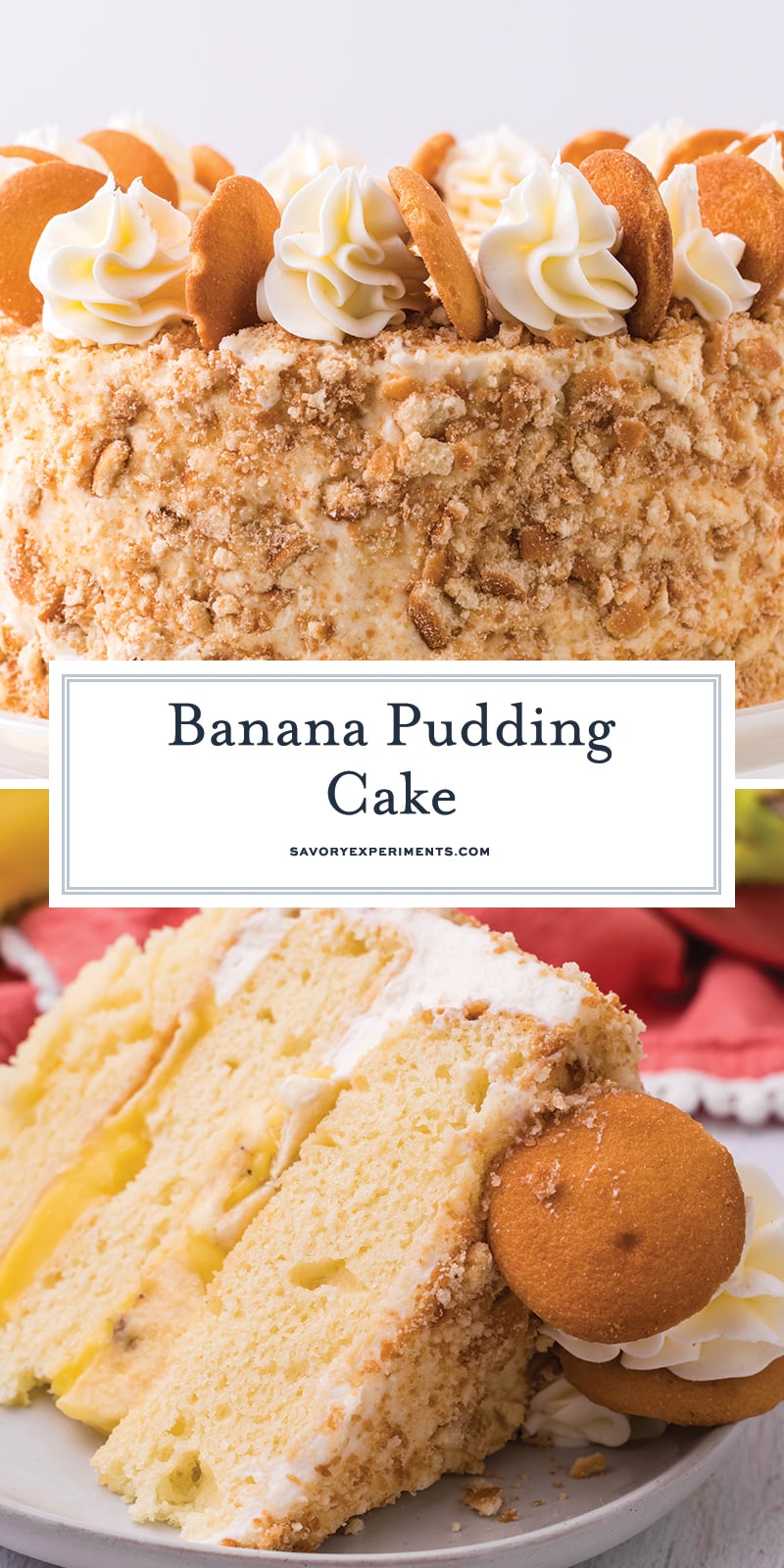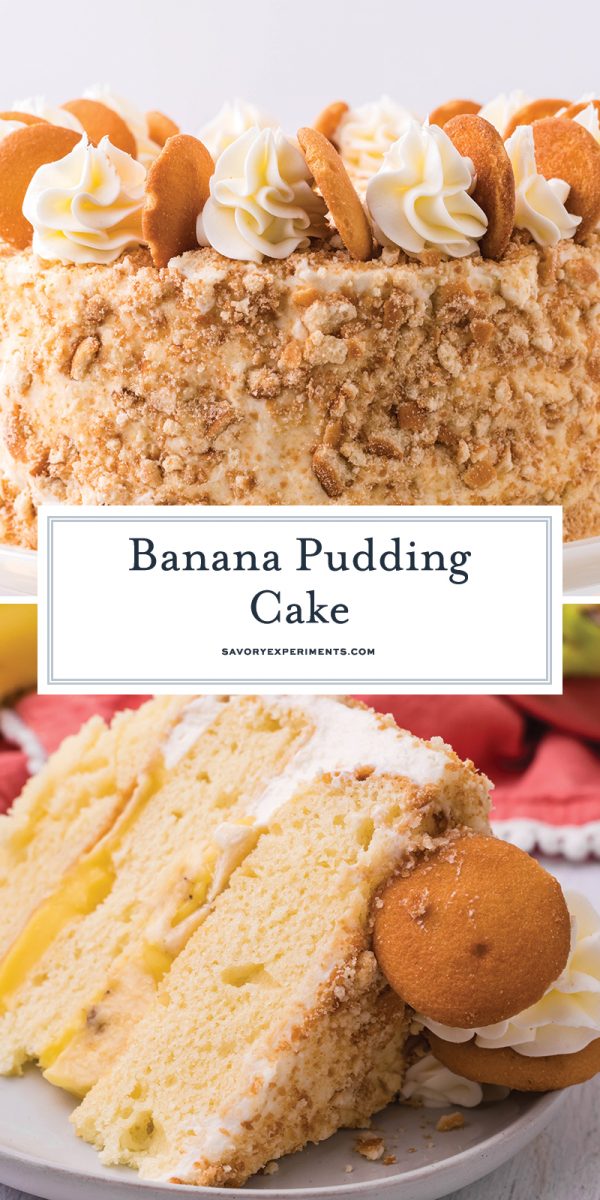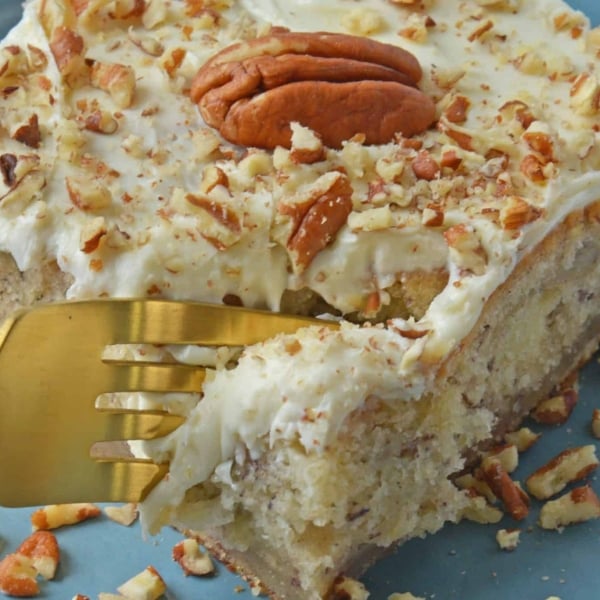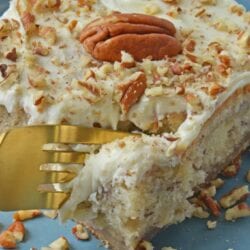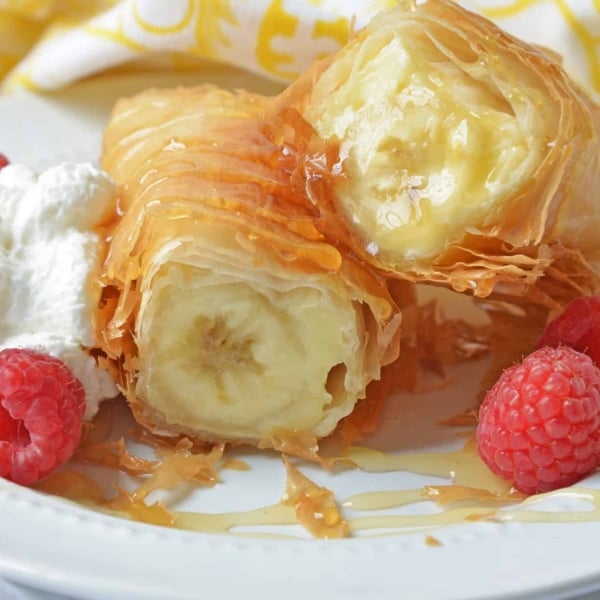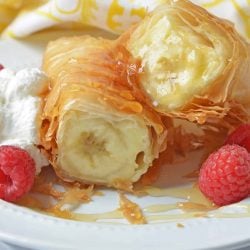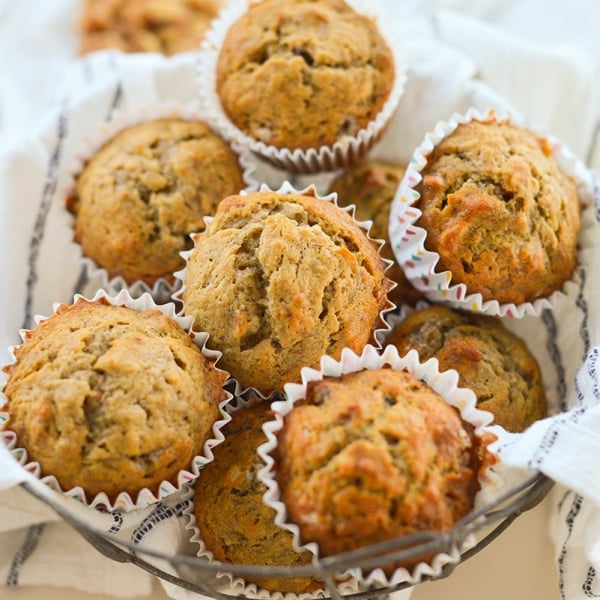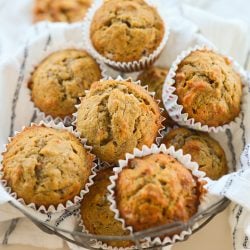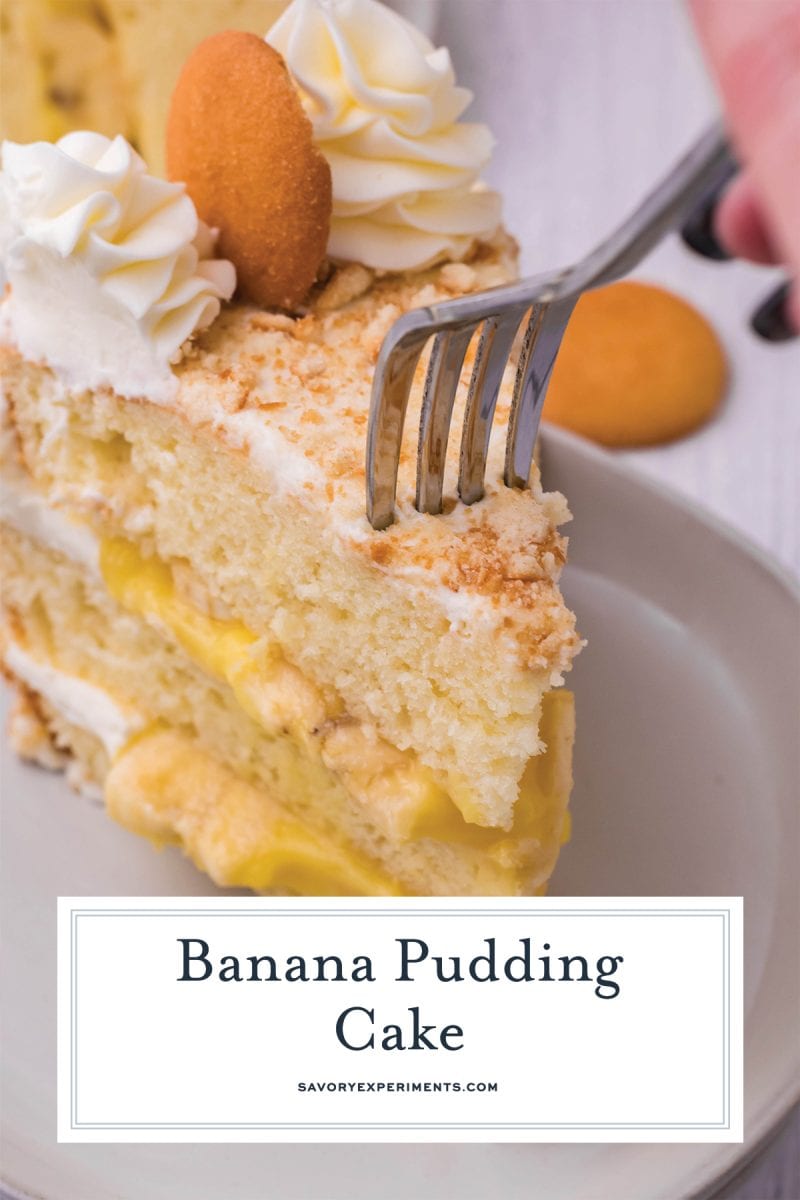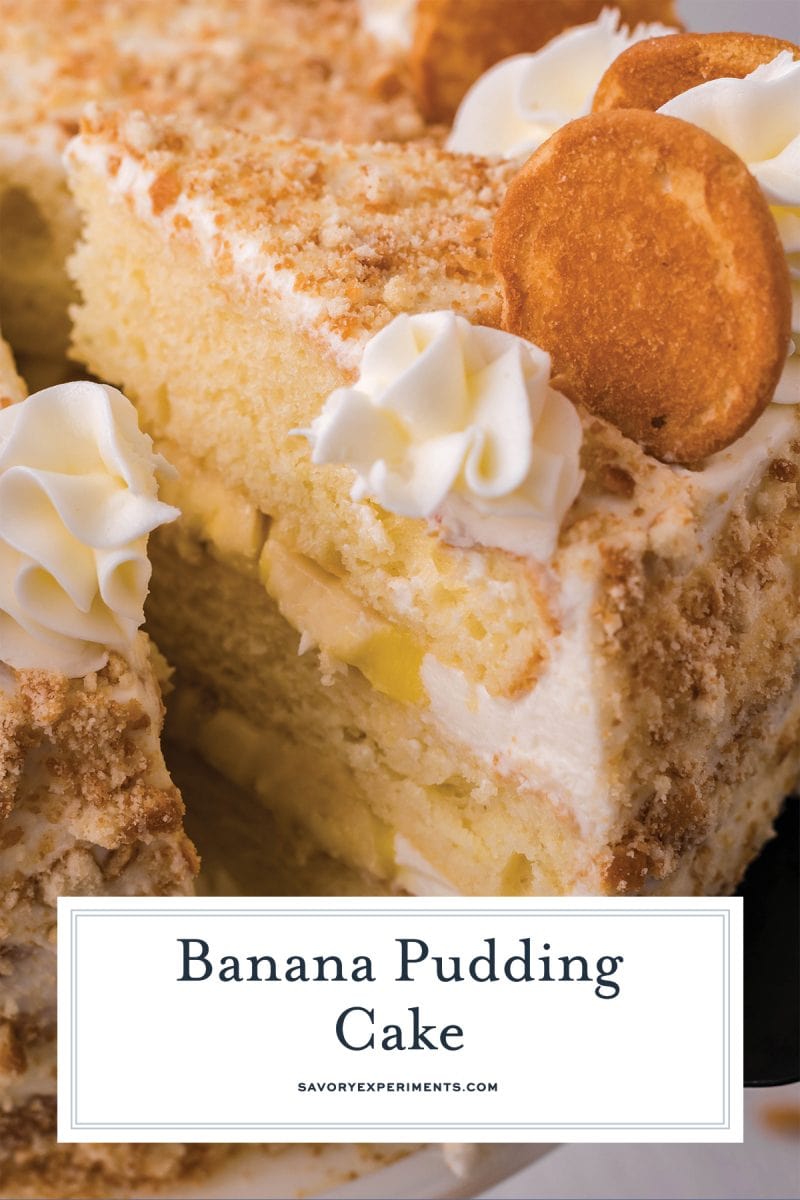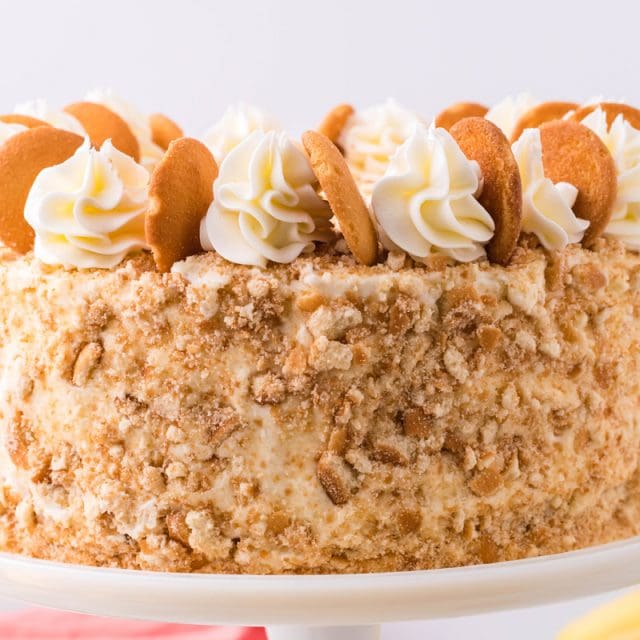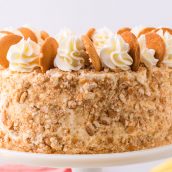 Banana Pudding Cake
This Banana Pudding Layer Cake has all of the classic banana pudding flavor you know and love baked into a delightfully elegant and delicious dessert!
Ingredients
Instructions
Cake:
Preheat your oven to 350°F and prepare three 8-inch cake pans by rubbing generously with vegetable shortening and dust with flour. Discard any remaining flour and set aside. If using cake strips, soak and place them on now.

Combine the eggs, egg whites, buttermilk, vegetable oil, sour cream, and vanilla in a large mixing bowl and whisk to combine.

Add the cake and pudding mix and whisk vigorously until well combined and smooth, but do not overmix.

Divide the batter evenly between the three cake pans and tap each cake pan on the counter to release any air bubbles. Bake for 20-23 minute or until a toothpick inserted in the center of the cake comes out clean.

While the cakes are baking, combine the vanilla pudding mix and milk into a small bowl and whisk to combine. Place in the refrigerator to set until the cakes have cooled.
Frosting:
Prepare the frosting by adding the cream cheese into the bowl of a stand mixer with a whisk attachment or using an electric hand mixer, beat for 2-3 minutes or until smooth and fluffy.

Add in the powdered sugar and vanilla and mix until combined. Scrape the sides and bottom of the bowl.

Add in the heavy cream and start whisking on low speed until the cream starts to thicken and slowly increase the speed to med-high. Continue whisking until you get stiff peaks. Add the frosting into a piping bag with a large round tip.
Assembly:
Place one layer of cake face down onto a serving tray. Trace a thick circle of frosting around the edges of the cake. Place half of the pudding into the center of the circle and smooth. Top the pudding with an even layer of sliced bananas. Continue with the other layer of cake.

Once you have all layers stacked, smooth the rest of the frosting over the entire cake. Cover the sides of the cake in crushed Nilla Wafers and top with whipped cream and extra sliced bananas or Nila wafers.

Keep leftovers in an air tight container in the refrigerator for up to three days.

If you've tried this recipe, come back and let us know how it was in the comments or ratings.
Nutrition
Calories:
680
kcal
,
Carbohydrates:
83
g
,
Protein:
7
g
,
Fat:
36
g
,
Saturated Fat:
22
g
,
Trans Fat:
1
g
,
Cholesterol:
114
mg
,
Sodium:
615
mg
,
Potassium:
255
mg
,
Fiber:
1
g
,
Sugar:
53
g
,
Vitamin A:
1043
IU
,
Vitamin C:
2
mg
,
Calcium:
207
mg
,
Iron:
1
mg