Whether you serve this to family or friends, Banana Fried Cheesecake will be your top requested dessert recipe! If you love bananas and cheesecake then this will be become one of your go-to desserts!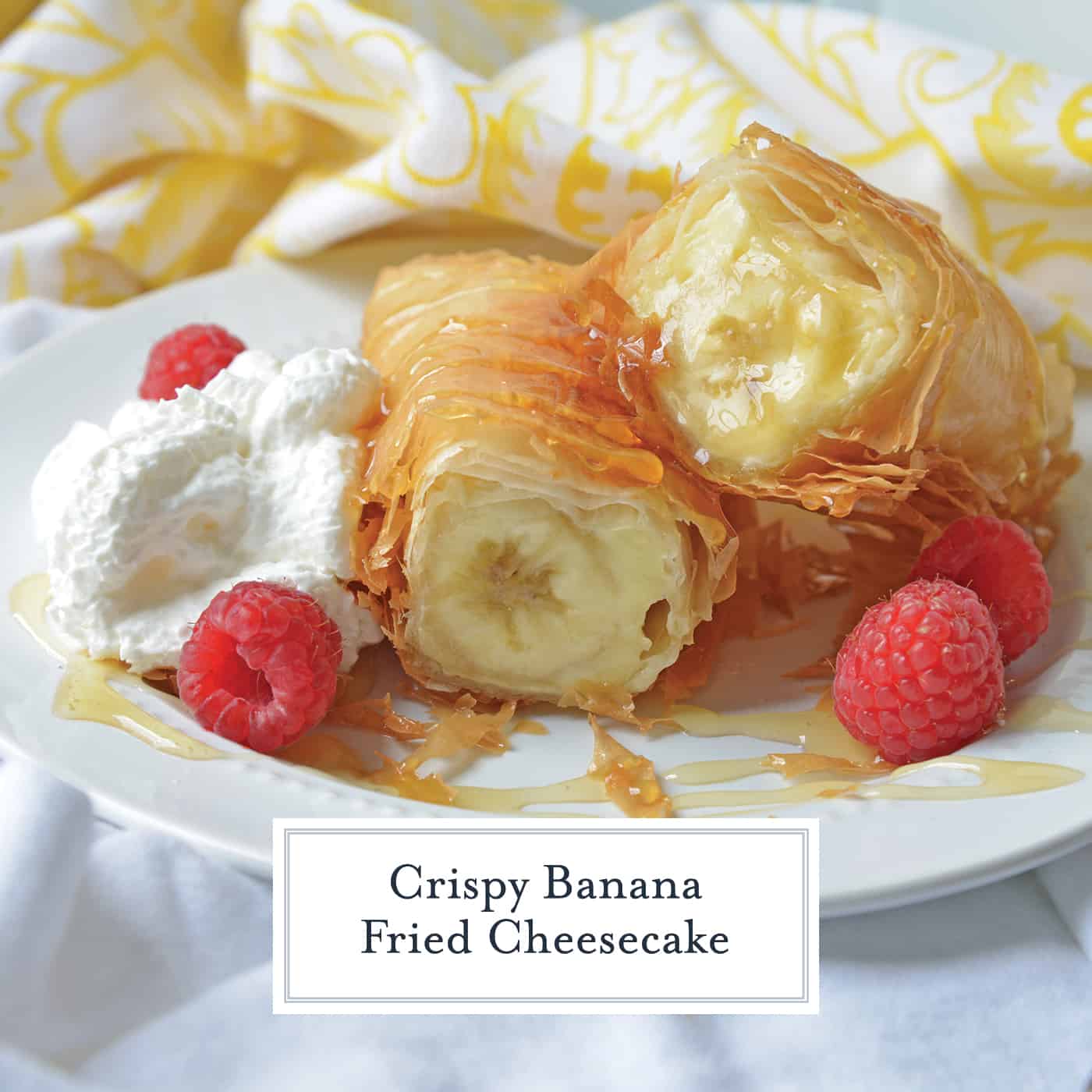 This Banana Fried Cheesecake recipe will become one of your all time favorite desserts! Banana spring rolls are fried golden brown to perfection and drizzled with honey.
This stuff is my weakness. Cheesecake and bananas wrapped in flaky pastry sheets and flash fried to a golden brown while the inside stays cool and creamy.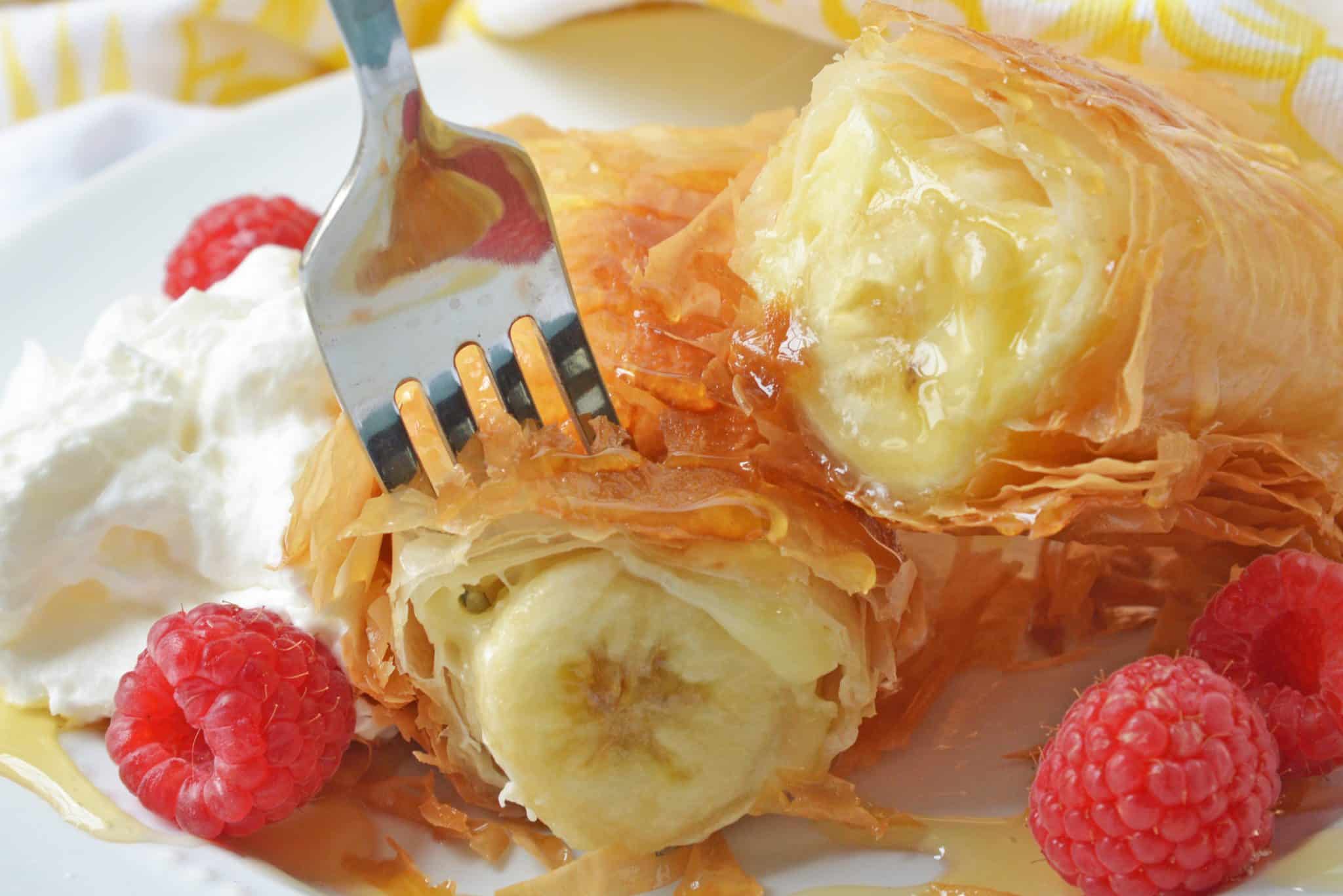 Top it off with whipped cream and honey; it is pure perfection. Absolute perfection. I strongly encourage you to try this dessert.
As a time saver, I used a box of instant, no bake cheesecake. I set aside the graham cracker crust packet to use for something else. Follow the directions on the box and then chill to firm.
Use homemade whipped cream for the ultimate in indulgence desserts.
Have you ever wanted to make a delicious banana dessert like this one, but your bananas aren't ripe enough?
Ways to ripen bananas fast:
Microwave– The quickest way, but least likely to produce super sweet results. Nuke it for 30 seconds to one minute. Basically, you are cooking it and allowing the sugars to release a little before you put it into the recipe.
Oven- the same concept as the microwave. Heat to 350 degrees and bake for 5-30 minutes.
Brown Paper Bag – My mother used this technique, but it still takes about a day. Place your bananas in a brown paper bag and roll it closed. Ethylene will build up and speed up the ripening process.
Tropical Environment – Everything ages faster in the heat. Place your bananas someplace warm, like in a sunny window. It will still take up to a day, depending on how ripe the banana was to begin with.
Single them out – lastly, pull your bananas apart. They ripen much faster separated than they do still hooked together.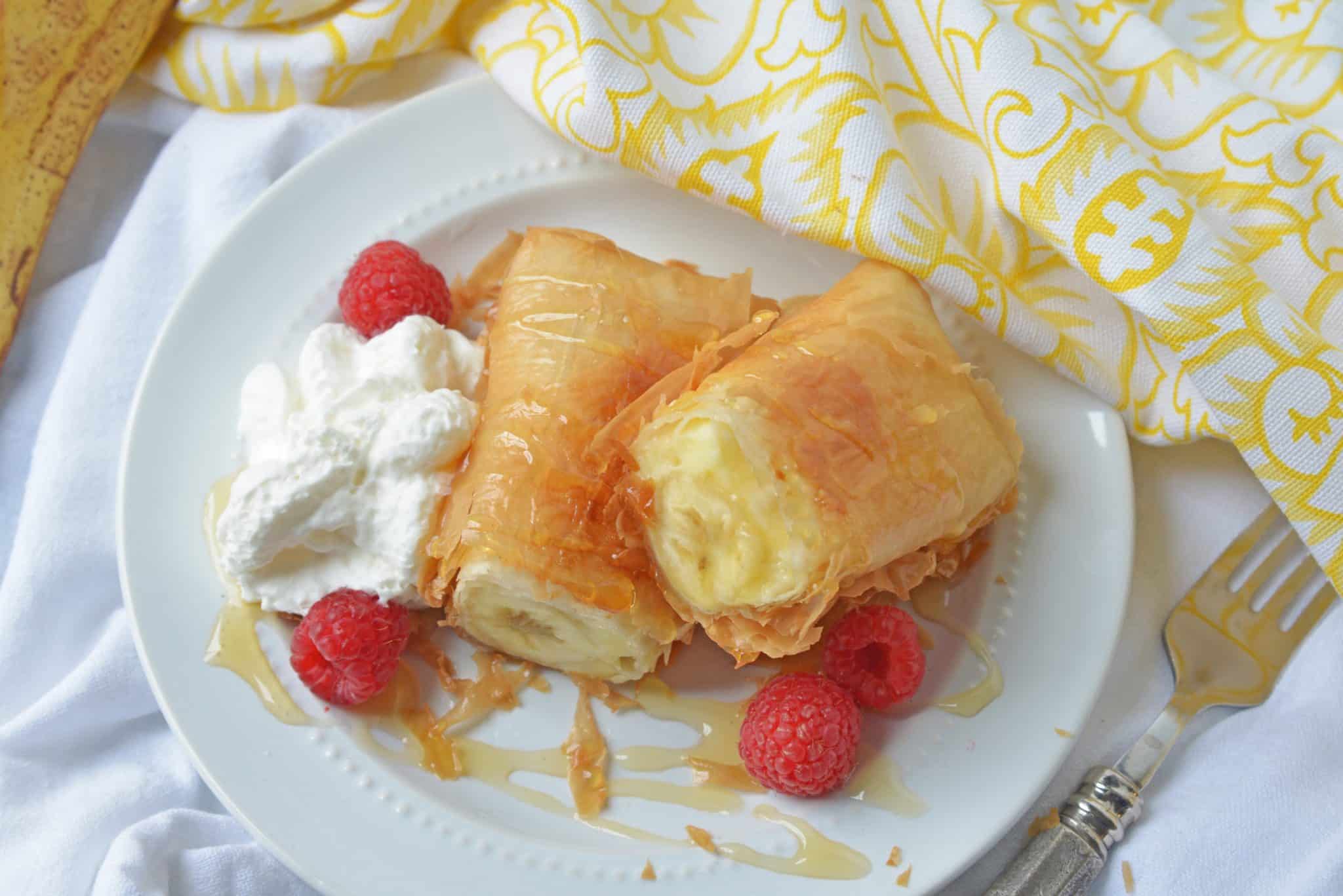 If you enjoyed this banana spring rolls recipe, be sure to check out some of these other delicious desserts: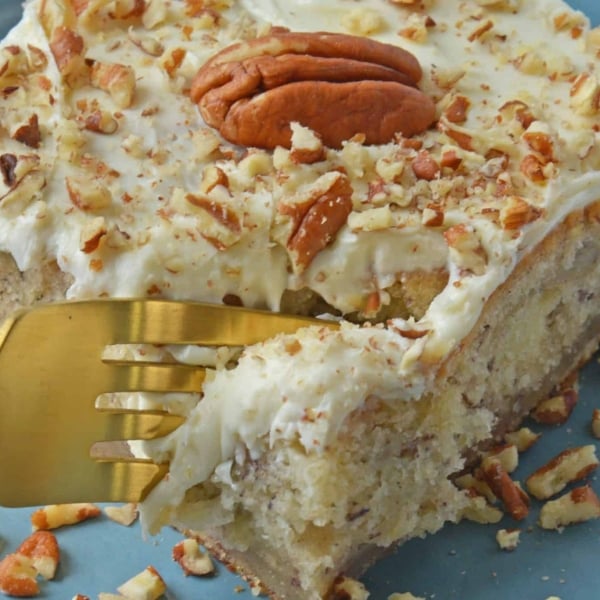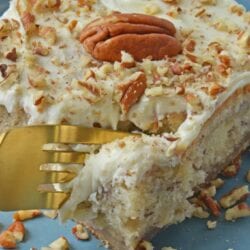 Banana Cake with Cream Cheese Frosting
Super moist Banana Cake is a great way to use ripe bananas. Mix it with walnuts and top with a cream cheese frosting for a fabulous breakfast cake or fruity dessert.
View this recipe
Tools for making Banana Fried Cheesecake:
Heavy Bottom Sauce Pan– this will be one of your most used kitchen tools. Having something that is heavy bottom will distribute heat better and prevent burning whether you are using an electric or gas range.
Mixing Bowls– make sure to check out my article on Using the Right Mixing Bowl, you'd be surprised how many people aren't!
Whisks– I buy whisks in multiple sizes. You never know which one you will need.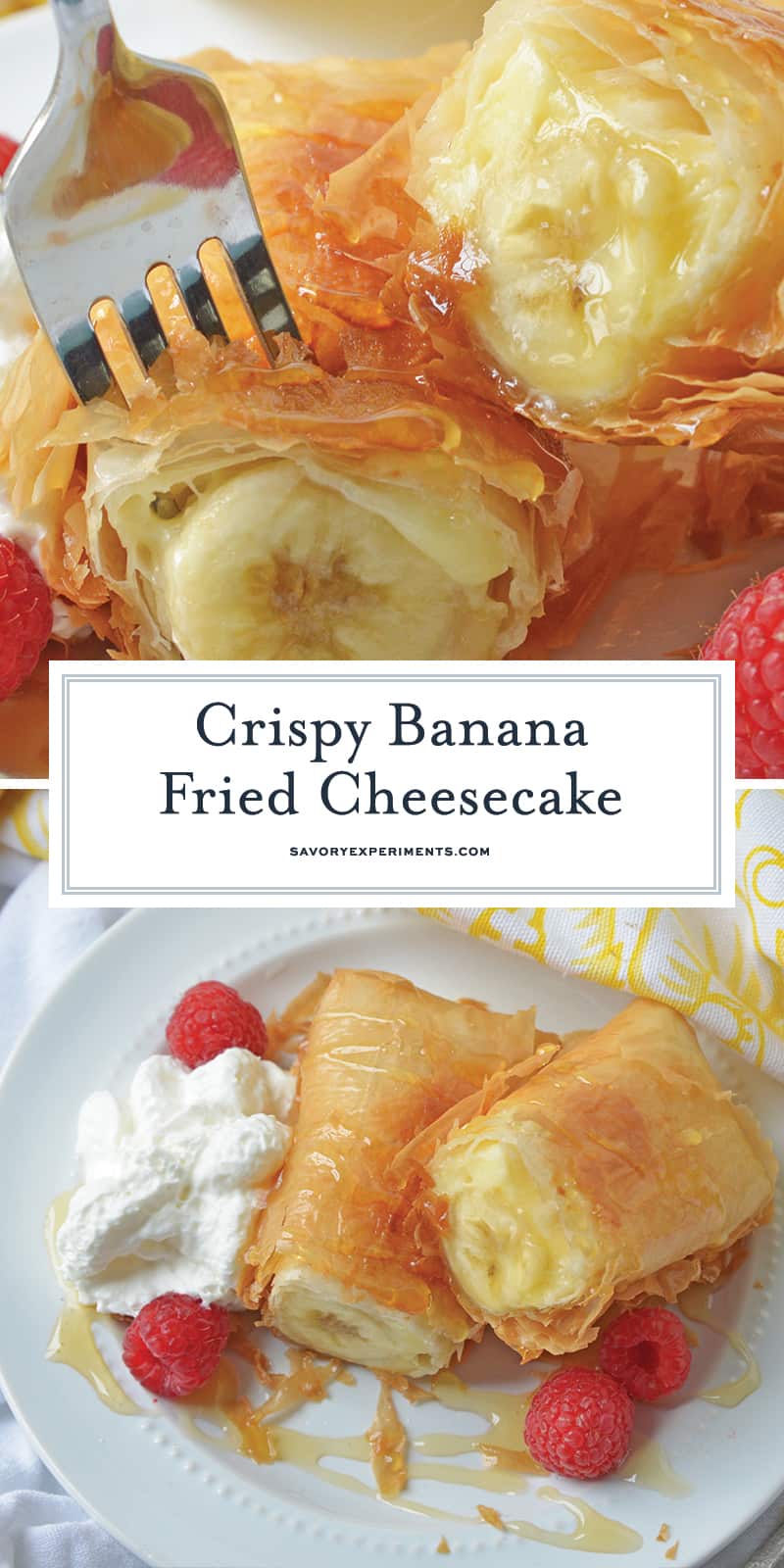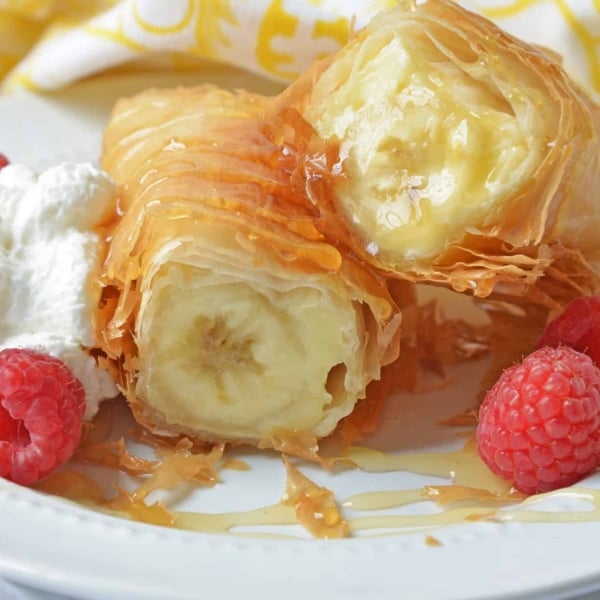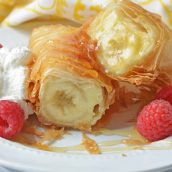 Banana Fried Cheesecake
This Banana Fried Cheesecake recipe will become one of your all time favorite desserts! They are fried golden brown to perfection and drizzled with honey.
Instructions
Unroll piled phyllo dough onto a work surface. Place your cheesecake, banana's and melted butter with a pastry brush near by. In the lower center of phyllo dough, place a heaping tablespoon of cheesecake, then a slice of banana set upright. Repeat the process 2 more times ending with a banana.

Roll 3 sheets of phyllo dough over cheesecake and bananas. After rolling once, fold in edges, like an egg roll or burrito. Fold in edges and then continue to roll all the way up. Seal edges with melted, unsalted butter and a pastry brush.

Place completed roll in an airtight plastic container Repeat with remaining sheets of phyllo dough, cheesecake and bananas to make 4 large rolls. Rolls will be approximately 1 1/2-2 inches thick (a little larger than the banana slice) and 4-5 inches long. They do not need to be a super tight fit, but don't make them too slack either.

Separate completed rolls with parchment or wax paper. Place in the freezer for 2 hours.

Twenty minutes before serving, heat vegetable oil in large saucepan with high sides to prevent spitting oil and injuries. Heat oil over high.

When oil is sufficiently heated, carefully place 2 frozen rolls into the oil. Only do two at a time to not "crowd the pan". Gently turn in the oil until all sides are a golden brown, approximately 2-3 minutes. Remove to a paper towel lined plate and repeat with remaining frozen rolls.

To plate, slice roll in half. Drizzle honey equally over rolls, top with whipped cream and vanilla bean ice cream.

If you liked this recipe or have suggestions, please come back and leave us a comment!
Nutrition
Calories:
641
kcal
,
Carbohydrates:
95
g
,
Protein:
10
g
,
Fat:
25
g
,
Saturated Fat:
13
g
,
Cholesterol:
52
mg
,
Sodium:
640
mg
,
Potassium:
438
mg
,
Fiber:
4
g
,
Sugar:
24
g
,
Vitamin A:
390
IU
,
Vitamin C:
5.9
mg
,
Calcium:
27
mg
,
Iron:
4.9
mg