I'm gonna share a secret with you. I might actually like banana bread batter more than I like the actual baked product, so any time I have the chance to make it or these banana nut muffins, I jump at it.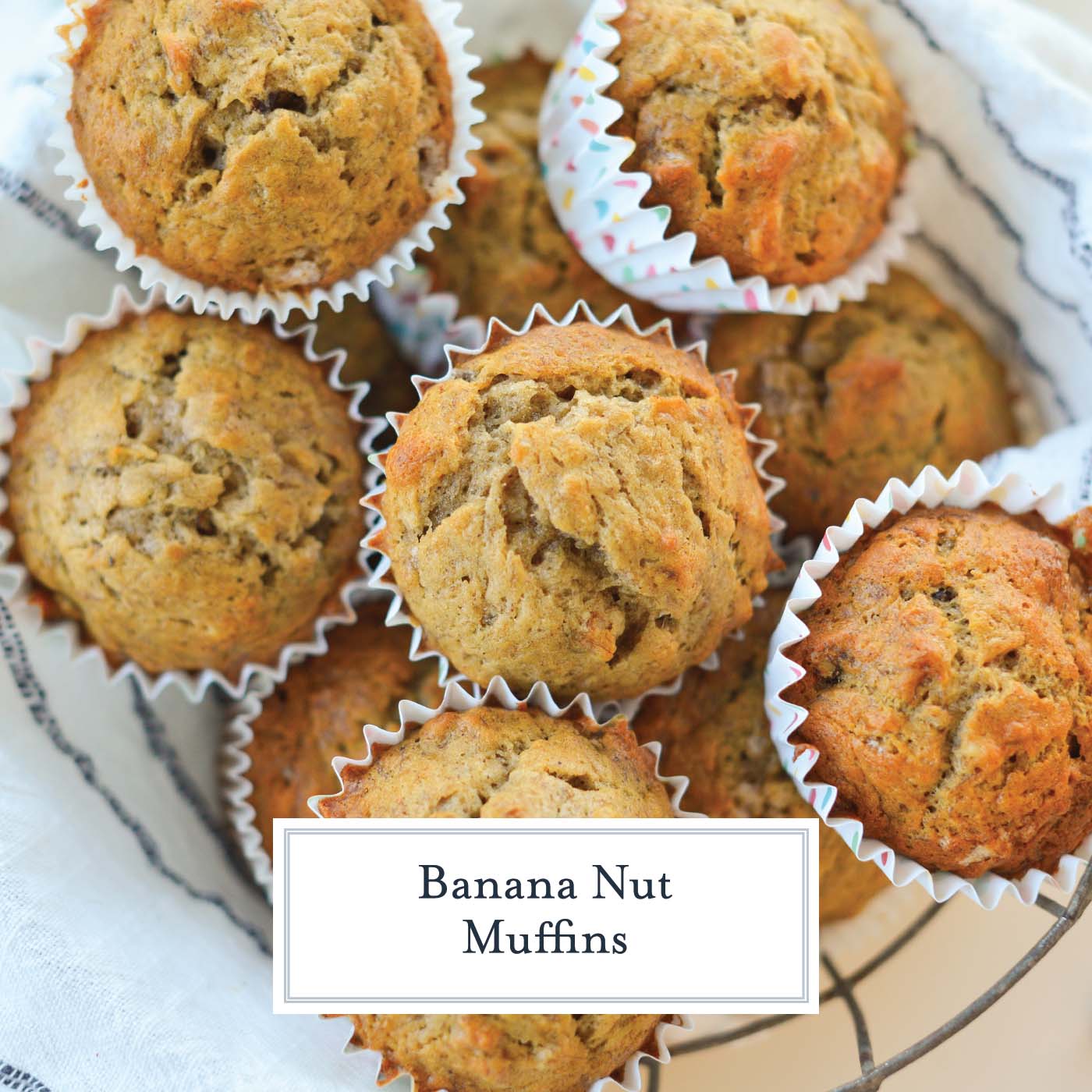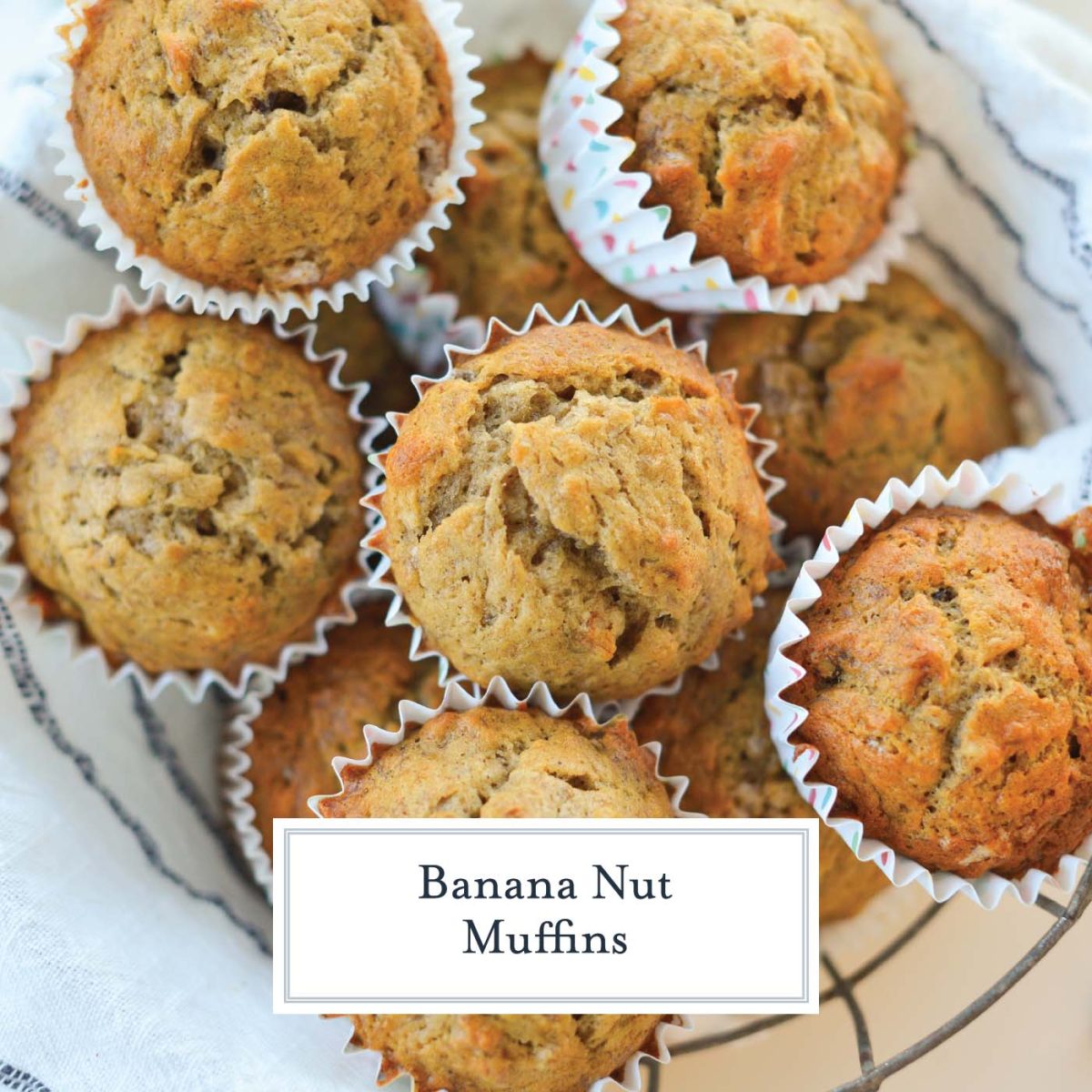 Which tends to happen often because no matter how many bananas I buy, three or six, I always end up with a few overly ripe bananas. You know the ones that turn brown and your kids literally turns their nose up to?
Why Banana Muffins?
Think of Banana Nut Muffins as banana bread but better and probably not for the reason you think. You are going to laugh at me…
There is a better butter to bread ratio. If you read any of my posts, you know I'm obsessed with butter (and salt), and with a muffin, no one bats an eyelash if you put a whole pat of butter right on that muffin half or quarter, whereas a slice of bread just gets a thin layer.
They are easy to make.
Banana nut muffins use up an otherwise unusable ingredient (ahem, those brown and mushy bananas in your fruit bowl.)
Muffins are freezer friendly and thaw fast for breakfast or a snack on the go.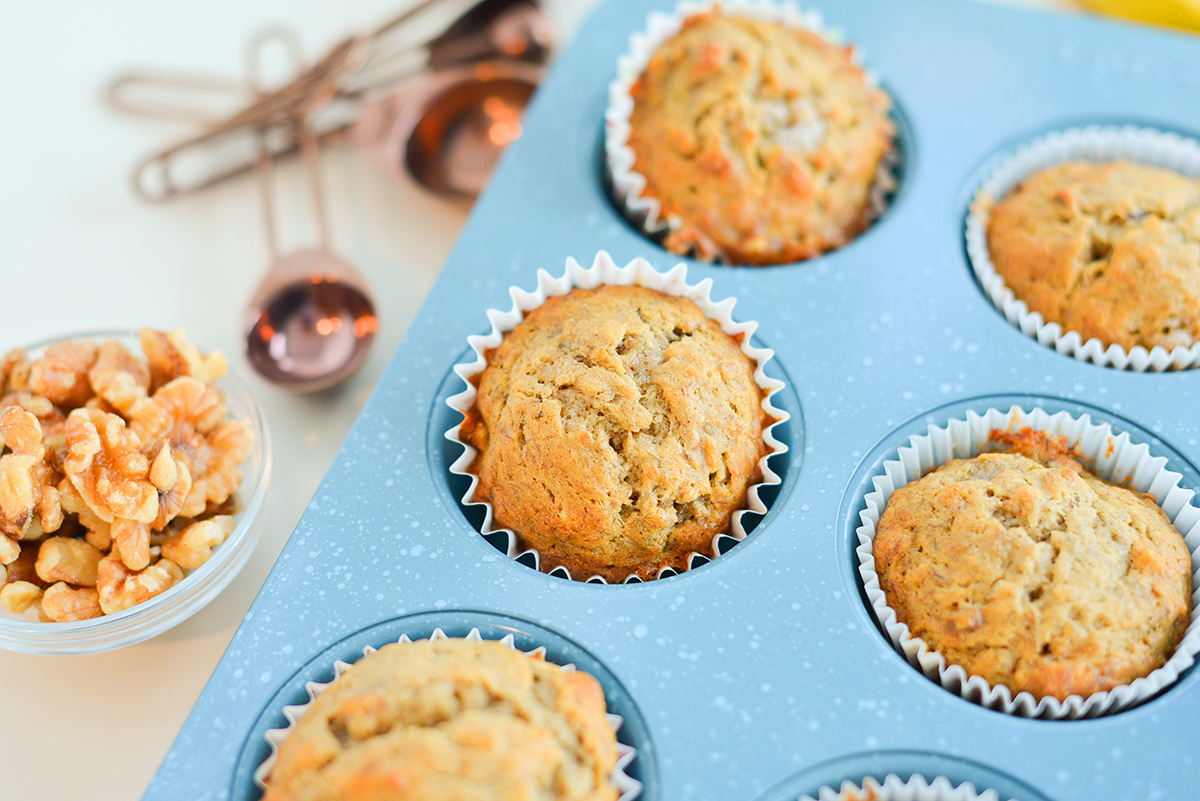 Ingredients
Other than the bananas, the rest are simple ingredients.
Unsalted butter- While salt can accentuate flavors, it can also dry things out, especially in baked goods. Using unsalted butter also lets you adjust the saltiness to your personal preference. If you do use salted butter, omit the additional salt in the recipe.
Sugars– White sugar and light brown sugar, which is laced with molasses and furthers the sticky goodness.
Egg- Helps to bind and create rise
Vanilla extract- Please use real vanilla, not imitation vanilla.
Ripe bananas- Some fruits ripen on the vine and some can ripen after they have been picked. Bananas fall into that category. The darker the skin or the more spots you see on the banana, the more the natural sugars and caramelization it will provide.
Flour– A binder. I have not tried using gluten-free flour alternatives, so consult the package for ratio swaps.
Baking Soda- Baking soda causes a chemical reaction and gets all fizzy. You want this to happen in the batter because it creates little air pockets that make baked goods light and fluffy.
Spices- nutmeg and cinnamon are the ultimate flavor affinities for banana and vanilla. They smell delightful and festive coming out of the oven and provide warmth. Use both or just one or the other.
Fine sea salt– If using coarse salt, a 3:4 ratio should be used. Omit if using salted butter.
Walnuts– Nuts are optional and can be omitted, but you might end up with less 2-3 muffins since they add volume. Chop to your desired coarseness.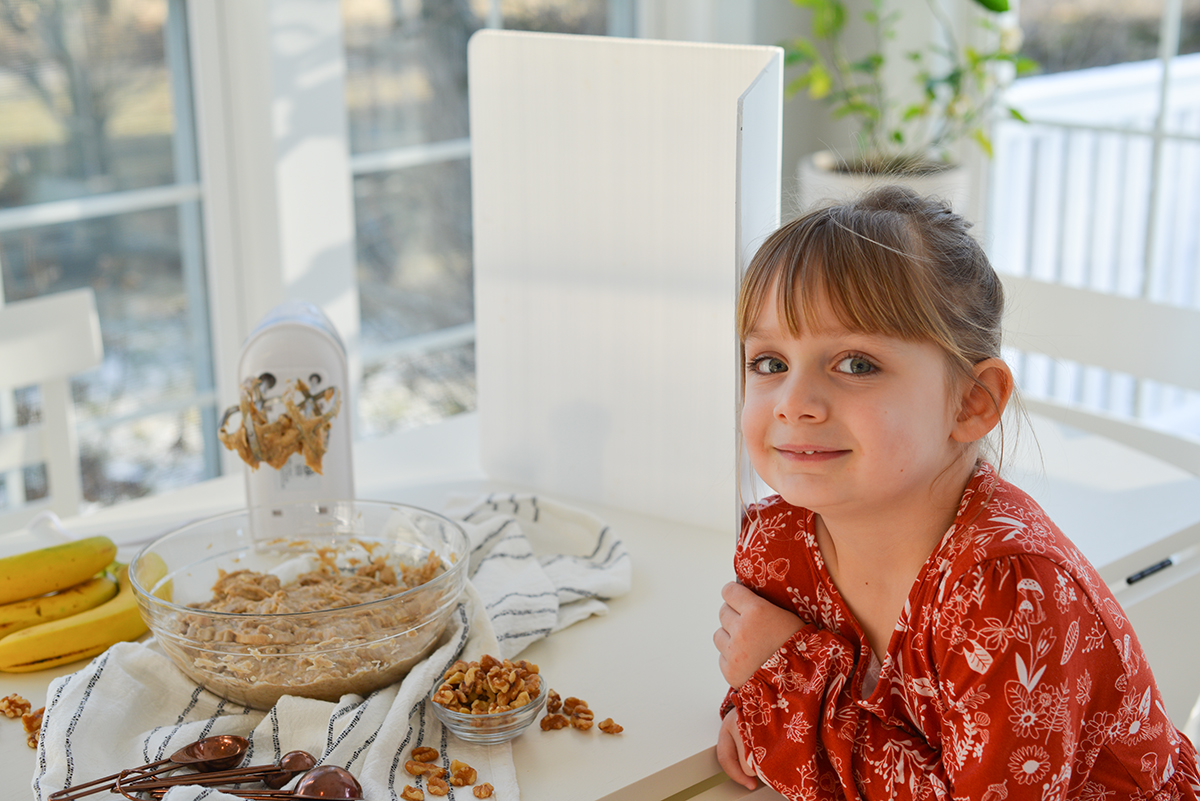 How to Make
Preheat the oven and line muffin tins with liners.
Cream the butter and sugars in a large mixing bowl. Most home bakers only mix it until combined and you should actually blend it to until it is light and fluffy which takes 3-4 minutes.
Add the egg and vanilla and blend again (it won't be fully mixed) and then add the mashed bananas. Mixture will be lumpy and sloppy, this is normal .
Sift together the dry ingredients and then slowly add to the wet ingredients.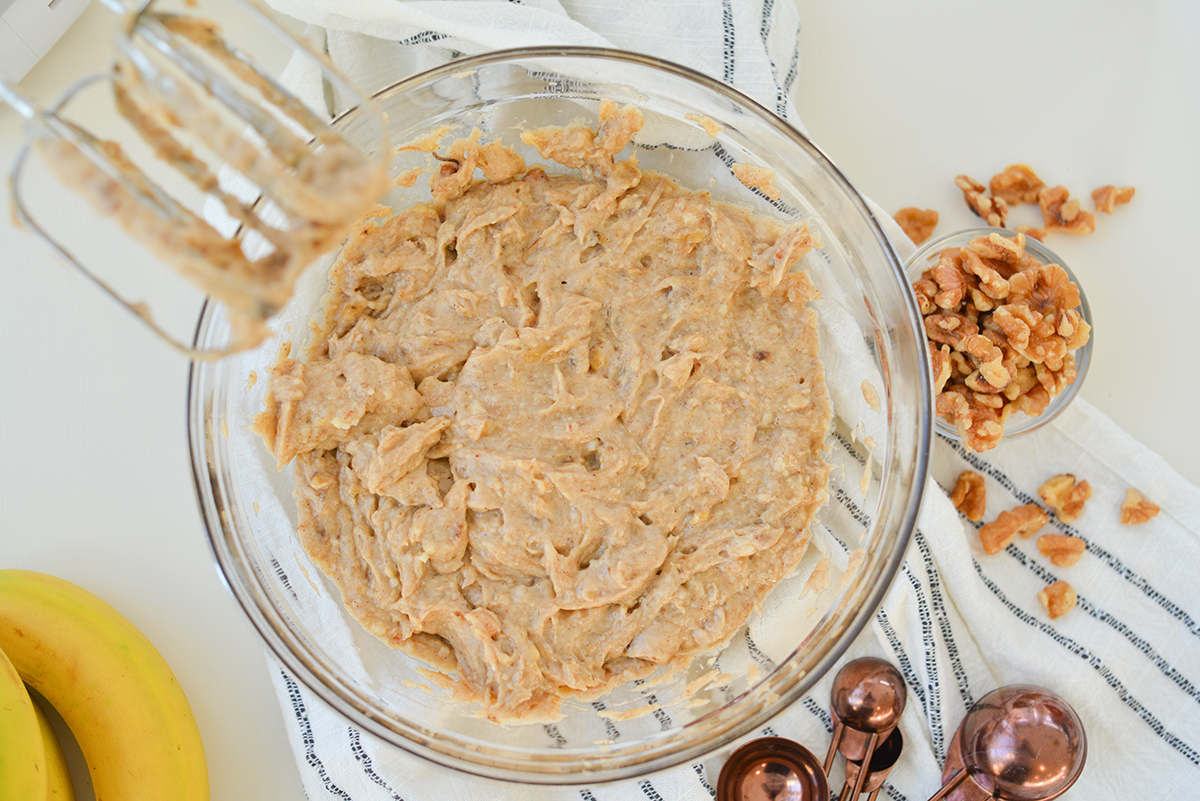 Fold in the walnuts by hand. Do not overmix the batter, this can cause dry muffins.
Fill each muffin tin approximately 1/2-3/4 full and then bake. Allow to cool for 3-4 minutes and then remove from the muffin tin to cool fully on a wire rack. If they cool fully in the tin, the heat from the tin can continue to cook the batter and make them overcooked and dry.

Serve them my homemade butter, molasses butter or even cinnamon honey butter.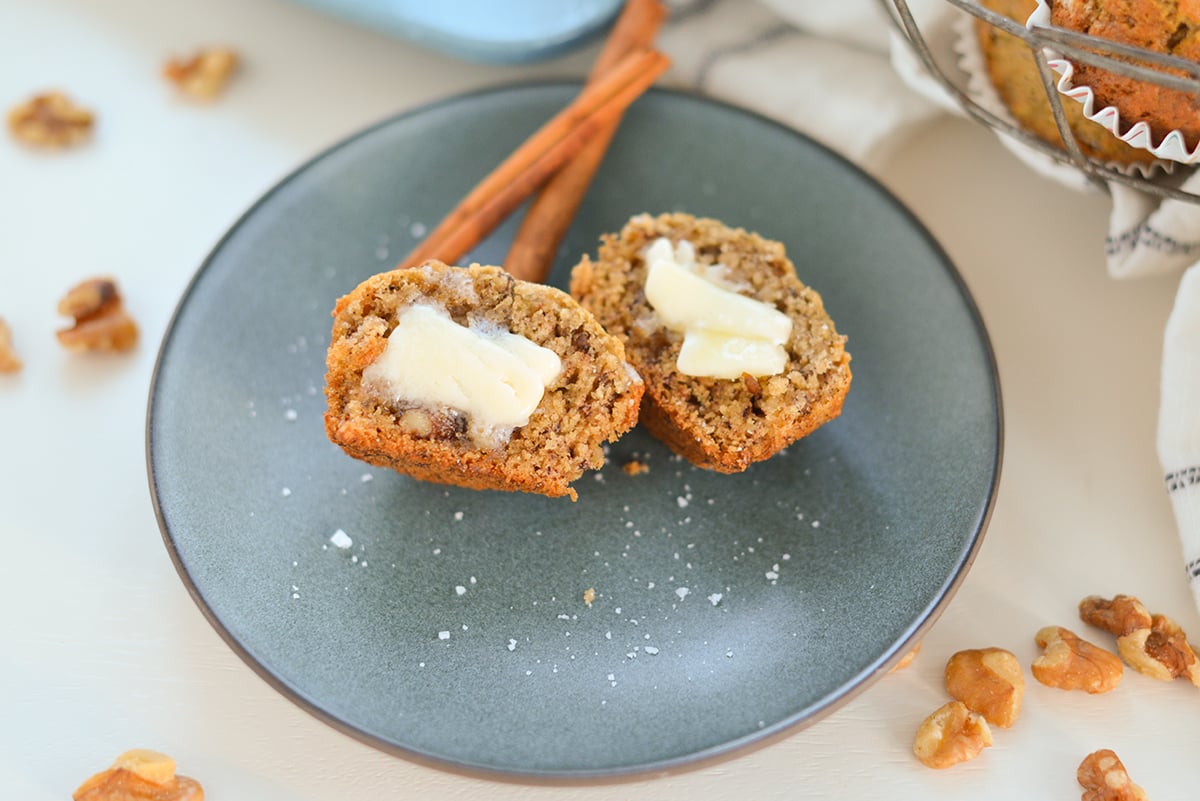 Variations
You know I love my swaps and with this muffin recipe, there is no lack of options. I haven't tried all of them, but I have kept them in my notes, so let me know if you do.
Omit the nuts and use chopped dried fruit – think dates, yellow raisins, or even currants.
I used walnuts, but pecans are great too.
Use pumpkin pie or apple pie spice.
Brown the butter before adding to the recipe, but make sure you allow it to harden to room temperature before doing so. Melted butter will mess with the overall texture of the batter and thus, the muffin.
Add 1/2 cup of chocolate chips or peanut butter chips to the batter.
Top with a streusel. I do love a streusel, but this recipe is my mom's and I didn't want to change it too much. Mash up 2-3 tablespoons of cold butter with a pinch of flour and sugar and sprinkle on top of each muffin.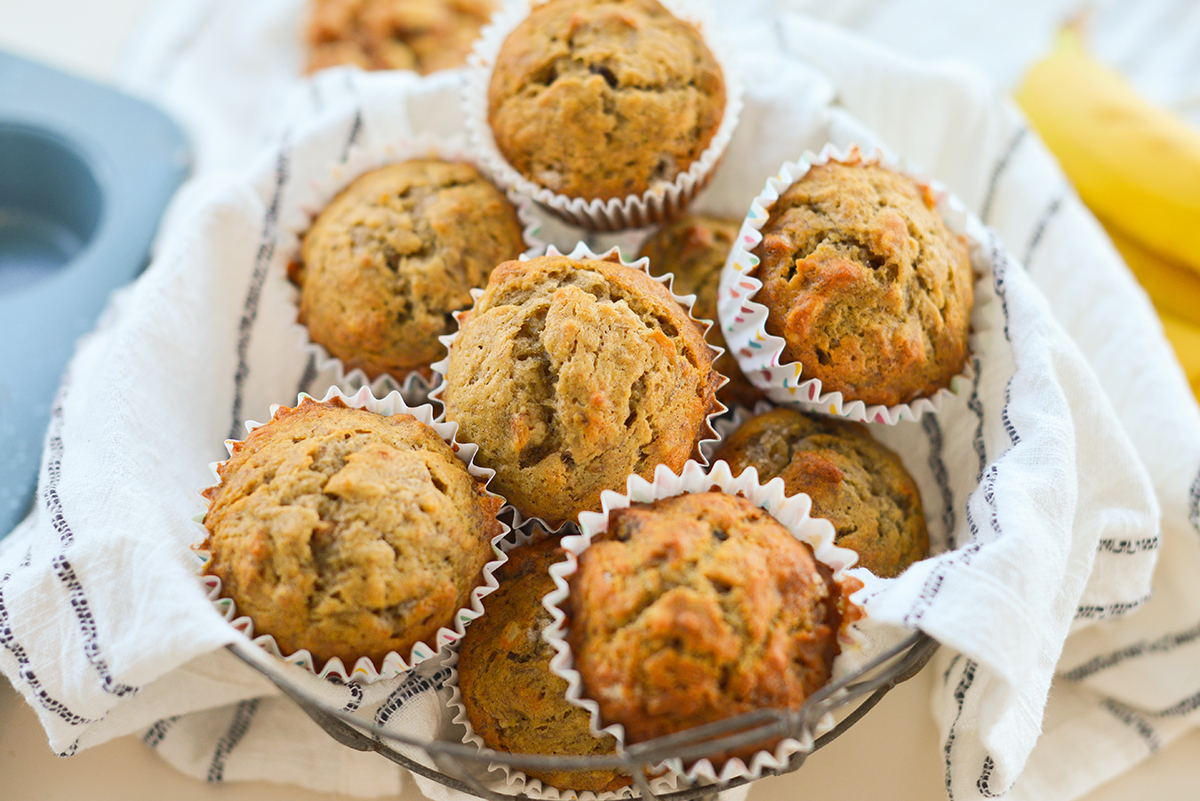 How to Ripen Bananas Fast!
Microwave– The quickest way, but least likely to produce super sweet results. Nuke it for 30 seconds to one minute. Basically, you are cooking it and allowing the sugars to release a little before you put it into the recipe.
Oven- the same concept as the microwave. Heat to 350 degrees and bake for 5-30 minutes.
Brown Paper Bag – My mother used this technique, but it still takes about a day. Place your bananas in a brown paper bag and roll it closed. Ethylene will build up and speed up the ripening process.
Tropical Environment – Everything ages faster in the heat. Place your bananas someplace warm, like in a sunny window. It will still take up to a day, depending on how ripe the banana was to begin with.
Single them out – lastly, pull your bananas apart. They ripen much faster separated than they do still hooked together.
Storage & Freezing
Muffins are best stored in an airtight container at room temperature. Enjoy them the day they are baked when still warm or up to 5 days. They can be reheated slightly for 10 seconds in the microwave. This re-softens the butter making them taste freshly baked.
This banana nut muffin recipe is also freezer friendly. Place muffins in an airtight plastic bag and remove as much air as possible. Freeze for up to 3 months. Remove one muffins, or all of them, and let them thaw at room temperature.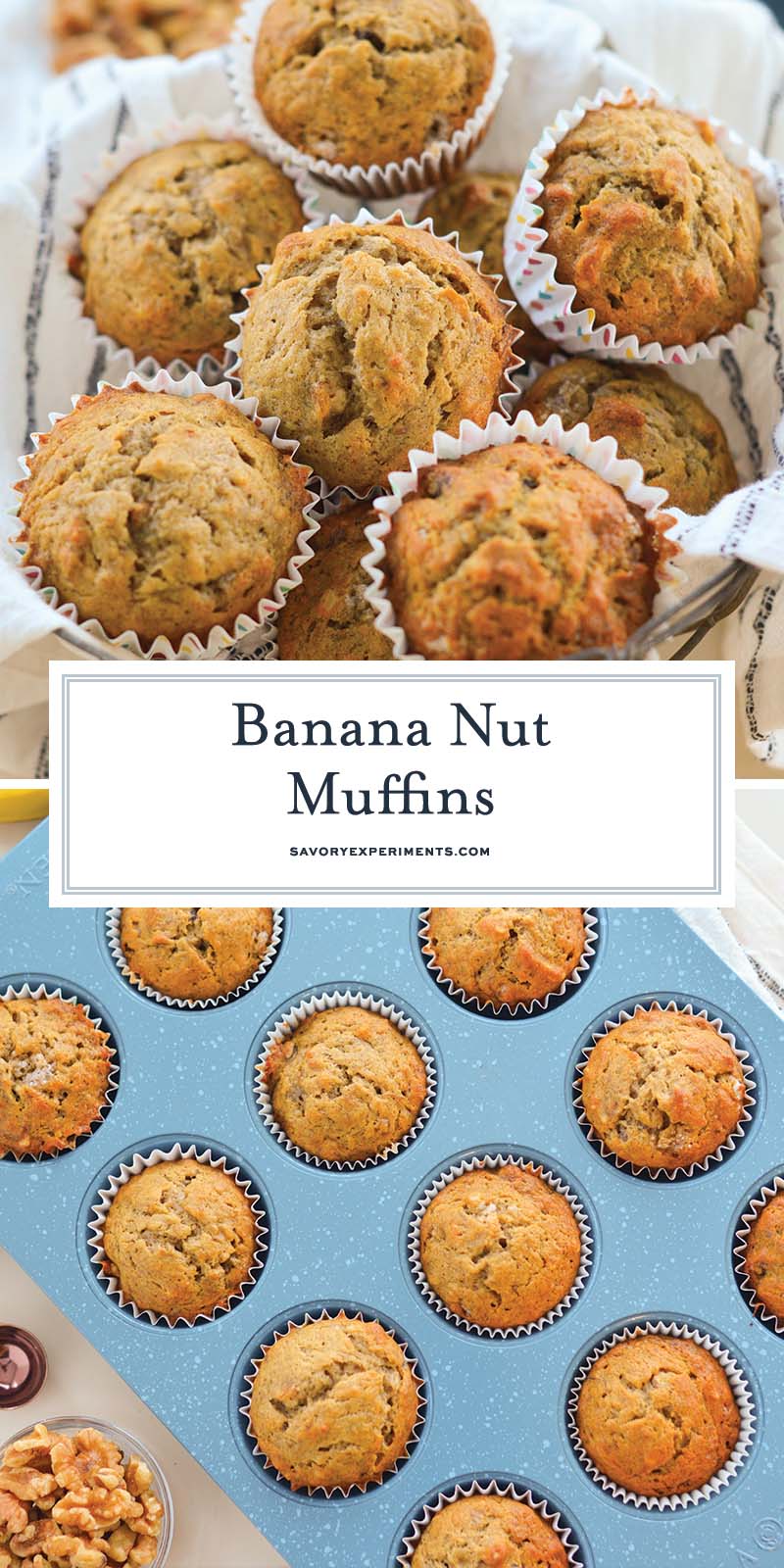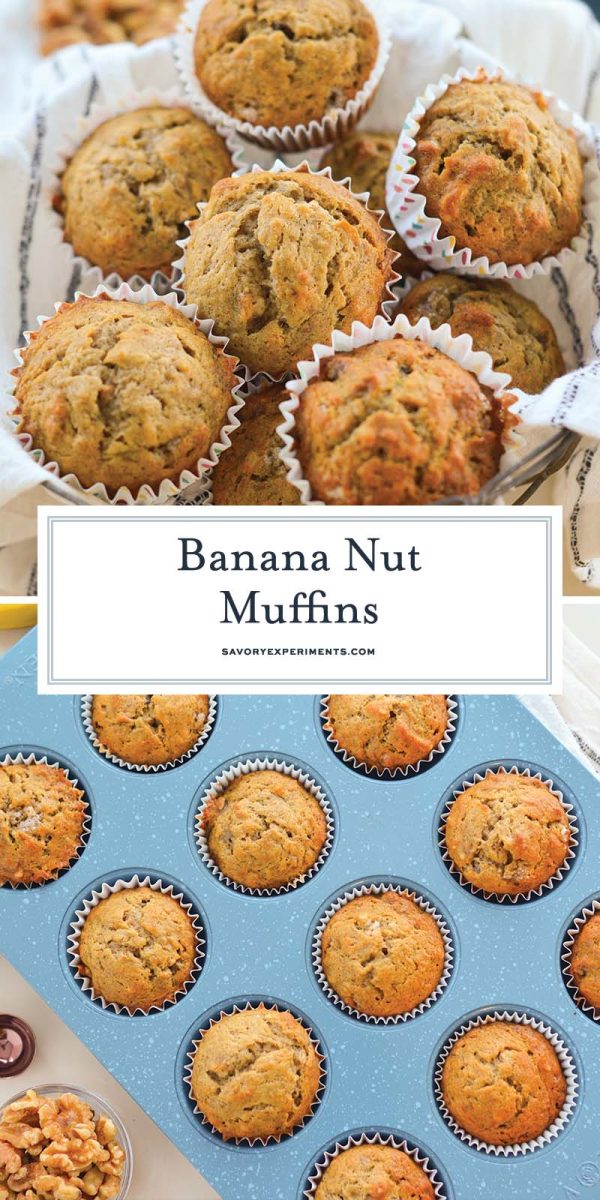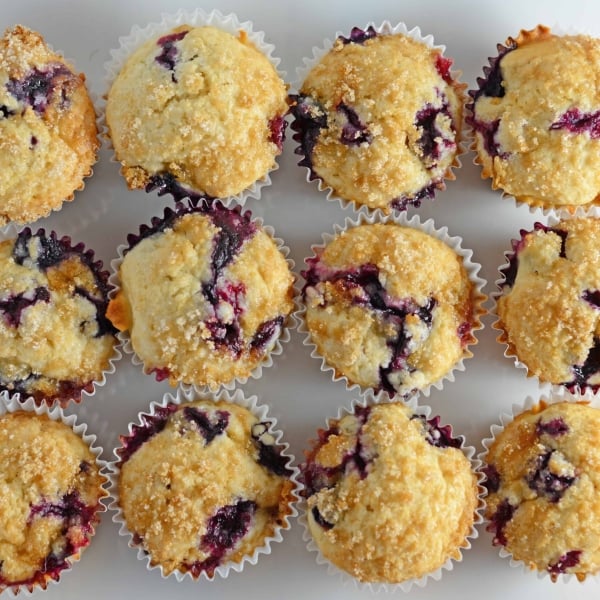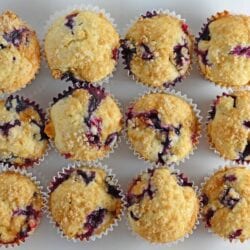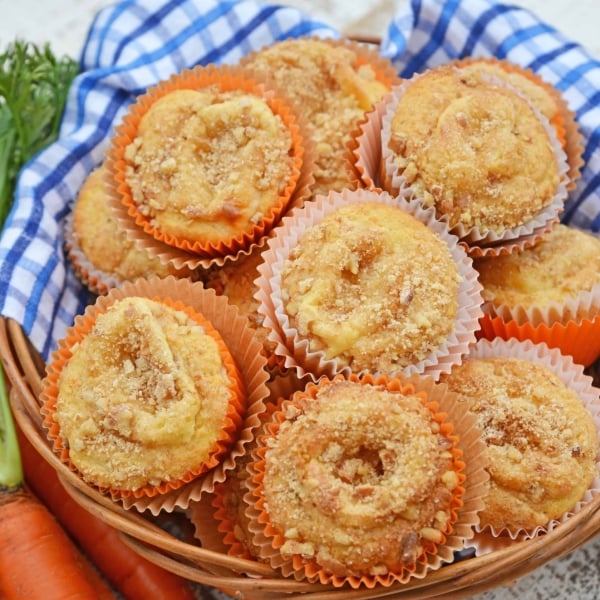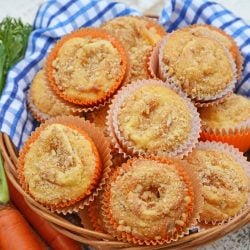 Carrot Cake Muffins
Carrot Cake Muffins are muffins loaded with carrots and stuffed with cream cheese frosting. Perfect for breakfast, brunch or a snack. Also freezer-friendly!
See The Recipe!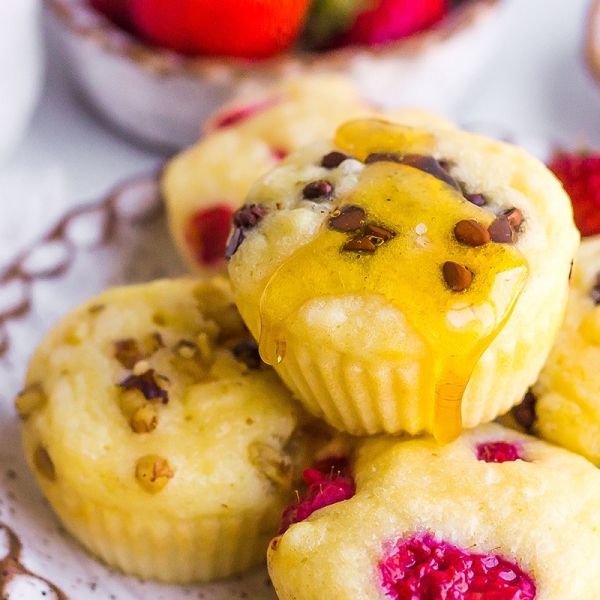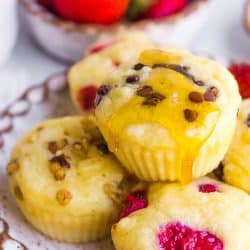 Pancake Muffin Recipe
Pancake Muffins take your favorite homemade pancake recipe and turn it into an easy grab-and-go breakfast. No fuss or flipping involved, with all of the pancake flavor included!
See The Recipe!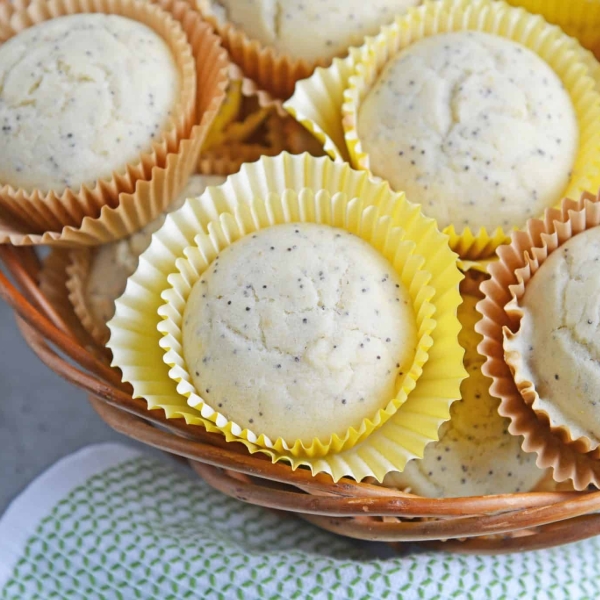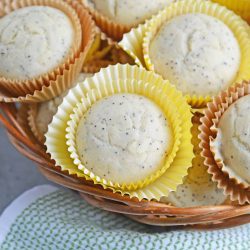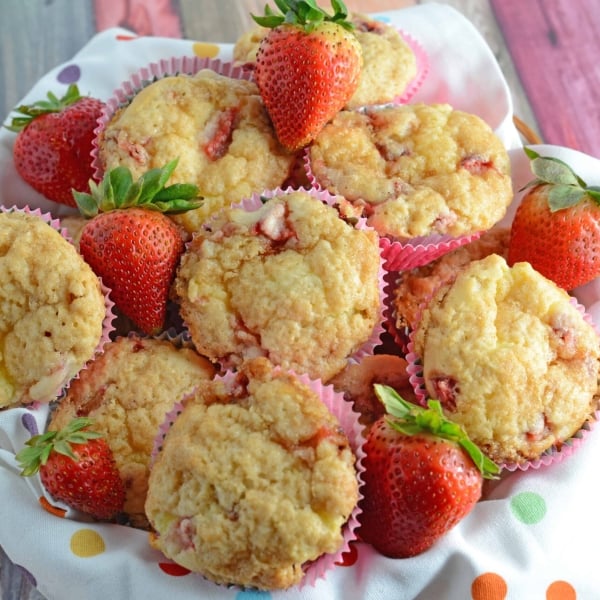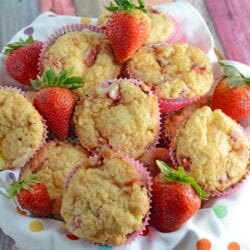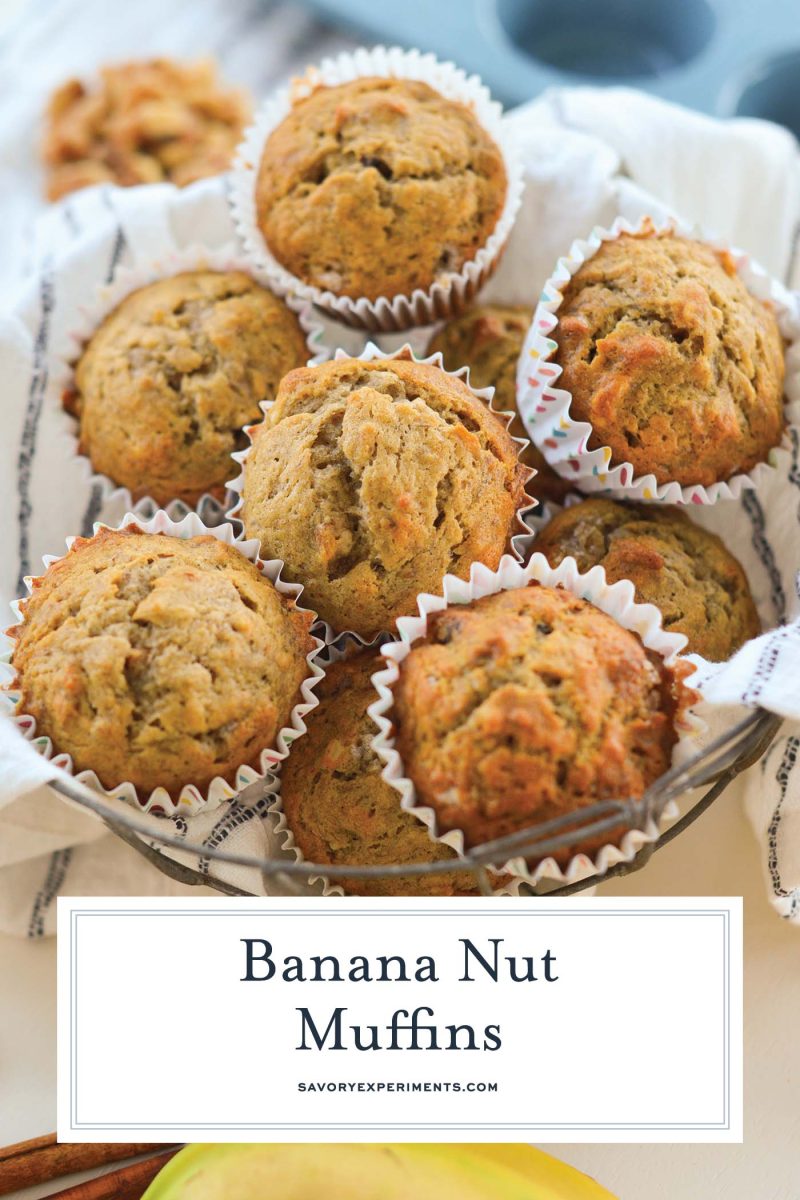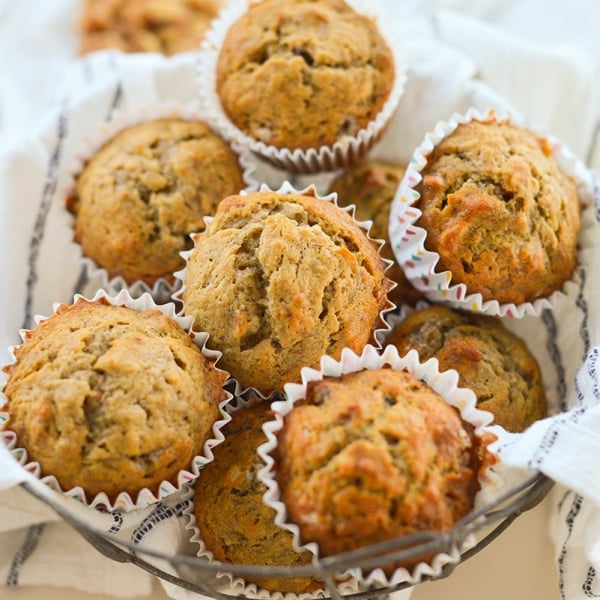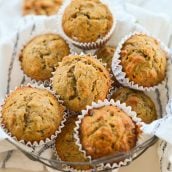 Banana Nut Muffin Recipe
Classic Banana Nut Muffins, so soft and moist, are the perfect way to use up ripe bananas and make a simple breakfast.
Instructions
Preheat oven to 350°F. Line muffin tin wells with liners.

Cream the butter, white sugar and brown sugar together in a large mixing bowl. Add the egg and vanilla and blend again and then add the mashed bananas.

Sift together the flour, nutmeg, cinnamon and salt. Slowly add to the banana batter.

Fold in the walnuts by hand. Do not overmix the batter.

Fill each muffin tin approximately 1/2-3/4 full. Bake for 15-20 minutes or until tops spring back when gently pressed.

If you've tried this recipe, come back and let us know how it was in the comments or star ratings.
Nutrition
Calories:
156
kcal
,
Carbohydrates:
21
g
,
Protein:
2
g
,
Fat:
8
g
,
Saturated Fat:
4
g
,
Polyunsaturated Fat:
2
g
,
Monounsaturated Fat:
2
g
,
Trans Fat:
1
g
,
Cholesterol:
23
mg
,
Sodium:
98
mg
,
Potassium:
126
mg
,
Fiber:
1
g
,
Sugar:
10
g
,
Vitamin A:
188
IU
,
Vitamin C:
2
mg
,
Calcium:
10
mg
,
Iron:
1
mg