This simple and tasty dessert has it all: crunchy shortbread cookies, smooth and rich vanilla pudding and of course fresh bananas. These Banana Pudding Cups won't disappoint!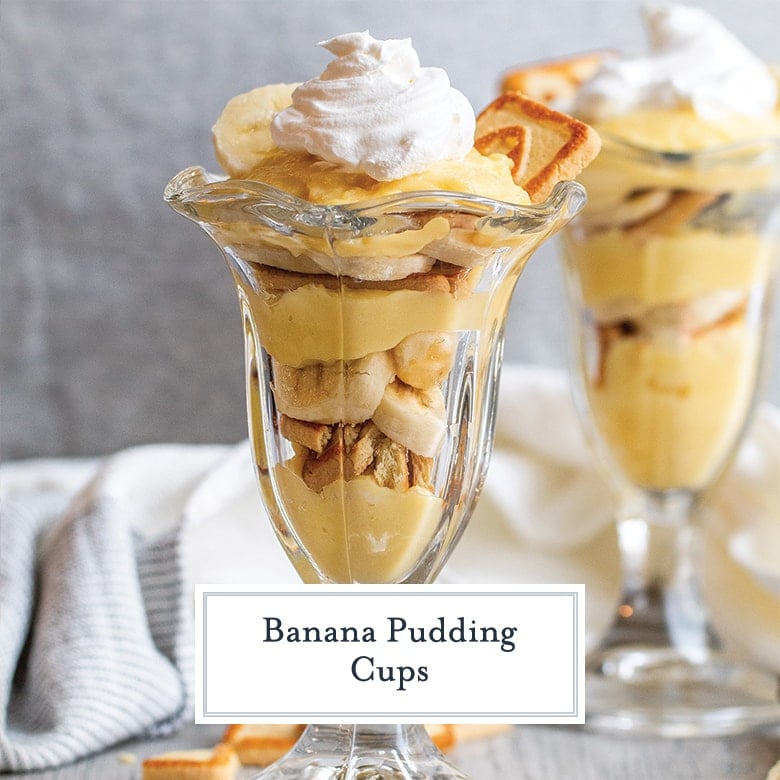 I swear banana pudding is the most yummy and comforting thing on the planet. I grew up eating it at my grandma's house and today my kids ask for it constantly. This simple and classic dessert has stood the test of time because it is that good.
I layer my banana pudding recipe with homemade vanilla pudding, shortbread cookies and fresh banana slices. You can add in the whipped cream layers as well or just top it on the finished cups (or both, there are no rules!).
Along with being super tasty, this dessert can be made ahead of time for the perfect easy dessert. You can even make a tray of mini trifles including our tiramisu and angel food parfaits! And if you are feeling really fancy, make it into a cake.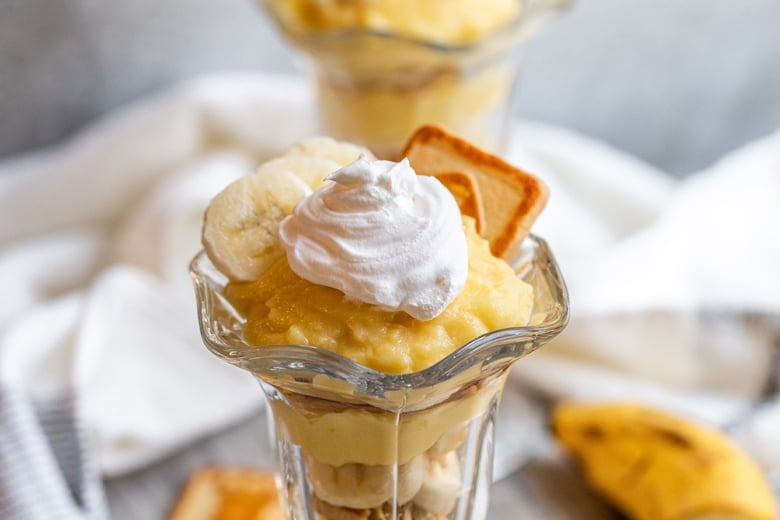 What is Banana Pudding?
Well, it is exactly what it sounds like: pudding that tastes like bananas. The pudding itself is actually vanilla pudding (not a banana cream), then layered with fresh bananas in a cup, trifle or pan along with cookies and whipped cream.
When layered together and stored in the fridge the flavors meld together created the perfect banana tasting pudding with crunchy cookies giving the dessert its name.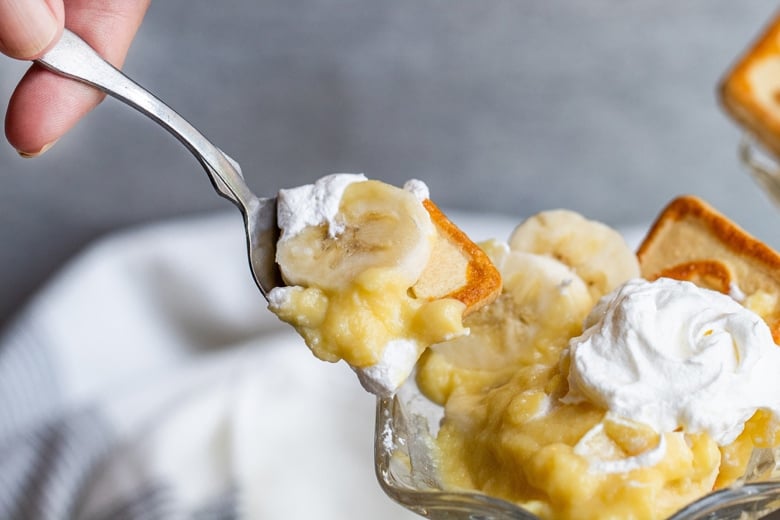 Traditionally the dessert is made in a large trifle dish making the signature layers the star. This can be done or the pudding can be made into individual cups or even in a large baking pan.
Cookie Options
So just a heads-up I do my banana pudding cups a bit different than most. I love to use shortbread cookies in my pudding cups, because I think the flavor pairs perfectly and they are my favorite cookies ever.
Of course you could swap these out for the traditional Nilla Wafers (vanilla wafers) or butter cookies if you wish, and your pudding would still turn out lovely.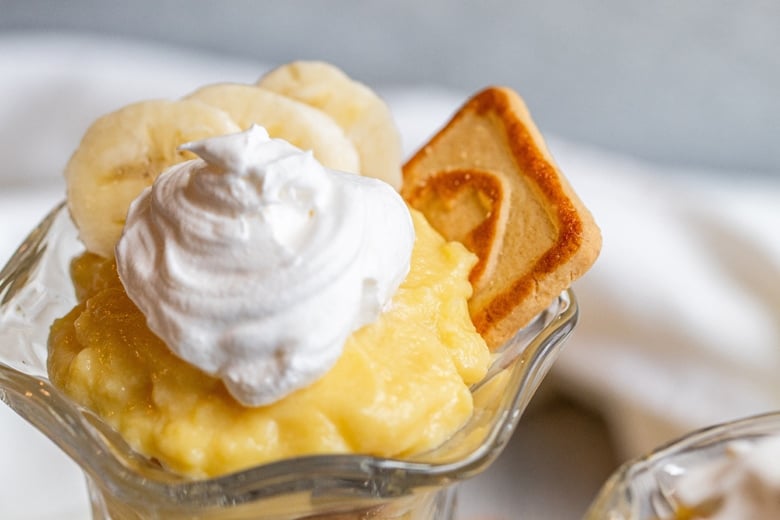 Additionally, when layering the pudding cups you can crush the cookies up, or just break them into large chunks. Crushing the cookies will give you more perfect layers, while if you leave them in chunks you will get big bites of cookie. Both ways work great and it is up to your personal preference.
Pro-Tips for Perfect Banana Pudding
Let it Chill: I highly recommend letting your vanilla pudding and the assembled cups chill for the recommended time. When you let cups chill, all the flavors blend together and everything combines well. This will give you the classic banana pudding flavor.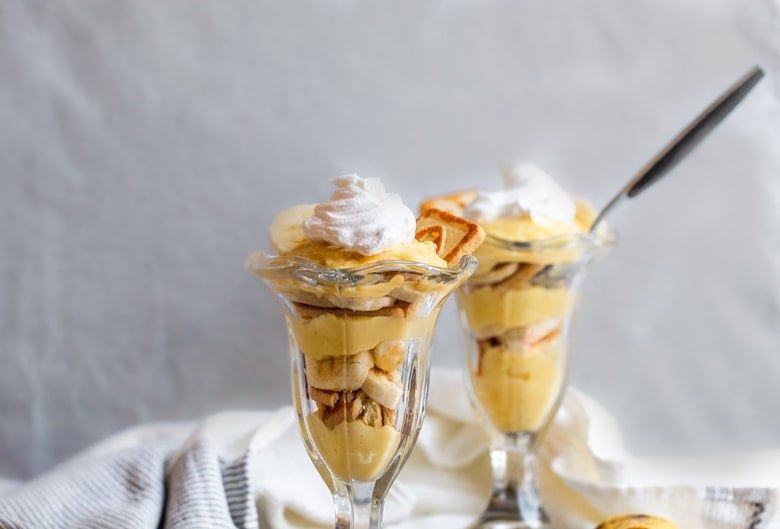 No Boiling: You should NOT boil the pudding when you are heating it. Keep the heat low to medium and whisk it to reduce the amount of chunks. If it begins to boil reduce the heat immediately. If you boil the pudding the mixture could curdle.
Super Smooth: If you want your pudding to be super smooth and silky you can pass it through a sieve after you have heated it and before you refrigerate it.
This will remove any little lumps and give you smooth pudding. This does not affect the flavor, just the texture so if you are okay with some little lumps then you can skip this step.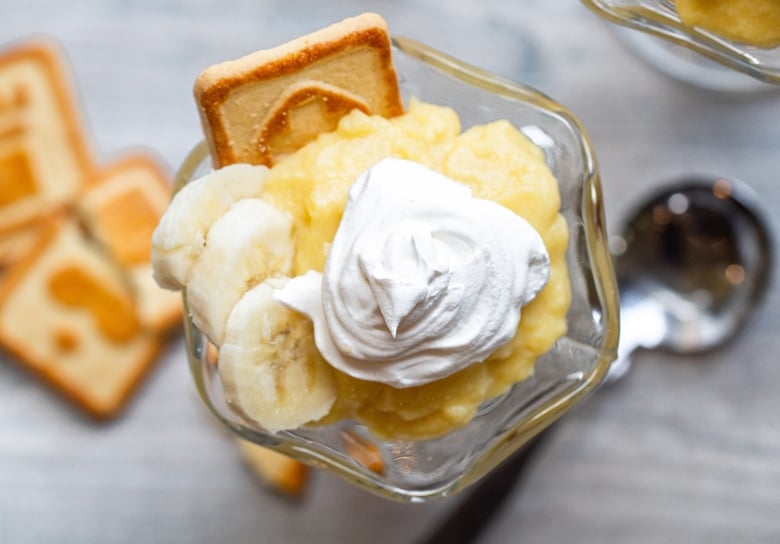 Whipped Cream: You can make it from scratch or you can use Cool Whip and while I do prefer anything homemade, this is one of those instances that Cool Whip might actually be the better choice.
Why? It is more stable. Homemade whipped cream has the tendency to fall if not blended with another stabilizer and even then might only stay wispy for 1-2 days. But whipped topping will stay perfect for weeks (not that it lasts that long).
If you plan to make this dish ahead of time, opt for whipped topping.
Trifle Instructions
If you are wanting to make the classic banana pudding trifle recipe you absolutely can. Follow all the recipe instructions, but instead of layering in individual cups, just use a large trifle dish instead. If you do not have a trifle dish, a 9×13 baking dish can also be used.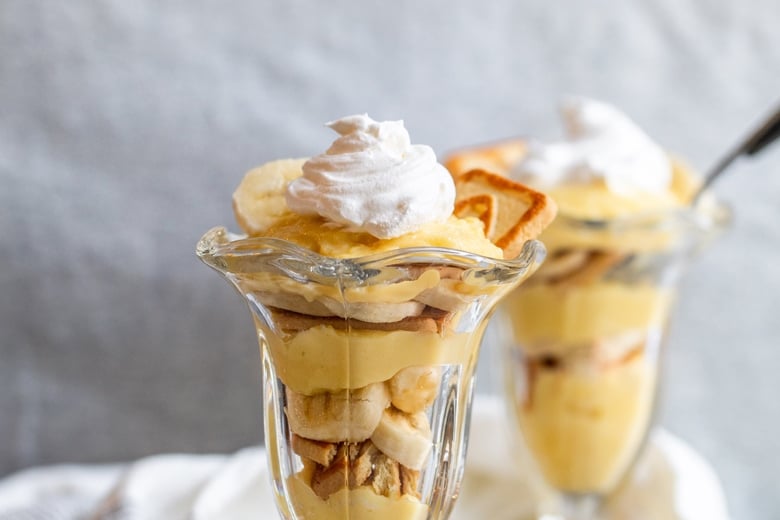 Layer the pudding, shortbread cookies, and bananas just like you would in individual cups, then store in the fridge. I recommend adding the whipped cream over the top of the entire trifle or pan instead of doing the individual scoop like with the cups.
Freezing and Leftovers
You can store leftover pudding cups in the refrigerator for up to 3 days. I like to cover mine with some foil as well.
Unfortunately, pudding cannot be frozen. The ingredients will separate and the texture once thawed will be strange.
But the good news is, you can make the vanilla pudding several days ahead of time and store it in the fridge until you are ready to assemble the cups. When you do, cover it in plastic wrap and press thewrap into the top of the pudding. This prevents the yucky layer from forming on top. If you forget, simply peeling this off before spooning into the cups.
Additionally, the banana pudding cups can be assembled and stored in the fridge up to 24 hours ahead of time. I often make these the night before and enjoy them the next day.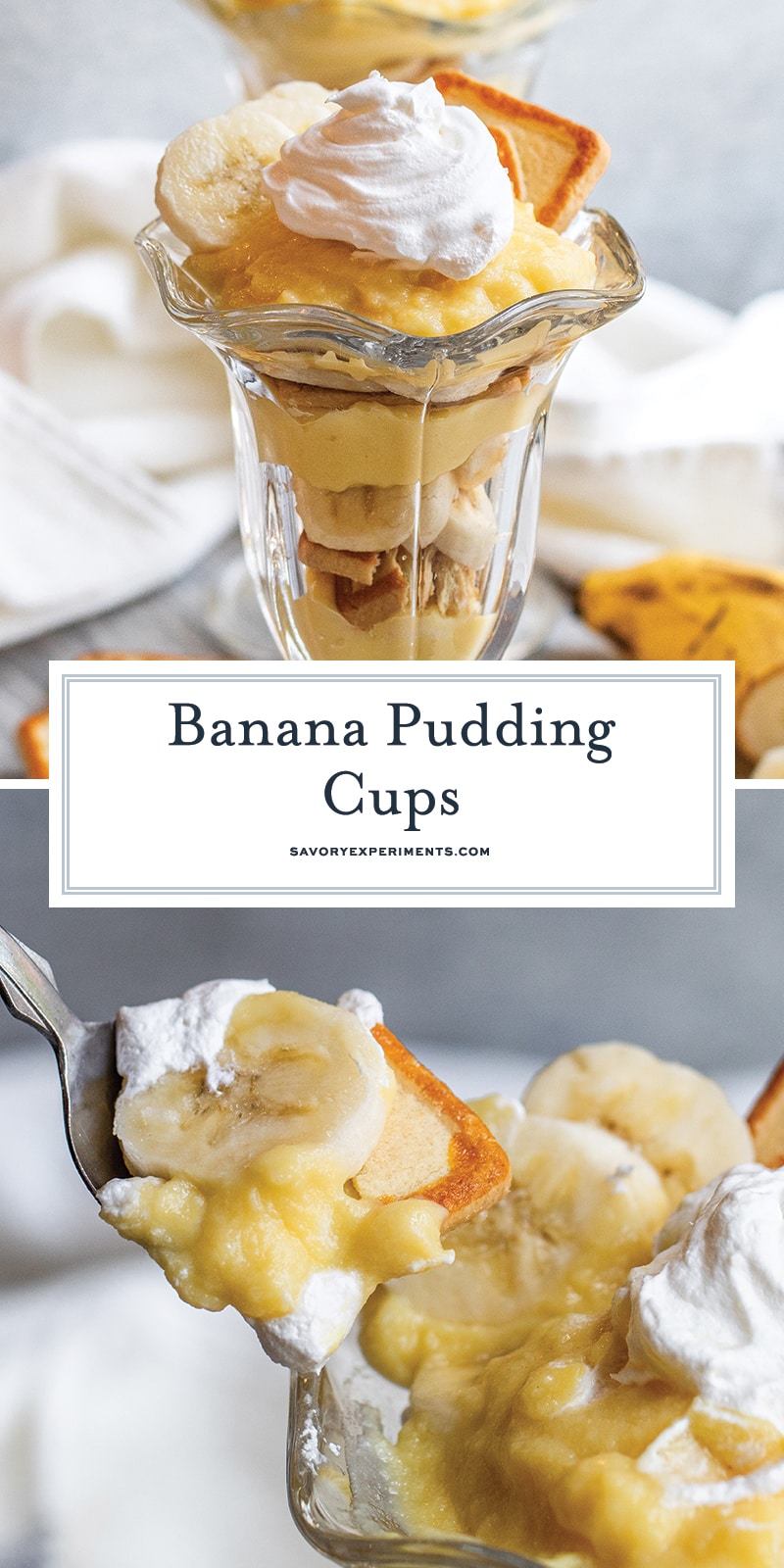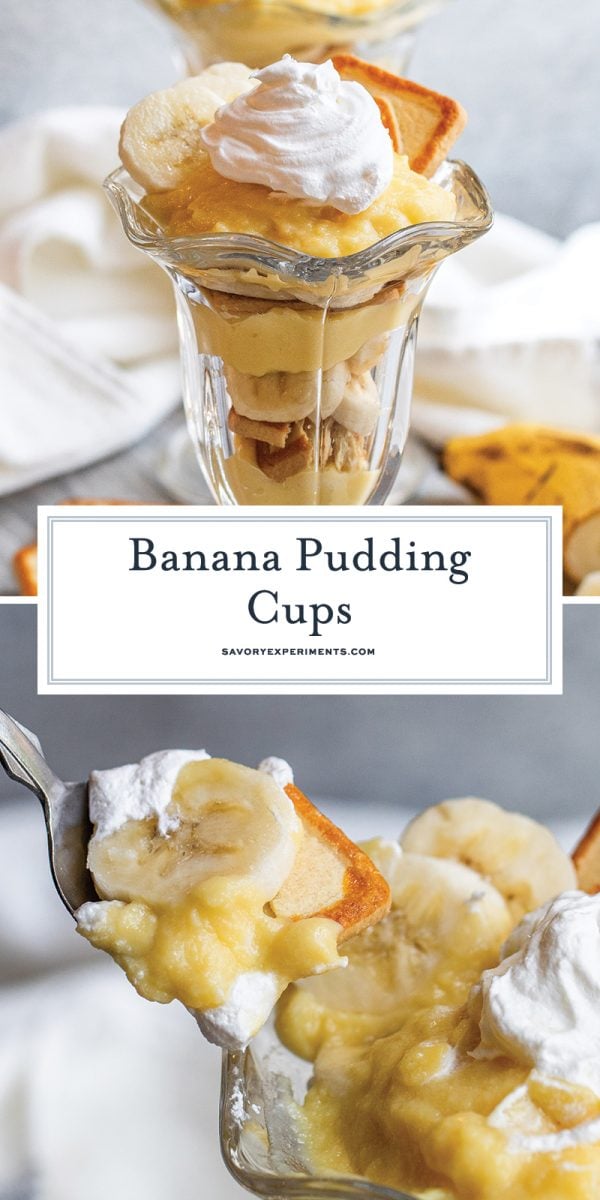 More pudding recipes to enjoy: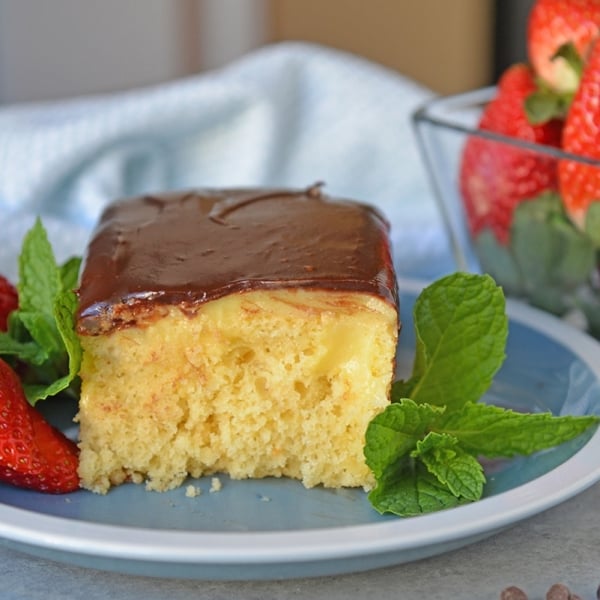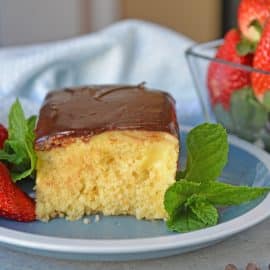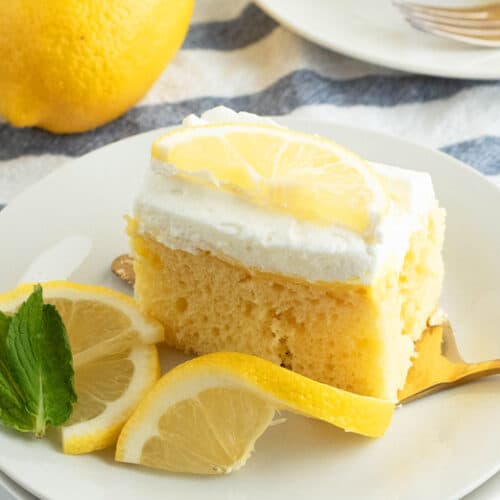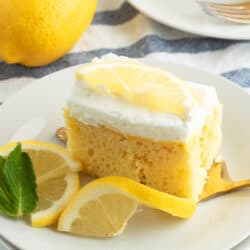 Lemon Poke Cake
This deliciously moist BEST Lemon Poke Cake recipe is perfect for any occasion! It's made easy thanks to a boxed cake mix and instant pudding!
See The Recipe!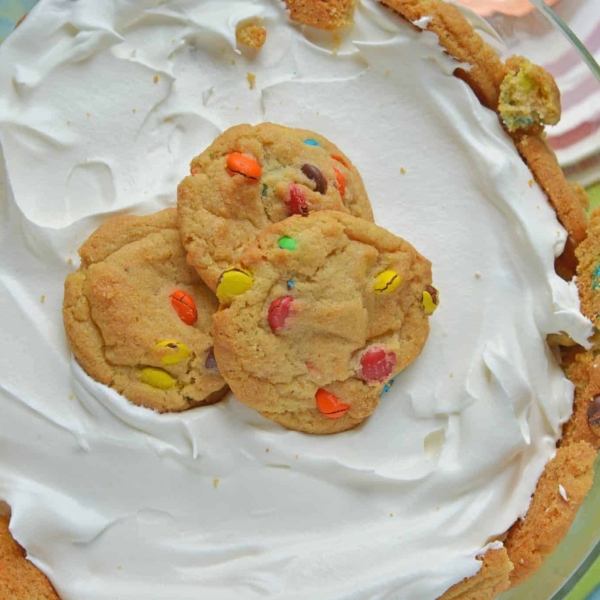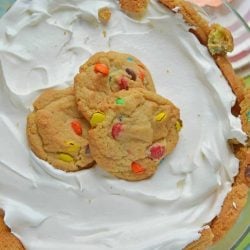 Cookie Trifle
This Cookie Trifle recipe is a super easy trifle recipe that only uses 3 ingredients! Chocolate and butterscotch chip cookies, layered with vanilla custard and whipped cream!
See The Recipe!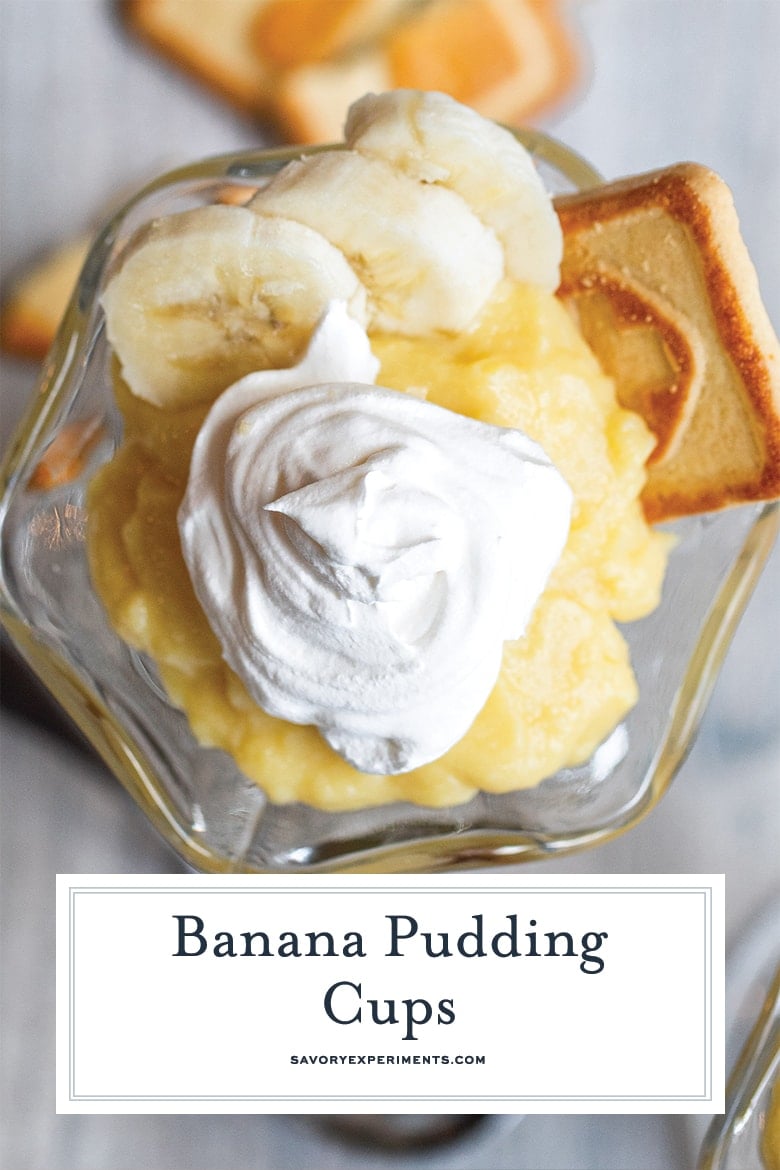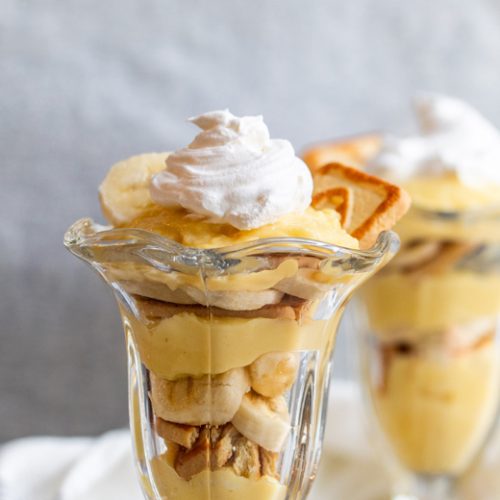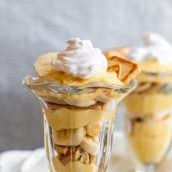 Creamy Banana Pudding Cups
These Banana Pudding Cups are simple to make and can be made ahead of time for a simple dessert the next day. Trifle option included!
Instructions
Begin my seperating the yolks from 3 of the eggs. Place the yolks in a prep bowl and discard the whites. In the prep bowl add in the last whole egg (both yolk and whites). Whisk together and set aside.

In a medium pot add in the sugar, flour and salt and stir to combine.

Add in the eggs, then milk, stirring well in between each ingredient.

Heat the pudding in the saucepan over low heat for 10 minutes whisking continuously. This will help the pudding stay smooth. You should not boil the pudding and if it starts to boil reduce the heat immediately.

Once the pudding is starting to get thick, remove from the heat and stir in the butter and vanilla extract.

Optional: Run the pudding through a sieve to remove any small lumps and make the pudding smooth. This does not affect the flavor, just the texture. If you do not have one, that is okay and you can skip this step.

Pour the finished pudding into a large bowl, cover it then store in the fridge to chill for 1 hour until thickened.

After an hour begin assembling the pudding cups by scooping in a small amount of the vanilla pudding, then add in some shortbread cookies, followed by the sliced bananas. Repeat this 2-3 times depending on how large your dishes are. Store in the fridge for at least an hour (the longer the better), then serve with whipped cream, additional shortbread cookies and bananas. Enjoy!

If you've tried this recipe, come back and let us know how it was in the comments or ratings!
Nutrition
Calories:
350
kcal
,
Carbohydrates:
50
g
,
Protein:
7
g
,
Fat:
14
g
,
Saturated Fat:
5
g
,
Cholesterol:
101
mg
,
Sodium:
353
mg
,
Potassium:
350
mg
,
Fiber:
2
g
,
Sugar:
27
g
,
Vitamin A:
367
IU
,
Vitamin C:
5
mg
,
Calcium:
94
mg
,
Iron:
1
mg