I'm always looking for a way to sneak fruit into food that my family will be likely to scarf up. These banana nutella muffins fit the bill.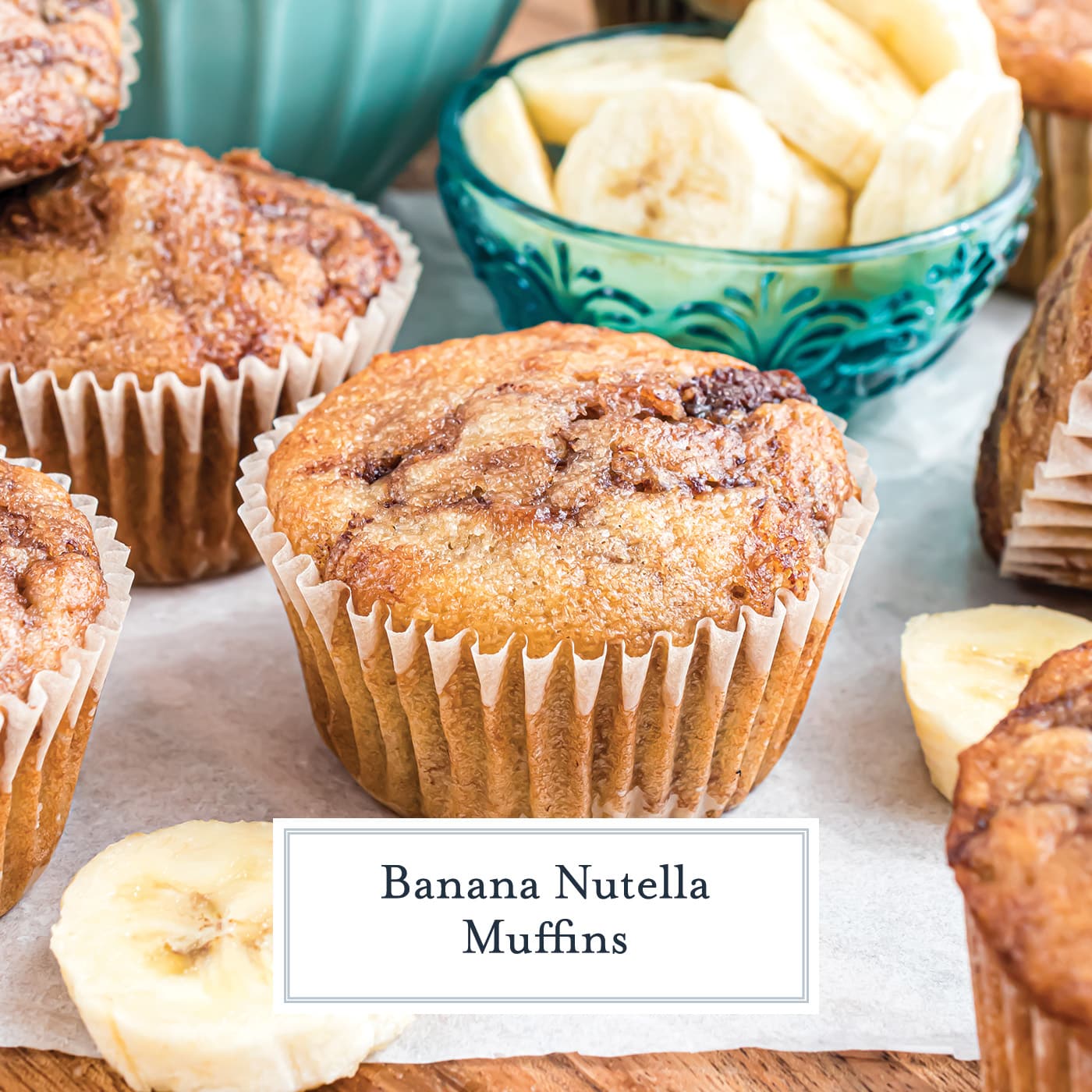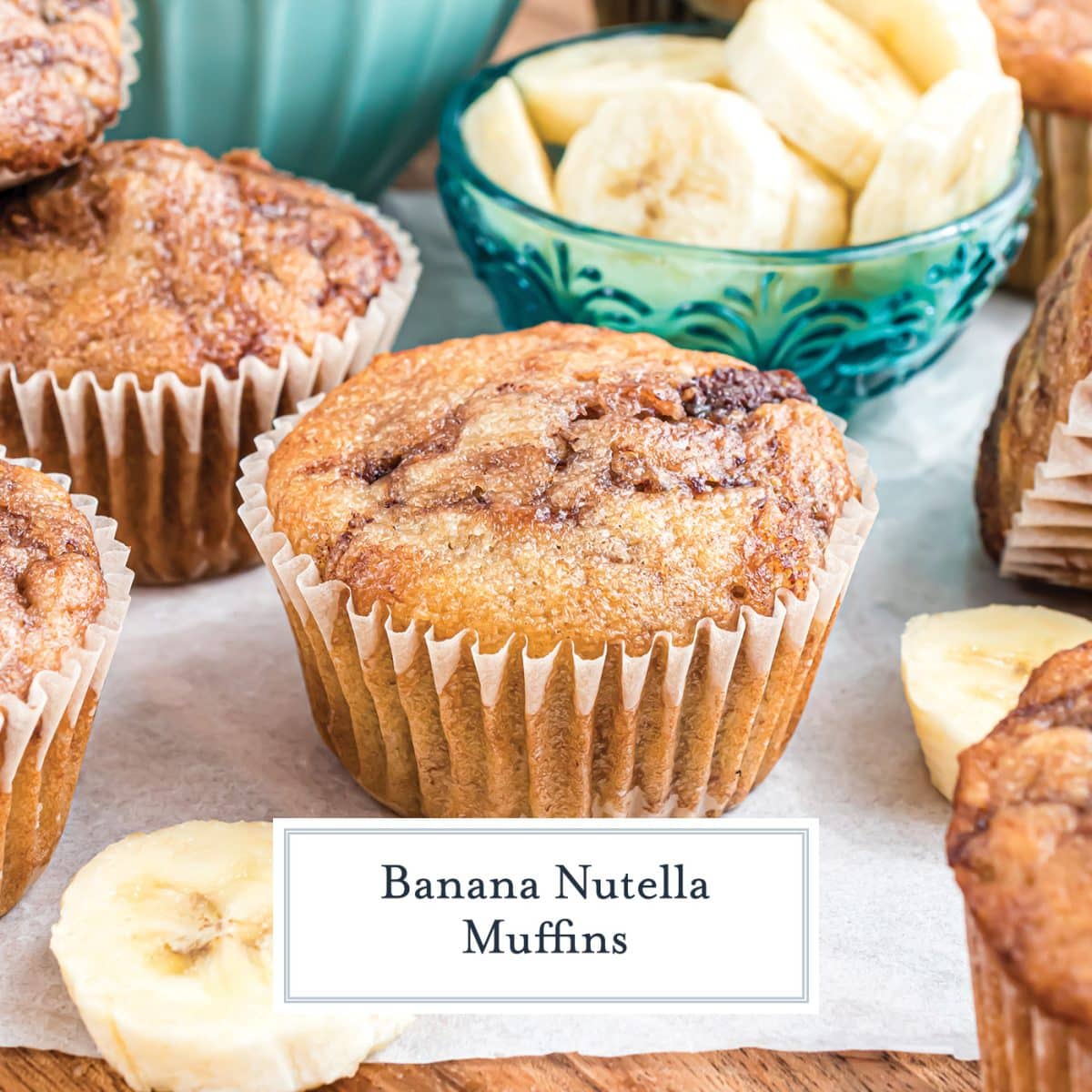 Nutella is a kind of chocolate hazelnut spread that has what some might describe as a cult-like following. It's rich and creamy and if you're not already a fan of Nutella, you will be after trying these muffins.
The swirls of nutella perfectly complement the sweet banana flavor in these muffins and they can be served any time. What's best is that they're easy to make and you can make them ahead of time.
The next time you're looking for something sweet that's also quick, easy and even a little healthy? Grab a jar of Nutella and try this banana muffin recipe.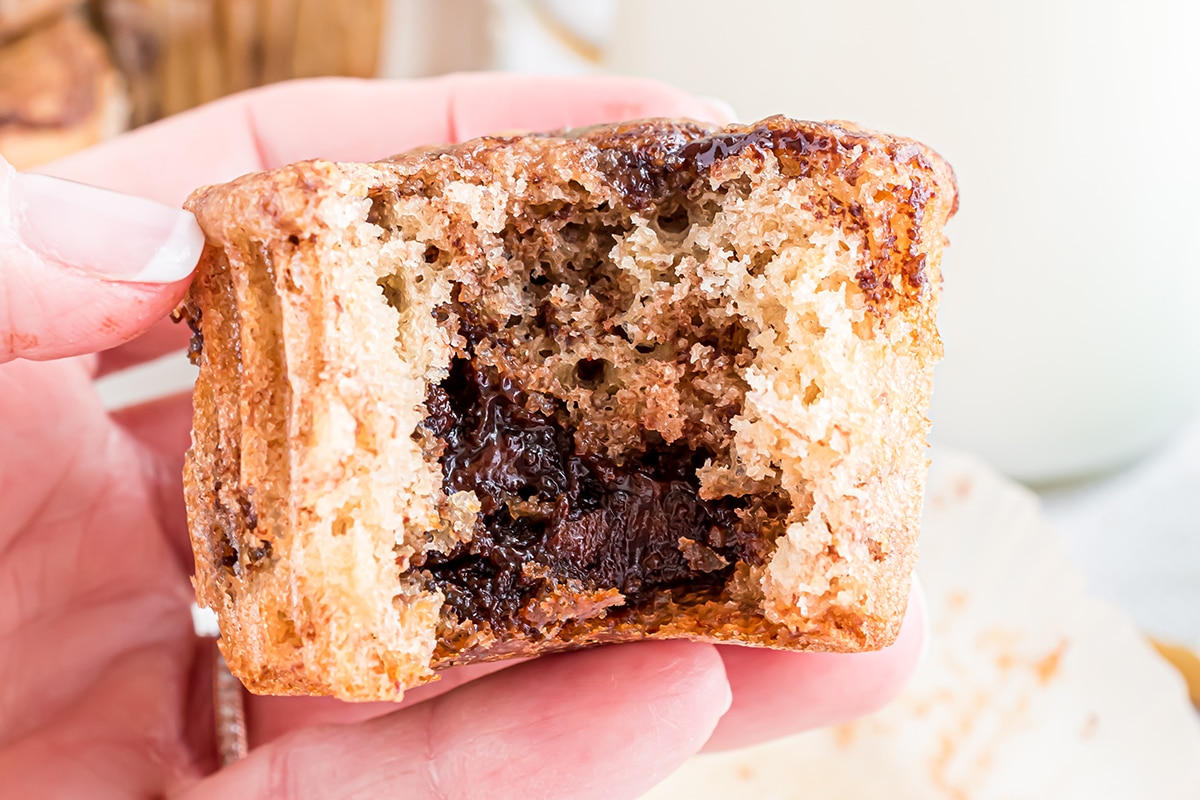 Why Ripe Bananas Are Important
When making baked goods with bananas, it's important to ensure that they are ripe — even overly so. Using bananas that have not fully ripened will not result in the proper taste or texture.
When bananas ripen, their starch converts to sugar and they become naturally sweeter. They also become softer, making them easier to incorporate when mixing.
You can use ripe bananas immediately or you can store them in the freezer until you're ready to use them. Overripe bananas that have gotten as brown as you like are just fine (as long as no mold is present) but do realize that the level of ripeness may affect the color of the final product you're baking.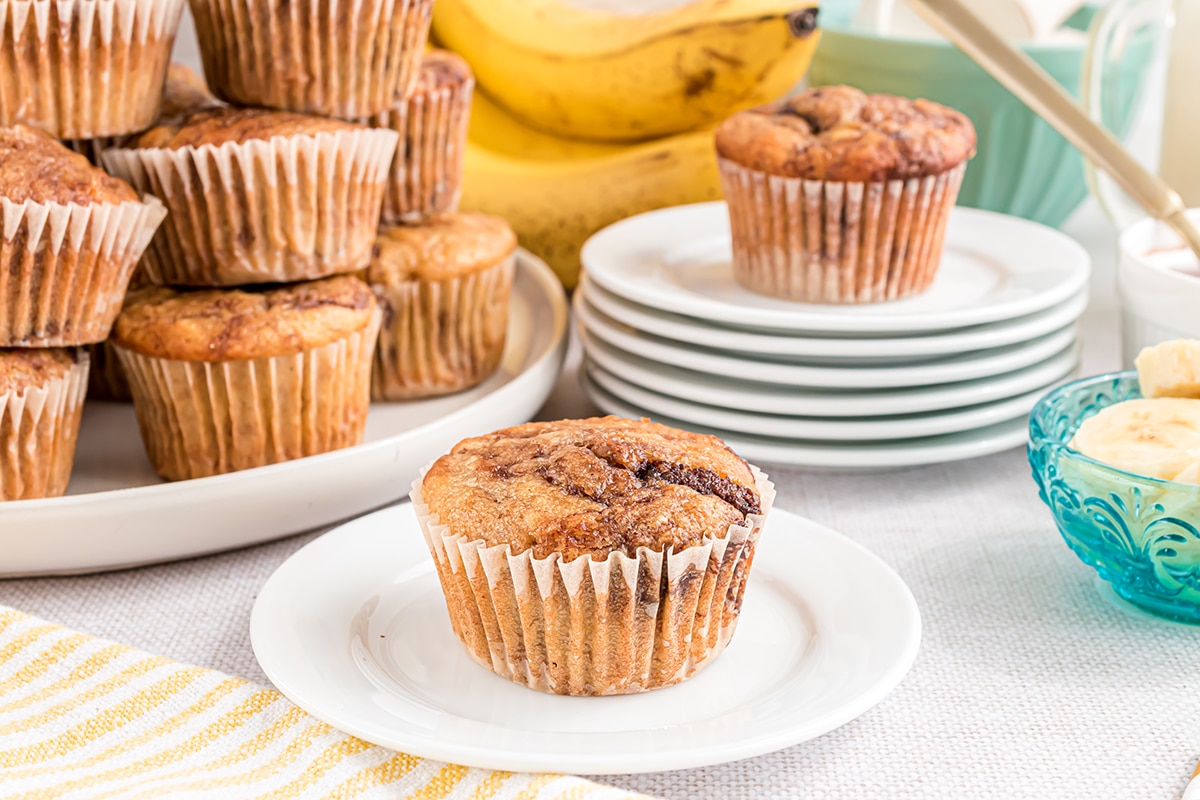 Why You'll Love Banana Nutella Muffins
Little cleanup – Truly a one bowl recipe, you'll have the dishes finished before your muffins even barely start baking. Using a muffin liner also means that'll be a quick cleaning effort as well.
Anytime snack – These muffins are just as delicious as a breakfast treat or snack as they are a quick dessert after dinner.
Make ahead – Planning to host, or go to, a brunch event? These are a perfect way to add some flair to the spread with something you can easily make ahead.
Use up bananas – There seems to be a brief window of time to eat up that bunch of bananas from the grocery store. Once they're ripe, whip up this recipe — or, throw them in the freezer to make it when you're ready.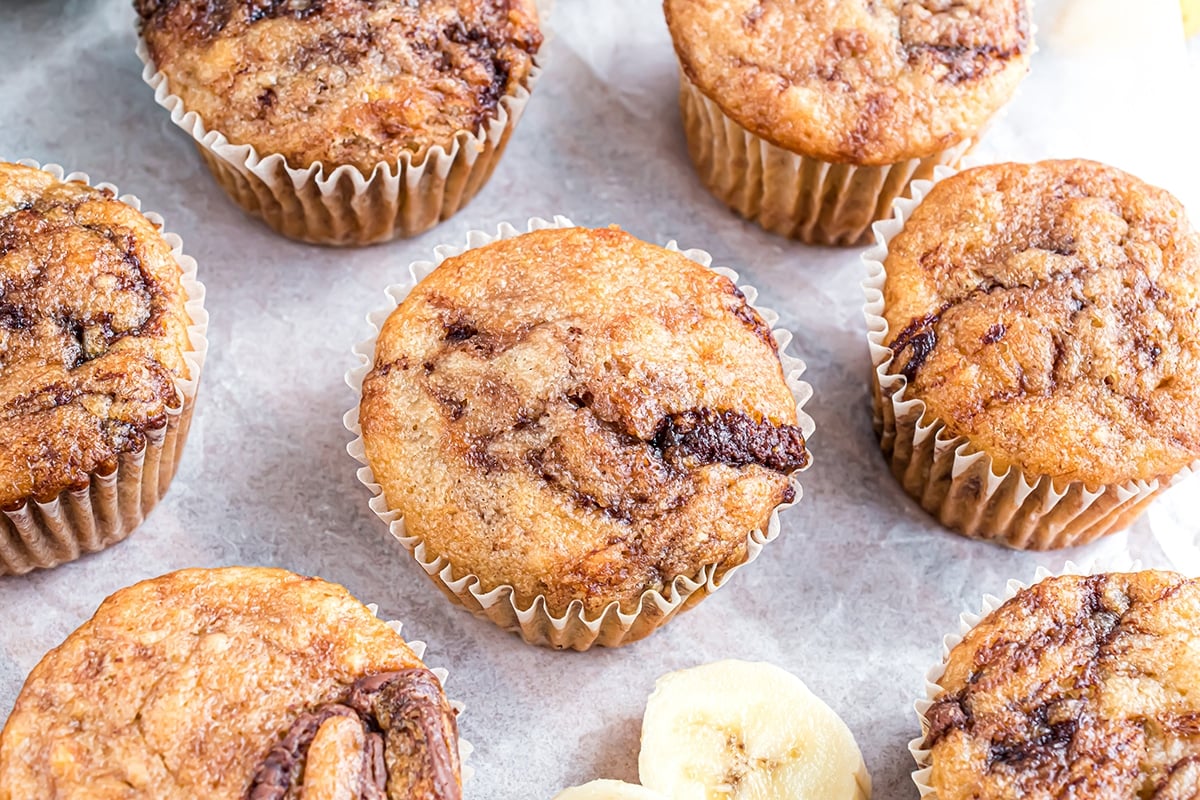 Banana Nutella Muffins Ingredients
Pancake Mix – When choosing a pancake mix for this recipe be sure to use a "just add water version."
Whole milk – These muffins are best with full fat milk but you can certainly experiment with lower fat versions or milk alternatives.
Vegetable oil – I've found that this oil works best for this recipe but you can try different oils that you prefer.
Eggs – Large eggs are key to making the recipe turn out right.
Brown sugar – You can use light or dark, just know that if you use dark brown sugar there will be more molasses flavor and they may turn out a bit darker colored.
Bananas – It's important to use very ripe bananas, if not overripe, even. You can always save brown bananas in the freezer and then thaw them when you're ready to use them.
Vanilla – I think vanilla extract is the best to use for this recipe but you can also use any other extract you prefer.
Nutella – Just grab a jar at your favorite store or online — make sure there's enough leftover to spread on these muffins or to use in other sweet treats!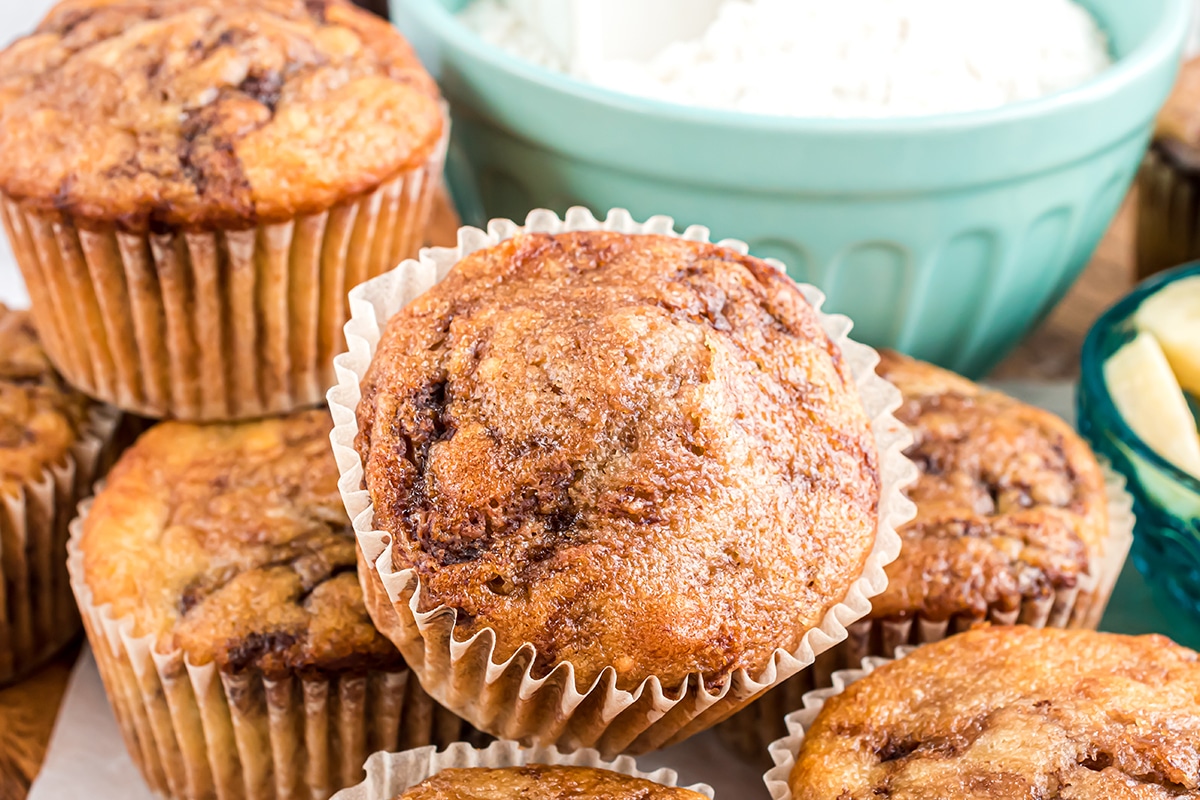 How To Make Banana Nutella Muffins
Mash the bananas in a large bowl, ensuring that they are fairly smooth to ease the process of mixing them evenly with the other ingredients. You can use a potato masher or electric mixer.
To the large mixing bowl, add the pancake mix, milk, oil, eggs, brown sugar, and vanilla.
Lightly mix the wet ingredients and dry ingredients together with the mashed banana using a wooden spoon (or electric mixer on low speed), until all ingredients are incorporated. Ensure that you do not over mix to avoid muffins that are too dense or have cone-shaped tops.
Spoon the Nutella into the mixing bowl onto the batter in 3 dollops. Then, with a bamboo skewer, cocktail stick, or butter knife, gently swirl the Nutella into the batter.
Using an ice cream scoop, cookie scoops, or a tablespoon, spoon muffin batter into the prepared muffin tin with paper liners, filling each muffin cup until it's about ⅔ full. Be sure to fill each cup to about the same level to ensure even cooking.
Place the muffin pan in the oven and bake until a toothpick inserted in the center comes out fairly clean. It should have only a few moist crumbs clinging to it.
Cool the finished muffins on a wire rack before removing from the pans.

Variations
Peanut butter – Melt a bit of peanut butter and swirl it into the muffin batter, or mix with confectioners sugar and milk or cream to make a glaze to spread on top.
Sour cream – Adding sour cream or Greek yogurt to baked good recipes increases moisture and density and can also add a little tanginess.
Filling – After baking, pipe a filling of your choice into the center of each banana nutella muffin, whether it's flavored pudding, whipped cream, or sweet flavored cream cheese.
Nuts – Crush nuts and add them to the batter or press into the top after baking. You can also press them into the top of the batter just before baking.
Chocolate chips – Adding chocolate chips to the batter is a great way to up the chocolate flavor. You can consider other chips, too, like peanut butter, white chocolate, or butterscotch.
Butter – You could add a small bit of unsalted butter to the batter or you can also drizzle melted butter over them just before eating.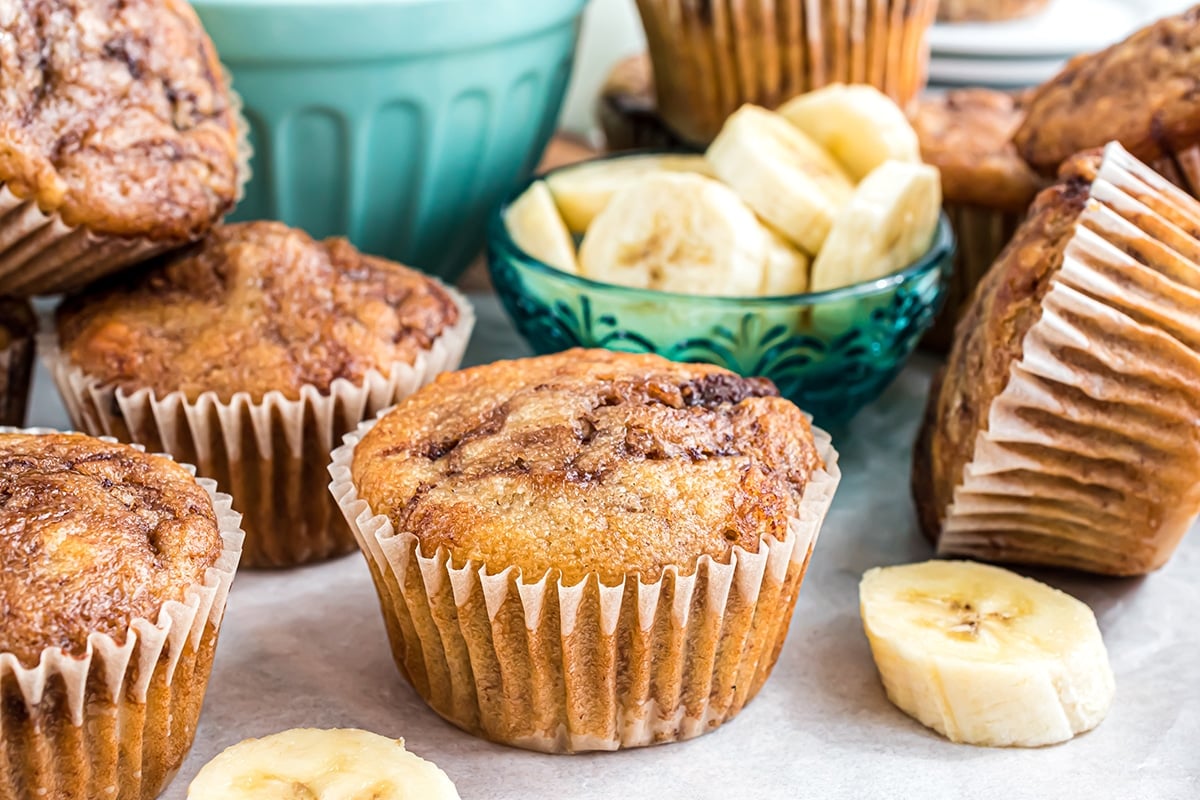 Storage and Freezing
Store fresh banana nutella muffins in a covered container at room temperature for 1-2 days. You can also store them in an airtight container in the refrigerator for 5-7 days. Placing a paper towel on the bottom of the storage container will help to absorb moisture and prevent the muffins from becoming soggy.
You can also freeze muffins for up to 3 months in an airtight container or freezer bag. While muffins can be frozen for a longer time period, the flavor and texture can diminish.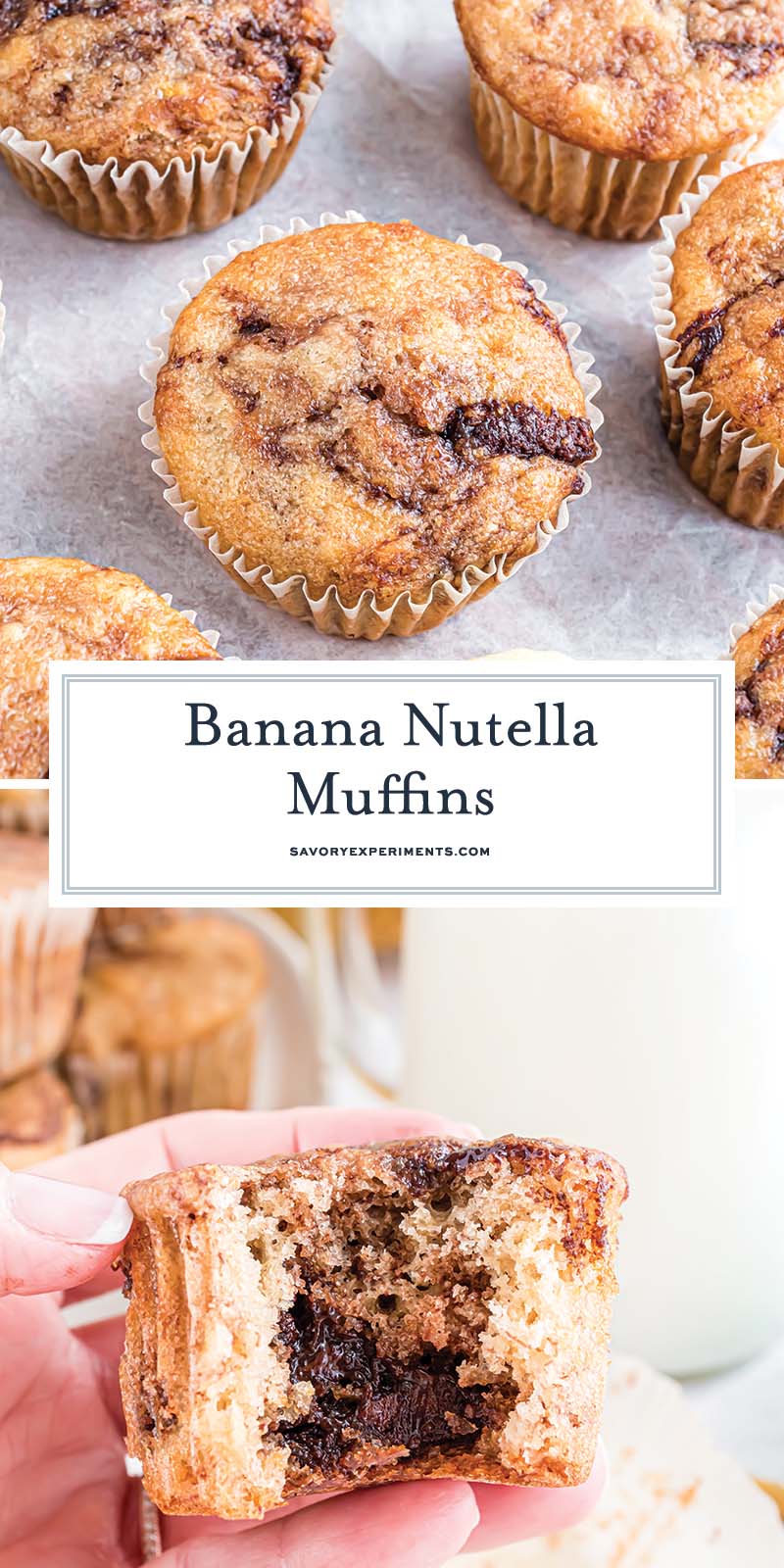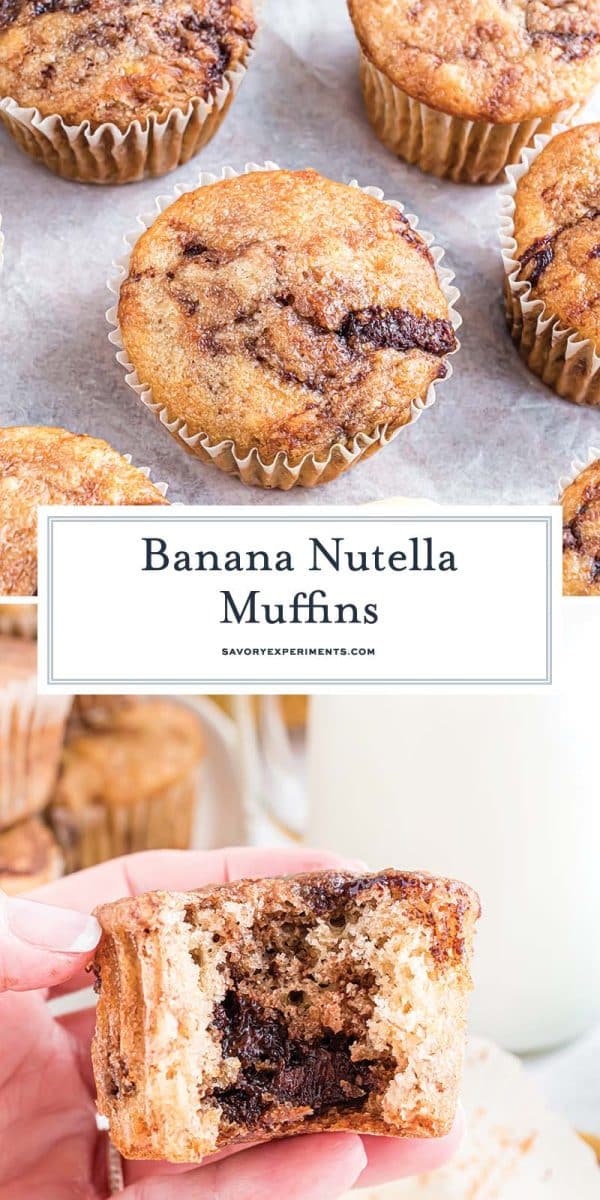 More Muffin Recipes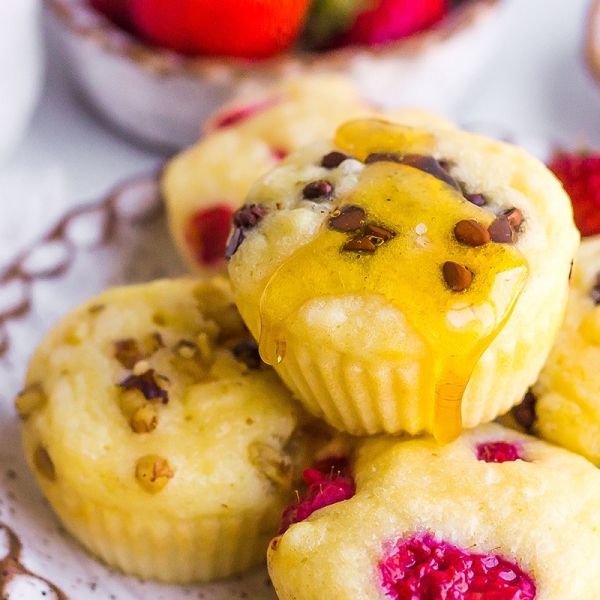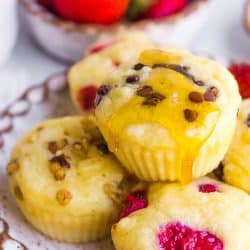 Pancake Muffin Recipe
Pancake Muffins take your favorite homemade pancake recipe and turn it into an easy grab-and-go breakfast. No fuss or flipping involved, with all of the pancake flavor included!
See The Recipe!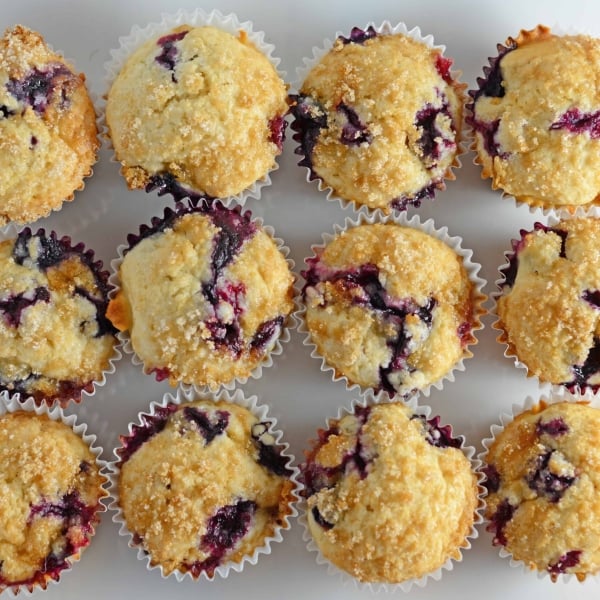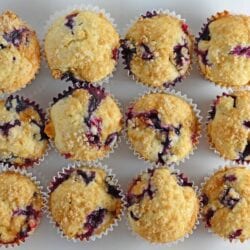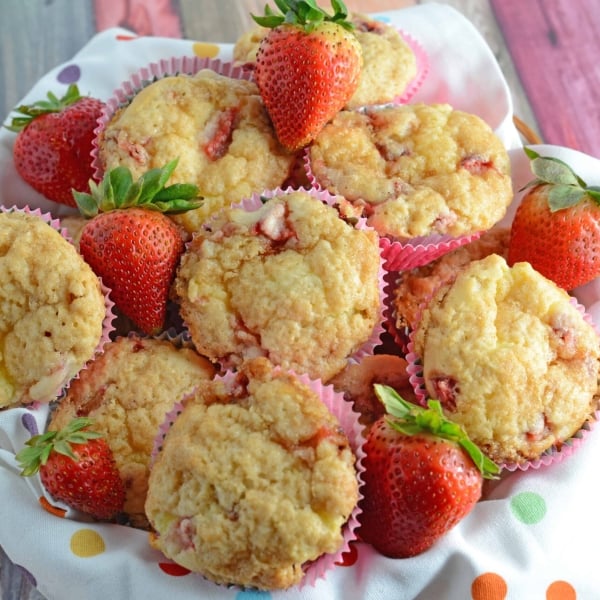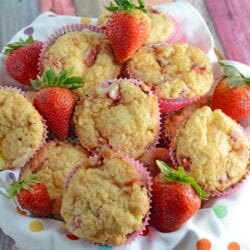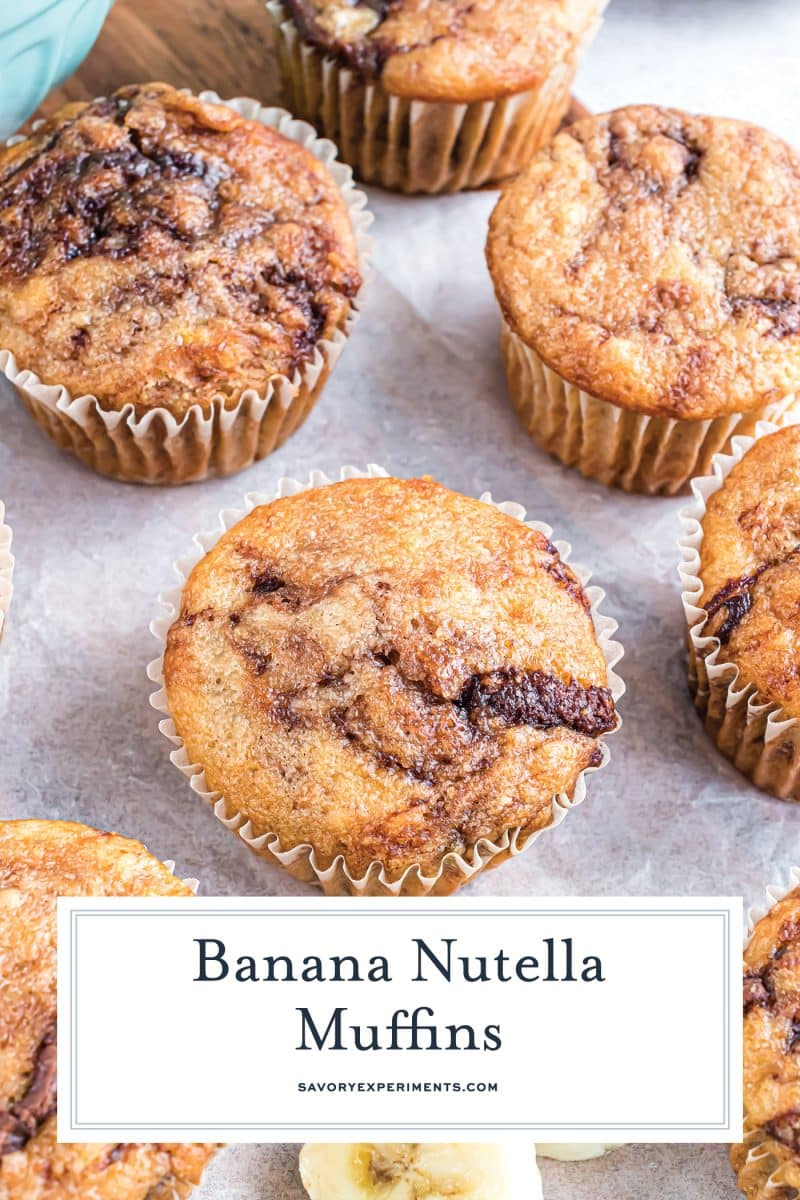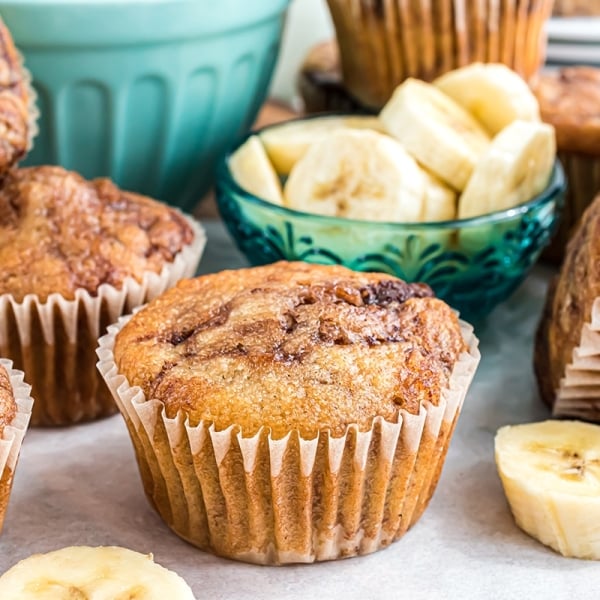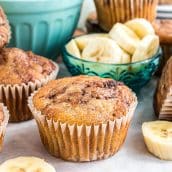 Banana Nutella Muffins
EASY Banana Nutella Muffins are healthy with their addition of fruit but also decadent with the addition of the chocolate spread!
Instructions
Preheat the oven to 350℉. Place liners in a standard-size muffin tin and set aside.

Mash bananas in a large mixing bowl.

Add pancake mix, milk, oil, eggs, brown sugar, and vanilla. Lightly mix together with a wooden spoon, until ingredients are incorporated, being careful not to over mix.

Spoon Nutella into the mixing bowl onto the batter in 3 dollops. Then, with a bamboo skewer or knife, swirl Nutella into the batter.

Using a scoop or tablespoon, spoon batter into the lined muffin pan, filling about ⅔ full.

Bake for 22-25 minutes or until a toothpick inserted in the center has a few moist crumbs clinging to it. Cool slightly before removing from the pans.

If you've tried these, come back and let us know how they were!
Nutrition
Calories:
177
kcal
,
Carbohydrates:
21
g
,
Protein:
3
g
,
Fat:
9
g
,
Saturated Fat:
4
g
,
Polyunsaturated Fat:
3
g
,
Monounsaturated Fat:
2
g
,
Trans Fat:
0.03
g
,
Cholesterol:
33
mg
,
Sodium:
98
mg
,
Potassium:
148
mg
,
Fiber:
1
g
,
Sugar:
14
g
,
Vitamin A:
88
IU
,
Vitamin C:
1
mg
,
Calcium:
61
mg
,
Iron:
1
mg