Cream Cheese Chocolate Chip Cookie Recipe
Cream Cheese Chocolate Chip Cookies are nothing but a soft chocolate chip cookie with cream cheese that is super rich and decadent. Oh happy day! The texture is a little different than you expect, but I guarantee you'll love them.
Cream cheese + chocolate chunks = divine.
They are a mix between cream cheese cookies and soft batch cookies.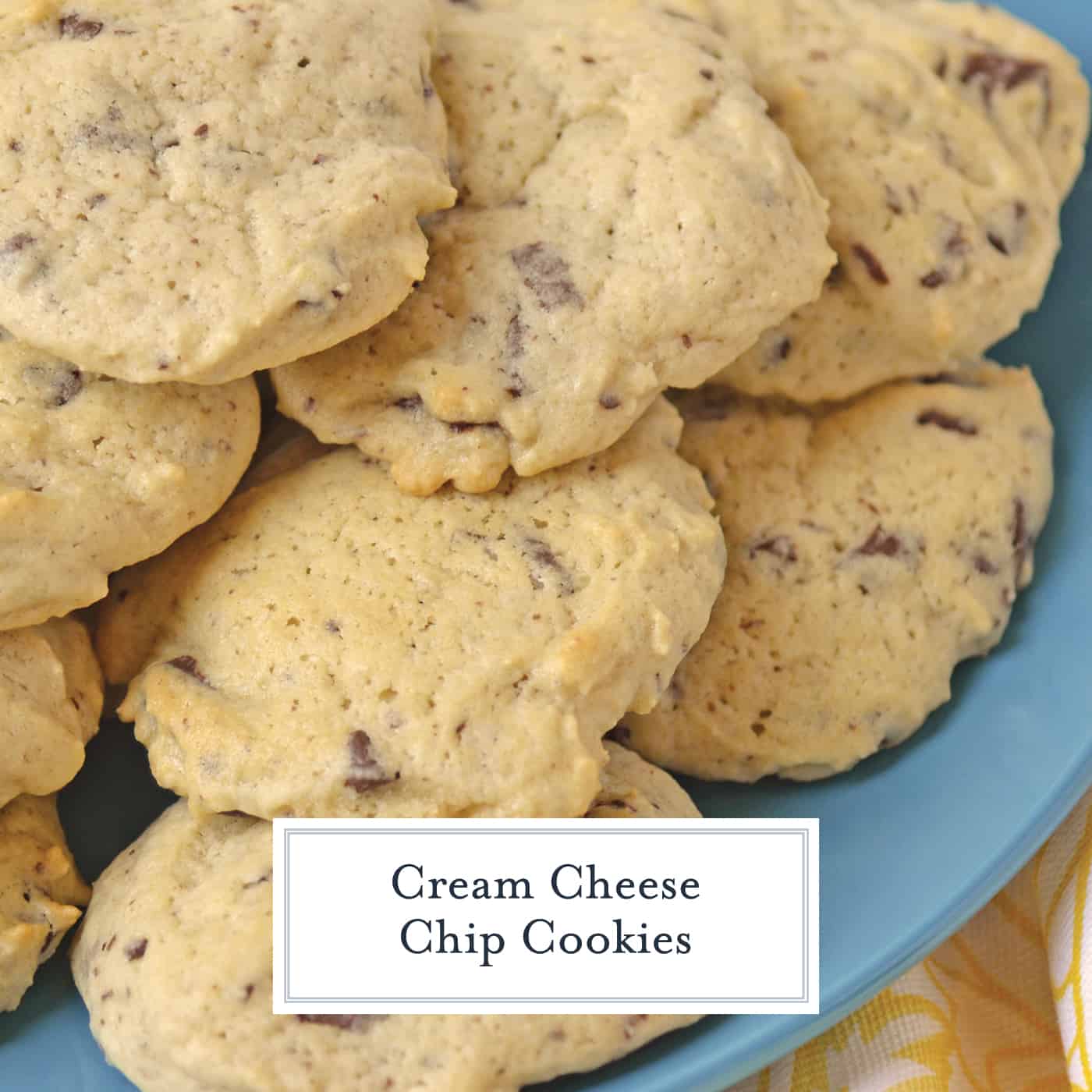 Cream Cheese Chocolate Chip Cookies are a soft chocolate chip cookie recipe using rich cream cheese and rustic chunky chocolate.
These heavenly cookies were developed while I was developing a recipe for Amish chocolate chip cookies. My next door neighbor brought over these AH-mazing chocolate chip cookies that she bought in Amish country.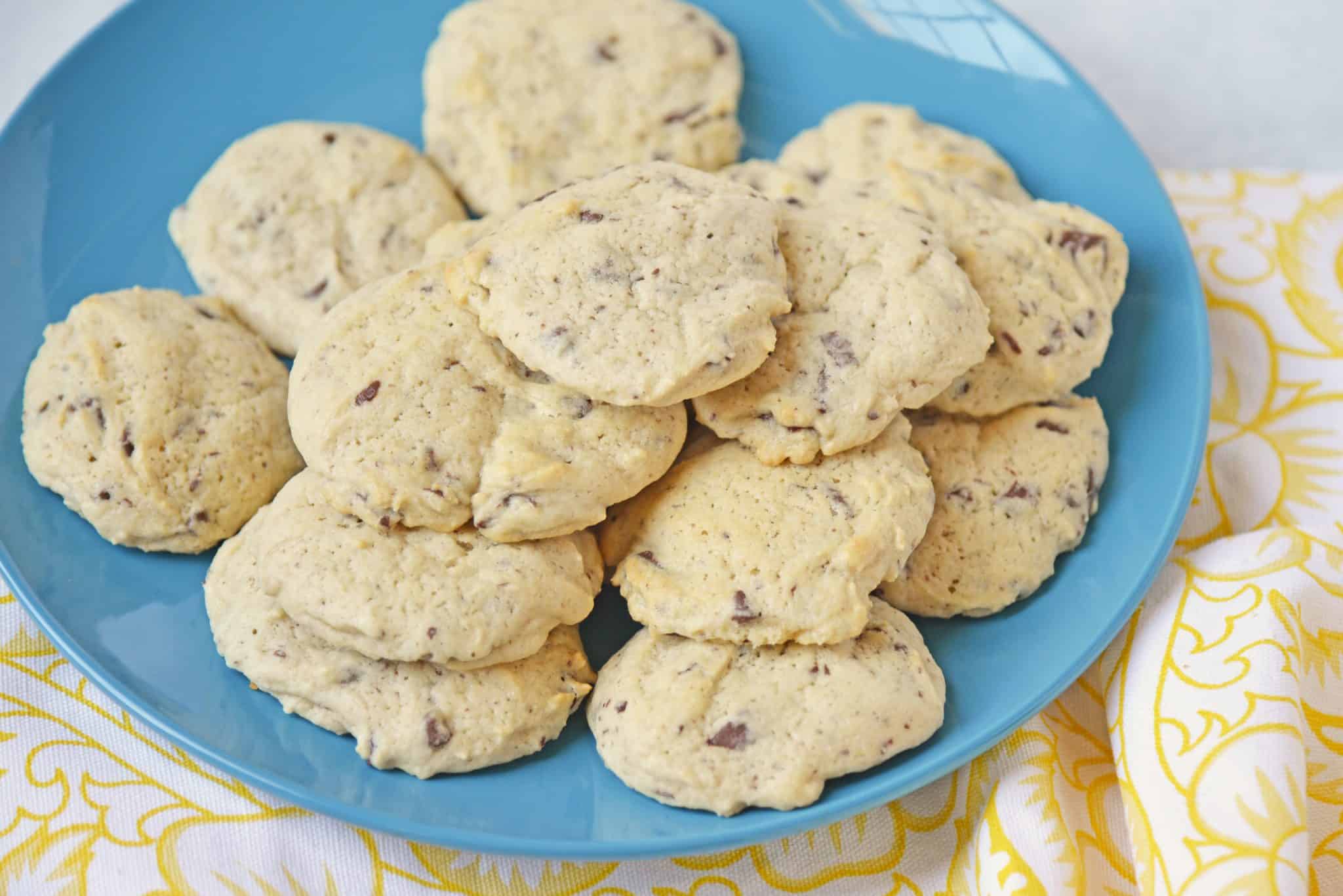 Neither of us could figure out the secret ingredient. What made these different?
We tried many combinations and after taste testing about 12 chocolate chip cookie recipes, we still didn't figure out how theirs were so gosh darn tasty.
Although cream cheese was not the missing link, it did result in a silky and rich cookie that brings the best of cheesecake and chocolate chip cookies.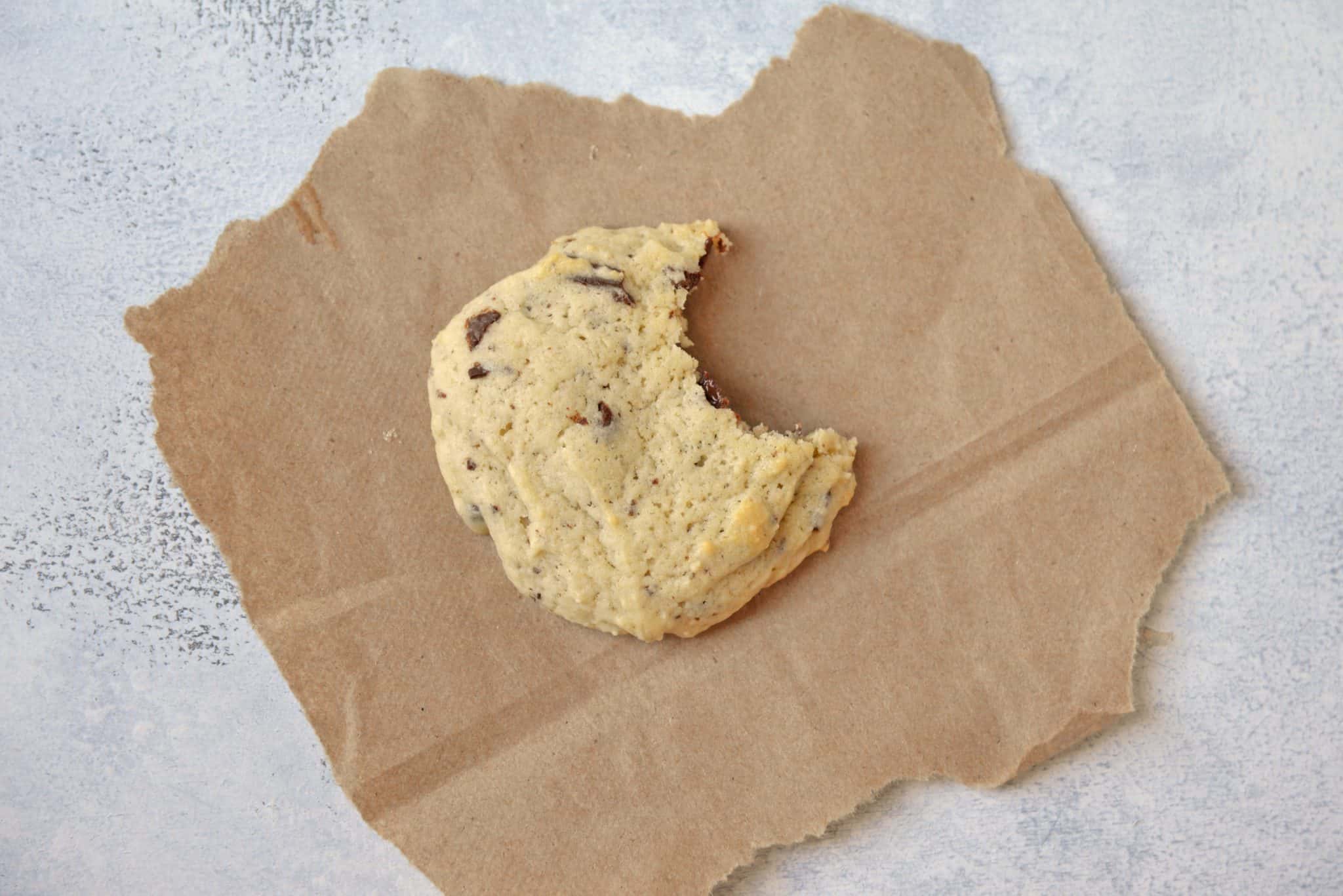 These chocolate chip cookies are super soft and velvety, melting in your mouth and making your crave more!
I used roughly chopped semi sweet chocolate instead of chocolate chips because I liked the whole chunks and the texture they create, but if you prefer chips, go for it!
PRO TIP: You can also use a mix of types of chocolate and sizes. Chop up chocolate candy and use chips!
Using parchment paper and insulated baking sheets will ensure that your cookies will evenly cook while staying moist.

Tools for making Cream Cheese Chocolate Chip Cookies:
Insulated Cookie Sheet– Insulated cookie sheets allow hot air to circulate around the entire cookie, resulting in even baking.
Stand Mixer- While this is an investment, I can guarantee you will use it more than you realize and will never regret the decision.
Cookie Dough Scoop
– I am terrible at eyeballing the right amount of cookie dough, resulting in uneven cookies. Use a scoop for easy sizing.
If you like our Cream Cheese Chocolate Chip Cookies, you'll also love these easy cookie recipes: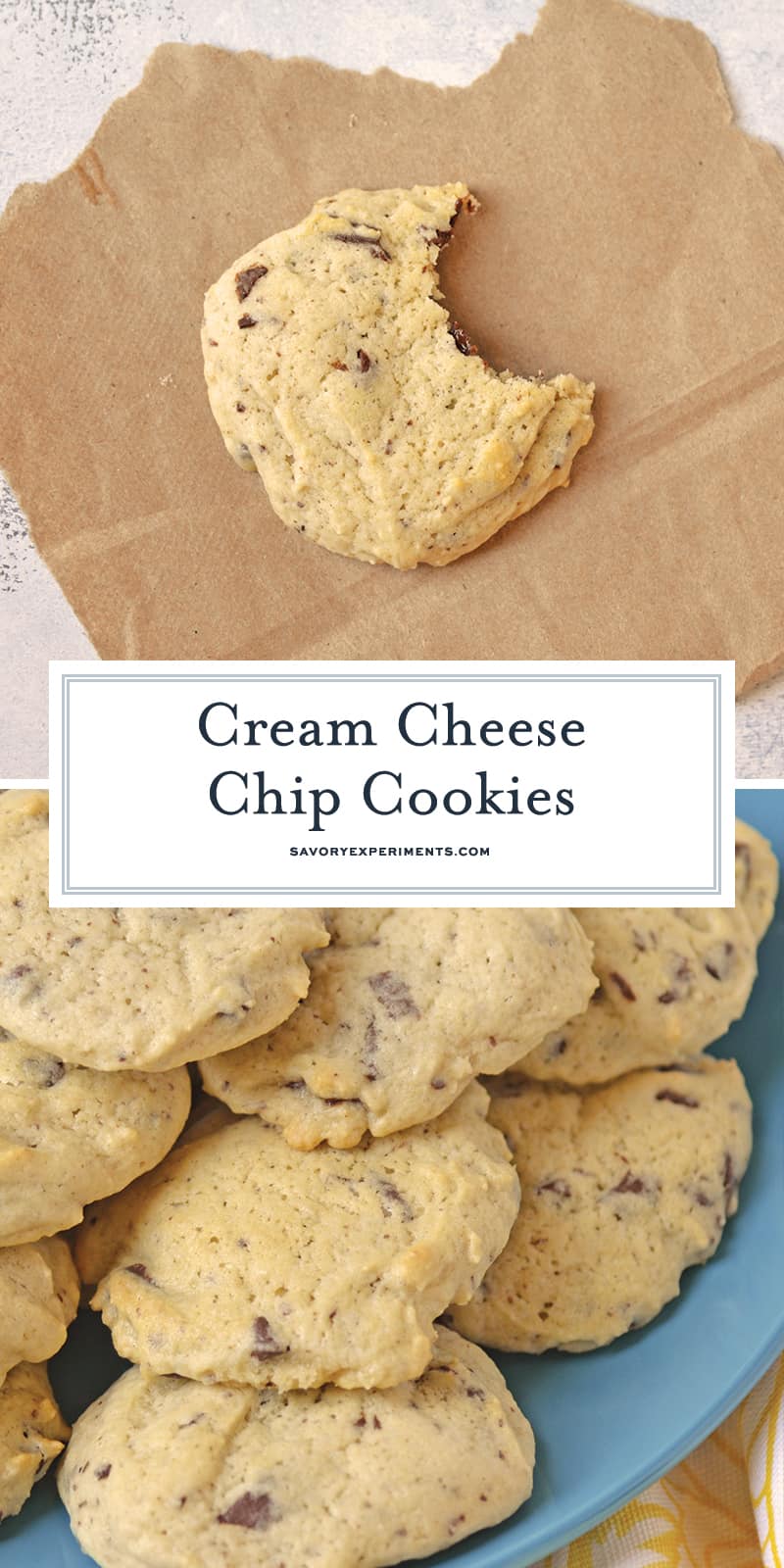 Tips for making the best soft chocolate chip cookies!
ONE. Measure your flour. Don't pack it down and make sure you square off the top with the flat edge of a knife. Too much flour can lead to a dry cookie.
TWO. Soft your flour with leaveners. Sifting reduces lumps but also distributes leveaners evenly throughout the dry mixture. You won't have to mix the batter too long if these are done before hand.
THREE. Don't over mix. Stand mixers are great, but it also makes it super easy to overmix while you are off doing other tasks. Mix until just combined unless the recipe specifies otherwise. You want the cookie dough to be light and fluffy.
FOUR. Always preheat the oven and don't add cookies until it has fully preheated for at least 5 minutes. Don't leave the door open or check on them often either, this messes with the oven temperature and thus, cooking times.
FIVE. Use an insulated baking sheet lined with parchment paper. Insulated sheets allow hot air to circulate around the cookies and parchment prevents sticking without having to grease the cookie sheet.
SIX. Don't overbake. While this seems super obvious, it is probably the most overlooked. Typically cookies can be removed from the oven before they look fully cooked. The might still look a little wet with a glistening sheen. Don't wait until they are a golden brown.
SEVEN. Allow cookies to cool completely transfering to a cooling rack. I like to eat mine a little warm and gooey, but let them cool fully before transfering to a storage container.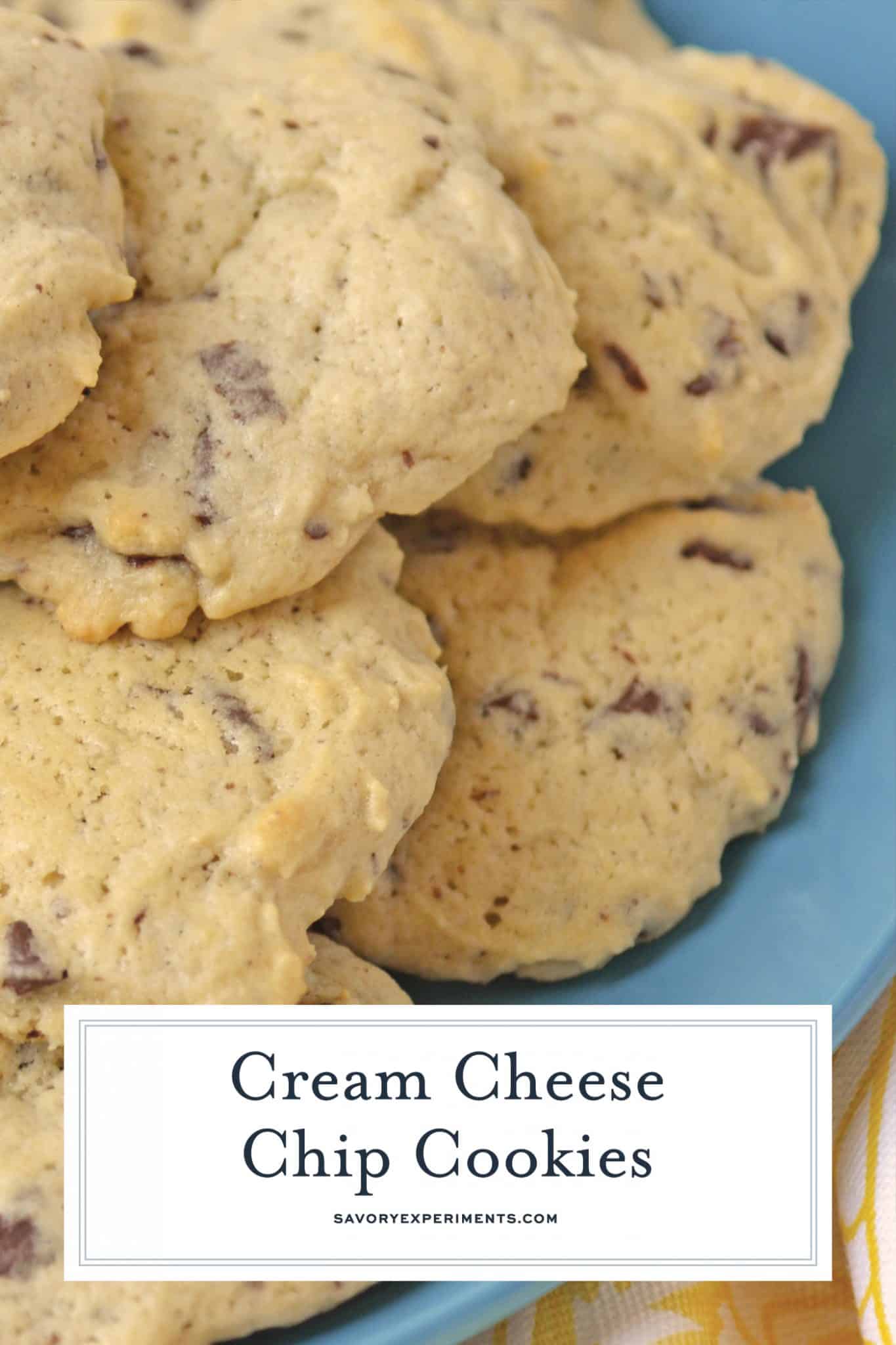 Cream Cheese Chocolate Chip Cookies are a soft chocolate chip cookie recipe using rich cream cheese and rustic chunky chocolate.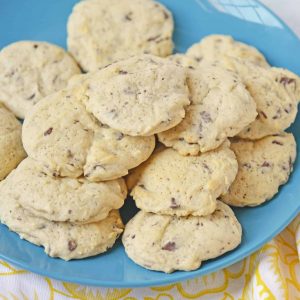 Cream Cheese Chocolate Chip Cookies
Cream Cheese Chocolate Chunk Cookies are a soft chocolate chip cookie recipe using rich cream cheese and rustic chunky chocolate.
Keyword:
cream cheese chocolate chip cookie
Ingredients
4

ounces

cream cheese

, room temperature

4

ounces

unsalted butter

, softened

1/2

cup

light brown sugar

1/4

cup

white sugar

2

egg whites

1 1/2

teaspoons

vanilla

1 1/4

cups

flour

1/2

teaspoon

baking powder

1/4

teaspoon

salt

4

ounce

semisweet chocolate bar

, coarsely chopped
Instructions
Preheat oven to 350 degrees. Line an insulated cookie sheet with parchment paper.

In the bowl of a stand mixer fitted with the paddle attachment or a large mixing bowl, beat cream cheese and butter until light and fluffy.

Add white sugar and brown sugar, mix to combine.

Beat in egg whites and vanilla.

In a separate mixing bowl, sift together flour, baking powder and salt. Gradually add into dough.

Fold in chocolate chunks.

Drop tablespoons full of dough onto prepared cookie sheet. Bake for 10-12 minutes until very lightly browned around the edges.

Move cookies to a cooking rack shortly after removing from the oven. Allow to cool and store at room temperture in an airtight container or plastic bag.

If you've tried this recipe, please come back and let us know how they were!
Nutrition Facts
Cream Cheese Chocolate Chip Cookies
Amount Per Serving
Calories 128
Calories from Fat 63
% Daily Value*
Fat 7g11%
Cholesterol 15mg5%
Sodium 46mg2%
Potassium 58mg2%
Carbohydrates 14g5%
Protein 1g2%
Vitamin A 185IU4%
Calcium 17mg2%
Iron 0.6mg3%
* Percent Daily Values are based on a 2000 calorie diet.