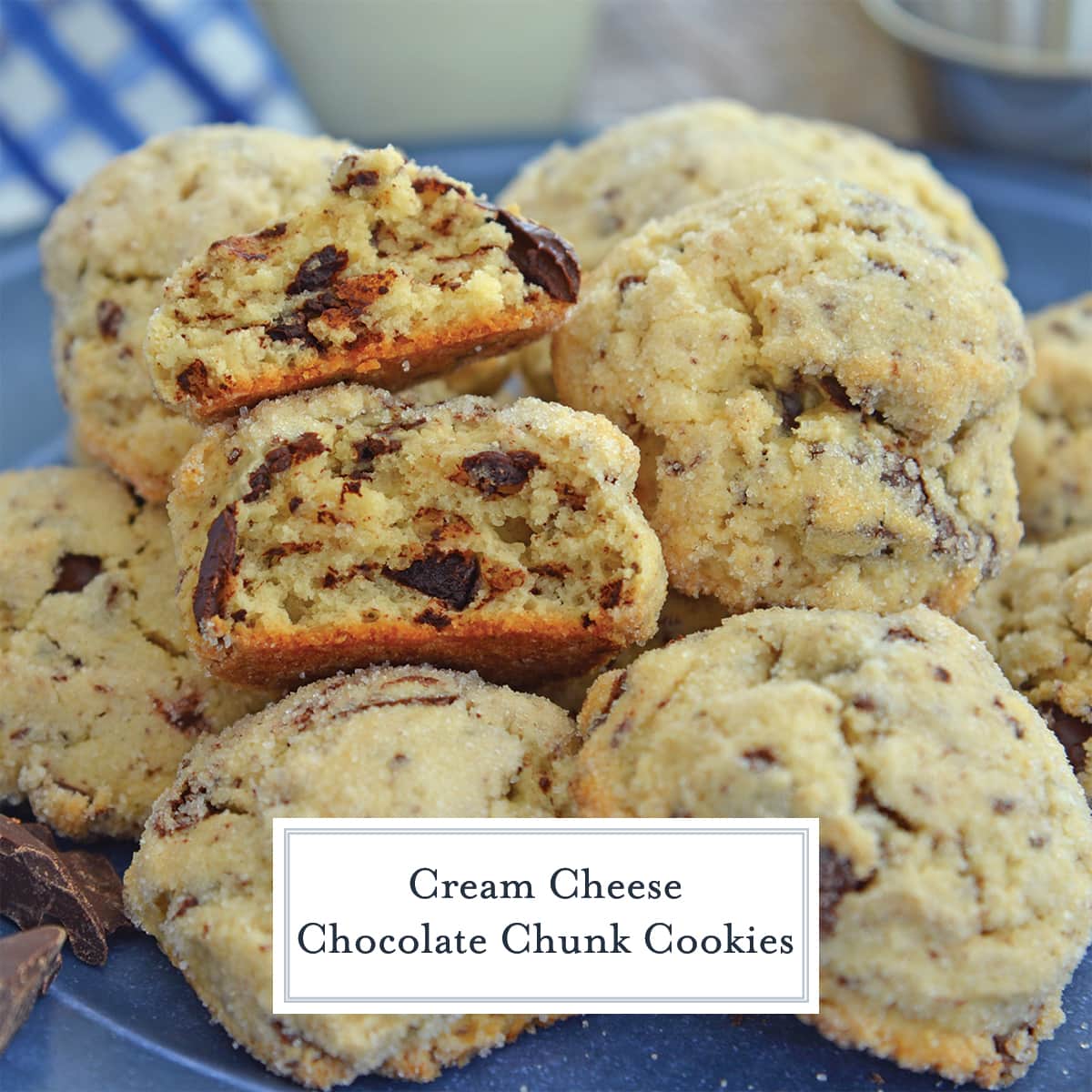 Amish Chocolate Chip Cookies
These heavenly cookies were developed while I was developing a recipe for Amish chocolate chip cookies. My next door neighbor brought over these AH-mazing chocolate chip cookies that she bought in Amish country.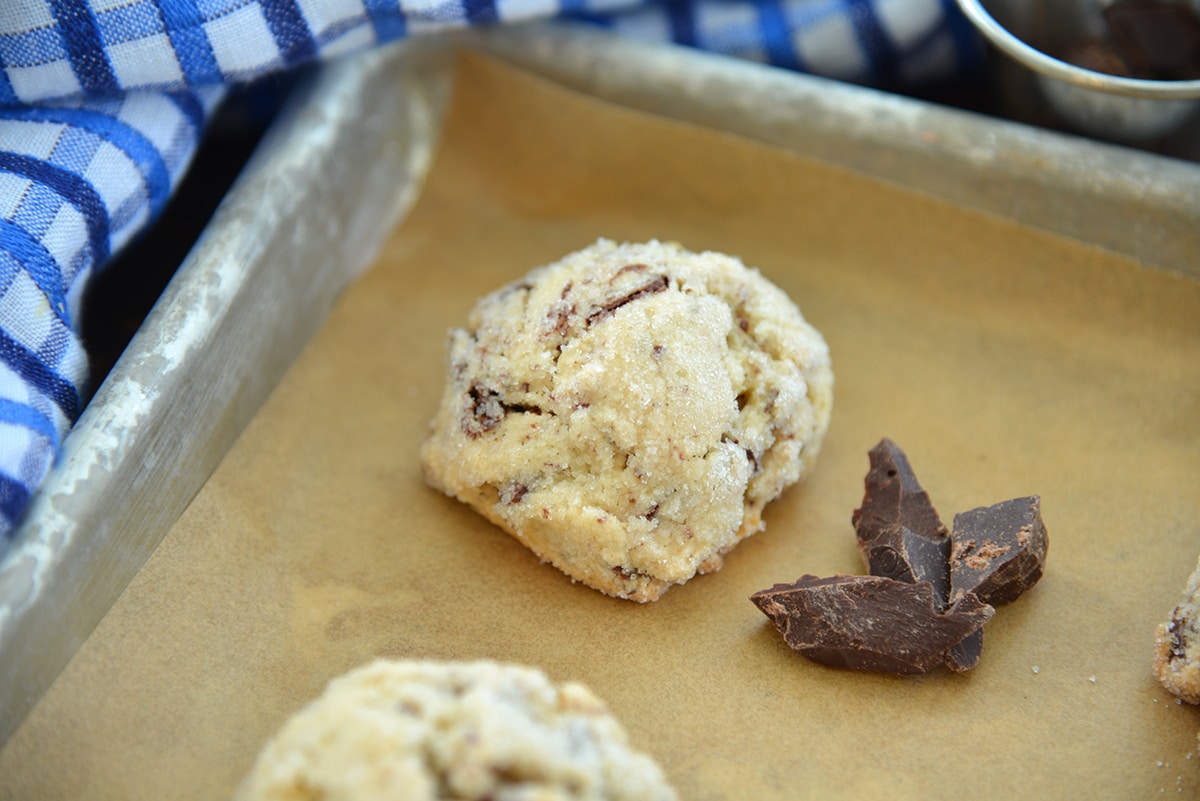 Neither of us could figure out the secret ingredient. What made these different? We tried many combinations and after taste testing about 12 chocolate chip cookie recipes, we still didn't figure out how theirs were so gosh darn tasty.
Although cream cheese was not the missing link, it did result in a silky and rich cookie that brings the best of cheesecake and chocolate chip cookies.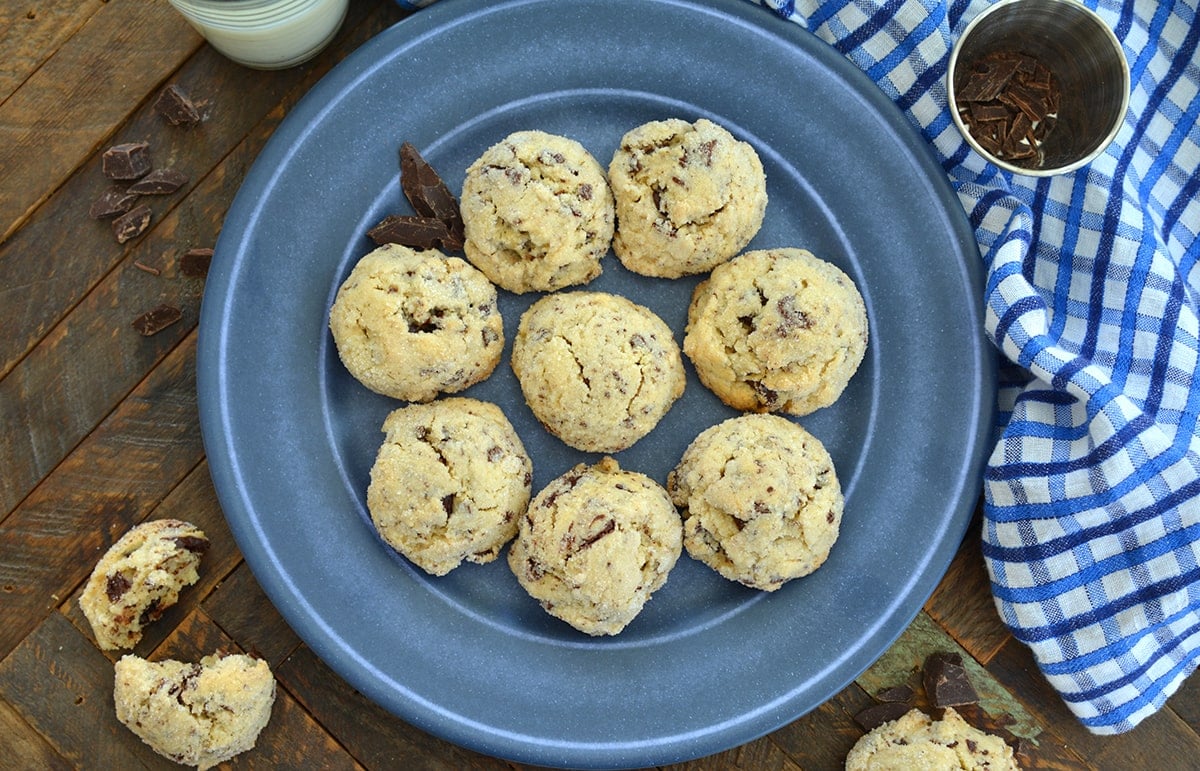 How to Make Them
With the exception of cream cheese, all of these ingredients are pantry staples and easily sourced.
Cream Cheese– Full fat works best and will produce the richest cookie.
Unsalted Butter– If you use salted, omit the additional salt. I like to start with unsalted because different brands have varying amounts of salt and with unsalted, I am in complete control.
Light Brown Sugar & White Sugar– It is the blend of both sugars that give chocolate chip (or chunk) cookies their unique color and flavor.
Eggs– To give the cookies structure and loft.
Vanilla Extract- For flavor.
Flour- To provide structure.
Baking Powder– As a leavener.
Coarse Kosher Salt– Salt enhances the natural flavors in the cookies.
Semi-sweet Chocolate Bar– I liked using an actual bar and hand chopping to get a rustic chunk. You can, of course, swap in chocolate chips too.
From here, the process is pretty easy and standard.
Cream together the butter and sugars until light and fluffy. Add vanilla and egg.
Sift together the flour, baking powder and salt. Add to the wet ingredients until just blended.
Fold in chocolate chunks.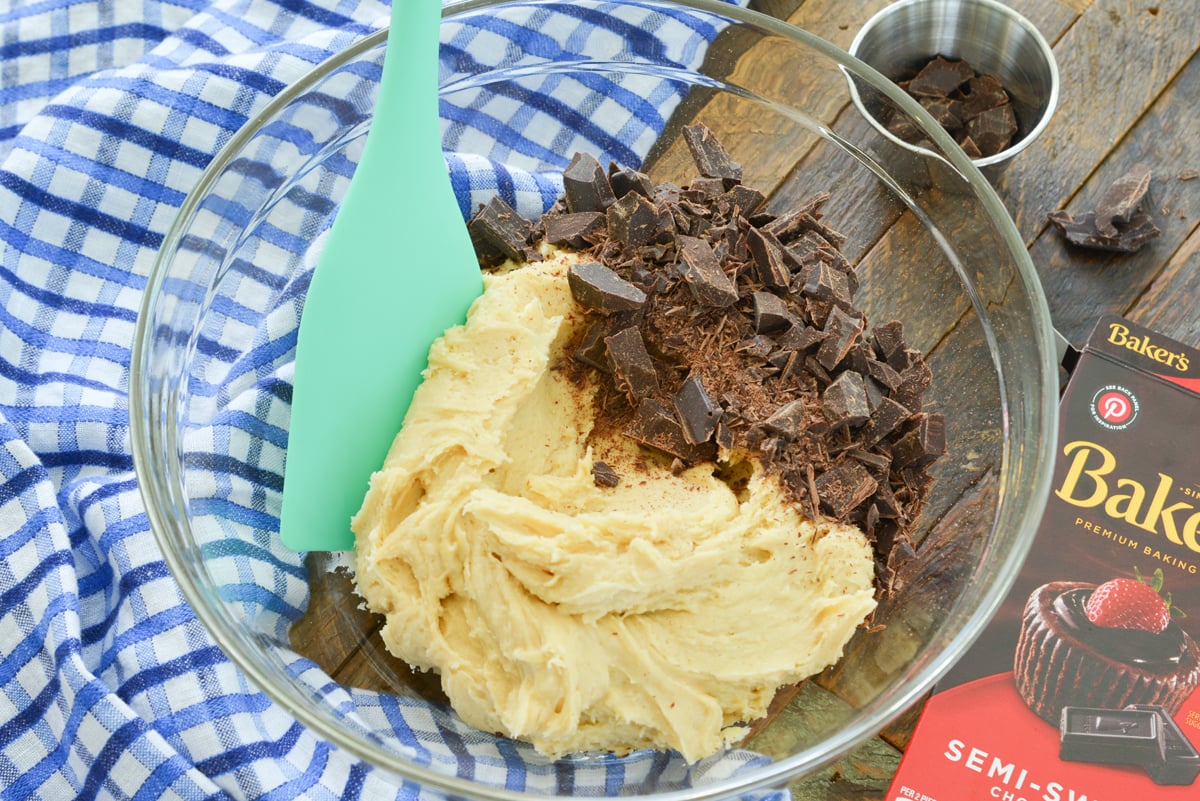 Chill dough for at least 1 hour. Chilling is important so the dough is the correct temperature when baking and doesn't spread too much. These are going to be more like a mounded ball.
Scoop out dough in a 2 tablespoons scoop, roll in granulated sugar and place on a parchment lined cookie sheet.
Bake until sugars start to caramelize and cookies are just lightly browned.
Remove and allow to cool for 2-3 minutes before transferring to a cooling rack. Do not continue to cool on the baking sheet because the residual heat will continue to cook the bottoms of the cookies.
Tips for making the best soft chocolate chip cookies!
ONE. Measure your flour. Don't pack it down and make sure you square off the top with the flat edge of a knife. Too much flour can lead to a dry cookie.
TWO. Sift your flour with leaveners. Sifting reduces lumps but also distributes leveaners evenly throughout the dry mixture. You won't have to mix the batter too long if these are done before hand.
THREE. Don't over mix. Stand mixers are great, but it also makes it super easy to overmix while you are off doing other tasks. Mix until just combined unless the recipe specifies otherwise. You want the cookie dough to be light and fluffy, although with cream cheese in the batter, it will be a little denser.
FOUR. Always preheat the oven and don't add cookies until it has fully preheated for at least 5 minutes. Don't leave the door open or check on them often either, this messes with the oven temperature and thus, cooking times.
FIVE. Use an insulated baking sheet lined with parchment paper. Insulated sheets allow hot air to circulate around the cookies and parchment prevents sticking without having to grease the cookie sheet.
SIX. Don't overbake. While this seems super obvious, it is probably the most overlooked. Typically cookies can be removed from the oven before they look fully cooked. The might still look a little wet with a glistening sheen. Don't wait until they are a golden brown.
SEVEN. Allow cookies to cool completely transfering to a cooling rack. I like to eat mine a little warm and gooey, but let them cool fully before transfering to a storage container.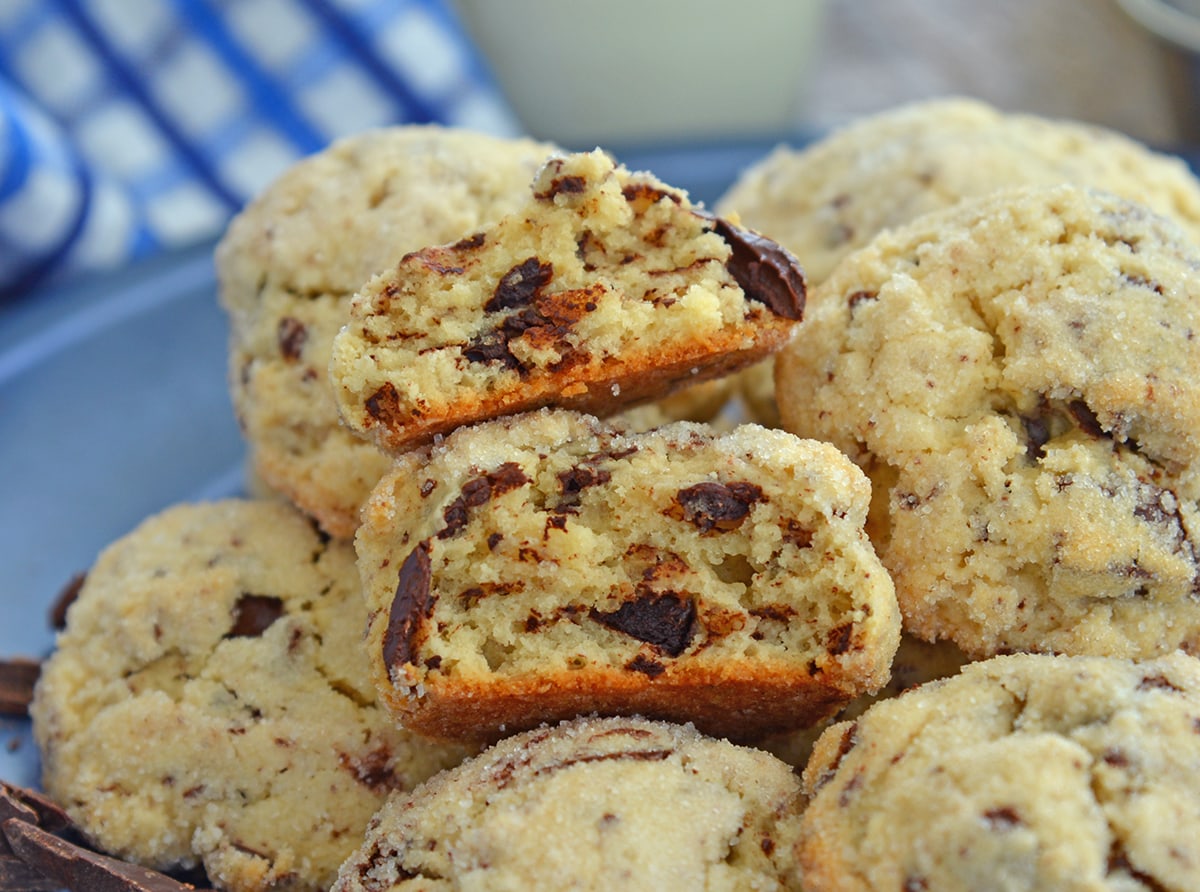 Storage & Freezing
Store in an airtight container in a cool, dry place for up to 5 days for best flavor and texture. Towards the end, revive the cookie by wrapping in a paper towel and microwave for 10 seconds.
Good news is that these chocolate chip cookies also freeze well. Place in an airtight container or plastic bag for up to 3 months.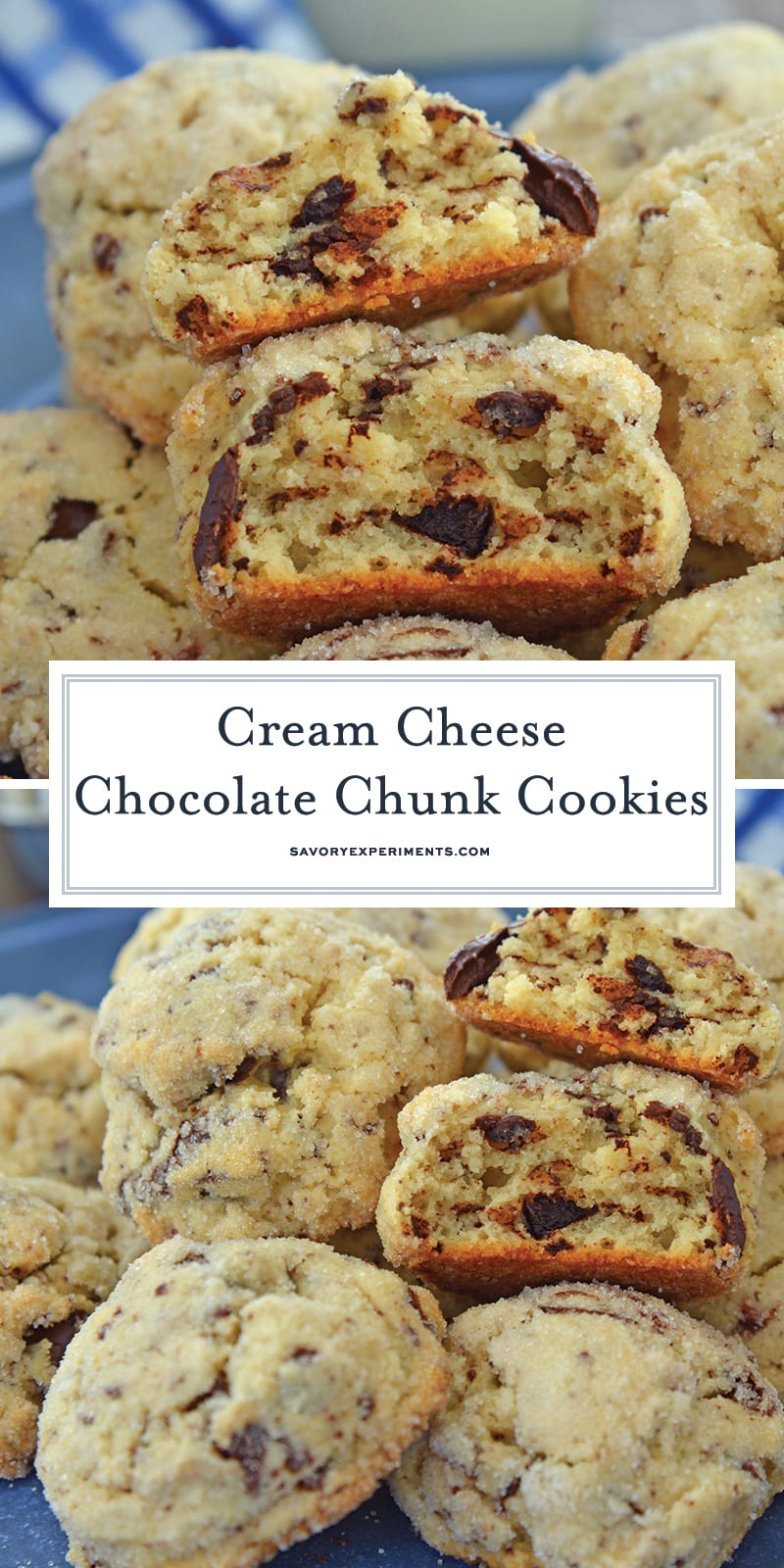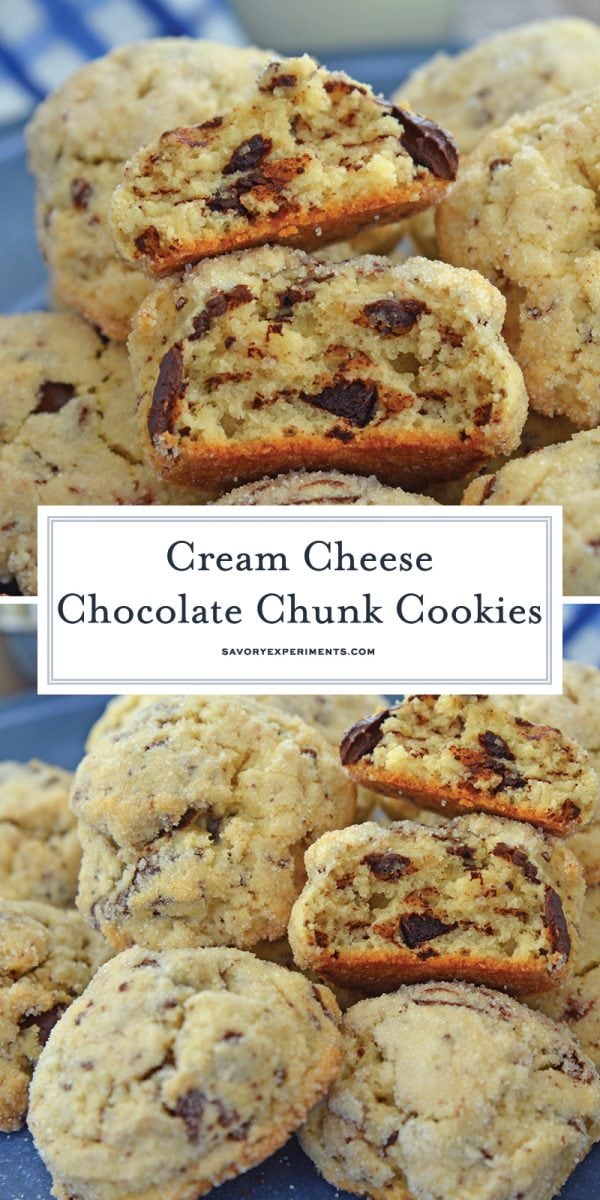 You'll also love these easy cookie recipes: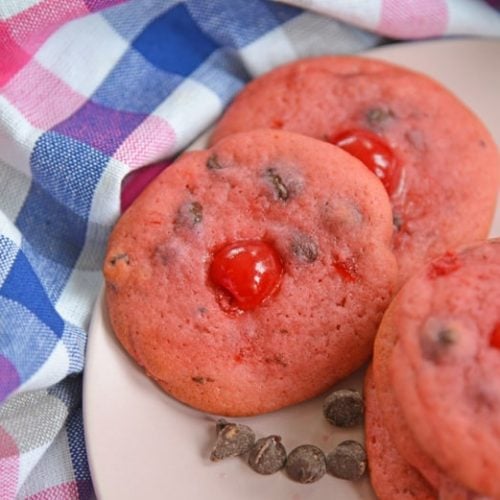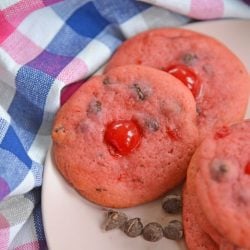 Cherry Chocolate Chip Cookies
A homemade cookie recipe doesn't get much better than these Cherry Chocolate Chip Cookies! Chocolate and cherry just belong together!A homemade cookie recipe doesn't get much better than these Cherry Chocolate Chip Cookies! Chocolate and cherry just belong together!
See The Recipe!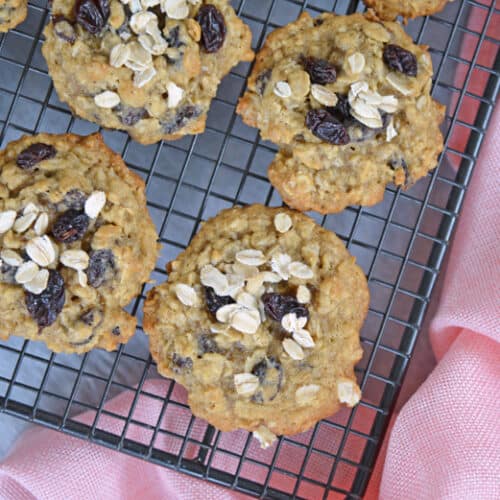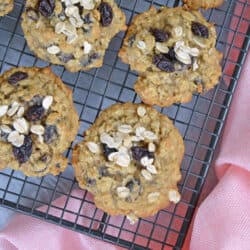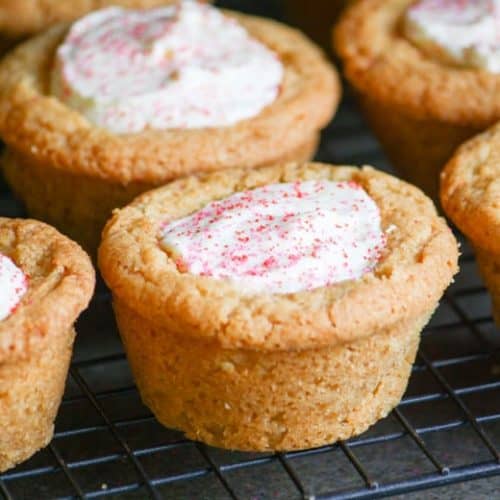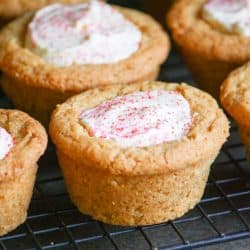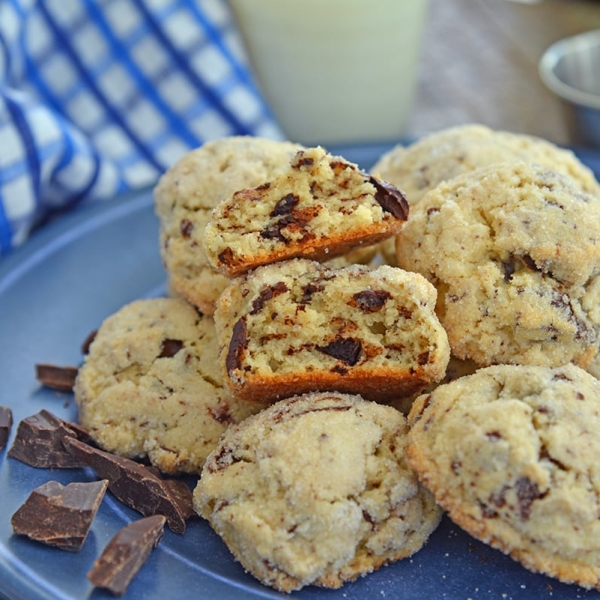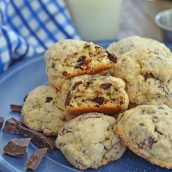 Cream Cheese Chocolate Chunk Cookies
Cream Cheese Chocolate Chunk Cookies are a soft chocolate chip cookie recipe using rich cream cheese and rustic chunky chocolate.
Instructions
In the bowl of a stand mixer fitted with the paddle attachment or a large mixing bowl, beat the cream cheese and butter until light and fluffy, approximately 3 minutes.

Add 1/4 cup of the white sugar and the brown sugar, mix to combine.

Beat in the egg and vanilla.

In a separate mixing bowl, sift together the flour, baking powder and salt. Gradually add into wet ingredients.

Fold in chocolate chunks be hand, cover and chill for 1 hour.

Preheat oven to 350°F and line an insulated cookie sheet with parchment paper.

Using a 2 tablespoons cookie scoop make cookie dough balls. Place the remaining 1/4 cup of sugar into a small bowl. Roll cookie dough in the dry sugar and place onto prepared cookie sheet sheet.

Bake for 16-18 minutes until very lightly browned around the edges. The cookies will be mounded, like a ball.

Move cookies to a cooling rack shortly after removing from the oven. Allow to cool and store at room temperture in an airtight container or plastic bag.

If you've tried this recipe, please come back and let us know how they were in the comments or ratings!
Nutrition
Calories:
184
kcal
,
Carbohydrates:
22
g
,
Protein:
2
g
,
Fat:
10
g
,
Saturated Fat:
6
g
,
Polyunsaturated Fat:
1
g
,
Monounsaturated Fat:
3
g
,
Trans Fat:
1
g
,
Cholesterol:
30
mg
,
Sodium:
59
mg
,
Potassium:
79
mg
,
Fiber:
1
g
,
Sugar:
14
g
,
Vitamin A:
258
IU
,
Calcium:
24
mg
,
Iron:
1
mg