Sugar Cookie Cut Outs are one of my favorite childhood memories. My mom, sister and I would make a huge batch of sugar cookie dough and spend the day rolling, cutting and decorating.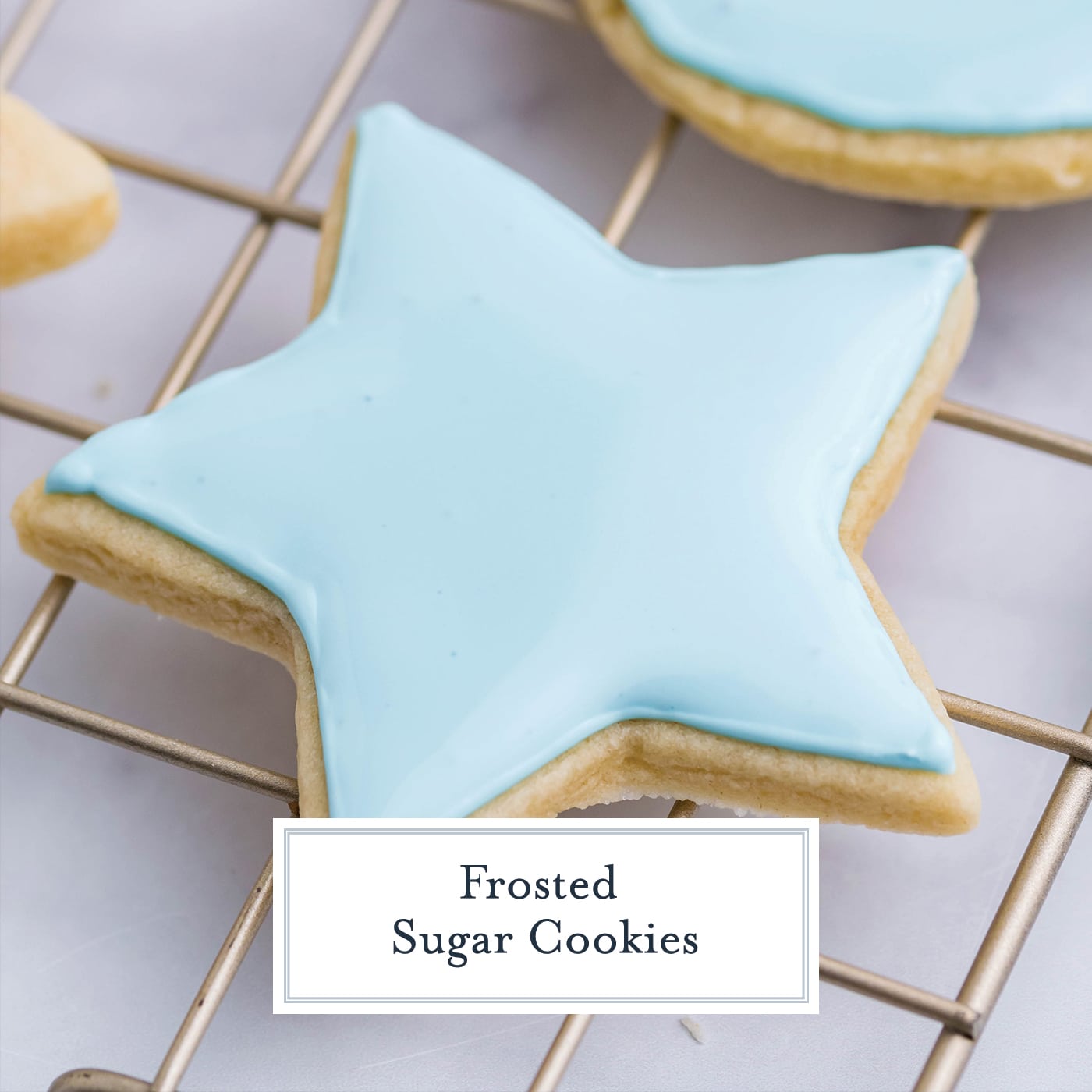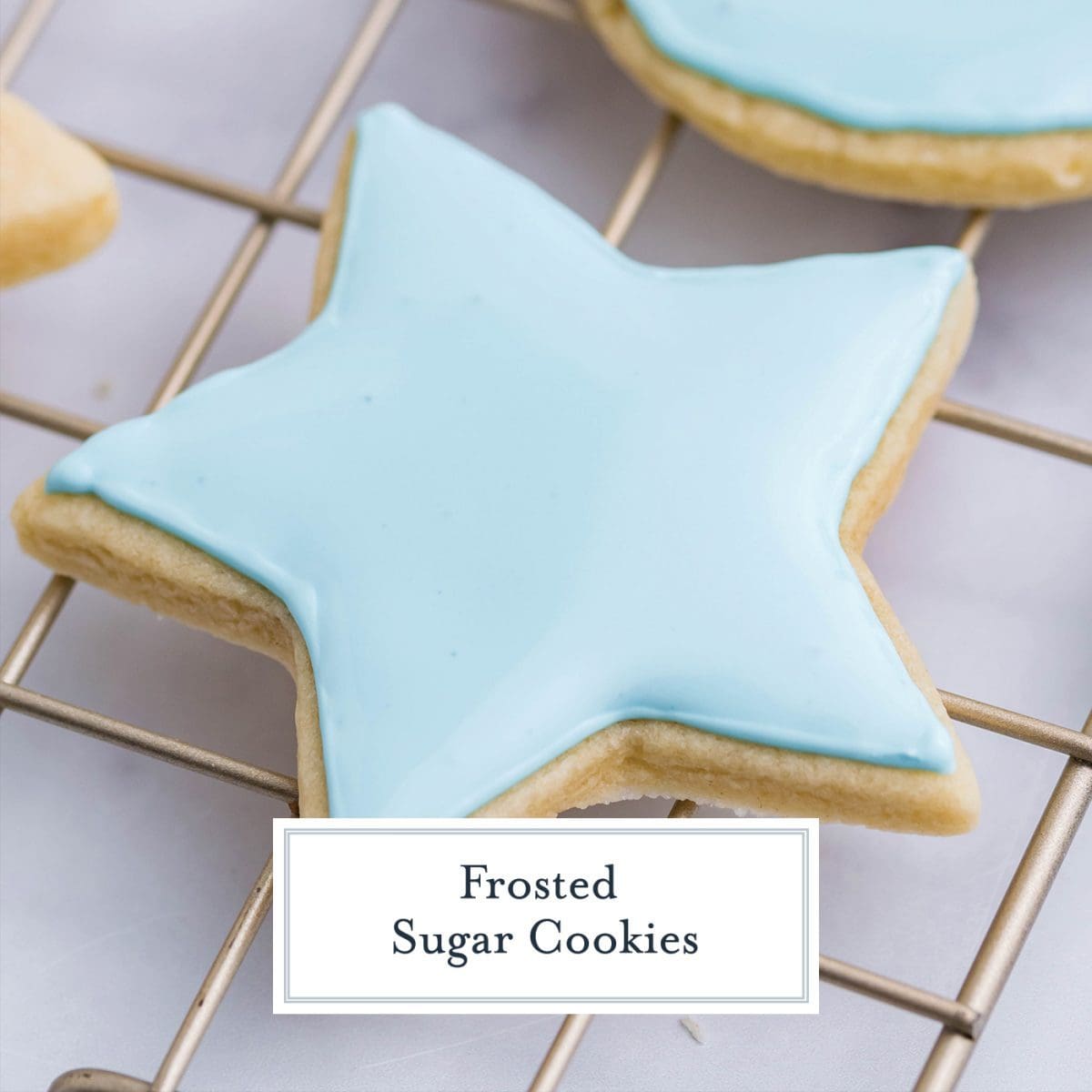 I generally had a stomach ache by the time we were through from stealing the dough. I also didn't realize until I was an adult that you needed to use a special cookie dough to prevent spreading… and then I found that the recipes that said it held shape, didn't. Whomp. Whomp.
We also used a can of buttercream frosting. While wispy peaks of buttercream still win my heart, the prefered frosted sugar cookie uses royal icing, or as it is now commonly known: sugar cookie icing.
Sugar Cookie Cutouts
I guess it never occurred to me until my adult years that not every sugar cookie dough recipe was for sugar cookie cutouts. Nope, some are drop cookies, others are made with sour cream and rolled in grainy sugar while others like Lofthouse cookies are so pillowy, they melt in your mouth, but puff up and lose shape when baked.
But sugar cookie cutouts are tricky. What you are aiming for is a tender cookie, but something stiff enough to support the icing and not crack when handled.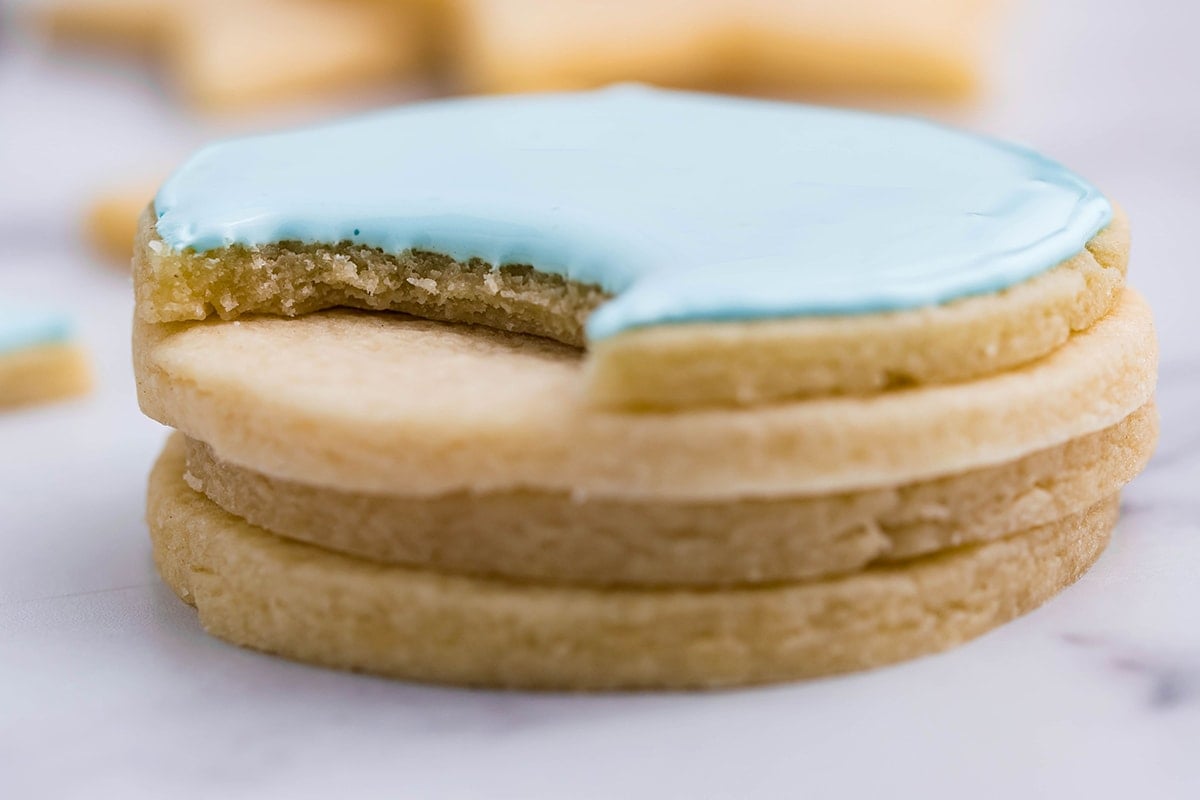 And some easy recipes don't work as well as they should and get all weird and blobby. What a disappointment! It's harder to find a recipe that holds their shape than you'd think. There are three secrets past just having a recipe that works.
The first is using shortening instead of butter. Butter spreads more easily when heated while shortening will keep its shape. If you really want the flavor of butter, you can even use a butter flavored shortening.
Secondly, temperature of the dough. Colder dough won't spread as fast, while warmer dough, even room temperature has the tendency to get melty. Don't skip the step of chilling and even store dough you aren't working with in the fridge until you it.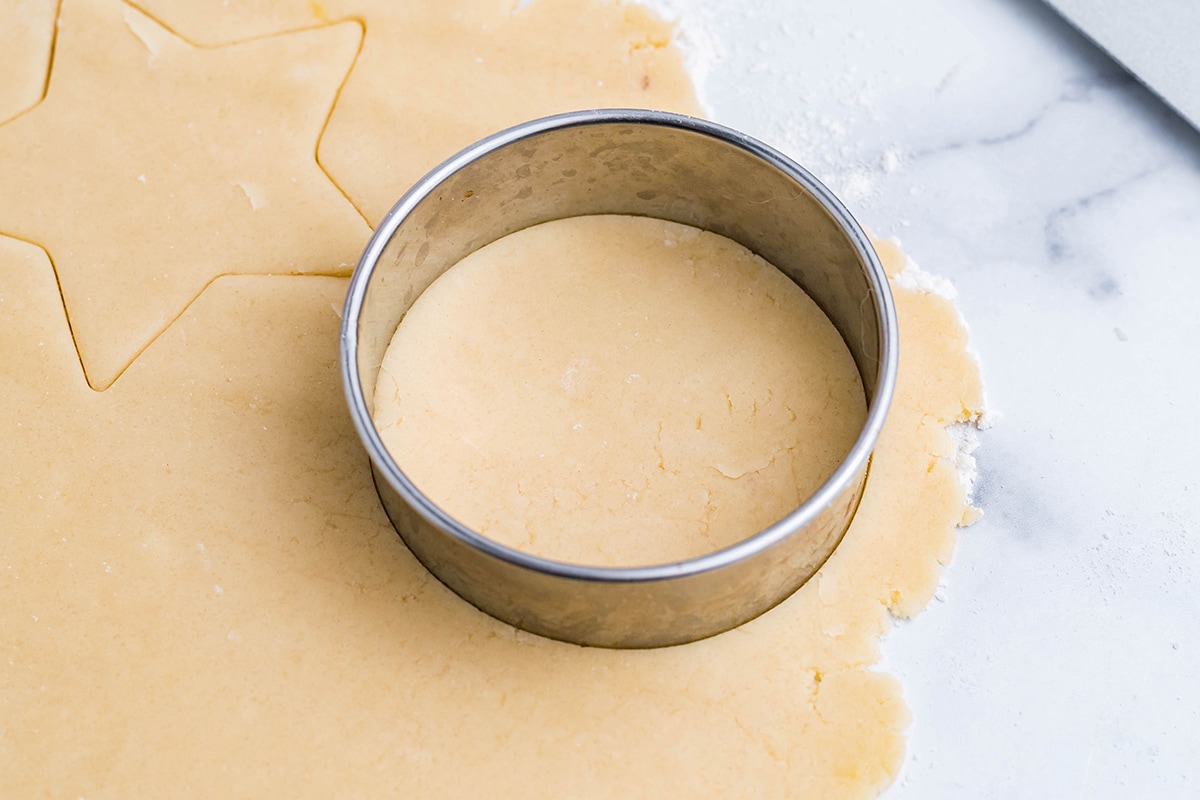 Lastly, make sure your cookie cutter is sharp. Having a dull blade won't give a nice even cut and this can create rounded edges.
Sugar Cookie Dough
The ingredients for this sugar cookie recipe are pantry staples.
Shortening– Yes, like Crisco. If intense butter flavor is what you crave, grab butter flavored shortening.
Granulated sugar – They are sugar cookies, you'll need sugar. Also known as white sugar.
Eggs– helps to puff them up and bind ingredients.
Vanilla Extract– For flavor, but feel free to swap out other flavors like almond extract, peppermint or even coffee.
Flour- The backbone of baking, adds structure to your baked goods. All-purpose flour is what we used.
Baking powder- A leavening agent to give it some puff.
Fine sea salt– Salt enhances all of the other flavors and helps to balance the sweet. I like using sea salt opposed to iodized or table salt because it doesn't have a metallic aftertaste.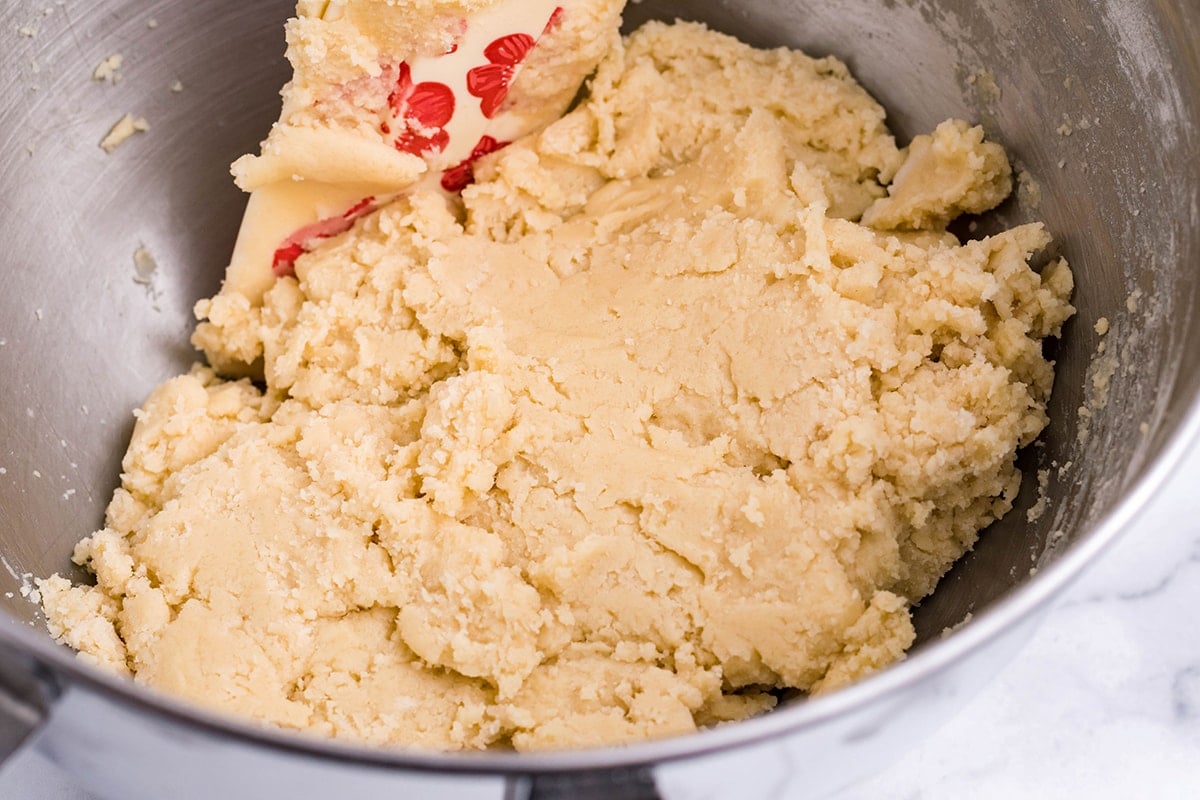 Although you might be tempted to throw this all in a large bowl and mix, resist the urge and cream together the shortening and sugar well. This helps to fluff it up and dissolve the sugar before adding the other ingredients, especially flour. Then add the eggs and vanilla, beating until combined. I really like using a stand mixer fitted with the paddle attachment for this recipe.
Sift together the dry ingredients, this evenly incorporates them before adding to wet ingredients. Just like cakes, you'll want to prevent over mixing which can lead to dry cookies. I do use a stand mixer, but I also watch closely so it doesn't go forever.
Add the dry to wet and mix until just combined. Cover and chill for several hours, if not overnight. To chill faster, remove dough from the dough and place it in plastic wrap, pounding it out into a thinner disc. If you want a colored dough, add a small amount of gel food coloring at this stage.
Liberally flour your rolling mat or counter and roll out using a rolling pin, wine bottle or other hard cylindrical element. Roll thicker (soft sugar cookies) or thinner depending on preference. Clearly, cutting out shapes will require a colder dough to hold form. Place dough in the fridge between rolls if this is the case.
If adding sprinkles with no frosting, add now and gently pat them down into the dough.
Bake on an insulated cookie sheet to allow air to circulate all the way around the cookies. I like to line sheets with parchment paper too, but this is optional. Regular sheet pans will also do.
Remove from the oven right before the edges turn brown. This happens fast, so keep an eye out. Judge cooking times based on the first batch.
Cool on a wire rack, not the cookie sheet, otherwise they will continue to bake and potentially over cook.
Frost cooled cookies.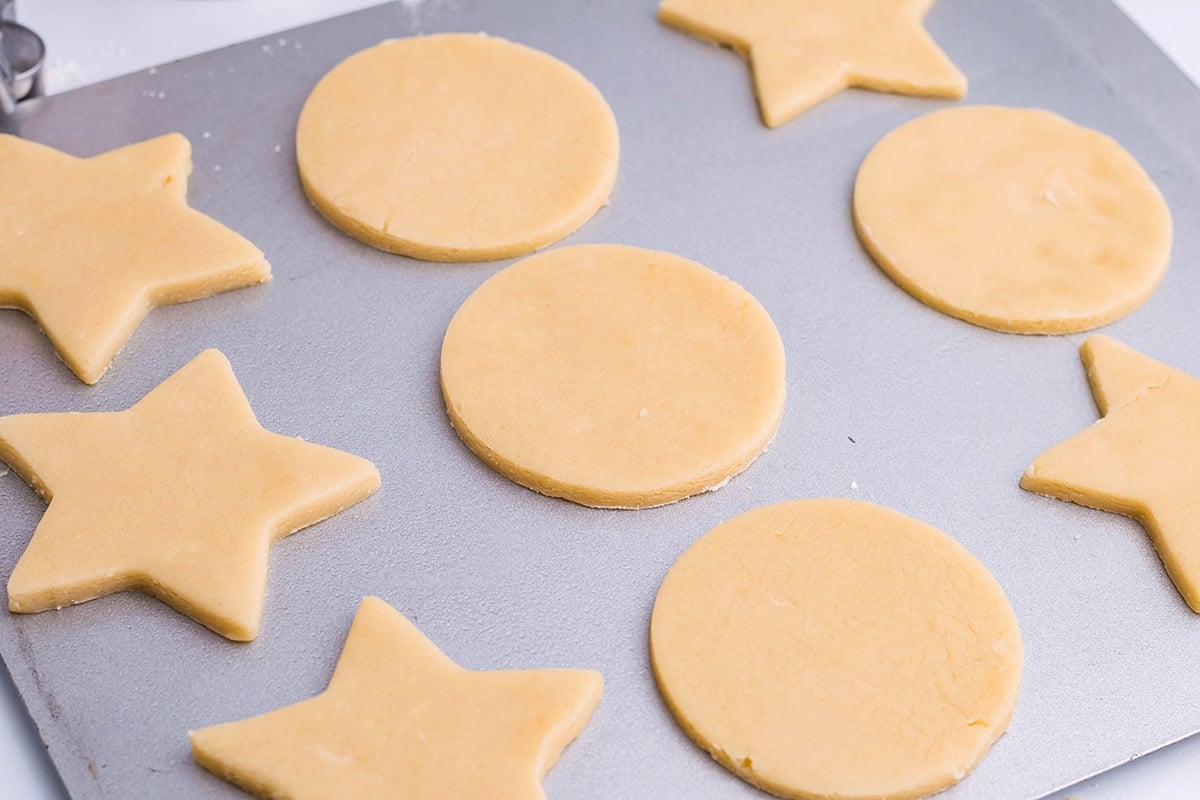 I'd be a horrible hypocrite if I told you to not eat the cookie dough. I might enjoy doughs and batters more than actual baked goods. But if you still crave the good stuff, but want to indulge in safely, check out my eggless Edible Sugar Cookie Dough or Edible Chocolate Chip Cookie Dough. Cookie without eggs and safe for a very indulgent snack.
Sugar Cookie Icing (Royal Icing)
Sugar cookie icing, also known as royal icing is a type of frosting that pipes well for detailed decorating and also dried hard so it is good for grand embellishments and also storage. Not all folks like icing, so I always leave a few unfrosted.
Instead of a creamy frosting with a base of butter, cream or shortening, sugar cooking icing is made with powdered egg whites, also known as meringue powder. This is combined powdered sugar into a drizzle-able consistency. Many cookie decorators will use different consistencies for lining/piping and then water it down a tad for what they refer to as "flooding", meaning filling in the cookie.

Here is what you'll need for this easy icing recipe:
Meringue powder- also known as powdered egg whites, this can be purchased at some grocery store, but also craft stores and of course, online.
Water– we hope you have this one hand!
Powdered sugar- also known as confectioners sugar, it is a fine sugar even finer than castor sugar.
Gel food color– optional, but will give you the wide range of colors you are looking for. I highly suggest using gels and not the liquid food coloring which can alter the consistency.
Using a stand mixer with a whisk attachment is the easiest way to make royal icing. Whisk the meringue powder and water until frothy. This takes a few minutes, approximately three.
Add the powdered sugar and mix on low speed until stiff peaks form, like meringue.
Remove about one cup of icing and place in a small bowl. Add water one teaspoon at a time until you get the correct consistency. You'll use different consistencies for different purposes- start with the outlining because it is thicker.
For piping/outlining- You'll want it slightly thicker so it sets and makes a solid boundary. When you do the figure 8 test, the icing should stay on top of the rest and hold its shape.
For Flooding– A little looser so it spreads easily. You should be able to do the figure 8 test, but it should completely disappear back into the bowl after about 5 seconds.
I used a size 5 Wilton tip for flooding and a size 2 tip of outlining the cookies.
Of course, I won't fault you for slathering on some buttercream or cream cheese frosting.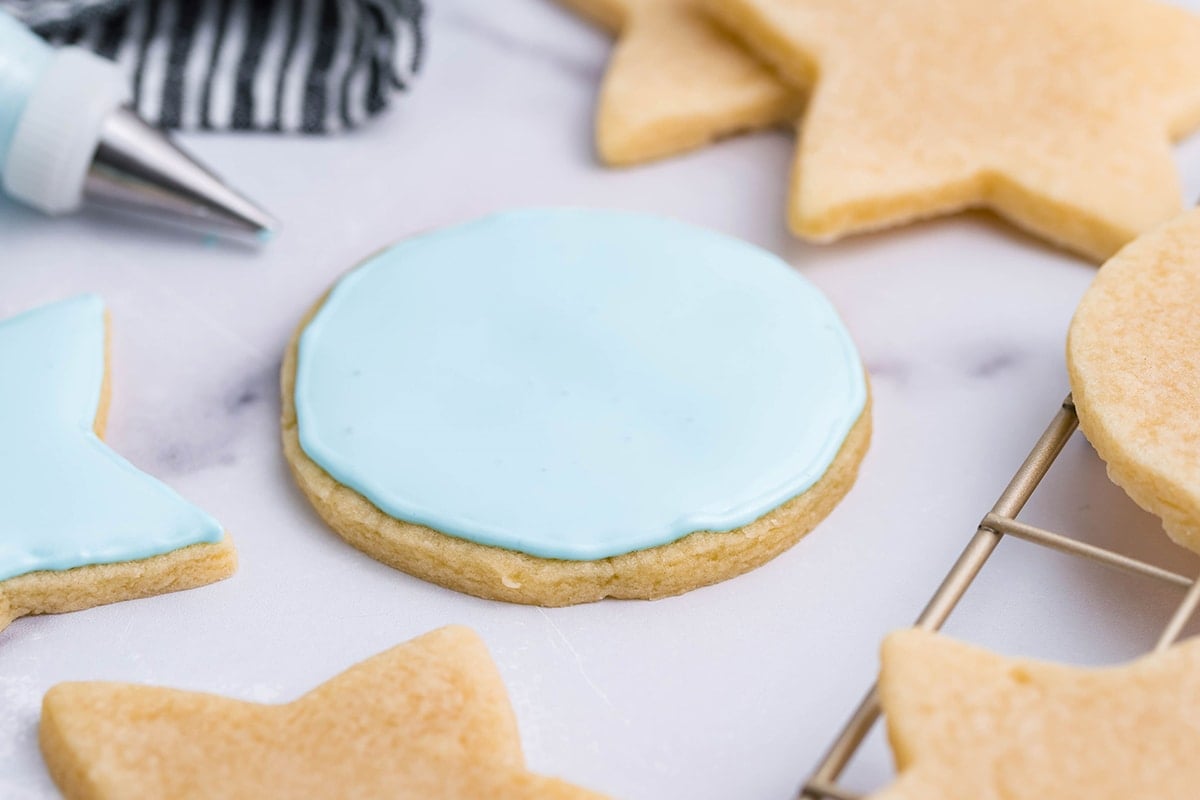 The Figure 8 Test
I know what you are thinking… wait, what is the figure 8 test? It is a commonly used technique to test the consistency of frosting and other batters like macaron and meringue.
The concept is easy, using a spoon, fork or piping bag, draw the number 8. What you are looking for will depend on what you are making. For a piping frosting, the mixture should hold its form, but for a macaron, it should start to spread after 10-15 seconds.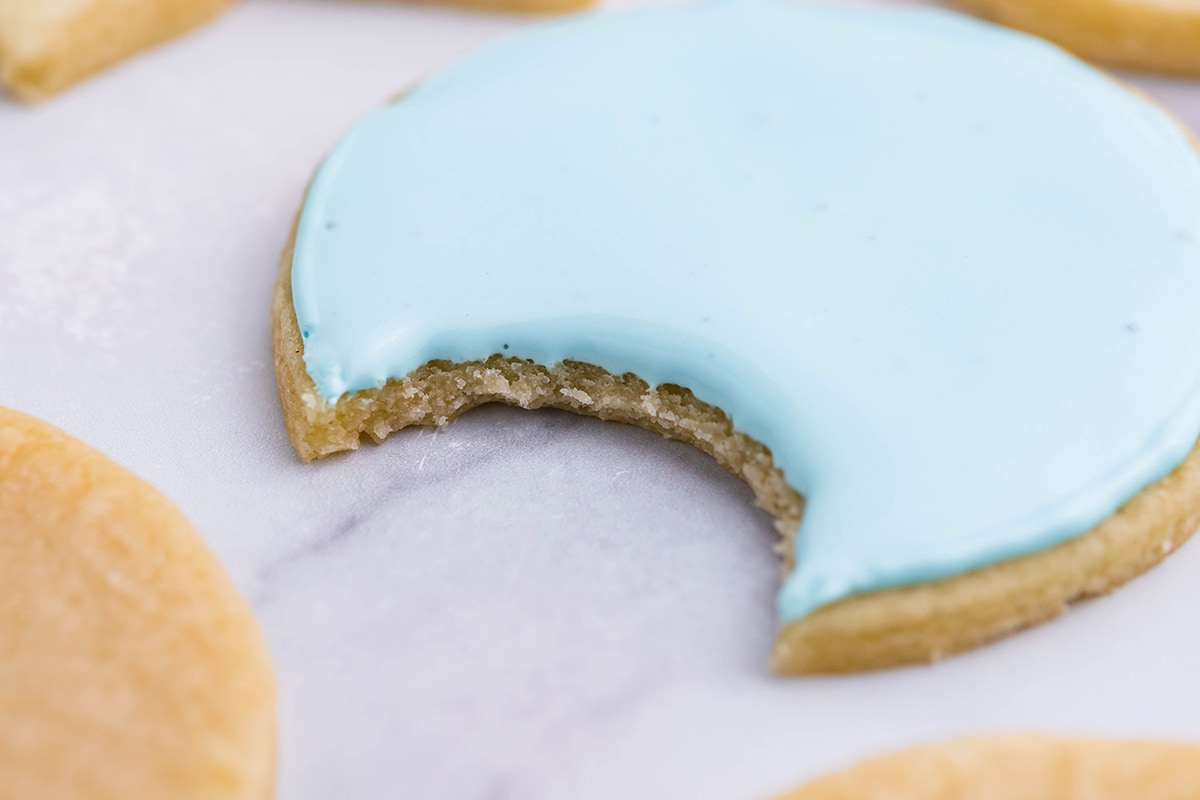 Storage & Freezing
Most people don't realize that unfrosted sugar cookies are actually very freeze friendly. Wrap them as well as possible and then freeze for up to 3 months. Thaw at room temperature for 10-15 minutes.
You can freeze frosted cookies, but sugar cookie icing has the tendency to get hazy or crack. Your best bet is to make the cookies, freeze them and then decorate after thawing.
To store frosted sugar cookies, place them in an airtight container at room temperature away from direct sunlight. You can place pieces of parchment between each layer to prevent the icing from sticking, but honestly, after it sets, royal icing is pretty solid.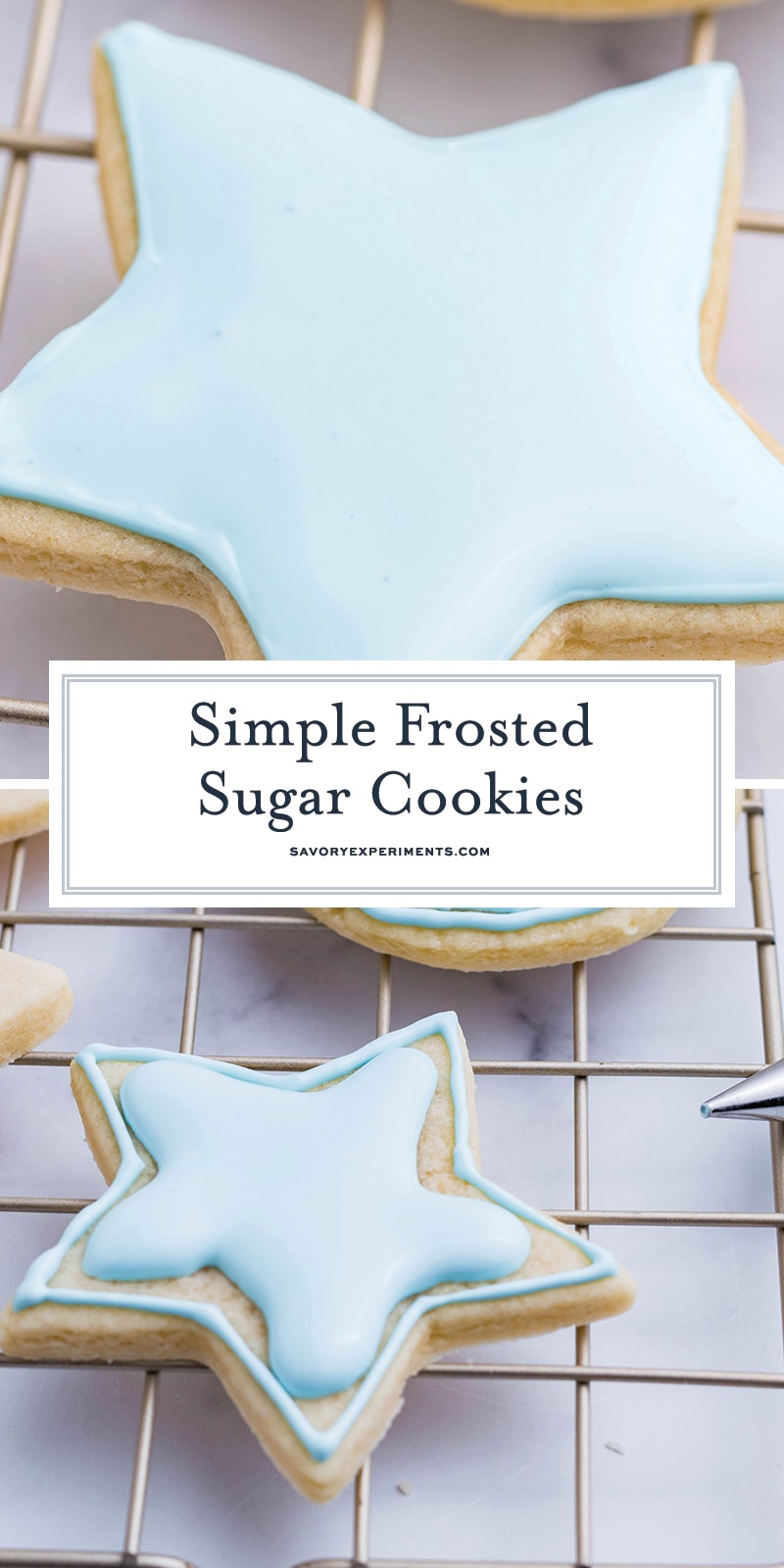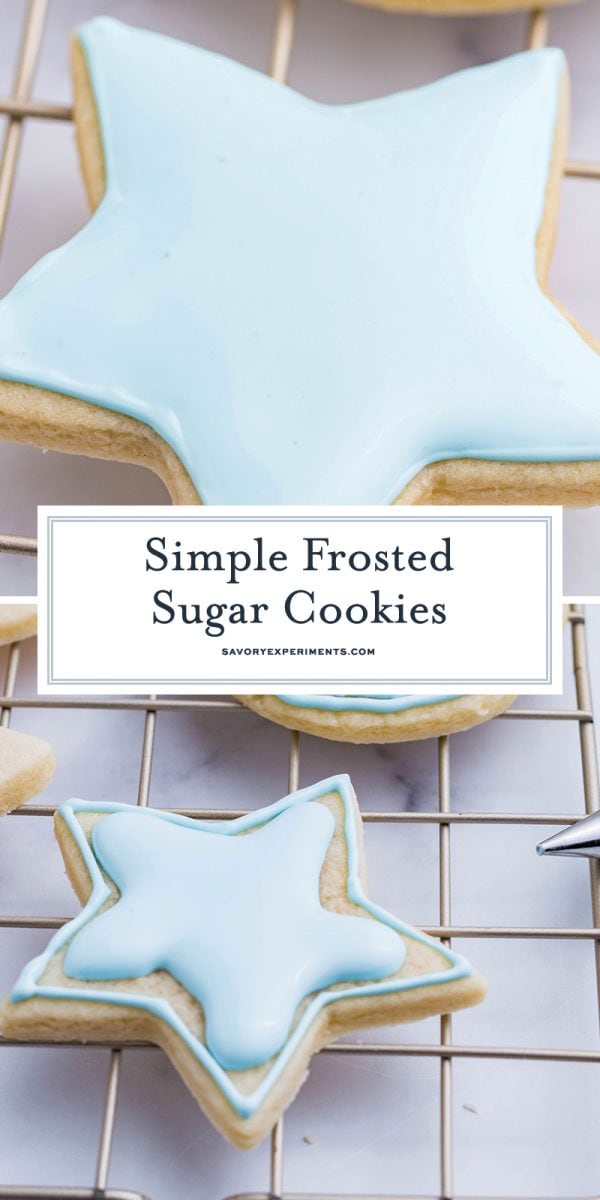 More cookie recipes: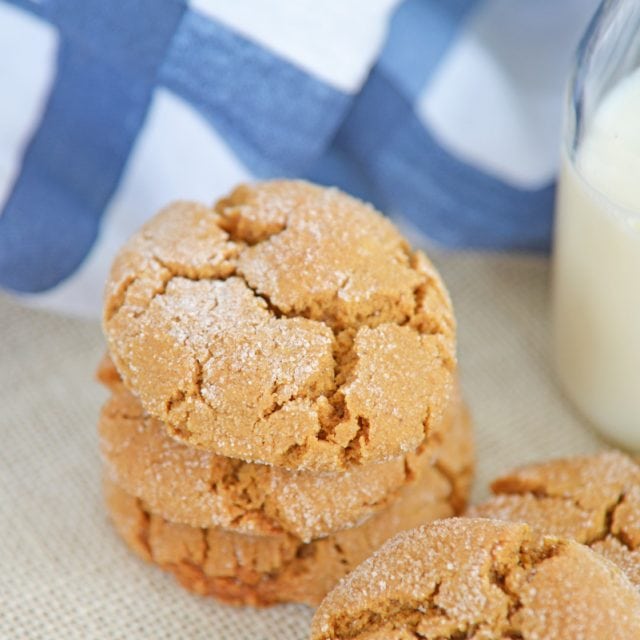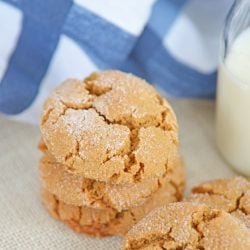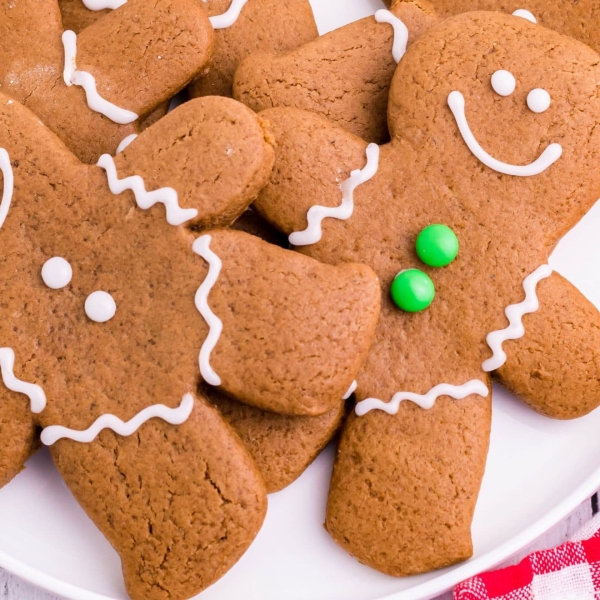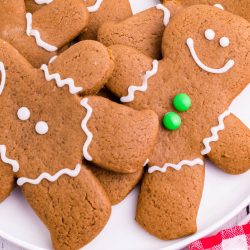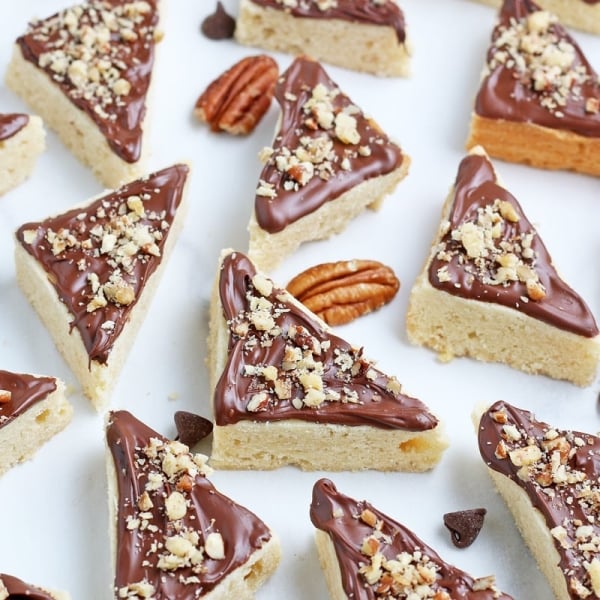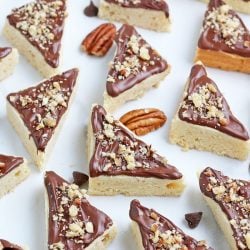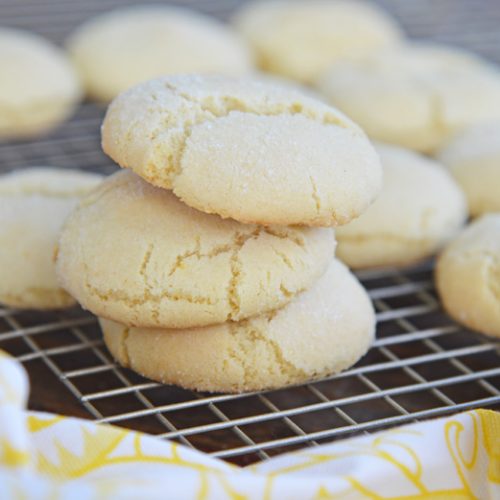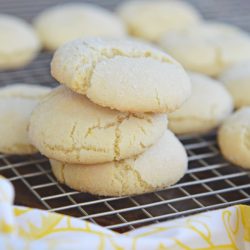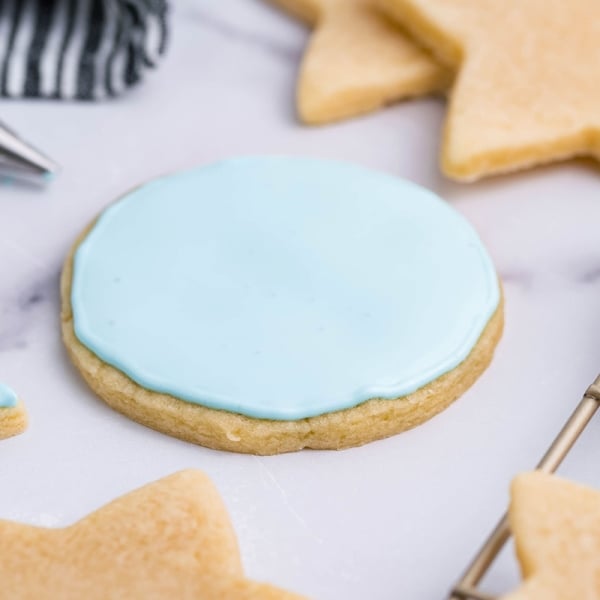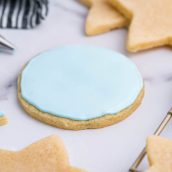 Frosted Sugar Cookies
The best sugar cookie dough recipe for Rolled Sugar Cookies out there! Won't lose shape when baked, great flavor and easy to make and roll out!
Ingredients
Royal Icing:
2

tablespoons

meringue powder

6

tablespoons

water

2 2/3

cups

powdered sugar

gel food color

, optional
Instructions
Rolled Sugar Cookies:
Cream together the shortening and sugar. Add the eggs and vanilla, blend well.

Sift the flour, baking powder and salt. Slowly blend dry mix into wet until a dough forms. Do not overmix.

Cover and refrigerate for 1 hour to 24 hours.

Preheat oven to 400°F. Use an insulated baking sheet lined with parchment paper.

On a liberally floured surface, roll out cookie dough. Cut out desired shapes. Transfer cut-outs to a cookie sheet. Continue until sheet is full.

Bake for 6-7 minutes or until right before edges brown. Remove from oven and transfer to a cooling rack. Repeat with the remaining dough.

If you've tried this recipe, come back and let us know how it was in the comments or ratings.
Royal Icing:
In the bowl of a stand mixer equipped with a whisk attachment, whisk the meringue powder and water until frothy, approximately three minutes.

Add the powdered sugar and mixon low speed until stiff peaks form (when you remove the whisk from the bowl, the peak should stick straight up and not slump over on itself).

Remove about one cup of icing and place in a small bowl. Add water one teaspoon at a time until you get the correct consistency.

For Outlining– You want a thicker consistency than flooding, but just barely.When you do the figure 8 test, the icing you piped should stay on top of the rest and hold its shape. Use a Wilton size 2 tip for outlining.

For Flooding– you want a consistency that allows you to draw a number 8 with the icing and it should completely disappear back into the bowl after about 5 seconds. Use a Wilton size 5 circle tip.

If you've tried this recipe, come back and let us know how it was in the comments or ratings.
Nutrition
Calories:
106
kcal
,
Carbohydrates:
13
g
,
Protein:
1
g
,
Fat:
5
g
,
Saturated Fat:
1
g
,
Cholesterol:
10
mg
,
Sodium:
77
mg
,
Potassium:
26
mg
,
Sugar:
6
g
,
Vitamin A:
15
IU
,
Calcium:
8
mg
,
Iron:
0.5
mg