This antipasto pasta salad recipe combines a zesty homemade Italian dressing with al dente pasta, savory meat, creamy cheese, and fresh vegetables that's as perfect as a side as it is a main dish.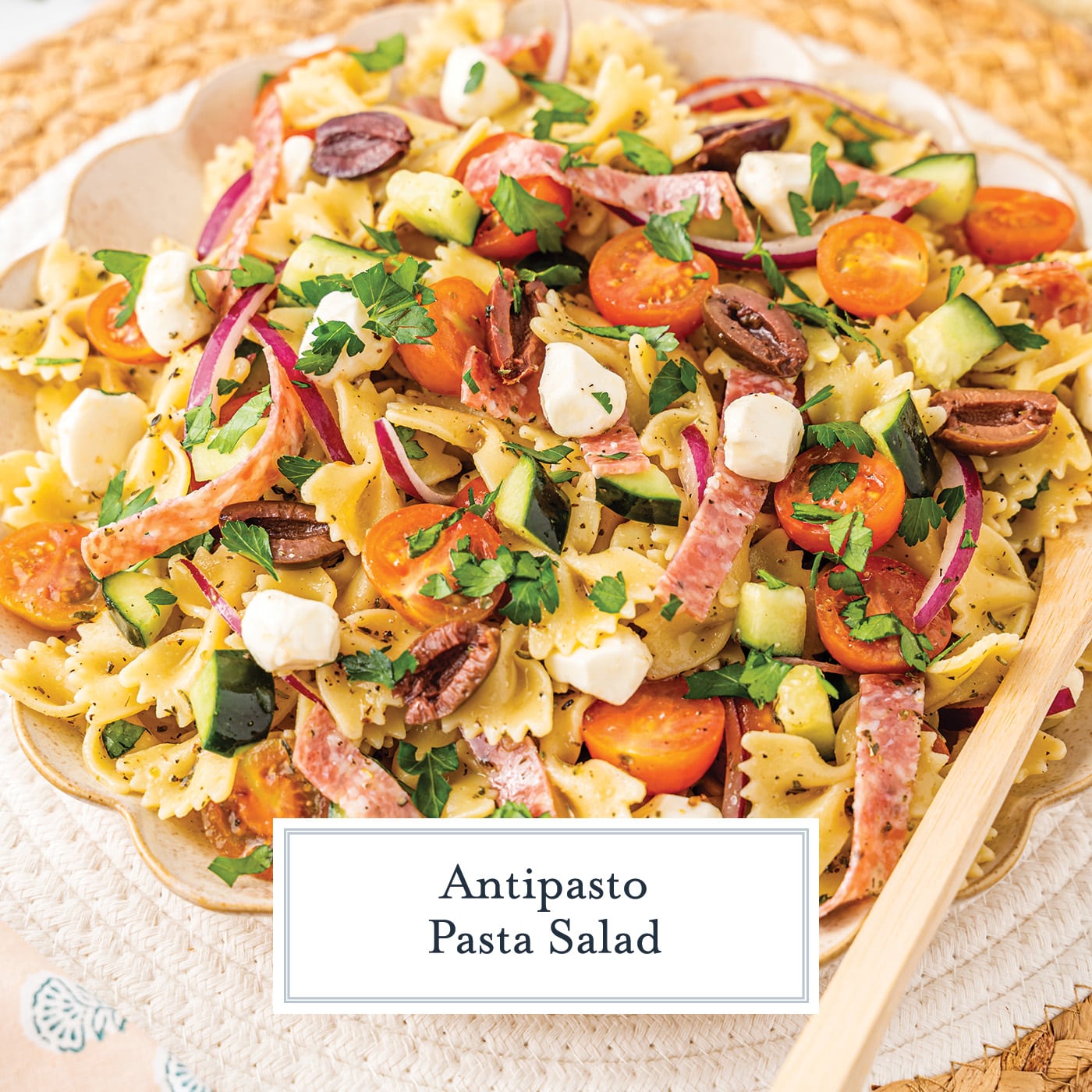 When the weather gets warm, it's pasta salad season at our house and I love to serve this colorful antipasto pasta salad. It's basically a traditional Italian antipasto platter (plus pasta) in salad form.
What is Antipasto Salad?
The delicious dressing is easy to make and you can quickly slice the veggies and meat while the pasta is cooking. It all comes together so quickly, which makes it perfect for busy weeknights or for prepping for a party.
If you're looking for an easy, tasty side for your next cookout or a meal you can prep for the week, try this Italian pasta salad recipe. It may become your new favorite pasta salad.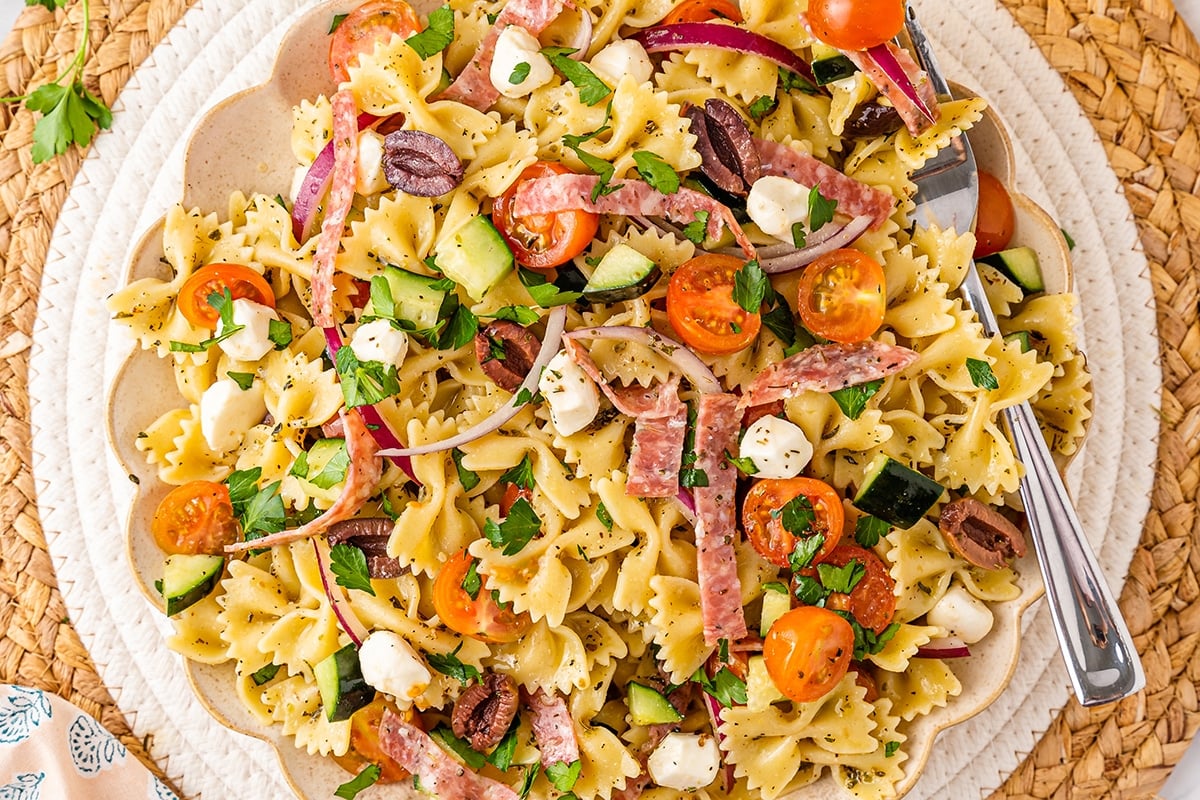 Why You'll Love Antipasto Salad
There's no reason not to love this tasty salad!
Easy: This is a simple way to serve any number of meats, cheeses, and other accouterments.
Customizable: Mix and match whichever ingredients you like.
Versatile: You can serve this with any meal, whether it's brunch, an afternoon gathering, or a dinner party.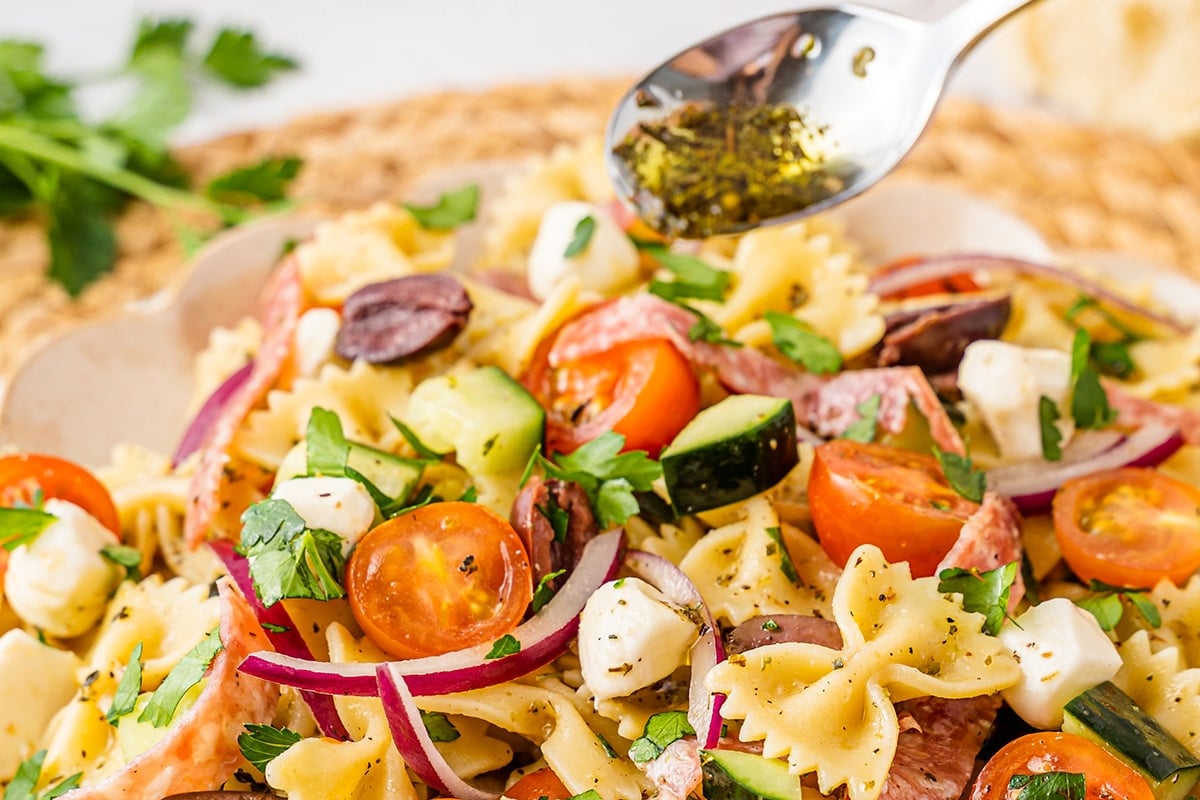 Ingredients
Choose the ingredients that you like best, or swap them for your own favorites. This antipasto pasta salad is totally customizable.
Dressing:
Olive oil: The olive oil serves as the base for the dressing — choose a high quality oil for the best flavor.
Apple cider vinegar: The apple cider vinegar's tanginess balances the dressing and imparts bright flavor.
Sugar: Sugar adds just a slight bit of sweetness to also balance the dressing.
Italian seasoning: With herbs like basil, oregano, rosemary, and thyme, this seasoning brings classic Italian flavors to the table.
Garlic powder: Powdered garlic is an easy way to add garlicky flavor — you can also mince garlic cloves.
Onion powder: Onion powder adds depth to the dressing.
Coarse kosher salt: Salt helps to bring out the flavors of the other ingredients.
Ground black pepper: The ground black pepper adds a subtle kick to the salad.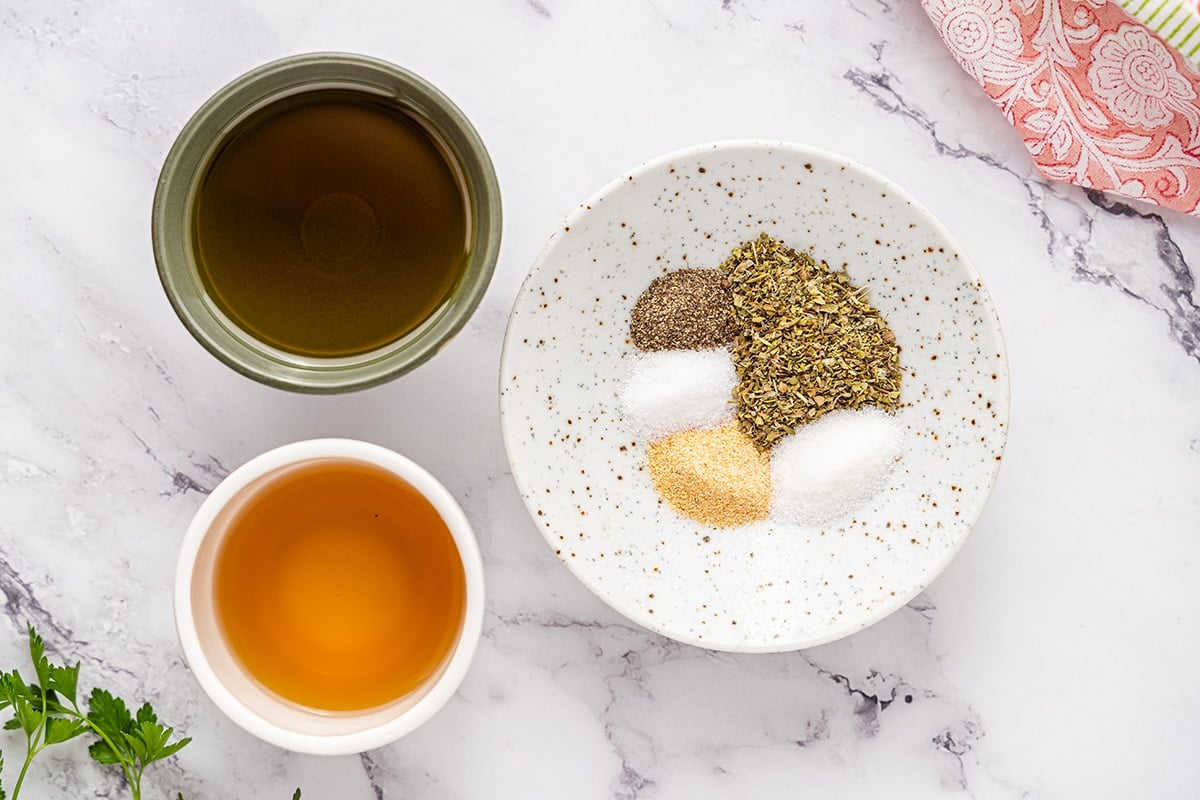 Pasta Salad:
Farfalle pasta: This bow tie pasta is the perfect shape for holding the dressing.
Red onion: Crunchy red onions add a pleasantly pungent flavor to the antipasto pasta salad.
Cherry tomatoes: Tomatoes add vibrant color and fresh sweetness.
English cucumber: Fresh cucumbers also contribute to the colorful salad while adding refreshing flavor.
Mozzarella pearls: Creamy and mild, fresh mozzarella cheese helps to balance out the flavors of the other ingredients.
Salami slices: Slightly spicy and a little bit salty, salami adds complex, umami flavor.
Kalamata olives: This type of black olive imparts brininess and a touch of tanginess.
Chopped fresh Italian parsley: Fresh parsley adds bright, fresh color and flavor.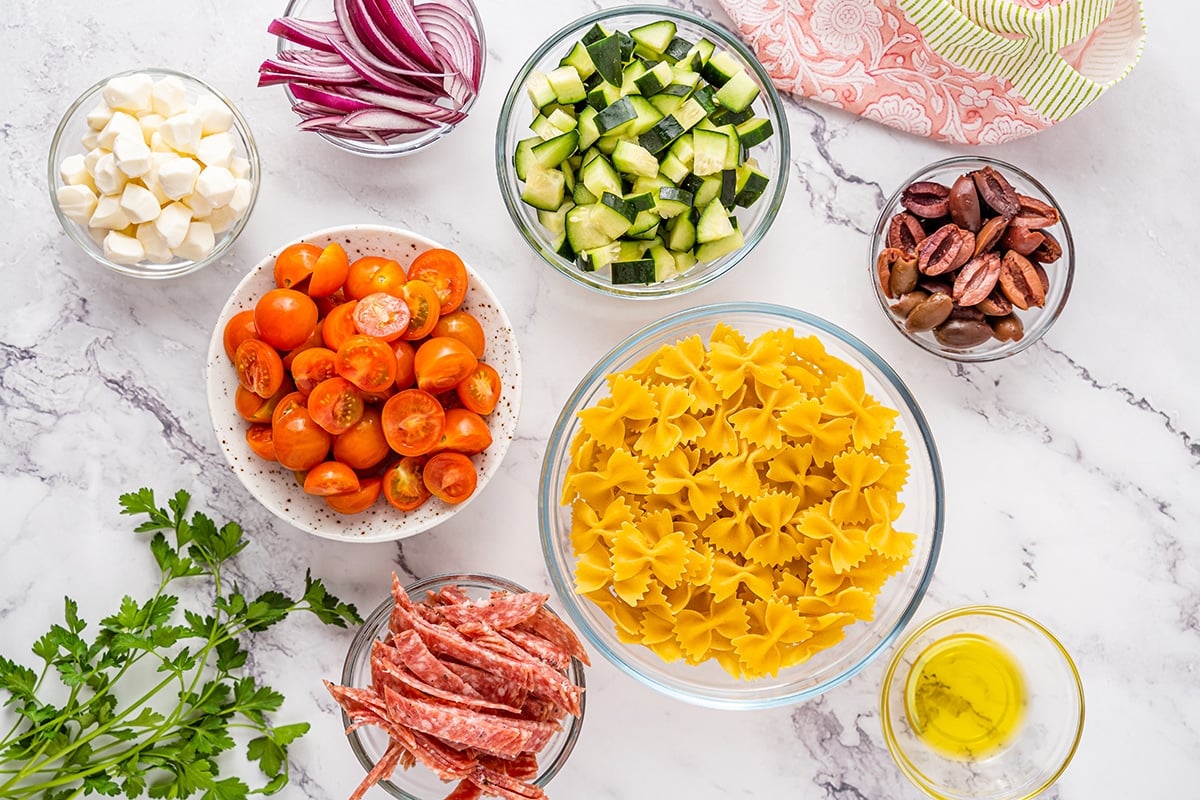 How to Make Easy Pasta Salad
You are going to love how easy it is to make this delicious antipasto pasta salad!
Make dressing. Add the ingredients for the dressing to a small bowl and stir together (or place in a mason jar and shake until well combined).
Cook pasta. Cook pasta in a large pot of salted water according to package directions.
Drain and rinse. When finished cooking, drain the pasta and rinse with cold water until it has cooled.
Add dressing to pasta. Transfer the pasta to a large bowl and pour the dressing over top. Mix until combined.
Fold in remaining ingredients. Then, gently fold in the vegetables, meat, cheese, olives, and parsley.
Chill. Refrigerate the pasta salad briefly before serving.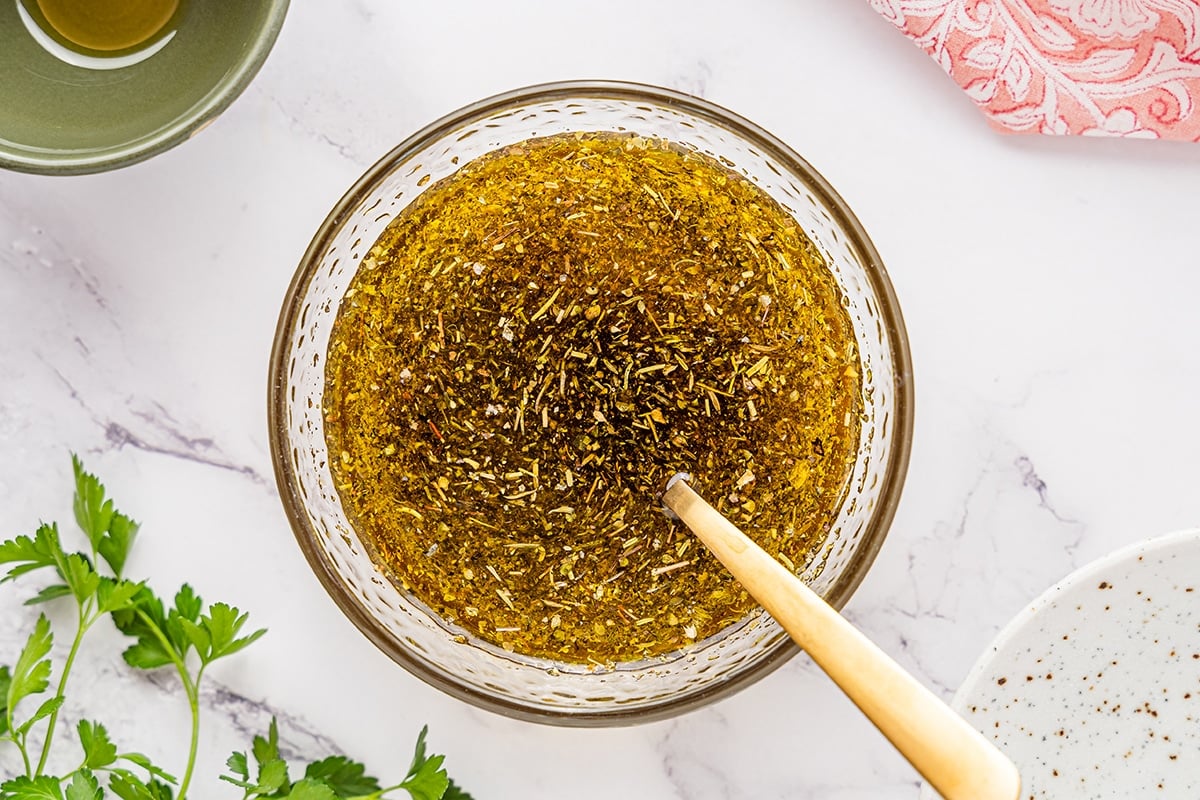 What to Serve with Antipasto Pasta Salad
If you're serving a spread of foods, try offering other light options like a caprese salad, vegetable kabobs, or fruit salad. You can also serve bread, like a garlic rosemary focaccia or easy garlic breadsticks.
It's also absolutely perfect for a cookout with burgers, hot dogs, grilled chicken, and sausages.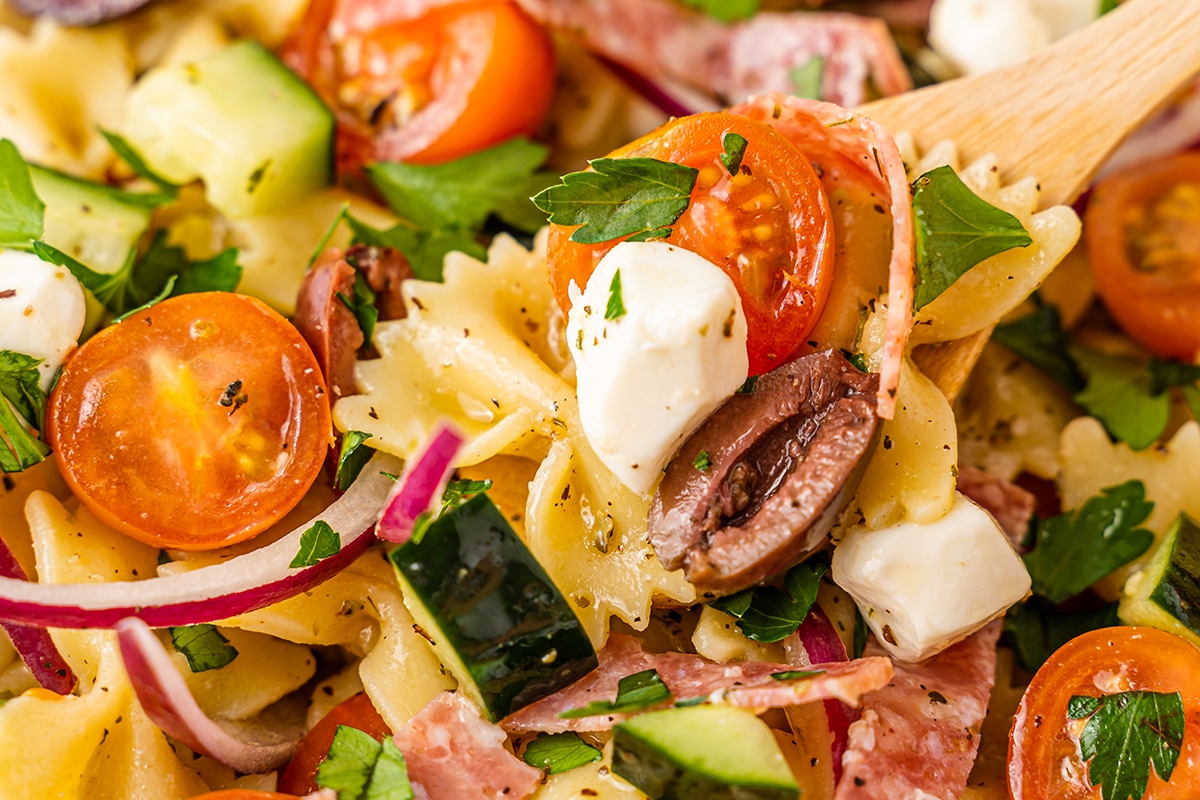 Variations on Italian Antipasto Pasta Salad
This salad is so customizable — you can change it up in so many ways. Just choose your own favorite antipasto ingredients.
Meats: Try adding mortadella, coppa, or your favorite meats.
Cheese: Asiago and parmesan cheese are good options in addition to, or in place of, the mozzarella.
Vegetables: Marinated mushrooms, artichoke hearts, and roasted red peppers or green bell peppers can add flavor and texture.
Vinegar: Instead of apple cider vinegar, try using white vinegar, red wine vinegar, or white wine vinegar. You can also use balsamic vinegar for a different flavor profile.
Herbs: Try adding fresh basil or other seasonal fresh herbs.
Olives: Substitute green olives for the black olives.
Lemon juice: Adding a bit of citrus to the dressing will impart more bright flavor.
Heat: For a spicy kick, add crushed red pepper or sliced pepperoncini peppers.
Earthiness: For earthy flavor, try adding dijon mustard to the dressing.
Pasta: Use another shape — fusilli pasta, penne pasta, and rotini pasta are all good options.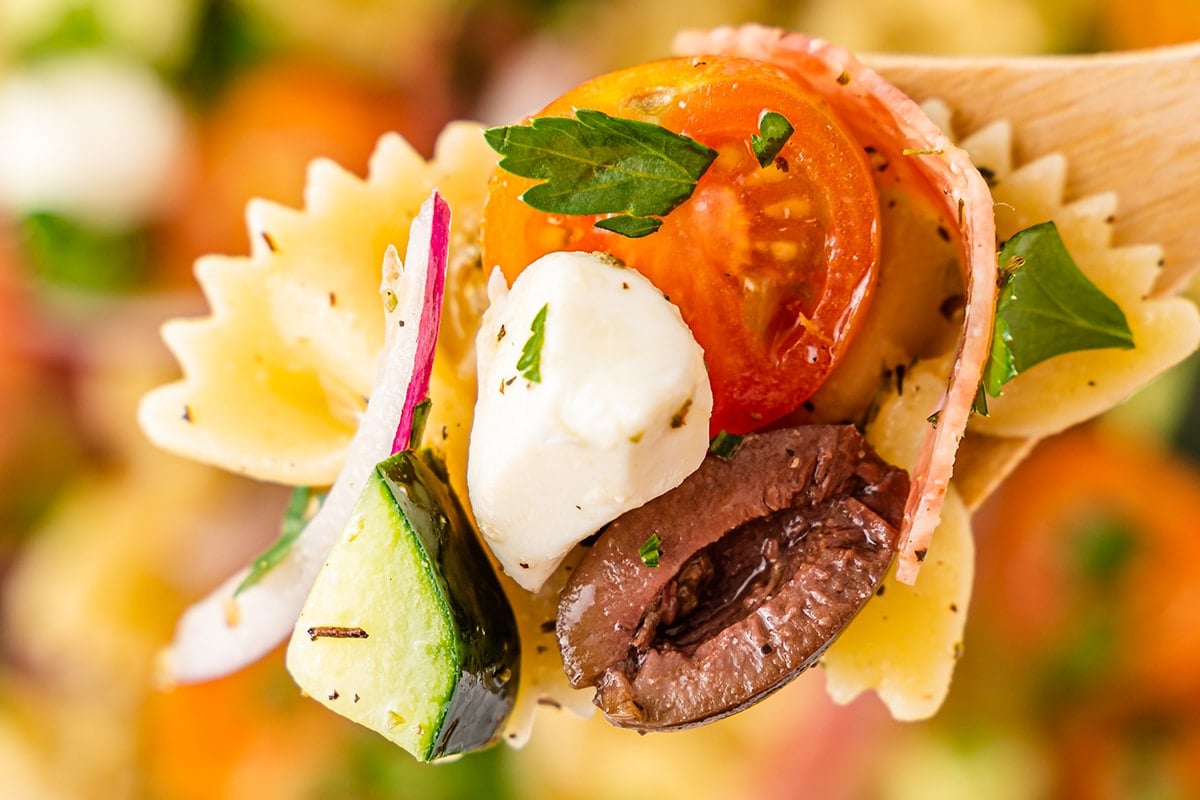 Storage, Make Ahead and Freezing
This antipasto pasta salad stores well in the refrigerator where the flavors are able to mingle together and settle into the pasta.
Make-Ahead: Prepare the pasta and the dressing ahead of time and then mix all of the ingredients together.
Refrigerator: You can store leftover pasta salad in the fridge for up to 3 days in an airtight container.
Freezer: We do not recommend freezing this salad.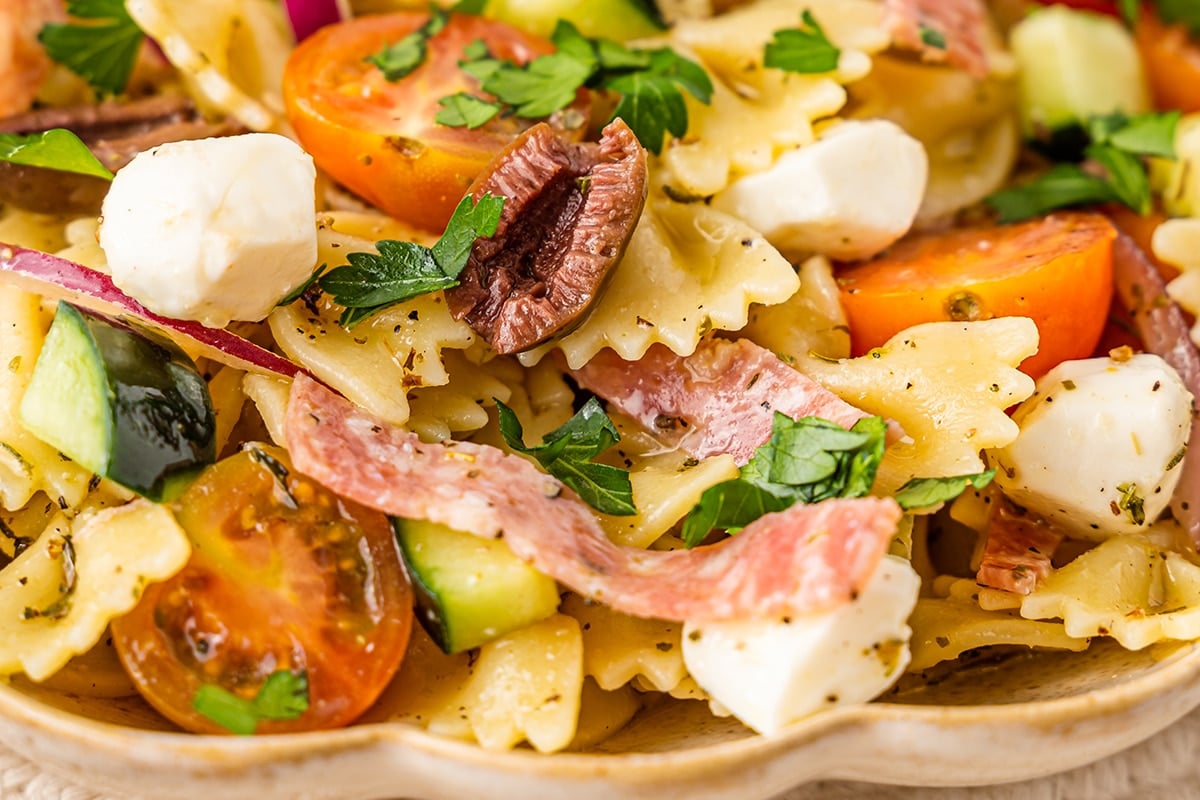 Common Questions About Antipasto Pasta Salad
What does antipasto salad contain?
Antipasto pasta salad is a mixture of pasta, meats, cheeses, and vegetables that are seasoned with Italian herbs and spices in an olive-oil based dressing.
What are some times for making antipasto pasta salad?
One tip is to ensure that you allow time for the flavors to blend together — store the salad in the refrigerator for 20 minutes to 1 hour before serving. Also, use a wide variety of ingredients for a colorful presentation.
How do you store antipasto pasta salad?
Store the salad in the refrigerator for up to 3 days. Not only is that the ideal time for food safety reasons (since the dish contains meat and cheese), but after that, the pasta can become soggy.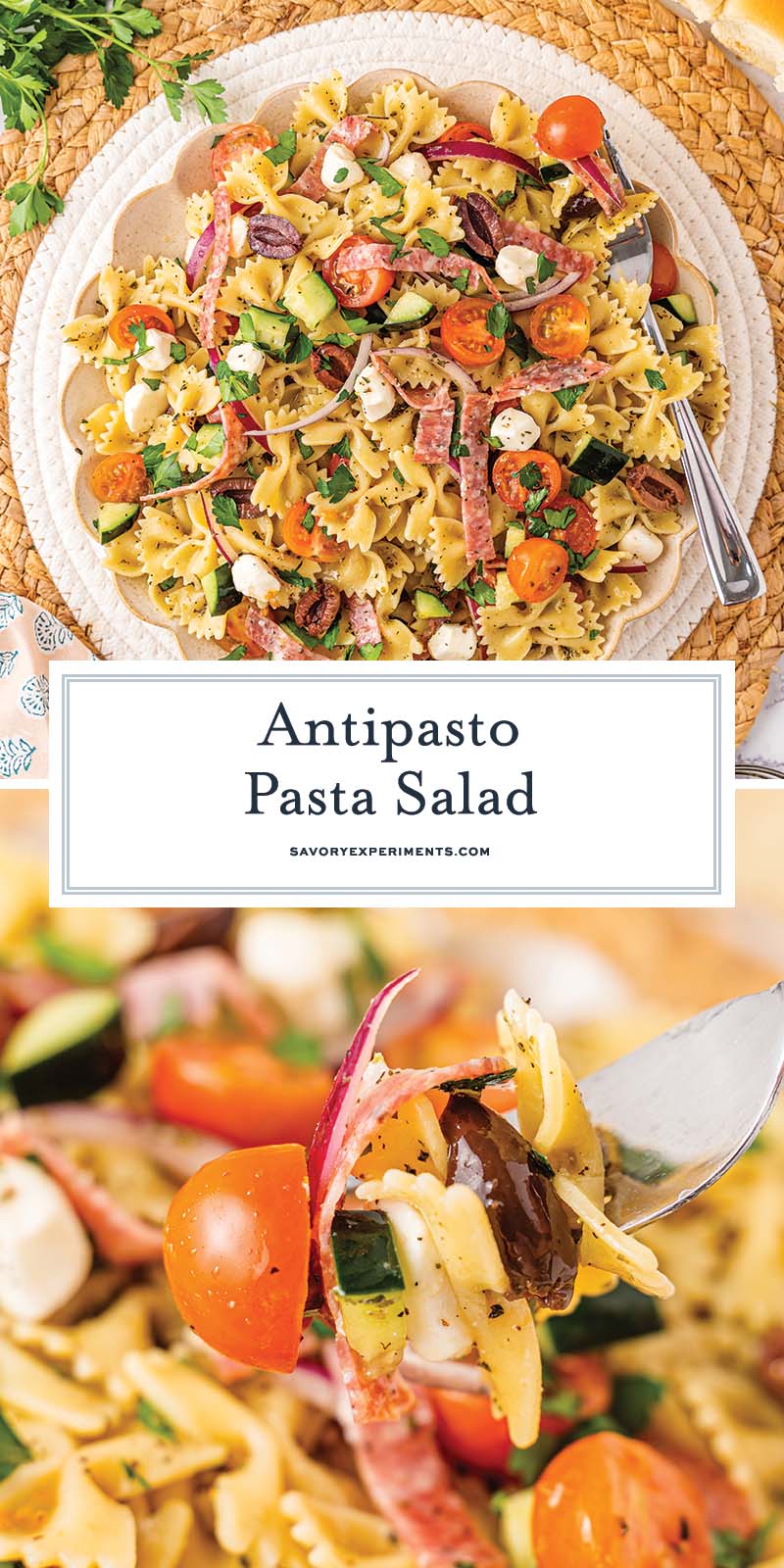 More Easy Pasta Salads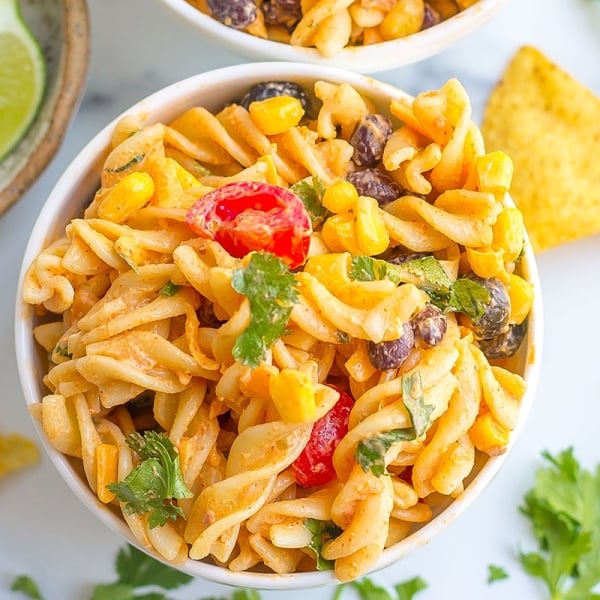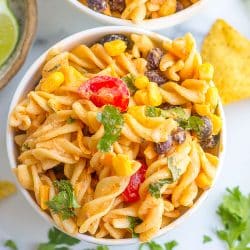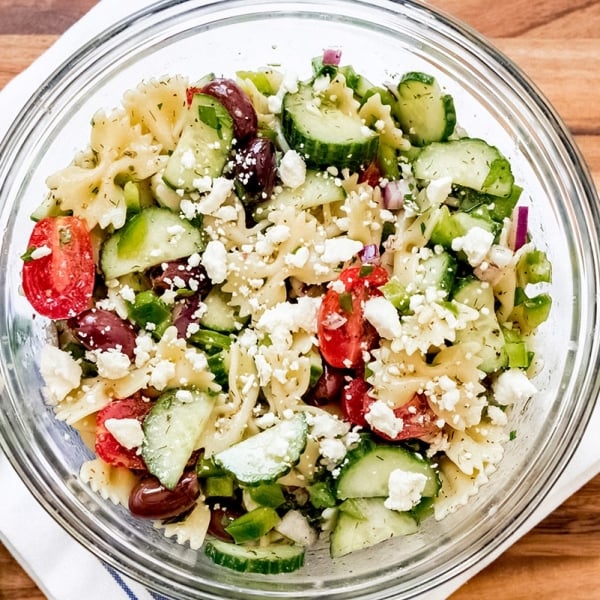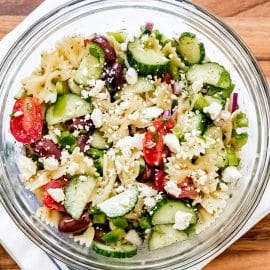 Greek Pasta Salad Recipe
This simple Greek Pasta Salad is just the thing for potlucks and summer cookouts! The textures of crunchy veggies, al dente pasta, and flavors of a savory Greek dressing and feta cheese make this one of the best summer salads around!
See The Recipe!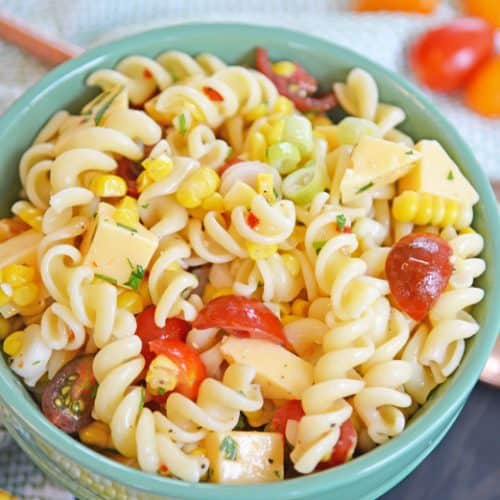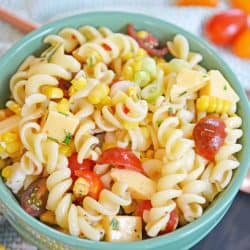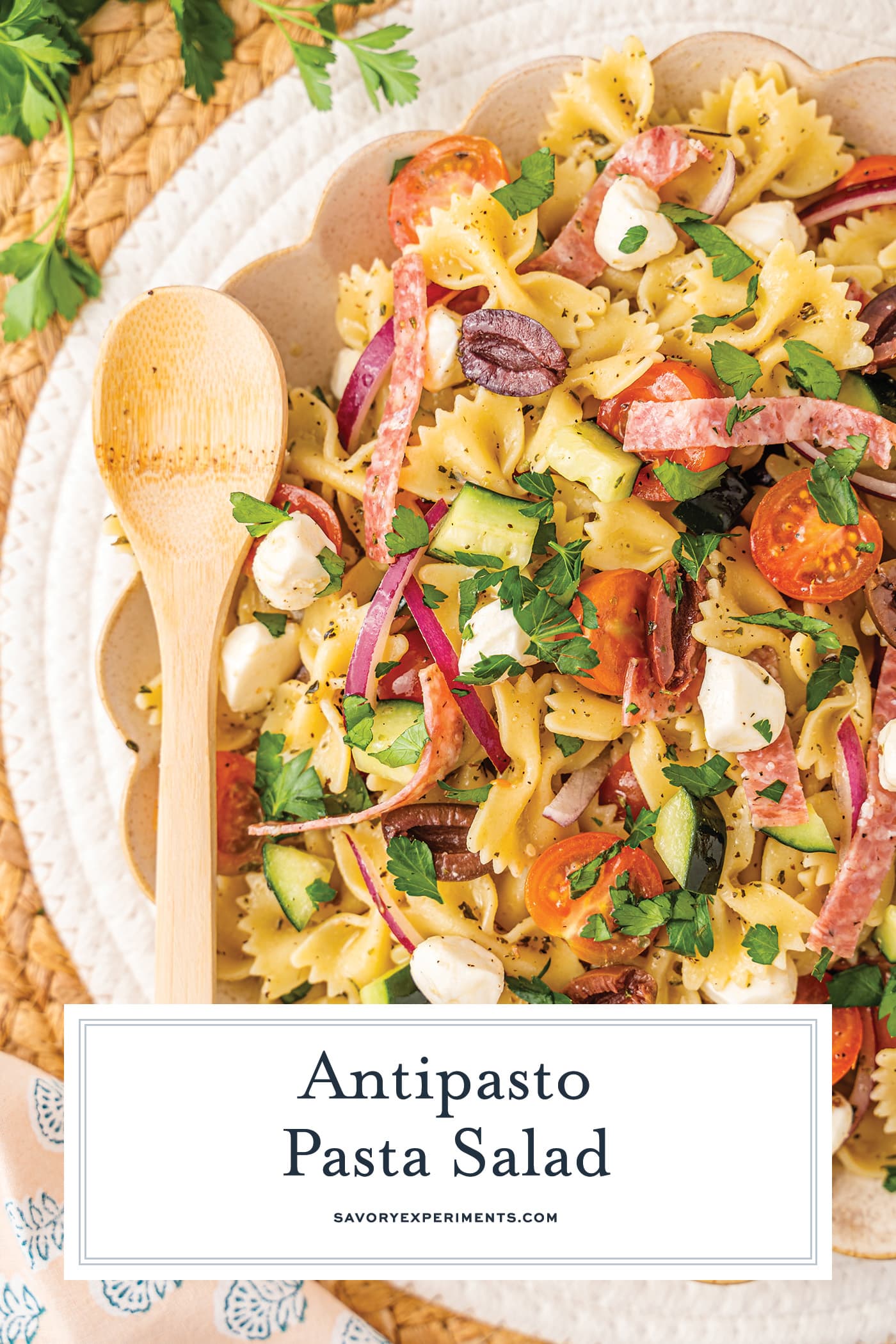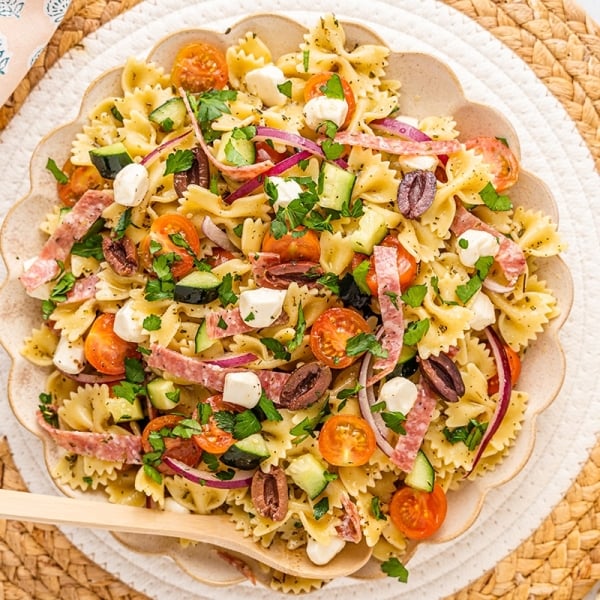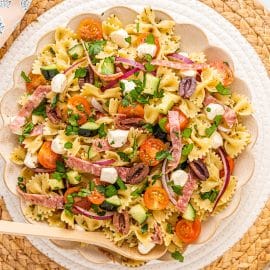 Antipasto Pasta Salad (Italian Pasta Salad)
This Antipasto Pasta Salad recipe combines a zesty Italian dressing with al dente pasta, savory meat, creamy cheese, and fresh veggies!
Ingredients
Pasta Salad:
8

ounces

dry farfalle pasta

1/2

medium red onion

, cut into thin slices

8

ounces

cherry tomatoes

, halved

1

small English cucumber

, chopped

4

ounces

mozzarella pearls

, drained

4

ounces

salami slices

, cut into thin strips

1/2

cup

kalamata olives

, halved

1/4

cup

chopped fresh Italian parsley
Instructions
In a small mixing bowl, combine the olive oil, apple cider vinegar, Italian seasoning,sugar, garlic powder, onion powder, salt, and pepper to make the dressing. Set aside.

Boil the farfalle pasta in 2-3 quarts of water for about 10 minutes, or as directed on the package. As soon as the pasta is al dente, drain the pot of pasta into a colander. Run cold water over the pasta for 1-2 minutes to cool it rapidly.

Combine the pasta and dressing in a large serving bowl. Then gently mix in the sliced red onion, halved cherry tomatoes, chopped cucumber, mozzarella balls, sliced salami halved olives, and chopped parsley.

Allow the pasta salad to chill in the refrigerator for 15-20 minutes before serving.

If you've tried this recipe, come back and let me know how it was in the comments or star ratings!
Nutrition
Calories:
350
kcal
,
Carbohydrates:
26
g
,
Protein:
10
g
,
Fat:
23
g
,
Saturated Fat:
5
g
,
Polyunsaturated Fat:
2
g
,
Monounsaturated Fat:
13
g
,
Cholesterol:
16
mg
,
Sodium:
615
mg
,
Potassium:
276
mg
,
Fiber:
2
g
,
Sugar:
3
g
,
Vitamin A:
378
IU
,
Vitamin C:
11
mg
,
Calcium:
86
mg
,
Iron:
1
mg