This is the BEST Spinach Artichoke Dip and it's the perfect party appetizer. It's a creamy hot artichoke dip that will have people begging for more!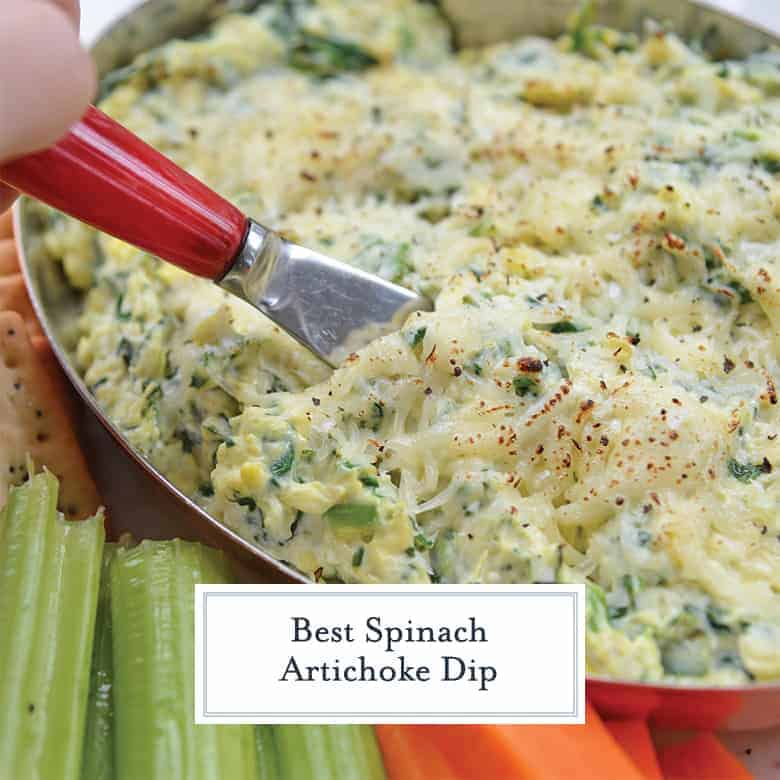 BEST Spinach Artichoke Dip is the perfect party appetizer. Make ahead and serve hot or cold with crackers, crostini or vegetables!
It can be served with crudites, crostini or chips and even used as a spread on sandwiches. The problem is that it can also be very bland.
I have a secret weapon for my Creamy Spinach and Artichoke dip. Are you ready?
Leek soup mix.
Yep. Soup Mix! Leek soup mix has herbs and spices already mixed in along with a subtle onion flavor. Allow it to marry with the creamy ingredients and re-hydrate for exceptional flavor.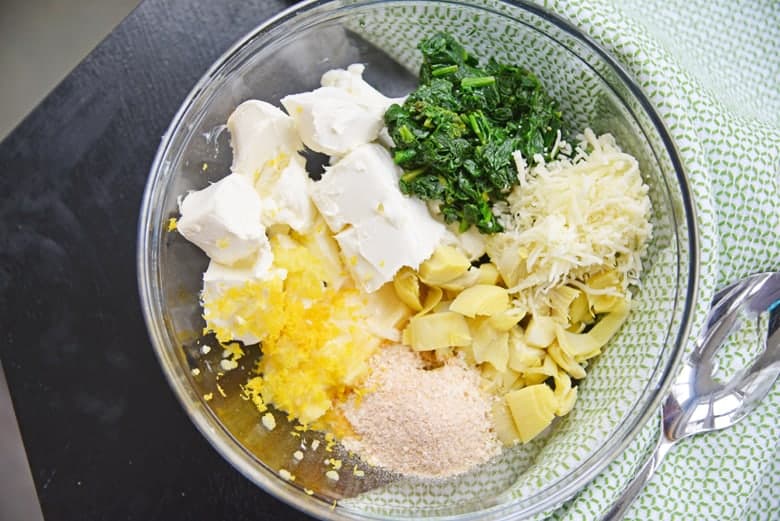 Everyone will be asking your recipe and it is totally up to you whether or not you want to share it.
The other element that makes spinach dips different from each other is the creamy base. Generally, it is some mix of cream cheese, sour cream, mayonnaise and/or plain yogurt.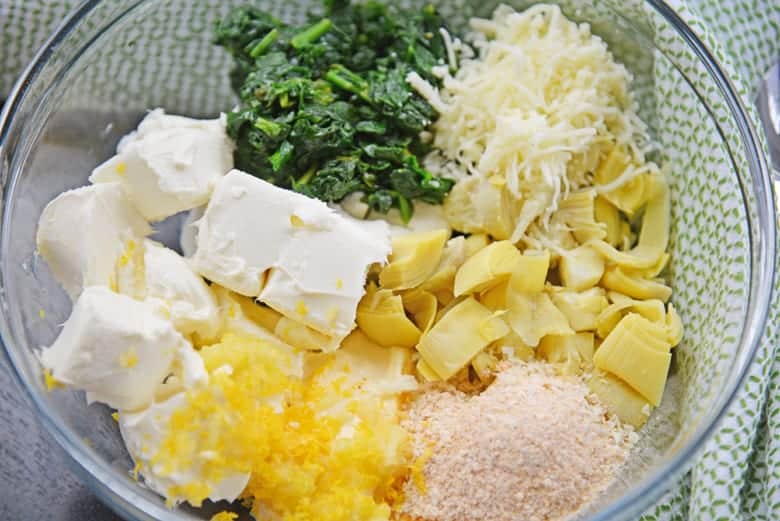 I find for cold spinach artichoke dip, yogurt works great. If I am going to spread it on a sandwich or even a tortilla roll-up, nothing beats a cream cheese-yogurt mix. Light, fluffy and slightly tart.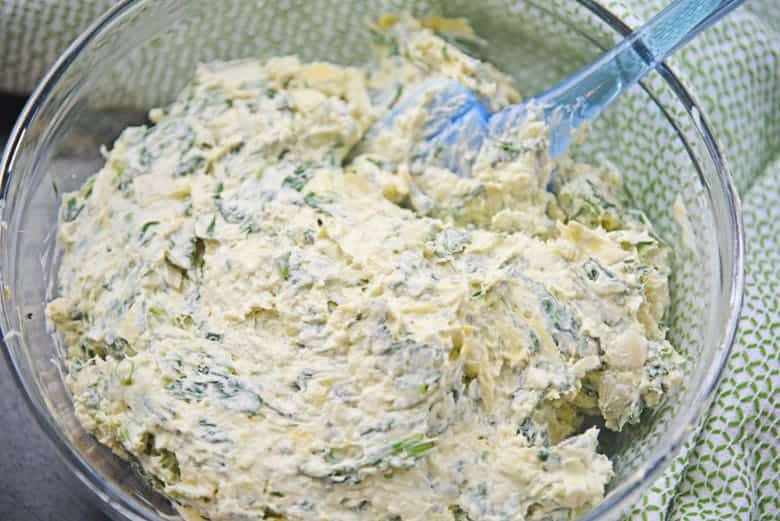 But for hot spinach and artichoke dip, I like the addition of mayonnaise and can give or take sour cream or yogurt.
PRO TIP: If you have just a little dip leftover, it makes a mean grilled cheese sandwich!
Mayonnaise is egg and olive oil base, so it keeps the dip moist (sometimes cream cheese can dry out) but also helps it hold together instead of separate after being baked.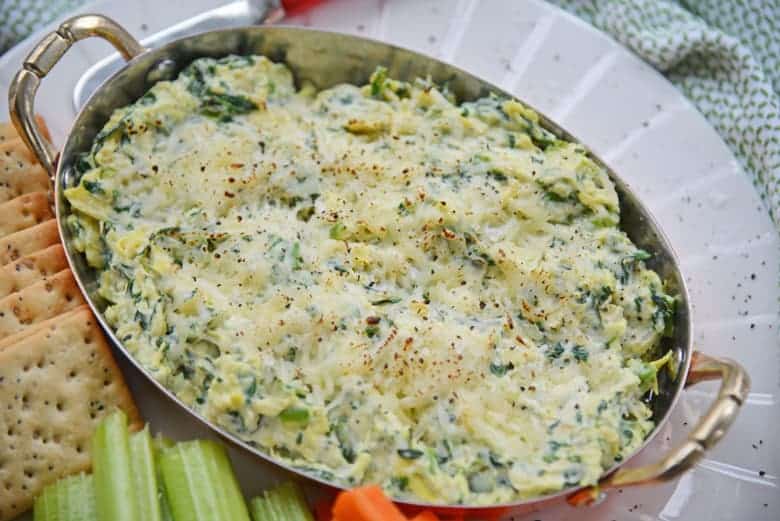 However, I've been known to use any combination of the four depending on what is in the fridge. Feel free to play around with your ratios to find your own "perfect" spinach artichoke dip variation!
Other variations on your Cheesy Spinach Artichoke Dip can include adding minced roasted red pepper, water chestnuts, topping with additional cheese or even sauteed leeks.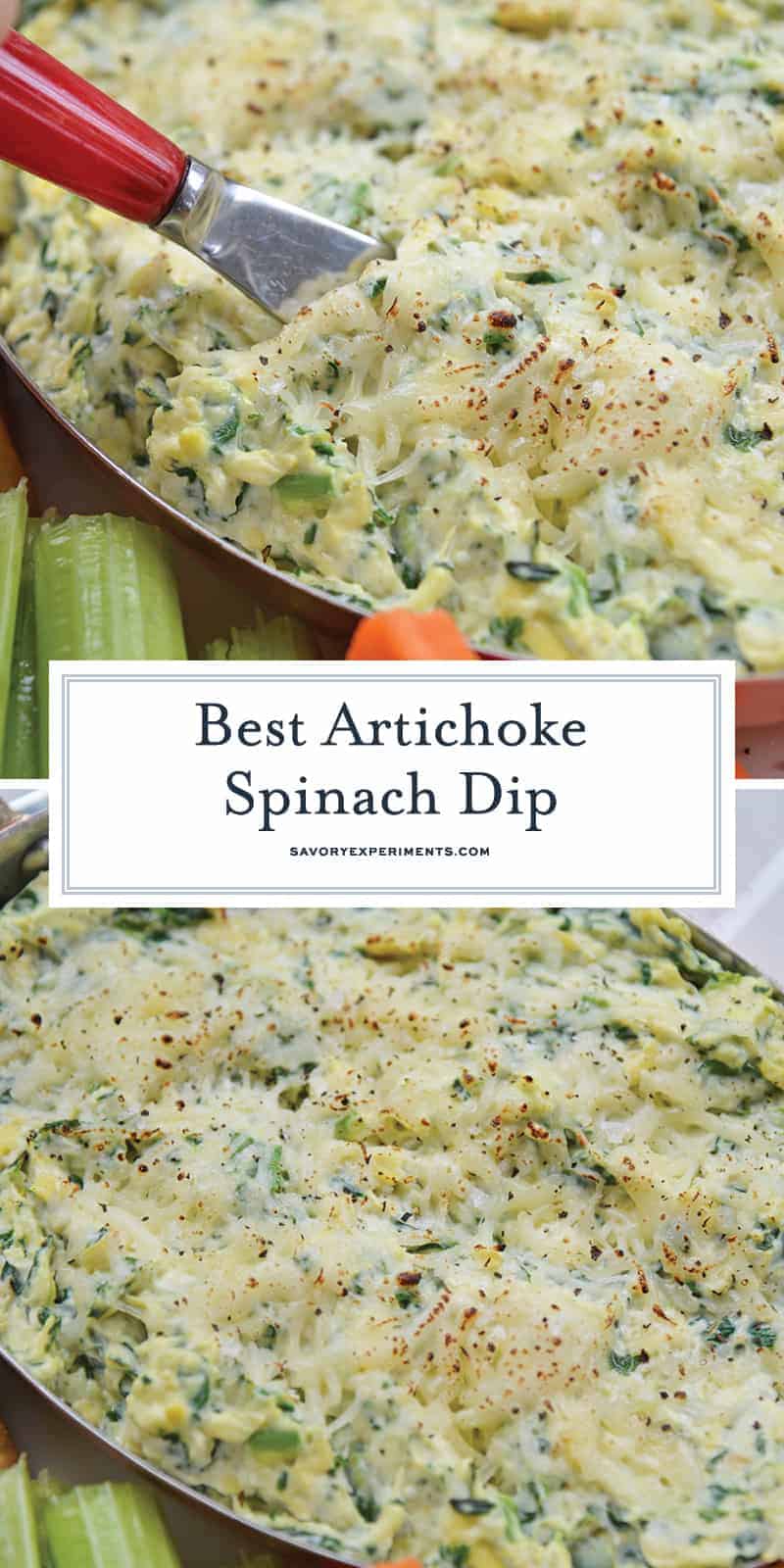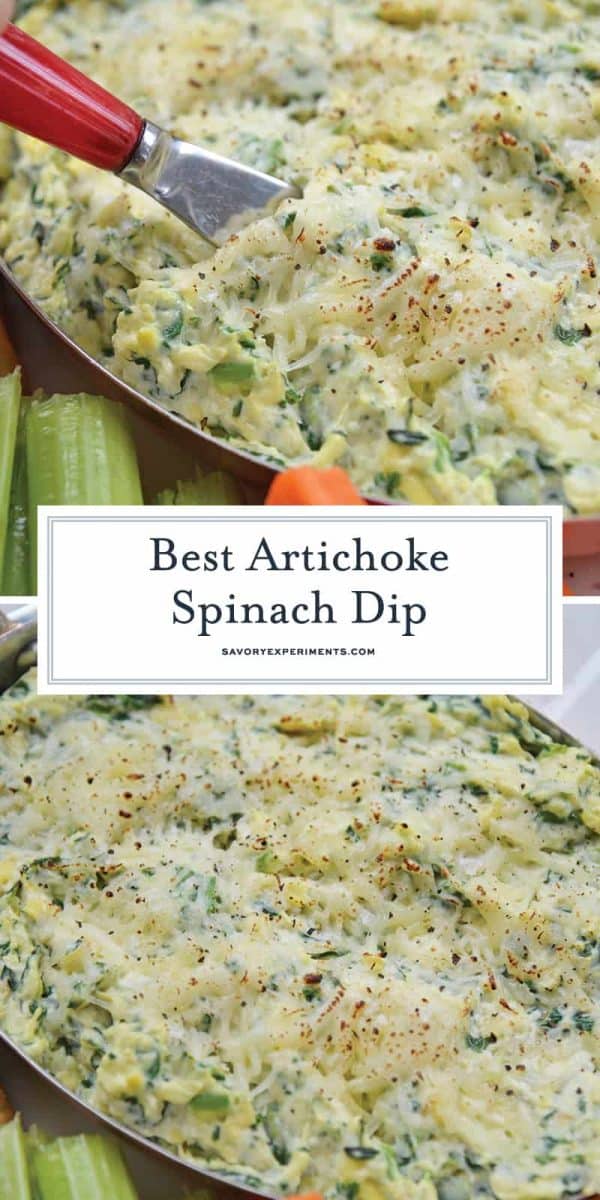 How to make Hot Spinach Artichoke Dip
Follow the exact recipe written below. If you are making it ahead of time, don't bake it until you are ready to serve.
You can also place it under the broiler for 1-2 minutes to let the extra cheese brown and bubble.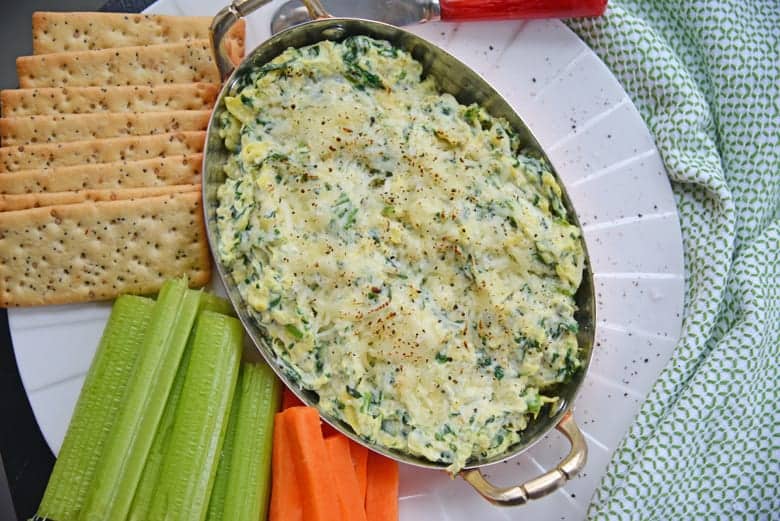 How to Make Cold Spinach and Artichoke Dip
Follow the recipe as written below, but fully mix in all the cheese. Cover and allow to rest in the refrigerator for at least 1 hour before serving. This allows the flavors to marry.
The only thing to be mindful of here is that Leek Soup Mix does have raw flour in it. If you are planning to serve cold, follow the cheater recipe for Leek Soup Mix above and omit the flour.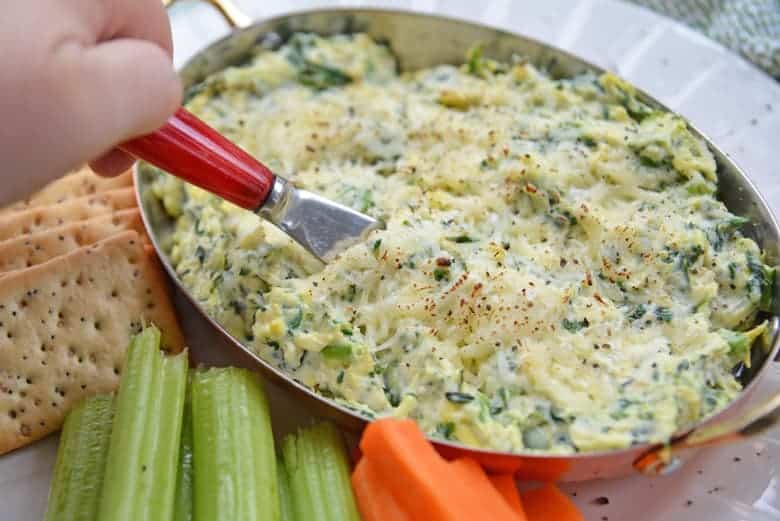 If you liked this dip recipe, check out some of my others!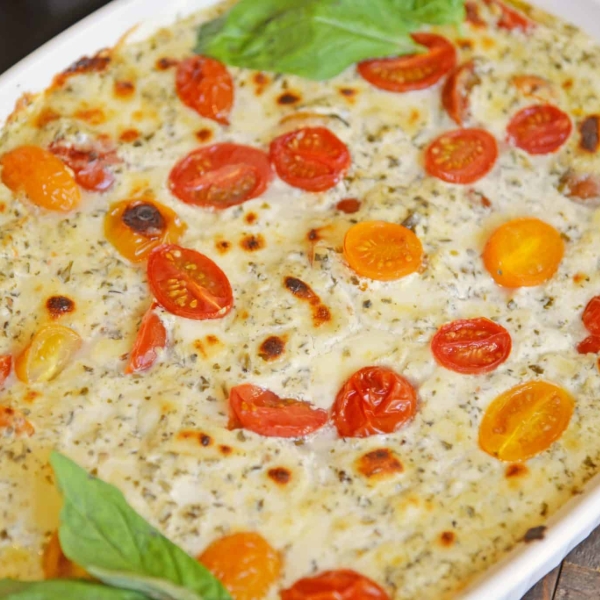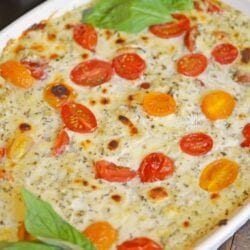 Hot Caprese Dip
Hot Caprese Dip is a party appetizer favorite using mozzarella, pesto and sweet tomatoes. An easy appetizer your guests will love!
View this recipe
Chili Cheese Dip
If you are a fan of dips you need to make this 3 ingredient Chili Cheese Dip, whips up in under 10 minutes and is fool-proof!
View this recipe
Questions you might have about how to make Spinach and Artichoke Dip:
Can I make spinach and artichoke dip ahead of time?
You sure can! In fact some folks might argue that it tastes better made the day before so the flavors can marry. However, I wouldn't suggest making it more than 1 day in advance.
How long is spinach and artichoke dip good for?
I would say you can keep it up to 5 days if kept in the refrigerator chilled and covered.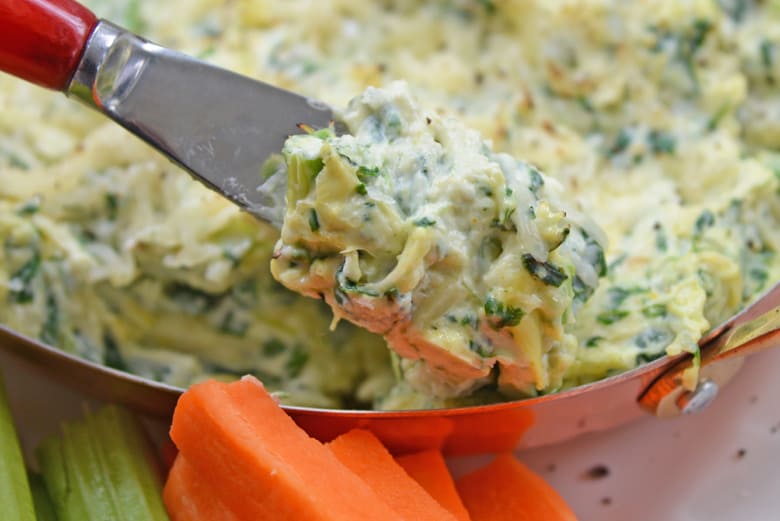 How long can spinach and artichoke dip be left out at room temperature?
FDA recommends that food be left out no longer than 2 hours.
Can I freeze spinach and artichoke dip?
Yes! Place in an airtight container and freeze for up to 6 months.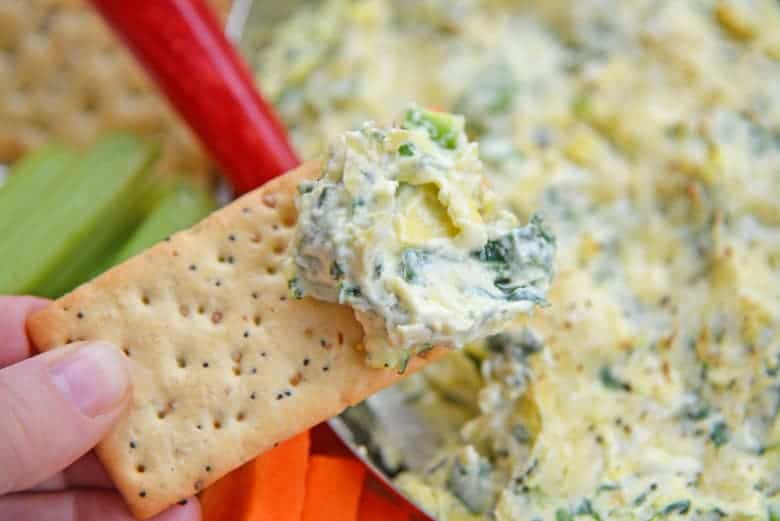 What can I substitute for leek soup mix?
You can use a few different mixtures instead of leek soup mix. The good news is that this recipe is very forgiving, so don't worry too much about how it will taste.
Dry Leek Mix Recipe:
2 teaspoons flour
1 teaspoon garlic powder
1 teaspoon onion powder
1 tablespoon minced dried onion
1/2 teaspoon fine sea salt
Dash turmeric (for color)
You can also add 2-3 tablespoons of freshly chopped leeks or scallions (green onions.)
Can I use fresh spinach?
Use fresh spinach, but cook it to wilt it down first and make sure to wring out as much water as possible.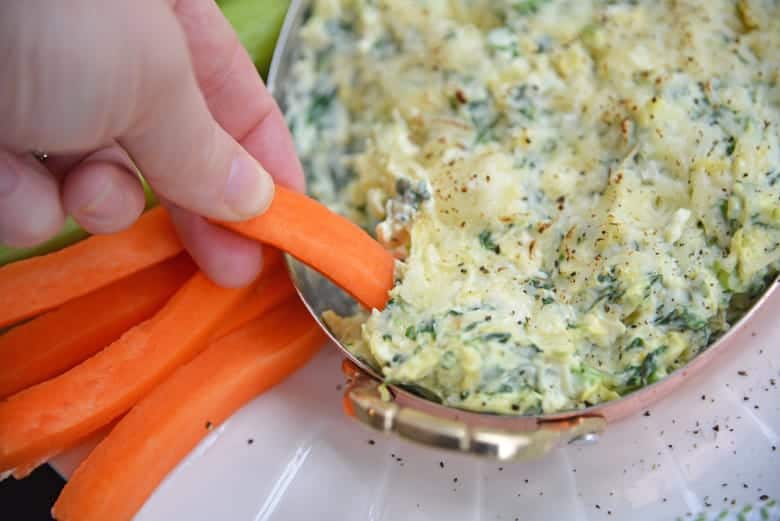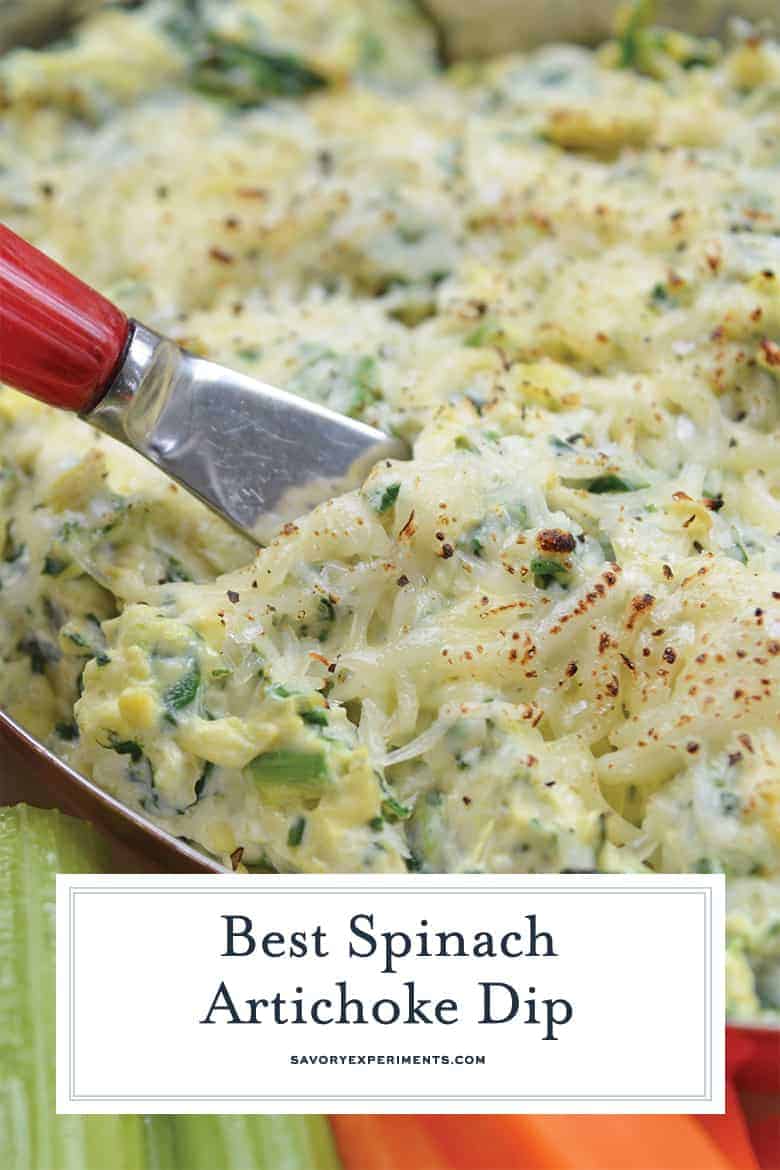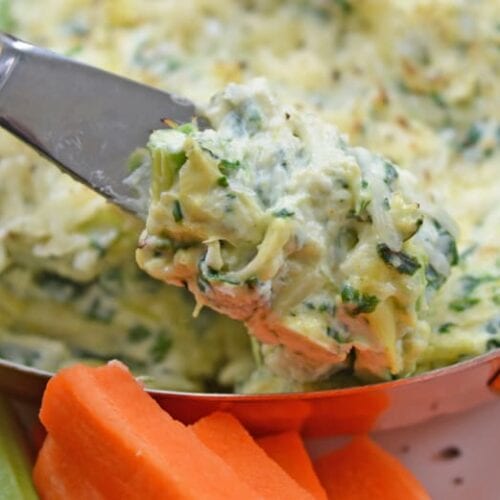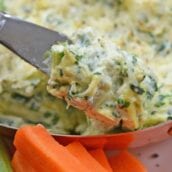 Creamy Spinach and Artichoke Dip
Creamy Spinach Artichoke Dip is the perfect party appetizer. Make ahead and serve chilled or hot with crackers, crostini or vegetables!
Instructions
In a large mixing bowl or the bowl of a stand mixer fitted with a paddle attachment, blend the cream cheese and mayonnaise until smooth.

Using a tea towel or heavy duty paper towels, squeeze as much moisture out of the spinach as possible, until it is near dry.

Add the spinach, artichoke hearts, leek soup, garlic, salt, pepper and lemon juice, blend until combined.

Transfer mixture to a serving dish. Cover and refrigerate for 1 hour.

Serve cold or if you prefer yours hot, sprinkle with Swiss cheese and bake at 350 degrees for 15 minutes or until cheese is bubbly.

If you've tried this recipe, come back and let us know how it was!
Nutrition
Calories:
171
kcal
,
Carbohydrates:
3
g
,
Protein:
2
g
,
Fat:
16
g
,
Saturated Fat:
5
g
,
Cholesterol:
24
mg
,
Sodium:
459
mg
,
Potassium:
107
mg
,
Fiber:
1
g
,
Sugar:
1
g
,
Vitamin A:
3350
IU
,
Vitamin C:
8.3
mg
,
Calcium:
56
mg
,
Iron:
0.8
mg