When I'm trying to choose a meal to serve for special occasions like birthdays and holidays I almost always look for a beef recipe and this garlic and herb roast beef tenderloin is a hit every time.
This recipe works for gatherings for a couple reasons, not the least of which is that it's fairly easy and simple yet yields enough to feed more than a few family members. I also love it because it's such an elegant dish.
What is Roast Beef Tenderloin?
Tenderloin is one of the most desirable pieces of beef — it comes out tender and juicy every time. For this reason, it's great for cooking at a party since you'll get a little grace even if you get back to it a few minutes late.
It comes from the loin area- right above the top and bottom sirloin (yes, the tenderloin is above the top sirloin). It gets its name from being so tender despite being lean. The muscle is not weight-bearing and thus contains less connective tissue, which makes it tender.
Tenderloin is expensive because it is so easy to cook, so tender and it accounts for such a small portion of the cow, only 1.5% or less in total. You can only get two cuts of beef tenderloin per cow.
Whether you're looking for a delicious dish that will grace your holiday table or an easy but elevated weeknight dinner that yields plenty of leftovers for the following day, beef tenderloin is sure to please!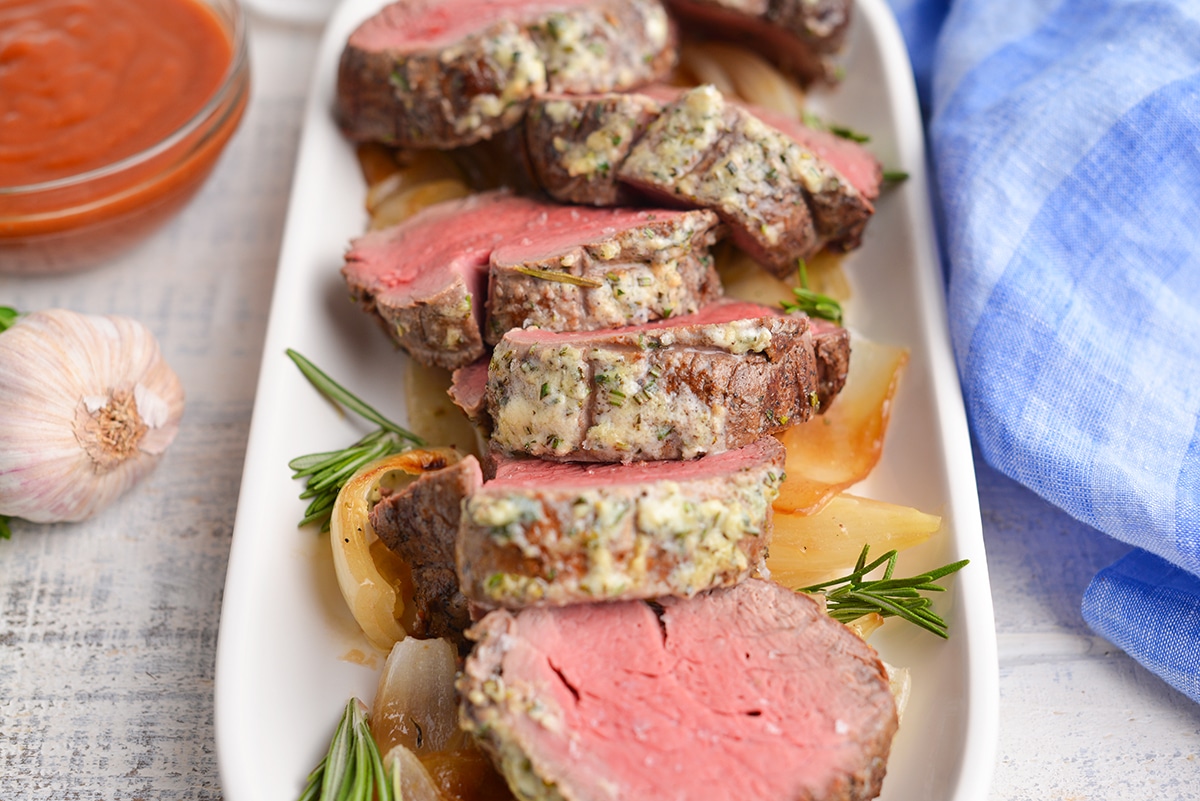 How to Tie a Tenderloin
Tying tenderloin is an important part of achieving the perfect roast beef. It keeps the beef even so that it cooks uniformly and it also prevents it from spreading out while roasting.
To tie the roast beef, you will need a long string of kitchen twine and shears. Then, follow these easy steps:
Place the beef on a cutting board horizontally.
Wrap the kitchen string once around the end of the roast and tie a knot.
Then, create a loop by wrapping the twine around your hand.
Loop the wrapped twine around the tenderloin.
Repeat, placing the loops about one inch apart from each other until the entire roast has been wrapped.
Tie a knot at the end to secure the twine and snip off any excess.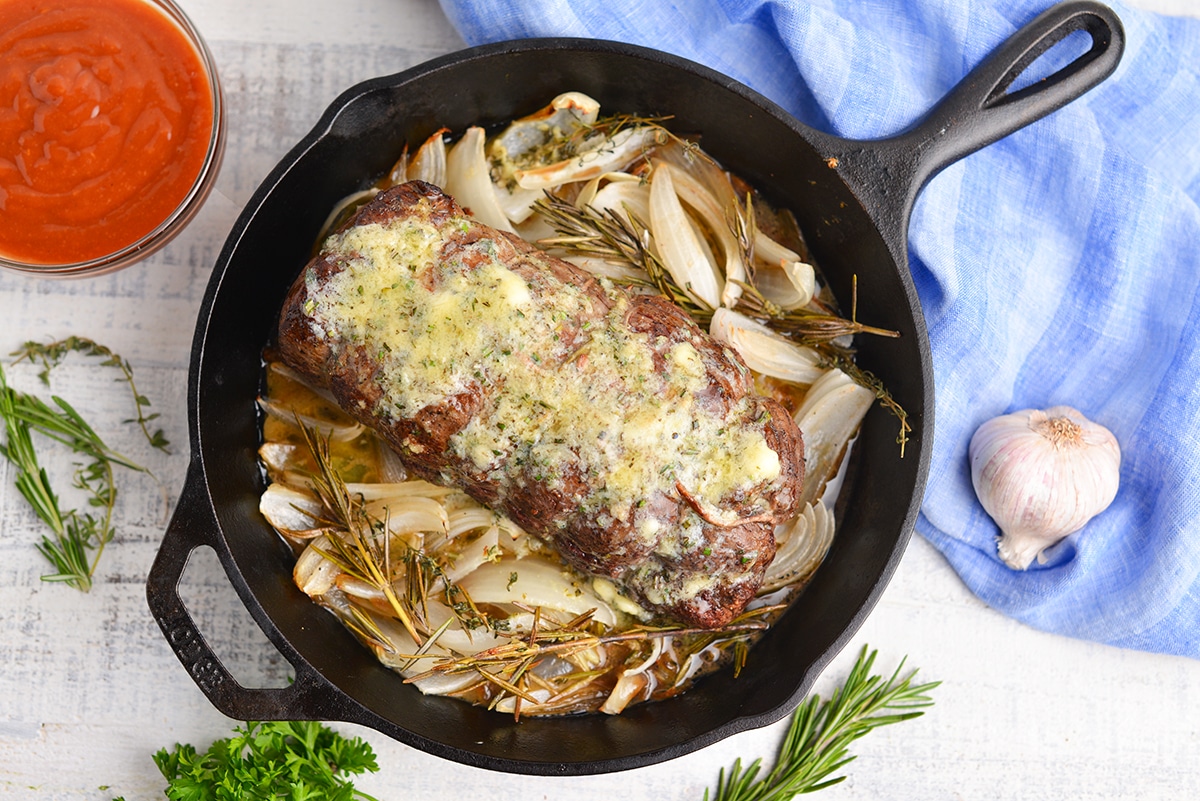 Tenderloin vs Filet Mignon
Some people may think that these are one and the same. However, tenderloin is the entire cut of the tenderloin muscle from the cow while filet mignon is a cut that comes from the roast beef tenderloin.
Generally speaking, a roast is any cut that serves multiple people whereas a steak is for a single person. So a tenderloin is actually a roast and a filet mignon is a steak.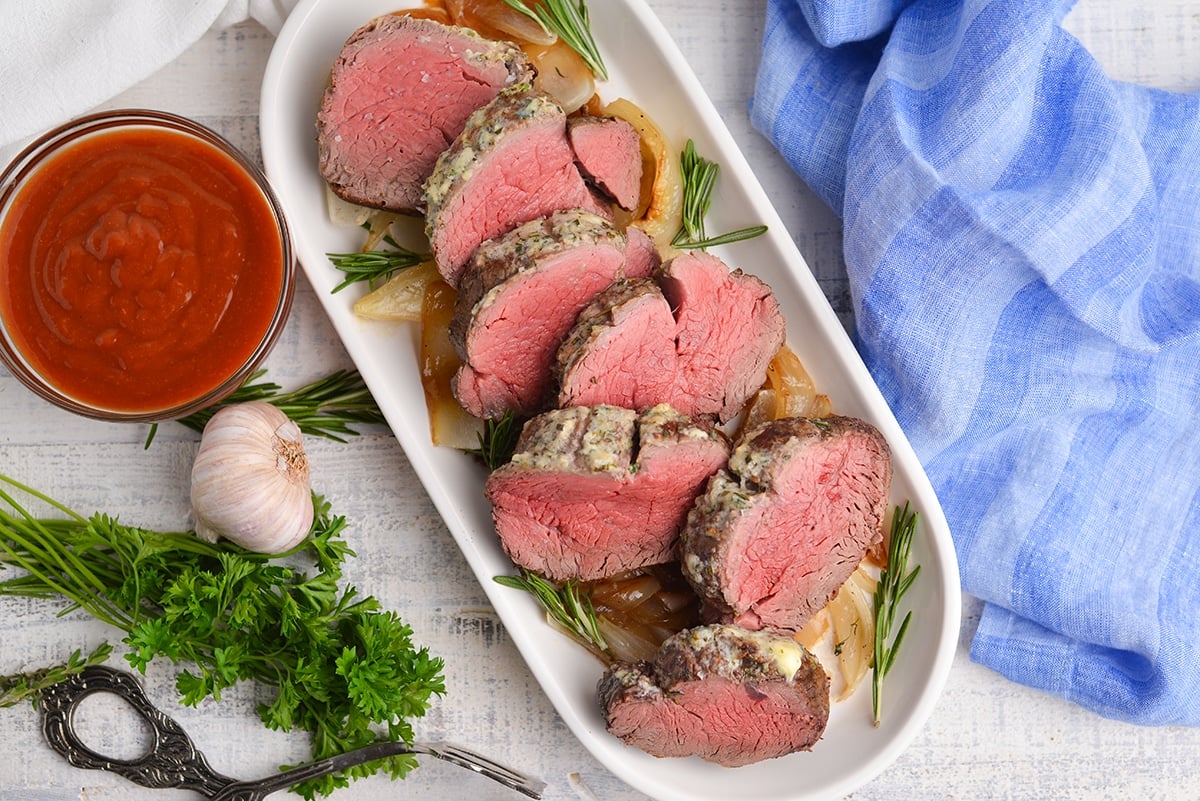 Importance of Browning Roast Beef Tenderloin
While it may seem like just an extra step, it's important to brown the beef before roasting. This helps to create that gorgeous crust.
It chemically changes the protein and adds acidity, which then improves the flavor and the texture of the beef.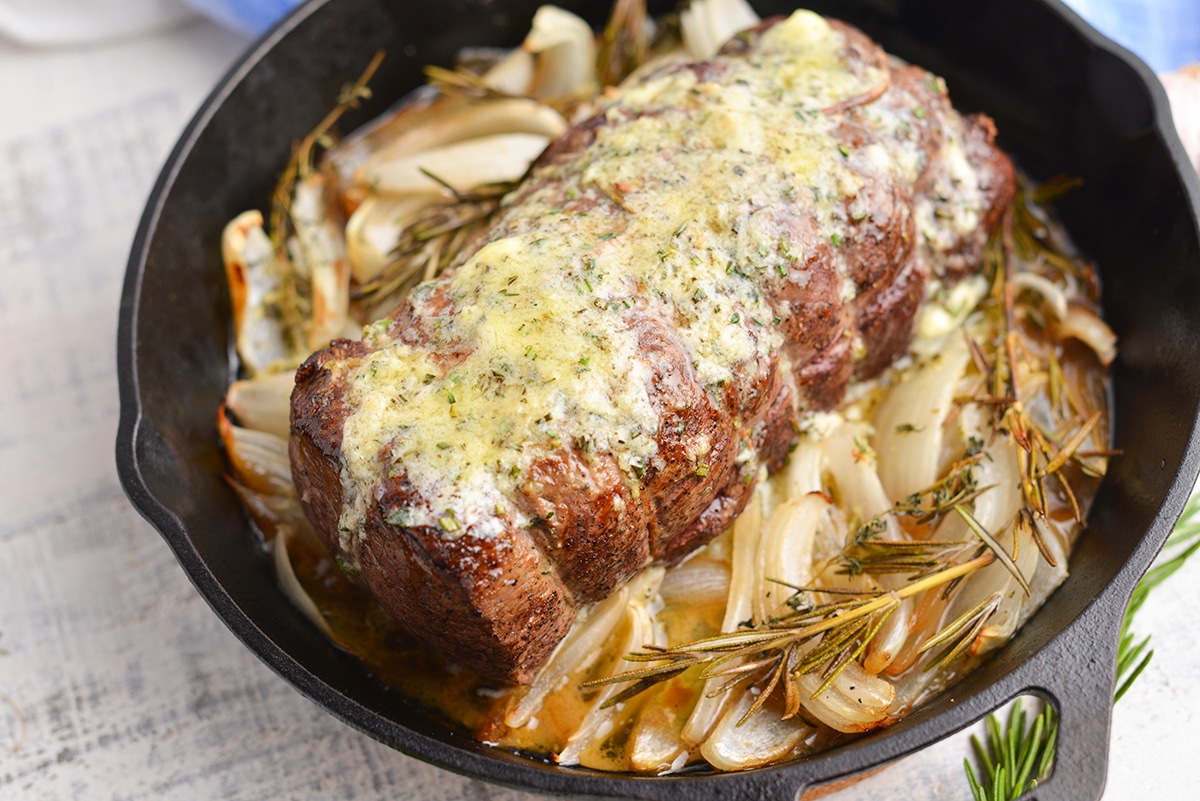 Why You'll Love Herb and Garlic Roast Beef Tenderloin
Beautiful – This herb studded roast is a show-stopper. For any meal, from holiday occasions to simply having friends or family over for a casual gathering, this will wow all of your guests.
Flavorful – The herbs impart earthiness in this dish.
Decadent – The compound butter helps to make this meat moist and delicious.
Simple – There are only a few easy steps necessary to make this delicious beef tenderloin.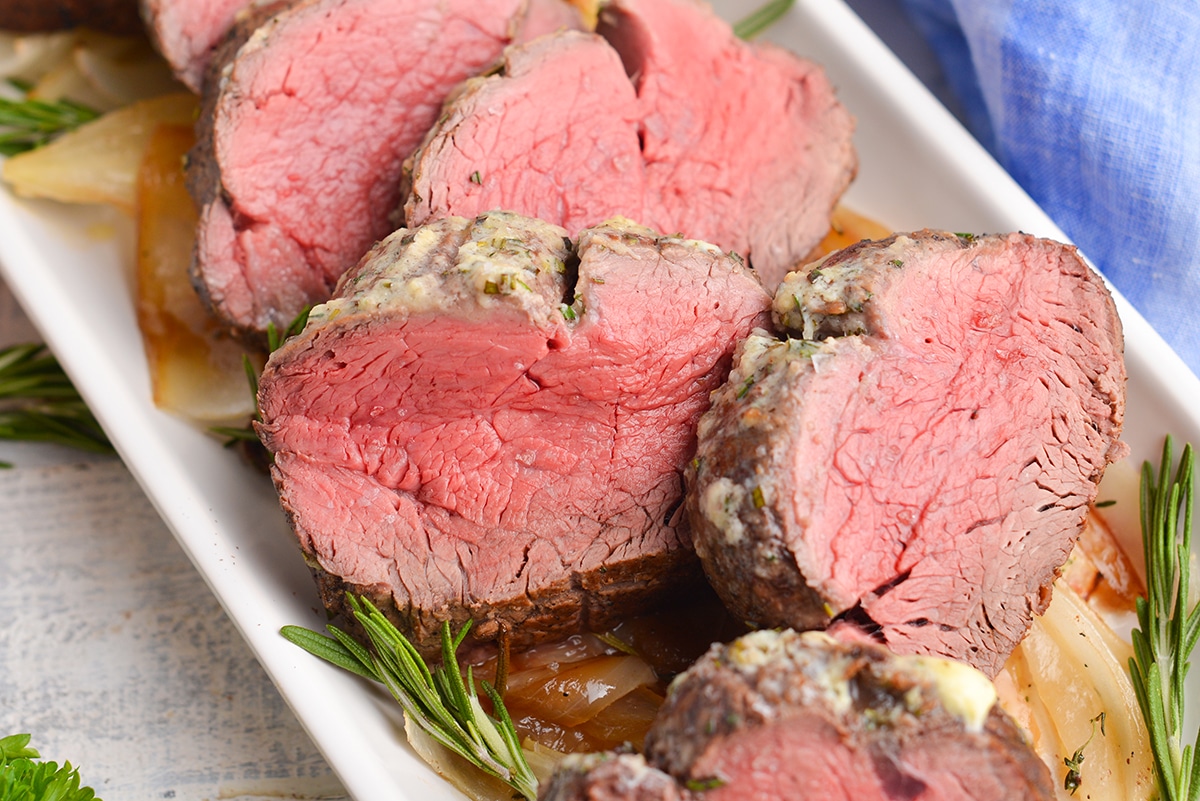 Ingredients
The ingredient list for this roast beef tenderloin is fairly short and also versatile.
For the Beef
Beef tenderloin – Make sure to trim the beef before tying.
Kosher salt – Coarse granules work best for this beef.
Black pepper – You can use the pepper in your shaker or grind it freshly.
Canola oil – This ingredient is necessary if you are using stainless steel in order to prevent the beef from sticking to the pan. If you're using a seasoned cast iron skillet you will not need the canola oil.
White onion – Dice or slice the onions uniformly so that they cook evenly.
Fresh thyme – Fresh sprigs are the best to use for this recipe to impart the full flavor of the herbs.
Fresh rosemary – Like the thyme, it's best to use the freshest rosemary you can find.
For the Compound Butter
Unsalted butter – Soften the butter so that it is easy to mix with the other ingredients.
Garlic cloves – Mince or grate the cloves of garlic. Ensure that they are uniform in size and small enough to mix easily into the butter.
Dijon mustard – Any brand will work but be sure to use dijon to impart an earthy, elevated flavor to the compound butter.
Fresh rosemary – Mince the rosemary so that the pieces are small and even in size.
Fresh thyme – The thyme should be minced so that it can be easily incorporated into the butter.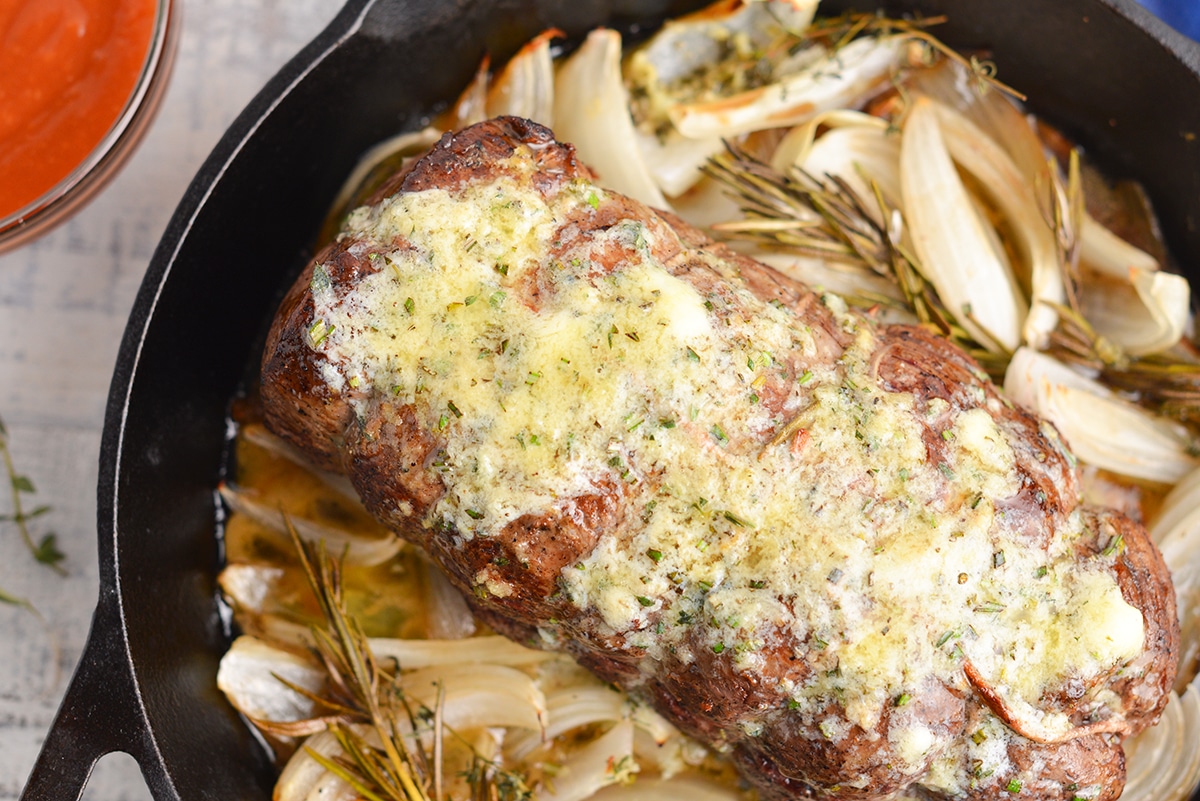 How To Make a Roast Beef Tenderloin
After trimming and tying the roast, rub it with salt and pepper, covering the surface evenly.
Set the roast aside.
Place the softened butter, garlic, mustard, rosemary, and thyme in a small bowl. Mash the mixture together until all ingredients are evenly incorporated. Set the mixture aside to remain at room temperature.
Heat a large oven-safe skillet (either cast iron or stainless steel) over medium high heat. Heat canola oil at this time, too, if using.
Using a large set of tongs, place the roast into the large skillet. Turn it periodically to brown each side of the roast.
Once all sides of the roast are browned, remove the pan from the heat.
Place onions in the pan with the roast around all sides.
Then, vigorously rub the sprigs of thyme and rosemary between your palms before also adding them to the pan.
Place beef in the oven and roast at the higher temperature briefly.
After lowering the temperature, spoon a small portion of the compound butter onto the top of the roast.
Continue roasting briefly, then spoon the remaining compound butter over the top of the roast. Adding the butter in stages helps to create the garlic herb crust.
Allow the beef to continue cooking until it reaches the desired internal temperature on your meat thermometer.
After removing the skillet from the oven, use aluminum foil to create a tent over the pan to let the meat rest.
When ready to serve, discard the thyme and rosemary sprigs and slice the beef. Serve with the roasted onions.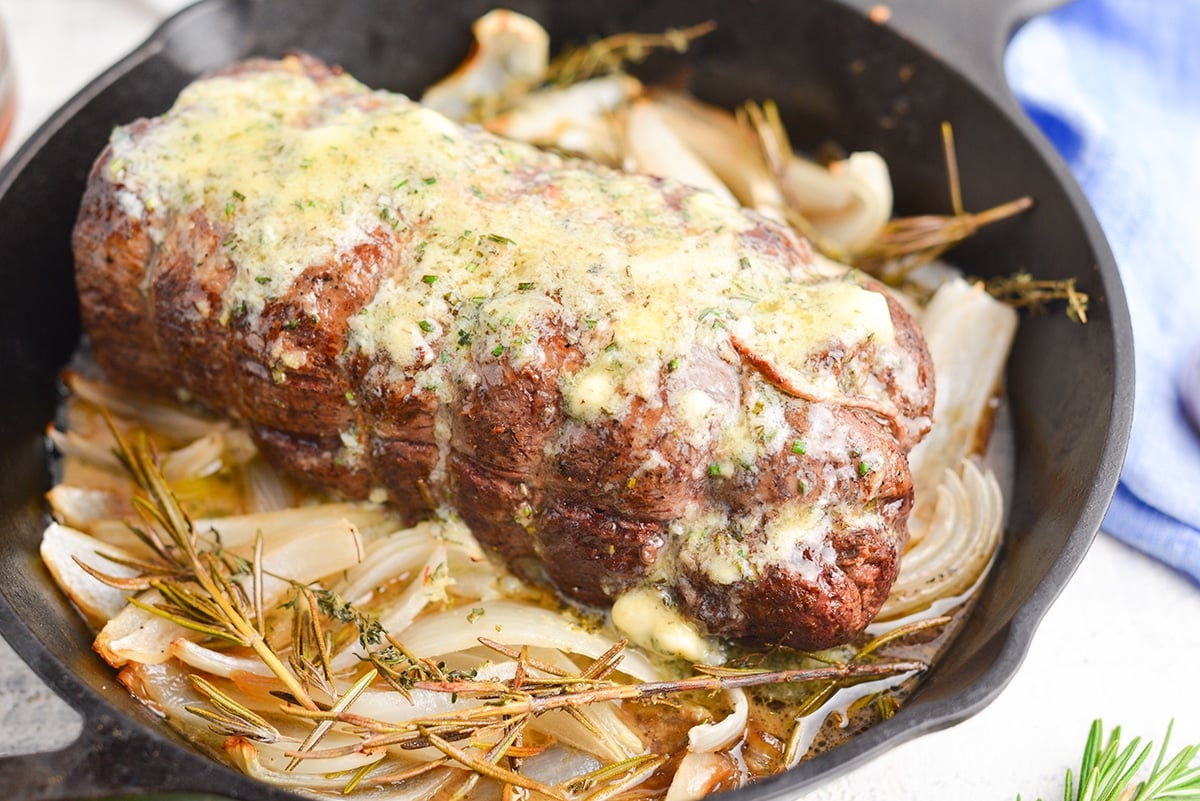 Variations
This beef tenderloin recipe is simple and easy, but you can switch things up to make it uniquely your
Oil – Instead of canola oil, try olive oil, vegetable oil, or your favorite choice.
Onion– While we suggest white onion you can use any other that you prefer.
Dried spices – Fresh herbs and spices are always the best to use, especially for this recipe that relies on those aromatics. However, if you only have dried varieties on hand make sure to substitute appropriately to get as much flavor as possible. Other blends like Italian Seasoning or even my turkey rub, work well too!
Other spices – There are tons of spices that work well with a roast beef tenderloin. Try cumin, cinnamon, curry, or other spices that you love.
Grill – Instead of roasting an entire tenderloin, use this recipe to inspire some incredible filet mignon on the grill. Then, top with the compound butter while they're resting.
Sauces – Try serving a dip or sauce for the beef like a creamy horseradish sauce or a mushroom sauce or even a peppercorn sauce.
Side dishes – In addition to the onions, try serving this with mashed potatoes or vegetables like asparagus or roasted root vegetables.
Compound butter – Double the recipe for the compound butter and reserve some to use as a garlic butter spread for bread or veggies.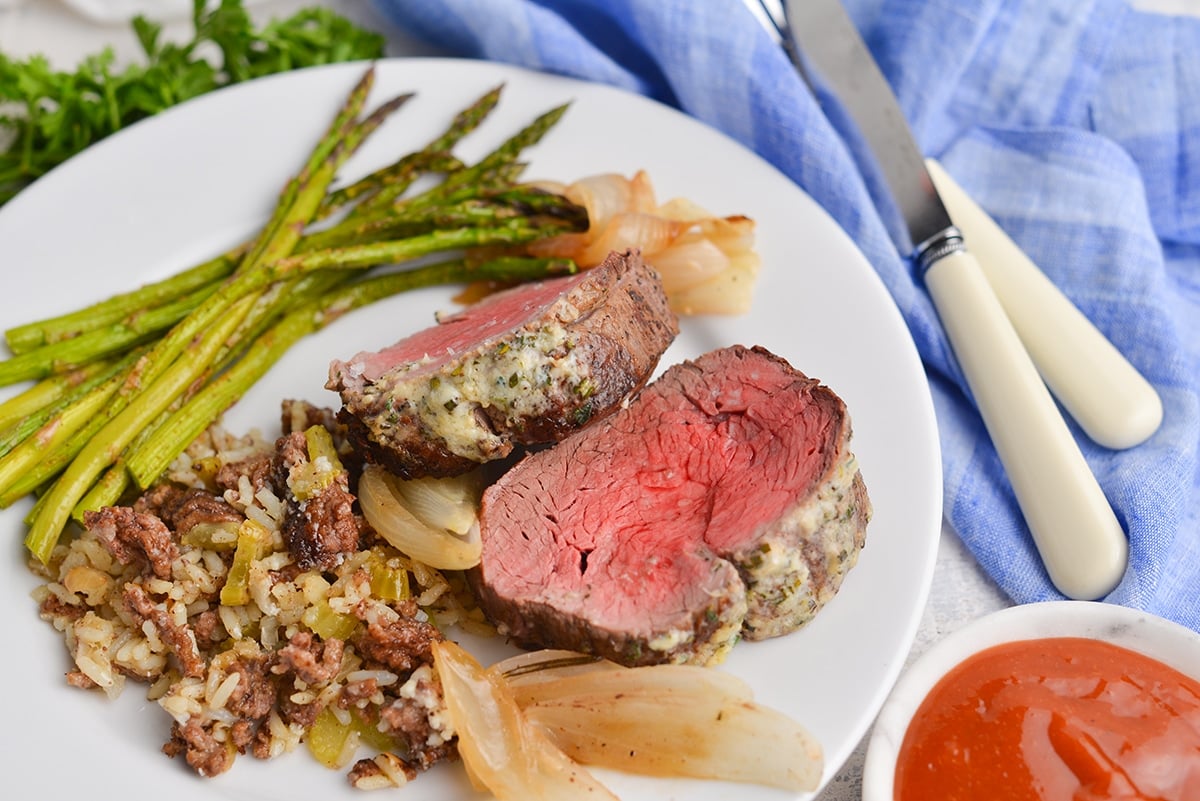 Serving Suggestions
You can serve the tenderloin with easy to make sides, too, from green beans or broccolini to mashed potatoes — or even a simple salad. And don't forget a good bottle of red wine, too.
The other great thing about this recipe is that it's perfect for snacking on or making sandwiches the next day. And if you save some of the herb mixture, you can add it to mayonnaise as a spread for sandwiches.
Storage, Make Ahead, and Freezing
Storage: Roast beef is a great meal to make and store to eat later since you can put it in the refrigerator for a few days or freeze it. It can be a challenge to keep the same quality when you reheat, though, so repurposing it for sandwiches (especially an elevated cheesesteak) or snacks is easier than trying to recreate the original meal.
Sliced roast beef tenderloin can be stored for up to 3 days in the refrigerator in an airtight container. If you prefer to not slice the beef, you can wrap it in plastic wrap and store for the same amount of time.
Make-Ahead: You can apply salts and rubs to beef up to 24 hours before cooking. Just store it in the refrigerator and bring closer to room temperature before roasting.
Freezing: Store sliced roast beef in ziploc bags in individual portions in the freezer for up to 3 months.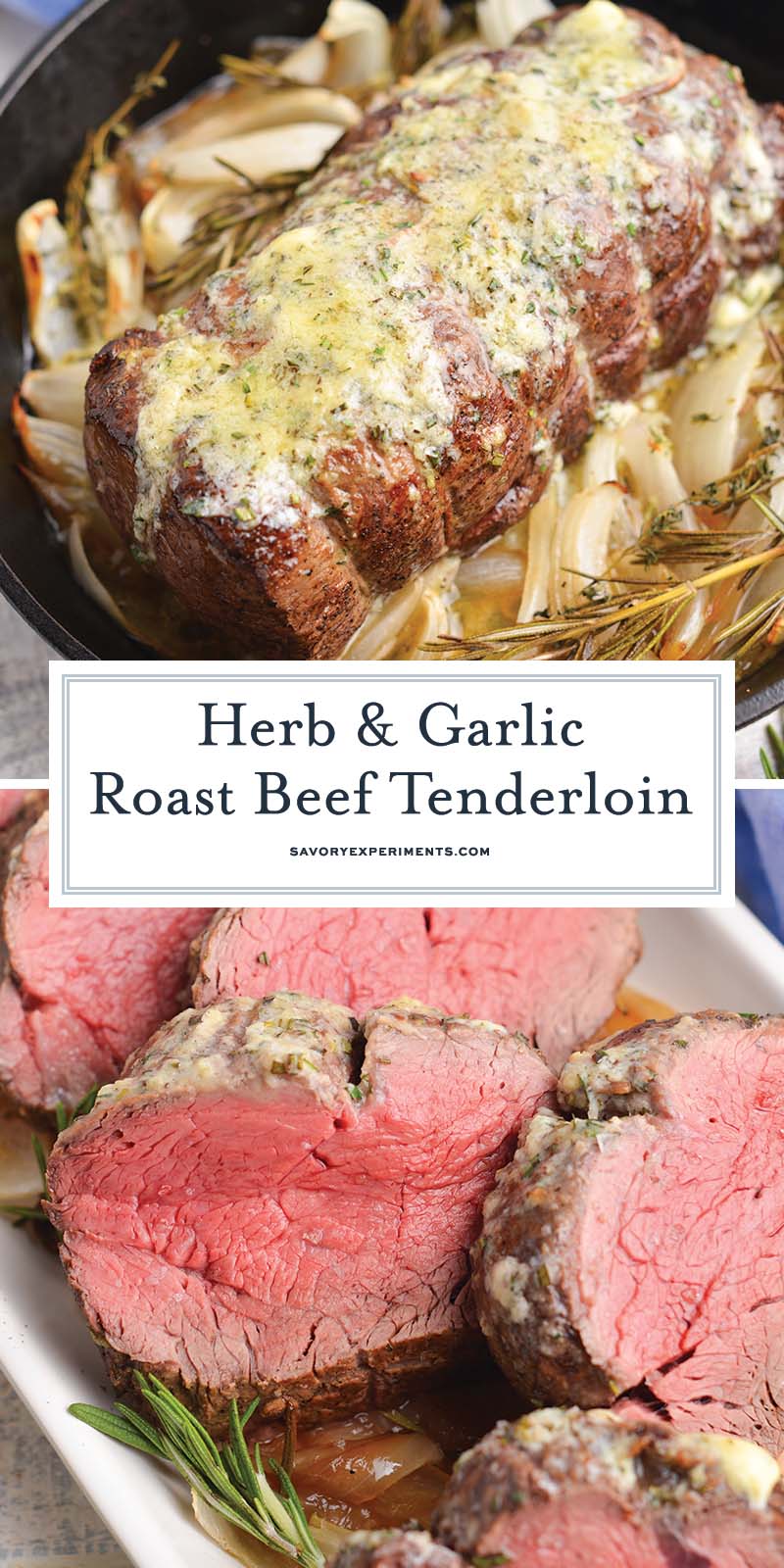 Other Beefy Dishes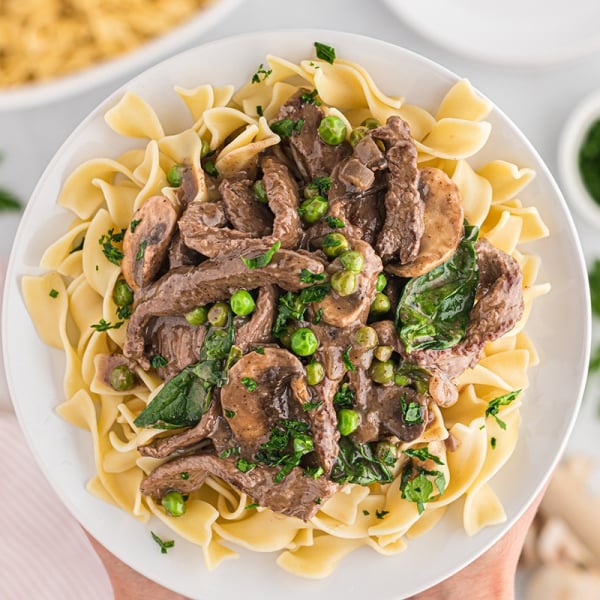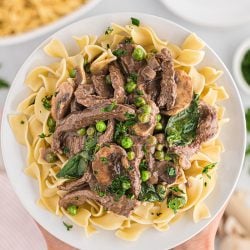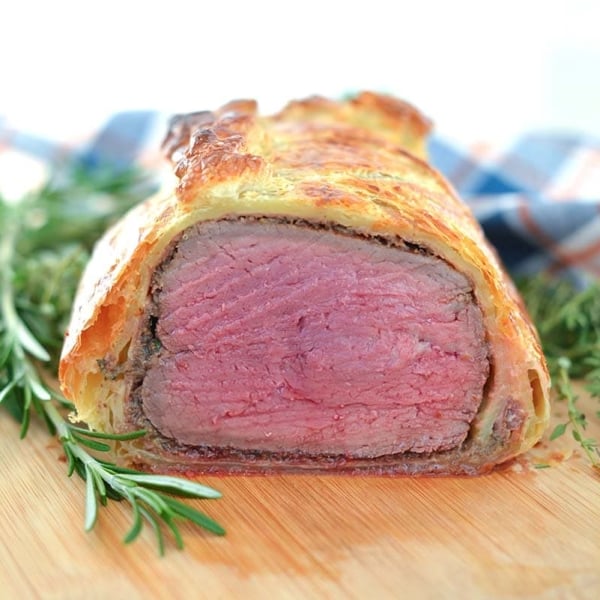 Easy Beef Wellington
Beef Wellington a classic dish for a special occasion. Tender beef tenderloin is smothered in Dijon mustard, mushroom, shallot and proscuitto before being baked in a delicate puff pastry.
See The Recipe!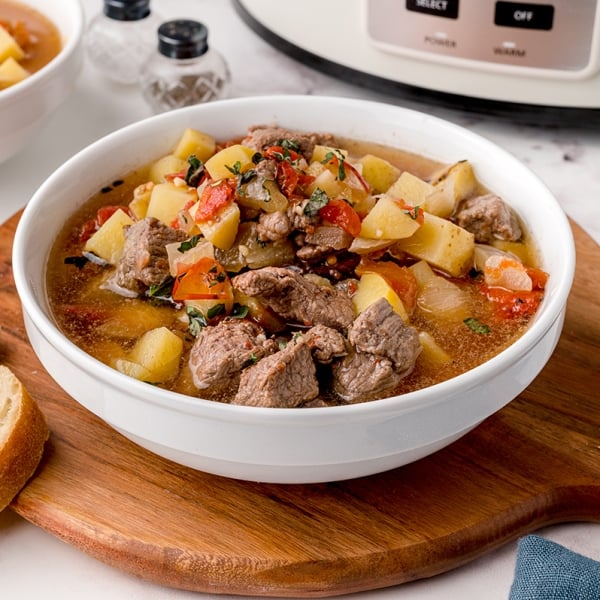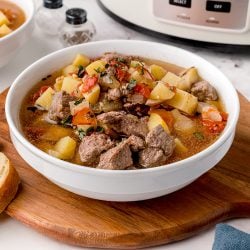 Slow Cooker Beef Stew Recipe
Beef Stew is one of the most iconic comfort foods and this version features tender beef, onions, potatoes, fire roasted tomatoes in a rich herb filled stew. This recipe can be made in the slow cooker or Dutch oven.
See The Recipe!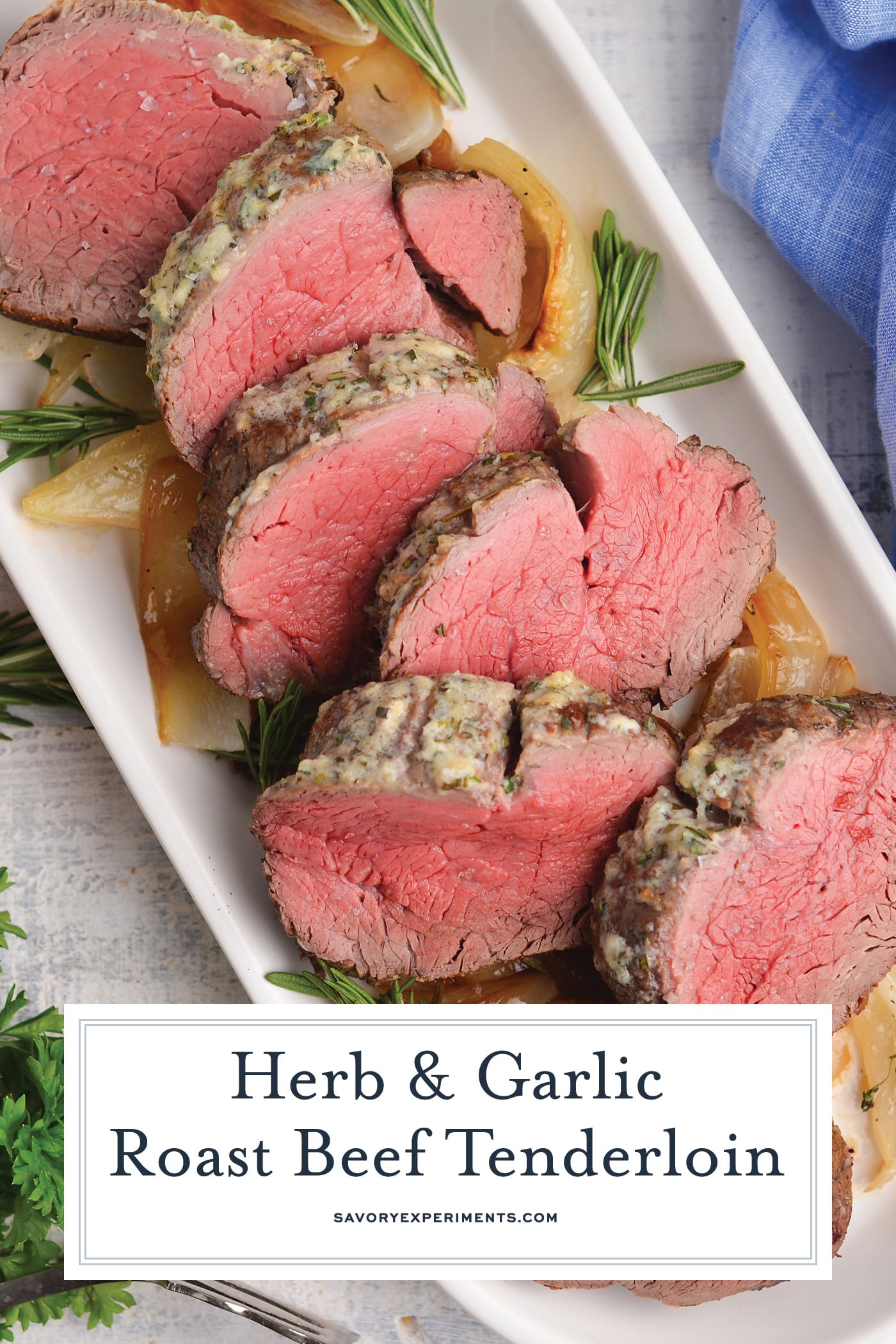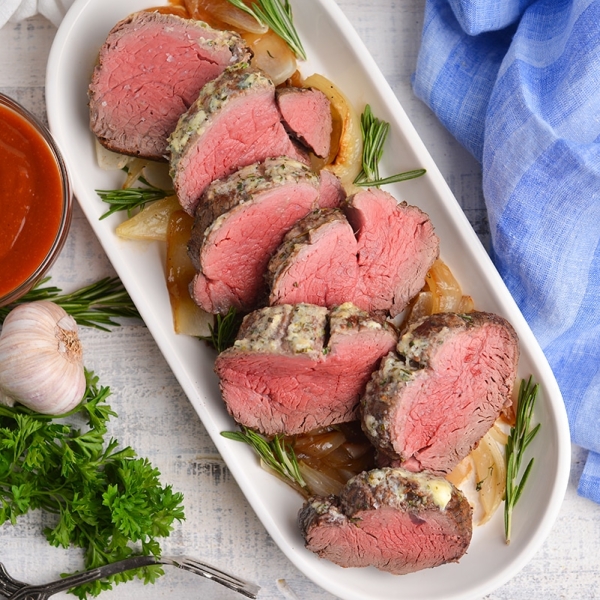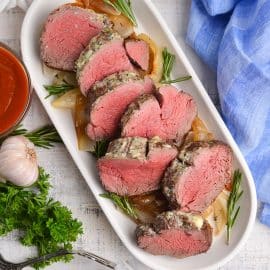 Herb and Garlic Roast Beef Tenderloin Recipe
If you're looking for an elegant dish for special occasions or holidays, this garlic and herb roast beef tenderloin is for you.
Instructions
Trim and tie the beef tenderloin to attempt to make it as uniformly sized as possible. Rub the roast with salt and pepper. Set aside for 30 minutes.

Meanwhile, mash together the softened butter, garlic, mustard, rosemary and thyme. Set aside at room temperature until needed.

Preheat the oven to 425°F. Heat a large (12-inch or larger) oven-safe cast iron or stainless steel skillet over medium-high heat. If using stainless steel, use canola oil to prevent sticking. This isn't necessary using seasoned cast iron.

Brown all sides of the roast, turning on each side for 1-2 minutes. Remove from the heat.

Surround the roast with sliced onion. Rubbed the fresh thyme and rosemary between your palms and add surround the roast.

Please into the oven and roast for 5 minutes. Then reduce the heat to 350°F. Top the roast with 2 tablespoons of compound butter. Roast for an additional 10 minutes, top with the remaining butter and roast for another 5 minutes. The exact time will depend on the desired degree of doneness and size of your roast. Test using a digital thermometer and remove 5°F before the desired temperature.

Tent loosely with aluminum foil and rest for 15 minutes.

Slice into 1 inch thick slices. Serve with the roasted onion slices and discard aromatics.

If you've tried this recipe, come back and let us know how it was in the comments or star ratings!
Nutrition
Calories:
728
kcal
,
Carbohydrates:
3
g
,
Protein:
42
g
,
Fat:
60
g
,
Saturated Fat:
26
g
,
Polyunsaturated Fat:
3
g
,
Monounsaturated Fat:
24
g
,
Trans Fat:
0.4
g
,
Cholesterol:
184
mg
,
Sodium:
704
mg
,
Potassium:
733
mg
,
Fiber:
1
g
,
Sugar:
1
g
,
Vitamin A:
326
IU
,
Vitamin C:
3
mg
,
Calcium:
30
mg
,
Iron:
6
mg