This lasagna rolls recipe is a great way to bring the whole family together for dinner any day of the week! Mexican Lasagna Rolls are packed full of colorful ingredients and amazing flavors with a mouth watering taste!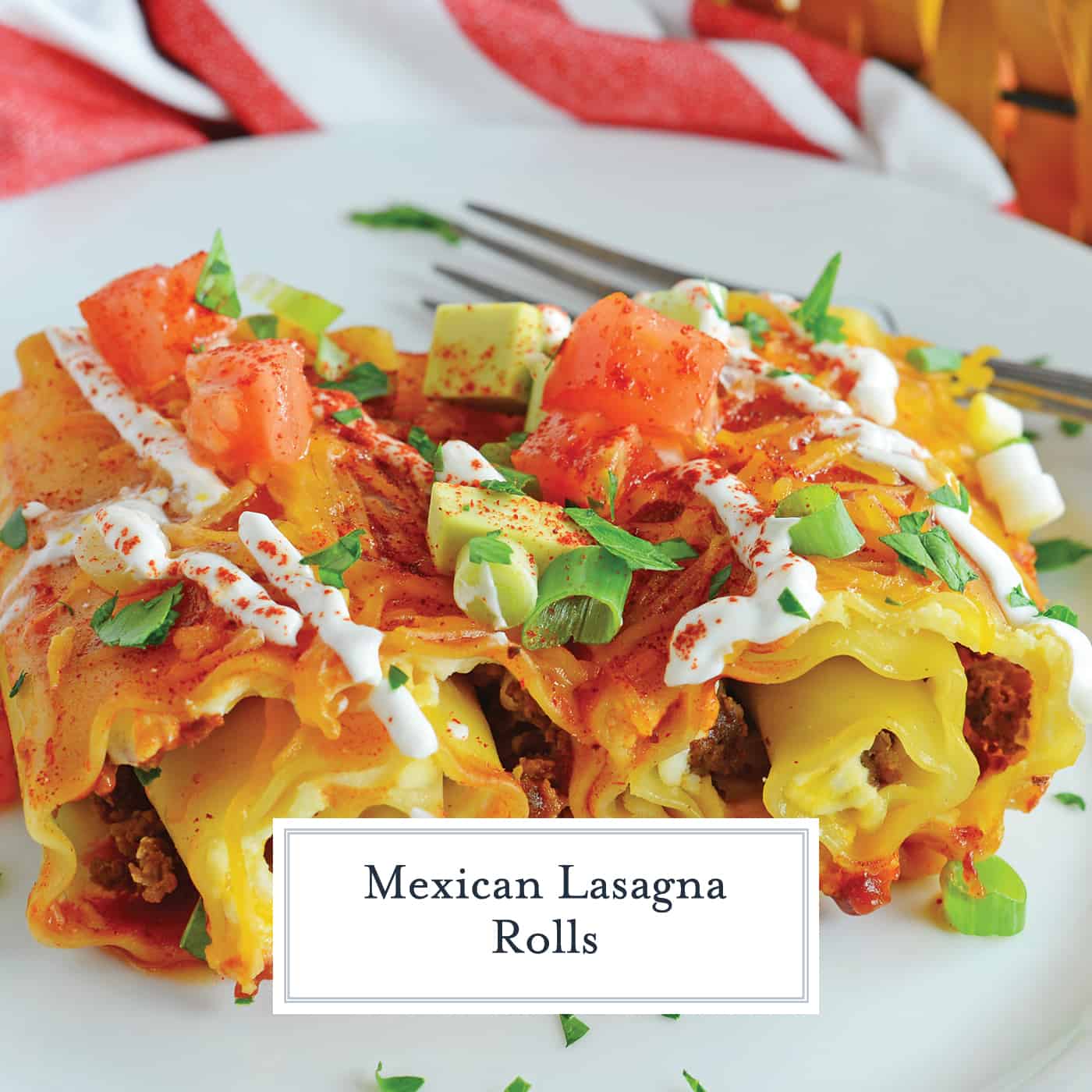 Mexican Lasagna Rolls are the best marriage of taco lasagna and traditional lasagna! They're so easy to put together, even the kids can help make them!
These Mexican Lasagna Rolls are a mix between traditional Italian lasagna and tacos. Ricotta cheese blended with sharp cheddar and ground beef are rolled into each lasagna noodle.
They are smothered in enchilada sauce and baked to perfection. Before serving, top with diced avocado, tomato, scallions, sour cream and a dusting of chile powder!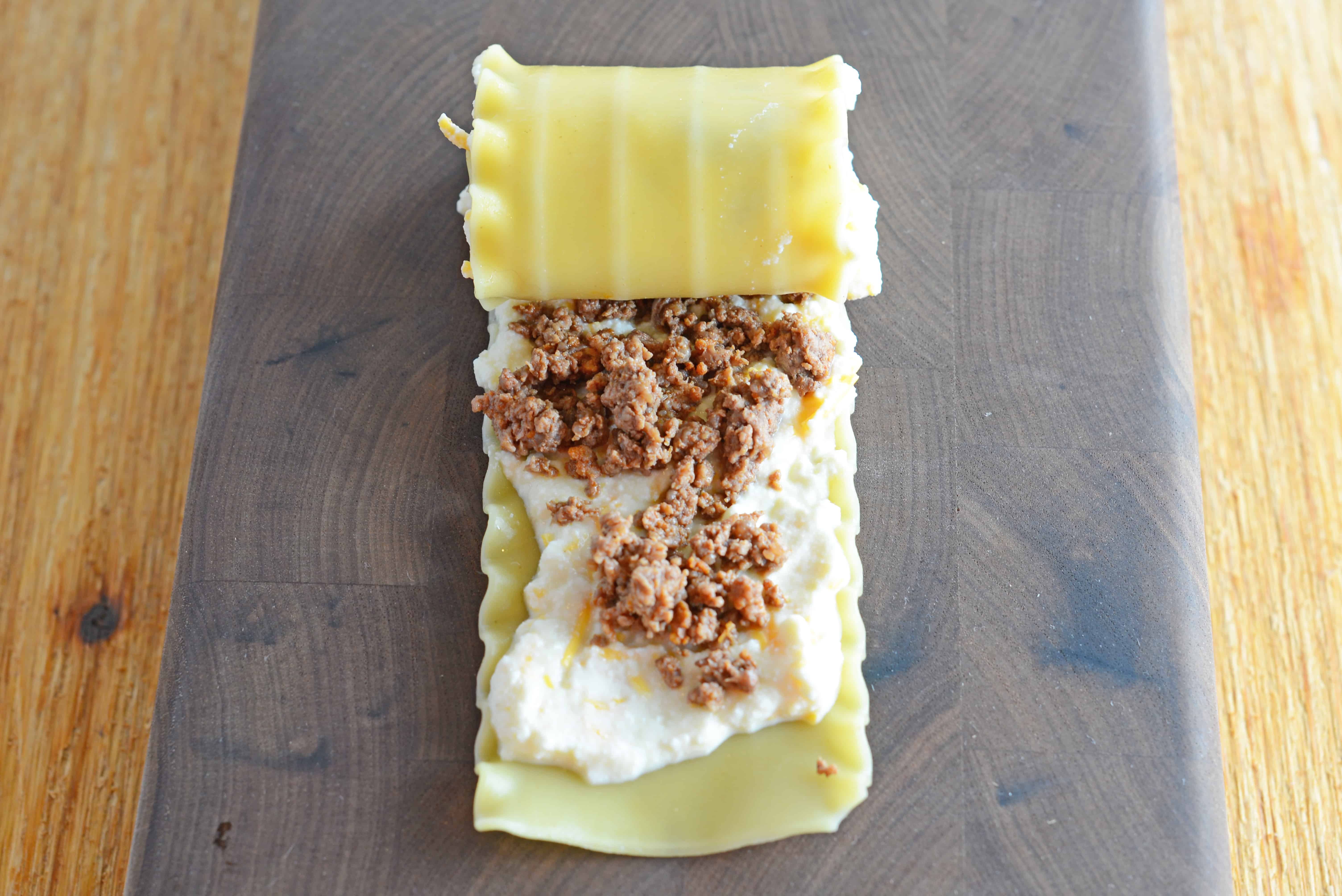 I can't think of anything better than combining my two favorite ethnicities of food, Italian and Mexican. Yummy!
People these days go mad for tacos. I mean taco tuesday? How about tacos any day of the week?! You can count me in cause I'll definitely be there!
Most people aren't aware that Mexican food really came into America during the 50's to the 70's. Tacos were the first Mexican dish to be introduced in the 20th century.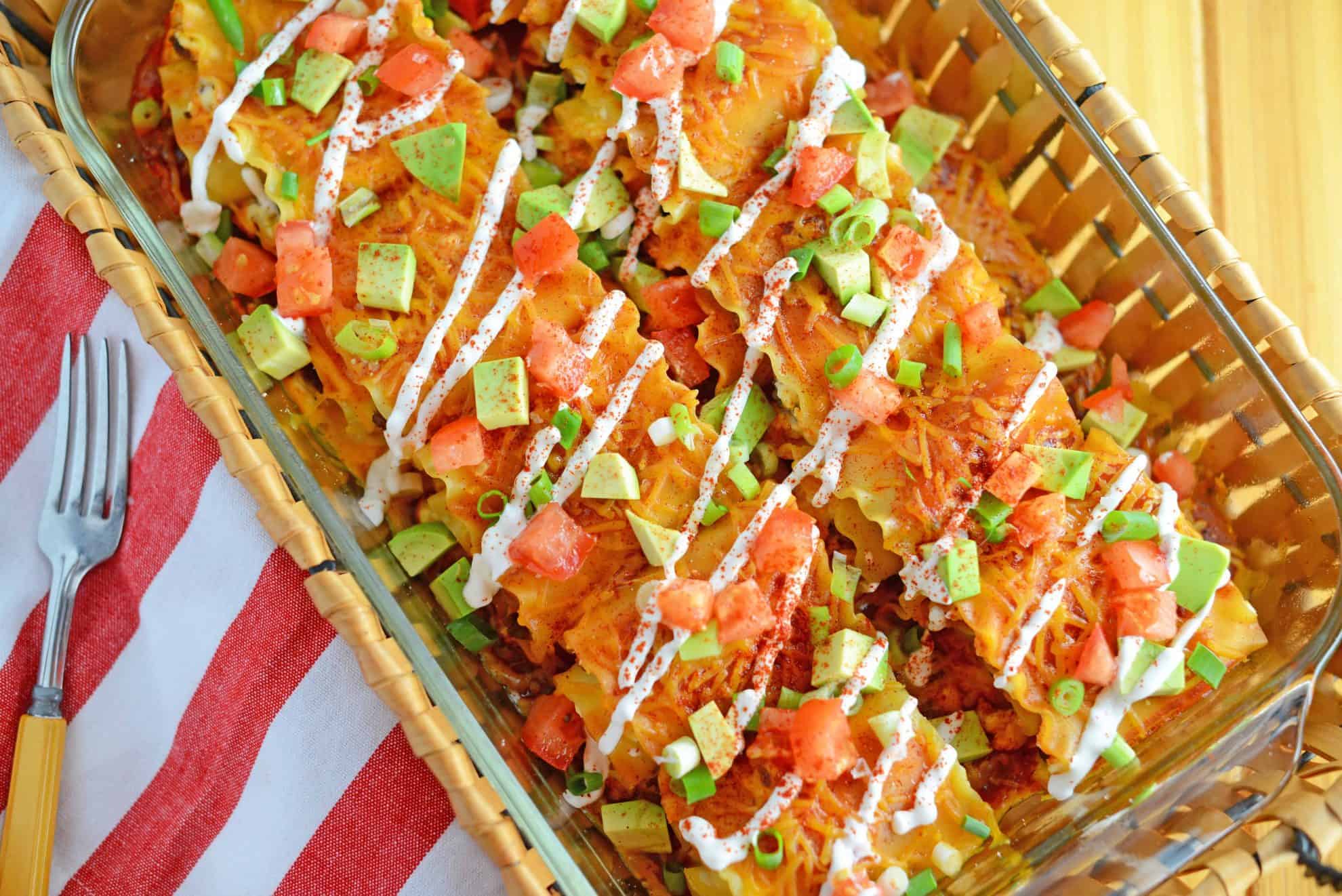 Since most of the immigrants were from central Mexico, that's where corn tortillas were primarily used. The corn tortillas were stuffed with a variety of fillings which was then folded and is what we know as a taco today.
This Mexican Lasagna Rolls recipe is so easy to prepare you can even let the kids help in the kitchen. After the meat is browned and cooled, let them spread on the ricotta and roll up their dinner.
After cooking, they can dress their own Lasagna Rolls with desired toppings.
I like making enchilada sauce at home, taking only 10 minutes, so I can adjust the heat, but you can certainly buy a mild store brand. If you are a fan of spicy, you can also add pepper jack cheese and hot sauce to your ricotta blend.
I have also used a spicy ground pork and chorizo instead of ground beef.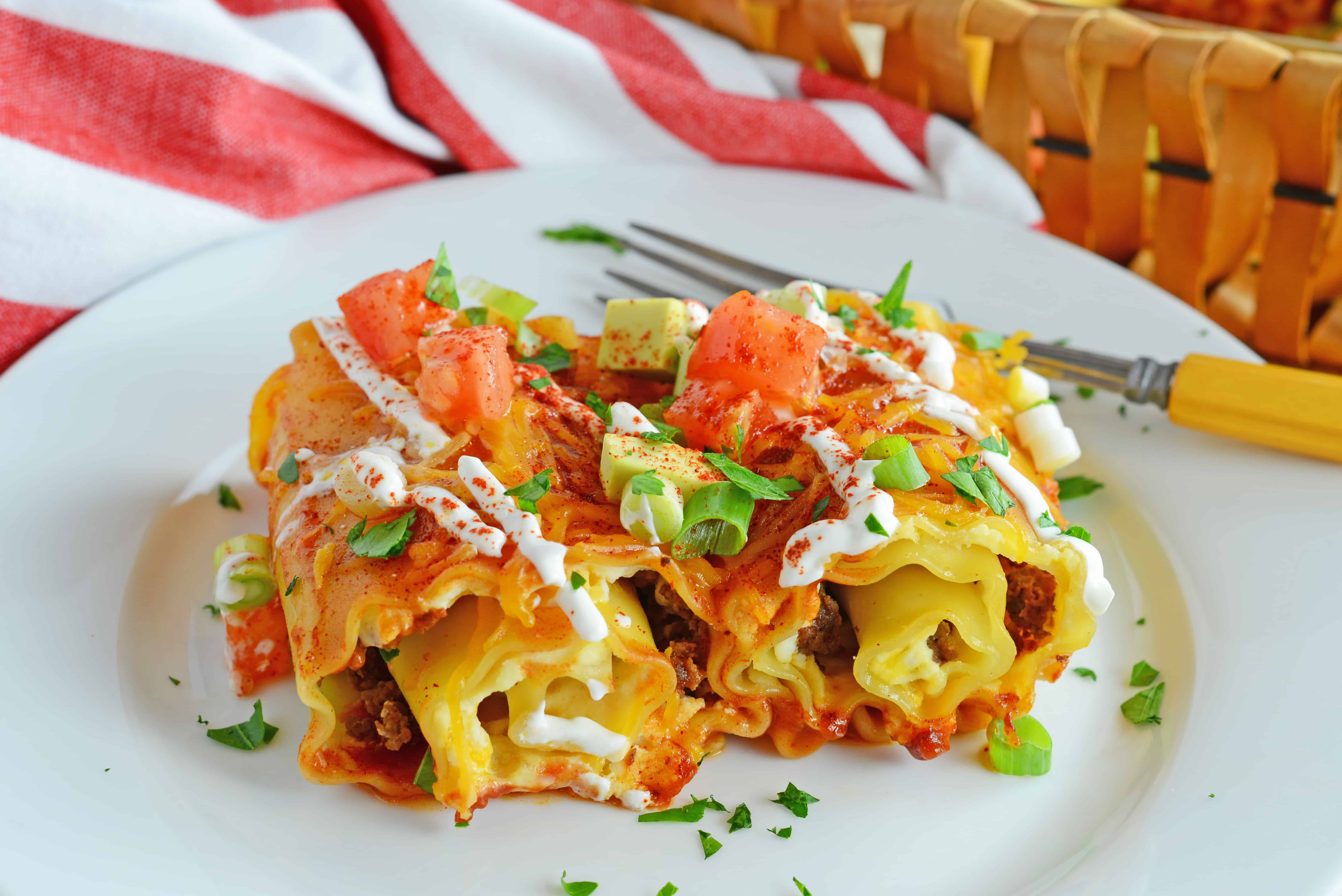 Add as many vegetable toppings as you like to your Mexican Lasagna Rolls, including salsa or even guacamole!
If you are looking for a more traditional, non-traditional lasagna… try my Green Chile Chicken Lasagna! One thing is for sure, your family will love Mexican Lasagna Roll Ups for dinner!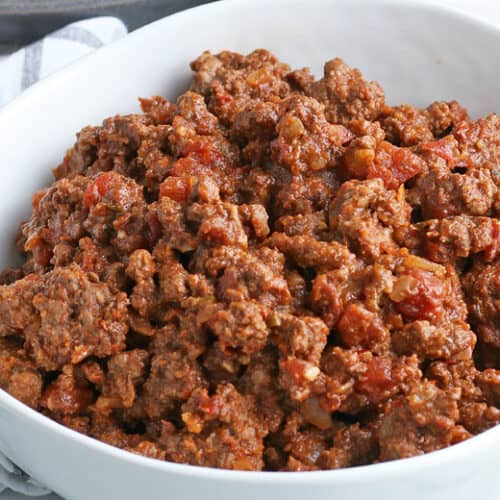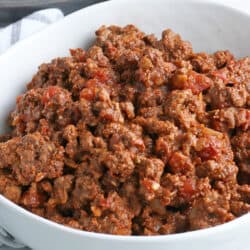 Tater Tot Nachos (Totchos)
Loaded Tater Tot Nachos, also known as Totchos, are the ultimate game day snack. Smothered with cheese, chicken, pico and green chiles, they are sure to make your guests happy!
See The Recipe!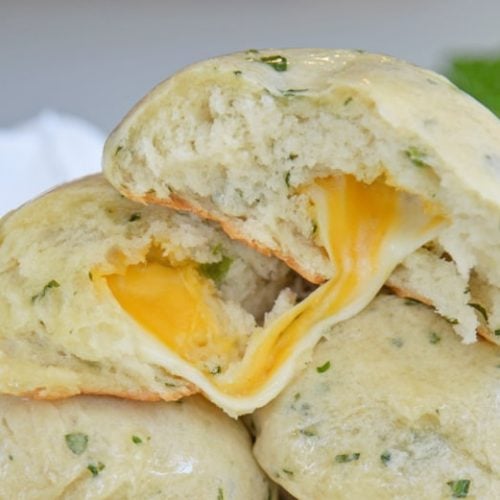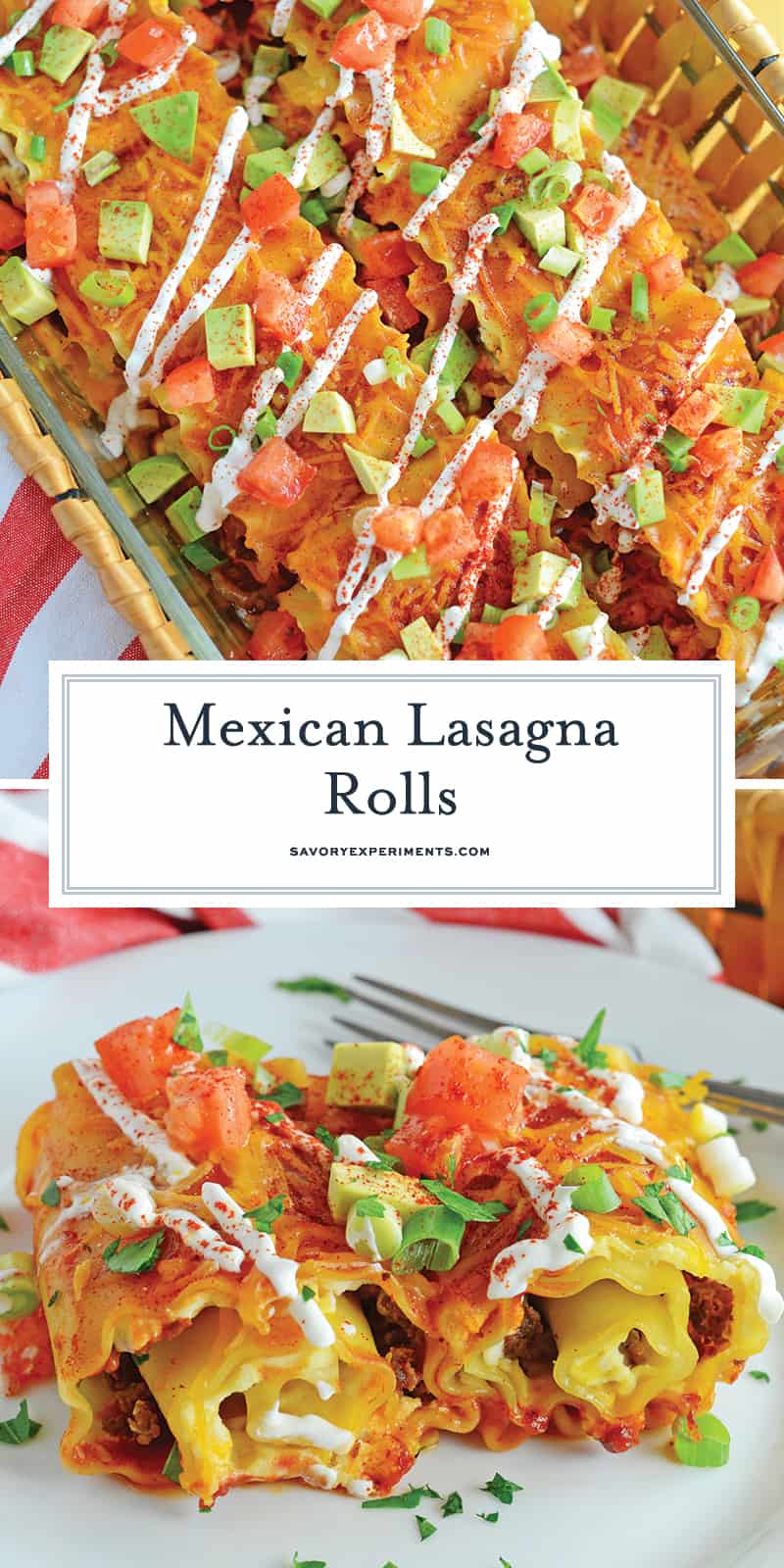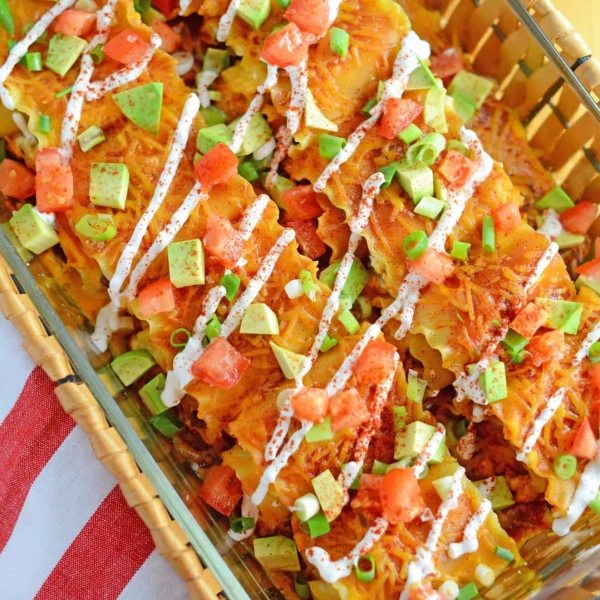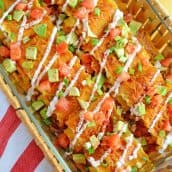 Mexican Lasagna Rolls
Mexican Lasagna Rolls are the best marriage of taco lasagna and traditional lasagna. So easy the kids can help make them!
Instructions
Preheat oven to 350 degrees. Grease a 9×13 baking dish with cooking spray.

In a medium bowl, stir together ricotta cheese with 1/2 cup shredded cheddar, beat egg and fine sea salt.

Evenly spread onto one side of each lasagne strip, sprinkling with crumbled ground beef. Roll up and place into the baking dish.

Pour enchilada sauce evenly over roll-ups. Cook uncovered for 35 minutes.

Remove from oven and top with additional 1/2 cup shredded cheddar cheese, scallions, avocado, tomato, sour cream and a dusting of chile powder.

If you've tried this recipe, come back and let us know how it was!
Nutrition
Calories:
742
kcal
,
Carbohydrates:
67
g
,
Protein:
36
g
,
Fat:
35
g
,
Saturated Fat:
17
g
,
Cholesterol:
145
mg
,
Sodium:
1333
mg
,
Potassium:
576
mg
,
Fiber:
6
g
,
Sugar:
10
g
,
Vitamin A:
1630
IU
,
Vitamin C:
7.3
mg
,
Calcium:
376
mg
,
Iron:
3.6
mg