Chocolate Lasagna: Have you heard of it before? A chocolate layered dessert that is also no bake and utterly decadent and delicious.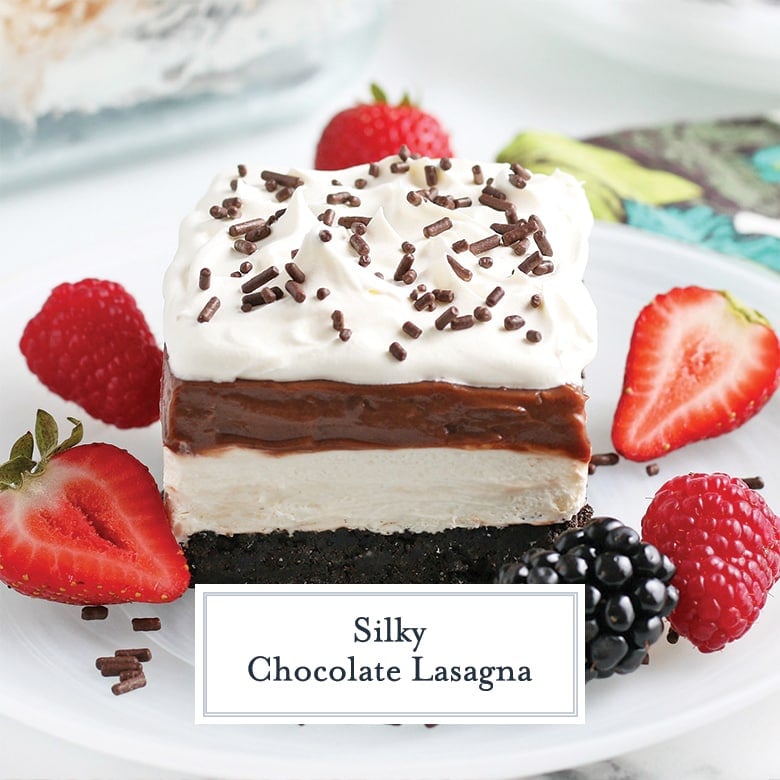 Chocolate Lasagna Recipe
This is quite literally the perfect summer dessert. No heating up the oven, or even the stove, for that matter. And since it is served cold, the best refresher.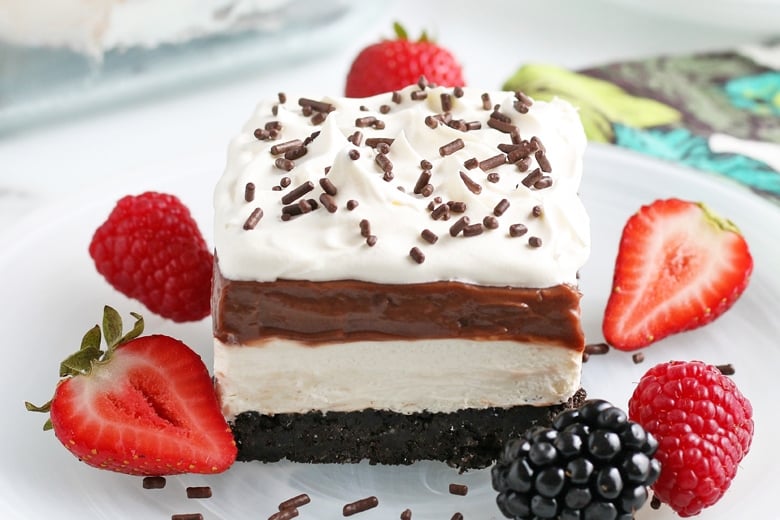 The idea is genius and actually quite simple, and the results are cravable. People will ask for the recipe and be amazed it was so simple. Seriously.
5 Decadent Layers
LAYER 1– the crust. Who doesn't love a good cookie crust? It you tell me no- you are lying. You can make it from scratch in a food processor, as the recipe suggests, or buy the boxed Oreo cookie crumbs.
PRO TIP: No food processor, no problem! Place your cookies in an airtight plastic bag and give them a few rolls with a rolling pin.
You can even use graham crackers if you prefer. Whichever you use, it equals about 2 cups.
Mix them with melted butter and there ya go- no bake crust!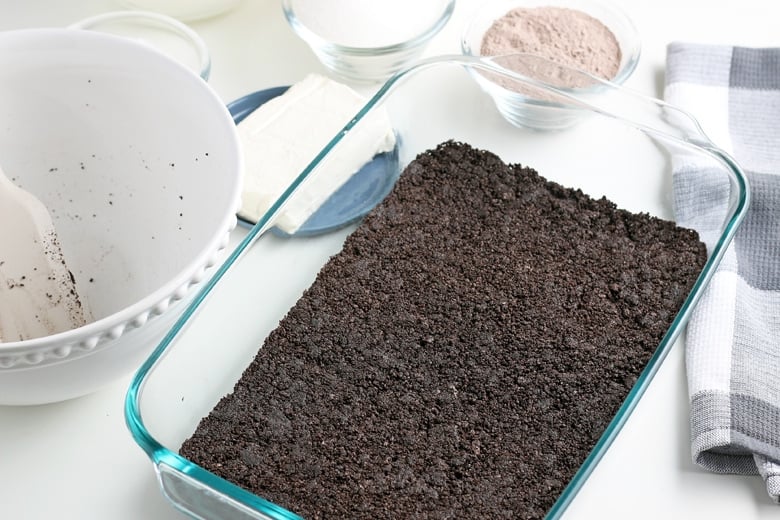 LAYER 2– Silky cream cheese whipped with sugar and whipped topping. It is like a fluffy cream cheese frosting and oh so velvety and delicious.
And yes, I did say whipped topping opposed to whipped cream. Even stabilized whipped cream will fall and melt a little. Whipped topping, like Cool Whip, is made with vegetable oils and skim milk, making it stay fluffy longer. For desserts like this chocolate lasagna, you need something this stable and stiff.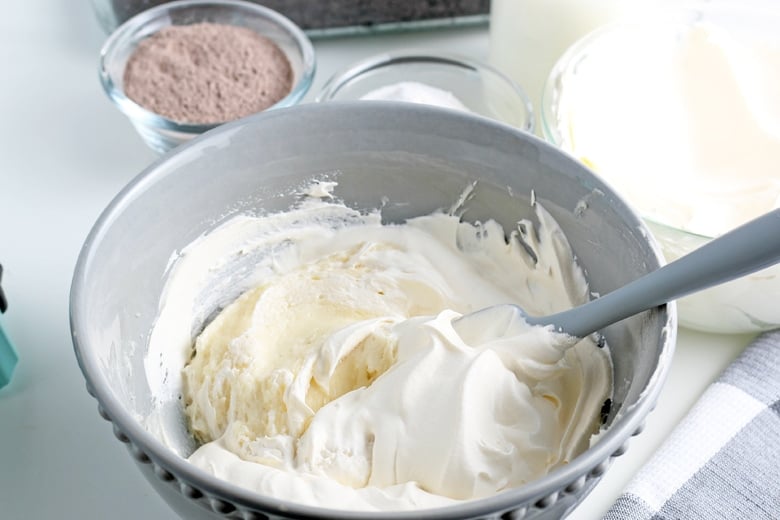 LAYER 3– Pudding– this cake uses a blend of chocolate and vanilla, but you can use all of one or the other or get creative.
Vanilla and cherry or strawberry are good options. As is chocolate and coffee flavors.
Slather it over the cream cheese layer.
LAYER 4– This one is purely whipped topping to set the stage for layer 5. Give up some nice whisps and peaks to make it pretty- you can't go wrong with light and fluffy!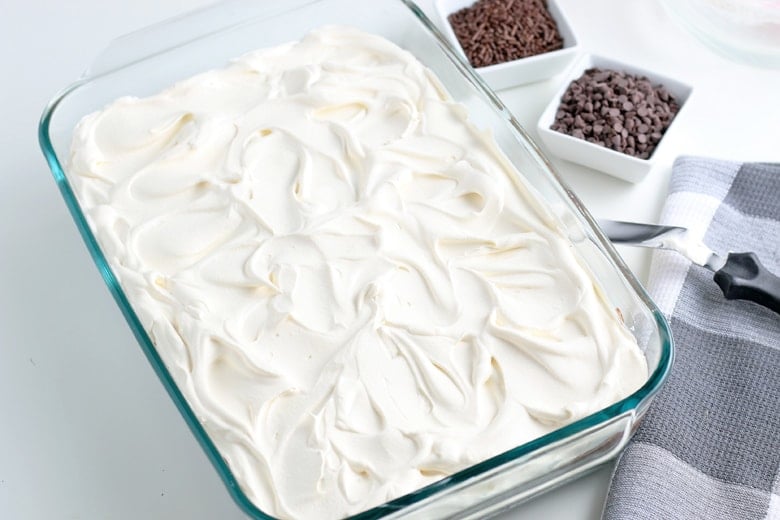 LAYER 5- The toppings! Oh, here you get to go bonkers! Use festive sprinkles, more crushed cookies, maraschino cherries, toasted nuts or sauces like strawberry sauce, fudge, caramel or even praline.
I do suggest waiting until you've plated to add sauces or anything heavy, like cherries.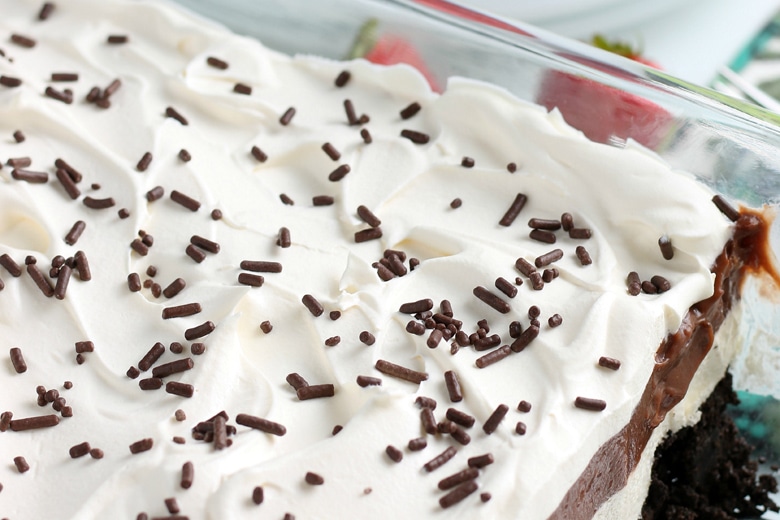 Chocolate Lasagna Ingredients
You'll use several of the same ingredients in different layers, so pay attention to how much is used in each step.
Oreo Cookies- use regular stuff. I know your inclination is that more stuffing is better, but since this is a crust, you actually want more cookie, less stuffing.
Butter– salted is fine, in fact preferred, for this dessert.
Cream cheese– full fat is best for a super thick and rich layer, but you can also use a low or fat free to cut a few calories.
Sugar– to sweeten, of course.
Whipped topping– see my notes above- DO NOT USE WHIPPED CREAM for your chocolate lasagna, go get the frozen Cool Whip.
Instant pudding– get two small boxes of whatever flavors sound good to you. Make sure they are instant so they set fast.
Milk– whole is best for a fully bold dessert, but you can use 2% or skim.
Toppings– get creative! See below…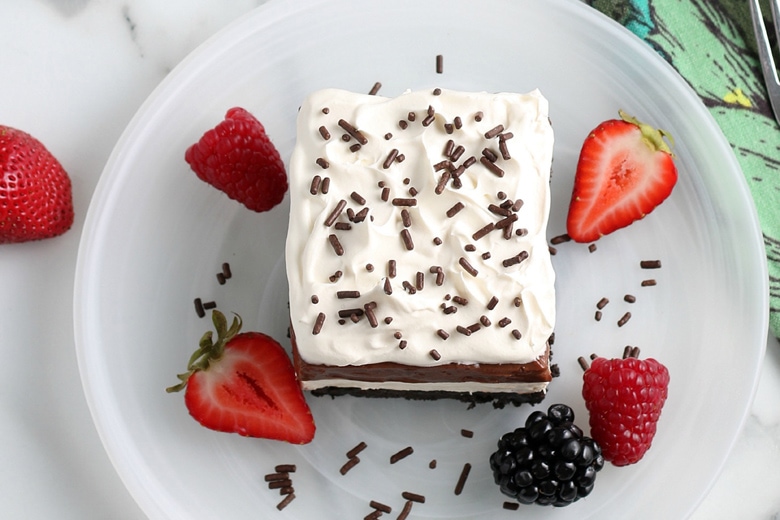 Chocolate Lasagna Topping options
This can be served with no toppings or some toppings. Have fun with it!
Mini chocolate chips
Sprinkles
Crushed cookies
Chocolate curls
Nuts
Fresh berries
Sauces
Make it!
I would say bake it- but there is no baking! Only spreading, layering and chilling (or freezing). So here we go, how to make chocolate lasagna…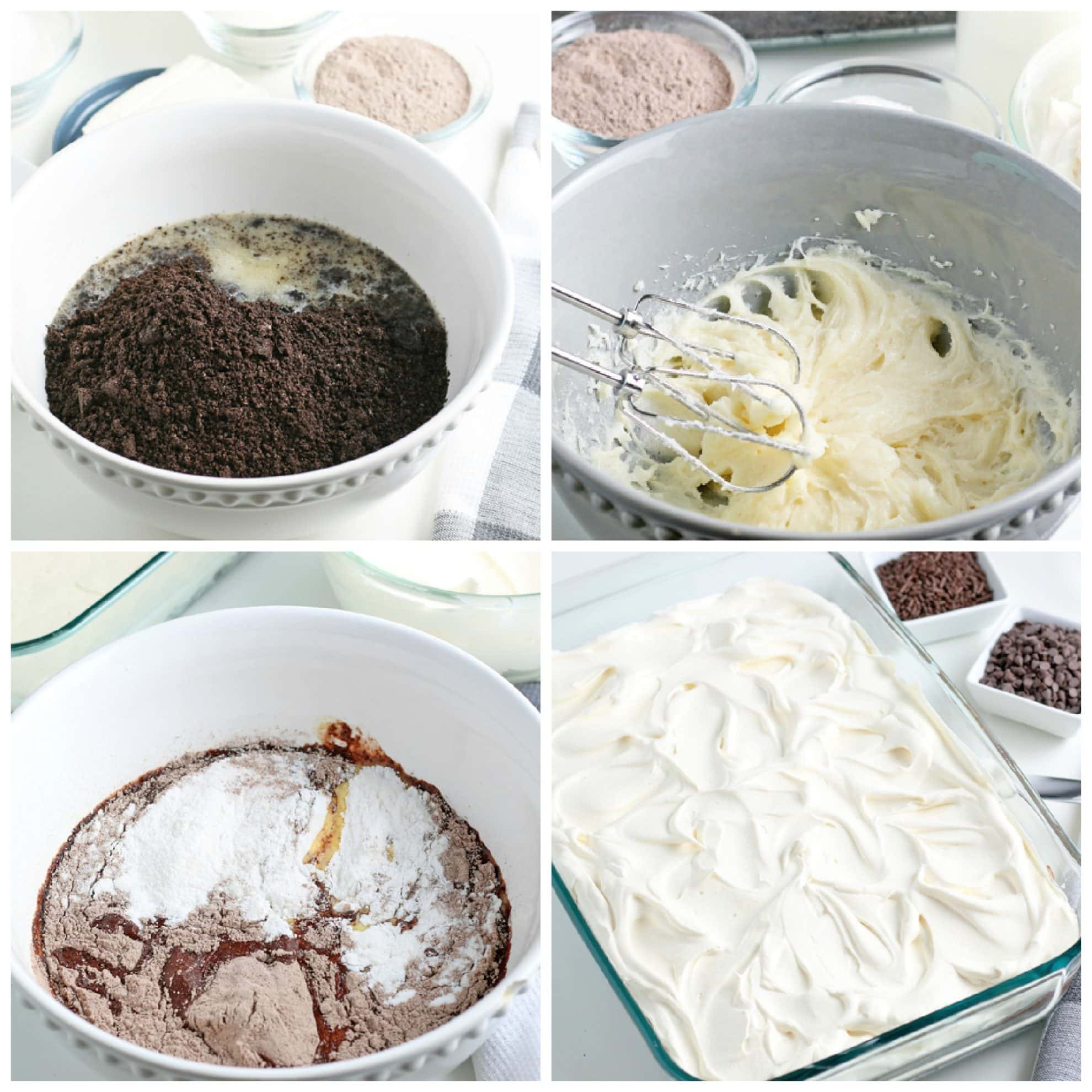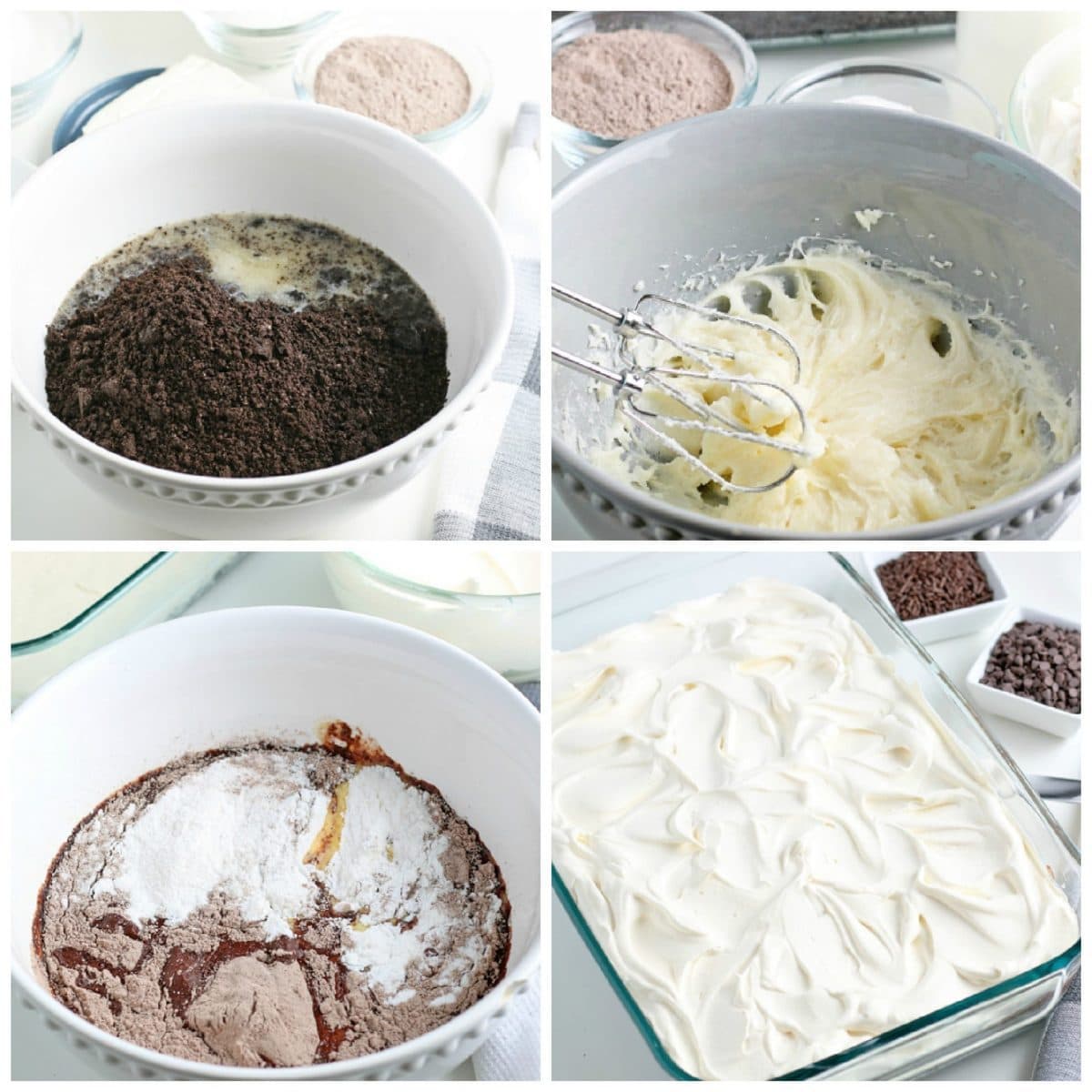 My suggestion is to use one large mixing bowl and make all layers in the same bowl. Just make sure to get as much as possible of each layer out with a spatula.
Press the cookie crust into a dish and chill to set.
Whip together the first layer (cream cheese) and spread.
Whip together the second layer (pudding) and spread.
Top with remaining whipped topping.
Decide if you want a fluffy chocolate lasagna or a chocolate icebox cake.
Garnish and serve. Keep chilled right up until serving.
Chocolate Icebox Cake
Chocolate lasagna is technically not an icebox cake because it is frozen. Icebox cakes use the same ingredients, but hit the freezer instead of the fridge.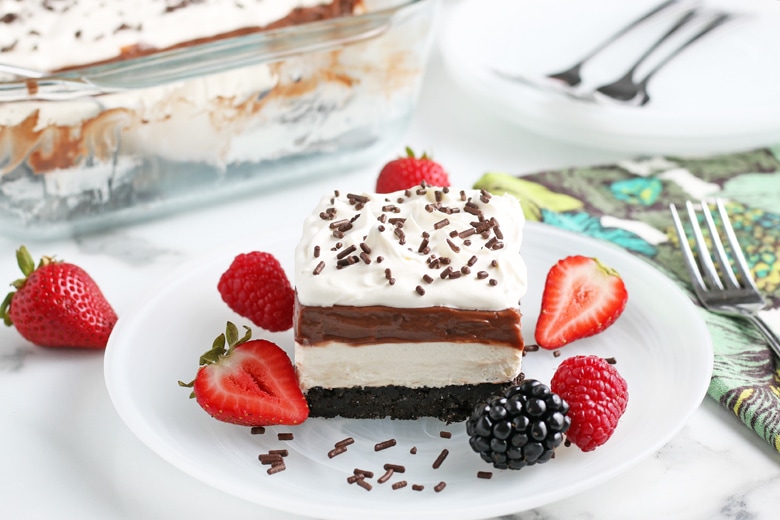 The good news- this can be a chocolate icebox cake, just freeze it instead! When you do take it out to serve, let it thaw for about 5-10 minutes. Also run a knife under hot water between slices to make cutting easier.
Make Ahead & Storage of Chocolate Lasagna
While this chocolate lasagna is super easy, it is also a little volatile. You can make it up to a day ahead of time, but it is best consumed within 24 hours of assembling.
Unless, of course, you freeze it. And then you have up to 3 months to enjoy its deliciousness!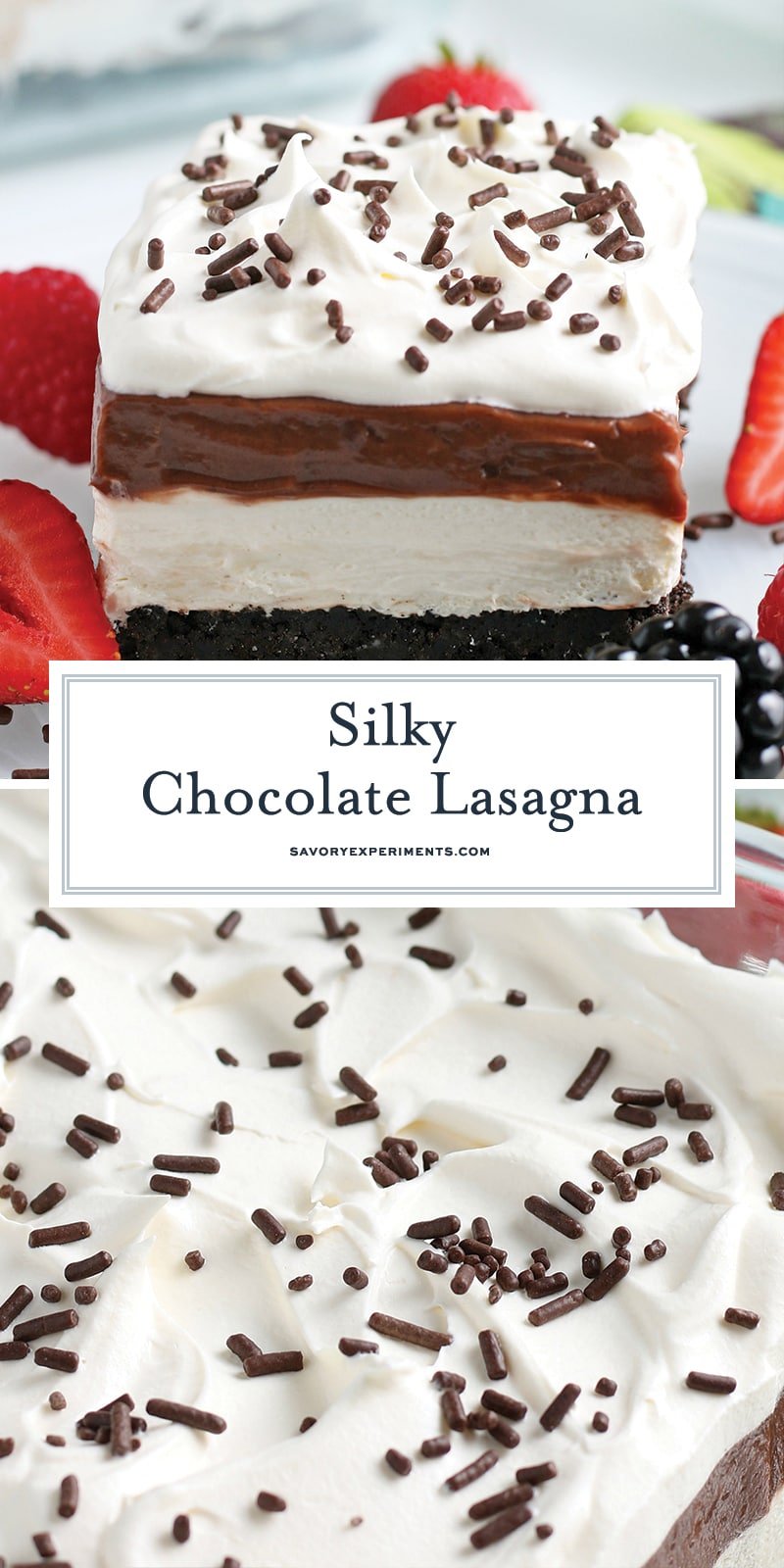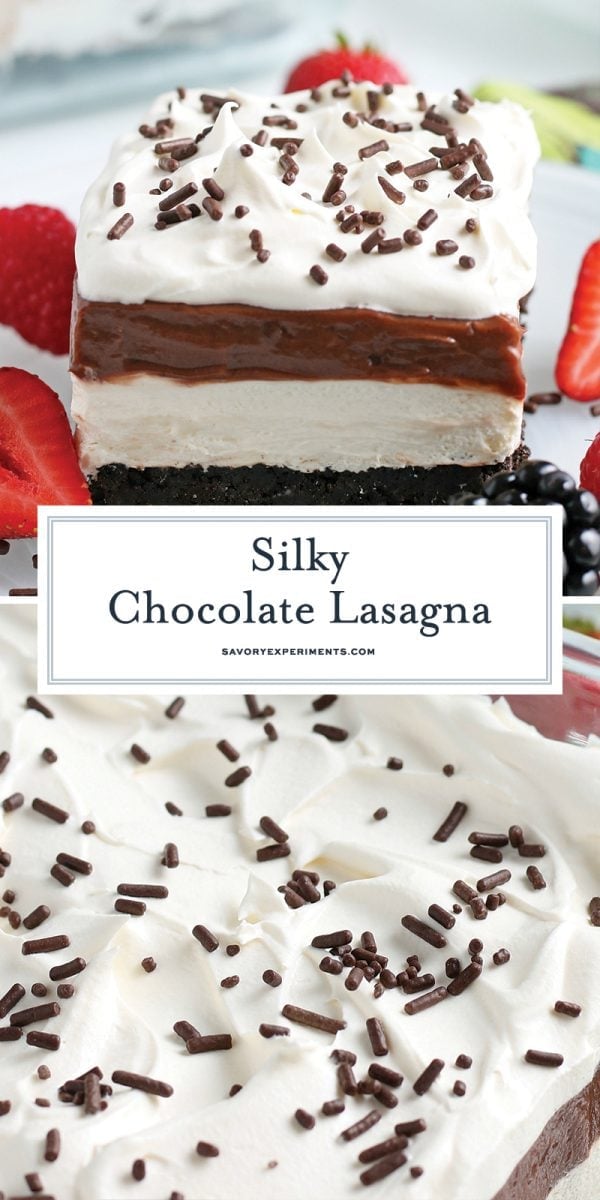 Other easy dessert ideas: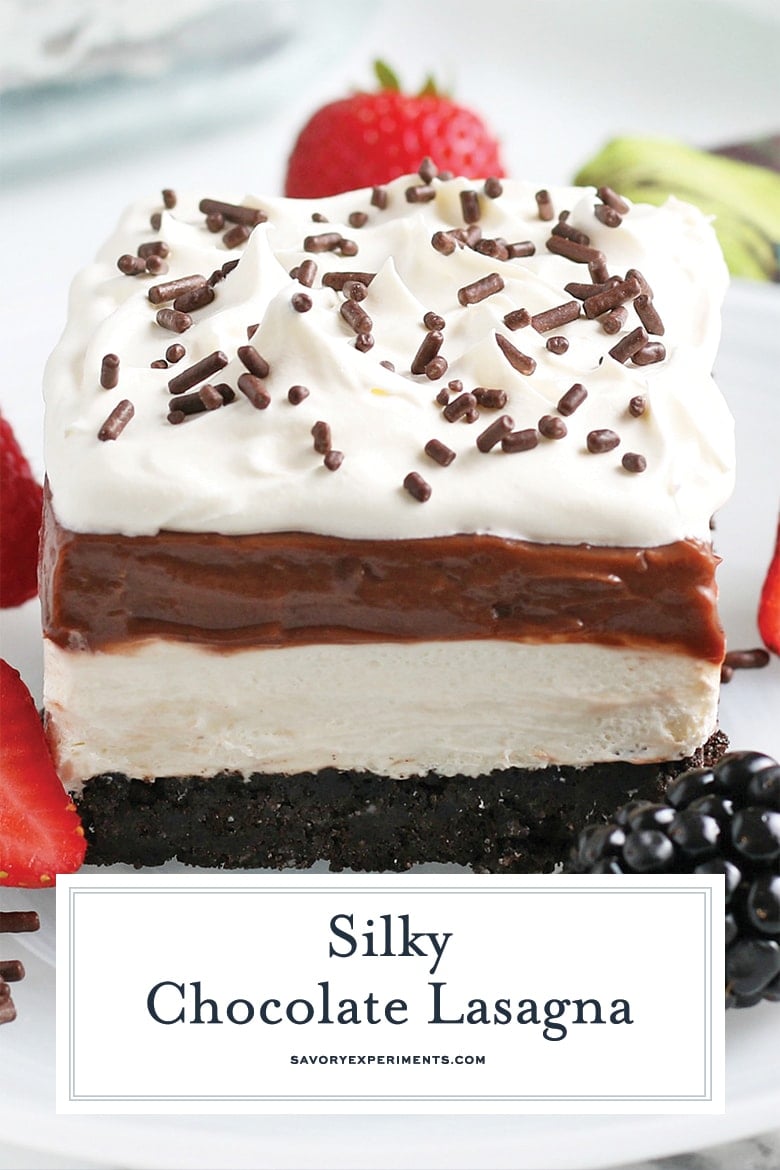 CONNECT WITH SAVORY EXPERIMENTS!

Be sure to follow me on social media, so you never miss a post!

Facebook | Twitter | Youtube
Pinterest | Instagram

Get our FREE 8 Day E-Course on How to Be a Better Home Cook. Sign up HERE!