Horseradish aioli is very similar to my creamy horseradish sauce and whipped horseradish cream. All use a creamy white base, although the base is different in several ways.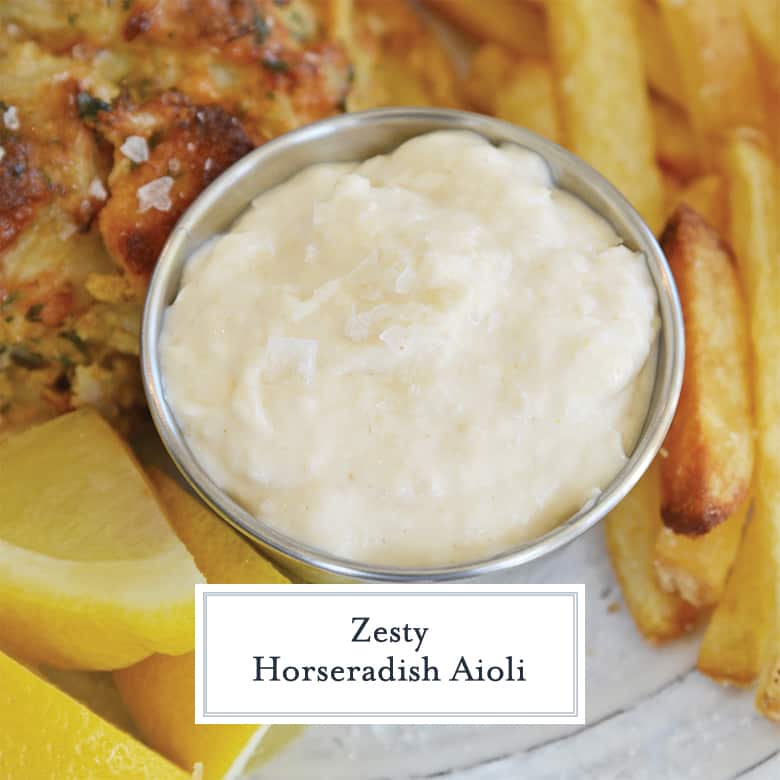 The zesty kick of flavor in this creamy aioli is perfect for burgers, deli sandwiches or paninis. Also great for dipping fries, onion rings and more!
For an aioli, the base is mayonnaise. From there, we will add fresh garlic, lemon juice, a sprinkle of Kosher salt and perhaps even a little finely grated Parmesan cheese or fresh herbs.
What is horseradish?
Horseradish is actually a root vegetable and looks most similar to ginger when whole. It gives a unique heat that gives you a punch of flavor that quickly wears off.
Most people don't get the whole root, which needs to be grated or shredded. Instead they use prepared horseradish which is grated horseradish root suspended in vinegar.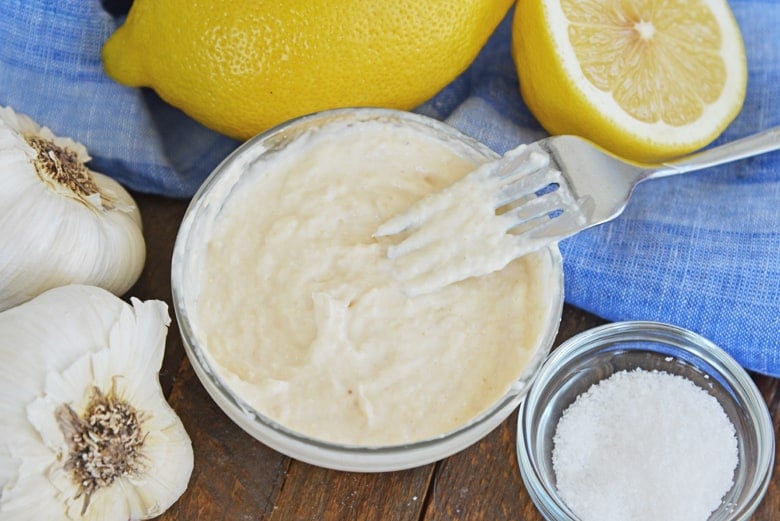 However, you like a super pugenet horseradish, do yourself a favor and find a fresh root. The older the root and the longer it has been grated, the less tasty it will be.
They can be easily peeled with a Y peeler, vegetable peeler or sharp knife. From there either grate or finely mince.
It comes from the same family as wasabi and mustard. And like these two, the flavor can vary greatly from plant to plant. Here are substitution for horseradish.
How to make horseradish aioli?
Gather all your ingredients including:
Mayonnaise
Fresh Garlic
Prepared horseradish
Lemon Juice
Some people add Parmesan cheese, but I didn't find that it added much flavor.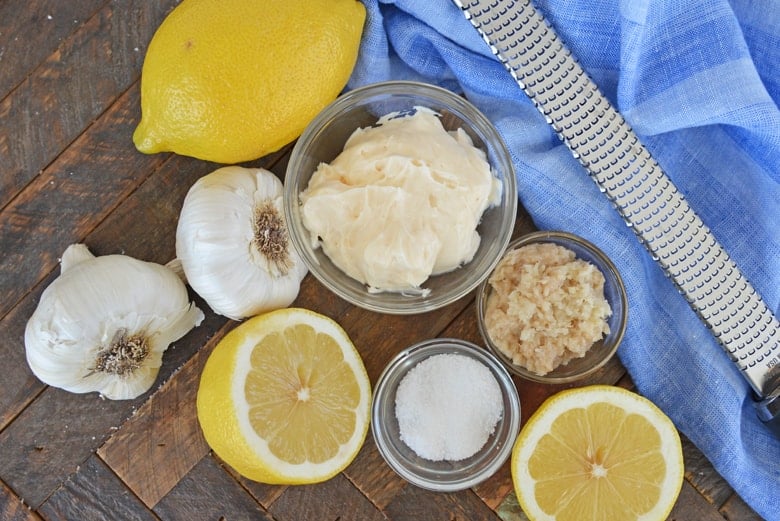 I would usually tell you to throw all the ingredients into a food processor and pulse it a few times, but the horseradish strands will get stuck to the blades, so folding it a much better bet.
Which means you'll need to finely grate the garlic instead of mincing it. Use the finest grate on your box grater for the Parmesan cheese or omit it although. You want a little texture in your sauce, but you don't want to have to chew it, ya know?
You can also add fresh herbs or a dab of Worchestire sauce. Chopped herbs like dill, oregano, parsley or basil are best. I do recommended fresh instead of dried for this type of recipe.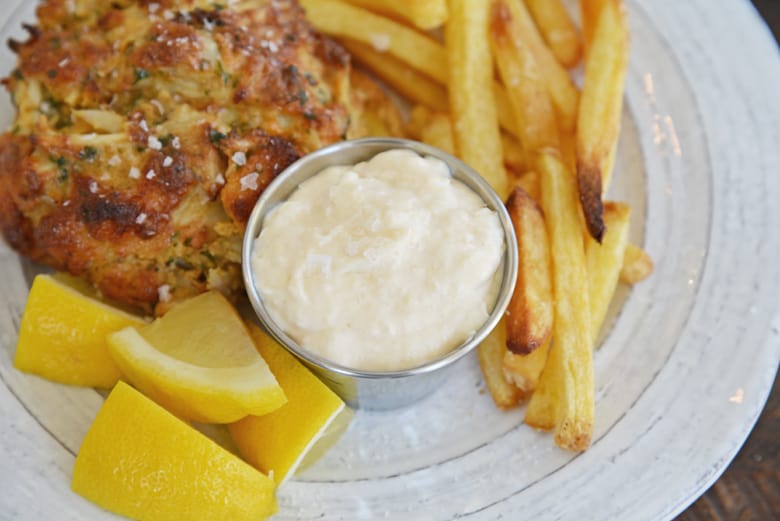 How do I store Horseradish Aioli?
In an airtight container in the refrigerator for up to a week.
We do not suggest freezing aioli.
Commonly asked questions about how to make basil aioli sauce:
Why do you use jarred mayo?
Don't assume I meant I was using jarred! I actually make my own mayonnaise. But you can easily buy a GOOD jarred mayo and use that too to save time.
Mayo is made from raw eggs, but you can generally find pasteurized eggs at the grocery store if that makes you nervous.
Can I use bottled lemon juice?
You of course can, but we always recommend fresh lemon juice. Any citrus juice starts to lose flavor as soon as it is harvested. Fresh juice has much more flavor than jarred and without any preservatives.
What can I use aioli for?
Aioli is excellent as a dipping sauces or condiment to slather on sandwiches or burgers. You can dip olives, carrots or potato chips and even put a dollop on top of cooked veggies or crab cakes.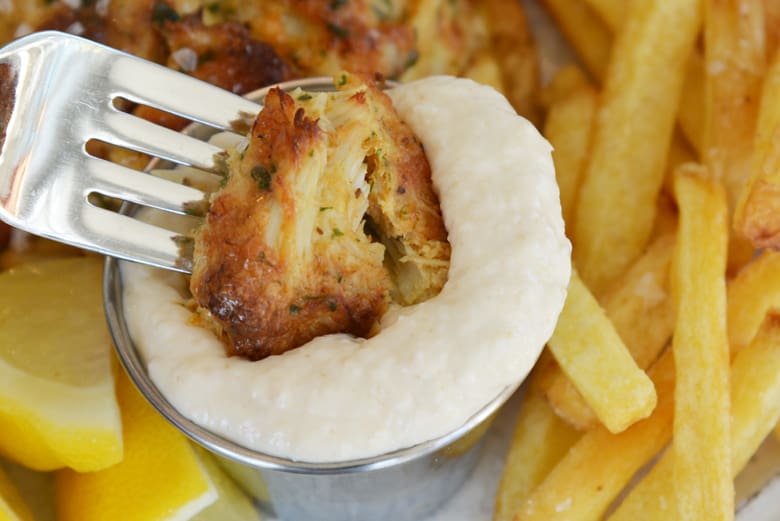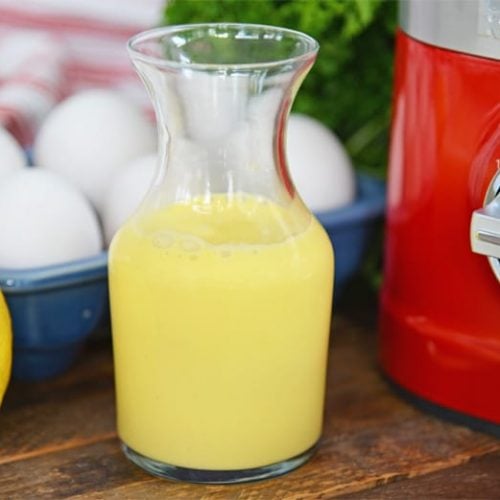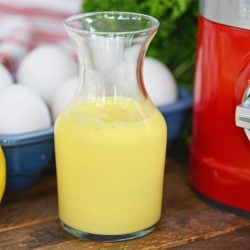 Blender Hollandaise Sauce
Make this super easy Blender Hollandaise Sauce in just 5 minutes! Perfect for benedict, Béarnaise sauce bases and vegetables.
View this recipe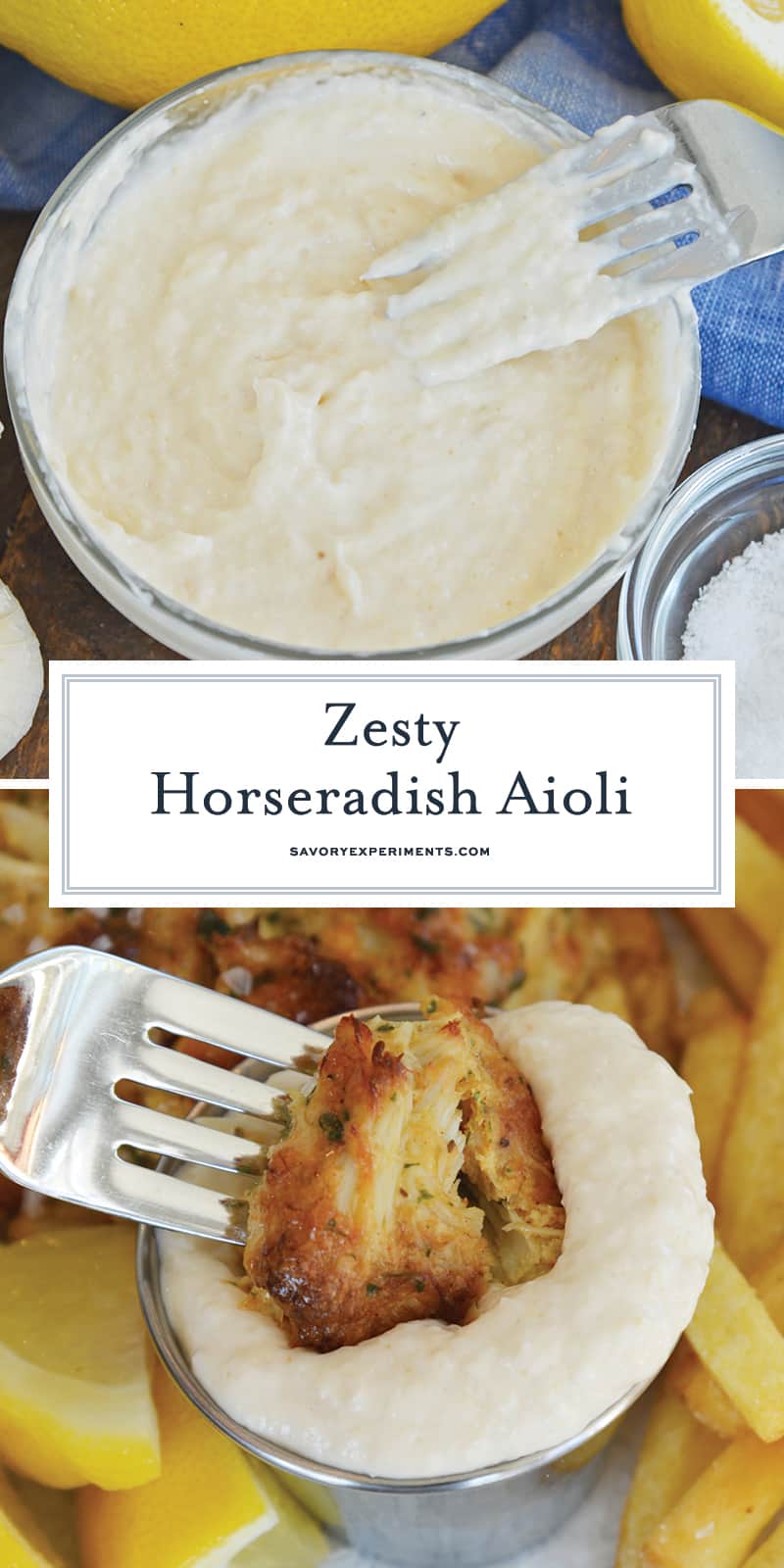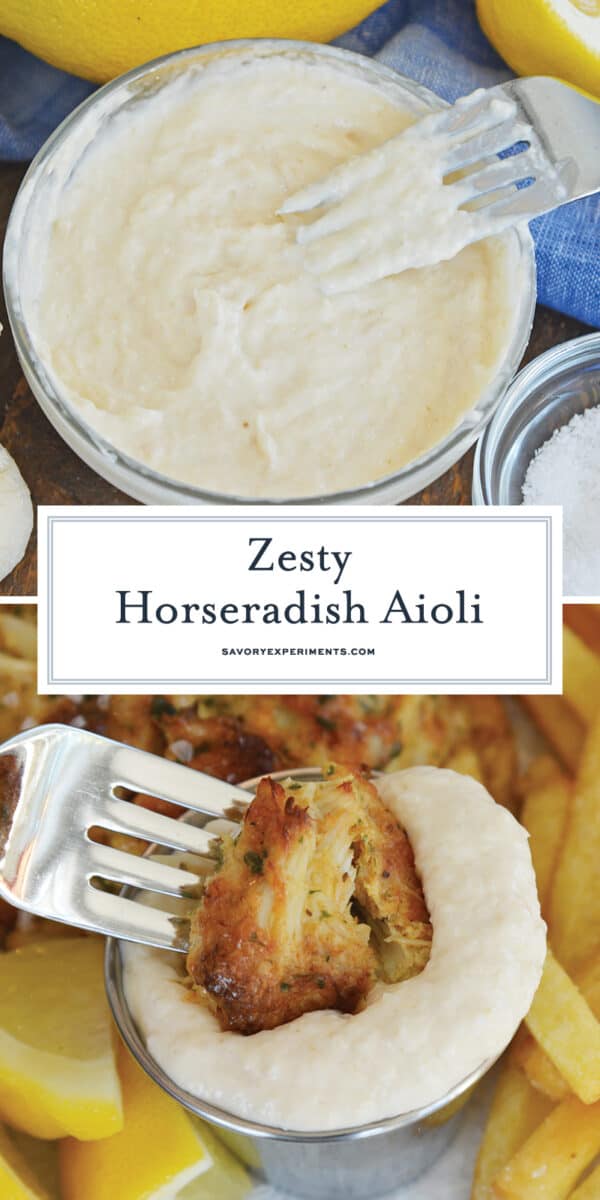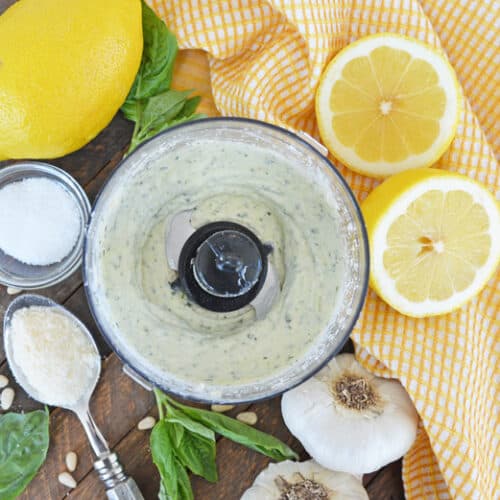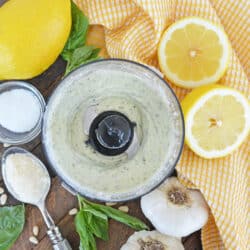 Pesto Aioli (Pesto Mayo)
Pesto aioli is the perfect condiment for so many different foods. With fresh flavors of basil and garlic, slather it on sandwiches, paninis or just use it to dip French fries.
View this recipe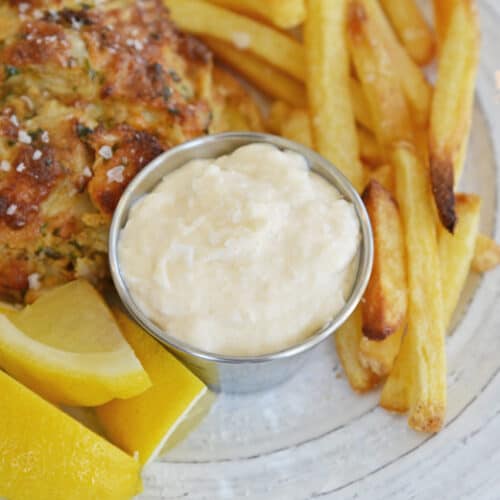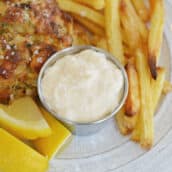 Horseradish Aioli Sauce
The zesty kick of flavor in this creamy aioli is perfect for burgers, deli sandwiches or paninis. Also great for dipping fries, onion rings and more!
Instructions
Combine all ingredients in a small mixing bowl and fold together.

Chill for 30 minutes before serving.

If you've tried this recipe, come back and let us know how it was!
Notes
Optional: Add 1 tablespoon finely grated Parmesan cheese or 1 tablespoon freshly chopped herbs like dill, oregano, parsley or basil.
Nutrition
Calories:
1543
kcal
,
Carbohydrates:
6
g
,
Protein:
3
g
,
Fat:
168
g
,
Saturated Fat:
26
g
,
Cholesterol:
94
mg
,
Sodium:
1549
mg
,
Potassium:
119
mg
,
Fiber:
1
g
,
Sugar:
7
g
,
Vitamin A:
146
IU
,
Vitamin C:
10
mg
,
Calcium:
35
mg
,
Iron:
1
mg