If you're a fan of spicy food, you are going to love these Spicy Green Beans! An easy, but flavorful Asian side dish recipe that taste just like PF Chang's!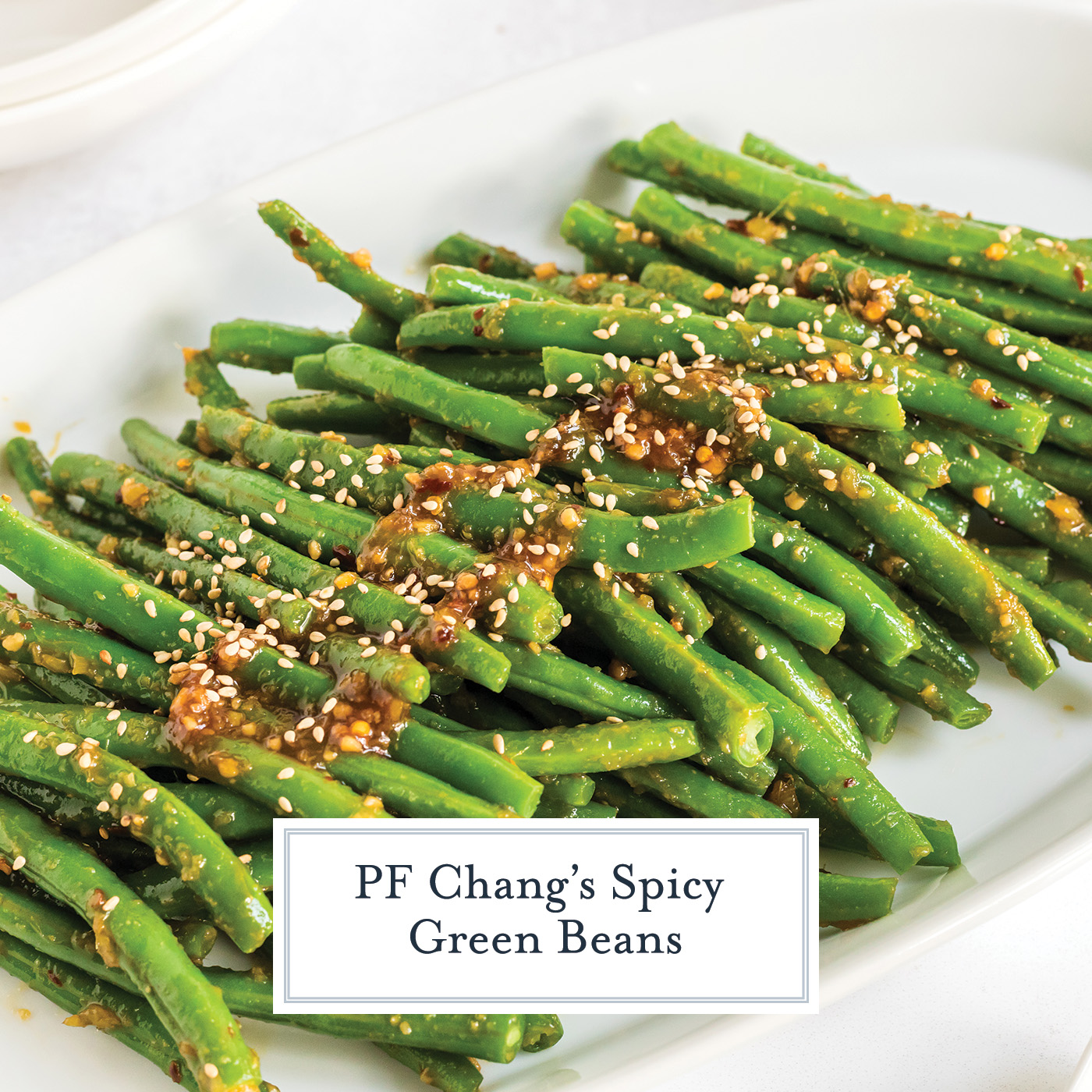 About This Recipe
I was making Pineapple Fried Rice and Yakitori Chicken the other night and realized I wanted more green on the table. I loved the salty spicy flavor of PF Chang's Spicy Green Beans, so I decided to give them a whirl.
It took me several years to get on the PF Changs bandwagon. Living in a city with so many locally owned restaurants with AH-amazing food, chain joints aren't nearly as accessible and I like to support local.
In fact, we have one locally owned Chinese restaurant with real, authentic cuisine. The menu is even printed in Cantonese. Thankfully, one of our best friends is able to communicate (and order) for us when we go.
FACT: Green beans actually grow on bushes!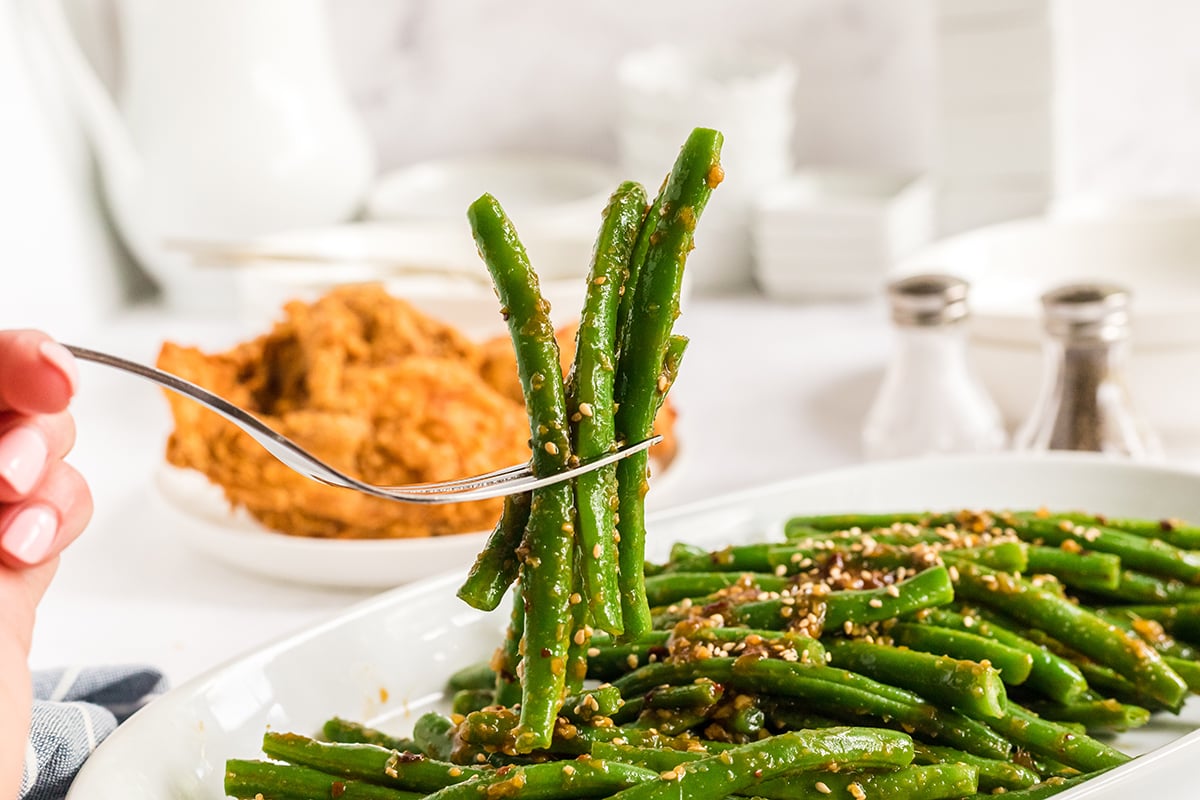 But one day hubby and I found ourselves out in the county at a good, old fashioned mall in the middle of a torrential downpour. We had the choice of PF Changs or Cheesecake Factory. We picked PF Changs.
To both of our surprise, it was really good! Not exactly authentic Chinese food, but really solid American Chinese food. I had the Kung Pao Chicken and him the Orange Chicken.
FACT: Green beans are often thought of as a vegetable, but they are actually a fruit.
But more about this green bean recipe. The original is made with a "fiery red chili sauce, fresh garlic and Sichuan preserves". What in the world are sichuan preserves? Basically just a garlic chili paste. Think spicy and red.
Many of the copycat recipes use a garlic chile sauce, but I used crushed red pepper flakes to mimic the peppercorn, spicy flavor. You can certainly use a chile garlic sauce or even Sriracha, if you choose.
Ingredients
Fresh green beans – Make sure the ends of the beans are trimmed. And check out my tips below for picking the best green beans!
Salt – I prefer to use fine sea salt for this spicy green beans recipe. A good quality salt makes a difference!
Soy sauce –
Fresh ginger – We aren't using ground ginger, we want freshly grated ginger for maximum flavor.
Garlic cloves – Again, fresh garlic is my spice preference for this recipe.
Rice vinegar – This should be found in the aisle where other vinegars are. If not, it might be down aisle.
Sugar – We need just a touch of sugar to balance out the spicy and savory flavors of these green beans.
Ground pepper – Freshly ground black pepper works great for this recipe.
Crushed red pepper flakes – These are optional, but if you like a spicy sauce, I highly recommend adding them in.
Sesame seeds – These are also optional and used for a garnish, but they just add a nice touch to the dish.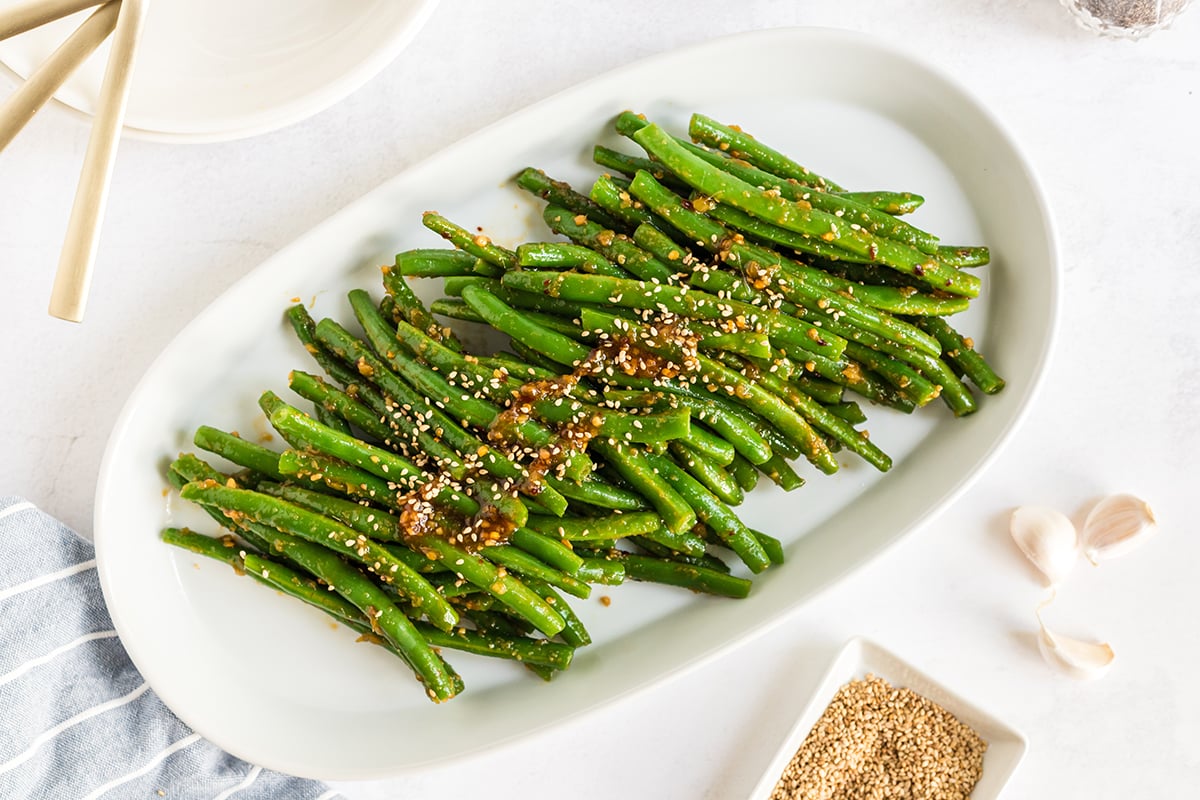 How to Make Spicy Green Beans
Cook green beans. Fill a large skillet halfway with water and bring to a low simmer. Add green beans and cook until tender. Cooking times will differ depending on the size of your beans. Remove to a colander and rinse with ice water to stop to the cooking process.
Make the soy sauce mixture. In a small bowl, whisk together remaining ingredients.
Toss with green beans. Over medium heat, heat sauce, stirring. Toss with greens beans.
Garnish and serve. Remove to serving platter and garnish with sesame seeds, if desired.

Tips for Picking the Best Green Beans
ONE. Make sure they are a vibrant green After all, these are green beans. Avoid any beans that have a yellowish or brownish tint.
TWO. The surface of the green beans should be smooth and taunt, not wrinkly or slack.
THREE. Have you ever seen someone snap a green bean? A nice SNAP is a sign of a ripe green bean, the only issue you that you can't guarantee that the whole batch was harvested at the same time or even came from the same farm when at the grocery store.
This technique works best at a farmer's market when you can be more sure they are all from the same harvest.
FOUR. Avoid the gigantic beans. Bigger is not better in the case of these spicy green beans. Larger beans can be harder to cook and have a stringy texture.
FIVE. Store your green beans in the refrigerator and use them as soon as possible, but not longer than 3 days after purchase. Changes are they were already harvested over a week before you bought them.
SIX. To prep green beans, trim any twigs or stems on the ends of your beans.
PRO TIP: Fruits and vegetables begin to lose nutritional potency the moment they are picked. For the best nutritional value, shop local to ensure your produce hasn't already endured a super long trip.
In this green bean recipe, the beans are blanched to ensure they are cooked, but still have a crunchy texture. I used thin, French green beans because they were on sale, but you can use traditional, thicker versions too, just steam them for a few minutes longer.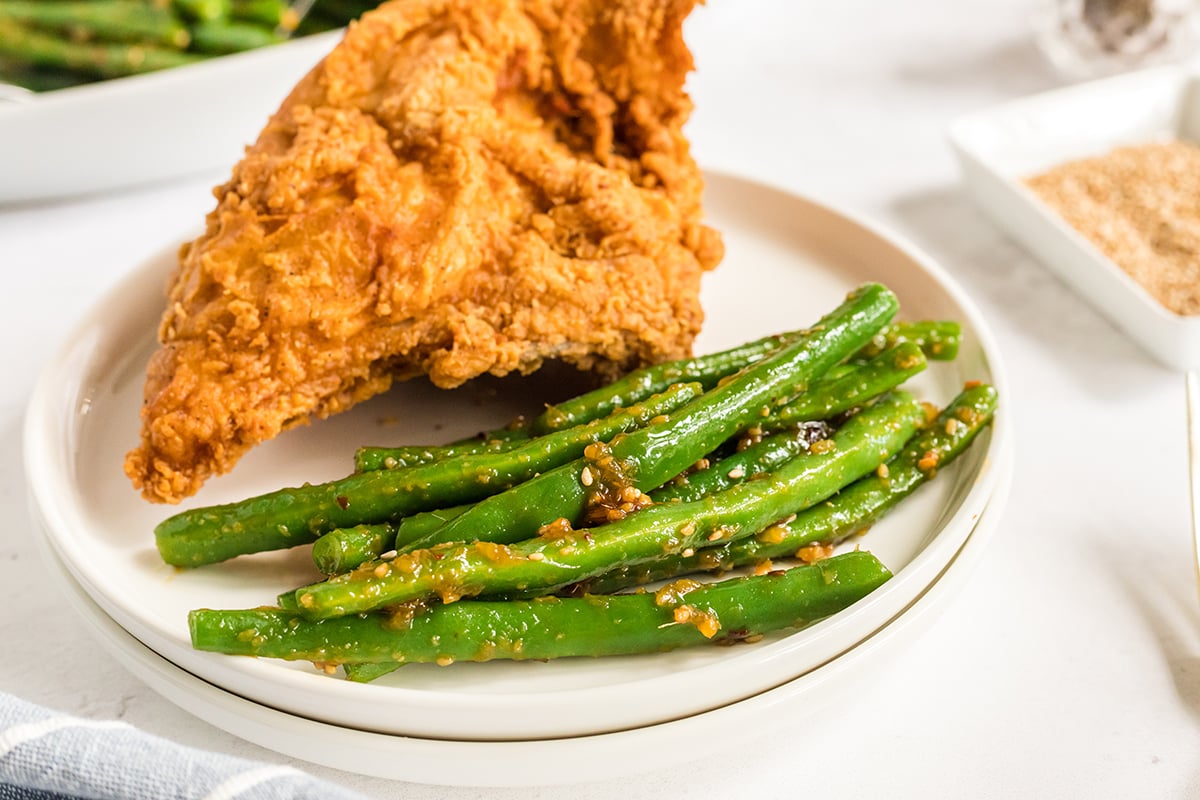 Variations
Making the same side dishes over and over can get a bit repetitive and boring. Here are a few ways to mix up this spicy green beans recipe if you want to try something different next time:
For an added crunch and even more flavor, throw in some extra veggies. Green onions or a red bell pepper would be perfect. You can even mix them with your favorite veggies to give a spicy flair to a veggie stir fry.
To change up the flavor a bit, substitute the sugar for brown sugar instead.
Instead of boiling your green beans, you can sauté them in a large pan with sesame oil or olive oil. Cook until they have a nice char on the outside.
What to Serve Them With
Really anything! Even though they are supposed to have an Asian flare because they are related to PF changs, they are quite verstile. If you want to stay with that theme, Sesame Chicken, Sweet and Sour Chicken and Kung Pao Chicken are among my favorites.
Storage & Freezing
This recipe can be made ahead of time and reheated, but try to undercook the beans a tad so they don't overcook during reheating. Store in an airtight container in the refrigerator for up to 5 days.
Both leftovers and make ahead are best reheated on in a skillet on the stovetop. They can be microwaved, but best results are a skillet.
I do not recommend freezing this recipe.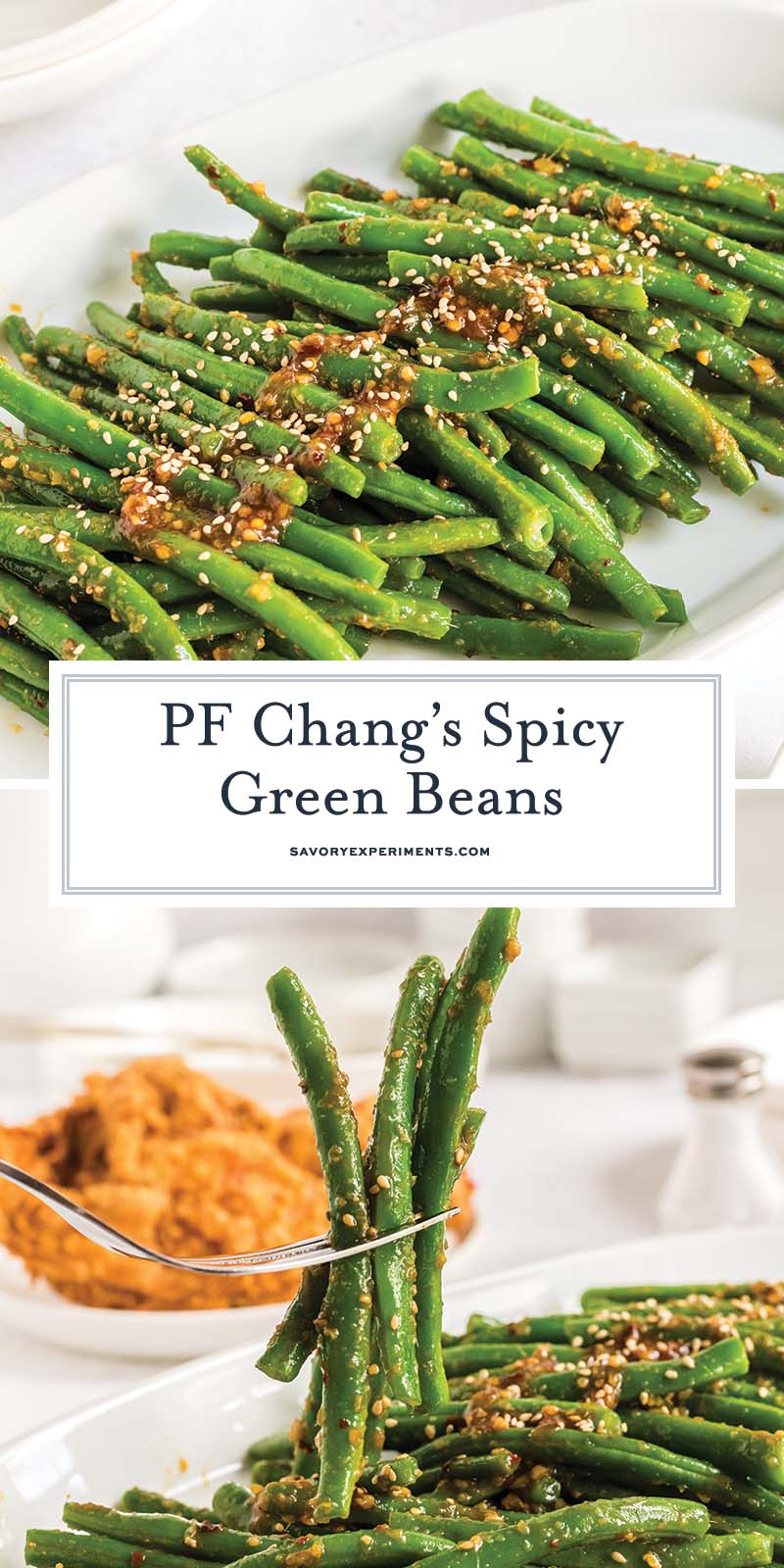 Easy Side Dish Recipes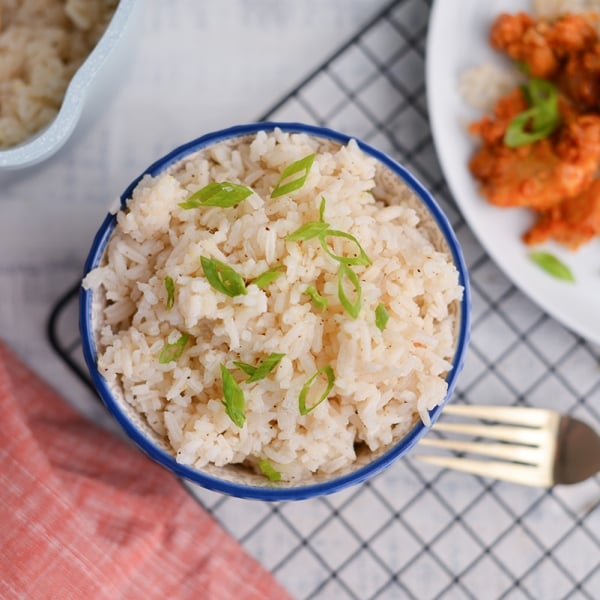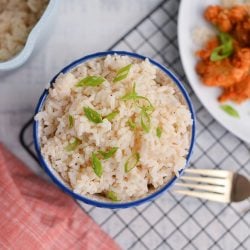 Ginger Rice Recipe
Ginger Rice is one of my favorite jasmine rice recipes. It pairs perfectly with many Asian dishes and adds much more flavor to meals than traditional white rice.
See The Recipe!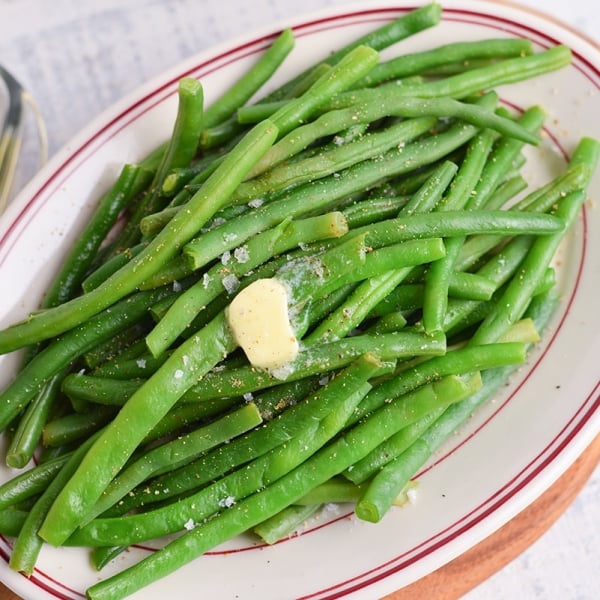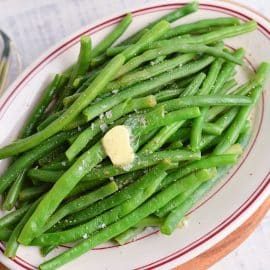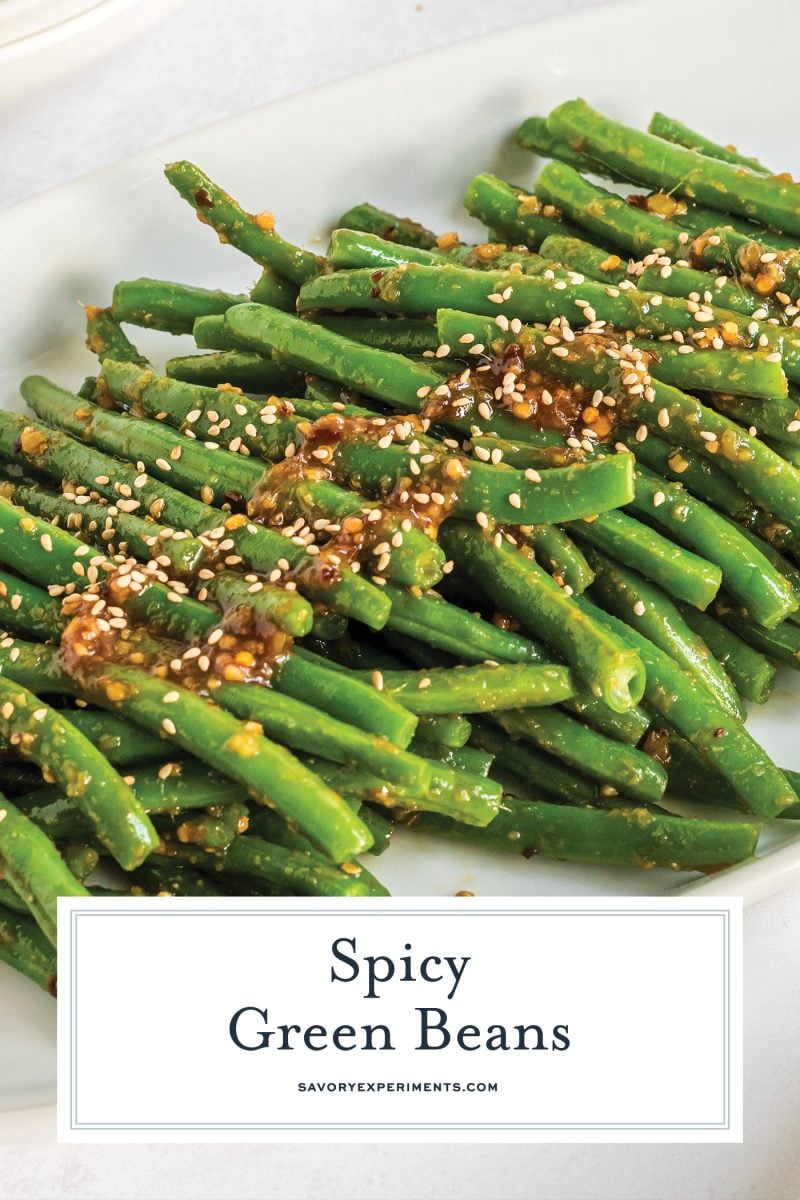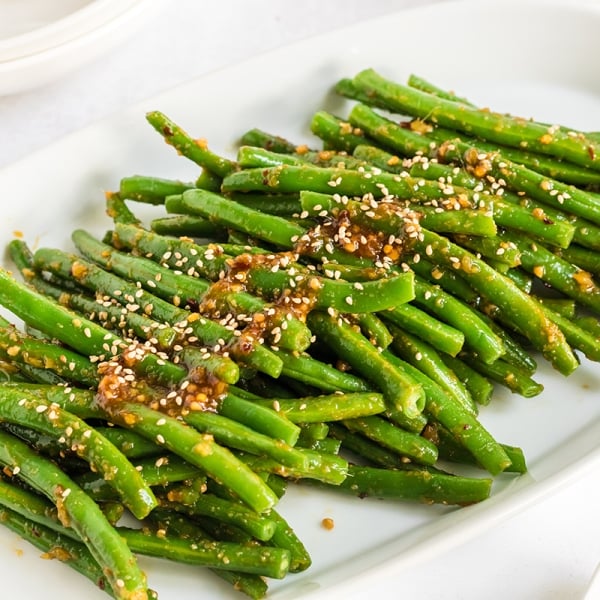 PF Chang's Spicy Green Beans
PF Chang's Spicy Green Beans are an easy and flavorful side dish recipe. Just 6 ingredients for the best green bean recipe!
Instructions
In a large frying pan, fill half way with water and bring to a low simmer.

Add greens bean for 3-4 minutes, or until tender. Cooking times will differ depending on the size of your beans. Remove to a colander and rinse with cold water to stop to the cooking process. Drain well and set aside.

In a small bowl, whisk together remaining ingredients.

Over medium-low heat, heat sauce, stirring, for about 3 minutes. Toss with greens beans.

Remove to serving platter and garnish with sesame seeds, if desired.

If you've tried this recipe, come back and let us know how it was!
Nutrition
Calories:
52
kcal
,
Carbohydrates:
11
g
,
Protein:
2
g
,
Sodium:
840
mg
,
Potassium:
263
mg
,
Fiber:
3
g
,
Sugar:
5
g
,
Vitamin A:
785
IU
,
Vitamin C:
14.3
mg
,
Calcium:
45
mg
,
Iron:
1.3
mg