Using a bundt pan instead of a traditional baking dish, this Herb Stuffing Wreath will be a total show stopper for your Thanksgiving table!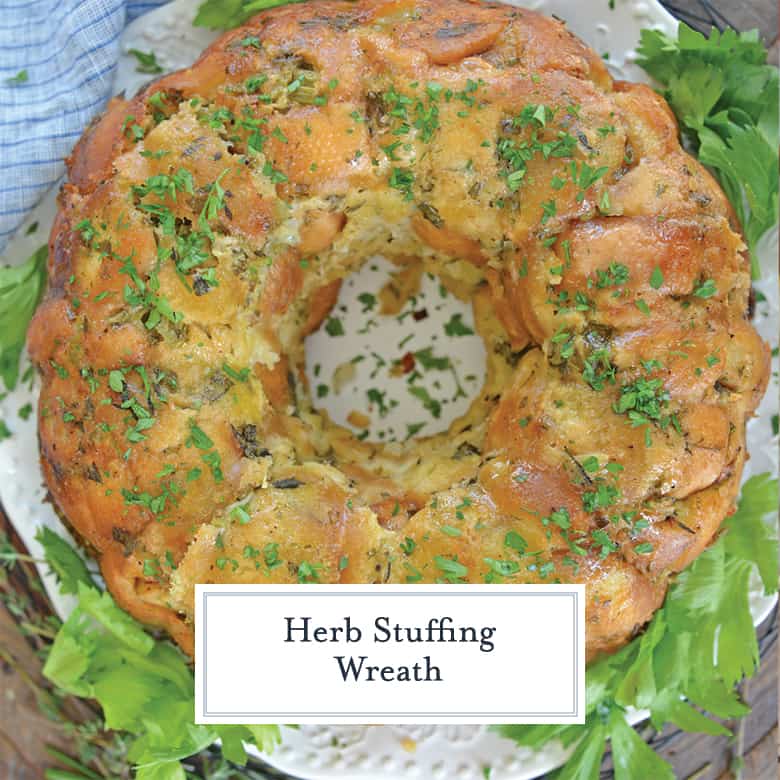 Stuffing vs. Dressing
First thing is first… do you call is stuffing or dressing? Some people think if it isn't actually stuffing something, it is dressing. Others beg to differ.
Technically speaking, stuffing is meant to be stuffed into the turkey and dressing is meant to be served on the side. But I think we can all agree that they are used interchangeably these days.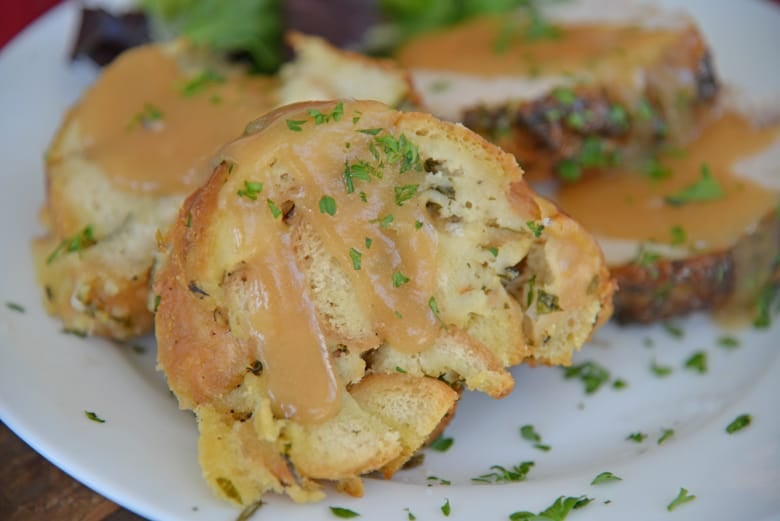 And this wreath doesn't deserve to be stuffed anyplace but front and center of your table!
Homemade Stuffing Recipe
Here are the basic ingredients for herb stuffing.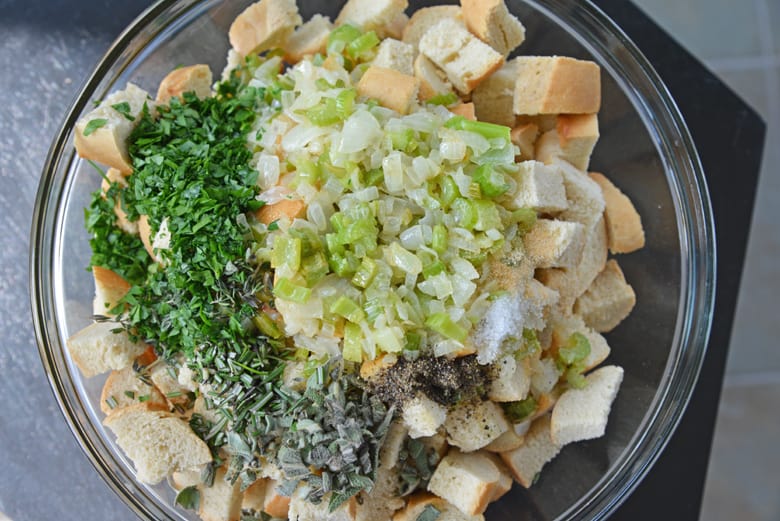 French Bread
Onion
Celery
Unsalted butter (if you use salted, omit half of the Kosher salt below)
Herbs: sage, thyme, rosemary, parsley
Kosher salt- use a coarse salt like Diamond Crystal
Black Pepper
Granulated garlic- this is a bit coarser than garlic powder
Low Sodium Chicken Broth
White Wine- cooking wine or a dry white like chardonnay
Eggs
PRO TIP: Reserve celery leaves. Use them in salads or for a garnish on plates and serving platters.
The Bread
For this recipe, I used about 25 ounces of French bread, which was 1 1/2 skinny loaves from the bakery. This is a little over 1.25 pounds of bread, if you are weighing it. You can use white bread if you prefer, but I like French best.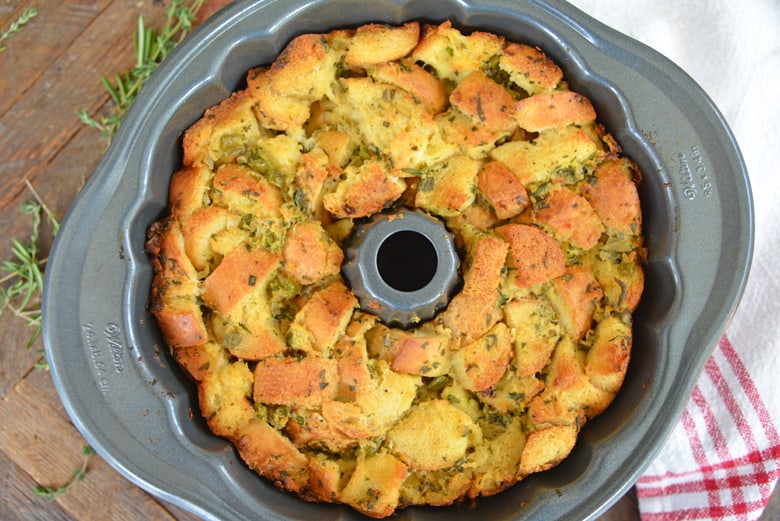 Try to grab the discount or on-sale bread. That usually means it is already a day or two old and even closer to the crustiness you are trying to achieve by toasting it.
This sounds like a lot, but it will mash down with the liquid and you do need a lot to make your beautiful stuffing wreath.
Flavors
This is a very basic stuffing recipe, but gets oodles of flavor from several places.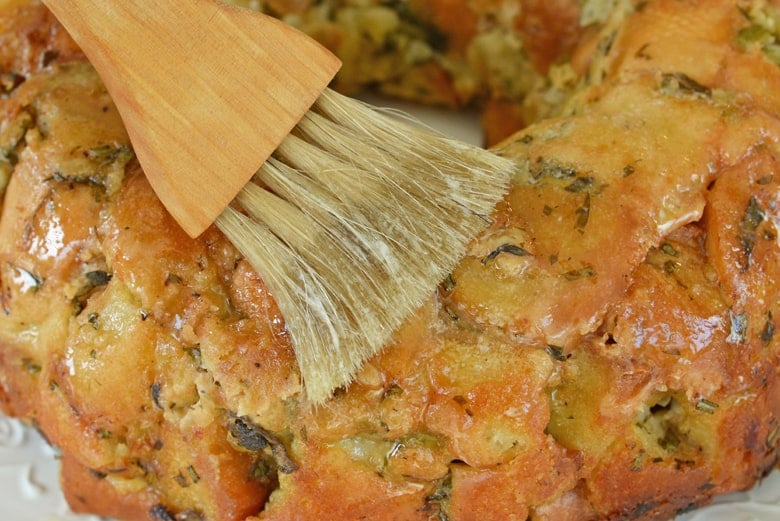 First is the butter. Use a good quality butter. When sauteing the onion and celery, several things are happening.
PRO TIP: Use a much larger mixing bowl than you think you need, it makes it easier to toss.
You are softening the vegetables to make sure they aren't crunchy in the stuffing. Secondly, you are sweating out water from the onions, celery and butter so your stuffing doesn't get soggy.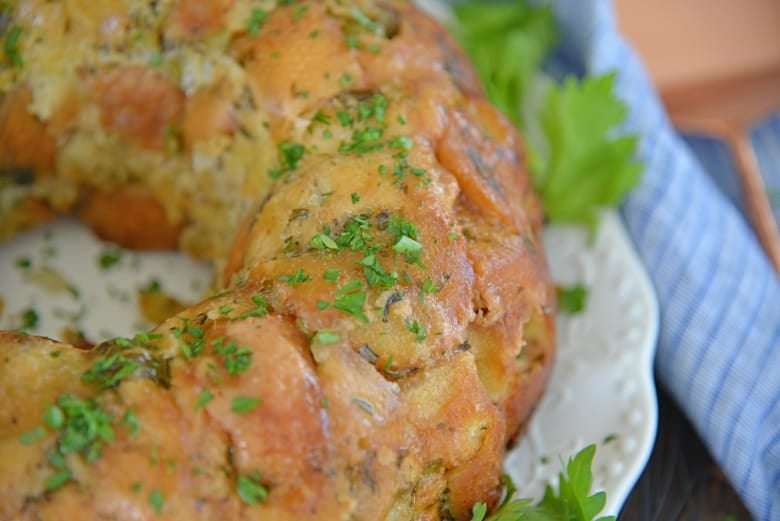 Lastly, the butter is browning slightly, which changes the flavor profile to a nuttier, better developed flavor.
PRO TIP: Allow your stuffing to sit and absorb some of the liquid. This way, it won't pool at the bottom and is evenly dispersed. Same reasoning behind French toast casserole!
How to Make Homemade Stuffing
To start, you'll want to dry out your bread. Preheat the oven to 250 degrees and put the bread cubes in a single layer on baking sheets.
Bake for 30 minutes and then set them aside. Then increase your oven temperature to 350 degrees.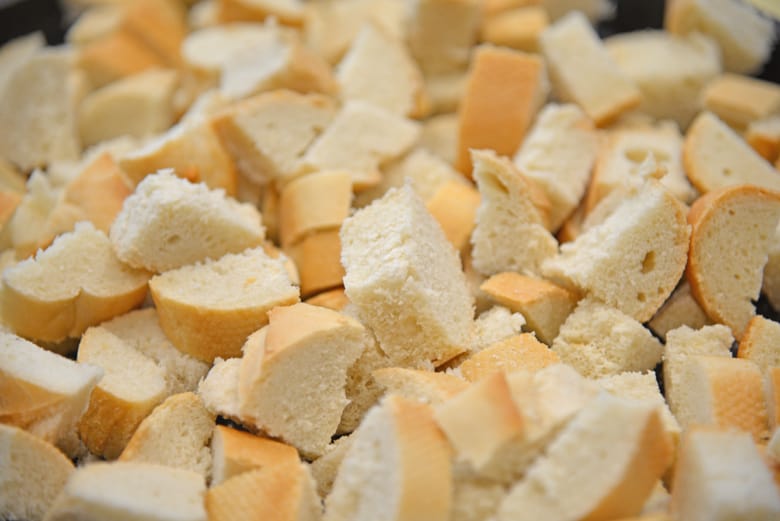 Next, melt butter in a large skillet over medium heat. Add onions and celery, and saute for about 10 minutes, or until the vegetables are soft.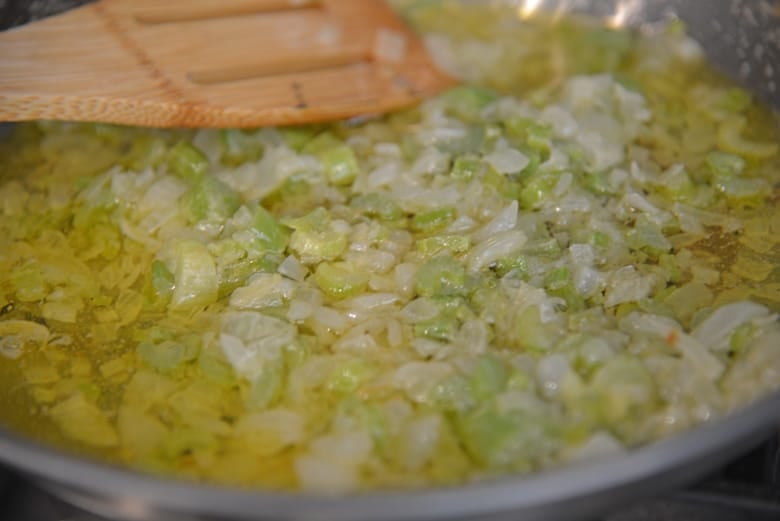 Combine toasted bread cubes, sauteed vegetables, melted butter, herbs and salt and pepper in a very large mixing bowl. Toss to combine everything completely.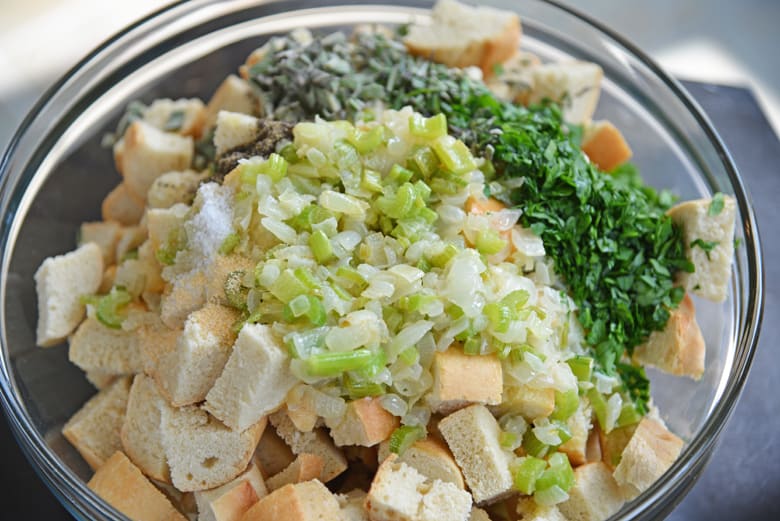 Pour white wine, chicken broth and beaten eggs over the mixture. Toss, and allow to sit for about 15- 20 minutes.
This allows the bread to soak up all the juice. Toss every 5 minutes to make sure everything is evenly coated.
Spray your bundt pan with cooking spray, and transfer the mixture, patting down lightly. Bake for 45 minutes, or until the internal temperature reaches 140 degrees.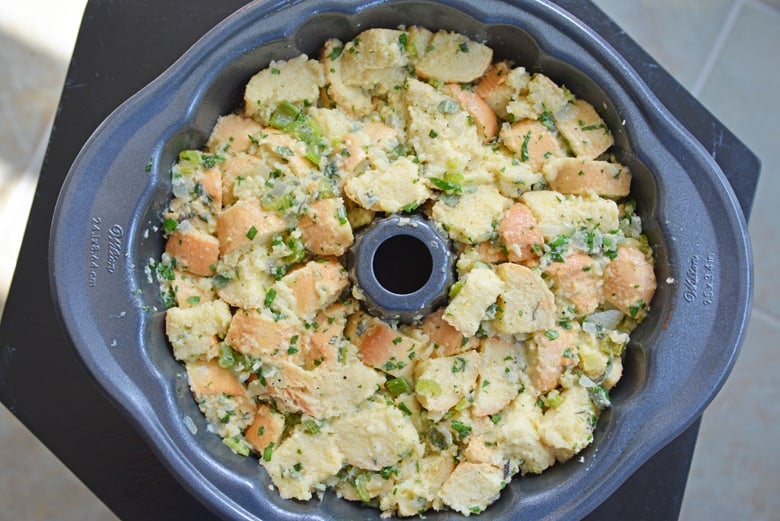 Once your Herb Stuffing Wreath is finished baking, allow it to cool in the pan for 10 minutes. Transfer to a serving dish and serve with your favorite roast turkey!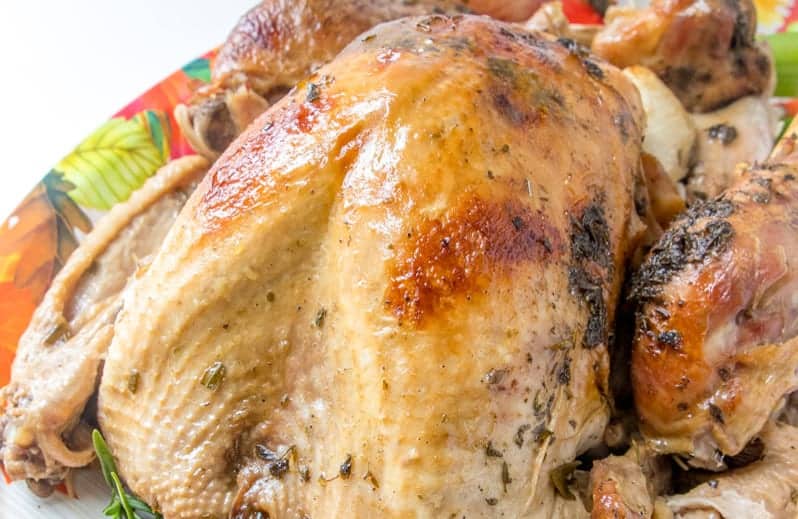 Tips for how to chop herbs:
Use a very sharp knife. See my Knife Skills post for more info.
Use a wood chopping board. It is better for your knives and makes fragile chopping cleaner.
Dry herbs chop easier than damp or wet herbs. Rinse a few hours before using to allow them to dry or blot with a paper towel before chopping.
For rosemary, splay the leaves to the side andude kitchen shears to snip it off.
For thyme, using your fingers, pull up against the grain, removing whole leaves.
For sage, tear off whole leaves. Pile them on top of each other flat and then chop vertically and horizontally for perfect littles squares.
Use flat leaf (Italian parsley) for seasoning and recipes.
Use curly parsley for garnish.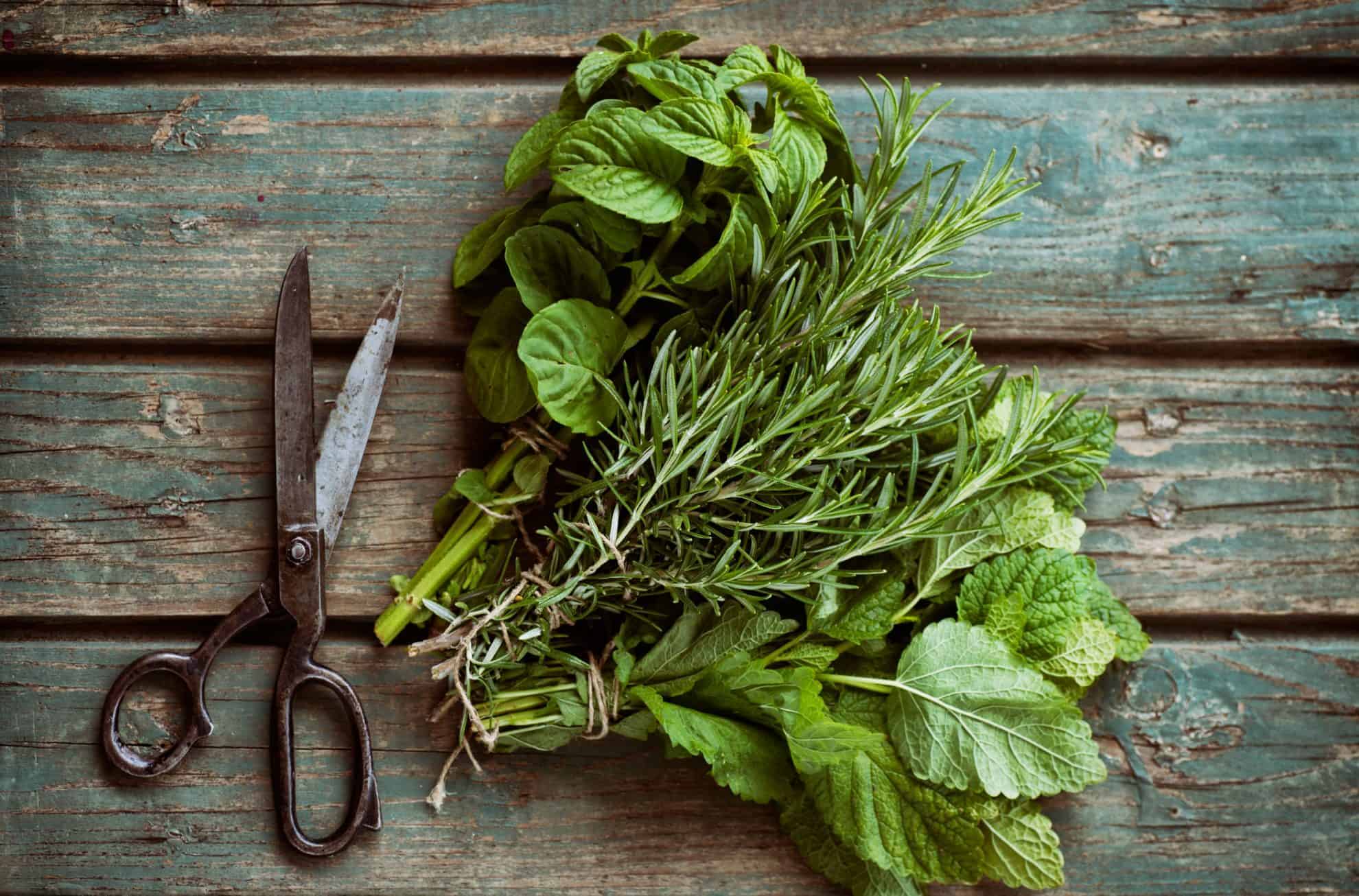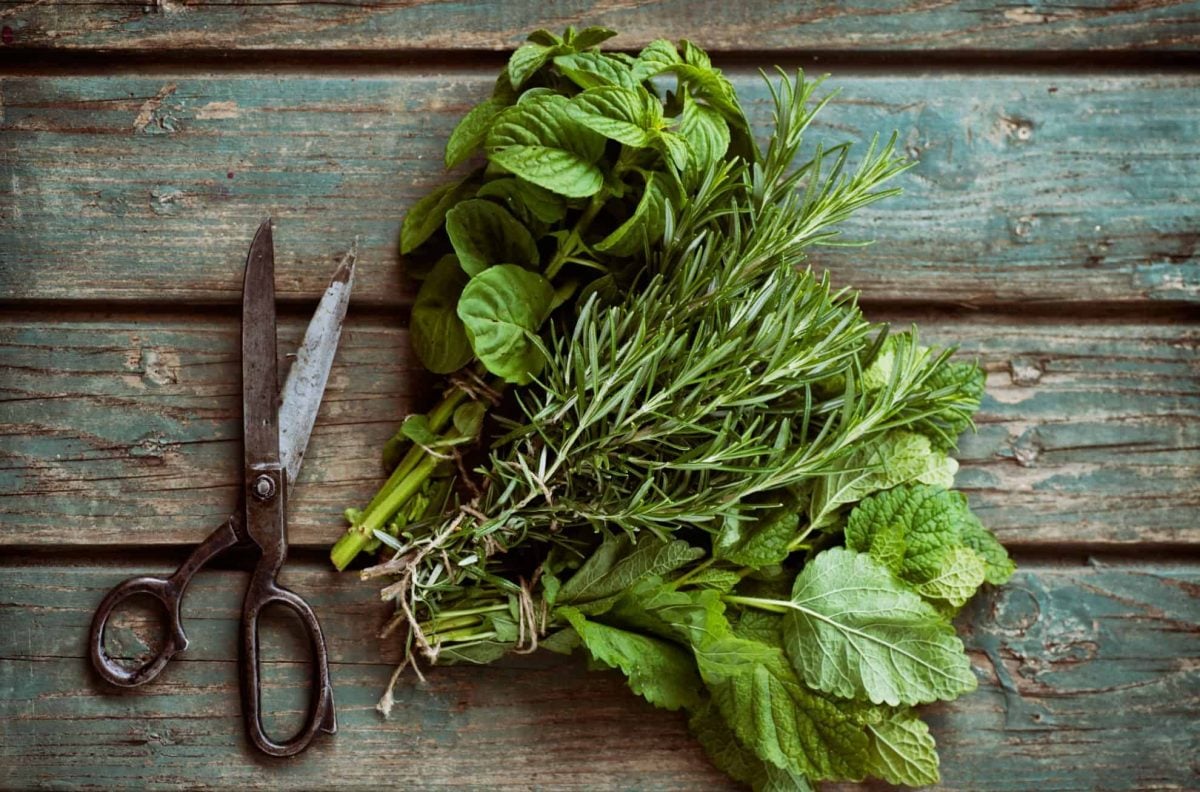 More Stuffing Recipes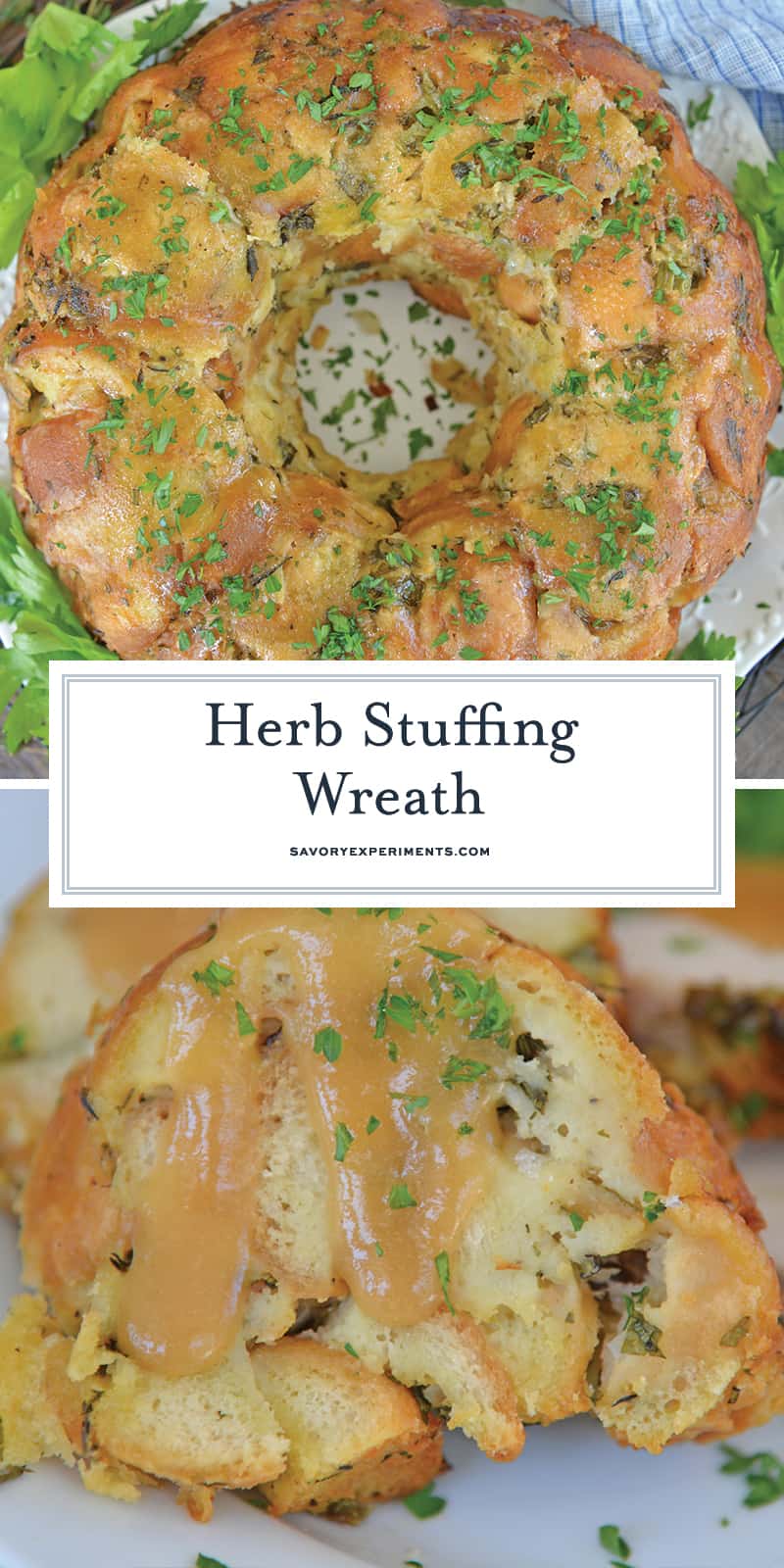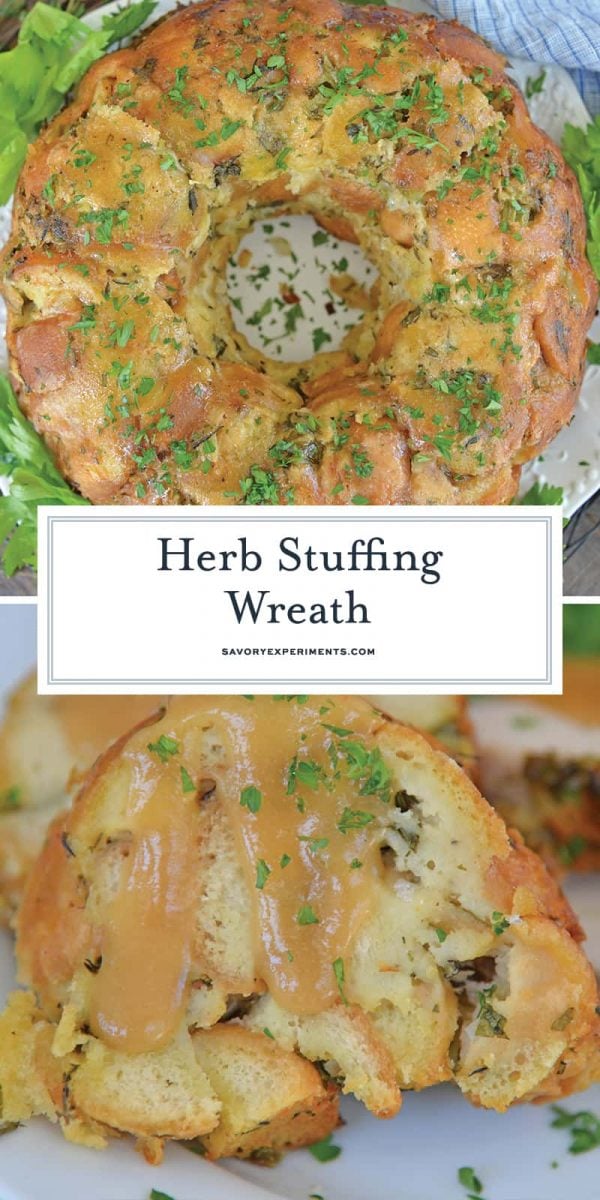 Questions you might have about how to make stuffing:
Do I have to use day old bread? The reason behind using old bread is that it is dry. For this recipe, I actually give you instructions to dry out the bread in the oven, but if your bread is already crouton-like, skip that step.
The reason one uses crusty bread is that all the moisture is removed and can then re-soak up all the delicious flavors of chicken broth and veggies. If the bread was still soft, you'd end up with a goopy mess.
Can I use the bagged stuffing mix? Sure- you can get the pre-toasted bread. You'll need about 12-14 cups.
Do I have to use unsalted butter? You don't have to, but them I urge you to taste before adding salt. Unsalted butter allows you to control the saltiness better, while salted butters have differing amounts of salt.
If you are familiar with a particular salted butter and how to correct seasoning, you can use it and omit the salt.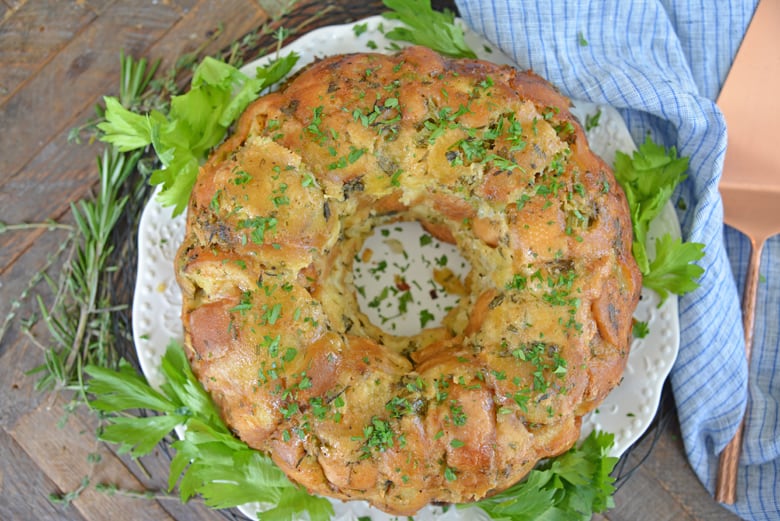 Can I add bacon? I am always down for adding bacon. Add 1/2 cup of cooked, drained and chopped bacon to the stuffing mix.
I want to make vegetarian stuffing, can I omit the chicken broth? Substitute vegetable broth for chicken broth.
Can I omit the white wine? White wine adds a slight acidity and flavor, but you can simply use chicken or vegetable broth or even just water. Ad long as there is 3 cups of total liquid, you'll be fine.
Why did you use granulated garlic instead of fresh? For this particular recipe, the granulated garlic gives a more even flavor. You can use 2 cloves fresh garlic and saute it with the onion if you prefer.
Can I use dry herbs instead of fresh? For a recipe like this, I would recommend using fresh herbs, but yes, you can substitute dry. Use 1 teaspoon of dry herbs or every 1 tablespoon of fresh herbs.
Rub them together between the palm of your hands before adding to the recipe. This activates the natural oils and fragrance. Keep in mind that dry herbs lose flavor over time.
Discard after 6-12 months. The fresher, the more flavor. Fresh herbs will always pack more of a punch than dried.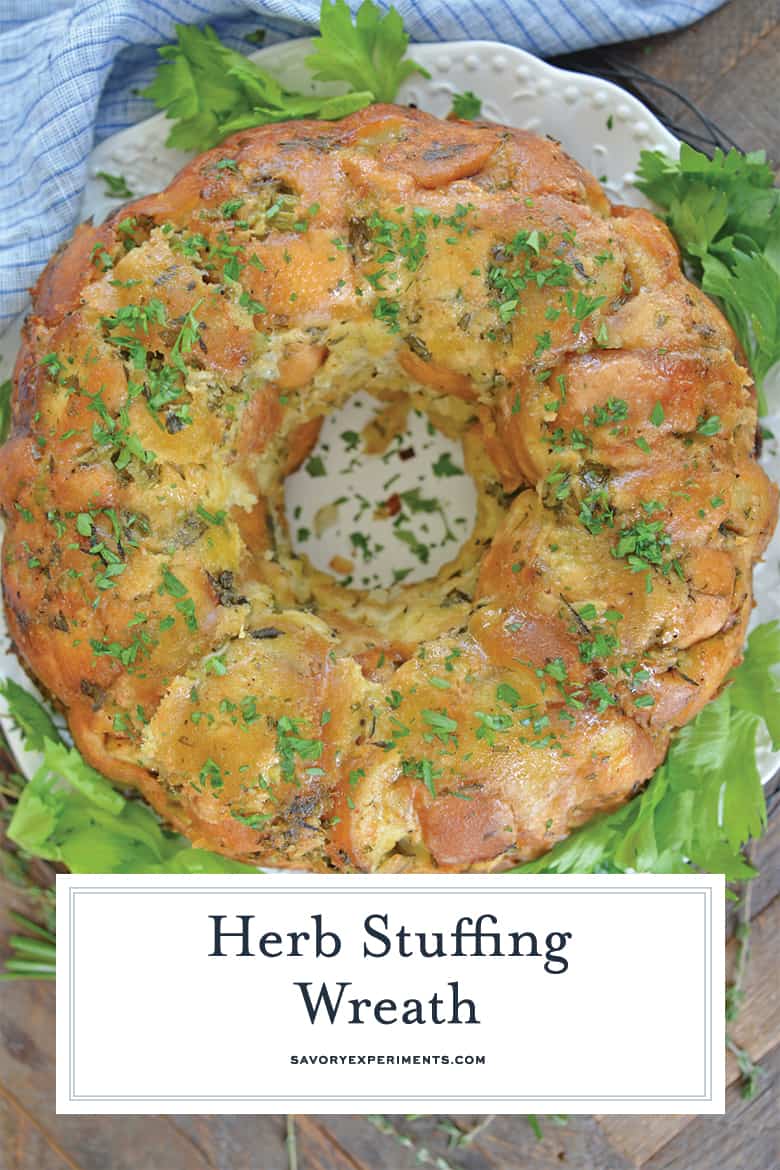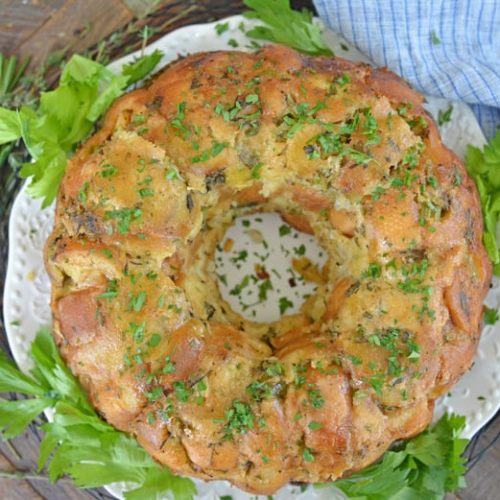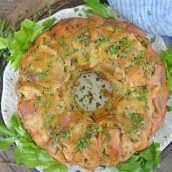 Herb Stuffing Wreath
Of all of the homemade stuffing recipes, this Herb Stuffing Wreath is the best! It will be the star of your Thanksgiving dinner!Of all of the homemade stuffing recipes, this Herb Stuffing Wreath is the best! It will be the star of your Thanksgiving dinner!
Instructions
Preheat oven to 250 degrees. Lay bread cubes in a single layer on the baking sheet and toast for 30 minutes. Remove and set aside.

Increase oven temperature to 350 degrees.

In a medium skillet, melt butter and add onion and celery. Sauté for about 10 minutes until vegetables or soft. Remove and set aside.

Combine bread cubes, sautéed onions and celery, all the melted butter, sage, thyme, rosemary, parsley, Kosher salt, black pepper and granulated garlic in a very large mixing bowl. Toss to combine.

Pour ½ cup white wine and 1 ½ cups chicken broth over mixture.

Whisk remaining chicken broth with two beat eggs, add to bread mix. Toss well to combine.

Allow to sit for 15-20 minutes, absorbing the liquids into the bread. Toss every 5 minutes to get the stuff off the bottom.

Spray a Bundt pan with cooking spray. Transfer mixture to Bundt pan, lightly pressing down to fill out the form.

Bake for 45 minutes or until internal temperature reads 140 degrees.

Remove and allow to sit for 10 minutes.

Invert onto a serving dish and lightly tap the top of the bundt pan to loosen your stuffing. It should easily fall out.

Garnish and serve.
Notes
Use chicken broth or water as a substitute for white wine, if desired.
Nutrition
Calories:
295
kcal
,
Carbohydrates:
35
g
,
Protein:
8
g
,
Fat:
13
g
,
Saturated Fat:
8
g
,
Cholesterol:
58
mg
,
Sodium:
889
mg
,
Potassium:
172
mg
,
Fiber:
2
g
,
Sugar:
2
g
,
Vitamin A:
521
IU
,
Vitamin C:
6
mg
,
Calcium:
47
mg
,
Iron:
3
mg