Honey Ginger Short Ribs were a recipe I originally made long ago. Adapted from Food & Wine Magazine, I was obsessed with anything short rib at the time.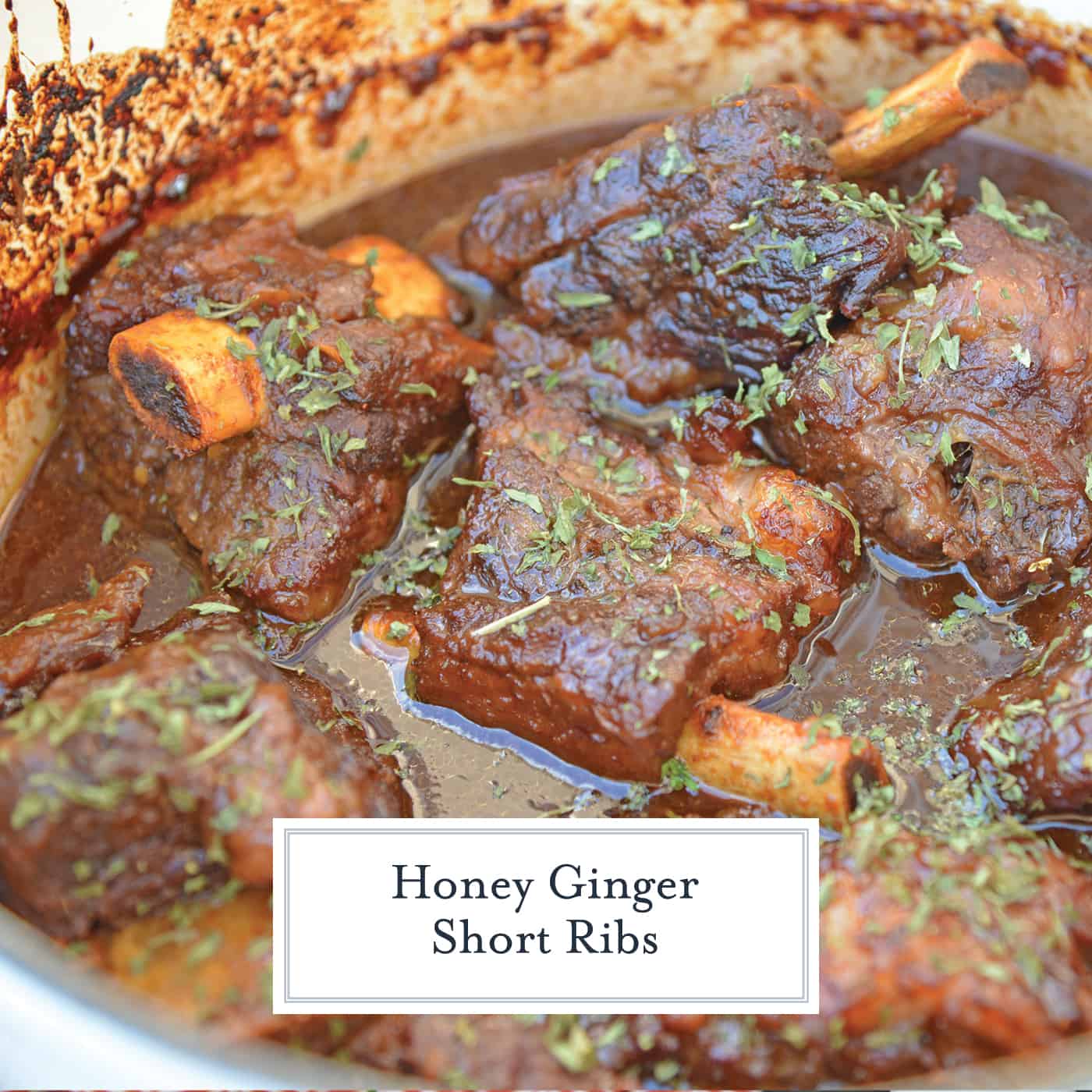 Honey Ginger Short Ribs are a zesty and sweet braised short rib recipe using traditional Asian spices. An easy recipe for fall-off-the-bone ribs.
After years, literally, I decided to make these braised short ribs again with a few smalls changes. I forgot how much I love this fall-off-the-bone short rib recipe!
Honey Ginger Short Ribs used to be called Honey Hoisin Short Ribs, although it turns out not many people look for a recipe with that name. In fact most people are just looking for a braised short rib recipe with no mention of ingredients or flavor.
Many ask, what is hoisin? Hoisin sauce a sweet, spicy, dark red sauce made from soybeans, vinegar, sugar, garlic, and various spices. A regular condiment in Southern Chinese cooking, it is pungent and syrupy and used for many purposes.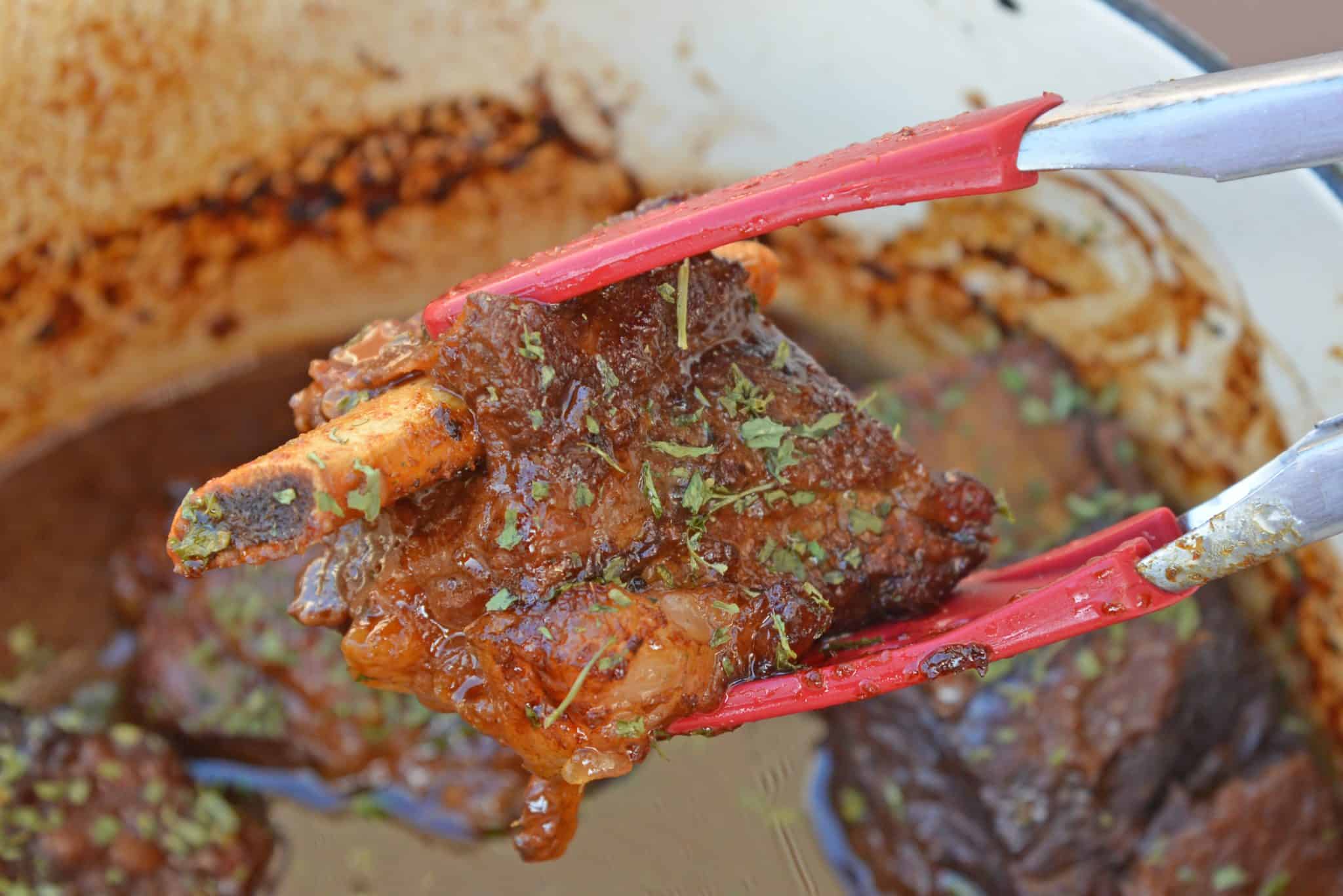 The cut of meat, short ribs, are a cut of beef taken from the brisket, chuck, plate, or rib areas of beef cattle. They consist of a short portion of the rib bone, which is overlain by meat which varies in thickness.
In the US, it is generally about 2 inches long, but the marbled cut will shrink while cooking, resulting in a Flintstone looking hunk.
This particular cut needs a little TLC to be fork tender. The best way to do this is by marinating to break down fibers and tenderize and also braise, a slow, controlled cooking process. Braising short ribs is by far the most popular and effective way to cook them.
Having an oven safe pot, such as an enamel Dutch oven
, is necessary for this process. The honey and soy sauce will tenderize the short ribs, while other ingredients add loads of zesty flavor.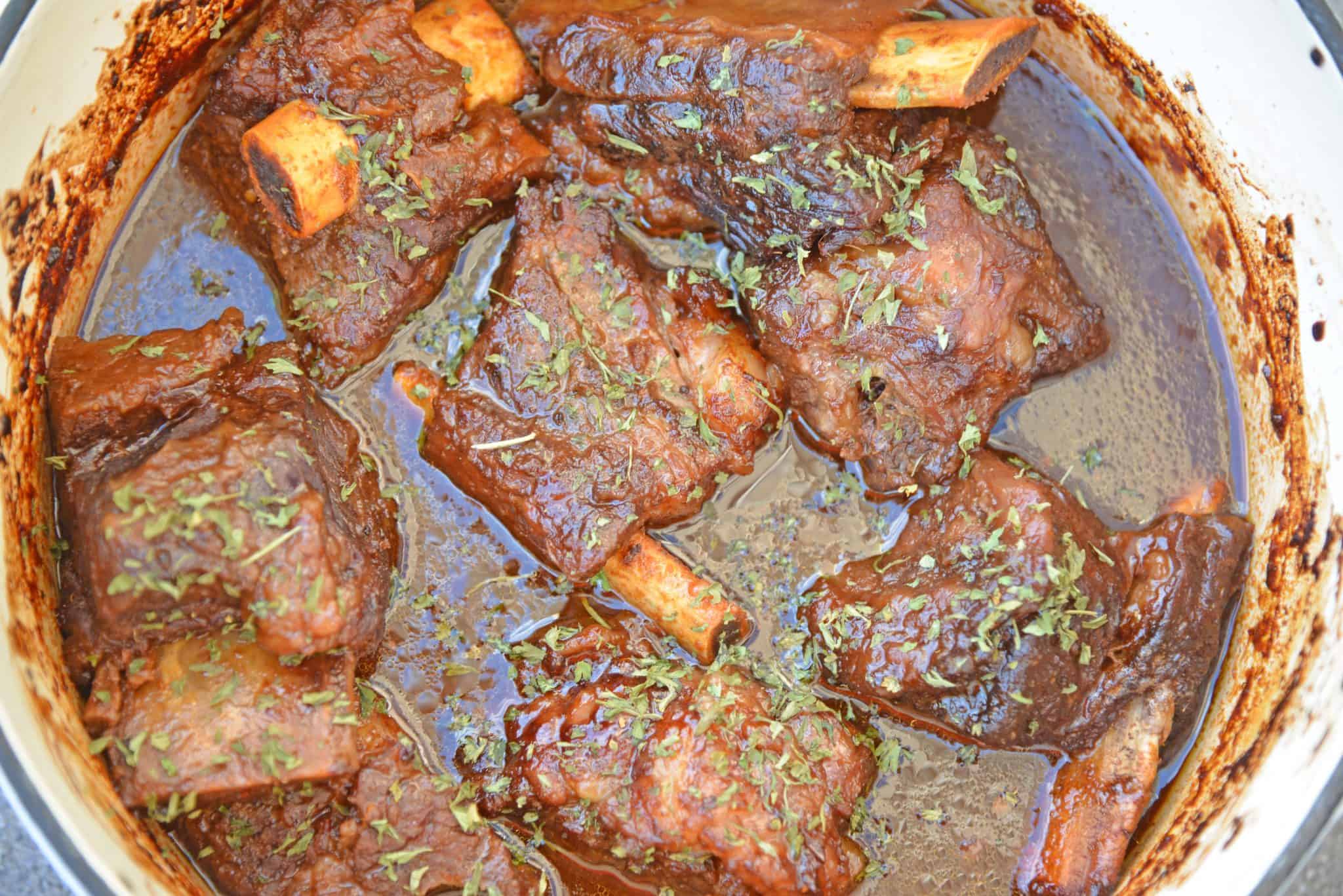 If you choose not to braise, you can also make your Honey Ginger Short Ribs in a pressure cooker, or Instant Pot. Use the same process, but cook for 40 minutes on high pressure using natural release for 10 minutes before venting.
I served my Honey Ginger Short Ribs with Japanese Ginger Salad and Easy Fried Rice!
Tools used to make Honey Ginger Short Ribs:
Enamel Dutch Oven
– I use my Dutch oven for everything! While they are an investment, they are also a kitchen item that will be put to great use!
Instant Pot
– If you choose not to braise and use a pressure cooker, the Instant Pot is my favorite. You can make any slow cooker or braised recipe in 20-30 minutes. It is like magic!
Immersion Blender
– Another cheap kitchen gadget, the immersion blender will allow you to easily blend sauces to smooth while nothing having to dirty up another dish, get the food processor out or do a lot of dishes. The top snaps off and is easily cleaned.
Hoisin Sauce
– You should be able to find it in your International Foods aisle near the Asian products, but if not, grab if off Amazon.
Fat Separator
– Another kitchen tool I use a lot, especially during the holidays. There is no simpler way to get all the fat out of your sauces! When you aren't using it to separate, it doubles as a measuring cup.
If you liked my Honey Ginger Short Ribs, you might also like these delicious recipes!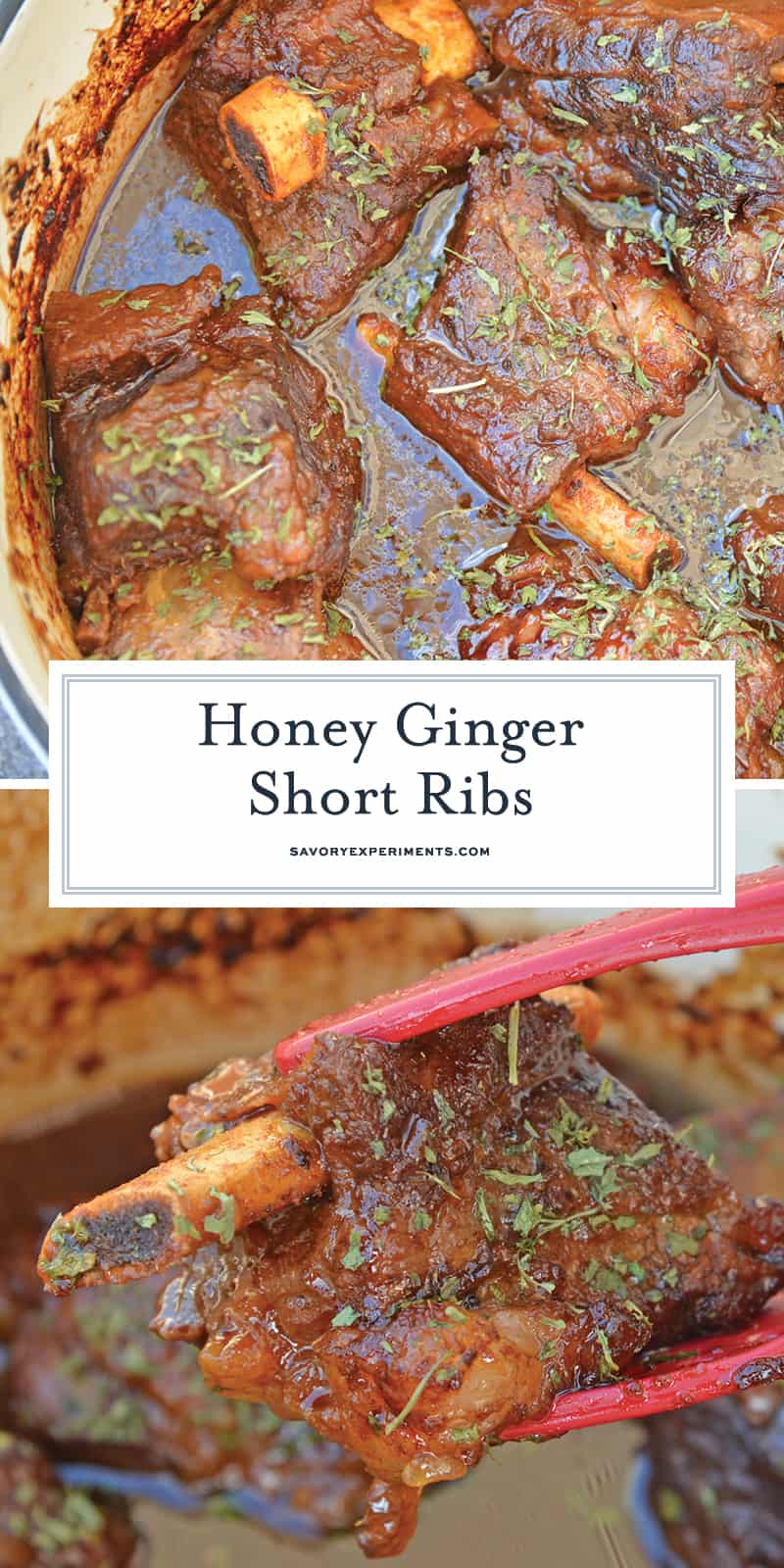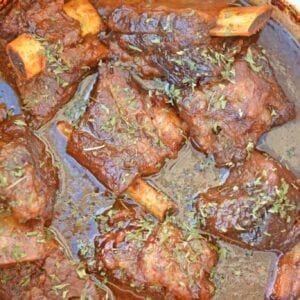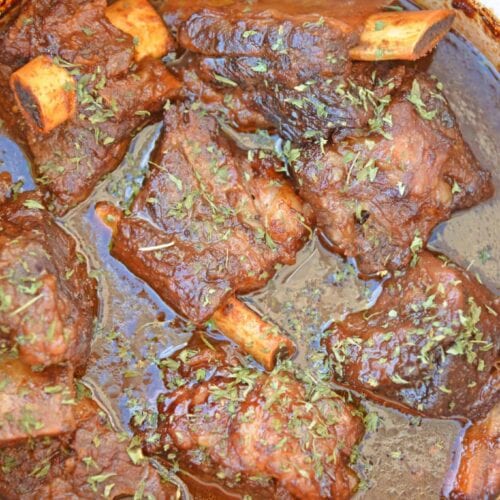 Honey Ginger Short Ribs
Honey Ginger Short Ribs are a zesty and sweet, fall off the bone short rib recipe, braised to perfection and served with the best fried rice ever!
Course:
Main Course, Main Dish
Keyword:
braised short ribs
Ingredients
8

bone-in short ribs

1

cup

hoisin sauce

1

cup

low sodium soy sauce

2

tablespoons

molasses

6

tablespoons

grated ginger

6

garlic cloves

minced or pressed

1

cup

honey

2

tablespoons

garlic chili sauce
Instructions
In a small bowl combine hoisin sauce, soy sauce, molasses, ginger, garlic, honey and garlic chili sauce. Blend using an immersion blender until smooth. In you do not have one, that is fine, your sauce will just be a little chunkier.

Place short ribs into large enamel Dutch oven or other oven safe dish, cover with marinade, turning to coat. Cover and allow to marinate at room temperture for 20-30 minutes.

Preheat oven to 300 degrees. Add short ribs, covered, in Dutch oven to lower third of oven. Braise for 2 hours.

Remove lid, turn short ribs in sauce and continue to cook for an additional 45 minutes uncovered, allowing the sauce to reduce.

Remove from oven and remove short ribs to a plate. Transfer sauce to a fat separator, or ladle off fat from the top of sauce. Return fat removed sauce back to the Dutch oven, along with short ribs. Turn to coat again. Serve over Fried Rice with additional sauce.

If you've tried this recipe, come back and let us know how it was!
Nutrition Facts
Honey Ginger Short Ribs
Amount Per Serving
Calories 491
Calories from Fat 18
% Daily Value*
Total Fat 2g 3%
Cholesterol 3mg 1%
Sodium 3661mg 153%
Potassium 405mg 12%
Total Carbohydrates 116g 39%
Protein 6g 12%
* Percent Daily Values are based on a 2000 calorie diet.