Honey Ginger Short Ribs are a recipe I originally made long ago. Adapted from Food & Wine Magazine, I was obsessed with anything short rib at the time, especially braising short ribs, which in my opinion is the best way to prepare them.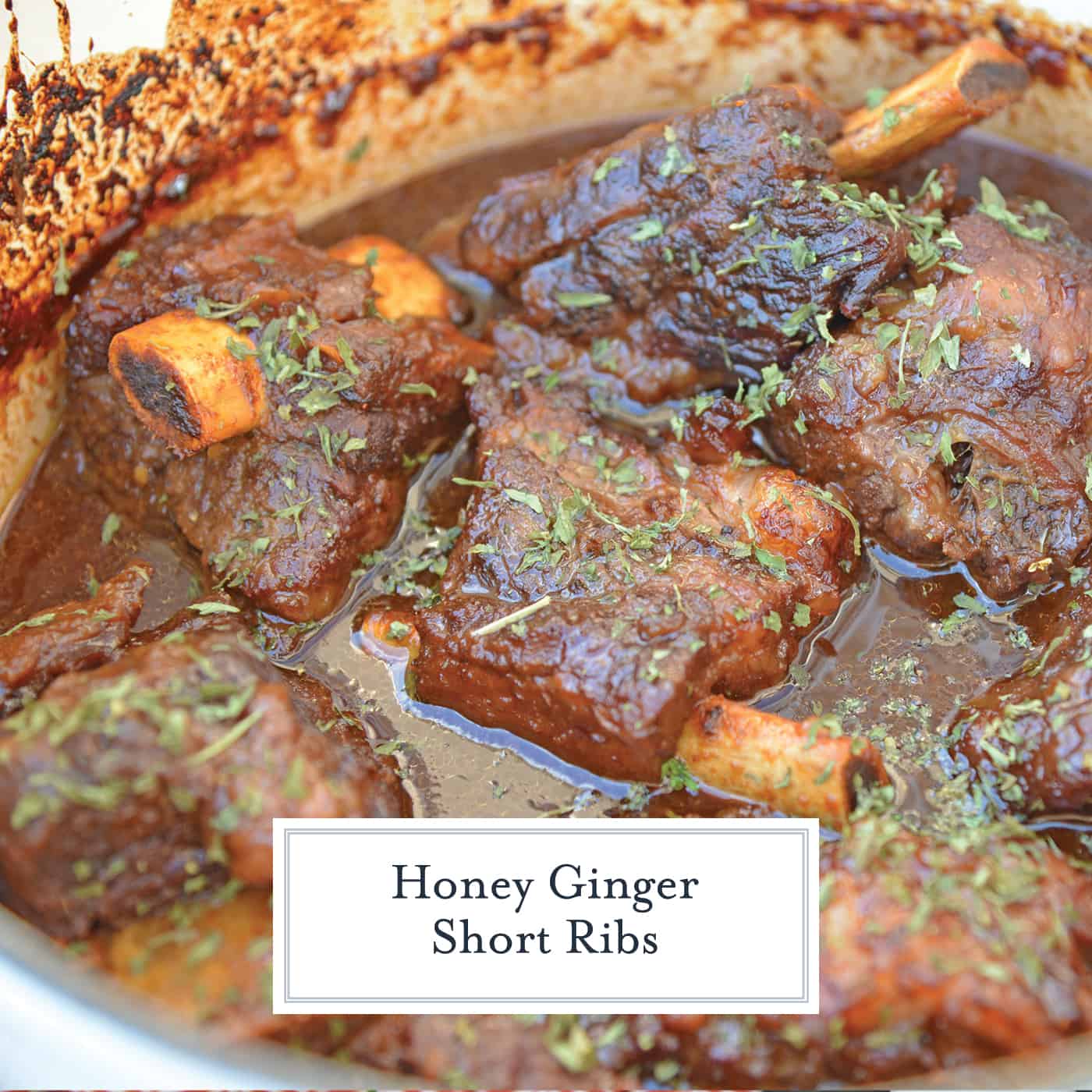 Honey Ginger Short Ribs are a zesty and sweet braised short rib recipe using traditional Asian spices. An easy recipe for fall-off-the-bone ribs.
After years, literally, I decided to make these braised short ribs again with a few smalls changes. I forgot how much I love this fall-off-the-bone short rib recipe!
Honey Ginger Short Ribs used to be called Honey Hoisin Short Ribs, although it turns out not many people look for a recipe with that name.
In fact most people are just looking for a braised short rib recipe with no mention of ingredients or flavor. But there are so many to choose from!
Hoisin Sauce
Many ask, what is hoisin? Hoisin sauce a sweet, spicy, dark red sauce made from soybeans, vinegar, sugar, garlic, and various spices. A regular condiment in Southern Chinese cooking, it is pungent and syrupy and used for many purposes.
After you taste hoisin sauce you might recognize it from some of your Chinese restaurant favorites.
Short ribs are a popular cut of beef used in many types of cuisine including French, Spanish, Italian and Korean. The can be grilled or roasted, but no matter the ethnicity of cooking, braising seems to be the most popular.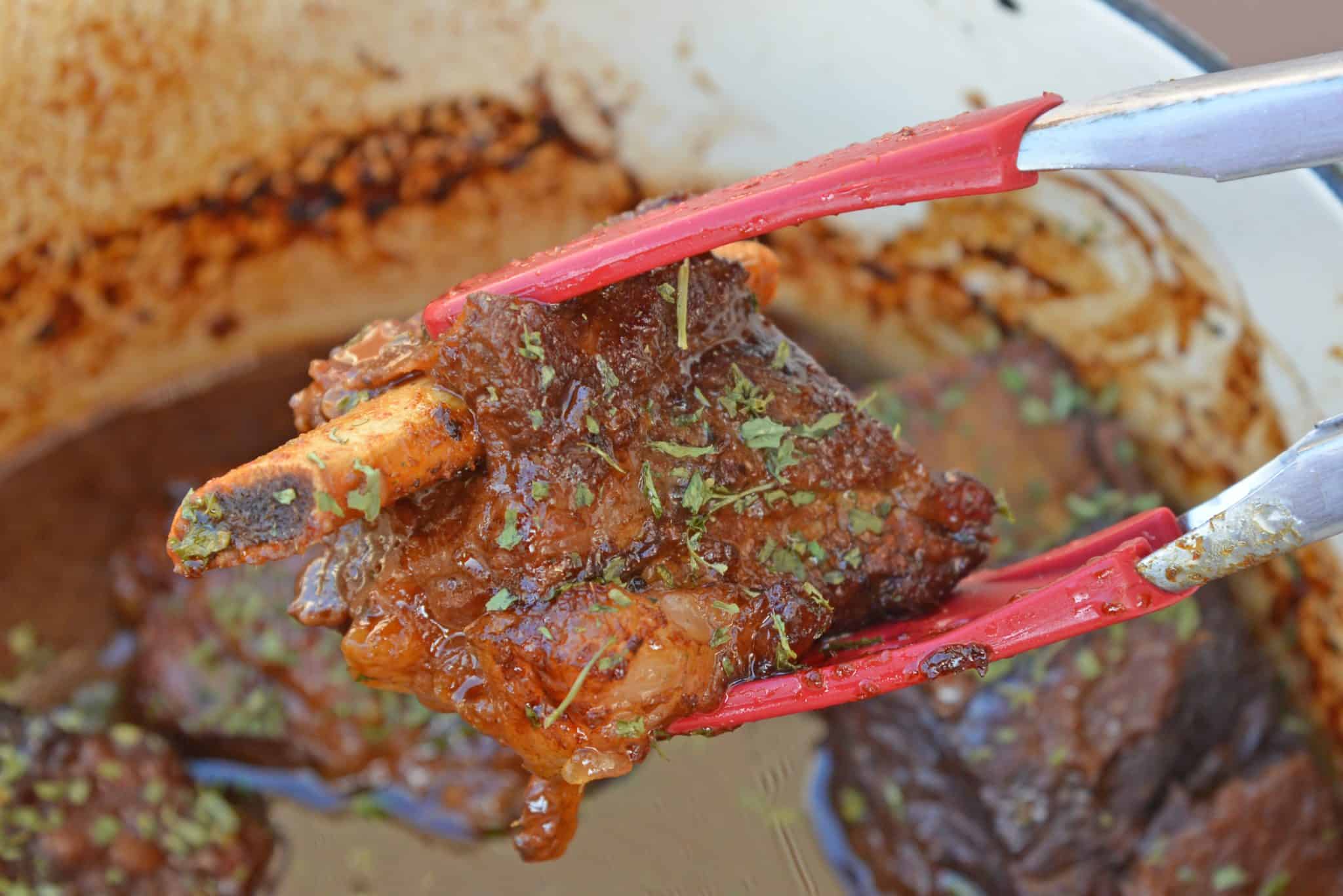 The cut of meat, short ribs, are a cut of beef taken from the brisket, chuck, plate, or rib areas of beef cattle. They consist of a short portion of the rib bone, which is overlain by meat which varies in thickness.
This is why you'll see them vary greatly in size in the grocery store, but also in restaurants. In the US, it is generally about 2 inches long, but the marbled cut will shrink while cooking, resulting in a Flintstone looking hunk.
This particular cut needs a little TLC to be fork tender. The best way to do this is by marinating to break down fibers and tenderize and also braise, a slow, controlled cooking process. Braising short ribs is by far the most popular and effective way to cook them.
Having an oven safe pot, such as an enamel Dutch oven
, is necessary for this process. Honey and soy sauce will tenderize the short ribs, while other ingredients add loads of zesty flavor.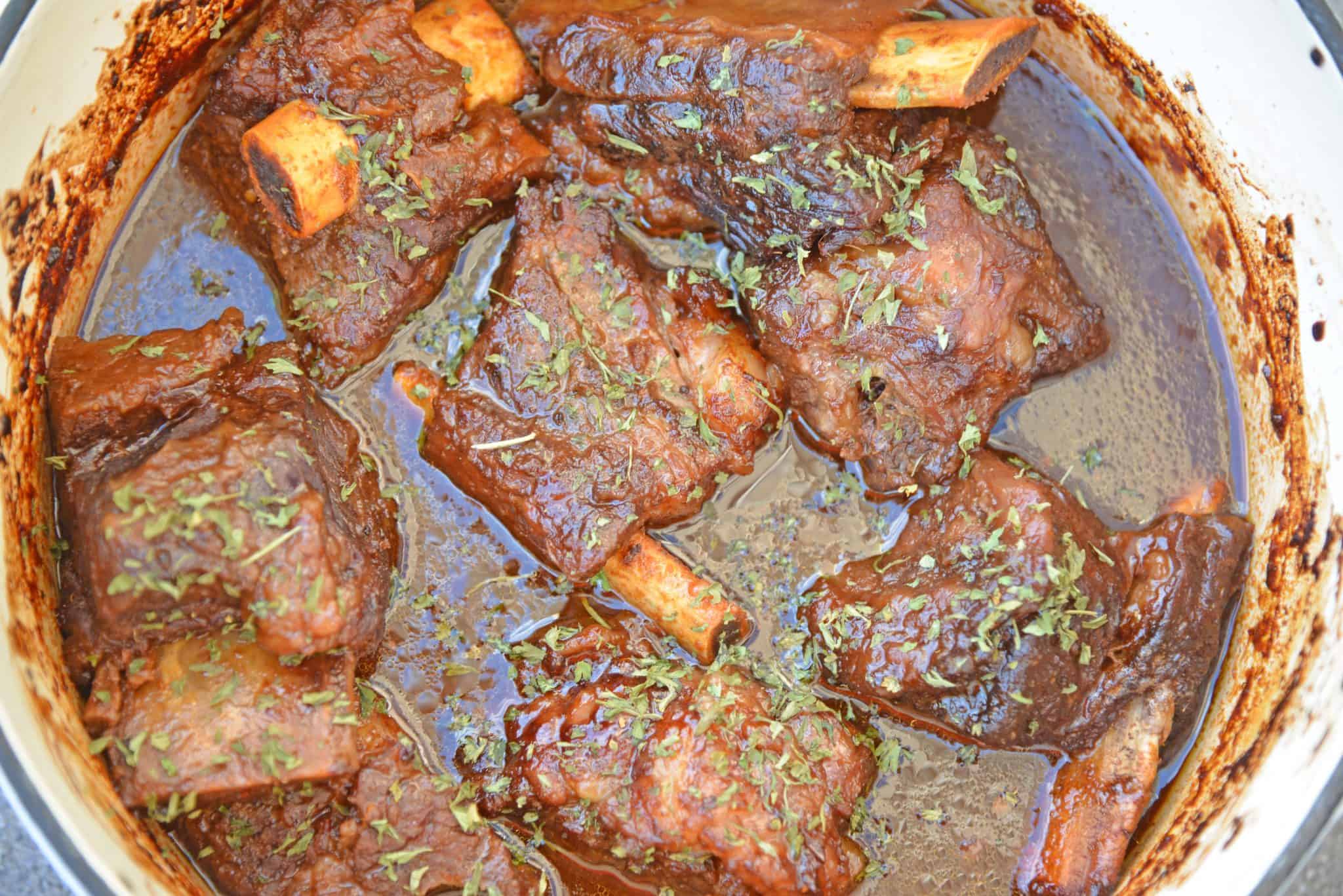 If you choose not to braise, you can also make your Honey Ginger Short Ribs in a pressure cooker, or Instant Pot.
Use the same process, but cook for 40 minutes on high pressure using natural release for 10 minutes before venting. I'll include these alternate directions in the printable recipe card below.
I served my Honey Ginger Short Ribs with Japanese Ginger Salad and Easy Fried Rice! When traditionally prepared, they are served with mashed potatoes.
Let's provide a quick overview of how to cook short ribs. We are going to slow cook beef short ribs in the oven by using an Asian inspired broth instead of traditional beef stock or beef broth.
Before they happens we will sear the beef ribs on all sides to bring out flavor and create acid. After adding the rest of the ingredients, you scrape the bottom of the pan for all of those flavor bombs and place in a preheat oven. They will braise for about 3 hours.
Tools used to make Short Ribs:
Enamel Dutch Oven
– I use my Dutch oven for everything! While they are an investment, they are also a kitchen item that will be put to great use!
Instant Pot
– If you choose not to braise and use a pressure cooker, the Instant Pot is my favorite. You can make any slow cooker or braised recipe in 20-30 minutes. It is like magic!
Immersion Blender
– Another cheap kitchen gadget, the immersion blender will allow you to easily blend sauces to smooth while nothing having to dirty up another dish, get the food processor out or do a lot of dishes. The top snaps off and is easily cleaned.
Hoisin Sauce
– You should be able to find it in your International Foods aisle near the Asian products, but if not, grab if off Amazon.
Fat Separator
– Another kitchen tool I use a lot, especially during the holidays. There is no simpler way to get all the fat out of your sauces! When you aren't using it to separate, it doubles as a measuring cup.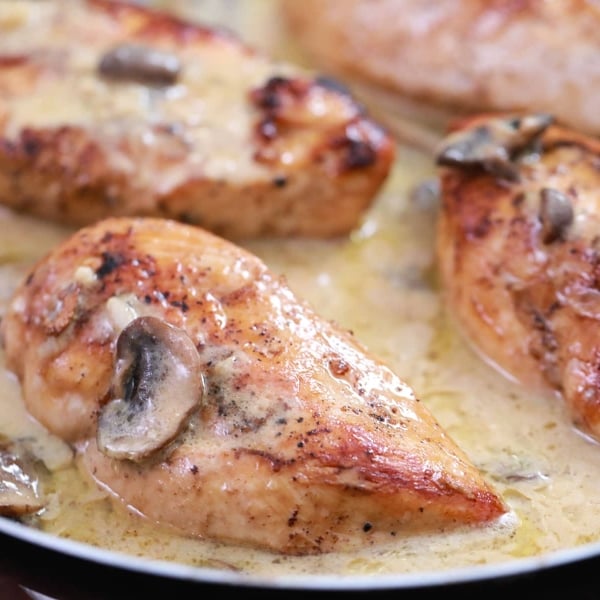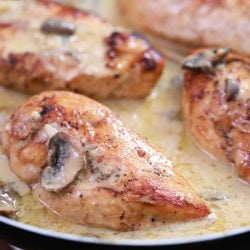 Chicken Marsala Recipe
This Chicken Marsala recipe is made in 1 pan in less than 30 minutes! Whip up this EASY dish with a rich creamy mushroom sauce on top of juicy chicken.
View this recipe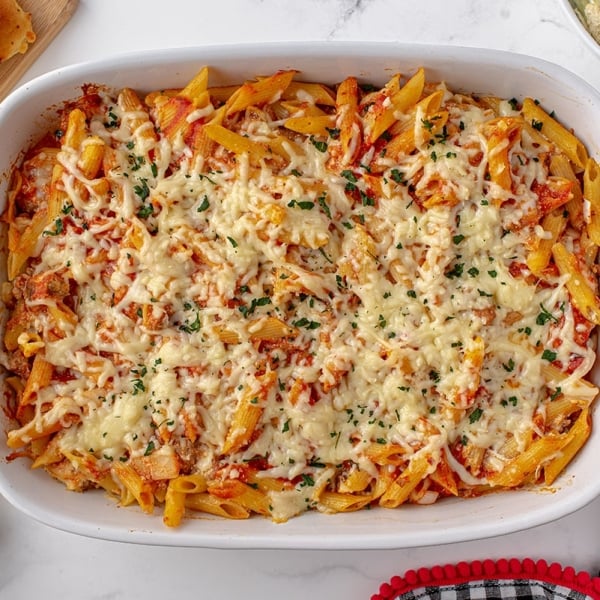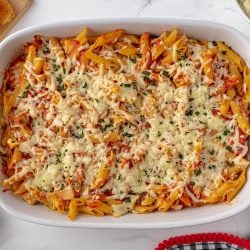 Baked Mostaccioli
A delicious one-dish meal with baked pasta, tomato sauce, cheese and sausage. Great for potlucks and as a freezer meal!
View this recipe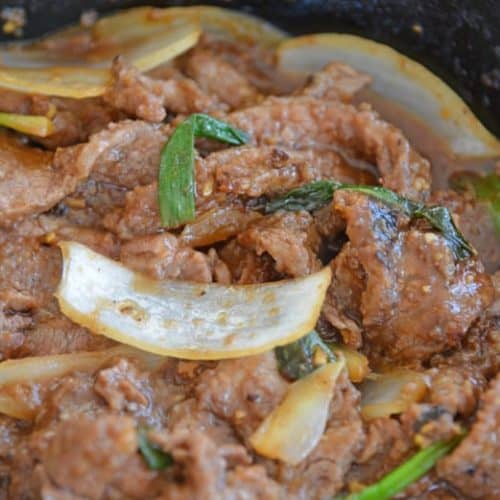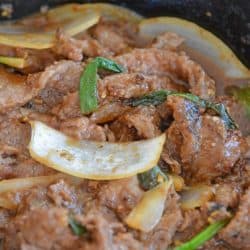 30-Minute Mongolian Beef
Skip the takeout and make this homemade Mongolian Beef recipe instead! It tastes even better than the PF Chang's recipe!
View this recipe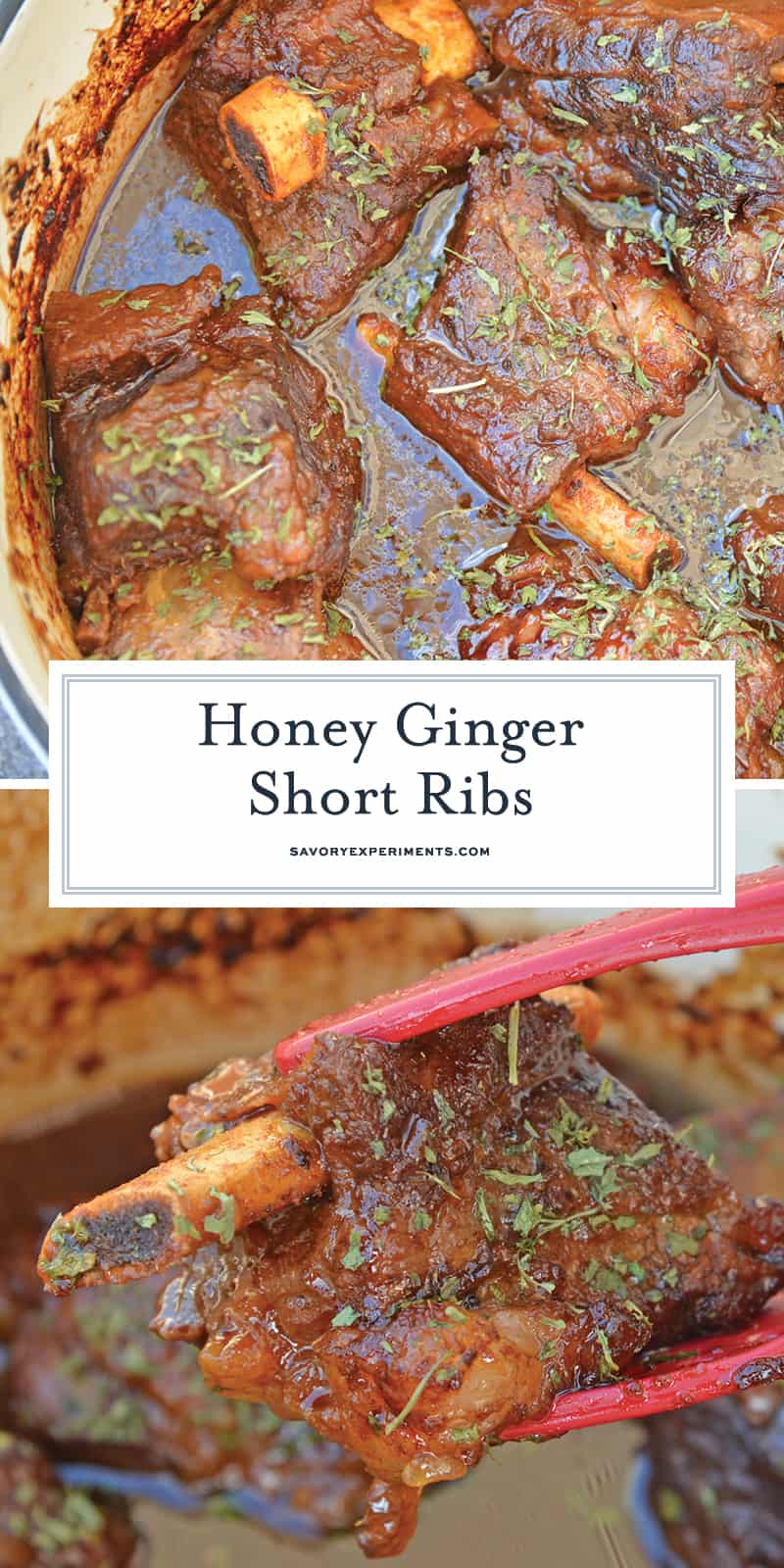 Questions you might have about how to cook beef short ribs:
Are short ribs beef or pork? Short ribs are beef and the equivalent of spare ribs for pork.
Can I use "boneless" short ribs? "Boneless" short ribs are cut from either the chuck or plate, and consist of rib meat separated from the bone and sometimes referred to as "country style". While you can use this type of meat, they are not real short ribs.
Are short ribs expensive? They are on the pricier side, yes. But if cooked properly, well worth the price!
Are short ribs tender? You don't cook short ribs right, they are tough. Cooked correctly, like braising, short ribs are very tender and shouldn't even require a knife!
Are short ribs keto? The ribs alone are keto friendly, but how you choose to cook them may not be. For example, this short rib recipe is not keto friendly. In fact, many of the ingredients important to breaking down the fibers aren't seen as keto friendly.
Are short ribs high in fat? They are relatively fatty, containing about 30 grams of fat for 3 ounces of meat. Something to eat in moderation. It is this fat that will help make them so tender.
Can short ribs be frozen? Yes! I would recommend freezing short ribs raw, not cooked, though.
Can short ribs be pink? Since it is beef, they can be pink, but need to reach an internal temperture of 145 degrees. However, braised short ribs are rarely pink.
I am a lady who like my beef rare. The exception to that rule is short ribs and pot roast. These, when cooked properly, are actually better cooked well done. You can, however, overcook them to the point of being tough.
Can you reheat short ribs or make short ribs ahead of time? You can! I suggest reheating slowly in the same liquid you cooked it in, just store it in the liquid so nothing dries out.
Because it is in liquid, it will also take longer to heat up. I recommend taking the whole pot out of the fridge and letting it come up to room temperture (or close) before putting in the oven. Heat up to 350 degrees for about 15 minutes. Check to make sure they are hot. Each pot and batch will be different.
How many short ribs should I serve per person? It really depends on the size. Three ounces is the suggested serving size, which is typically about one short rib per person. However… my family consists of a bunch of hungry beasts and hubby usually eats 2-3.
Make sides and serve with a starch to help fill people up. Here in the states we are so used to super sized portions and with something like short ribs, that doesn't have to be the case.
Where do I buy beef short ribs? You regular grocery store probably has them. If not displayed, in the back. Since they are pricey, they aren't one of the most frequently purchased cut of beef, so grocers don't put as many packages out. Simply ask and they can usually get you as many as you need from the freezer.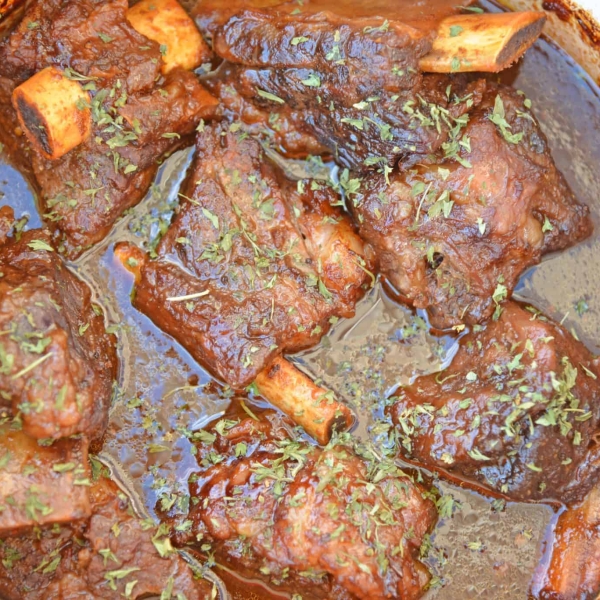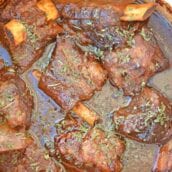 Honey Ginger Short Rib Recipe
Honey Ginger Short Ribs are a zesty and sweet, fall off the bone short rib recipe, braised to perfection and served with the best fried rice ever!
Instructions
In a small bowl combine hoisin sauce, soy sauce, molasses, ginger, garlic, honey and garlic chili sauce. Blend using an immersion blender until smooth. In you do not have one, that is fine, your sauce will just be a little chunkier.

Place short ribs into large enamel Dutch oven or other oven safe dish, cover with marinade, turning to coat. Cover and allow to marinate at room temperture for 20-30 minutes.

Preheat oven to 300 degrees. Add short ribs, covered, in Dutch oven to lower third of oven. Braise for 2 hours.

Remove lid, turn short ribs in sauce and continue to cook for an additional 45 minutes uncovered, allowing the sauce to reduce.

Remove from oven and remove short ribs to a plate. Transfer sauce to a fat separator, or ladle off fat from the top of sauce. Return fat removed sauce back to the Dutch oven, along with short ribs. Turn to coat again. Serve over Fried Rice with additional sauce.

If you've tried this recipe, come back and let us know how it was!
Notes
For the Instant Pot: Use the same process/recipe, but cook for 40 minutes on high pressure using natural release for 10 minutes before venting.
Nutrition
Calories:
491
kcal
,
Carbohydrates:
116
g
,
Protein:
6
g
,
Fat:
2
g
,
Cholesterol:
3
mg
,
Sodium:
3661
mg
,
Potassium:
405
mg
,
Fiber:
3
g
,
Sugar:
98
g
,
Vitamin C:
2.1
mg
,
Calcium:
67
mg
,
Iron:
2.9
mg