This creamy Asparagus Soup is full of the best flavors of summer. Fresh asparagus and onion with a splash of white wine and lemon juice really send this soup over the top!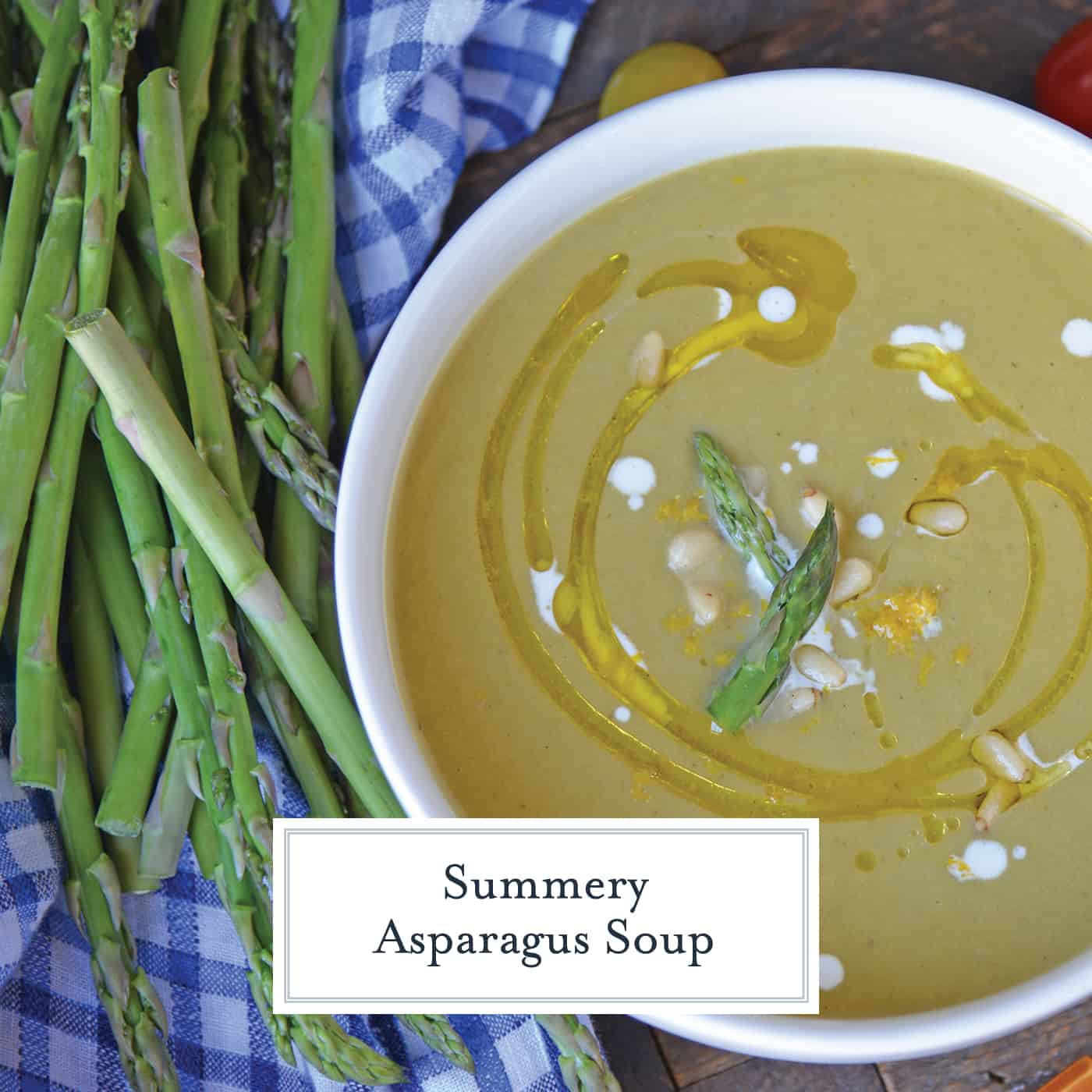 If you are an asparagus lover, you are going to love this Cream of Asparagus Soup! Deliciously smooth and flavored to perfection, this cream of asparagus soup would be the perfect addition to any meal.
Asparagus Soup is sponsored by Michigan Asparagus. Although I received compensation for this post, the opinions and statements are 100% my own.
Did you know that Oceana County, Michigan is nicknamed the "asparagus capital of the world?" They just recently pulled ahead of California and Washington to become the country's leading asparagus producer! Congratulations, Michigan!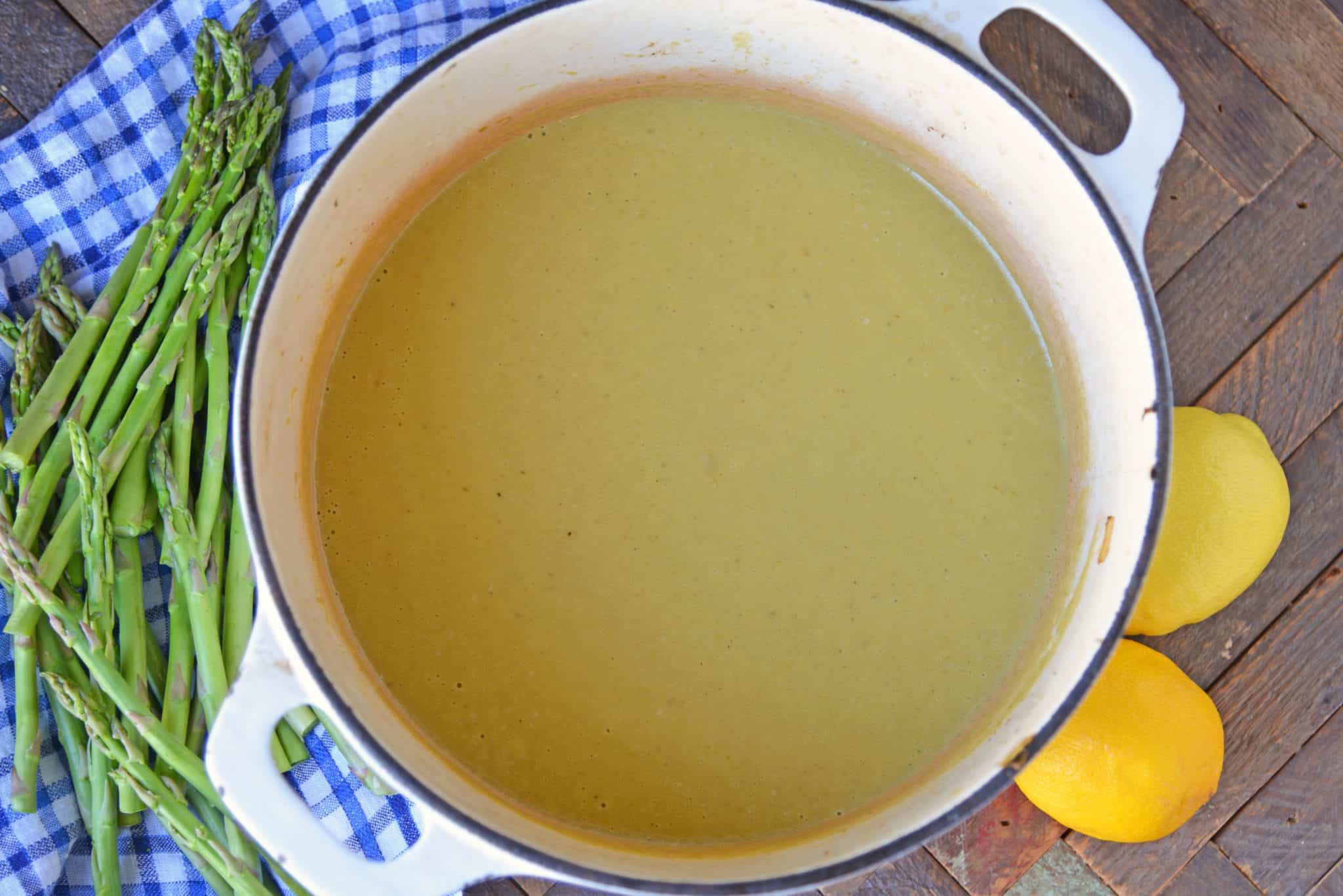 My favorite asparagus is Michigan Asparagus. Michigan is home to 120 family farms that harvest approximately 20 million pounds of asparagus, and it is all hand harvested. Perfect for my Asparagus Soup!
Asparagus can be prepared in so many ways, but one of my favorite ways to use asparagus is in creamy asparagus soup. It has a wonderful balance of flavors that is perfect for summer.
Lemon and white wine brighten this verstile dish that can be served hot or cold.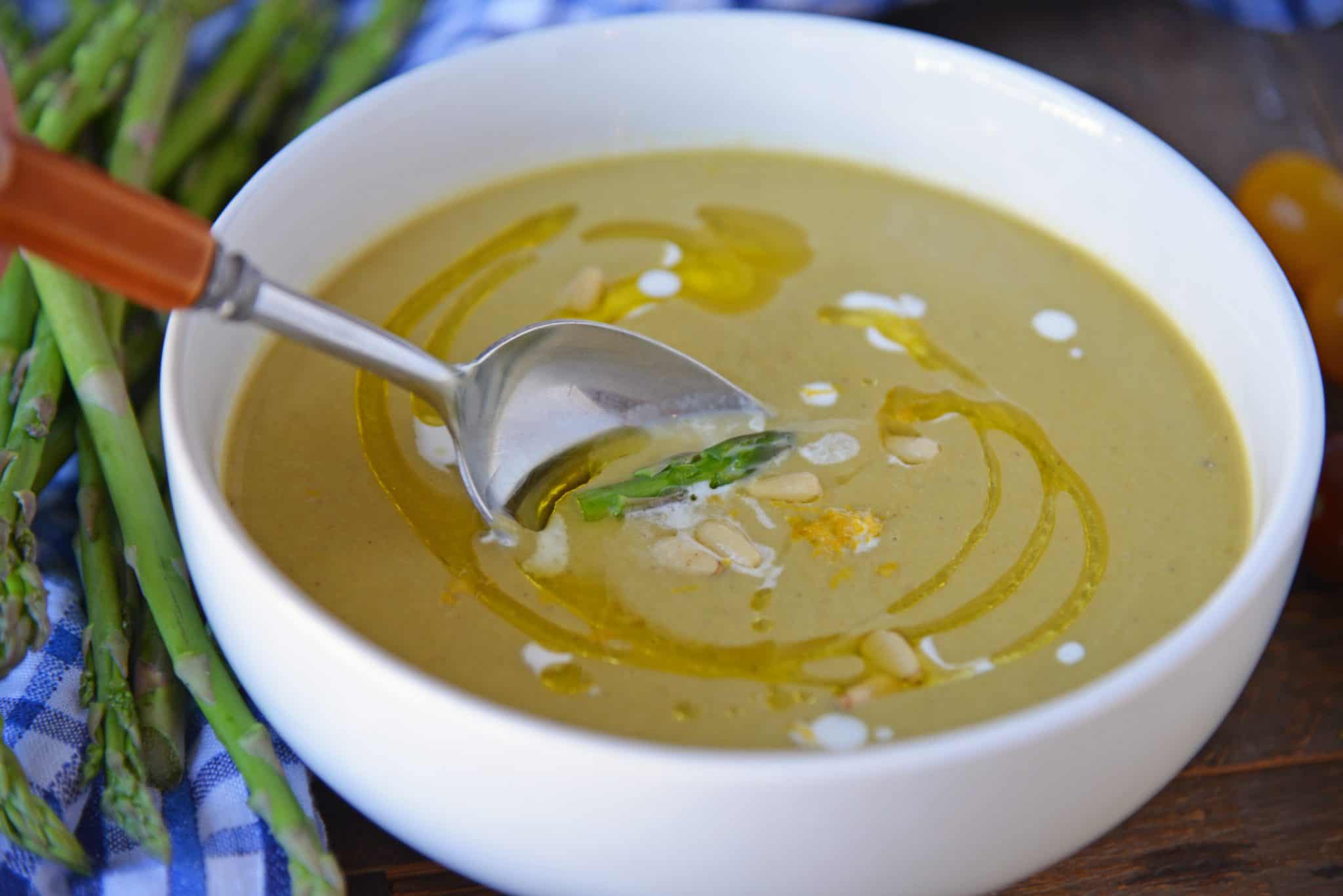 The great part about this soup is that you can change it up to your liking. This recipe is fairly thick because I like my soups to have somebody. However, if you are looking for a thinner soup, just add more vegetable stock.
You can even take it a step further and drain the soup through a fine mesh sieve or colander lined with cheesecloth. Note that this will take away from the final volume, so I would recommend doubling the recipe to yield a little more than the original amount.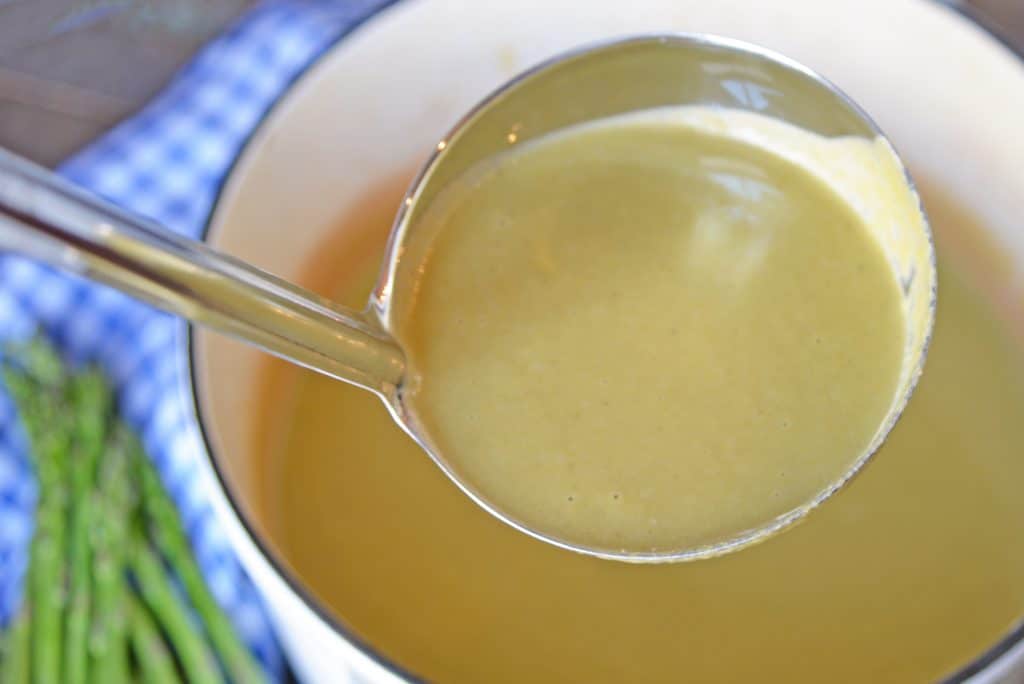 Variations on traditional asparagus soup:
ONE. Add herbs. Herbs like tarragon, mint, rosemary, dill and thyme can change the flavor palate. I would only recommend using one to not overwhelm the delicious asparagus flavor.
Add one or two tablespoons to the soup when you add the broth.
TWO. Remove some of the asparagus pieces before blending. Mash them with a potato masher or fork and add back to pureed mixture to add body and depth.
THREE. Add an additional teaspoon of lemon juice or white vinegar.
FOUR. Serve chilled asparagus soup like you would a gazpacho. It is perfect for a hot summer day.
FIVE. You can make asparagus soup ahead of time. Asparagus Soup can even be frozen up to 2 months. Make sure to taste and correct the seasoning before serving.
Chilling soup tends to mute flavors, particularly salt. I like to use a sprinkle of Maldon Sea Salt.
SIX. Craving a healthy asparagus soup? Omit the cream! While the soup will be a little looser, it will still taste great and be an even more vibrant hue of green.
SEVEN. Garnish is the key to take soup to spectacular. Be creative and don't worry about symmetry. Dribble additional cream, lemon olive oil or even fresh lemon juice over the bowl.
EIGHT. Get crazy and use purple or white asparagus.
Add fresh herbs or toasted pine nuts. Add croutons or even a piece of smoked salmon.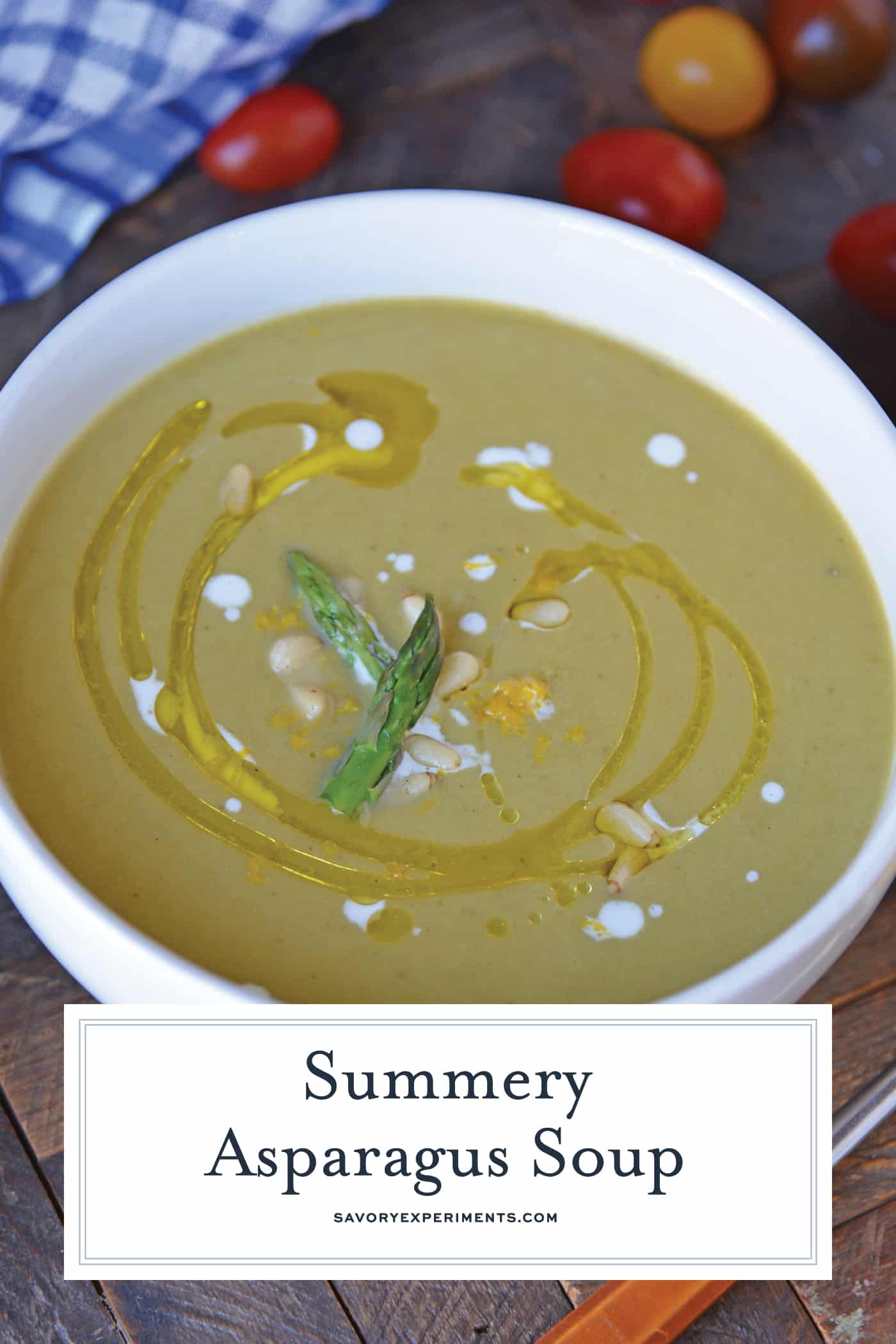 If you like this creamy Asparagus Soup you are also going to like these creamy soup recipes: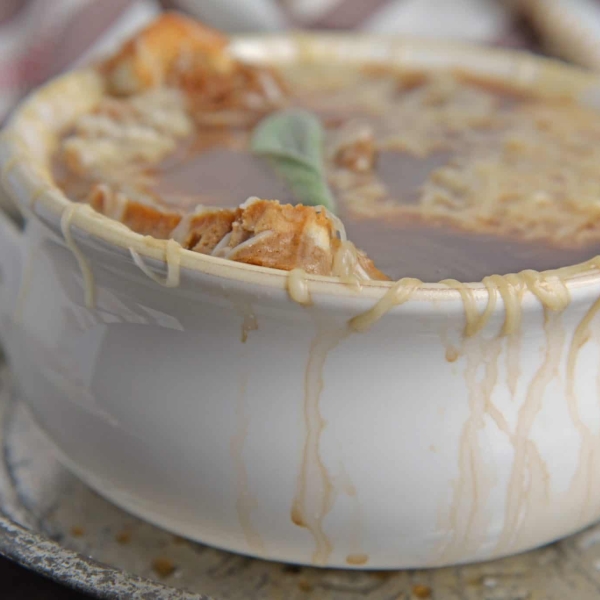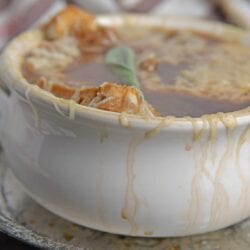 Apple French Onion Soup
Apple French Onion Soup combines a robust French Onion Soup Recipe using sweet apples for flavor and texture. Top with crunchy garlic croutons and gooey cheese.
See The Recipe!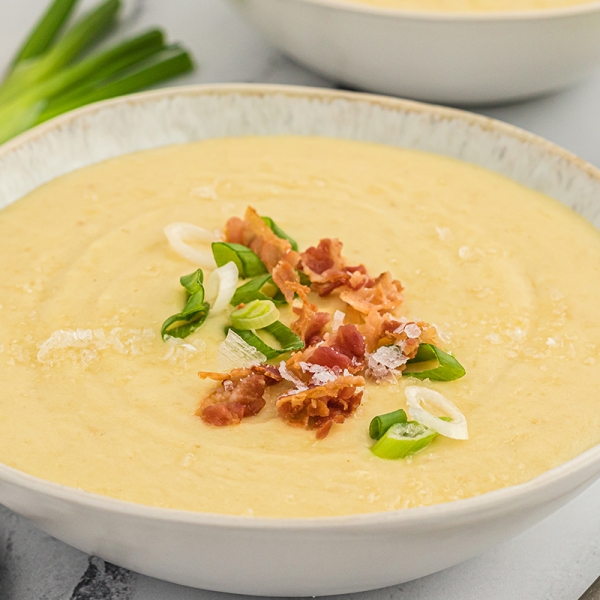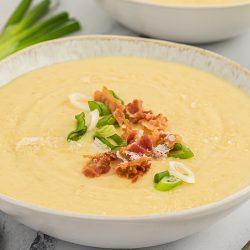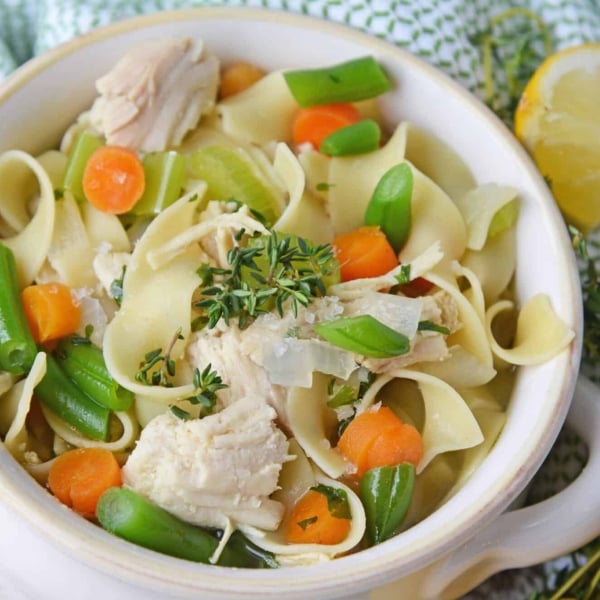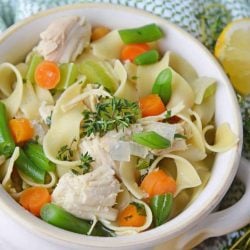 Tools for making this Asparagus Soup:
Dutch Oven– every kitchen should have one! They are heavy. They are expensive. They are worth it!
Immersion Blender– I used to transfers anything that needed to be blended to a food processor and then back again. It was an unnecessary amount of the work for the cheap cost of an immersion blender. They are also super easy to clean.
Soup Bowls– I love soup crocks! They are just so much more fun than a dreary regular bowl and perfect for making French Onion Soup too!
I like the little handles, they prevent you from burning yourself while transporting a steaming bowl of deliciousness.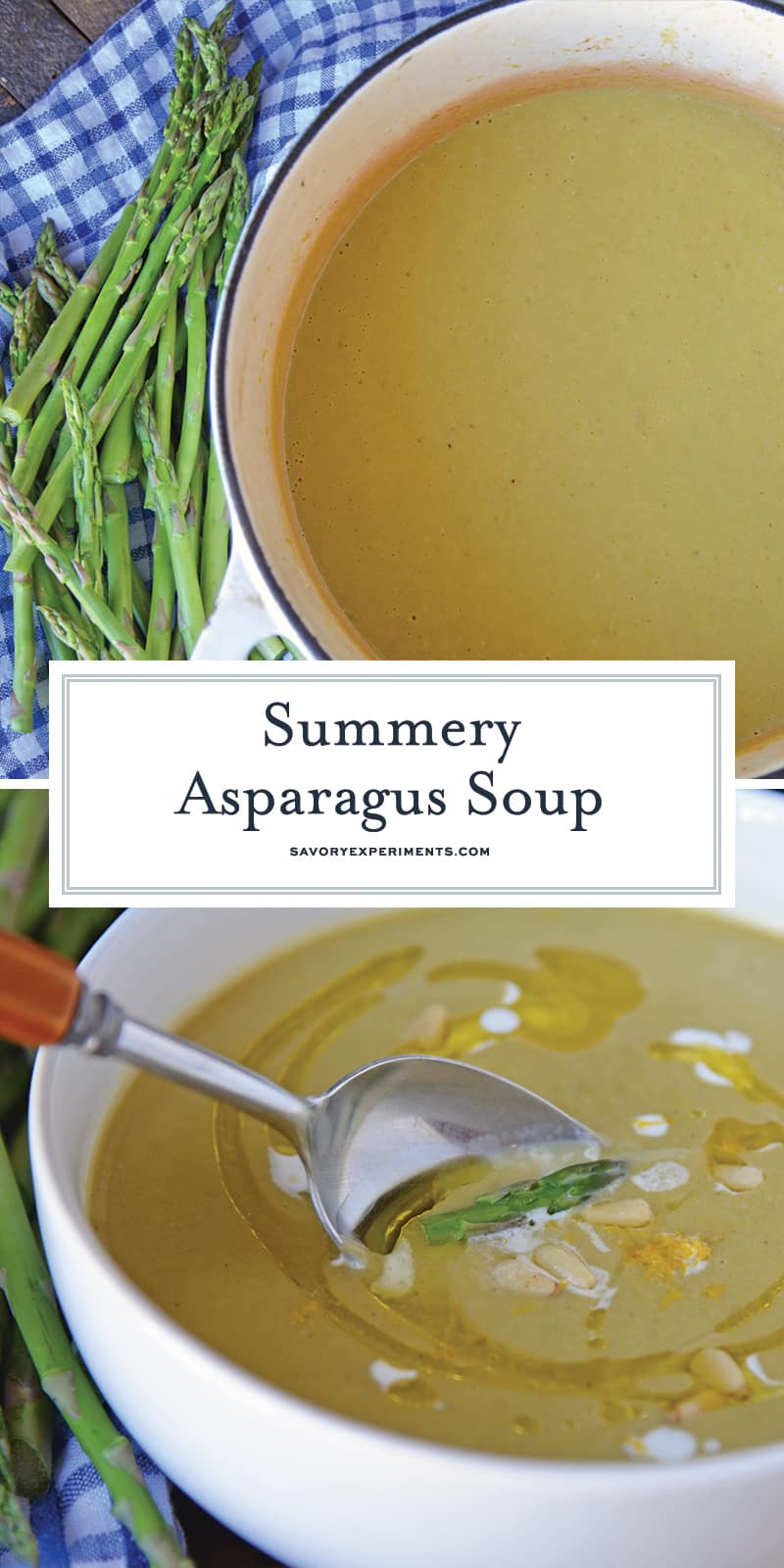 Questions you might have about how to make cream of asparagus soup:
Can I freeze asparagus soup? You sure can! Follow my easy instructions for how to freeze foods and it will stay good for up to 6 months. You will need to correct the seasonings after thawing, as chilling and freezing mutes the flavors.
My soup tasted fine when I made it, why are the leftovers so dull? As mentioned above, chilled soup tends to be muted. Simply add another few drops of lemon juice or vinegar and season with salt and pepper to bring it back to life.
Can I use cream instead of milk? Cream of asparagus soup would be asparagus soup with milk… LOL. But in all seriousness, you can use whole milk, but I would shy away from using 2% or skim, only because of the body and fat content. The soup will be very thin.
If you do use one of the these, compensate by also adding a tablespoon of butter.
Is asparagus soup healthy? Well, that depends on solely on your definition of healthy. It is loaded with nutrient rich asparagus and other veggies, but cream takes up the calories and fat content.
Albeit, this recipe only calls for a small amount of cream. Scroll on down to check out the nutritional values and make your own call.
Can I make asparagus soup with just the stalks? So you had a recipe that called for just the frilly asparagus tips and now you are left with a bunch of stalks. Got it.
You can use those to make soup or chop them up and roast them, or even pickle them and throw them in a salad. But for goodness, sake, don't throw them away!
Can I freeze asparagus? You can freeze asparagus, but not raw, it will need to be blanched first.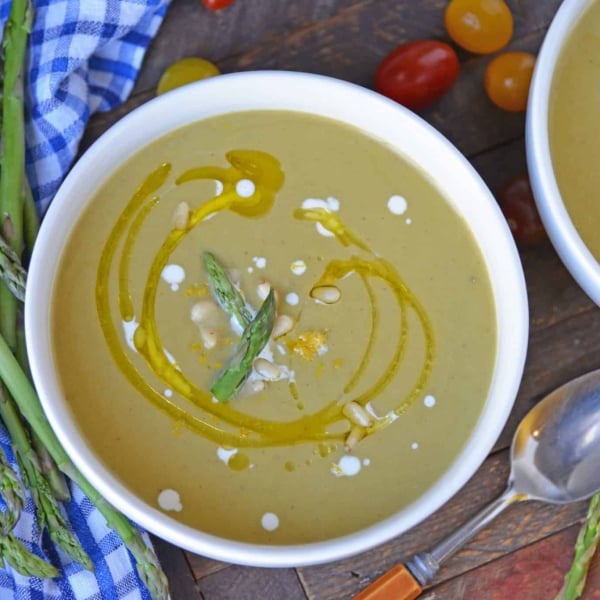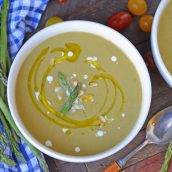 Asparagus Soup
Asparagus lovers will love this creamy asparagus soup! Deliciously smooth and flavored to perfection, this cream of asparagus soup makes the perfect appetizer!
Instructions
Melt butter over low heat in a large Dutch oven or saucepan.

Add cut asparagus and onion. Cover and cook over low heat, stirring occasionally, until very soft, approximately 20 minutes.

Remove several asparagus tips for garnishing. Set aside or in the refrigerator.

Add vegetable broth. Using an immersion blender or transferring to a blender or food processor, blend until fully pureed.

In a small bowl, mix cornstarch with 2 tablespoons water. Add cornstarch to soup along with white pepper, fine sea salt, lemon juice and heavy cream. Blend again until combined.

Serve warm or chilled. Garnish with asparagus tips, good quality olive oil, Maldon sea salt, fresh herbs or lemon wedges.

If you've tried this recipe, come back and let us know how it was!
Nutrition
Calories:
269
kcal
,
Carbohydrates:
16
g
,
Protein:
3
g
,
Fat:
19
g
,
Saturated Fat:
12
g
,
Cholesterol:
63
mg
,
Sodium:
1309
mg
,
Potassium:
371
mg
,
Fiber:
3
g
,
Sugar:
8
g
,
Vitamin A:
1930
IU
,
Vitamin C:
10.8
mg
,
Calcium:
68
mg
,
Iron:
2.7
mg
For more recipes and information on the wonderful world of asparagus, visit www.michiganasparagus.org and don't forget to enter the giveaway! a Rafflecopter giveaway