I originally made Garlic Dill Oyster Crackers to top a steaming bowl of Tomato Soup, but before my soup was even done (let alone served), I had already snacked the entire batch.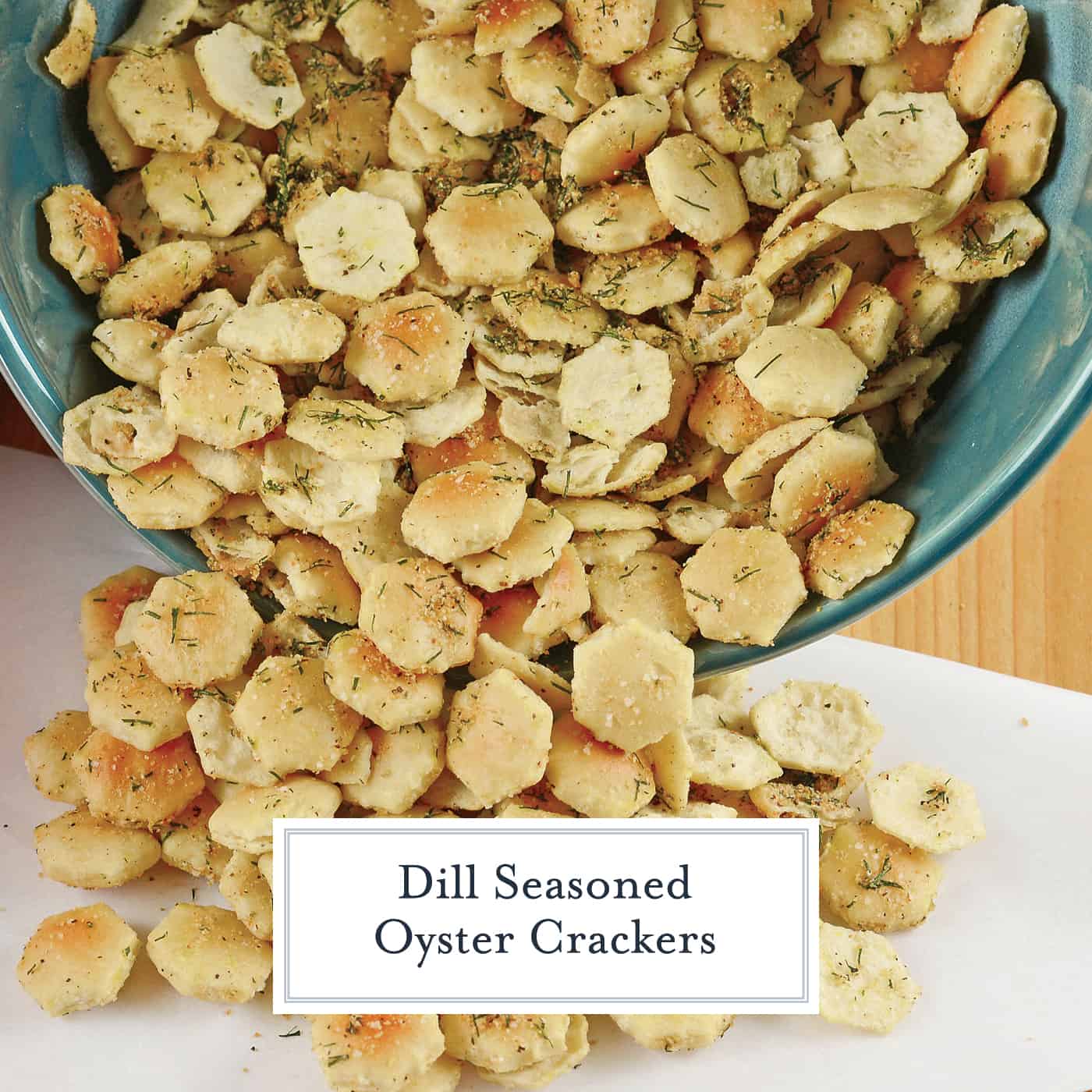 Dill Seasoned Oyster Crackers are the perfect snack, soup topper or salad crouton. They add an extra touch to any dish and are so easy to make and store!
Many of my recipes are developed out of having leftover ingredients and needing to use them creatively. I love cooking with dill, but I rarely end up needing the entire bunch I end up buying.
After I've made Salmon Sandwiches (one of my all-time favorite recipes!) and Lemon Dill Salmon, I then make Dill Seasoned Oyster Crackers.
Everyone is always ranting and raving about ranch oyster crackers and sometimes even lemon pepper flavor. Well, I don't care for ranch! Can you beleive that?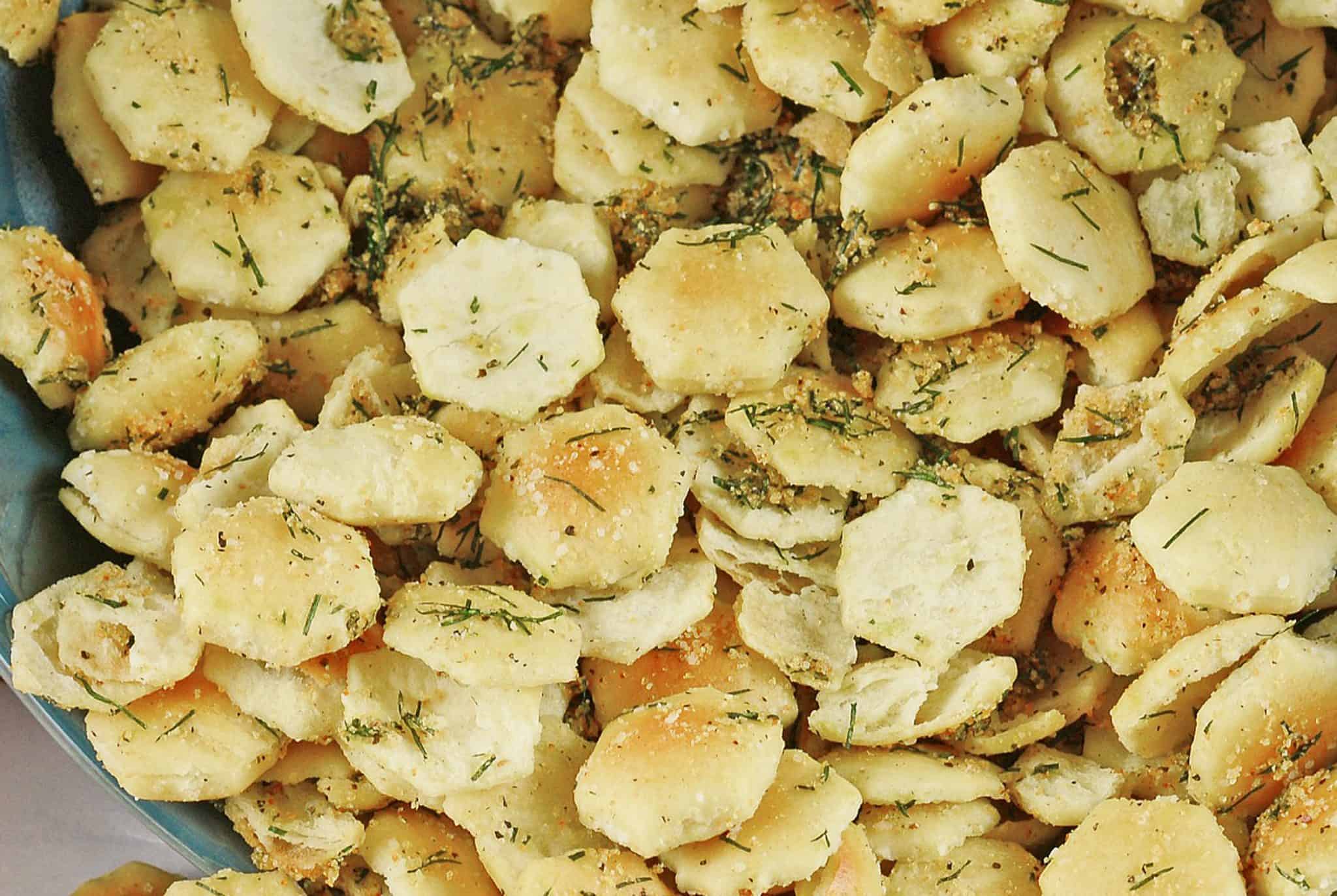 There are many oyster cracker recipes, which is funny because they are already cooked, but really you can toss them with any seasoning, a few drops of extra virgin olive oil and bake for a truly tasty topping.
Some folks use a premade salad dressing, like Italian, but I prefer to make my own salad dressings, and thus also, oyster cracker seasoning.
Mine recipe for seasoned crackers is simple. Dill weed, garlic powder, salt, pepper and olive oil. Tada!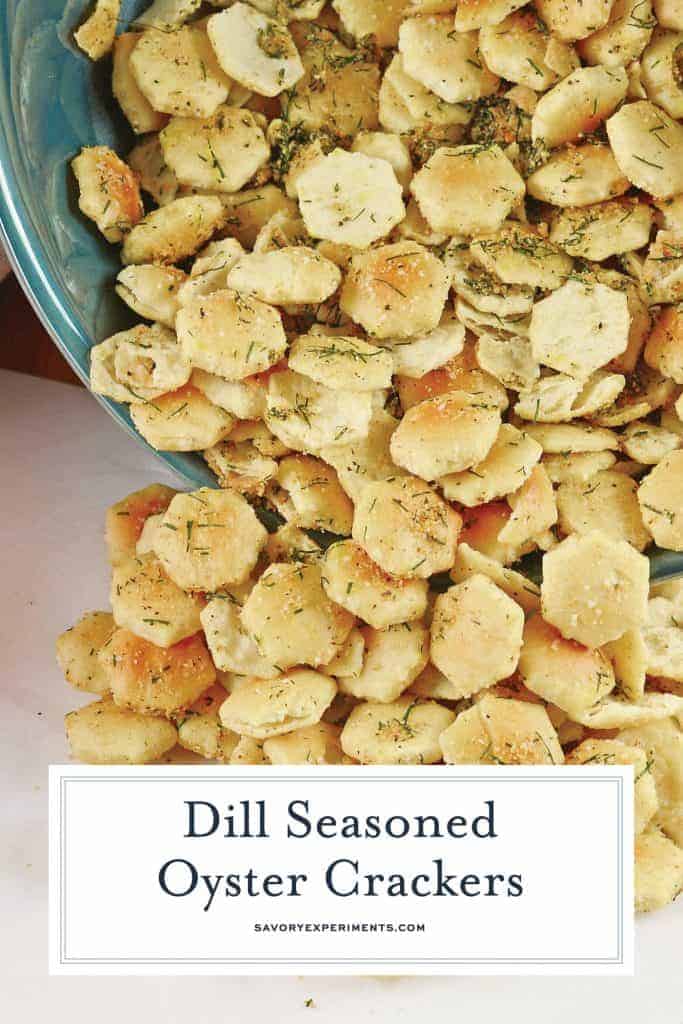 I'd seen people make ranch oyster crackers before, but I'm not the biggest fan of ranch seasoning, so I decided to try my hand at Dill Seasoned Oyster Crackers.
The verdict: these darn things are delicious! I loved them.
While I had intended them for my a steaming bowl of Easy Chili, I munched on the entire thing and ended up having to make a new batch.
Why are they called oyster crackers? Because they were originally made to be a less salty saltine cracker for serving with oyster stew and oyster bisque.

They also happen to be shaped like an oyster shell, however I was unable to figure any history as to why they are shaped this way.
Dill Seasoned Oyster Crackers are now a staple at my house. They store well in an airtight container in the pantry and can be used as croutons, snacks and or atop a soup.
My latest obsession is Dill Seasoned Oyster Crackers with Turkey Noodle Soup!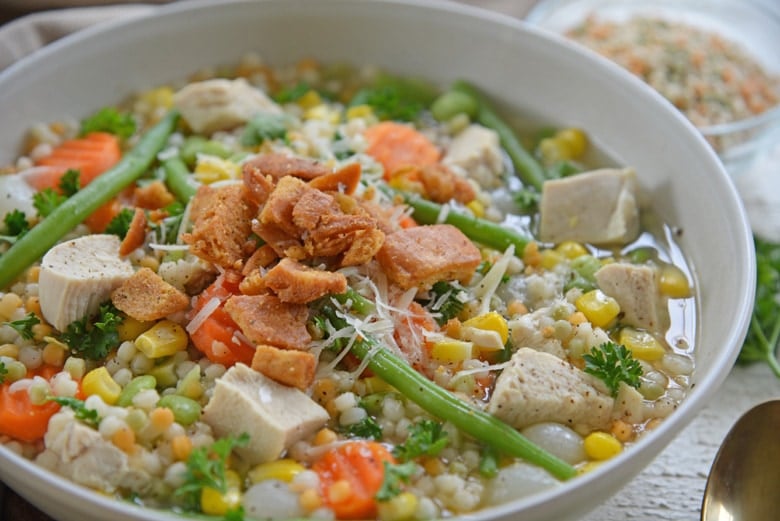 Questions you might have about how to make seasoned oyster crackers:
How long do they last? Place them in an airtight container in your pantry and they will last for months. There is nothing perishable.
Can I use granulated garlic instead of garlic powder? You can, but beware than the granules are larger and it might change the texture of the seasoning mixture.
Can I use dried dill instead of fresh dill? Sure! But be mindful that dried spices tend to not be as flavorful and do expire. Dried dill will only be at maximum taste for 6 months after opening.
PRO TIP: Use 1 teaspoon of dried spices and herbs for every 1 tablespoon of fresh.
Try rubbing dried dill between your palms before adding to the mixing bowl to release natural oils.
Can I use vegetable oil instead of olive oil? Yes, in fact there is really no particular reason why I used olive oil in this recipe.
Use whatever flavor of oil you'd like. You can even use flavored oil if it will complement your recipe or bowl of soup.
What do you do with oyster crackers? Anything you'd like! Snack on them, top a bowl of soup, use them as croutons.
Can I make ranch oyster crackers? Use the same recipe, but with ranch seasoning. Also, check out my Ranch Pumpkin Seeds and Ranch Kale Chips!
If you loved these dill oyster crackers, check out these other easy snack recipes: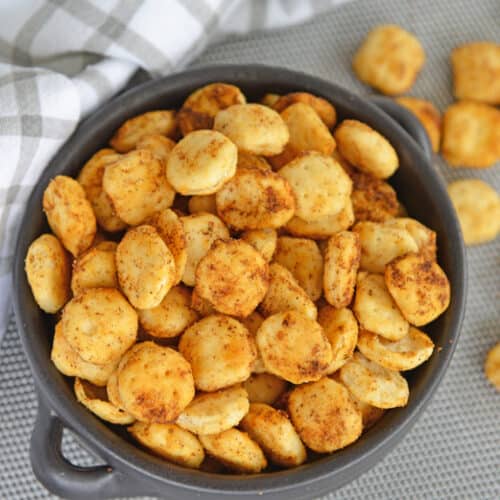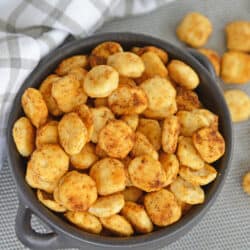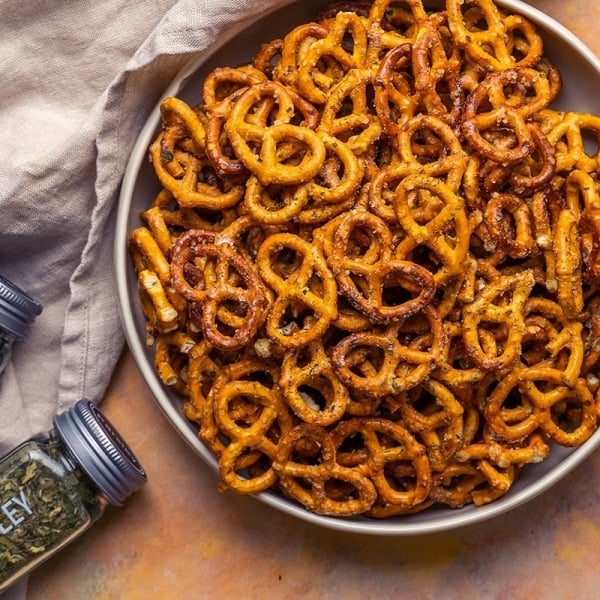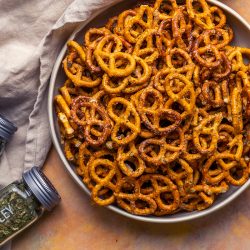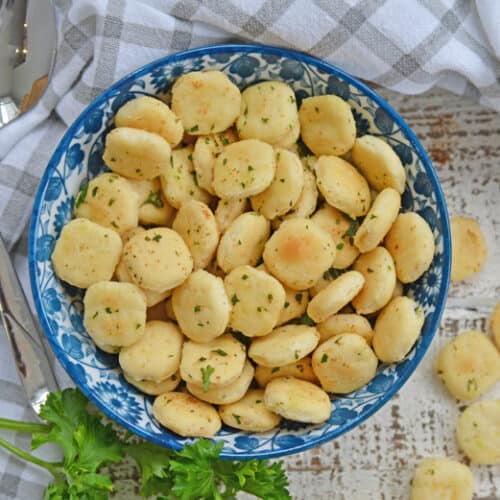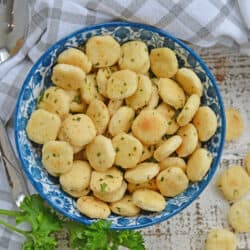 Ranch Oyster Crackers
Ranch fanatics will fall in love with these EASY Ranch Oyster Crackers! With butter, ranch seasoning and crackers, you have yourself a delicious snack!
See The Recipe!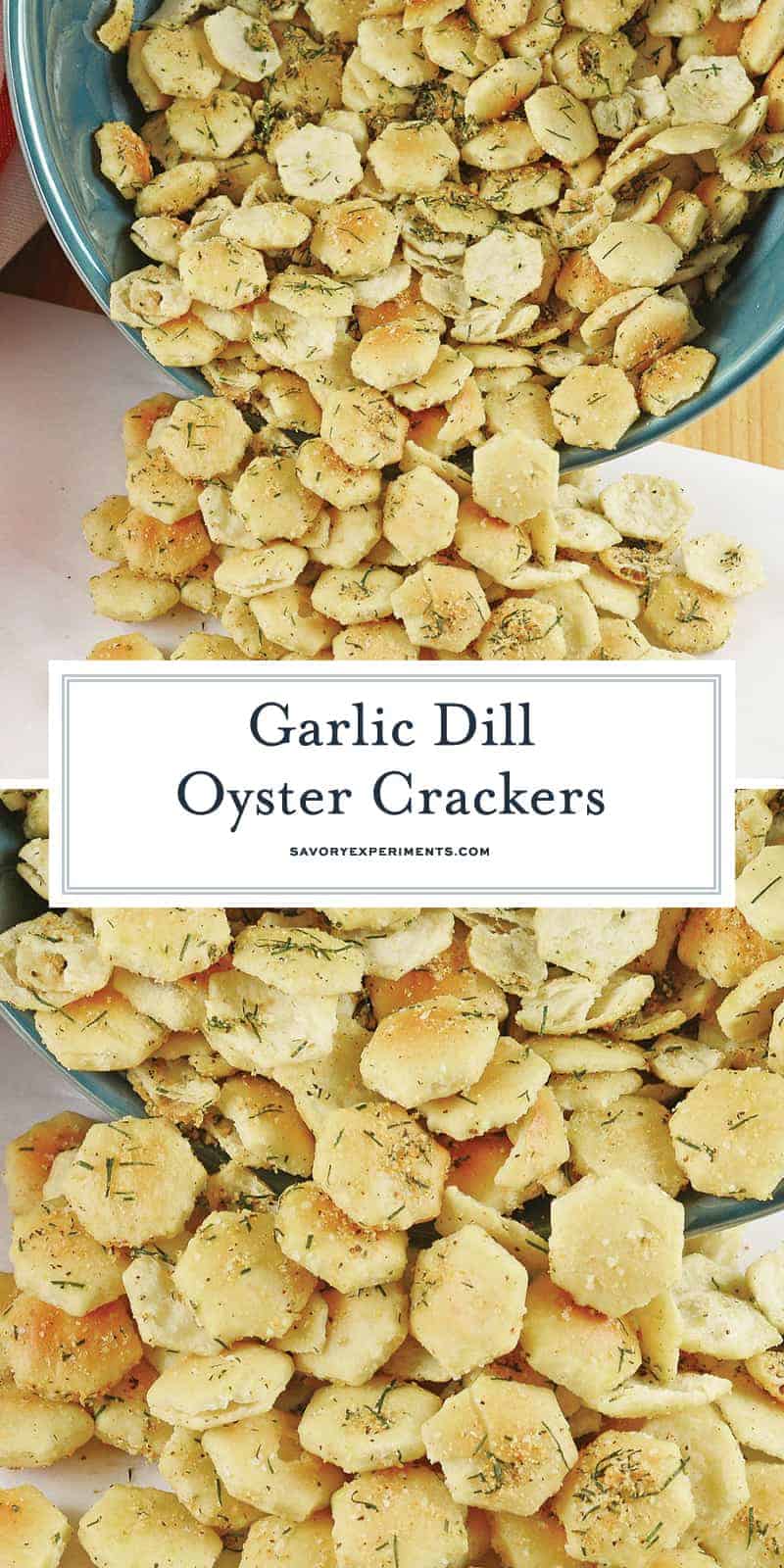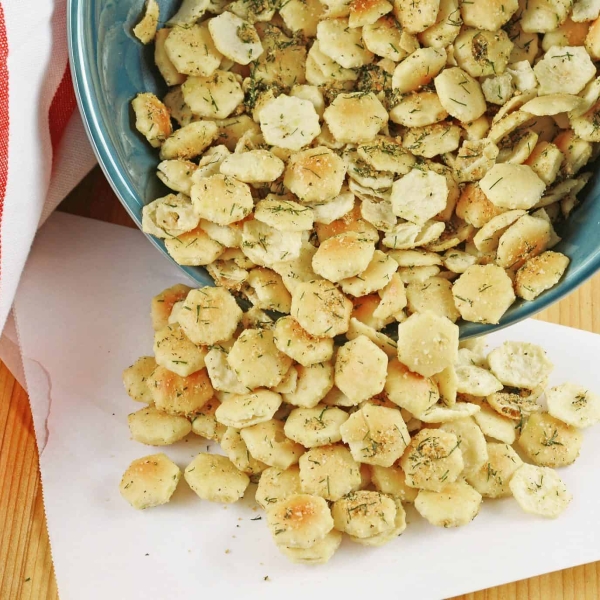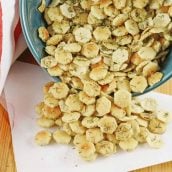 Dill Seasoned Oyster Cracker Recipe
Dill Seasoned Oyster Crackers are the perfect snack, soup topper or salad crouton. They add an extra touch to any dish and are so easy to make and store!
Instructions
Preheat oven to 250 degrees. Cover a large rimmed baking sheet with aluminum foil.

In a medium mixing bowl combine all ingredients and toss until fully all oyster crackers are equally covered in mixture. Spread in a single layer on baking sheet.

Bake for 20 minutes. Turn off oven and allow to sit for an additional 20-30 minutes. Crackers might be lightly brown, but pretty much maintain the same original color.

Remove, serve warm or place in an airtight container. Crackers will still good for at least a month if stored properly.

If you've tried this recipe, come back and let us know how it was!
Nutrition
Calories:
946
kcal
,
Carbohydrates:
112
g
,
Protein:
15
g
,
Fat:
48
g
,
Saturated Fat:
7
g
,
Sodium:
2039
mg
,
Potassium:
378
mg
,
Fiber:
5
g
,
Sugar:
3
g
,
Vitamin A:
605
IU
,
Vitamin C:
6.7
mg
,
Calcium:
52
mg
,
Iron:
8.4
mg