This incredibly easy Chia Seed Pudding uses only 3 ingredients. Ideal for breakfast or as a healthy dessert, this pudding recipe is nutritious and delicious!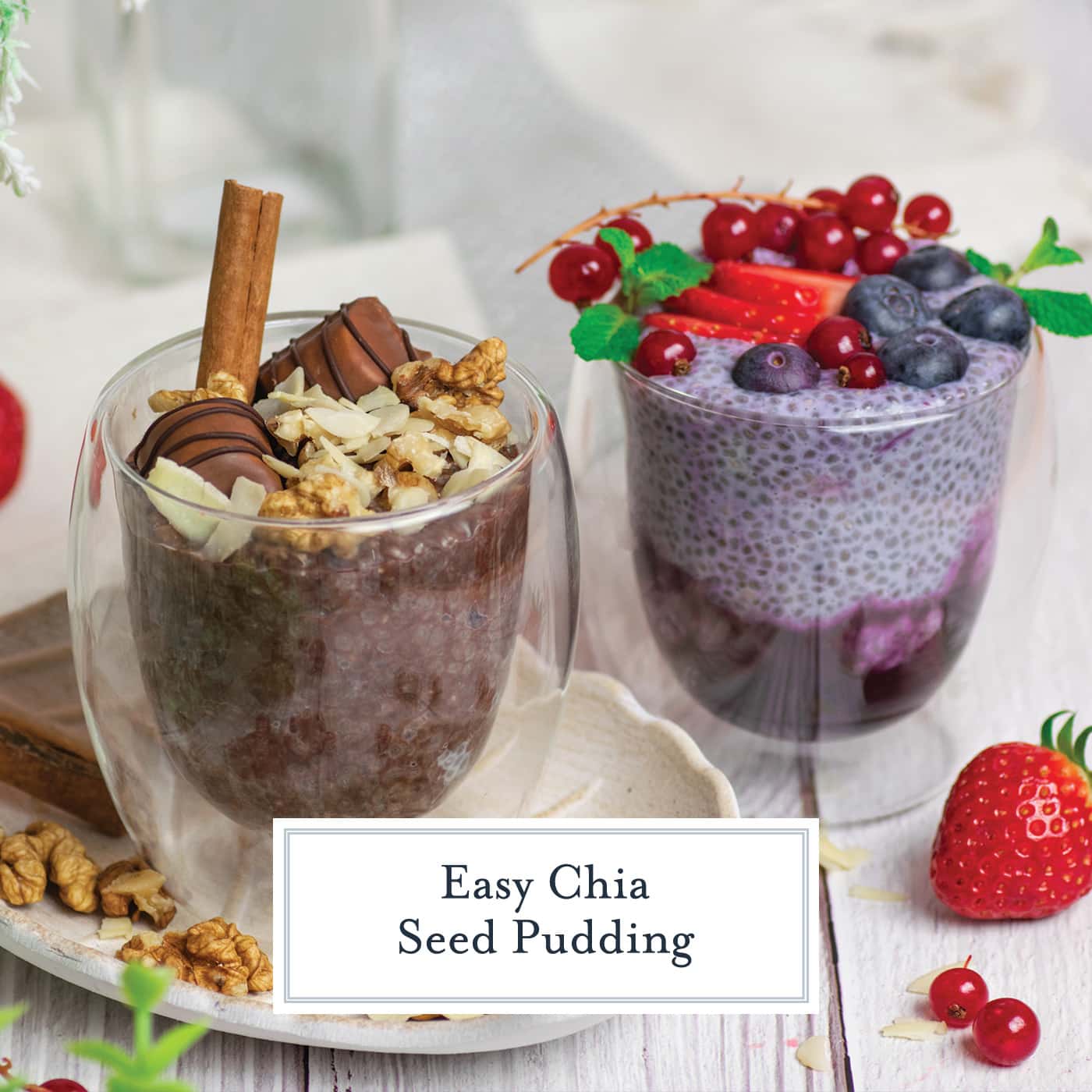 I love a simple, nutritious and delicious breakfast. Chia seed pudding is a great replacement for porridge or cereals and my go-to recipe for breakfast. It's creamy, with a pudding texture, tastes sweet and very refreshing.
This chia seed pudding recipe is ridiculously easy to make and only needs 3 ingredients. Leave it in the fridge overnight and get a delicious breakfast the next day.
This recipe is designed to be made into countless variations. So use this chia pudding recipe as a base, then add your favorite flavorings and toppings. This way breakfast never gets boring!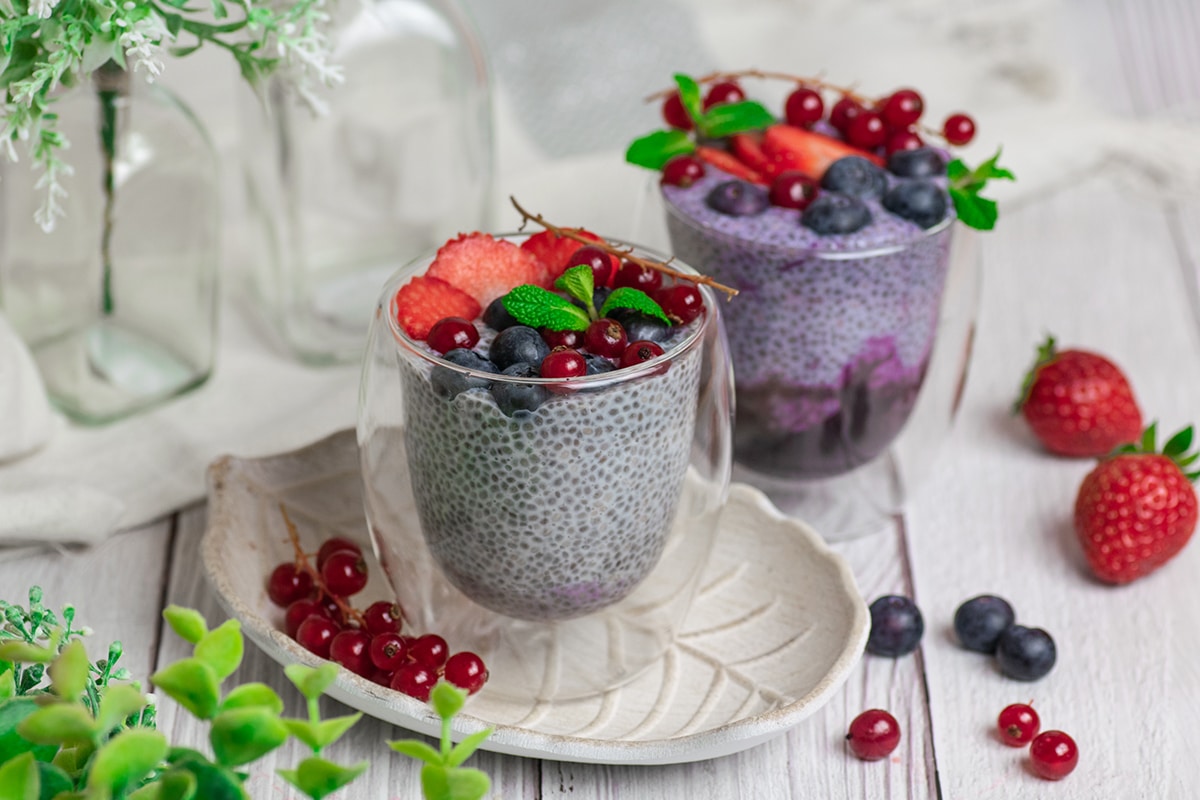 Why You'll Love this Chia Seed Pudding
Quick & easy: This chia seed pudding recipe is super easy to make as no cooking is required. All ingredients are added into a jar, shaken then chilled for a few hours. Yep, it's that easy!
Mess free: No other tools or equipment are required. All mixing, chilling and serving is done in a simple jar, so cleaning is very quick.
Perfect every time: Although chia pudding is easy to make, getting the right texture is important. This recipe yields the perfect texture and consistency every time, that's not too runny nor too thick – it's just right!
Countless flavors: This chia seed recipe is great to be used as a base for countless variations. Simply add your favorite flavorings, and top with anything your heart desires.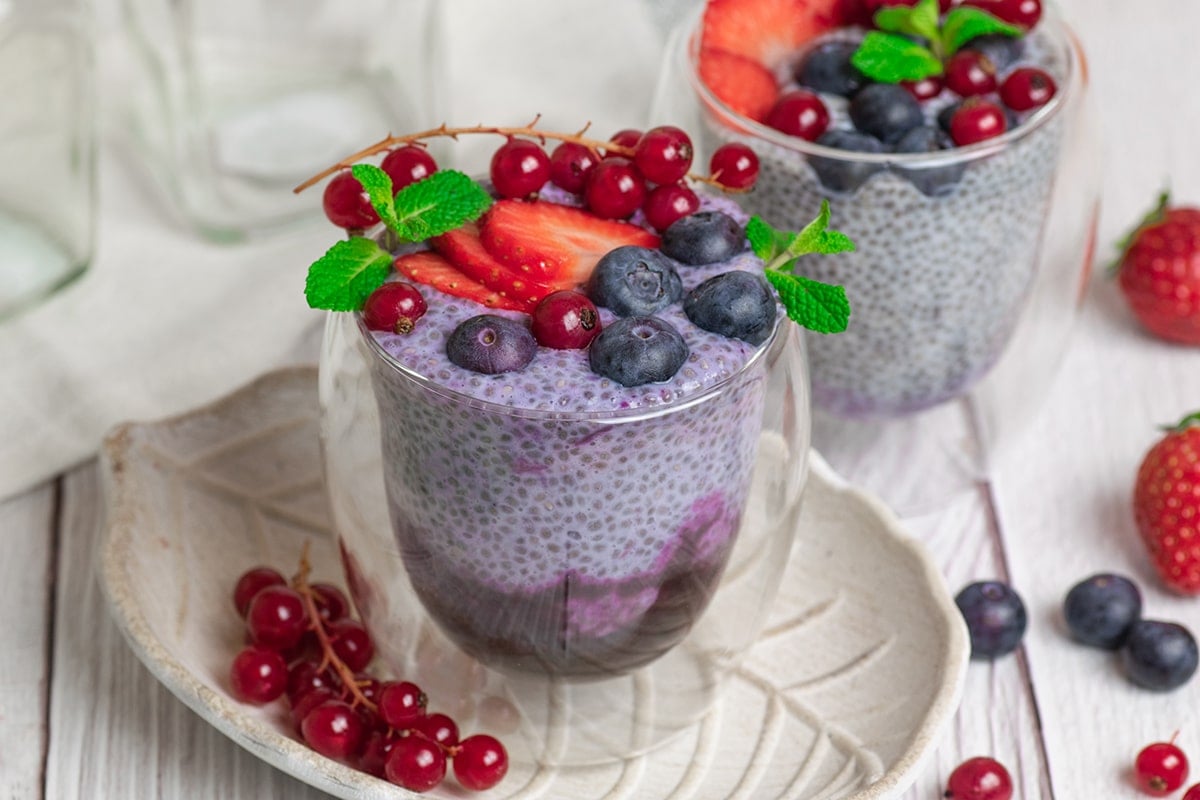 Ingredients
My favorite thing about this chia seed pudding recipe is that it only needs 3 ingredients. It's really fuss-free and mess-free! Here's what you'll need:
Chia seeds: any type of chia seeds can be used. I personally prefer mixed chia seeds, both white and black.
Milk: any type of milk can be used. I like to use unsweetened almond milk or coconut milk for a creamier option, but you can also use cow's milk, oat, cashew, soy milk and many more.
Honey: used to sweeten chia pudding. I recommend using runny honey because it's easier to mix. You can leave out honey if needed or replace it with other sweeteners. Some of my favorite replacements are maple syrup, agave syrup, caramel sauce, Nutella or brown sugar.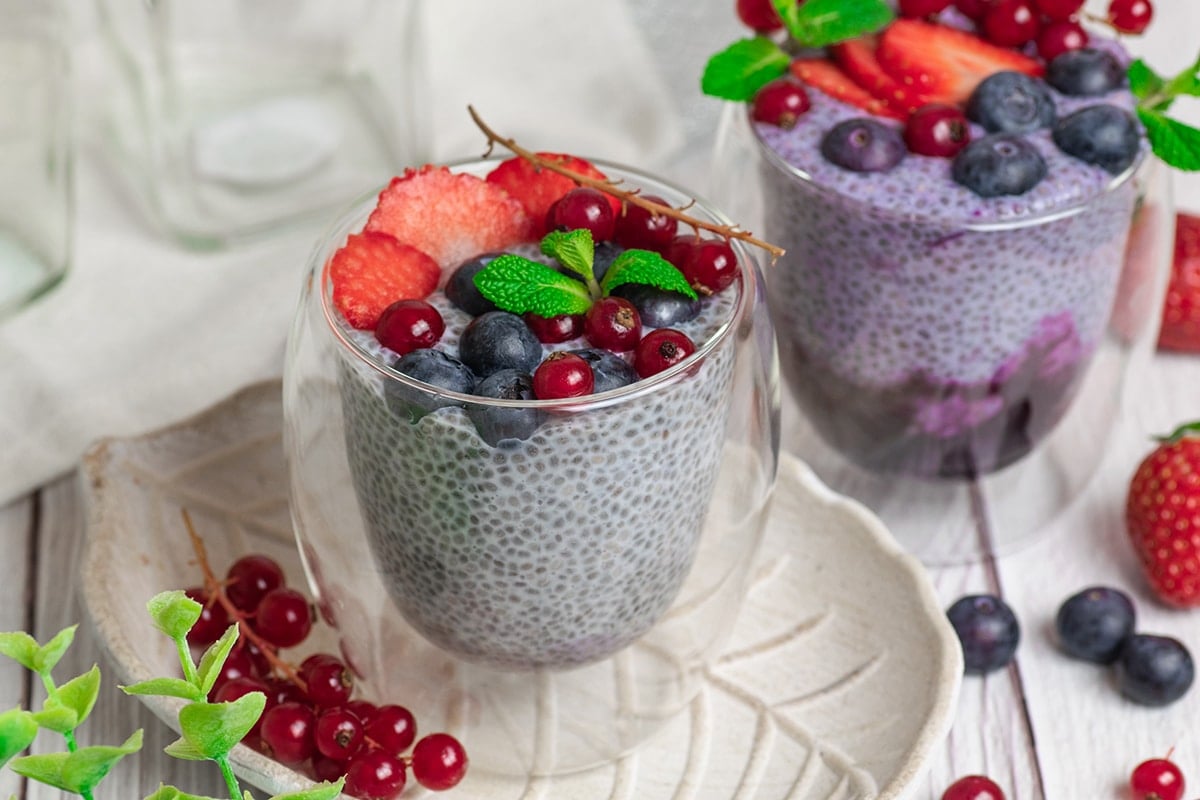 How to Make Chia Seed Pudding
I wasn't kidding when I said that this chia seed pudding recipe is ridiculously easy to make. It only needs 3 ingredients and has 3 easy steps to follow:
Combine ingredients. Combine all ingredients in a jar. You could use a mason jar or any you'd like.
Shake well. Cover and shake jar well to mix.
Chill. Refrigerate overnight.
Pro tip: warm up the milk slightly so the honey dissolves evenly.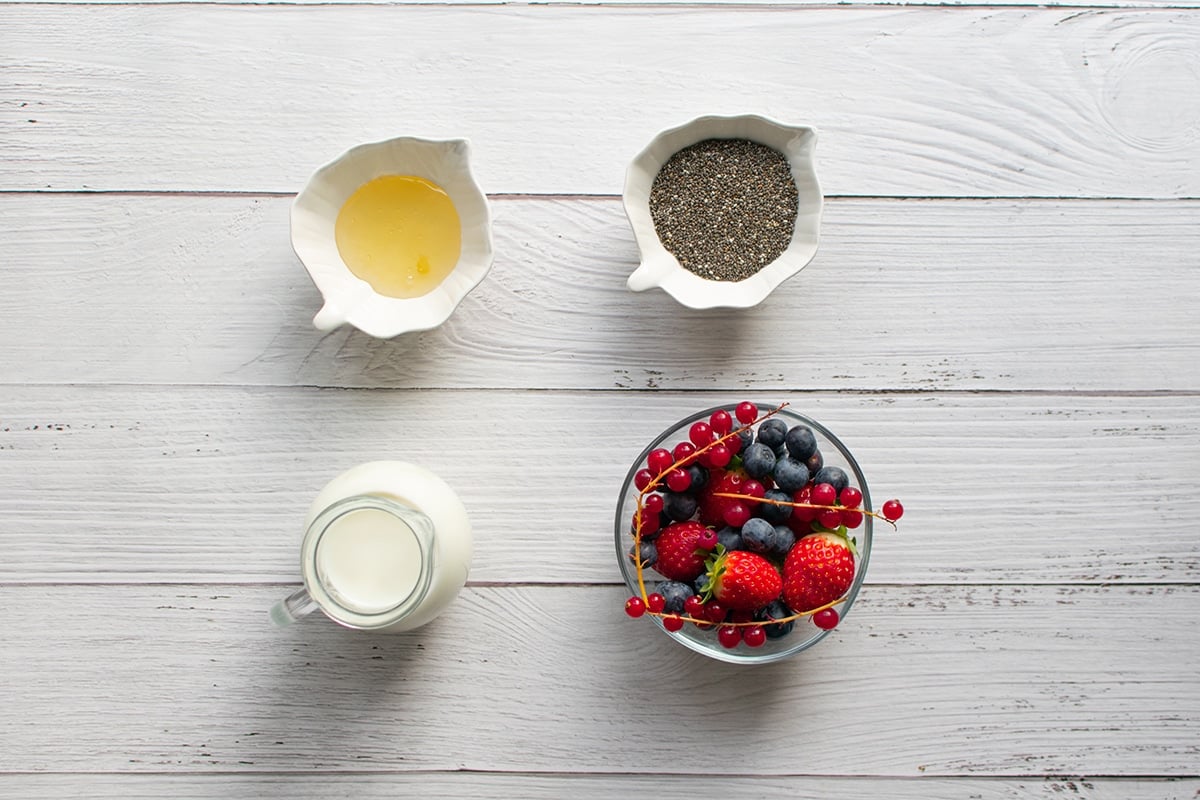 Flavor Variations & Toppings
This base chia seed pudding recipe can be used to create countless variations. Here are some of the best additions, but the sky is the limit:
Flavor
It's easy to make a different flavor such as coconut chia pudding or chocolate chia seed pudding when making this easy chia pudding recipe.
Vanilla – add ½ teaspoon of vanilla extract or vanilla bean paste for a subtle flavor.
Cocoa powder – add ½ teaspoon of unsweetened cocoa powder for a delicious chocolate chia pudding.
Fruit – blend your fruit of choice, then mix it into the set chia pudding. You can also layer it with pudding for a more aesthetic breakfast!
Jam – similarly to blended fruit, use your favorite jam to add it to the set pudding. Layer it, mix it in, add it on the top or bottom of chia pudding and enjoy.
Protein powder – add 1 teaspoon of your protein powder of choice for an extra boost. I recommend powders with flavoring.
Peanut butter – mix 1 teaspoon of smooth or crunchy peanut butter or almond butter into the set chia seed pudding.
Milk – You can also use a non-dairy milk or plant-based milk. Oat milk, cashew milk, unsweetened coconut milk or canned coconut milk all work.
Sweetener of choice – Honey can be left out or replaced with maple syrup, agave syrup or any other unrefined sweeteners.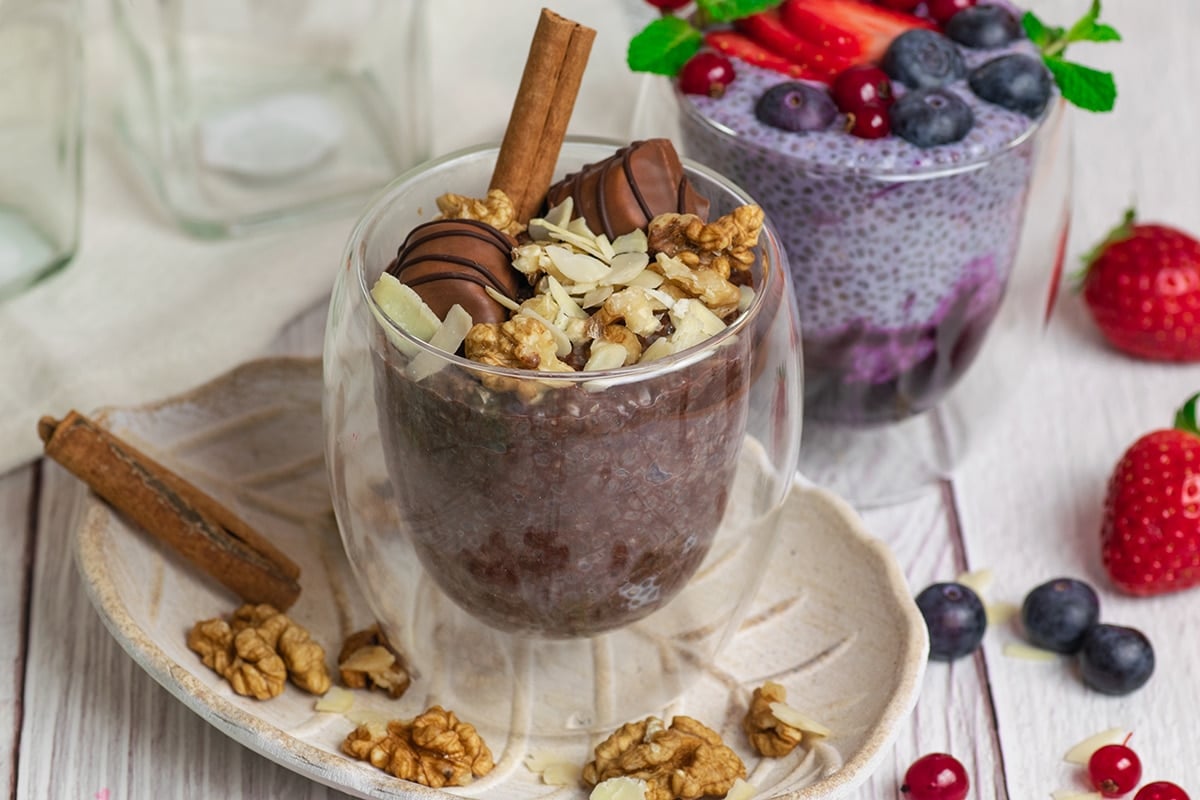 Toppings
There are lots of amazing flavors you can create, but here are some of our favorite toppings.
Fresh fruit – top with fresh berries like fresh blueberries, bananas, melon, kiwi and any other fruit of your choice. Lemon zest would also be a great addition.
Chocolate – sprinkle some chocolate chips or chocolate shavings on top for an extra delicious topping.
Nuts and seeds – add a little crunch with your favorite nuts and seeds. I like using almond flakes, walnuts, pumpkin seeds, hemp seeds, hazelnuts and sunflower seeds, but any other typed of nuts work too!
Coconut flakes – make your chia pudding into a tropical dessert by adding some coconut flakes or shavings on top.
Dried or candied fruit – Sprinkle your favorite dried or candied fruit on top for extra sweetness. I recommend dried cranberries, raisins, candied ginger or orange peels, but anything goes!
Whipped cream – Go from breakfast to dessert with silky smooth whipped cream on top of your chia seed pudding.
Cookies or cereal – Crush some Oreos, chocolate chip cookies or any type of cereals on top for extra flavor and crunch, especially on a chocolate version.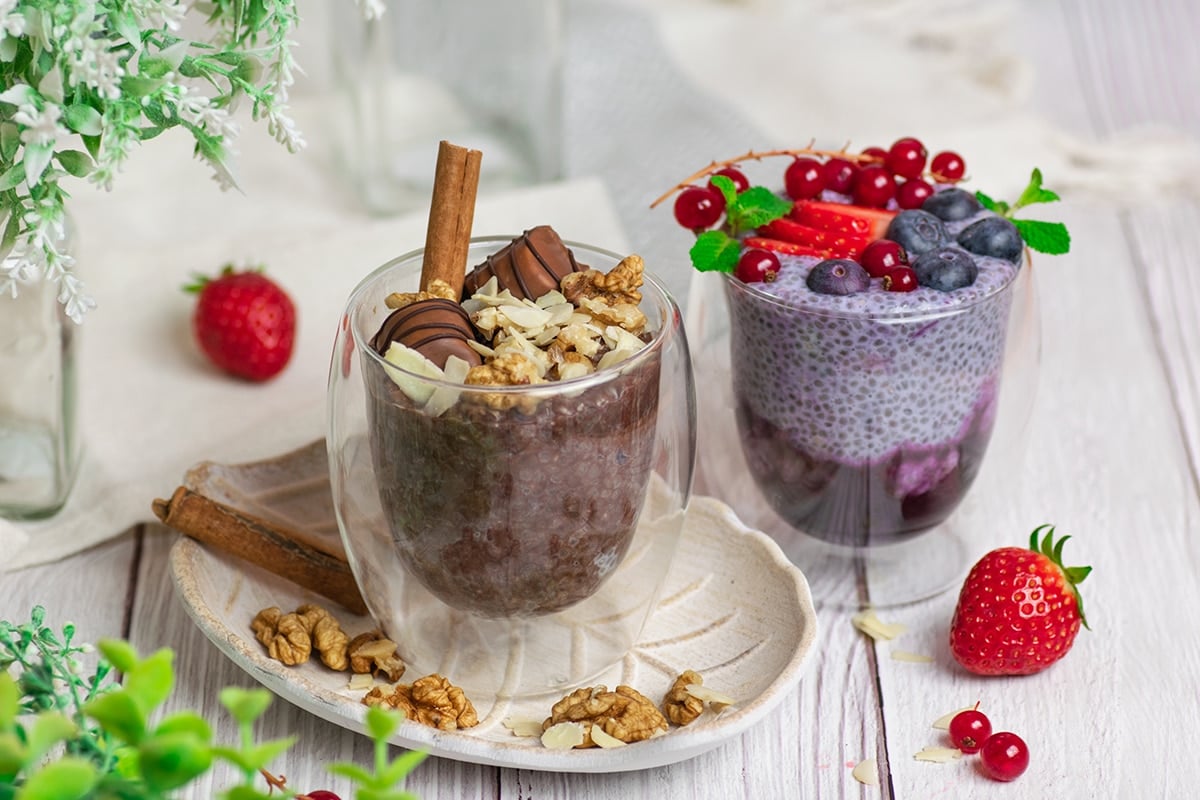 Storage and Freezing
Storage: Chia pudding is great for making ahead and storing. It's particularly good for meal prepping because it holds in the fridge for up to 4-5 days. Simply store it in an airtight container and give it a good stir before serving. Only add toppings immediately before serving.
Freezing: I do no recommend freezing chia seed pudding.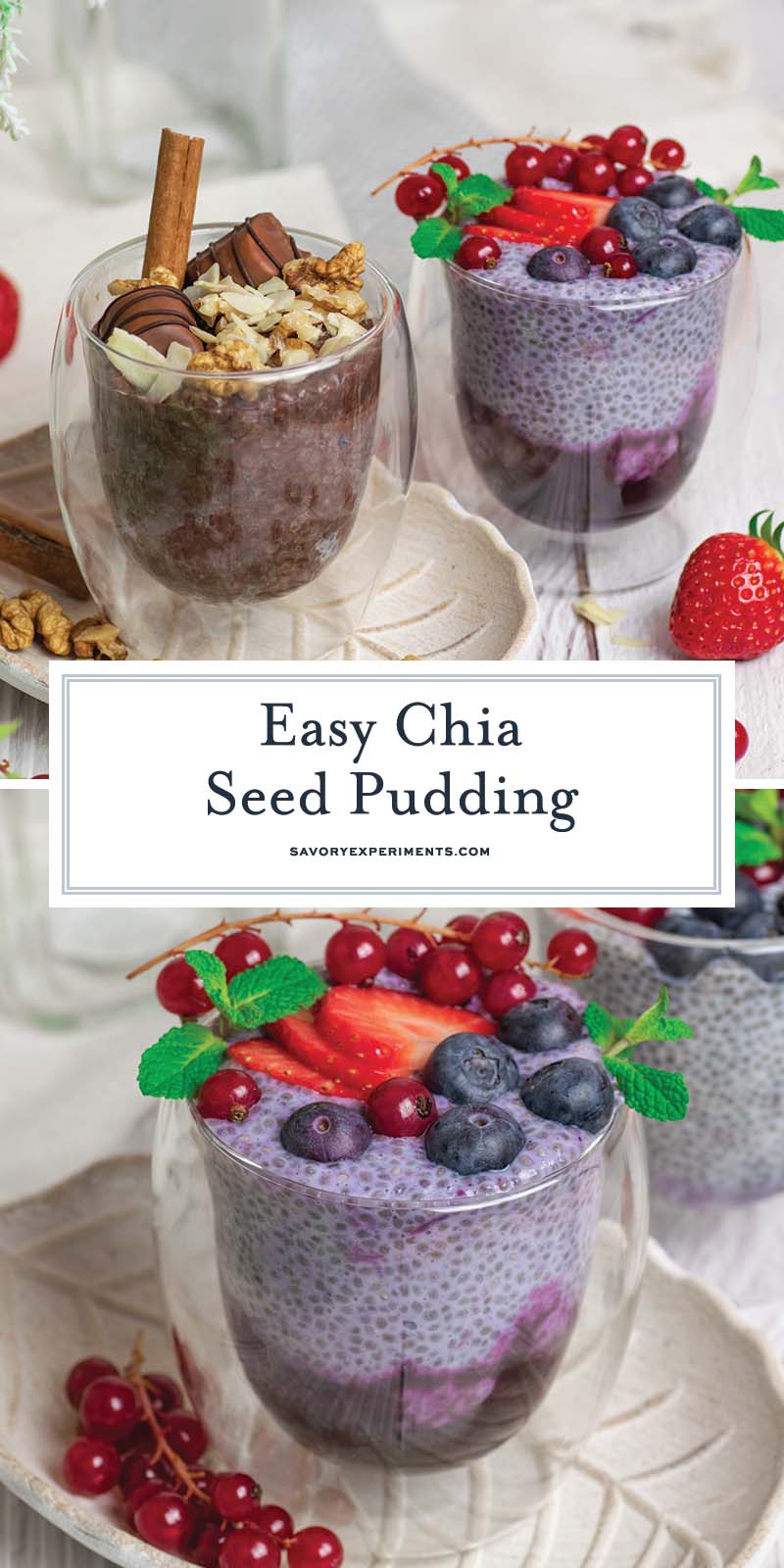 More Easy Breakfast Recipes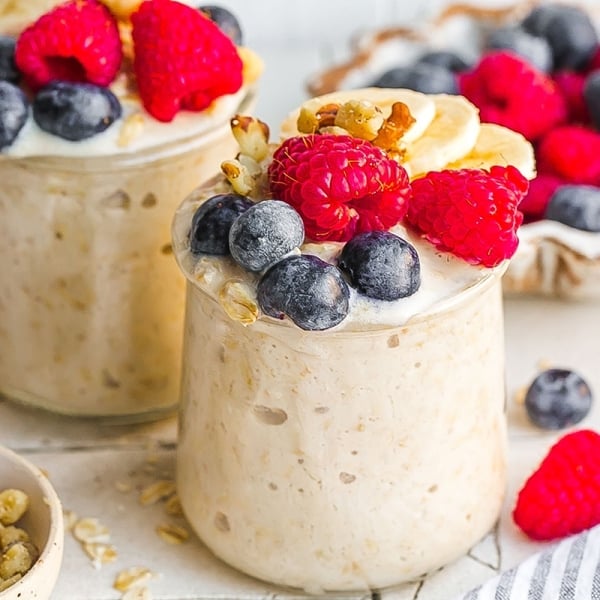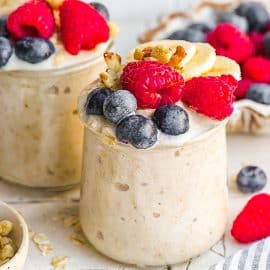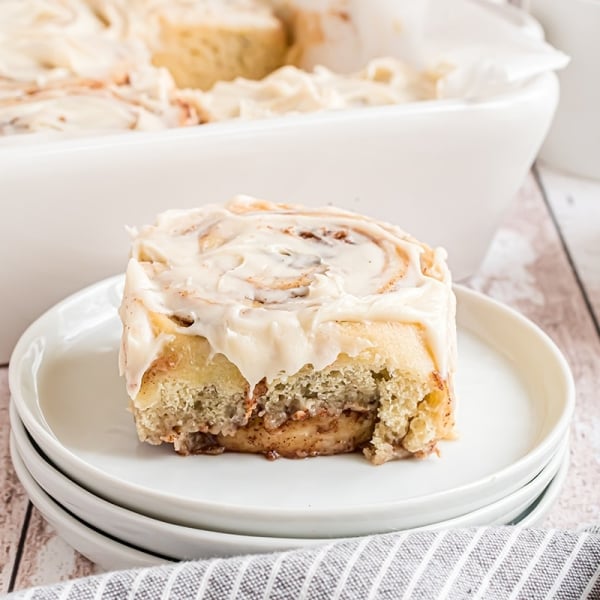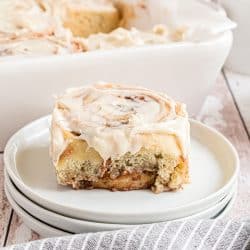 Cinnamon Rolls
If you're looking for a sweet treat to start the day try this EASY Cinnamon Roll recipe. Perfect for special occasions as well as weekdays!
See The Recipe!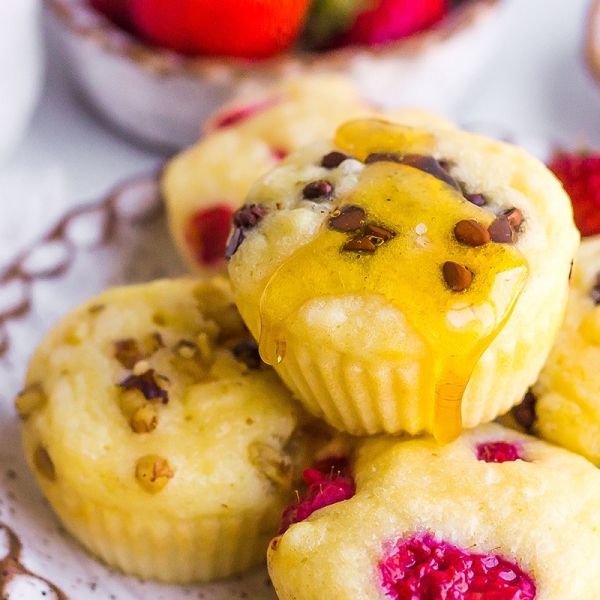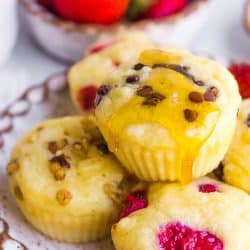 Pancake Muffin Recipe
Pancake Muffins take your favorite homemade pancake recipe and turn it into an easy grab-and-go breakfast. No fuss or flipping involved, with all of the pancake flavor included!
See The Recipe!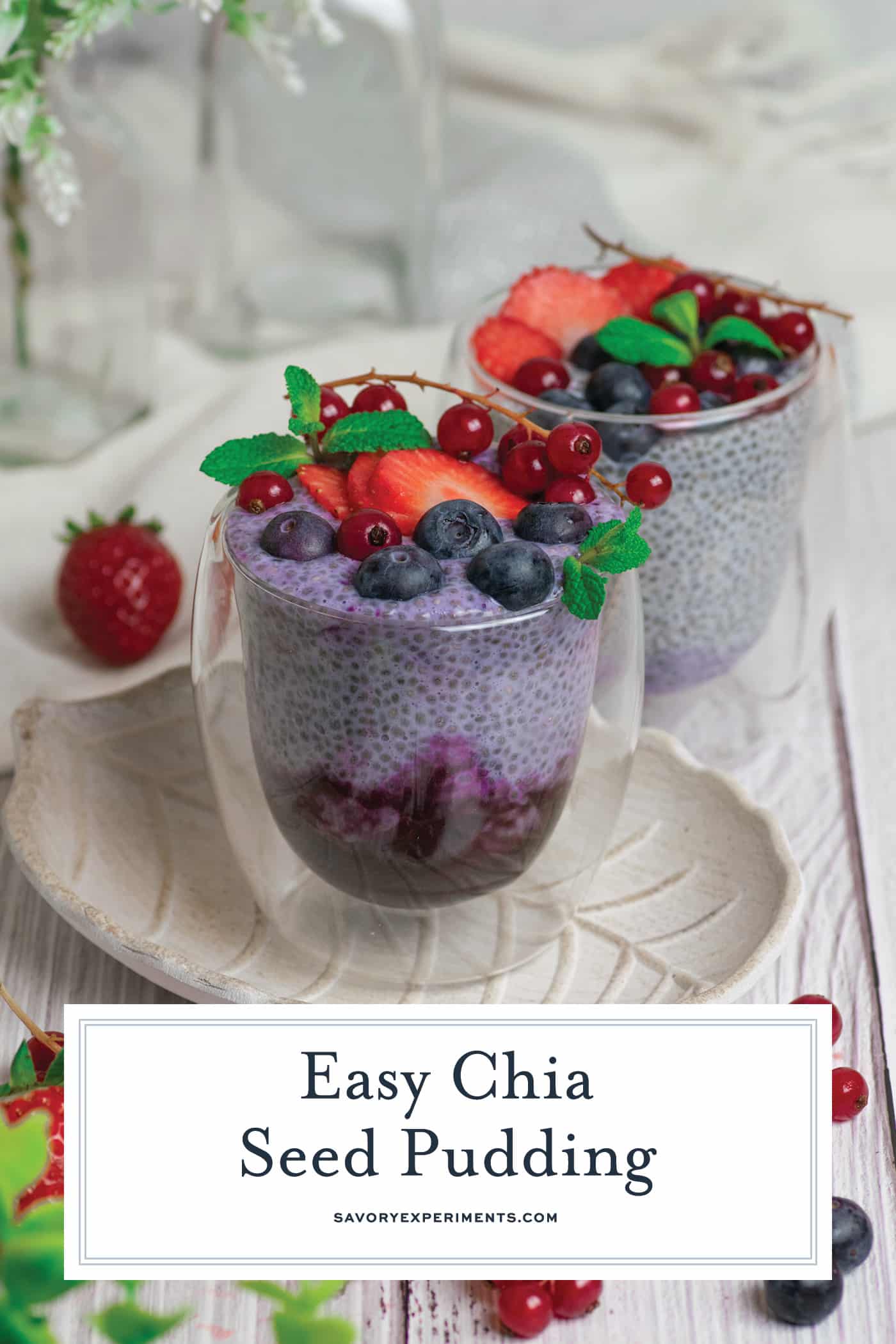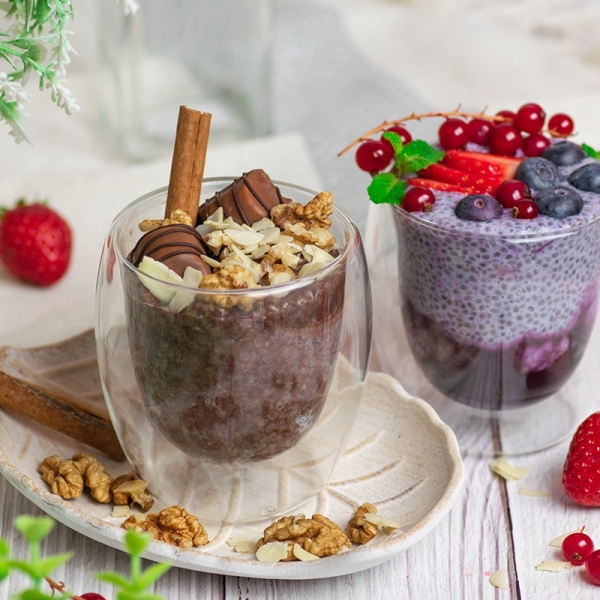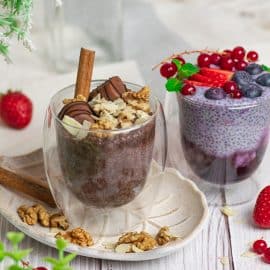 Chia Seed Pudding
This incredibly easy Chia Seed Pudding uses only 3 ingredients. Ideal for breakfast or dessert, this pudding is nutritious and delicious!
Instructions
In a jar combine chia seeds, warm milk and honey. Shake well or stir to combine. For an extra smooth texture use a blender to combine.

Cover jar and place in the fridge overnight or for at least 2-3 hours.

Take out of the fridge, stir well and serve with desired toppings.
Notes
Any type of milk can be used, including plant-based.
Warm milk is better for dissolving honey or other syrups used.
Honey can be left out or replaced with maple syrup, agave syrup or any other sweeteners.
Nutrition
Calories:
214
kcal
,
Carbohydrates:
22
g
,
Protein:
8
g
,
Fat:
11
g
,
Saturated Fat:
3
g
,
Polyunsaturated Fat:
6
g
,
Monounsaturated Fat:
1
g
,
Trans Fat:
0.04
g
,
Cholesterol:
15
mg
,
Sodium:
51
mg
,
Potassium:
286
mg
,
Fiber:
8
g
,
Sugar:
12
g
,
Vitamin A:
211
IU
,
Vitamin C:
0.4
mg
,
Calcium:
302
mg
,
Iron:
2
mg