Incredibly moist and soft Stuffed Red Velvet Cookies stuffed with a tangy sweet cream cheese filling. These cookies are chewy, melt in your mouth and are perfect for Valentine's day!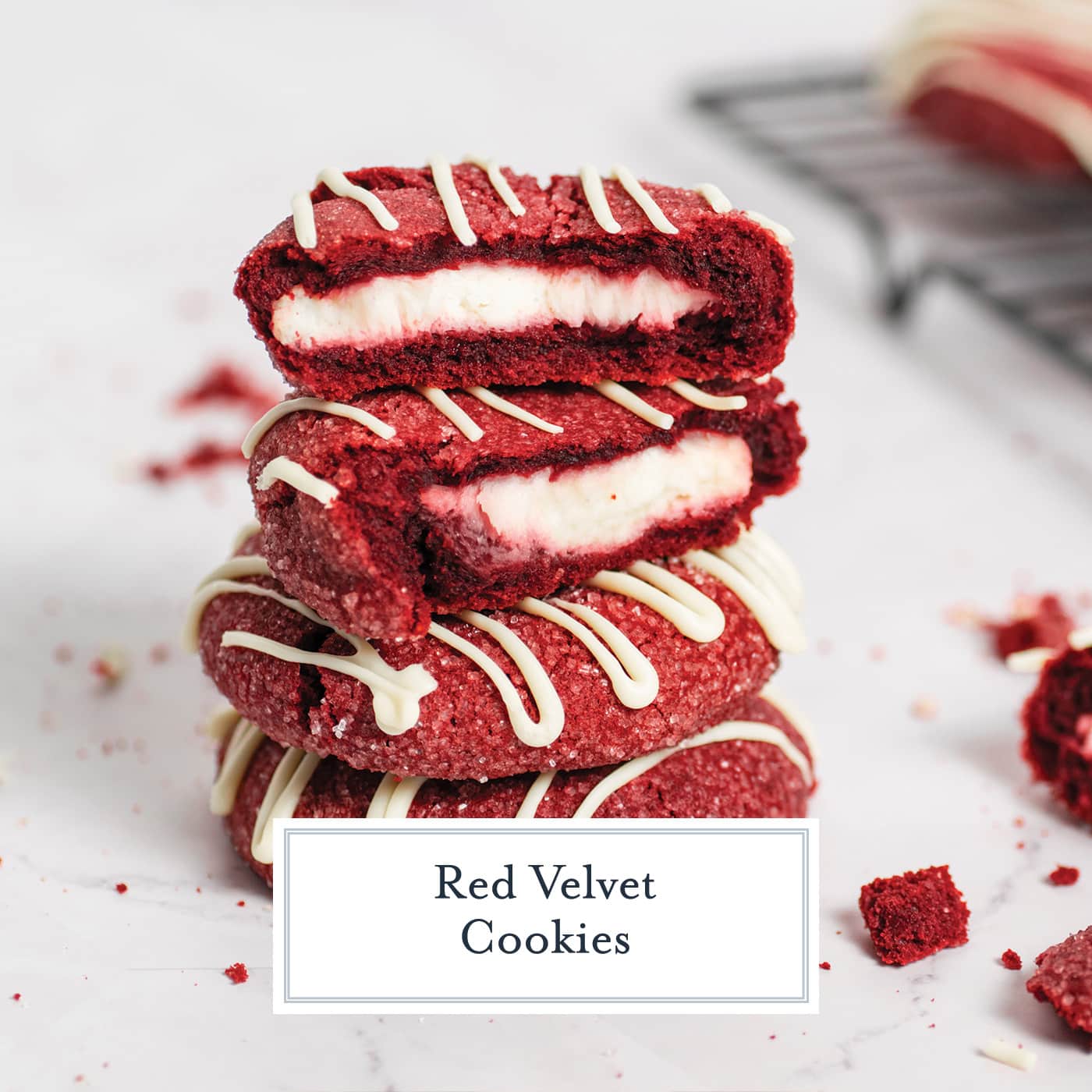 Red velvet cake has been maintaining its status as an absolute crowd pleaser for many years. What makes is so good is not only its deep red colour, but also the rich tangy sweet flavour. These red velvet cookies taste just like its cake counterpart, boasting the same amazing flavours!
If you're on the lookout for a perfect Valentine's day or festive cookie recipe, look no further! These red velvet cream cheese cookies are eye catching and have the perfect chewy texture. Stuffed with silky smooth cream cheese, these cookies are an absolute treat.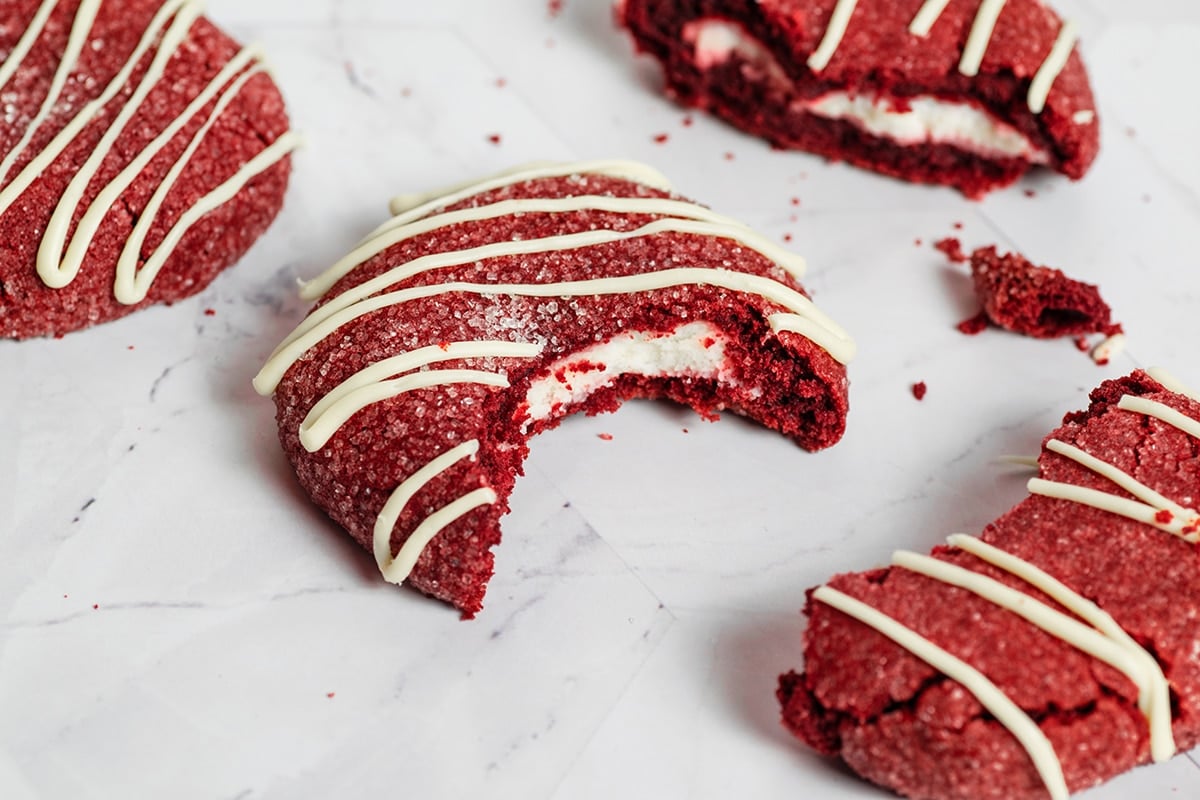 Why You'll Love Stuffed Red Velvet Cookies
Simple ingredients: This red velvet cookies recipe requires plain ingredients that can be found in most pantries. Apart from the red food colouring, no specialty ingredients are needed.
Easy to make: I love this recipe because of how easy it is to make. Preparation only takes minutes and just one mixing bowl is needed for the cookie dough.
Next level filling: These cookies would taste amazing without any filling, but cream cheese takes them to the next level. The best part is that the filling remains soft and creamy, making for the perfect surprise in a bite.
Moist and chewy: Once baked, these red velvet cookies have the perfect texture – soft, moist and very chewy. Combined with smooth cream cheese filling, they are absolutely addictive!
Perfectly baked: This recipe is really fuss free and only takes about 12 minutes to bake. I have made it multiple times and it always comes out perfectly chewy and moist!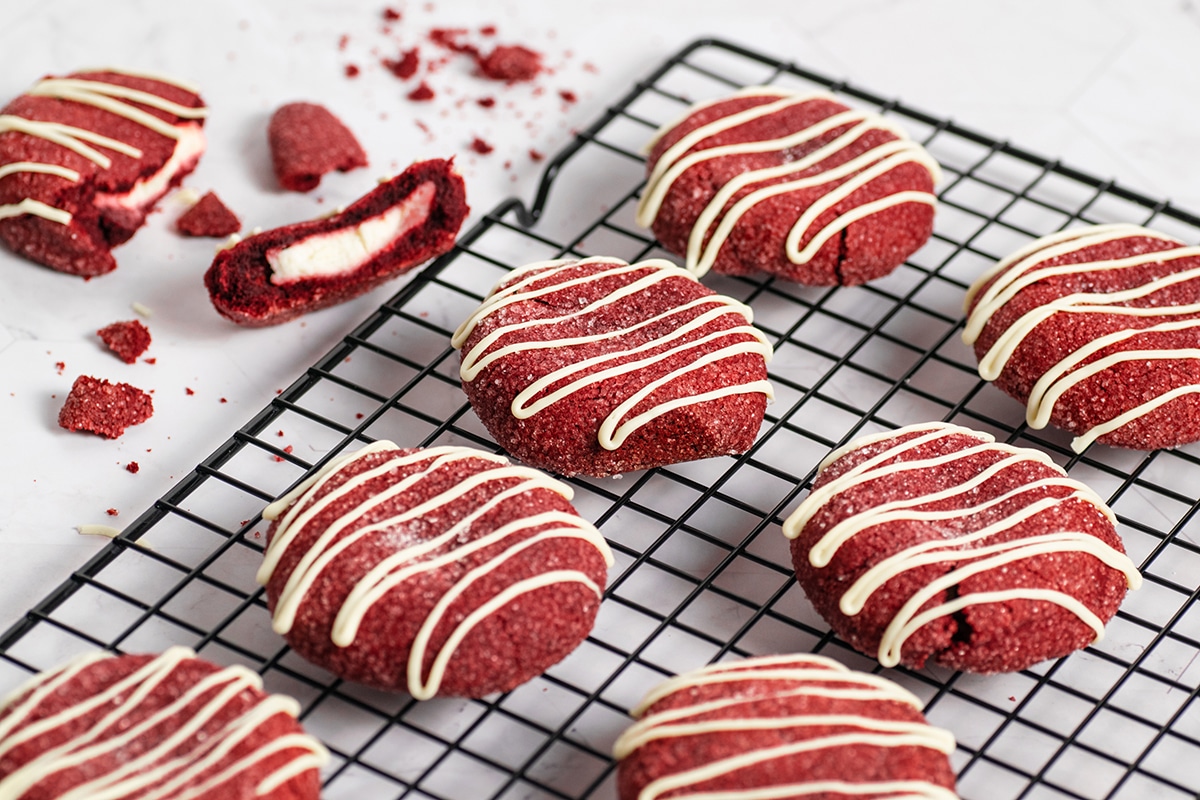 Ingredients
All ingredients needed for this stuffed red velvet cookies recipe are really simple and can be found in most pantries. Here's what you will need for the cookie dough:
Flour – all-purpose flour is needed for this recipe. Self-rising flour cannot be used.
Cocoa powder – I recommend using pure cocoa powder for best results. For a deeper chocolate you can also use dark cocoa powder, but the cookie will come out more brown than red.
Baking soda – Baking soda is crucial for this recipe and it cannot be replaced with anything else. Baking powder cannot be used for this recipe.
Salt – fine table salt or Himalayan salt are recommended. Salt is needed to make the chocolate flavour pop out more.
Butter – unsalted butter is needed for this recipe. Ensure the butter is softened to room temperature beforehand.
Sugar – I like using light brown sugar, as it gives a more caramelised flavour. You can also use granulated sugar or a combination of both.
Egg – One large egg is needed for this recipe.
Buttermilk – Added at the end to bring some tanginess to the flavour. Buttermilk can be replaced with regular milk or double cream.
Food colouring – I recommend using gel food colouring, as it is more intense and doesn't alter the wet to dry ingredient ratio.
For the cream cheese filling you will need:
Cream cheese – Full fat cream cheese is needed. Light cream cheese has a higher content of water and can be too soft for the filling.
Sugar – I recommend using icing sugar to make a silky smooth filling.
Vanilla extract – adds a lovely flavour to the cream cheese.
Flour – Only a little all-purpose flour is needed to thicken up the cream a bit and give it the perfect texture.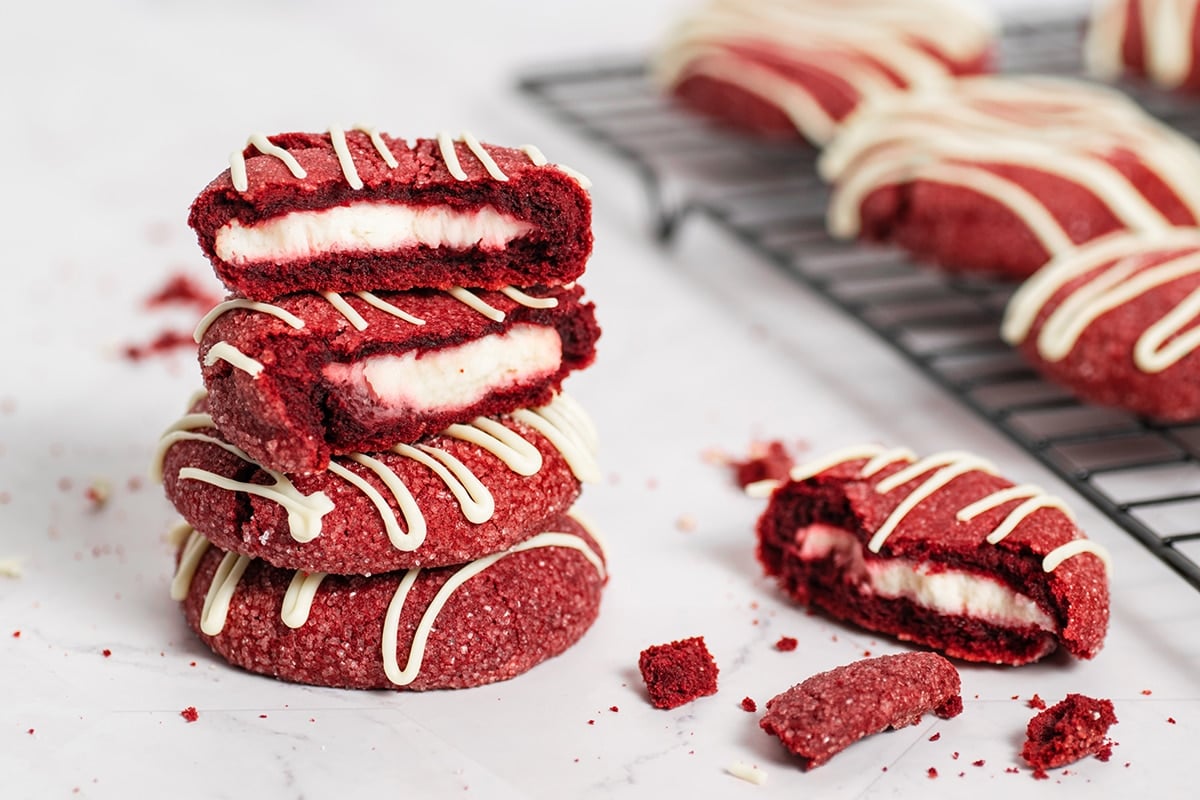 How to Make Stuffed Red Velvet Cookies
Prepare the cream cheese filling by combining all the ingredients.
Place the filling into a piping bag and pipe dollops of cream onto a lined baking sheet. Freeze until hardened.
Combine the wet ingredients for the cookie dough.
Sift in the dry ingredients and mix to combine. Chill dough for at least 1-2 hours.
Scoop out cookie dough, then shape it into a disc. Place one frozen cream cheese filling in the middle, then wrap cookie dough around it. Repeat for all cookies.
Bake, then let cool down. Decorate with melted white chocolate.
Storage and Freezing
Room temperature: Once baked, let the cookies cool down entirely before storing. Place them in an air-tight container and store at room temperature for up to 4-5 hours.
Chill: Since these stuffed red velvet cookies contain cream cheese, they need to be refrigerated for longer-term storage. Refrigerate for up to 2-3 days. Storing in the fridge might make the cookies a little softer, but they still taste amazing.
Freeze: For storage longer than 2-3 days, you can also freeze these cookies. They can be frozen for up to 3 months. Place in an airtight container, separated by baking sheets to prevent them from sticking. Thaw in the fridge overnight.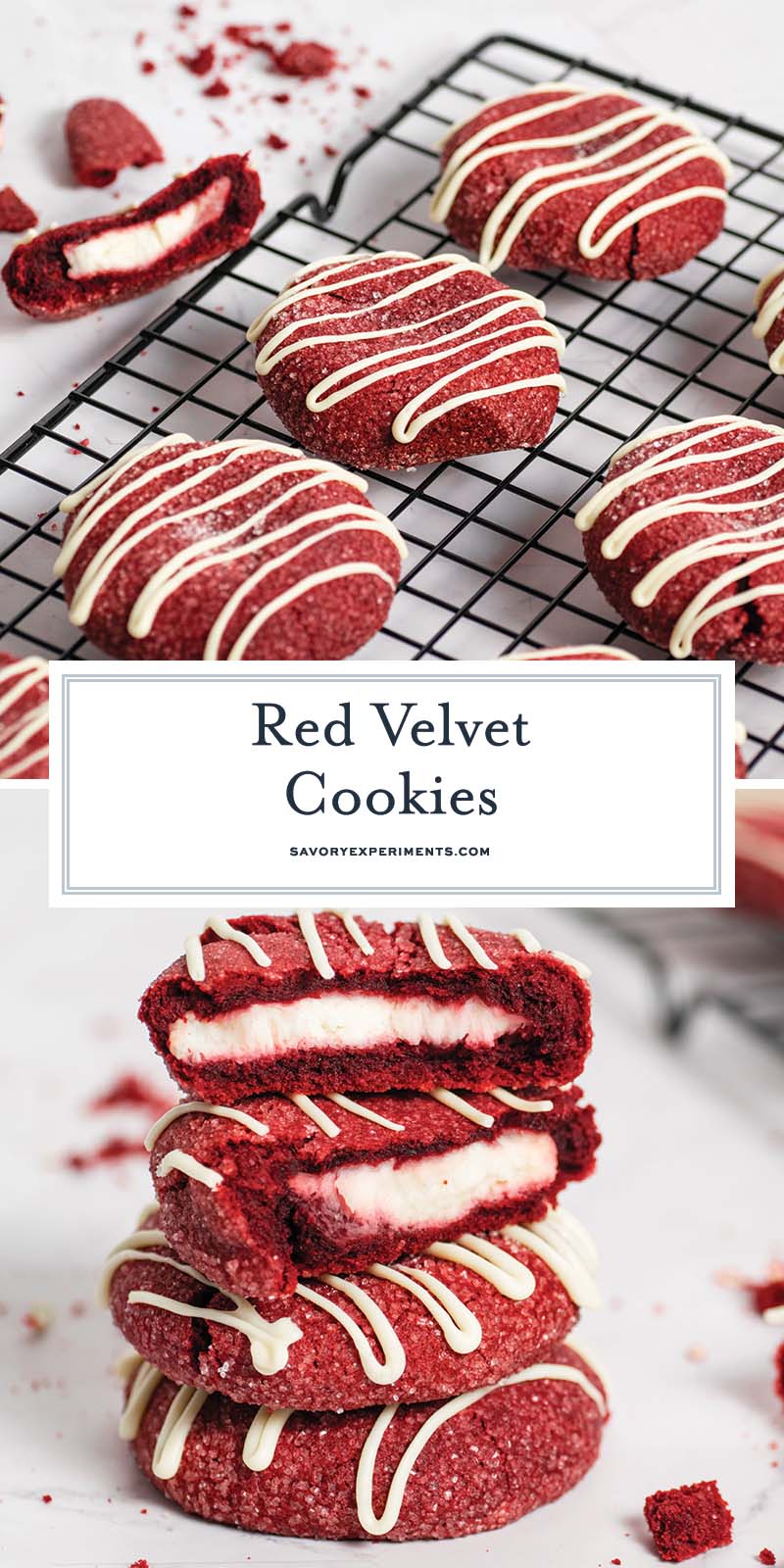 More Easy Cookies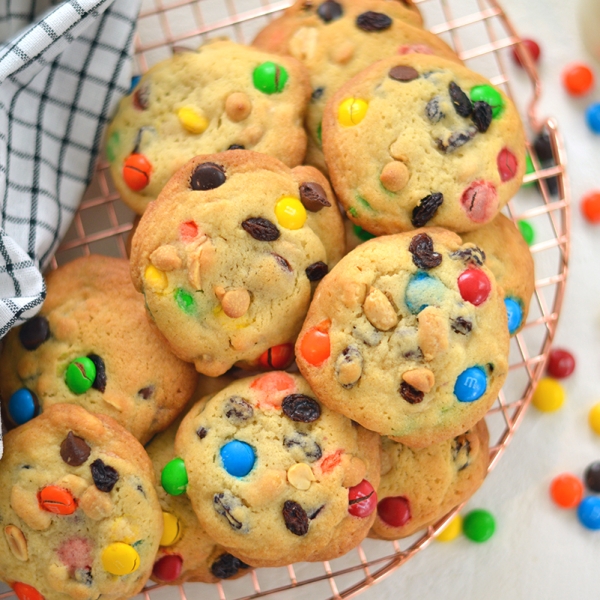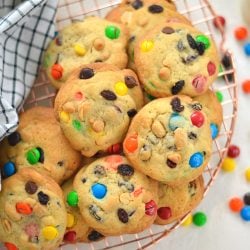 Trail Mix Cookies
Enjoy your favorite on-the-go snack in cookie form. These chewy Trail Mix Cookies are the best combination of salty and sweet.
View this recipe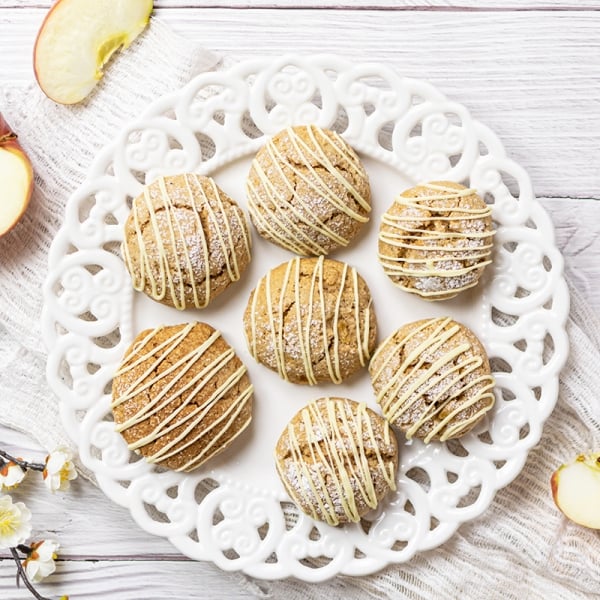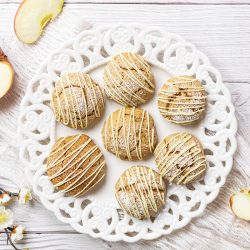 Applesauce Cookies
These soft and moist Applesauce Cookies are perfect as a sweet snack. They're also healthier than full-sugar cookies, so eat up!
View this recipe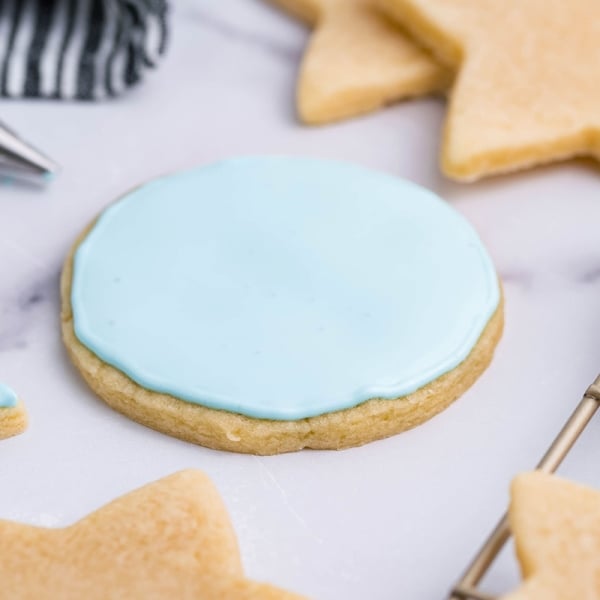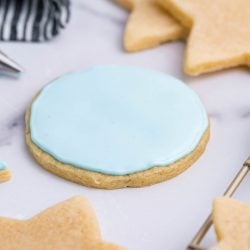 Frosted Sugar Cookies
The best sugar cookie dough recipe for Rolled Sugar Cookies out there! Won't lose shape when baked, great flavor and easy to make and roll out!
View this recipe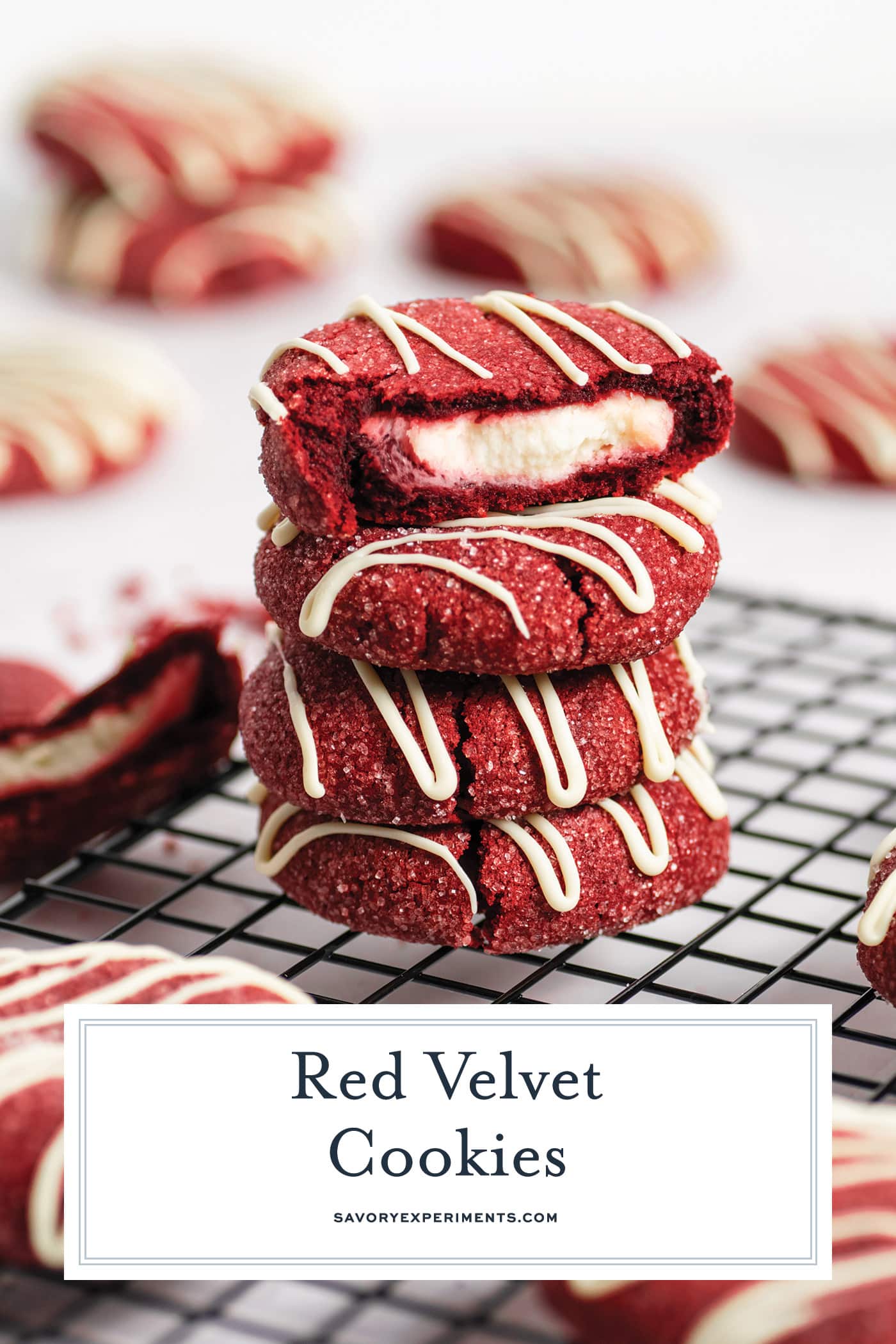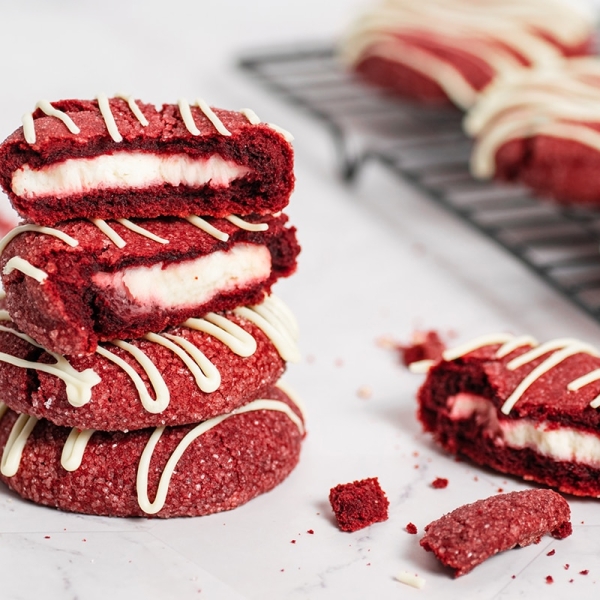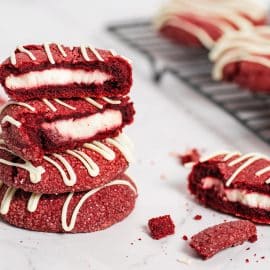 Red Velvet Cookies
Moist Red Velvet Cookies stuffed with a tangy cream cheese filling. These cookies melt in your mouth and are perfect for Valentine's day!
Instructions
Cream Cheese Filling
In a medium bowl add the cream cheese, powdered sugar, vanilla extract and flour.

Whip with a hand mixer for 2-3 minutes or until fluffy.

Place in a piping bag and pipe 18 dollops of cream cheese onto a lined baking sheet.

Freeze for at least 1-2 hours until hardened.
Red Velvet Cookies
In a large mixing bowl, whisk the flour, cocoa powder, baking soda and salt until fully combined.

In a separate bowl, add softened room temperature butter, brown sugar, and vanilla extract. Beat with a hand mixer on high speed for about 2 minutes.

Add in the egg, milk and red food coloring, then mix again for about 1 minute. Scrape down the sides of the bowl a few times while mixing.

Slowly add the dry ingredients into the butter mixture, whilst mixing on low speed. Keep mixing until all the flour is incorporated into the dough and add more red food coloring if needed.

Wrap the cookie dough in plastic wrap, then chill in the fridge for at least 1-2 hours.

Pre-heat oven to 350F and line two large cookie sheets.

Once chilled, use an ice cream scoop or a tablespoon to form 18 cookie dough balls. Flatten a cookie ball with the palm, then place a dollop of frozen cream cheese in the middle.

Wrap the cookie dough around the cream cheese to fully encase it. Repeat the process for the remaining cookies.

Place cookies on lined baking sheets at least 2-3 inches apart, as they will spread whilst cooking.

Bake for 12-13 minutes or until the edges start browning.

Cool for 5 minutes on the baking sheet before transferring onto a wire rack to cool down completely.

In the meantime, melt white chocolate chips in the microwave in small intervals of 20 seconds, mixing in between each burst. Once fully melted, place into a piping bag fitted with a small 1/8 inch nozzle. Pipe melted chocolate onto the cooled red velvet cookies in a zigzag pattern. Let the chocolate harden, then serve!
Nutrition
Calories:
160
kcal
,
Carbohydrates:
18
g
,
Protein:
2
g
,
Fat:
9
g
,
Saturated Fat:
6
g
,
Polyunsaturated Fat:
0.4
g
,
Monounsaturated Fat:
2
g
,
Trans Fat:
0.3
g
,
Cholesterol:
33
mg
,
Sodium:
121
mg
,
Potassium:
59
mg
,
Fiber:
1
g
,
Sugar:
9
g
,
Vitamin A:
297
IU
,
Calcium:
18
mg
,
Iron:
1
mg