Buttery, rich and flavorful King Cake Cookies are the ideal Mardi Gras sweet treat! These cookies have all the flavors of a traditional King Cake, but only take minutes to make. Made with vanilla and nutmeg and decorated with a marbled lemon flavor royal icing.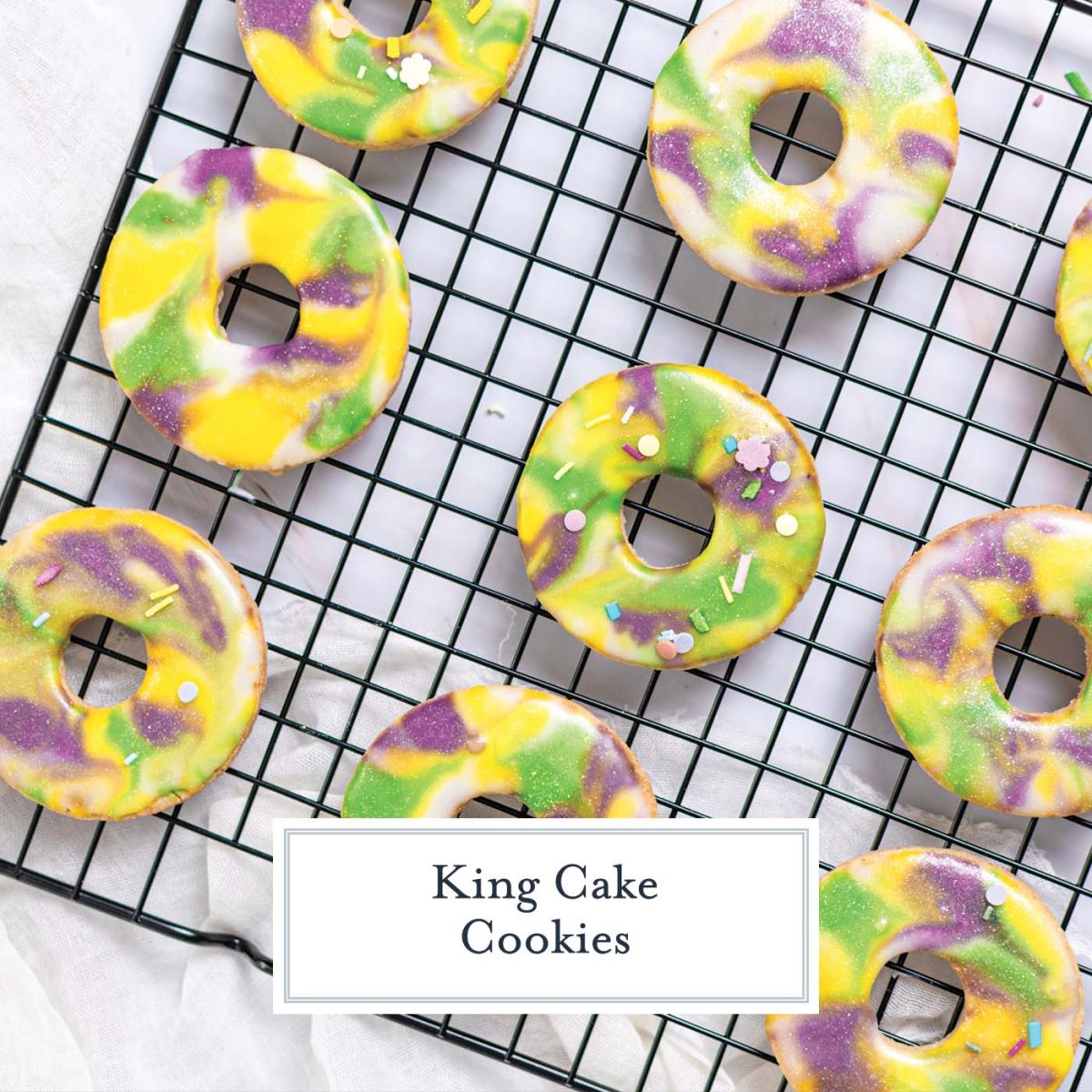 Mardi Gras is a time for celebration, fun activities, and most importantly great food! We all know and love the famous King Cake, with its nutmeg-scented dough, delicious fillings and icing.
These Mardi Gras Cookies look like a miniature King Cake and taste just as delicious! The cookie dough is made with nutmeg and vanilla and iced with lemon royal icing. The marbled icing boasts the traditional Mardi Gras colors – yellow, purple, and green, for the most festive look.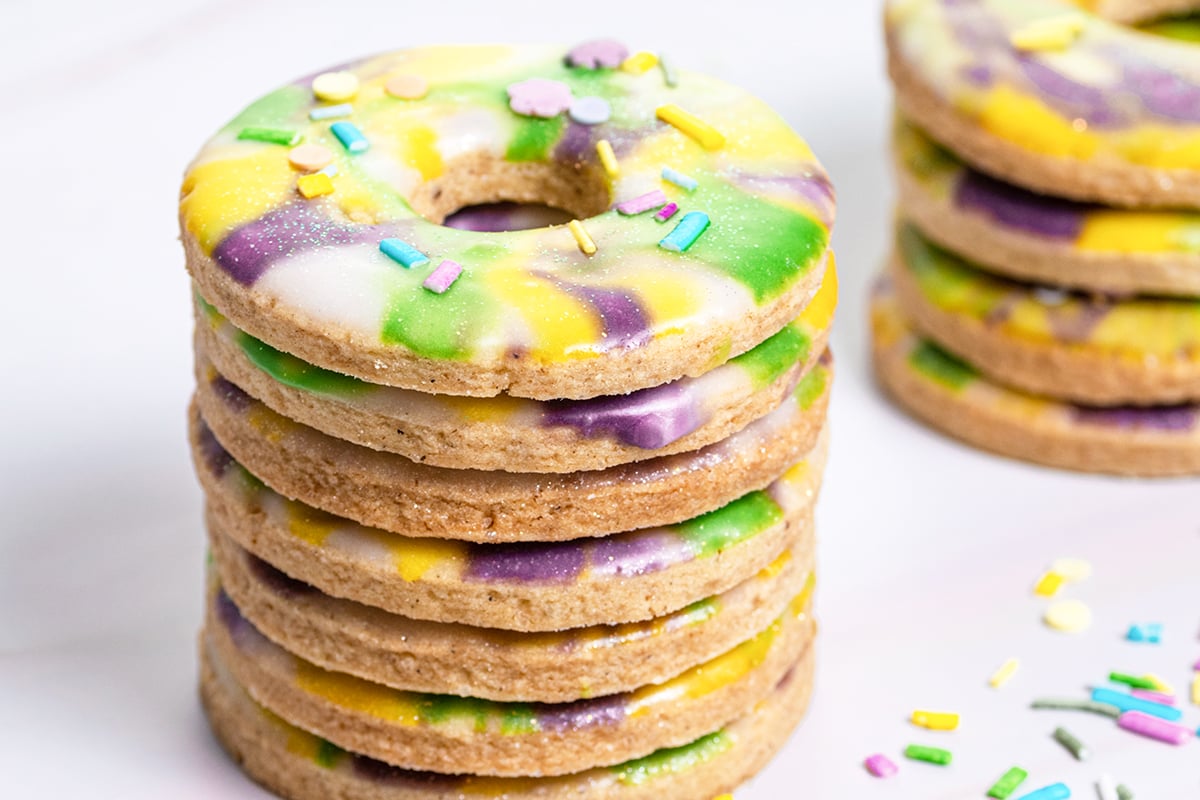 King Cakes
King Cake is the traditional cake served on Fat Tuesday during Mardi Gras. The base is made from brioche and then frosted with powdered sugar icings.
Some don't have any filling at all, while others are laced with cream cheese filling, raspberry or even bourbon pecan or browned butter praline. Icings are vanilla, lemon, almond or cream cheese.
Many are also topped with brightly colored sanding sugar and other festive sprinkles. People used to bake a small plastic baby in the cake. Whoever got the baby in their slice was the next person to host a party and make or buy the cake.
These cookies are the same shape and frosted just like the original. Feel free to flavor the cookie base or icing with any combination of delicious flavors you can dream up.
King Cake Cookies Ingredients
All ingredients used in this recipe can be found in most kitchens and are very simple. Let's have a look at what's needed to make these King Cake Cookies:
Butter – the ingredient that makes the cookies crumbly and delicious. Use unsalted butter, softened to room temperature.
Flour – regular all-purpose flour is used in this recipe. I do not recommend using self-rising flour because we only need a minimal amount of rising.
Baking powder – the leavening agent in this recipe. It cannot be replaced with baking soda, as this will make the cookies spread too much.
Sugar – I like to use brown sugar for this recipe, because it gives a more caramelized flavor. You can also use plain granulated sugar.
Egg – one large egg is needed. Ensure it is left at room temperature for at least 1-2 hours before using.
Vanilla extract – crucial to give the signature King Cake flavor. It can also be replaced with vanilla bean paste for a more intense flavor or almond extract or almond paste.
Ground nutmeg – also important in achieving the right flavor. Ground cinnamon can also be used.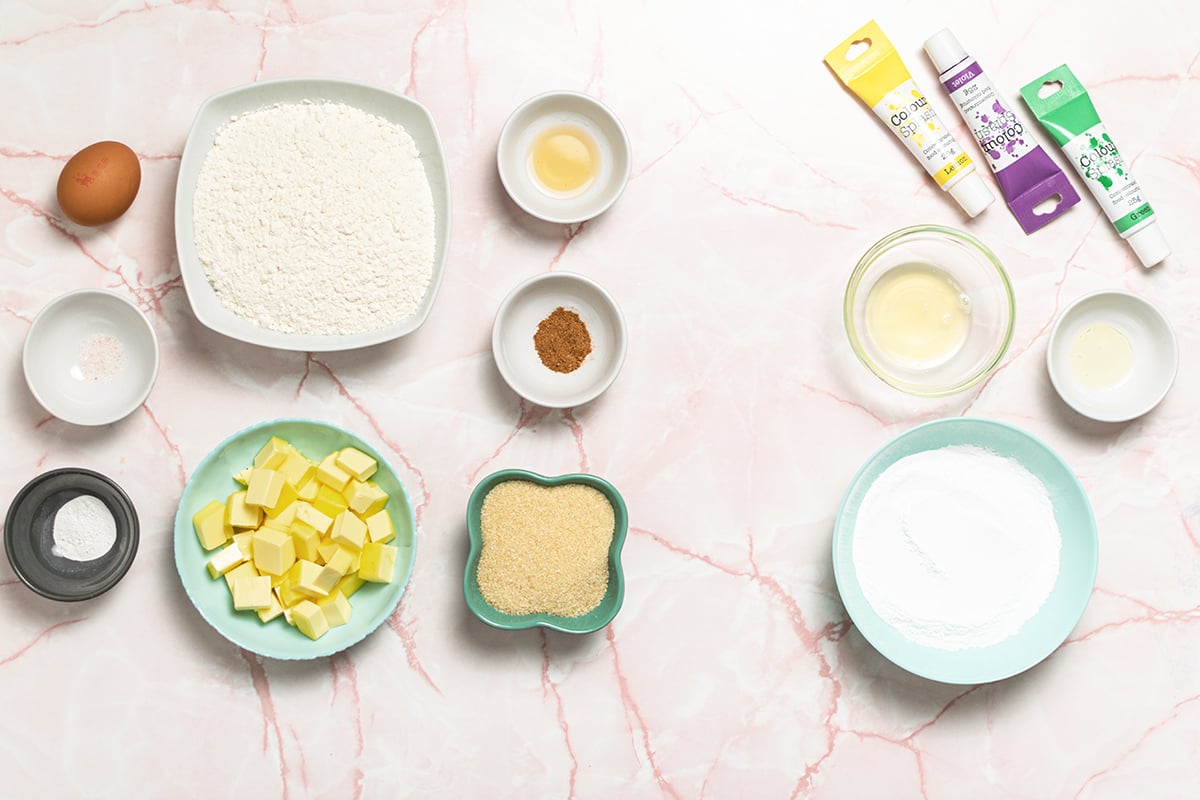 Royal icing is ideal for glazing these King Cake Cookies and it's also very easy to make. We will need:
Egg white – the base for royal icing. For food safety reasons, ensure the eggs are pasteurized. You can also use meringue powder and water instead.
Powdered sugar – Royal icing is very smooth, so it requires very fine sugar. You cannot use granulated sugar in royal icing.
Lemon juice – helps achieve the perfect consistency and flavor. You can also use 1-2 drops of lemon extract instead.
Food coloring – I recommend using gel food coloring as they yield much brighter colors. The colors used are yellow, purple and green.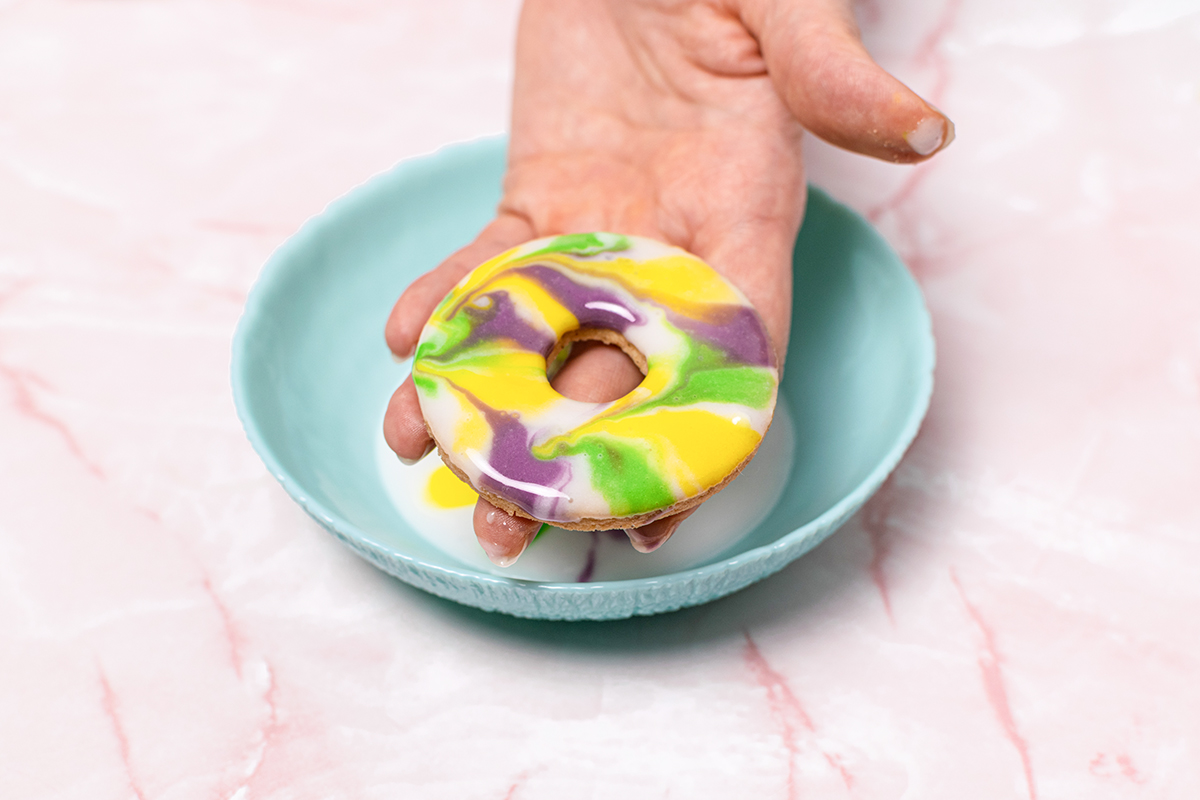 How to Make King Cake Cookies
Cream the butter and sugar until pale and fluffy. Add in the egg, salt, and vanilla, then mix well to combine.
Sift in the flour, baking soda and nutmeg. Combine the wet and dry ingredients until a dough forms, but do not overwork it. Refrigerate for 1 hour before rolling.
Roll out the dough, then use a round cookie cutter to shape the cookies. Use a small ½ inch cutter to punch a hole in the middle of each cookie.
Bake until golden in color, then let cool down completely on a wire rack.

Once the King Cake Cookies have cooled down completely, we can begin icing them. This is where the fun begins, and you can be as creative as you want!
Combine all the ingredients for royal icing. Pour a few drops of lemon juice at a time until the right consistency is achieved.
Divide the icing into 4 separate parts. Leave one part white, and color the others in yellow, green, and purple.
In a small bowl, place white icing as a base, then add small droplets of colorful icing on top. Do not merge the colors.
Dip the cookies face down into the royal icing, then lift and let the excess drip off. Allow to dry for at least 4-5 hours.

Optional: you can also use sprinkles, edible glitter, or luster dust for a more playful decoration of your King Cake Cookies. Apply them while the royal icing is still tacky.
Tips & Tricks
Room temperature ingredients – the butter and egg need to be at room temperature before using in the cookie dough. This ensures the cookies will have the best texture.
Do not add extra flour – adding too much flour can make the cookies too dense. Only add 1-2 teaspoons more if absolutely needed.
Chill the dough – the cookie dough will be very soft and sticky before chilling, making it difficult to roll. Chilling the dough allows the dough to harden a little, making it perfect for rolling. I recommend chilling it overnight to maximise flavors.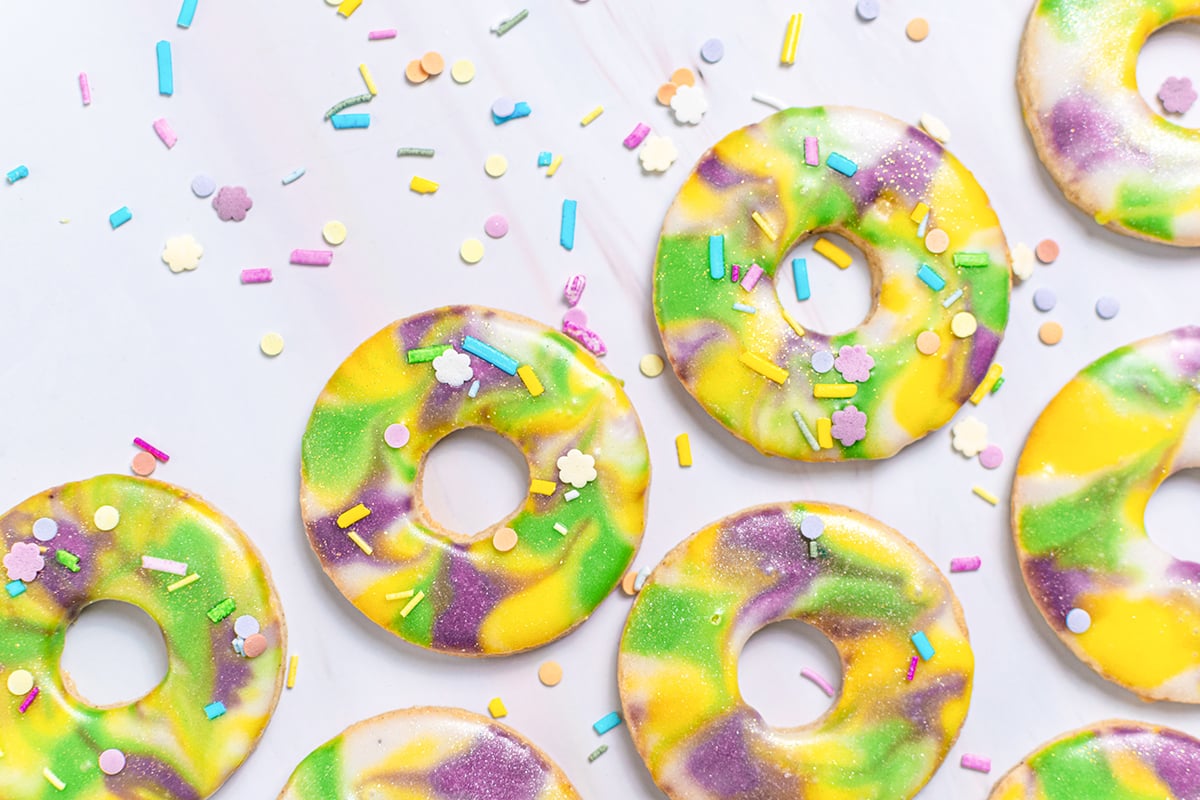 Do not overbake – even if the cookies seem soft freshly out of the oven, they will harden within minutes. Overbaking them can make them much too hard. Remove them once the edges are golden-brown in colour.
Perfect royal icing marbling – when using a skewer to create a pattern, try not to go overboard. If the colours mix too much, you will get a weird looking brown. Only do 2-3 swirls at a time, so you can have clear and distinct colours.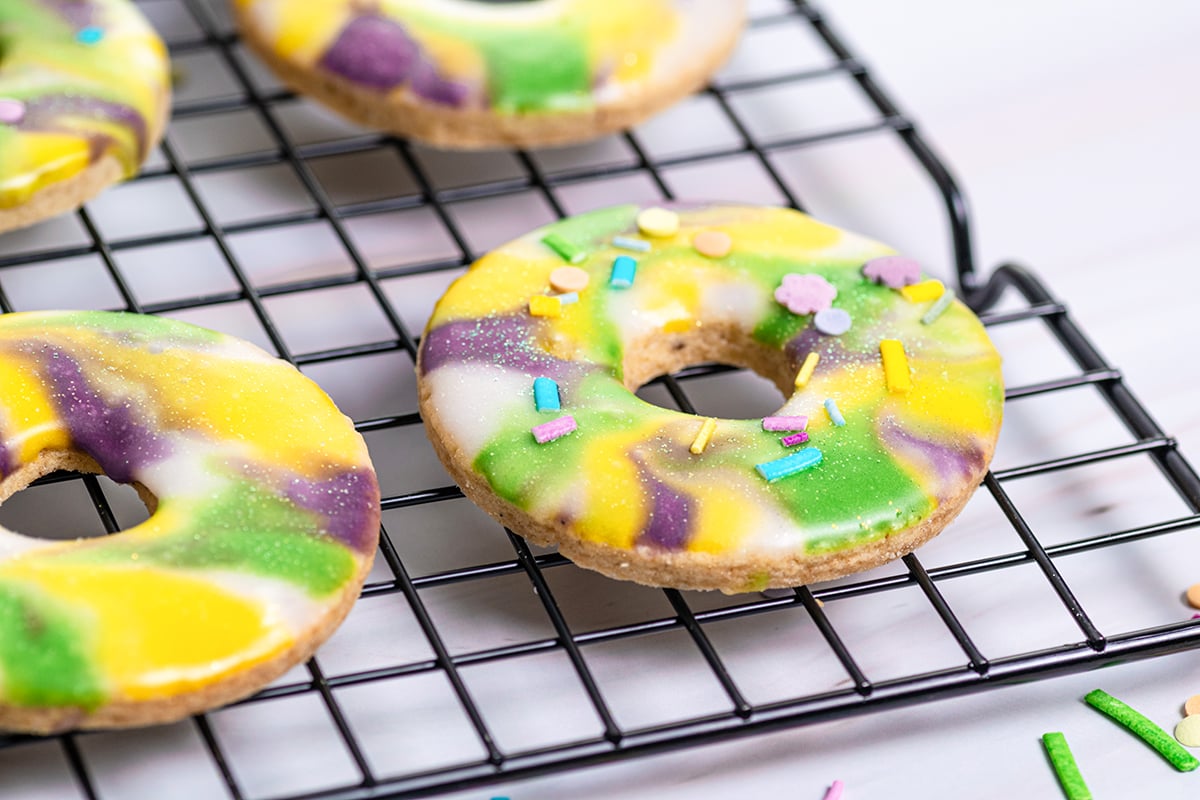 Storage and Freezing
These King Cake Cookies are great because they have a pretty long shelf life. Once the royal icing has fully set, simply store them at room temperature in an airtight container in a dry place. They will last for up to 2 weeks without going stale.
For longer term storage, you can also freeze these Mardi Gras cookies. To freeze, wrap the cookies in aluminum foil, then place in a ziplock bag or airtight container. Freeze for up to 3 months. Thaw at room temperature for 15-20 minutes before consuming.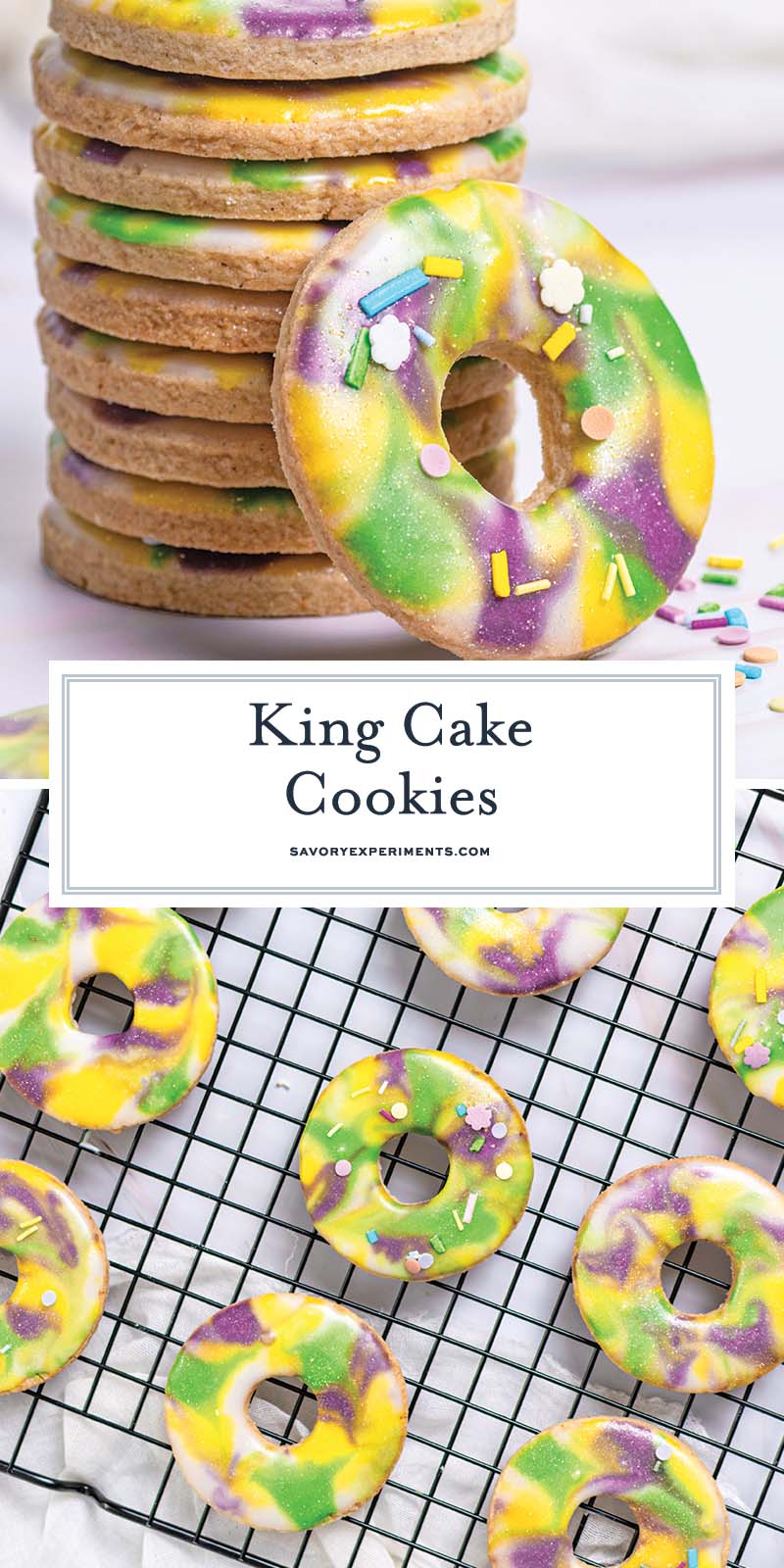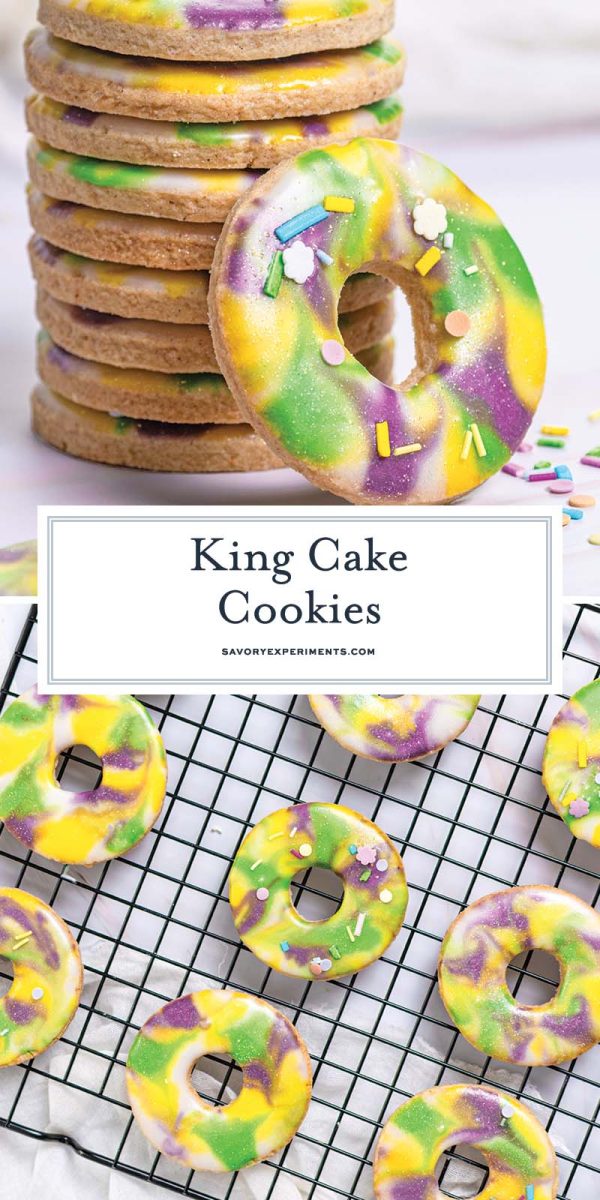 More easy cookies you will love: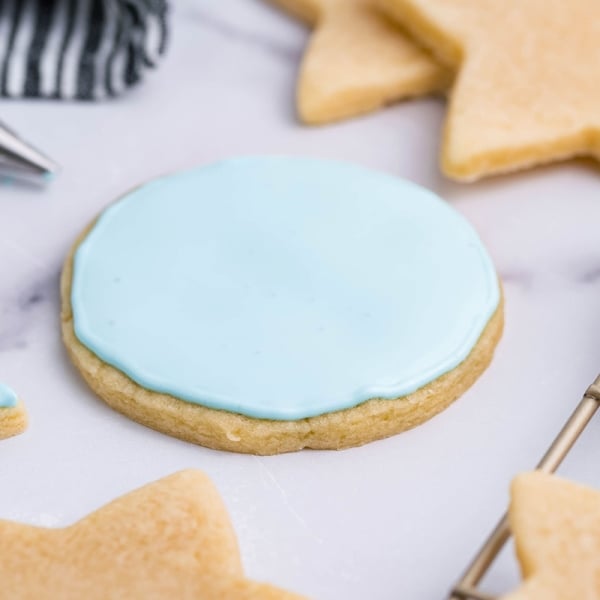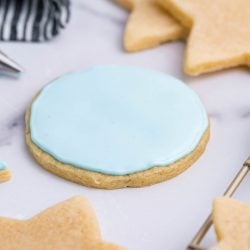 Frosted Sugar Cookies
The best sugar cookie dough recipe for Rolled Sugar Cookies out there! Won't lose shape when baked, great flavor and easy to make and roll out!
See The Recipe!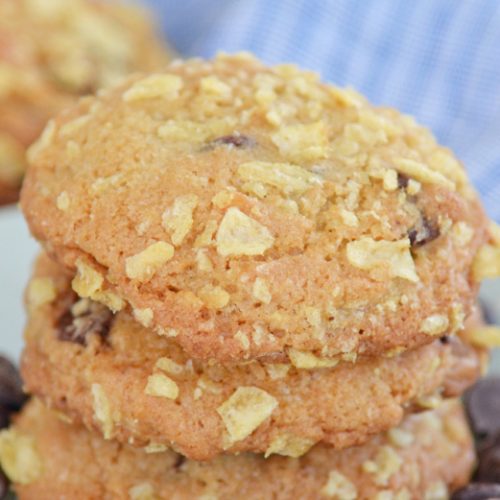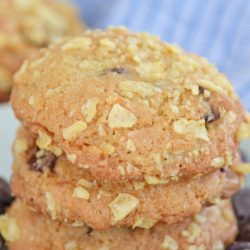 Potato Chip Cookies
If you want the best of a crispy cookie with a soft cookie, both salty and sweet? Then these Potato Chip Chocolate Chip Cookies are for you!
See The Recipe!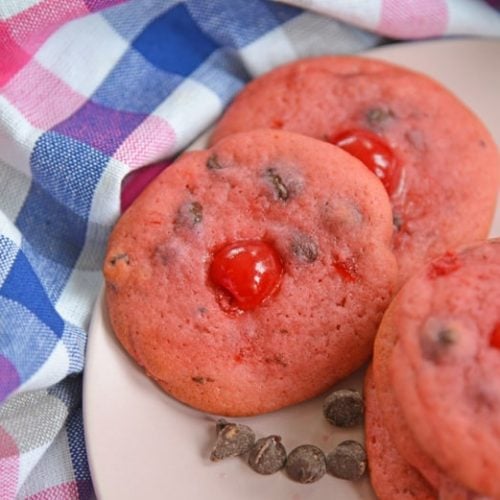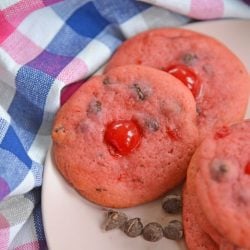 Cherry Chocolate Chip Cookies
A homemade cookie recipe doesn't get much better than these Cherry Chocolate Chip Cookies! Chocolate and cherry just belong together!A homemade cookie recipe doesn't get much better than these Cherry Chocolate Chip Cookies! Chocolate and cherry just belong together!
See The Recipe!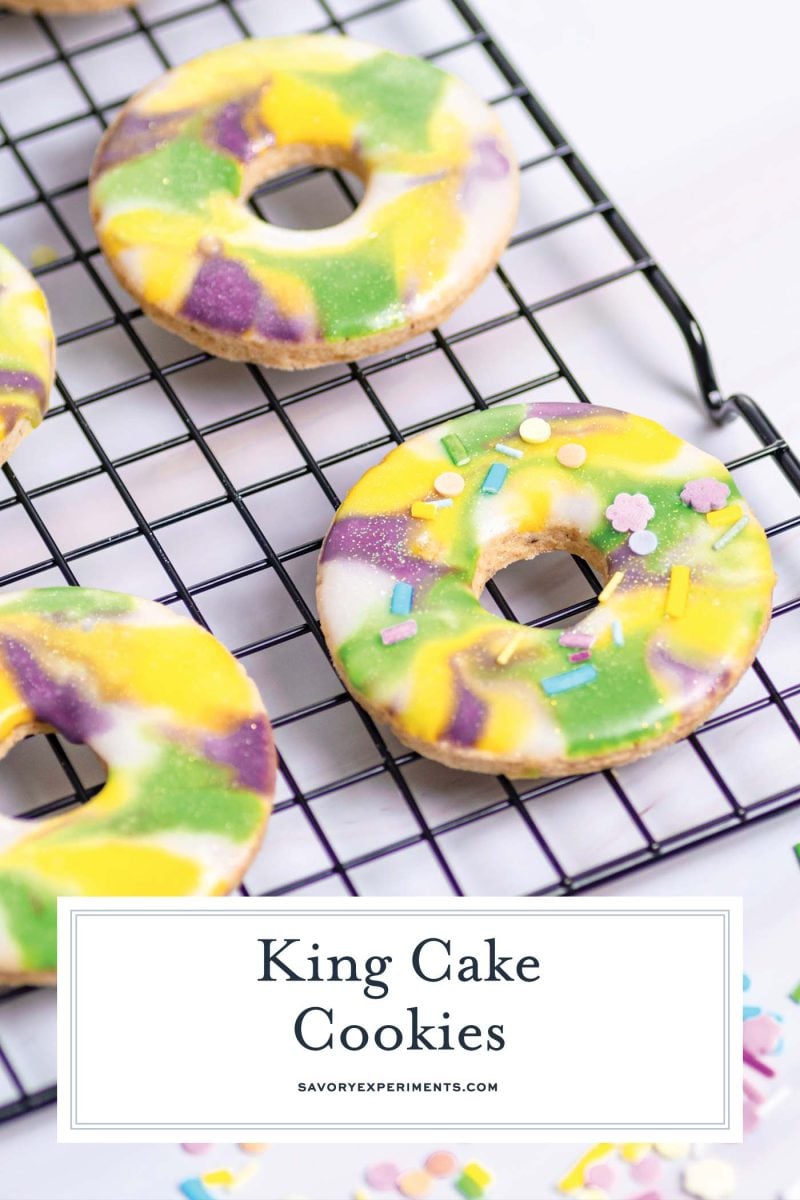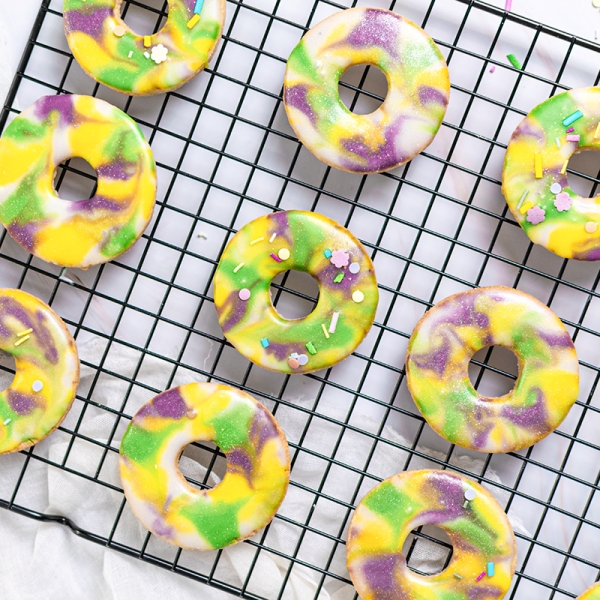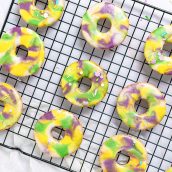 King Cake Cookies (Mardi Gras Cookies)
Buttery and rich, King Cake Cookies are the best Mardi Gras dessert! All the flavors of a traditional King Cake, but only take minutes!
Instructions
Cookies:
In a large bowl, cream the butter and sugar using a stand or hand mixer. Whip the butter until pale and fluffy. Add the egg, salt and vanilla then beat again on high speed for around 1 minute.

Separately, sift together the flour, baking powder and nutmeg. Add the flour into the butter mixture and mix on low speed until a dough forms. If the dough seems too soft to roll, sprinkle in 1 tablespoon of flour. Cover the cookie dough with plastic wrap, then refrigerate for 1-2 hours or overnight.

Pre-heat the oven to 350°F and line two large baking sheets with parchment paper.

Flour the worksurface, then roll out the dough using a rolling pin. If the dough is too sticky when rolling, sprinkle more flour onto it. The thickness should be ¼ inch.

Using a 2-inch round cookie cutter, cut out 24 circles. Use a small cookie cutter or the back of a piping nozzle to cut out ½ inch holes in the middle.

Place the cookies on the baking sheets, at least 2 inches apart. Bake for 11-12 minutes or until golden-brown on the edges.

Once baked, let cool for 5 minutes on the sheets, then transfer to a cooling wire to cool completely.
Royal icing:
Combine the egg white and powdered sugar with the help of a hand mixer.

Add in the lemon juice a few drops at a time, until the mixture reaches the desired consistency.

Divide the icing into 4 separate containers. Leave one white, the color the other three in yellow, green, and purple.

In a separate bowl, place dollops of white icing. On top, place small dots of colored icing.

Dip each cookie face down into the icing, then lift and let the excess drop off. Place the cookies on a wire rack to harden.

If the colors become too merged, place more white icing on top to create a white canvass. Repeat the process with small dollops of colorful icing on top of the white.

Optional: sprinkle some edible glitter on top whilst the icing is drying.

If you've tried this recipe, come back and let us know how it was in the comments or ratings.
Nutrition
Calories:
143
kcal
,
Carbohydrates:
21
g
,
Protein:
2
g
,
Fat:
6
g
,
Saturated Fat:
4
g
,
Polyunsaturated Fat:
1
g
,
Monounsaturated Fat:
2
g
,
Trans Fat:
1
g
,
Cholesterol:
22
mg
,
Sodium:
31
mg
,
Potassium:
33
mg
,
Fiber:
1
g
,
Sugar:
13
g
,
Vitamin A:
187
IU
,
Vitamin C:
1
mg
,
Calcium:
12
mg
,
Iron:
1
mg