Busy week? Still need something satisfying, tasty and soul-fulfilling? Try this easy jambalaya recipe. It is a perfect one-pot meal that is ready in about 40 minutes and leaves you the time to be doing other things while it cooks.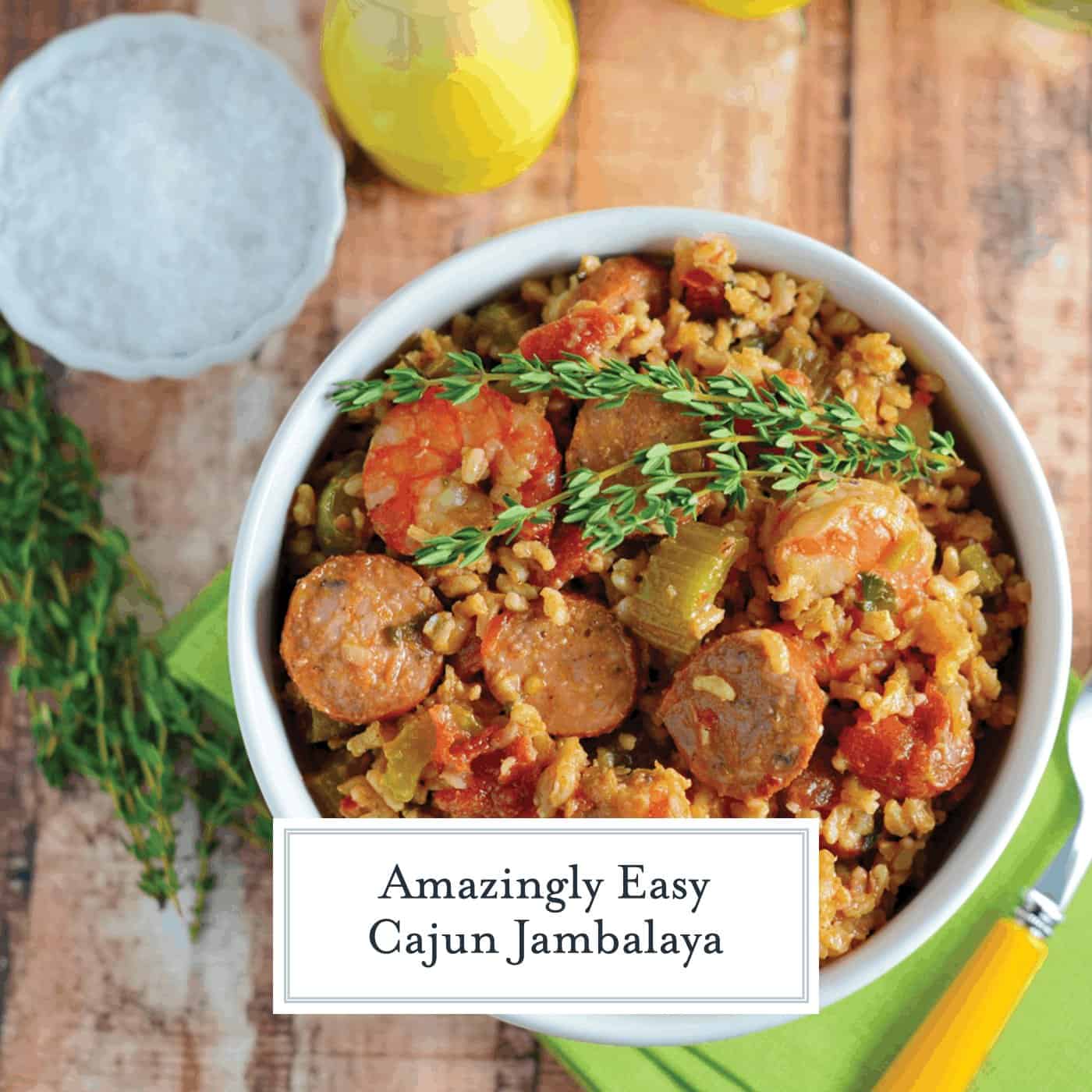 Cajun vs Creole
Did you know there is also a difference between the commonly interchangeable terms Creole and Cajun? My understand, which is oversimplified immensely, is that Cajun is "country" and Creole is "city".
Cajuns are the indigenous people and therefore, locavores, using only the ingredients readily available to them. Therefore their roux doesn't have butter, instead using oil and flour, and you also won't find tomatoes in their jambalaya. Tomatoes don't grow well in that climate.
Creole cooking is a mixing pot of cuisines. The city folk also had access to imported items, like tomatoes and butter. It was also more sophisticated with French and Caribbean influences.
This is a Cajun jambalaya, noted for a more rustic and basic preparation, however more jambalaya are actually creole in nature. They hail from an African rice dish and Spanish paella, where rice cooks down with stock. Tomato is added to give it flavor, moisture and balance other savory flavors.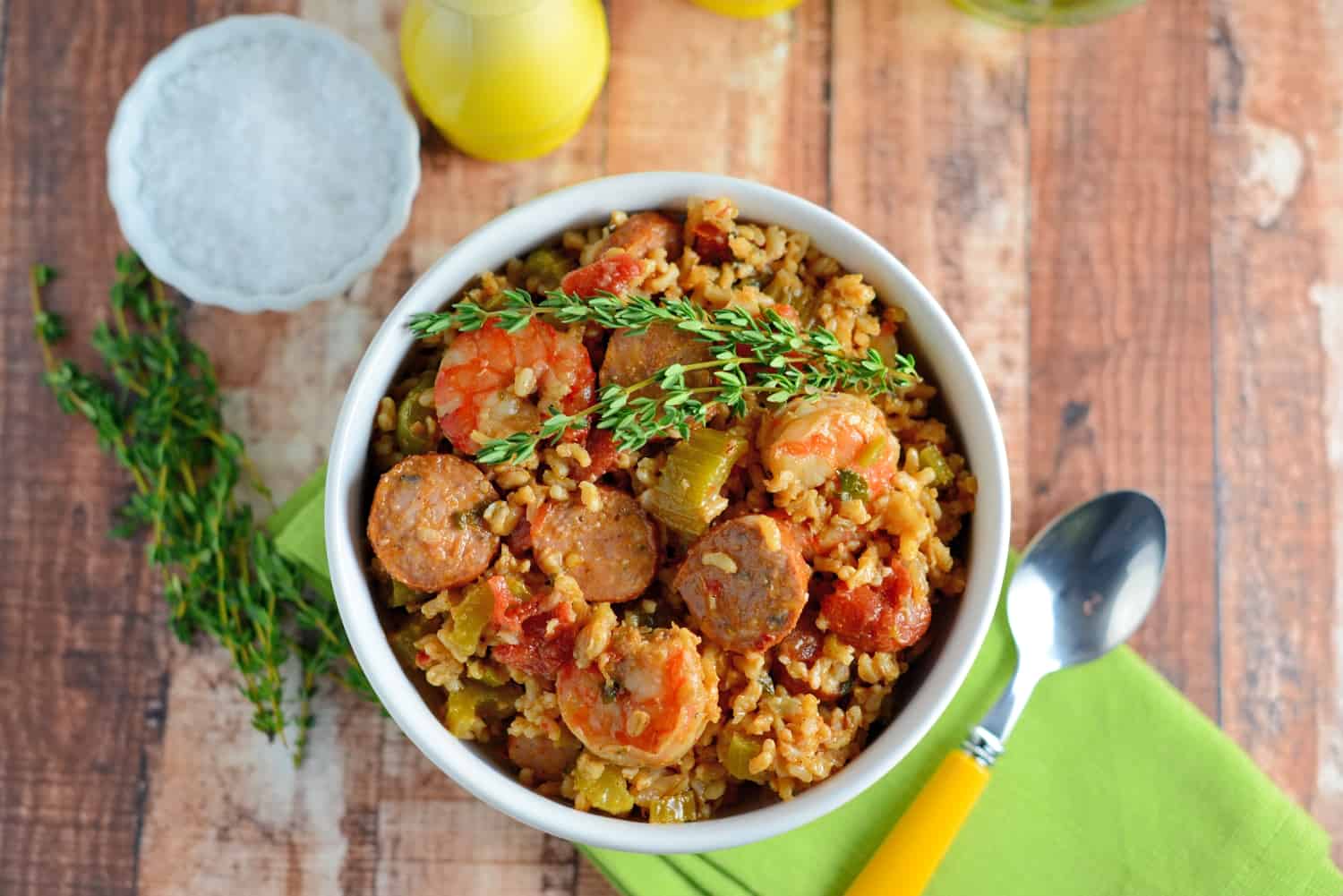 Protein
I used shrimp and chicken andouille sausage, but you can use any type of protein you want, or none at all and make it a vegetarian dish. Poached or shredded chicken breast or even rotisserie chicken is a great add-in.
True andouille sausage, pork, clams, mussels and even scallops are all acceptable. Use one main protein or a combination of your favorites.
Rice
You can also use long grain white rice if you prefer the texture or taste, but make sure it is a "minute" version. This will help you to save that all-important thing, time.
Brown rice is simply less processed but certianly has a different texture than some folks don't like.
Cajun Seasoning
You read correctly, this recipe doesn't use the bottled cajun spice mix. I've had enough people ask that I had to address it.
What is in Cajun seasoning? Garlic powder, onion powder, seasoning salt, oregano, thyme and then something spicy like paprika, cayenne pepper or crushed red pepper flakes. Since this recipe uses those elements, but some fresh, it doesn't need it. But you like having a big POW, add 2 teaspoons.
For mine, I like to add additional hot sauce.
Jambalaya Vs Gumbo
What is the difference between jambalaya and gumbo?
Well, first off, they are both staples from the great state of Louisiana. Jambalaya is influenced by the West African, French and Spanish people who settled there. It is almost like a casserole or a distant relation to paella, the rice-based dish from Spain.
Jambalaya is made up of a mixture of meats, vegetables mixed with rice and stock. Everything in jambalaya is cooked in the same pot. Hence my one-pot meal comment.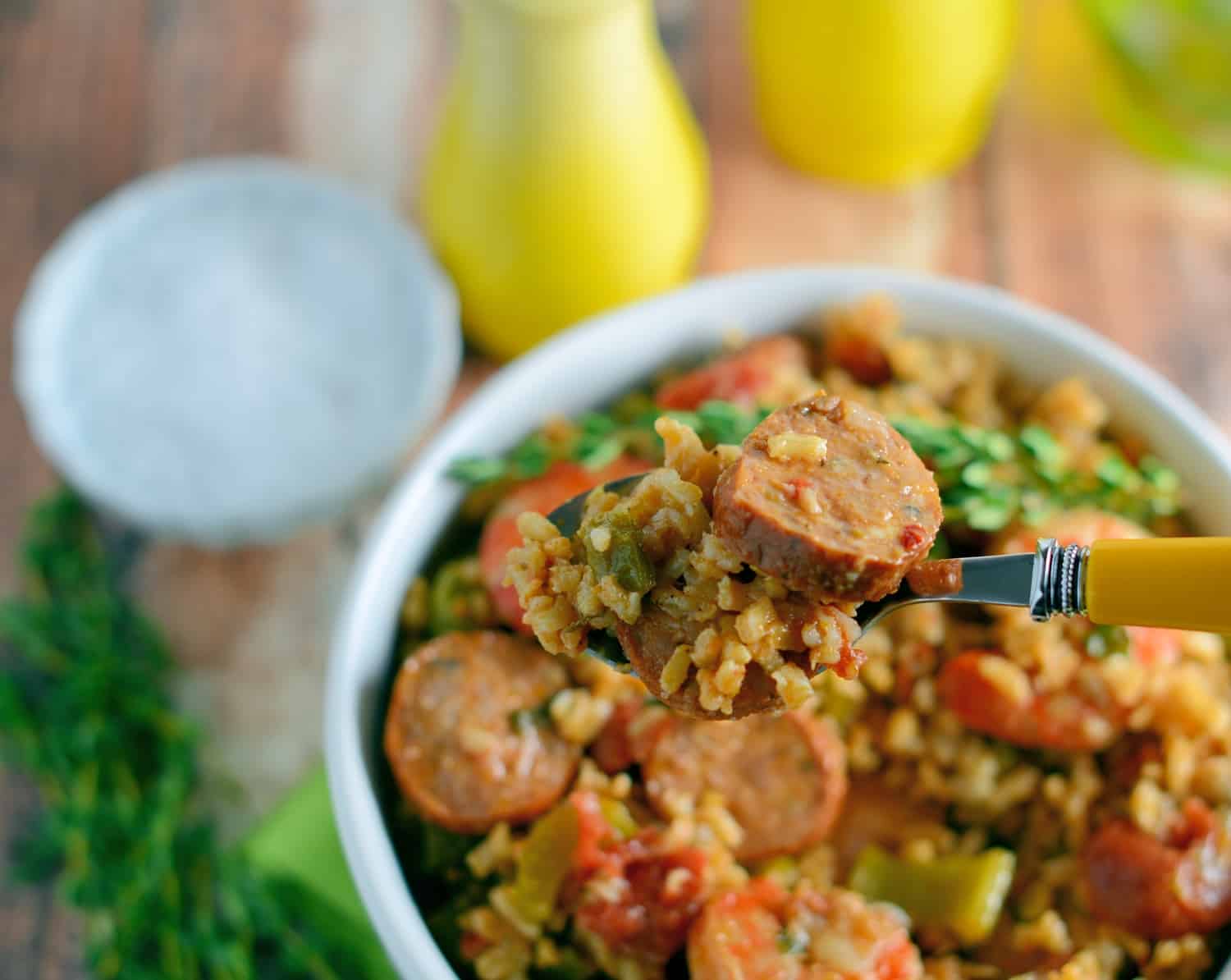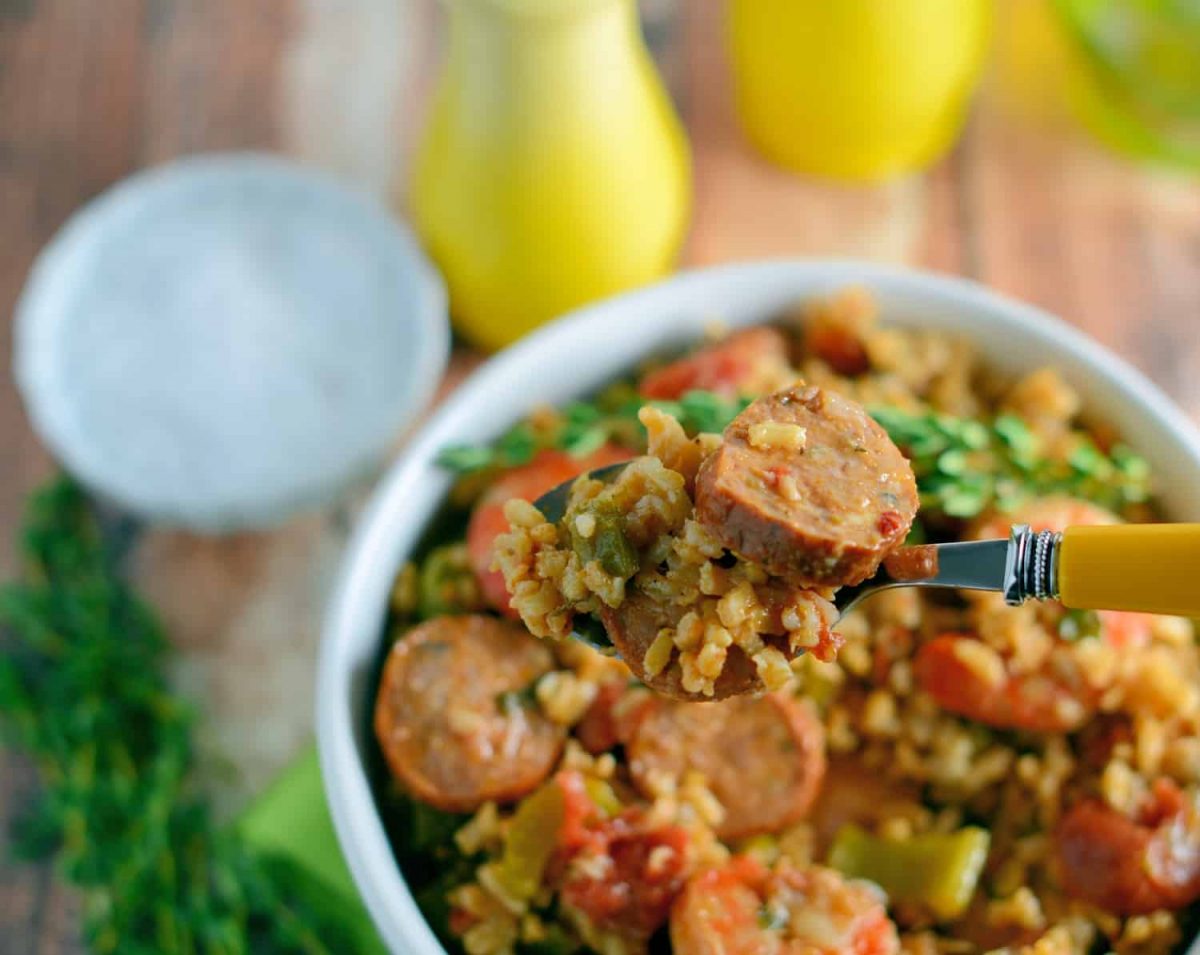 Meats that are sometimes included are chicken, ham, crawfish, shrimp and smoked sausage like andouille.
Gumbo, on the other hand, is a mixture of vegetables and meat cooked in a thickened stock. Think of it more as a soup or stew.
The vegetables that are often used include okra, onions, celery, and green pepper. Meats and proteins vary by region, county, and household for that matter, but sausage, chicken, ham, crawfish, and shrimp are all very popular.
Easy Jambalaya Recipe
The main difference here is that it is two pots. The rice is cooked separately. Gumbo is served with rice while the rice in jambalaya is cooked and incorporated into the dish.
And while those are the main differences, there are so many variations within all of that that sometimes you feel like your head could spin.
For example, there is Cajun gumbo, Creole gumbo, and Gumbo z'herbes. In the jambalaya category, there is Cajun, Creole and even white jambalaya. Each one has its own subtle difference from the other.
And it's no wonder. Louisiana is a big mixing pot of people, cultures, and cuisines! Whatever your preference, you won't be disappointed with this jambalaya recipe.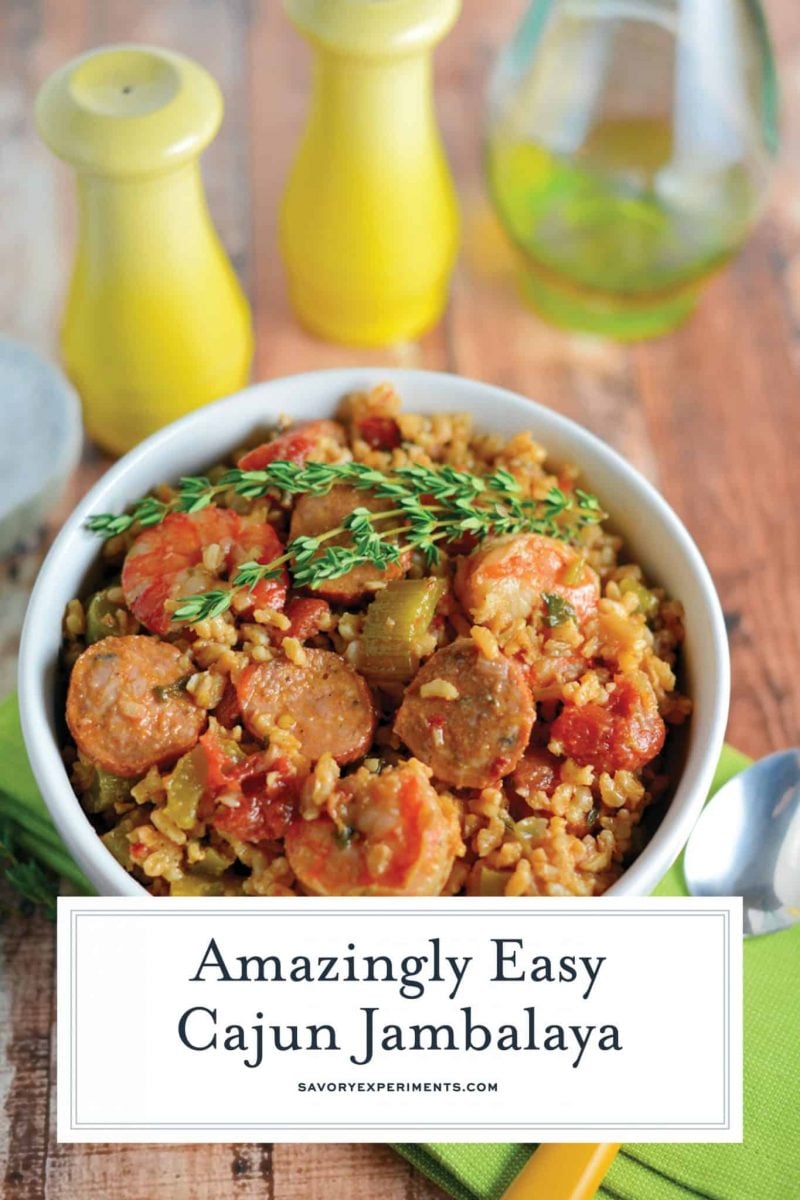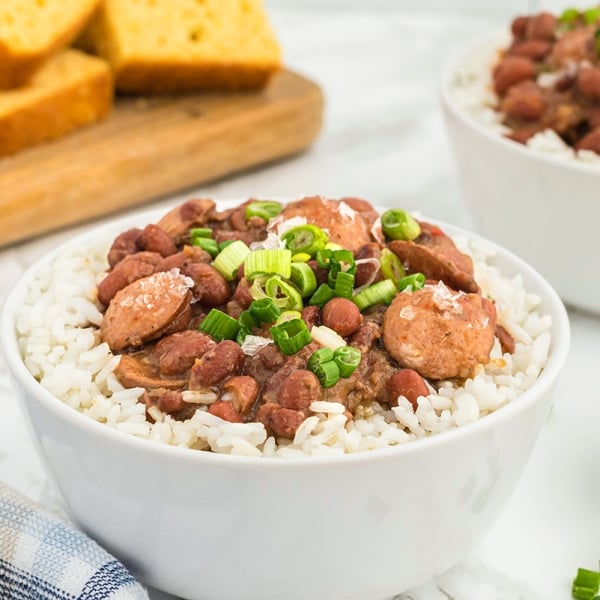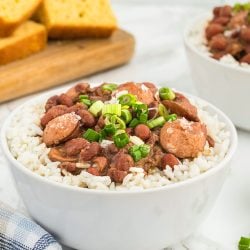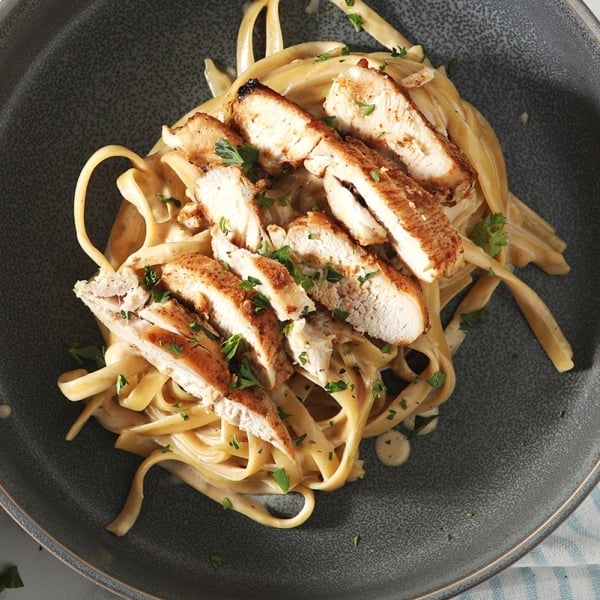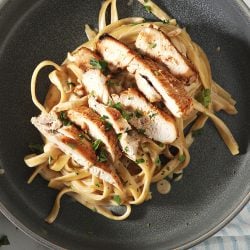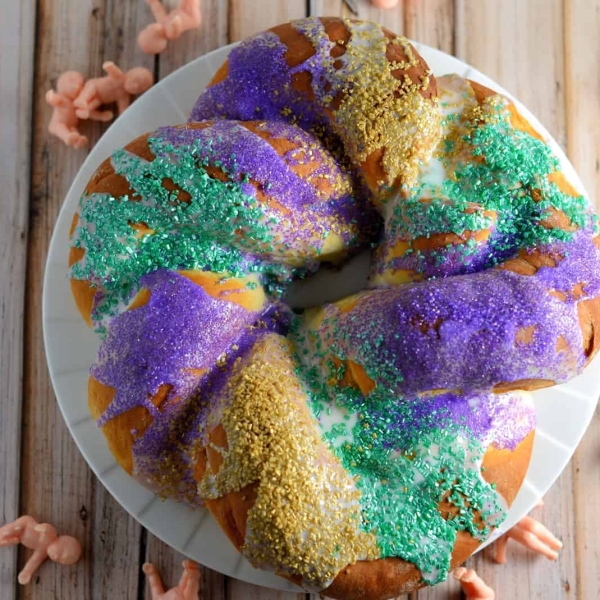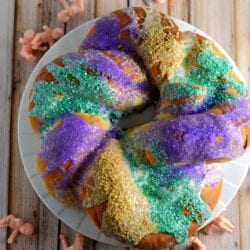 Mardi Gras King Cake Recipe
Mardi Gras King Cake Recipe – A giant sweet roll stuffed with brown sugar, raisins and pecans and decorated with icing and purple, green and gold sparkling sugar. Perfect for breakfast or dessert during carnival or on Fat Tuesday!
See The Recipe!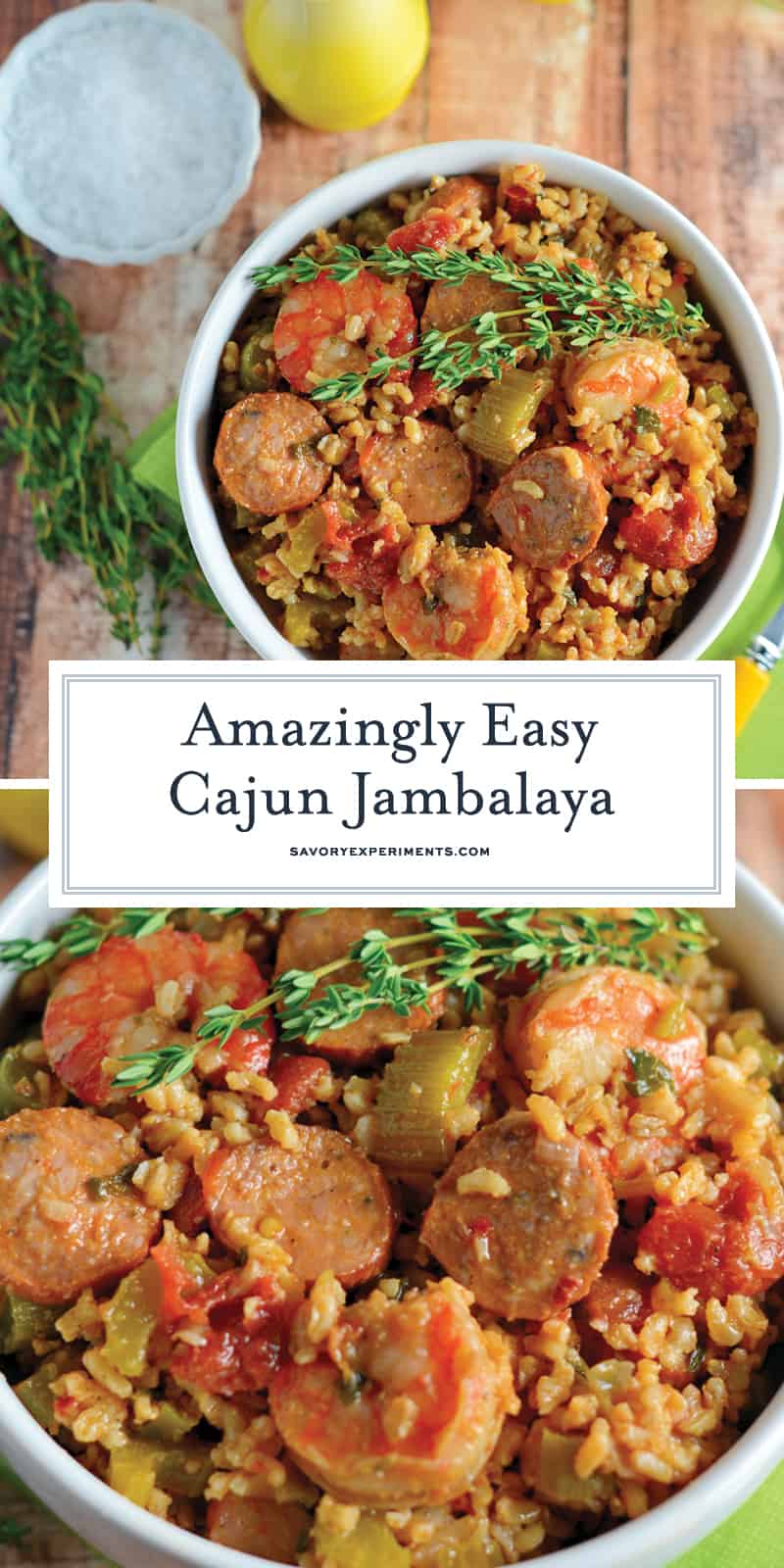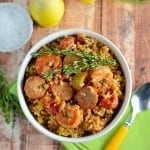 Cajun Jambalaya
This Cajun Jambalaya is a mouthwatering recipe that can be ready in less than an hour. Andouille turkey sausage and shrimp give this recipe so much flavor!
Instructions
Heat Dutch oven or large pot over medium-high heat. Add oil to pan, swirling to coat. Add onion and saute for 3-4 minutes. Add celery, bell pepper and garlic. Continue to saute for 5 minutes.

Add brown rice through canned diced tomatoes. Bring to a boil, then reduce to a low simmer and cover. Continue to simmer for 10 minutes.

Fluff with a large fork or spoon, add shrimp and and sausage. Cover and continue to heat on low for 5 minutes.

Remove bay leaves and thyme springs. Mixture will have a little bit of liquid, but not be soupy. Taste test rice, as brown rice can sometimes be finicky. Allow to rest for a few minutes uncovered before serving.

If you've tried this recipe, come back and let us know how it was!
Nutrition
Calories:
550
kcal
,
Carbohydrates:
67
g
,
Protein:
37
g
,
Fat:
13
g
,
Saturated Fat:
2
g
,
Cholesterol:
199
mg
,
Sodium:
1299
mg
,
Potassium:
870
mg
,
Fiber:
4
g
,
Sugar:
4
g
,
Vitamin A:
1165
IU
,
Vitamin C:
58
mg
,
Calcium:
155
mg
,
Iron:
4.9
mg