Wholly pie! Pumpkin Apple Pie was a request from my college roommate and friend.
She requested not just a pumpkin pie, not just an apple pie, but a pumpkin AND apple pie all in the same crust.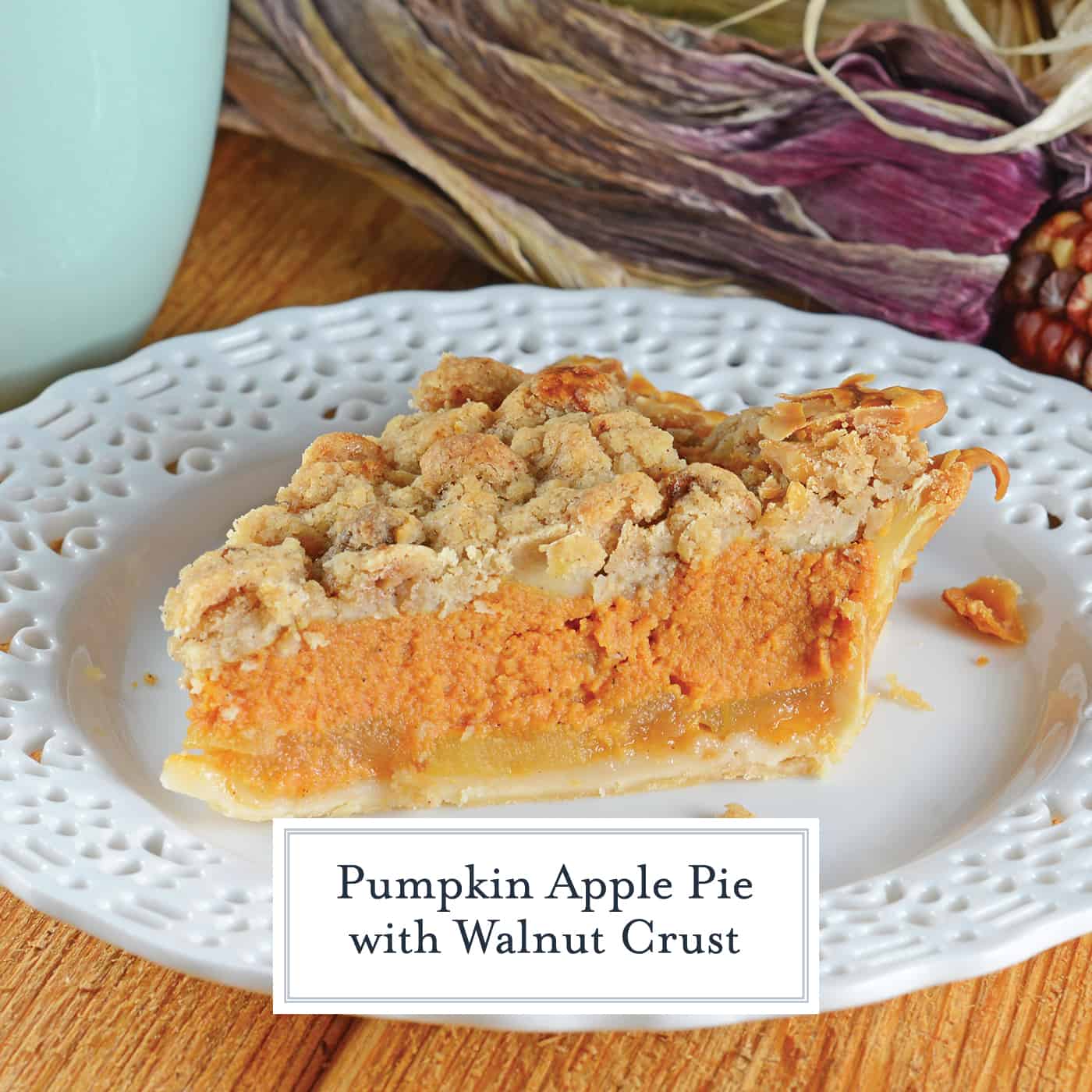 Pumpkin Apple Pie
She also requested that everything be done from scratch. Two homemade pie recipes.
So while she would like to put in the extra work, anyone else could easily purchase a premade crust, pumpkin pie filling or apple filling to cut down on hands-on time.
First thought… ugh… you know how I hate making homemade pie crust!
My objective was to create a pie with two distinct tastes, but still flow.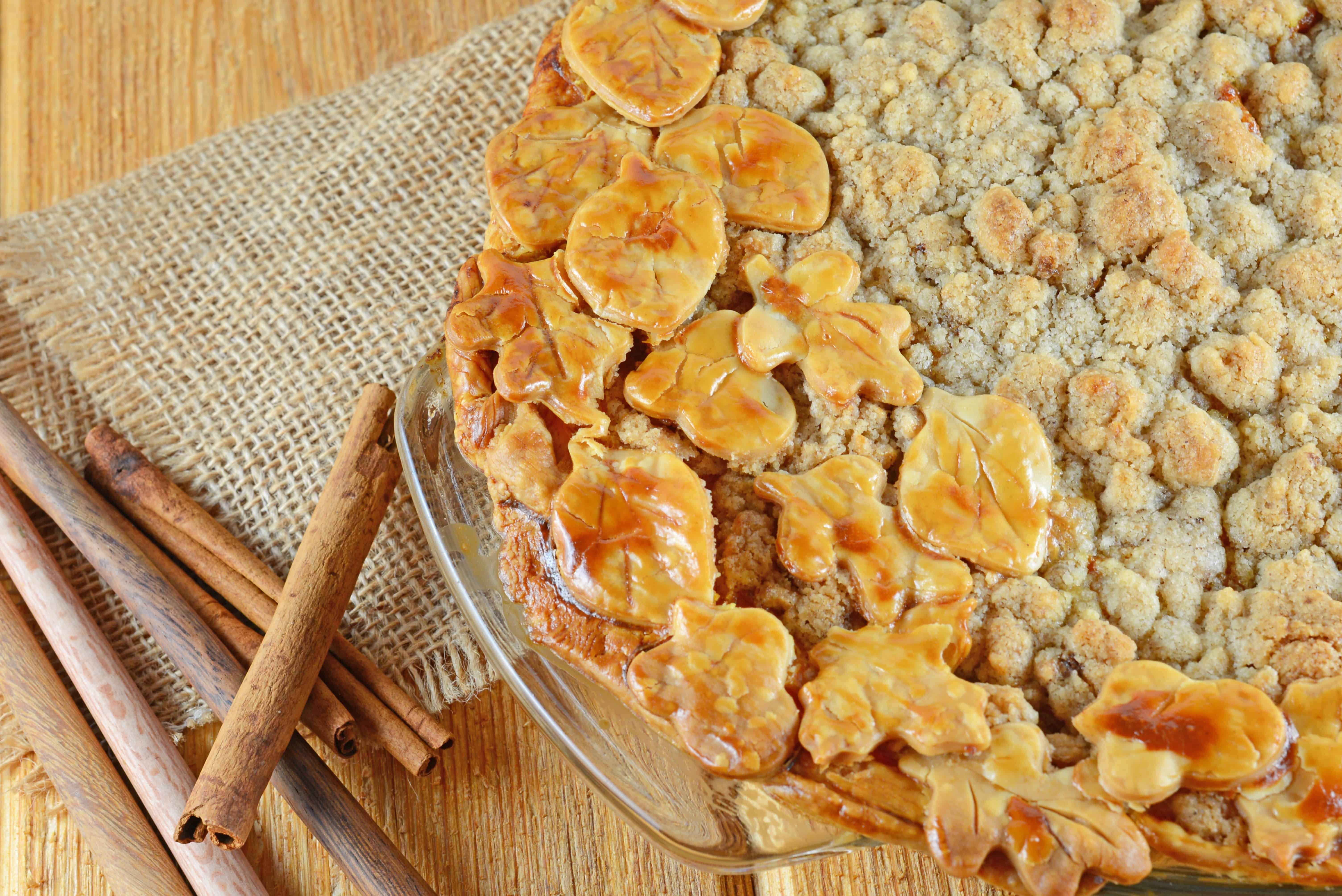 Deep Dish Pie
One thing to keep in mind with this pie is that it requires a deep dish. You need a lot of space to get both delicious pie worlds into one crust!
I used a 9-inch round dish that was approximately 1 1/2 inches deep. It can be difficult to locate a pre-made crust with these specifications, so making a homemade crust was the only way to go.
Pie Crust
Pie crusts always seem simple, but are easily the most difficult part of the pie. Bakers work for years to perfect crust making.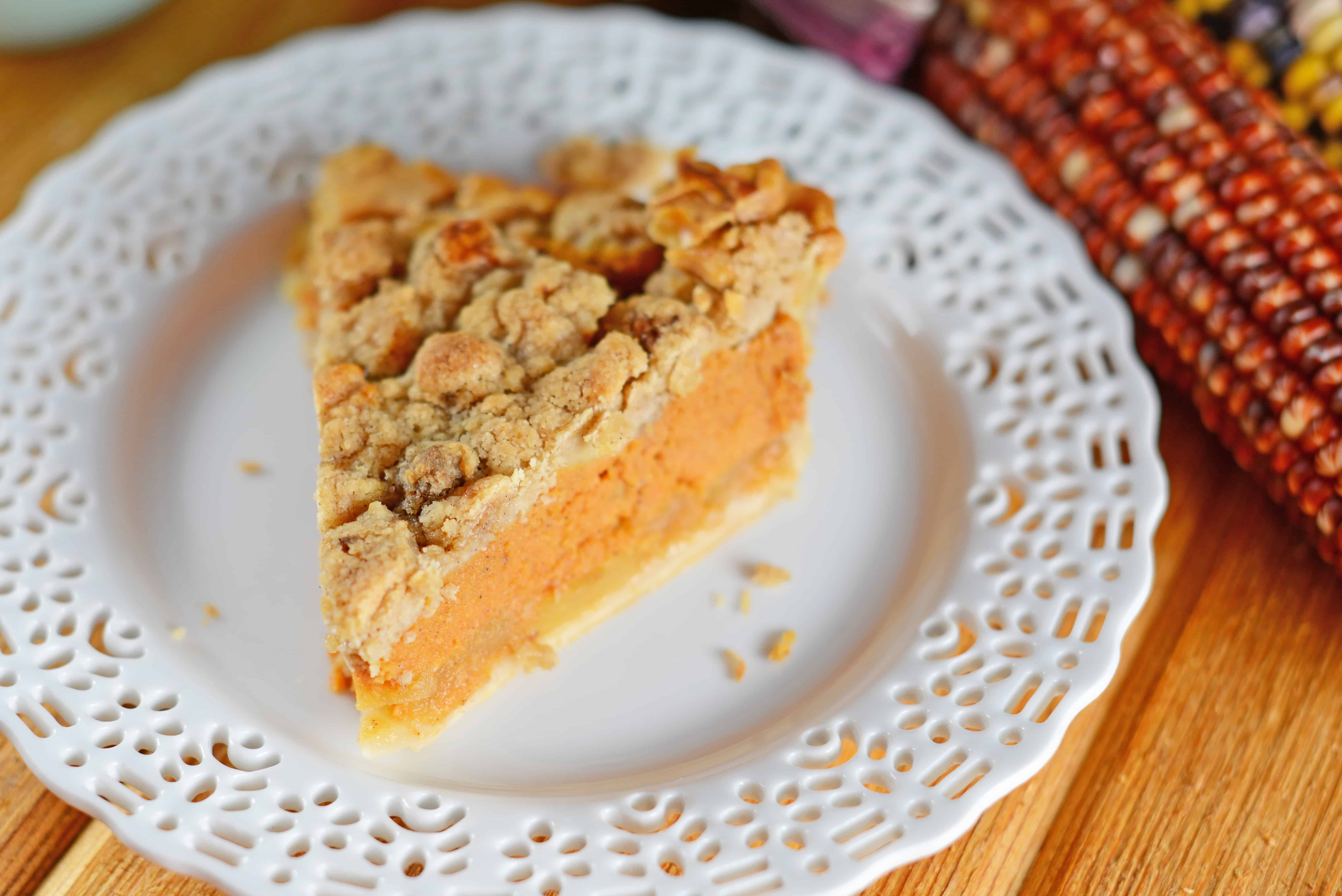 While I have mastered the basic graham cracker crust I am still working on my pastry crust skills, so I typically make decorative pieces to arrange around the rims to cover up imperfections.
You can use either pecans or walnuts in the crust!
Even if you make your own pecan crust, you can buy a premade crust for cutouts. The streusel topping also helps cover up any mishaps.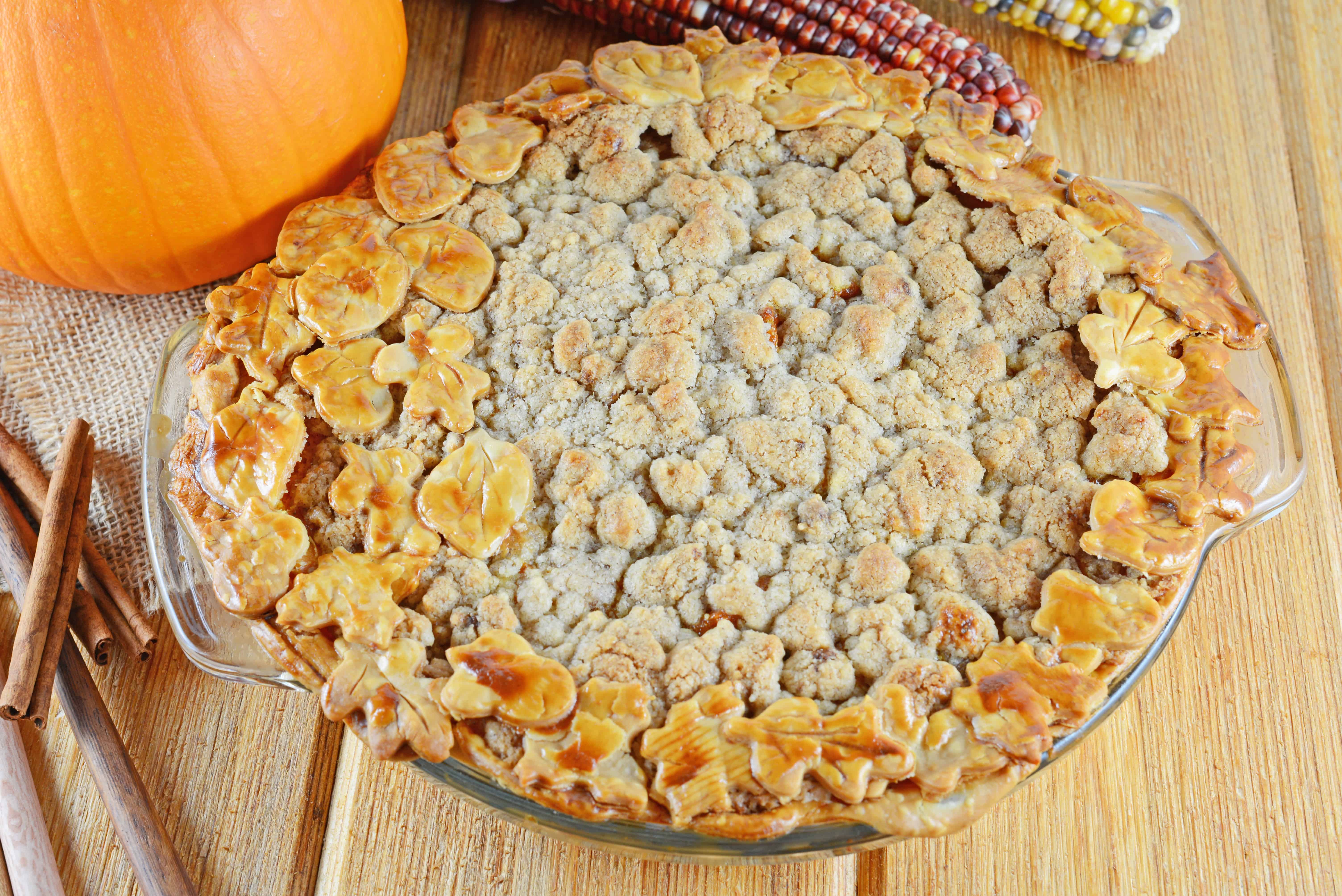 Apple Pie Filling
It all starts with a layer of the best apple pie filling you've ever tasted. The tricks?
PRO TIP: Lemon juice adds acidity to balance out the sweet flavors, but also prevents oxidation and your apples turning brown.
Apple butter and lemon juice. Both add acidity and richness to the initial layer.
What are the best apples to use for apple pie?
Red Delicious
Granny Smith
Idared
Pink Pearl
Ginger Gold
Golden Delicious
Jazz
Jonagold
Pink Lady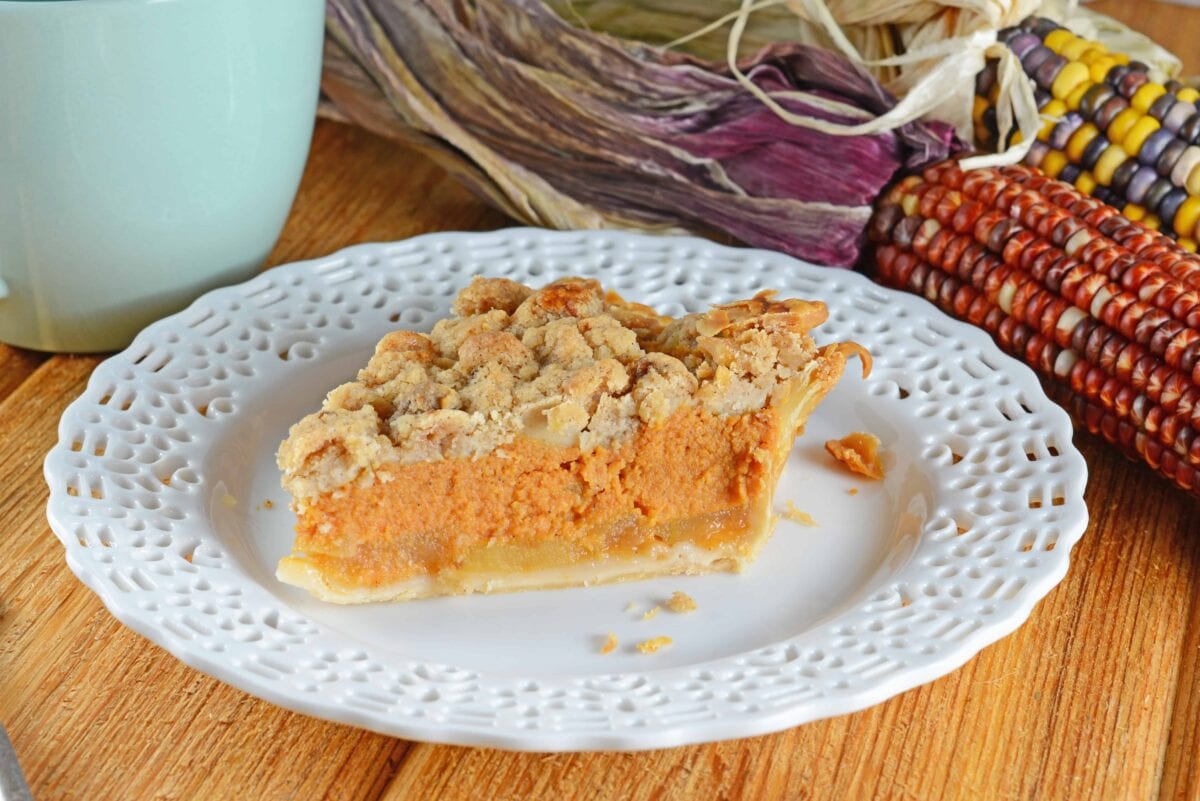 PRO TIP: Use a variety of apples instead of just one. This adds flavor sophistication!
Pumpkin Pie Filling
Many people buy a can of pumpkin puree. While this is a great time saver, please be aware that many are made from butternut squash and not pumpkin, and lack flavor.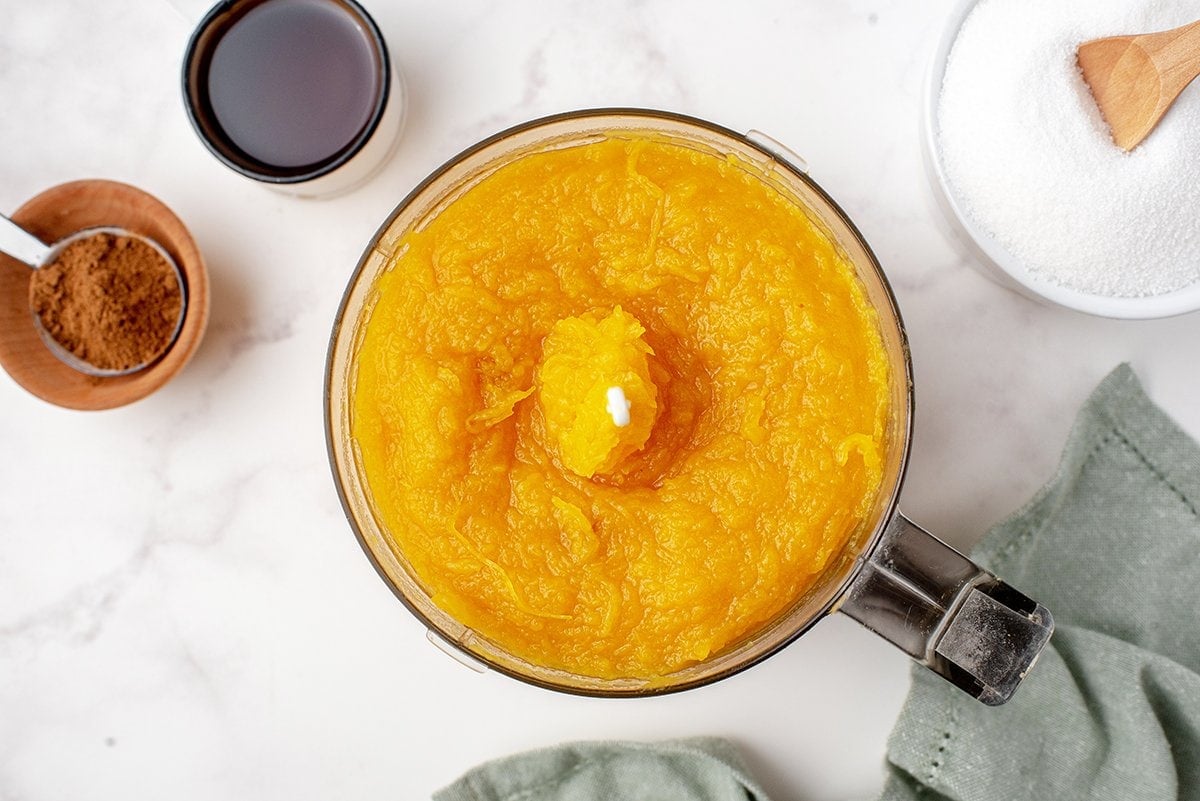 If you are using canned, make sure you actually buy pumpkin puree and not pumpkin pie filling. There is a difference and you'll be overly sugared if you buy the filling.
Another perk to using an actual pumpkin? You get to make roasted pumpkin seeds! Serve your pumpkin apple pie with a big scoop of homemade vanilla bean ice cream.
Tools for making Apple Pumpkin Pie:
Pie Plates– I think every kitchen should have at least three shallow dishes or pie plates for the process of breading and frying. You can also bake pies in them! Hehe.
Mixing Bowls– make sure to check out my article on Using the Right Mixing Bowl, you'd be surprised how many people aren't!
Mini Food Processor– I use this thing daily! It is by far my most used kitchen appliance, it is small and I throw all the parts into the dishwasher, well except the base and cord, of course!
Rolling Mat– For rolling out any dough or cookies or just protecting your counters and work space!
Mandolin Slicer– this is the easiest way to finely shredded anything without pulling out all of the accessories to your stand mixer. Be careful! It is also the most common kitchen appliance to cause injury (behind dull knives).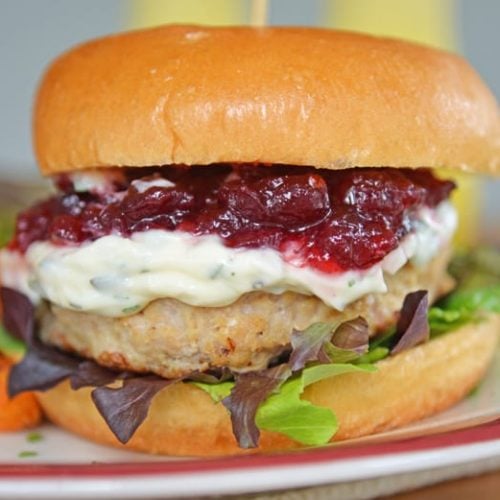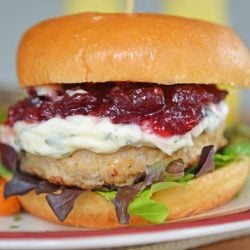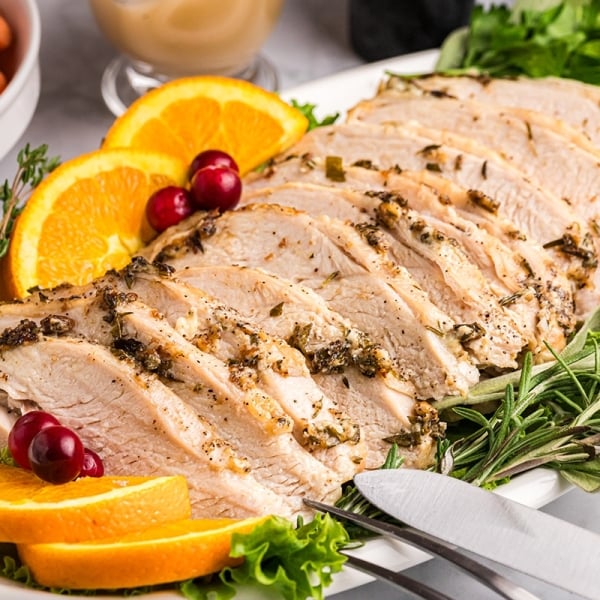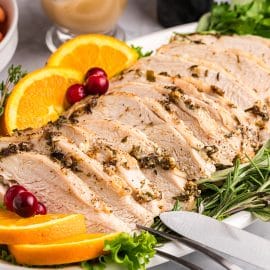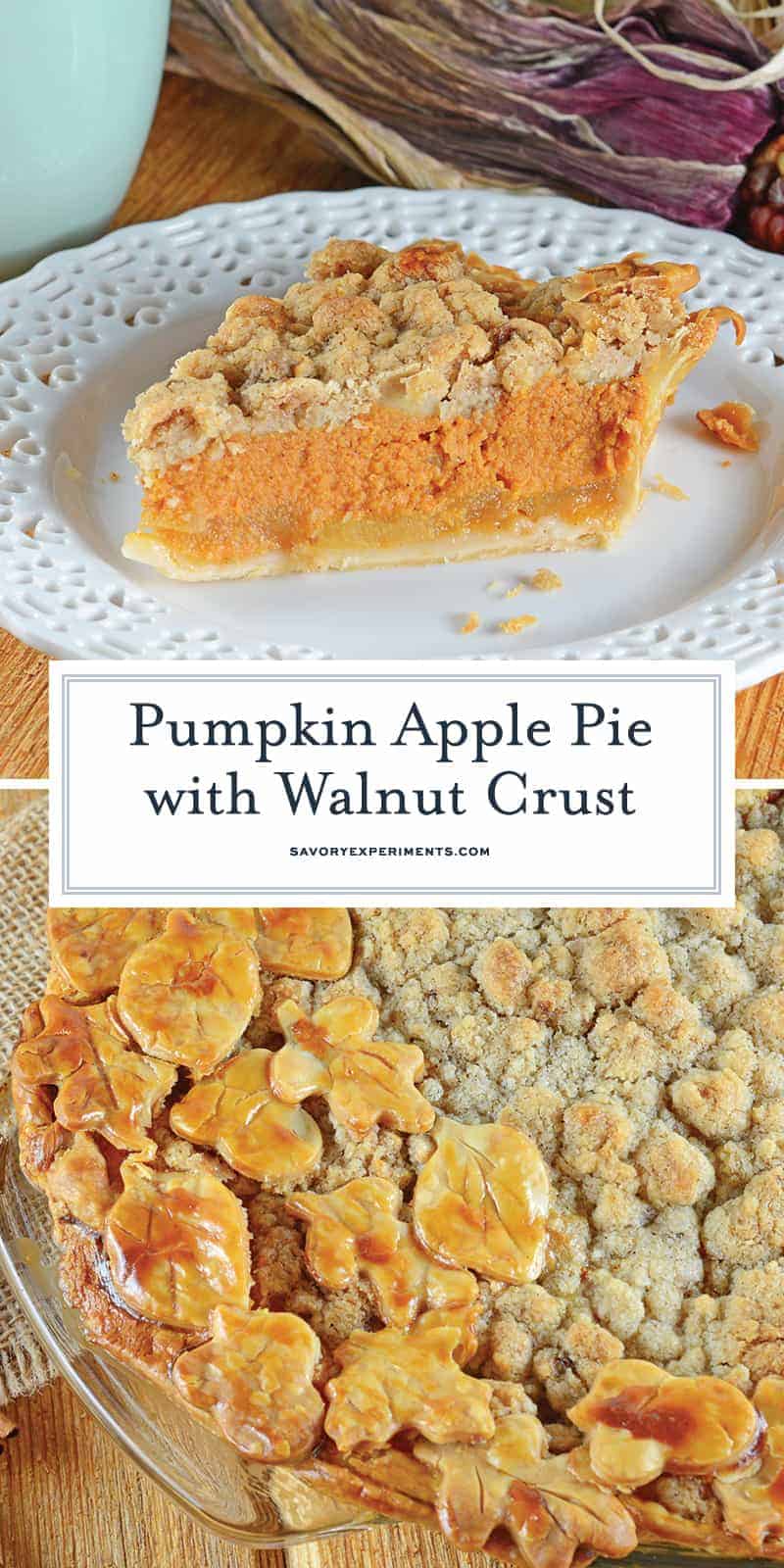 Questions you might have about how to make Apple Pumpkin Pie:
Can I use canned apple pie filling? I supposed you can, but I haven't tried it out. If you do, please come back and leave a comment telling us how it went!
Can I freeze this pie? Technically, yes, you can freeze this pie, however there is still a lot of moisture in the pumpkin layer and sometimes it thaws to be a little mushy, especially the crust.
How long does this pie last? About 5 days in the refrigerator, covered. If it lasts that long…
How do I store pie? Chilled, please! You can serve it warm, room temperature or cold, but store it in the fridge.
Can I use a premade crust? As mentioned above, you can, but make sure it is the deepest pie crust you can find. You need a lot of space to fit both and apple pie and pumpkin pie in one dish!
Can I use brown sugar instead of white sugar? You can! It will give it a caramelized and slightly molasses flavor.
How do I prevent my crust from burning? This one is tricky, but your best option for a crust that is golden is to use a crust saver or gently lay a piece of aluminum foil over the top without letting it touch and mar the top.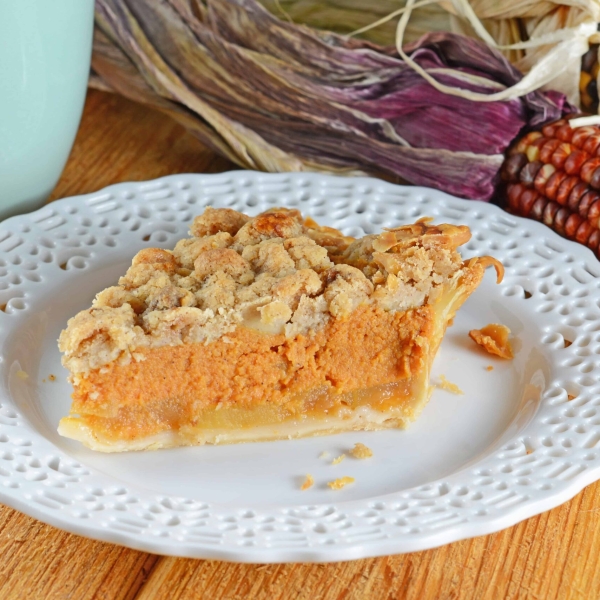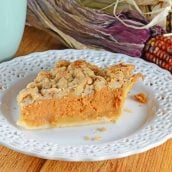 Pumpkin Apple Pie with Pecan Crust
Pumpkin Apple Pie is the best of both worlds! Pumpkin pie and apple pie merged together in a pecan crust with streusel topping. The perfect holiday dessert!
Ingredients
Instructions
Heat oven to 350 degrees.

In a small food processor, blend pecans to a paste. Add flour, butter, salt, brown sugar and heavy cream. Pulse until combined and formed into a crumble mixture. Slowly add chilled water, 1 tablespoon at a time, until a dough is formed.

Turn dough out on a floured surface and form into a disc. Wrap in plastic wrap and place in freezer for 30 minutes.

Return dough to a floured surface. Roll out into a large circle. Roll up on a rolling pin to easily lay into deep dish pie plate.

Using your fingers gently press the pie crust into all crevices. Using a your thumb and forefingers, pinch together edges to form a scalloped rim or make no rim at all if you plan to use decorative shapes from pre-made pie crust.

Place pie weights on the inside or pierce generously with a fork to prevent bubbling. Bake for 20 minutes. Remove and set aside to cool.

Place all pumpkin puree into a large mixing bowl or the bowl of a stand mixer fitted with a paddle attachment. Combine with pumpkin pie spice, sugar, salt, egg, evaporated milk, melted butter and vanilla, combining well. Refrigerate.

Combine lemon juice with ice water in a large bowl. Using a mandoline slicer or very sharp knife, slice apples into very thin. Aim for 1/8 of an inch or smaller. Immediately toss into a bowl of ice water. Set aside.

In a small bowl combine apple butter, cinnamon, sugar and flour.

Drain apple slices. Toss apple slices with apple butter mixture.

Reheat the oven to 375 degrees.

Layer apple slices into the bottom of pie crust in an even layer. Discard any apple butter mixture remaining in the bowl. Too much moisture will mush up your beautiful crust!

Pour refrigerated pumpkin filling on top of apple slices.

Bake for 40 minutes. Use a pie crust saver to prevent browning on crust.

Meanwhile, in a food processor or using a pastry cutter, combine all streusel ingredients until a crumbly mixture forms.

Remove pie from oven and top evenly with streusel. If you choose to make decorative pieces using pre-made pie crust and cookie cutters, add them now. Brush with 1 egg yolk and 1 tablespoon cream mixture to achieve a glossy look.

Bake for an additional 10-20 minutes or until pie crust pieces and streusel are lightly browned.

Remove from oven and allow to set for 10 minutes. Breathe a sigh of joint relief and accomplishment from baking such a glorious pie. Serve with vanilla ice cream and whipped cream. Enjoy!

If you have tried this recipe, come back and let us know how it was!
Notes
Lay pie plate rim down on a large piece of aluminum foil. tracing the edges, cut out a large circle. Fold into fourths and cut out the center triangular. Unfold and you will have a perfect circle to gently lie on top of your crust edges if they decide to brown further than your liking. You may not need this, but hey, better safe than sorry. Pre-made "crust savers" may not fit your pie plate or may destroy any decorative rims.
You can use either walnuts or pecans.
Nutrition
Calories:
827
kcal
,
Carbohydrates:
100
g
,
Protein:
7
g
,
Fat:
45
g
,
Saturated Fat:
26
g
,
Cholesterol:
127
mg
,
Sodium:
432
mg
,
Potassium:
307
mg
,
Fiber:
4
g
,
Sugar:
63
g
,
Vitamin A:
8435
IU
,
Vitamin C:
5.9
mg
,
Calcium:
97
mg
,
Iron:
3.1
mg