Perhaps one of the most traditional of Easter dishes is the Deviled Egg. It seems odd that the resurrection of Christ would be celebrated with any dish including the word "Devil", but hey, I guess I am the only one that thinks of these types of things?
The deviled egg gets its name due to its ingredients. Anything "deviled" must include some sort of tang or spice, such as crushed red peppers, cayenne, Dijon mustard or even hot sauce. For most deviled egg recipes this would include paprika, Dijon mustard or vinegar.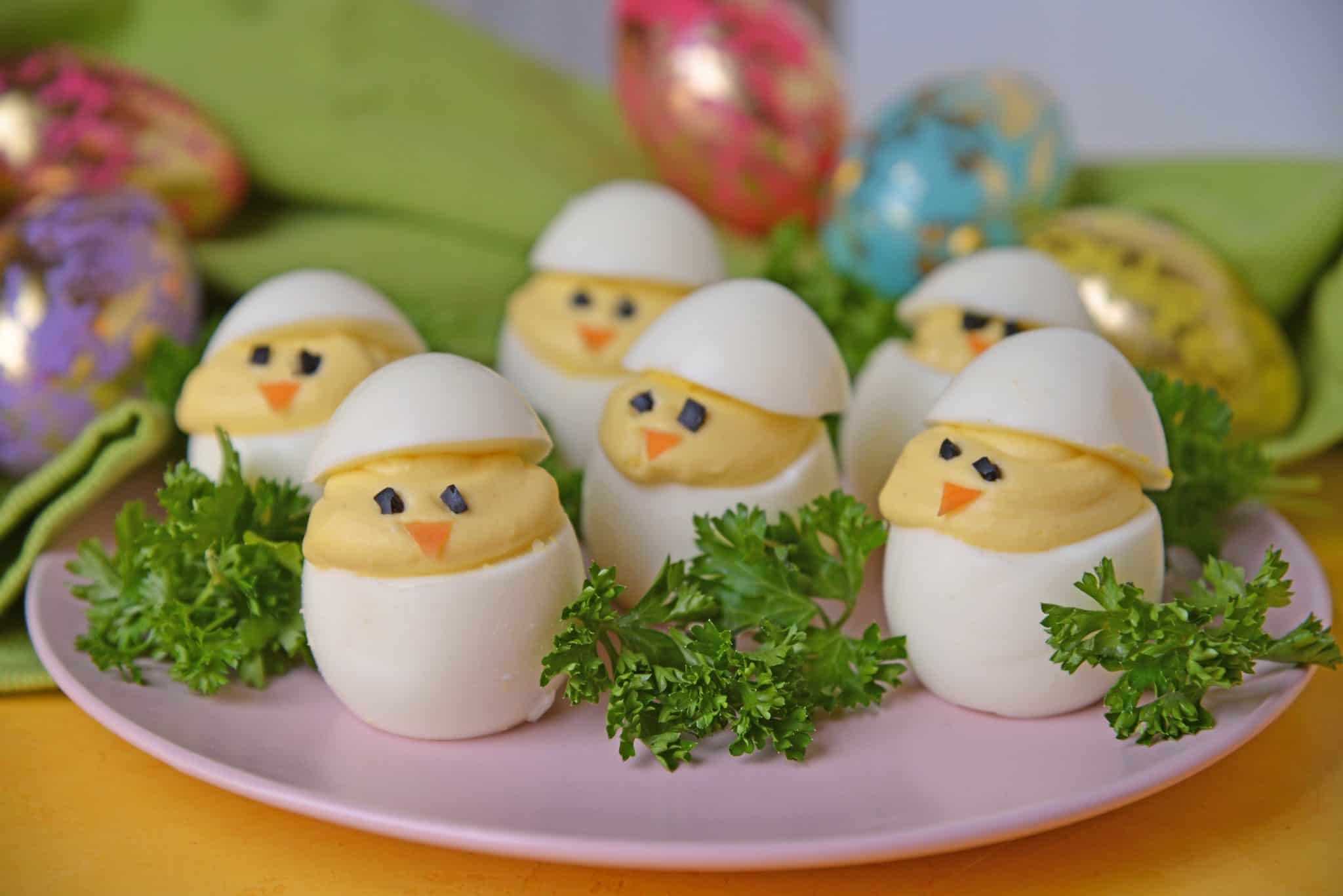 This specific recipe will  forfeit some of the added extras that distinguish one deviled egg recipe from another. The reason? The mixture needs to be creamy, smooth, yellow and free from large bits (like onion). Make sure you check out my tips for making
perfect hard boiled eggs
and get yourself a cute
Deviled Egg serving platter
!
Ms. Madeline McDonald (age 11) of Cave Creek, Arizona, sent me photographs of her own Peepin' Chickies she made for Easter! Keep on cooking Madeline! These look egg-cellent!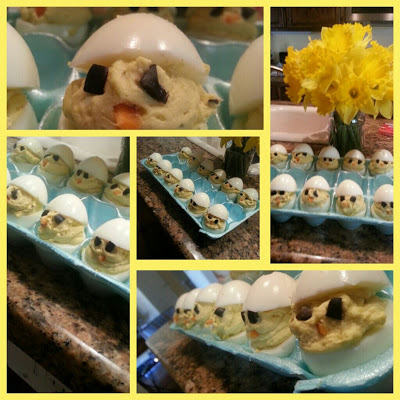 Don't forget to PIN this recipe!
Deviled Egg Chicks
These Easter favorites are not only delicious, but these Easter chicks are just adorable! A perfect Easter centerpiece using an easy deviled egg recipe. Great for an Easter side dish or appetizer!
Ingredients
1

dozen eggs

2

teaspoons

Dijon mustard

1/2

cup

mayonnaise

4

drops hot sauce

1/4

teaspoon

table salt

1/4

teaspoon

white pepper

4

drops yellow food coloring

2

tablespoons

vegetable oil

3

black olives

1

small carrot
Instructions
First, make hard boil the eggs. Check out my tips and tricks for perfect yellow yolks and easy to peel shells! Allow to cool and then remove shells.

Most deviled eggs are split vertically down the center. To make peepin' chicks they need to be split horizontally and towards the top. This makes it a little bit more difficult to get the yolk out of the egg, but it is still doable. Do not worry about any splits or tears, you can just turn those to back and no one will notice while they are admiring your clever chickie idea. Remove the cooked yolks from all eggs, reserving the yolks in a medium mixing bowl. Place the tops aside.

Mash up the yolks with a fork until all large pieces have crumbled. Add Dijon mustard through vegetable oil to the mixture. Stir well by hand or use a handheld electric mixture to get all of the lumps out. If is is not a smooth, spreadable consistency, add more vegetable oil.

Transfer mixture to your piping bag. It may take two rounds. Pipe mixture into the large half of each egg, making sure you fill them up generously and beyond the brim of the egg. Top with the smaller half of the white shell. Continue with remaining eggs.

Cut olives into small, square pieces. Using a vegetable peeler, shave off small pieces of carrot, trimming with kitchen shears to get the desired shape. Use olive pieces for eyes and carrot shavings for the nose.
If you like this recipe, make sure you follow me on Pinterest! 
Follow Savory Experiments's board Easter Ideas on Pinterest.