Have you ever had a Scotch Egg?
Hard boiled egg encased in pork sausage, rolled in bread crumbs and gently fried to a golden brown and crisp, they are a surprising treat to serve at brunch or to use up dyed Easter eggs.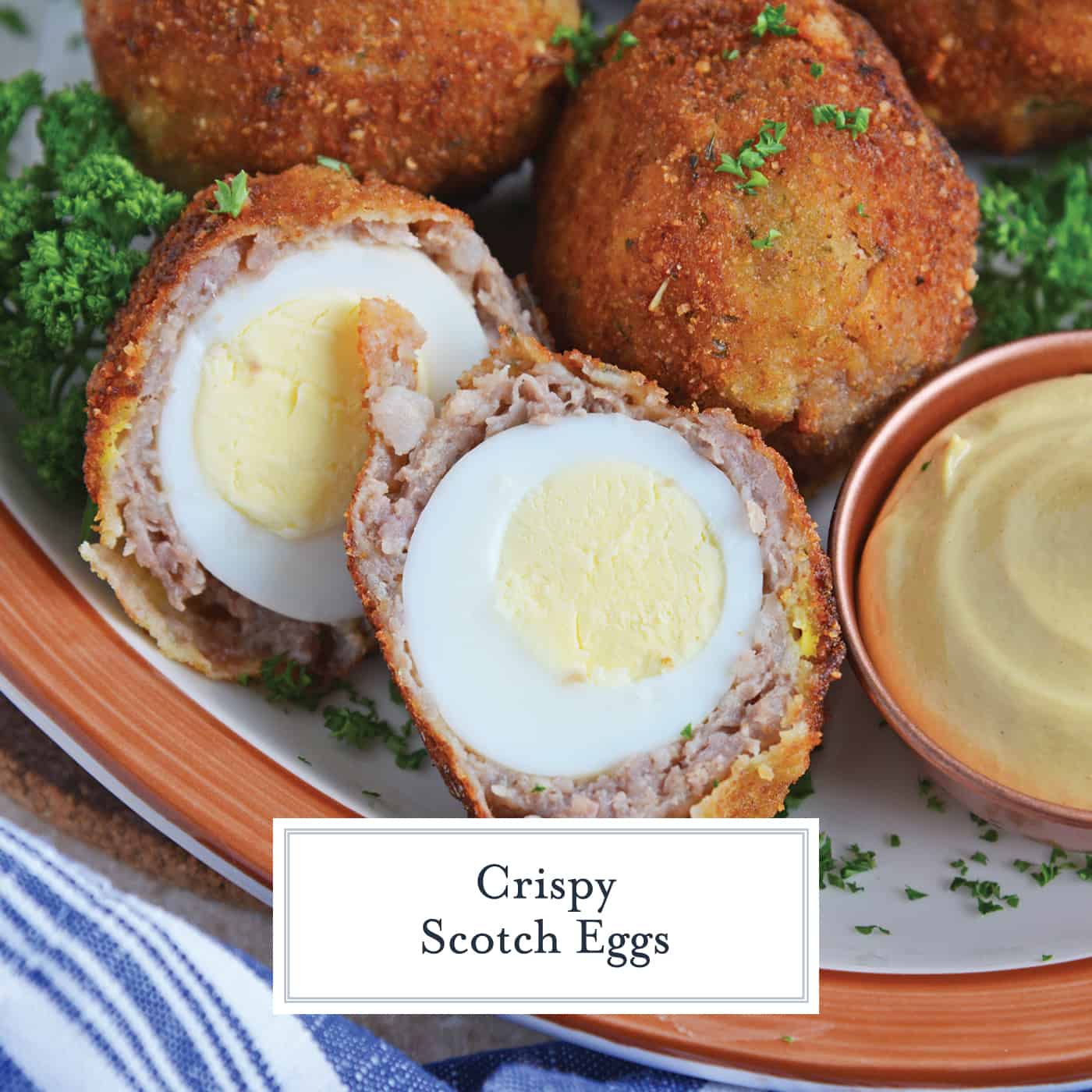 Scotch Eggs are a great way to hard boiled eggs. Wrapped in pork sausage, rolled in seasoned bread crumbs and Parmesan cheese before being fried. They are served hot with a mustard sauce and a gastropub favorite!
While I enjoy my Scotch Eggs hot with brunchy food like shredded hash browns and fruit salad, traditionally they are served cold or room temperature alongside a plate of pickled vegetables and leafy green salad.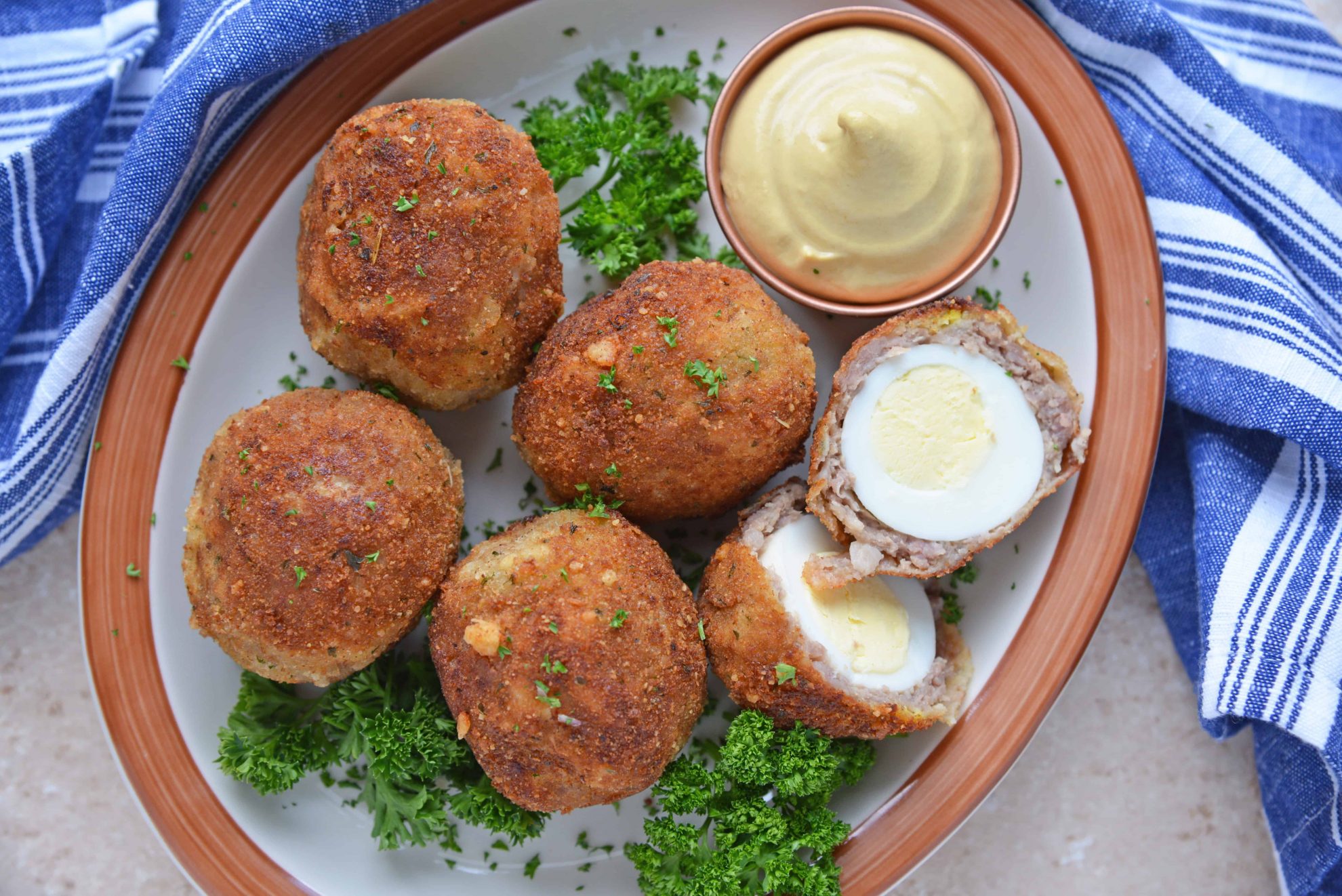 The origins of Scotch Eggs are vague, but the most accepted story has its roots at a London (not Scotland like one might assume) department store.
They were the perfect picnic entree and easy to tote for carriage and train travelers since they didn't require being hot. Some still call them Scottish Eggs even though this is a totally false name.
With lots of protein- literally egg and meat- they kept you feeling full for hours. And carbs. Can't forget the carbs.
According (and quoted from) Quora: "Scotch egg is actually a modern abbreviation of 'scotched' egg, which is it's true name. Scotching meat involves hacking it to either tenderise, or roughly mince, which refers to the sausage meat surrounding the egg. Something that is scotched is now generally regarded as being coated in breadcrumbs and fried, too."
Scotch Eggs can be made with either hard or soft boiled egg. In all honesty, I have never been good at a soft boiled egg.
To keep intact you need to have a gentle hand to peel, wrap and bread this delicate food, so I go with hard boiled every time.
True to English cuisine roots, the most basic recipe for Scotch Eggs is actually quite bland, using plain ground pork, a small amount of salt, flour and plain bread crumbs, only adding a dab of stone ground mustard as an condiment.
I prefer a little more flavor and get that by using a variety of bulk sausage. I've used plain and also maple flavored. I've even used a spicy Italian sausage for some intrigue.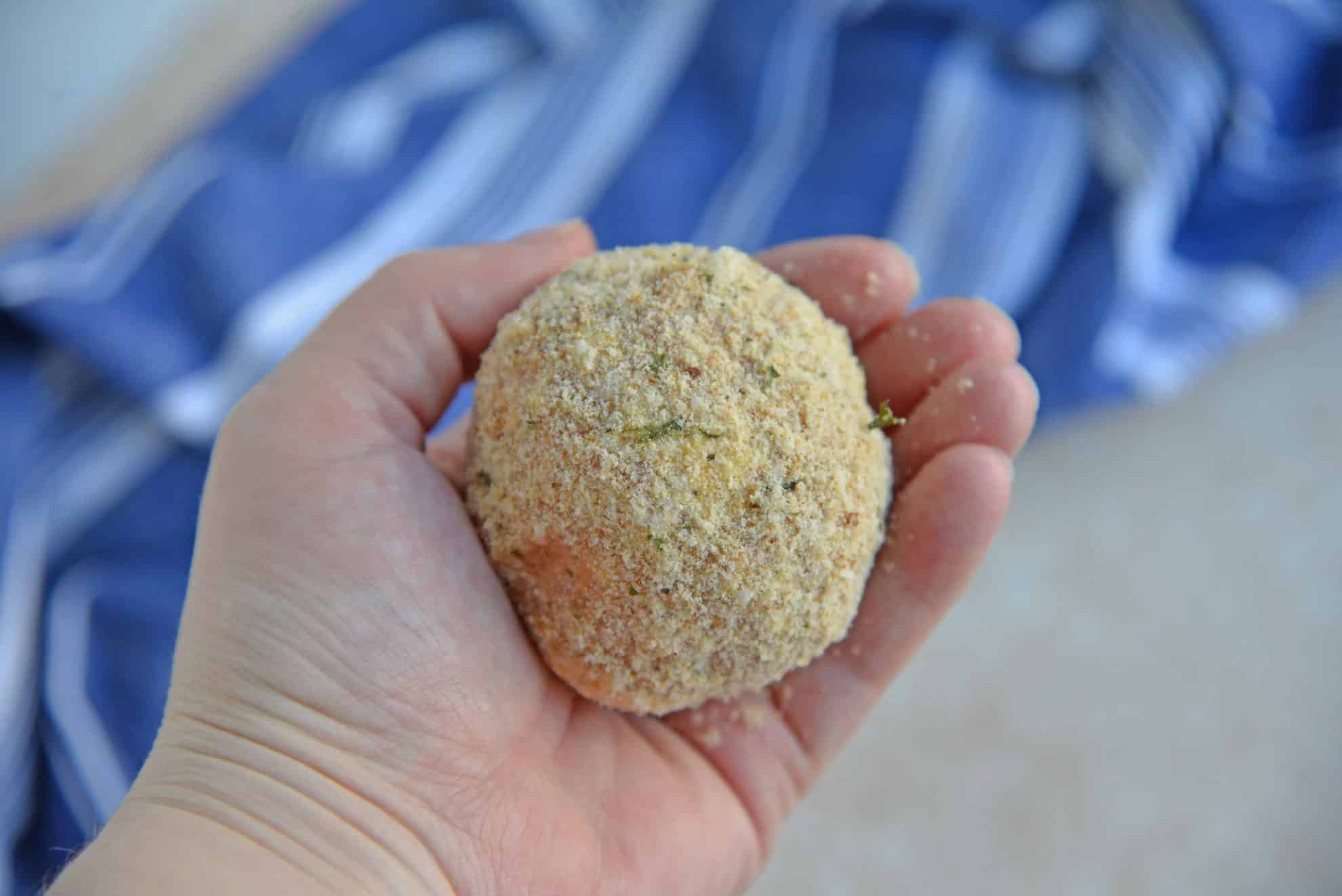 I blend my sausage with Dijon mustard before breading in a seasoned bread crumbs and Parmesan cheese. Feel free to modify based on your own taste buds, going as basic as the original recipe or stepping it up a few more notches by adding fresh herbs, smoked paprika or even real maple syrup to the mix.
Whether you are looking for a recipe to use up hard boiled eggs from your Easter egg hunt or are setting specifically to make Scotch Eggs, you'll need hard boiled eggs. Check out my Tips for Perfect Hard Boiled Eggs or Instant Pot Hard Boiled Eggs before you get started. Of course, you can also just buy some hard boiled eggs at the store and save yourself some time.
How do you make Scotch Eggs?
The process is simple. Take cooked egg, flour it and wrap it in your sausage meat, then pan fry or deep fry until sausage is cooked and golden brown and crispy, removing carefully with a slotted spoon.
Serve with mustard sauce and you are done!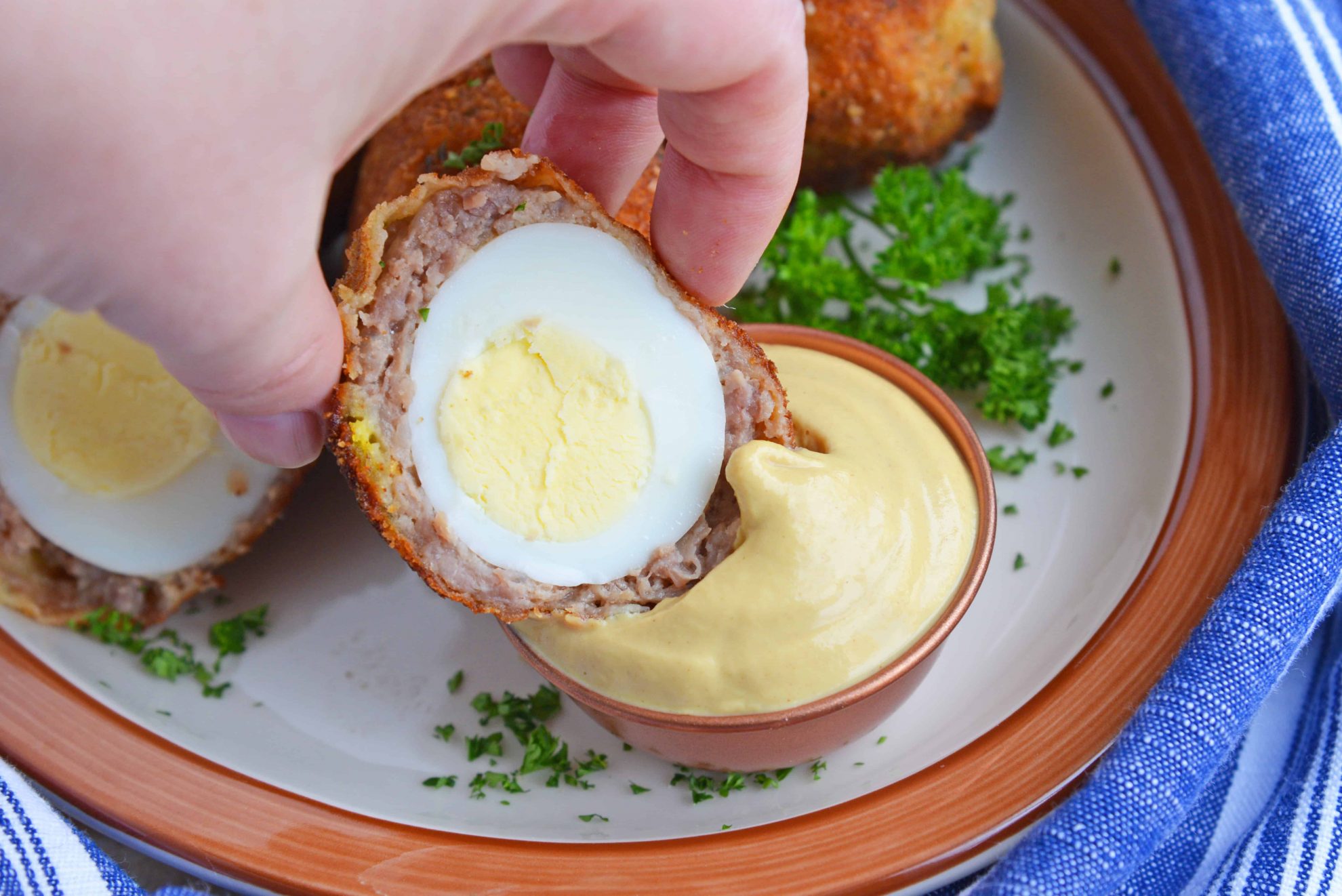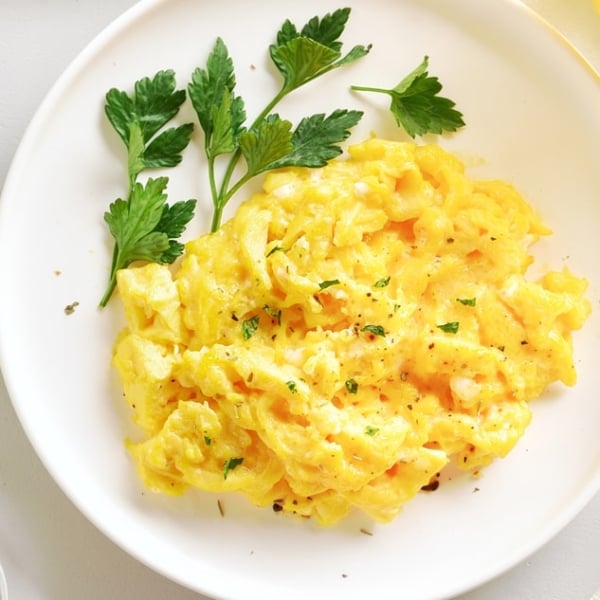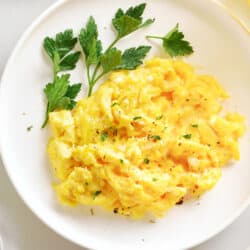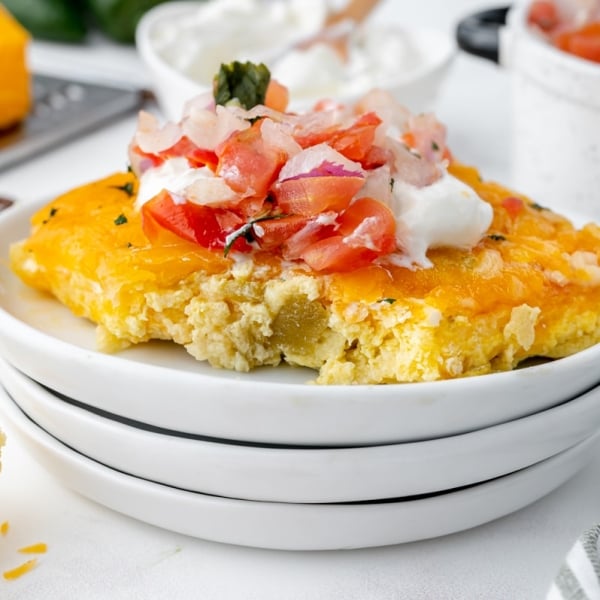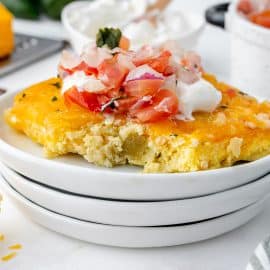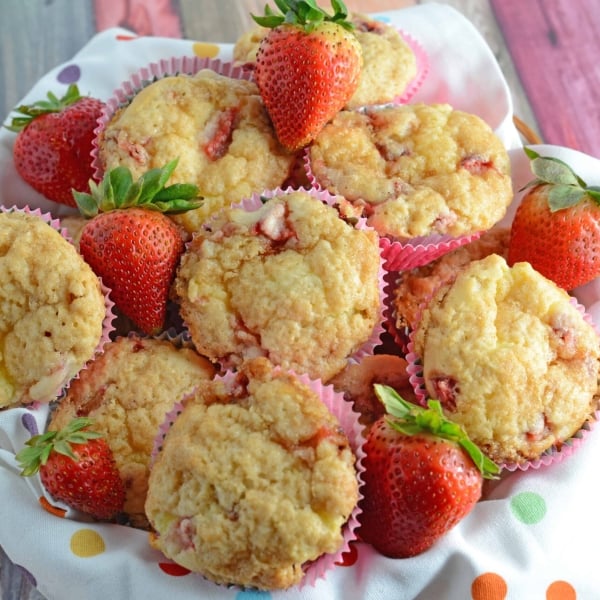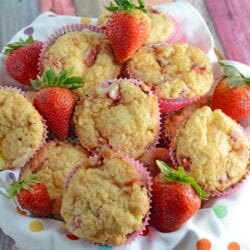 Tools for making Scotch Eggs:
Heavy Bottom Frying Pan– this will be one of your most used kitchen tools. Having something that is heavy bottom will distribute heat better and prevent burning whether you are using an electric or gas range.
Pie Plates– I think every kitchen should have at least three shallow dishes or pie plates for the process of breading or marinating. You can also bake pies in them! Hehe.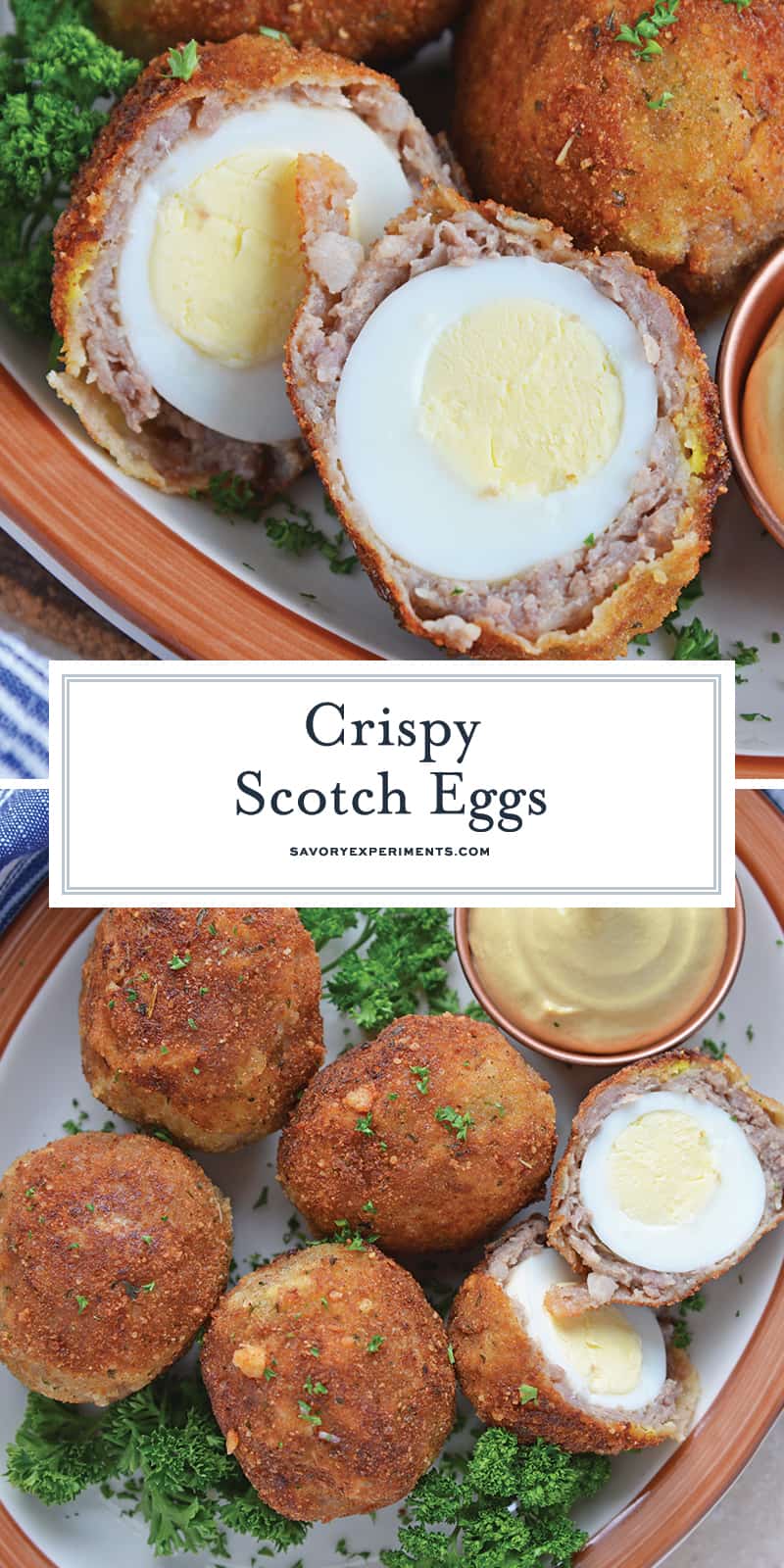 Questions you might have about how to make Scotch Eggs:
Can I freeze Scotch Eggs? No. In fact it is never recommended to freeze eggs.
Can I bake Scotch eggs? There are many recipes out there for baked Scotch eggs, however I've tried this method and just don't find it is nearly as good as a fried Scotch egg.
Fried Scotch eggs gets a nice, crunchy crust that is practically impossible to achieve in the oven. It also prevent the interior egg from over cooking, resulting in greyish yolks. When you pan fry, you do so only to cook the exterior pork and breading and remove the egg before the actual egg inside has a chance to continue cooking.
Are Scotch Eggs Keto friendly? My recipe for Scotch eggs are not keto friendly or gluten free seeing they use flour and bread crumbs. There are some recipes out there for keto Scotch eggs. You can still use my technique, just omit the flour, egg and breading, leaving on the sausage casing.
What is the best way to reheat a Scotch Egg? Do not microwave Scotch eggs whole to reheat them, they will explode! Cut them into fourths before nuking them. Instead, either give them another quick dunk in frying oil or heat in the oven at 350 for about 5 minutes.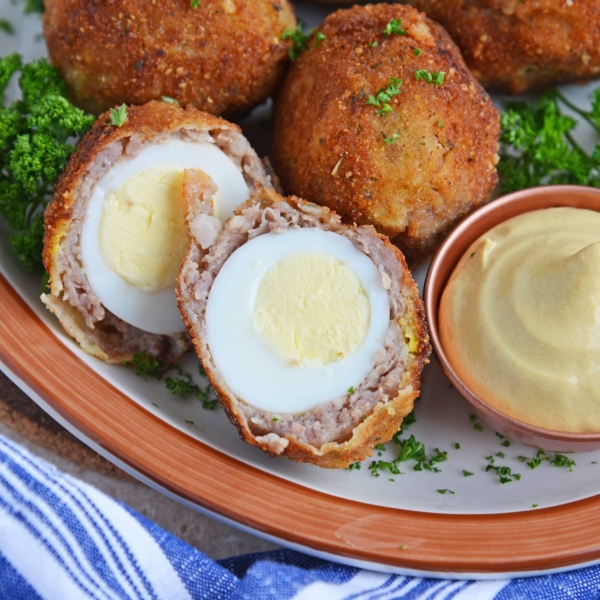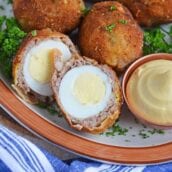 Scotch Egg Recipe
Scotch Eggs are a great way to hard boiled eggs. Wrapped in ground sausage, bread in seasoned bread crumbs and Parmesan cheese before being fried. They are served with Dijon mustard and a gastropub favorite!
Instructions
In a large mixing bowl, blend sausage meat, Dijon mustard, salt and black pepper.

Place flour, seasoned bread crumbs with Parmesan cheese and lightly beaten eggs in 3 separate bowls or shallow pie plates.

Divide sausage mixture into 6 equal balls, flattening with your palm. Roll each egg in flour and then wrap with flattening sausage meat. Roll in flour again, then egg and lastly seasoned bread crumbs with Parmesan cheese. Repeat with each egg.

Using a high sided frying pan, fill with 2 inches of vegetable oil, heating to 300 degrees. Be careful to use a thermometer. Oil that is too hot will burn the exterior before the interior is cooked.

Gently lower half of your Scotch Eggs into the hot oil, rolling to evenly brown all sides. Fry for approximately 4 minutes. Transfer to a paper towel lined baking sheet and place in the oven. Repeat with the next batch of eggs.

You can place into a warm oven (200 degrees-ish) to keep warm until ready to serve.

If you've tried this recipe, come back and let us know how it was!
Nutrition
Calories:
231
kcal
,
Carbohydrates:
22
g
,
Protein:
13
g
,
Fat:
9
g
,
Saturated Fat:
3
g
,
Cholesterol:
244
mg
,
Sodium:
639
mg
,
Potassium:
140
mg
,
Fiber:
1
g
,
Sugar:
1
g
,
Vitamin A:
410
IU
,
Vitamin C:
0.6
mg
,
Calcium:
119
mg
,
Iron:
2.4
mg
Like hard boiled eggs? Also see The Best Egg Salad, Horseradish Deviled Eggs and Peeping Chickies!