Looking for a new, fun flavor combo or just something to do with leftover pulled pork? Check out my Pulled Pork and Smoked Gouda Egg Rolls!

So what exactly is porkifying?? It is the art of amplifying pork's deliciousness and using it as a substitution in favorite recipes.
Pulled Pork and Gouda Egg Rolls are succulent, sweet and zesty pulled pork wrapped in a crispy egg roll with silky smoked gouda cheese and served alongside Avocado Green Goddess Dressing.
One of my favorite ways to porkify while entertaining is to smash together three game day classics: succulent slow cooker pulled pork, crunchy egg rolls and garlicky Avocado Green Goddess Dressing.
This was one of those recipes where I took my first bite and declared myself a culinary genius- these bad boys were GOOD!
They are also SO easy to make. The brunt of time is hands-off slow cooking the pork shoulder, with the rest only taking 30 minutes. . You can even make them ahead and freeze to further reduce hands-on time day of.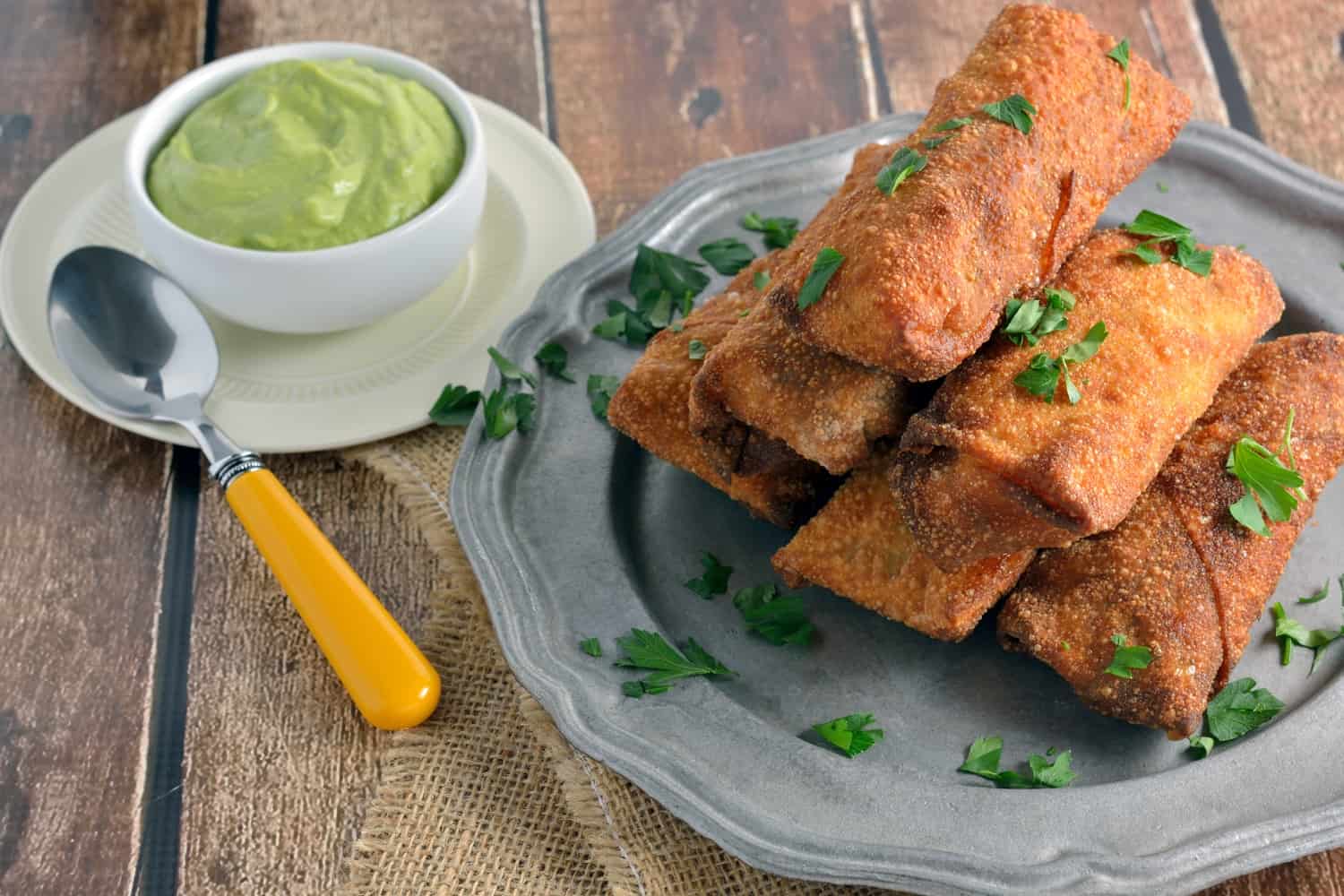 For pulled pork, the go-to cut of meat is boneless pork shoulder roast and my go-to brand is Smithfield. Smithfield Boneless Pork Shoulder Roasts are hand trimmed and free from additional hormones or steroids. I can count on a quality cut of pork that will be moist and flavorful.
Whether I plan to stuff an egg roll or toss it with BBQ sauce and put it on a bun, I like using a sweet and spicy paste to slather my pork shoulder, keeping it tender and accentuating natural flavors.
The slow cooker is also my go-to preparation method for a pork shoulder roast. It takes less than 10 minutes, giving me time to do other things around the house and kitchen.
Mine was so tender, I didn't even use forks to shred it, I merely smashed it with a the back of a spoon.
My Smithfield Boneless Pork Shoulder Roast was slightly larger than that stated, so I used my leftovers in a Pulled Pork Breakfast Hash.
To compliment these flavors, what is better than smoked gouda??? Smooth and silky with a distinct smoky flavor, it was an obvious choice. Cool and creamy Avocado Green Goddess Dressing was the perfect accompaniment, but you can also use a grainy mustard or your favorite BBQ sauce for dipping.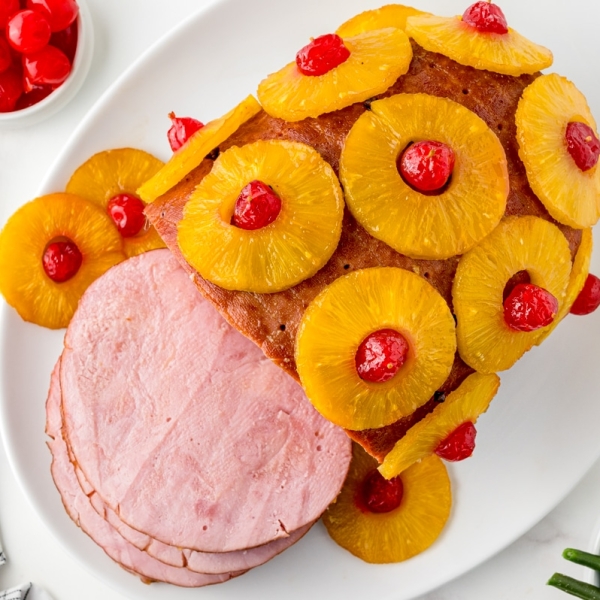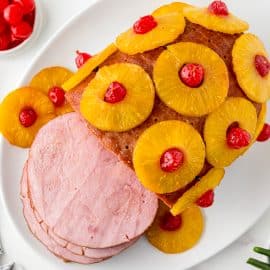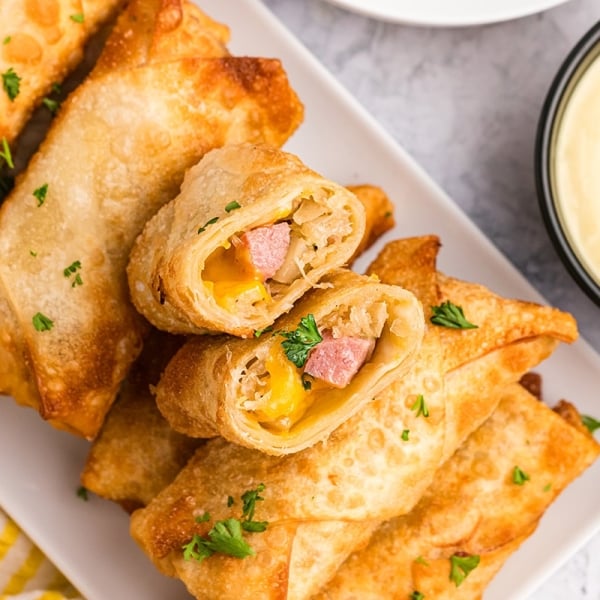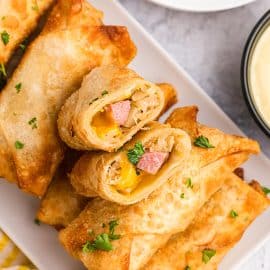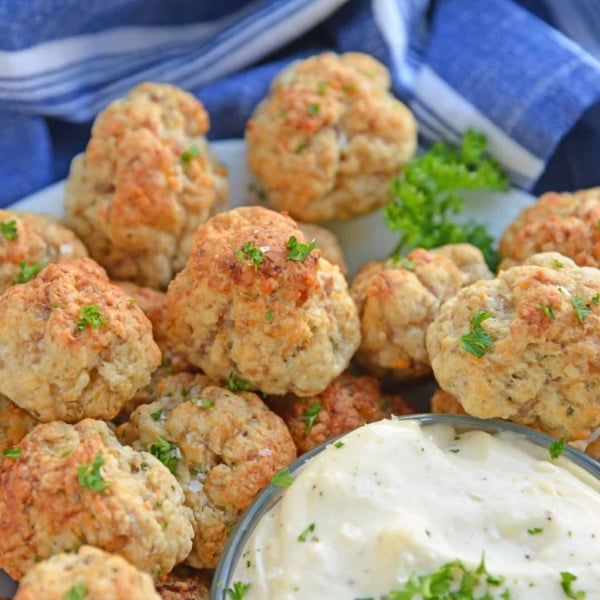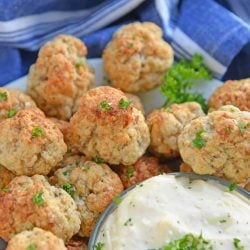 Easy Sausage Balls
If you're looking for the best sausage ball recipe, look no further than these Easy Sausage Balls! You won't be able to have just one!
See The Recipe!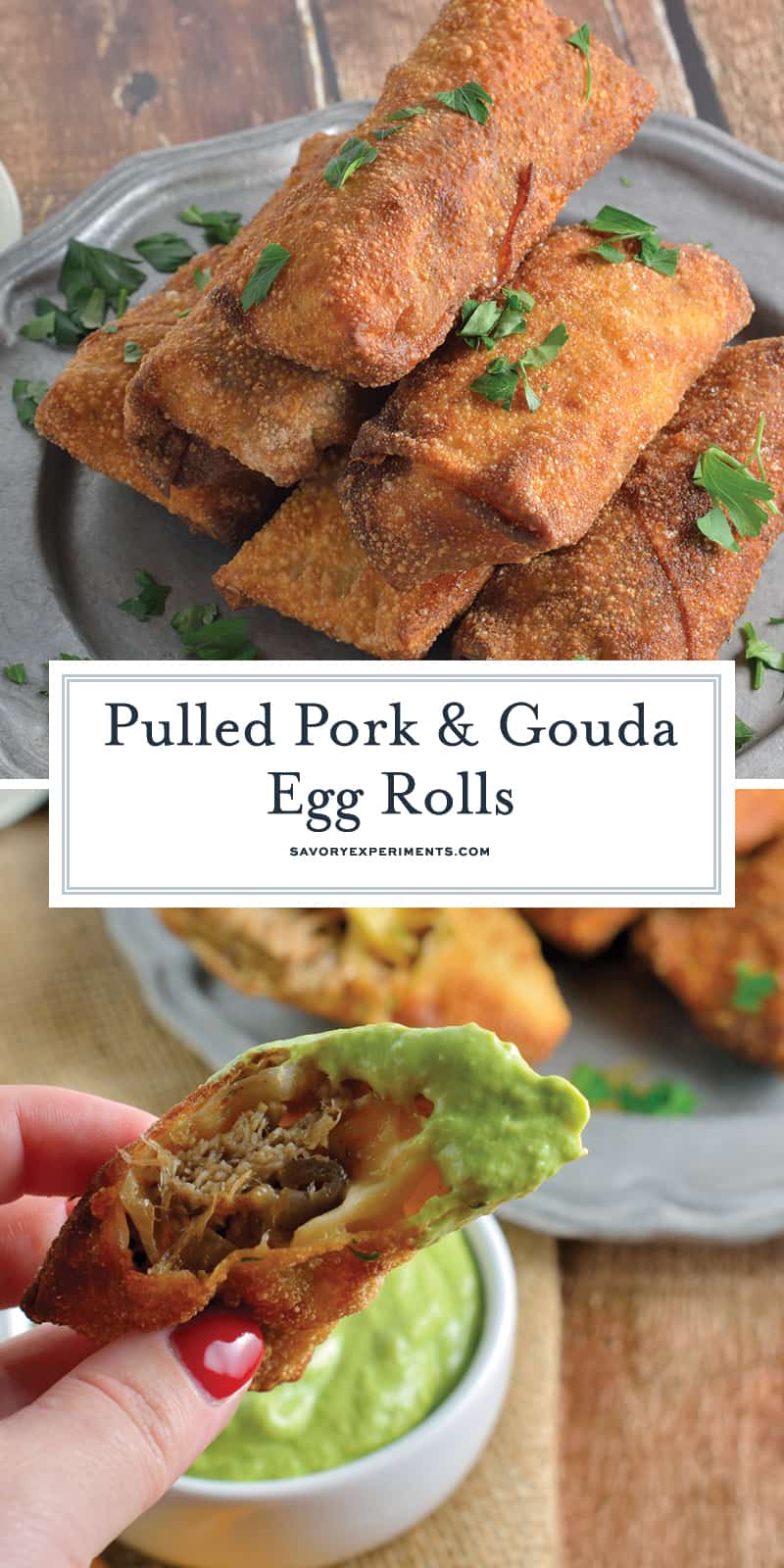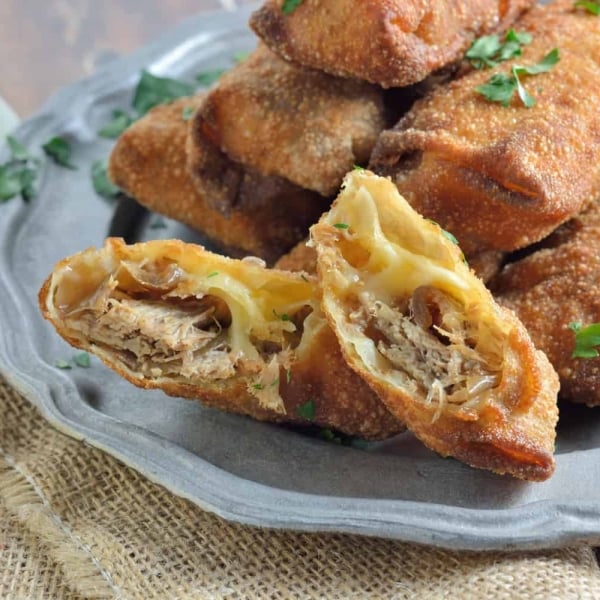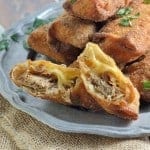 Pulled Pork and Smoked Gouda Egg Rolls
Succulent, sweet and zesty pulled pork wrapped in a crispy egg roll with silky smoked gouda cheese and served alongside Avocado Green Goddess Dressing.
Ingredients
Egg Rolls:
2

cups

smoked gouda

coarsely shredded

24

large square egg rolls wrappers

1

egg

1

tablespoon

water

Vegetable or canola oil for frying

amount varies depending on the size of your pot
Instructions
For pulled pork, mix paprika through parsley in a small bowl. Add honey and stir into a paste. Slather the tops of all four pork shoulder slices.

Place sliced onion, apple cider vinegar and apple cider onto the bottom of the slow cooker, place slathered pork shoulder on top, paste side up.

Set slow cooker to 3 hours on high. Pork should easily tear apart, shred, reserving 1/4 cup of liquid, skimming any fats off the top and discarding.

Toss shredded pork, sliced onions and reserved liquid in a bowl, allow to cool slightly before handling.
For egg rolls:
Beat together egg and water in a small bowl.

Set shredded smoked gouda, pulled pork and beaten egg around a work surface, such as a cutting board. Set a baking sheet covered in wax paper on the side.

Place one egg roll wrapper on the work surface like a diamond, using a basting brush or your fingers, brush all edges with beaten egg. Place heaping 1/4 cup pulled pork and 1 tablespoon smoked gouda in the center.

Fold up bottom corner to cover pulled pork stuffing mixture. Fold in both sides, using additional beaten egg to secure. Finally, roll up into a an egg roll shape, sealing the edge with beaten egg.

Repeat for remaining egg roll wrappers.

In a large pot or dutch oven (you can a use a fryer if you have one), heat 1-2 inches of oil. Amounts will vary based on size of pot. When oil reaches 375 degrees, you are ready to start frying!

Add 2-4 egg rolls per batch, being careful to not crowd the pot. Fry on each side until golden brown, approximately 2-3 minutes. Remove with a slotted spoon to a paper towel lined baking sheet. You can place into a warm oven to keep hot until ready to serve.

Serve Pulled Pork and Smoked Gouda Eggs Rolls with Avocado Green Goddess Dressing.

If you've tried this recipe, come back and let us know how it was!
Nutrition
Calories:
205
kcal
,
Carbohydrates:
15
g
,
Protein:
13
g
,
Fat:
9
g
,
Saturated Fat:
4
g
,
Cholesterol:
53
mg
,
Sodium:
536
mg
,
Potassium:
239
mg
,
Fiber:
1
g
,
Sugar:
6
g
,
Vitamin A:
560
IU
,
Vitamin C:
1.3
mg
,
Calcium:
133
mg
,
Iron:
1.3
mg
YOU can also create a porkified recipe and enter it to win the "Most Valuable Pork" sweepstakes! Enter your favorite porkified recipe to win the Ultimate Game Day Prize Package.
All you have to do is snap a photo of your porkified recipe, share it to Instagram or Twitter with #porkify and then encourage your friends to come vote on your recipe. The Ultimate Game Day Prize includes a Weber Smoker, BBQ tool set, meat thermometer, Smithfield apron, meat timer, grill seasonings and a Smithfield cookbook.
What is your favorite way to eat pork?
This is a sponsored post written by me on behalf of Smithfield.