This beautiful Meringue Wreath is perfect for the holidays. Plus, check out my tips for the perfect meringue listed below.
If you're looking for the perfect showstopping holiday dessert, look no further than this Meringue Wreath! A beautiful holiday pavlova with whipped cream and cranberry sauce.
Chances are that you've oohed and awed over a perfect meringue in some shape or form. Whether it is a Flaming Baked Alaska, Lemon Meringue Pie, perfectly starred meringue cookies or a pavlova, they are all stunning when executed well.
Pavlova is just the Russian name for a meringue dessert topped with whipped cream and fruit. They come in many shapes and forms, but since I was making this for the holidays, a wreath seemed appropriate.
And meringue isn't that hard to make, as long as you follow a few base rules. Those tips are below…
Some pavlovas use whipped cream, this is optional. This isn't the easiest dessert for making ahead of time, but man it makes a statement!
Plan ahead when you make your dessert wreath- it is going to need a good 5-6 hours in the oven, so if you plan to make any other food, you'll need to work around or have another oven available.
PRO TIP: Make sure your bowl and whisk are bone dry. Any droplets of water will make your meringue wreath fall.
It takes about 2 hours to cook, which is much longer than most meringue, but remember this one is also a lot thicker. Make sure you also account for the cooling time, which can take another several hours.
Some people like to bake their meringue at night and allow it to cool while they sleep. Leaving it in the oven at room temperature won't hurt it.
PRO TIP: Using whole cinnamon and nutmeg and grating freshly will give you the best fragrance and flavor.
I like to garnish with some green. Today I used mint and rosemary, but you can also use thyme or even real pine garland (just don't eat it).
Meringue Wreath Recipe Tips
ONE. Use room temperature eggs. A room temperature egg can expand more than a chilled egg. Some even suggest using old(er) eggs for the same reasons why these make the best hard boiled eggs.
TWO. Always make sure the bowl you are using to make your meringue is scrupulously clean and DRY. Any little particles of other food or droplets of water can impact your ability to get the best meringue.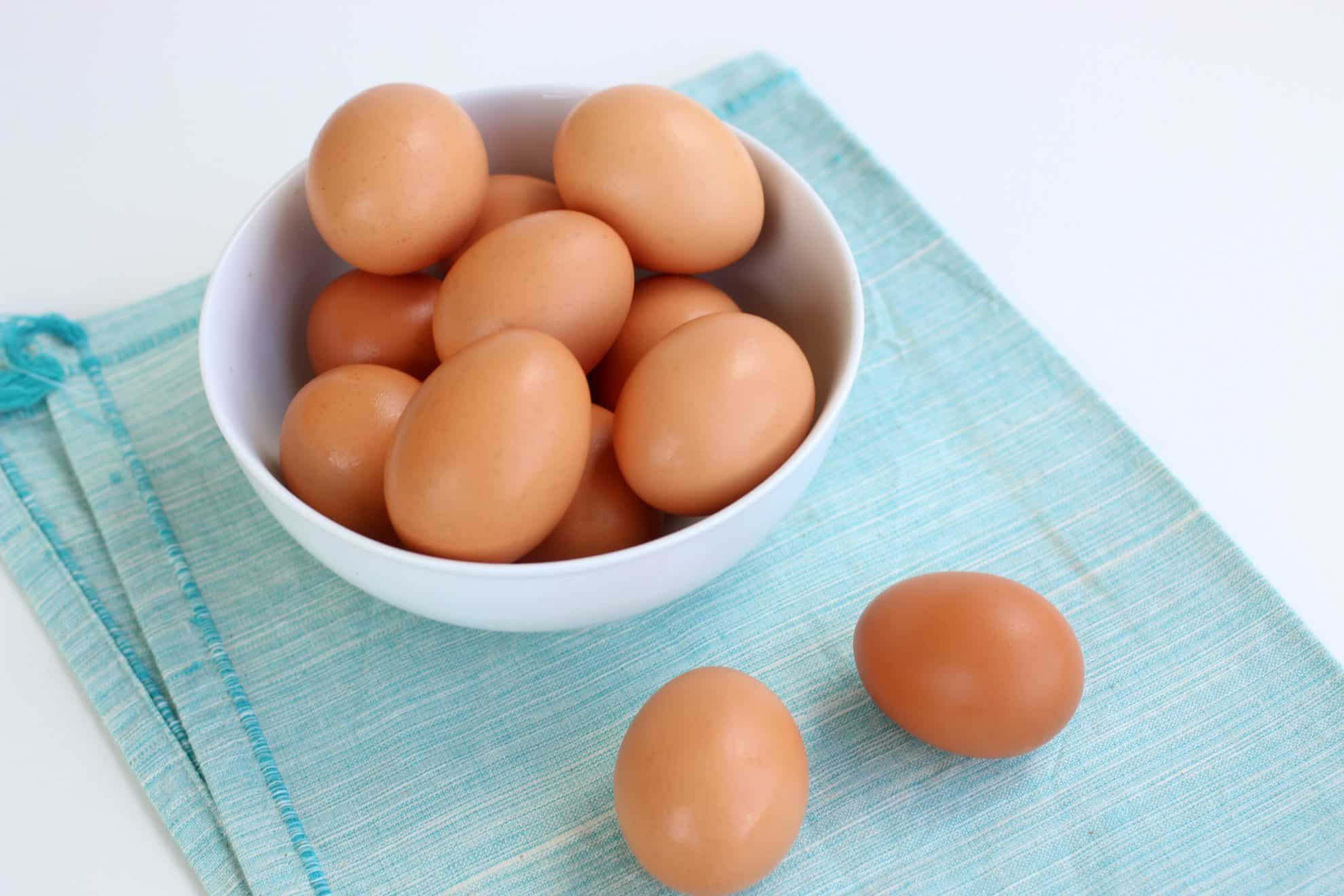 THREE. Copper is best for whipping egg whites. In fact, I own one copper bowl just for this purpose! Other types of metal are second and glass last. Glass is super slippery.
Do not use plastic, as the particles get stuck in little nicks and never get a chance to get whipped.
FOUR. Don't over whip your meringue. It should have a smooth and glossy look, but if you over whip it, it can get super thick and lumpy. There is no way to undo this.
FIVE. Use cream of tartar, cornstarch or vinegar to help stabilize the meringue to hold its form. It helps change the chemical shape of the molecules so they don't fall.
I use two, it works for me, but I realize I probably only need one.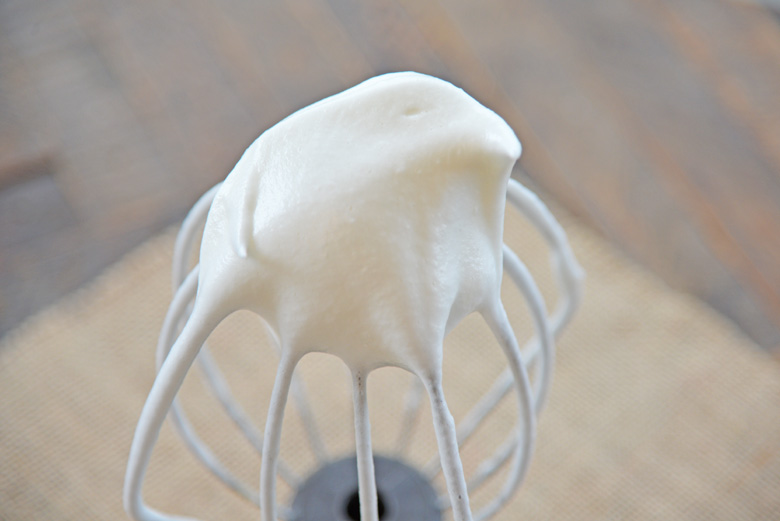 SIX. Don't get feisty and add your sugar too fast. Go sloooowwww……
SEVEN. Try not to make your meringue wreath on humid or rainy days. It is hard to get it to set and harden with moisture in the air.
EIGHT. Allow your meringue to cool in oven. Much like cooling custard pies and cheesecake, cracks and deflation happen when the temperature changes too rapidly.
In review for how to make meringue:
Use old, room temperature eggs.
Use a metal bowl that is CLEAN and DRY.
Don't over whip your eggs!
Add sugar and other ingredients slowly.
Use a stabilizer to help them out.
Allow your meringue to cool in the oven.
Watch the weather!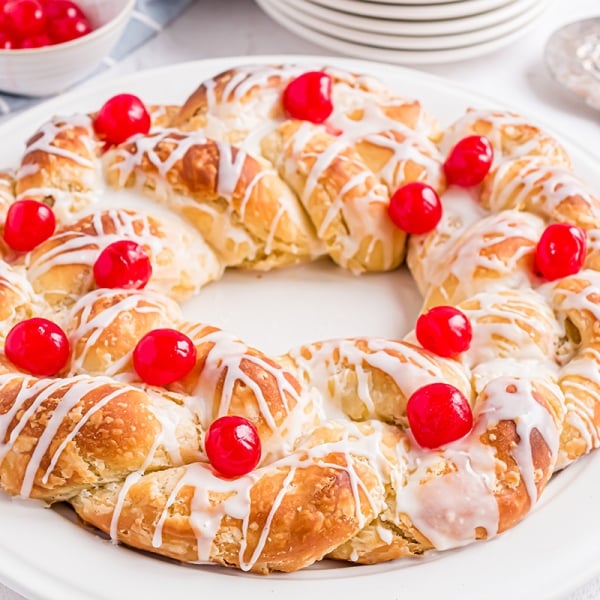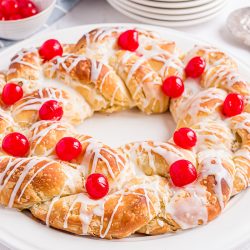 Danish Pastry Ring Recipe (Danish Pastry Wreath)
This Danish pastry ring is well worth the work for its buttery, flakey pastry stuffed with almond filling, icing drizzle and candied cherries. *Please note that you can print without images by checking a box in the printer prompt.*
View this recipe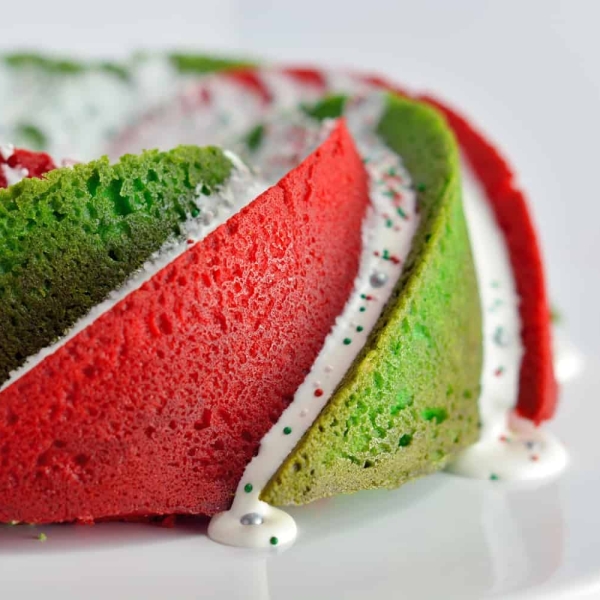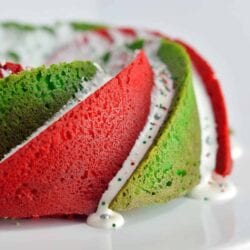 Christmas Swirl Bundt Cake
You won't believe how easy it is to create this beautiful and festive vanilla flavored Christmas Swirl Bundt Cake!
View this recipe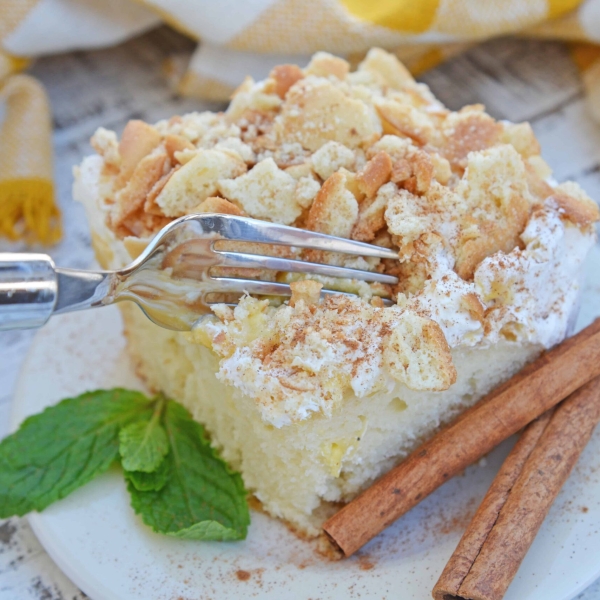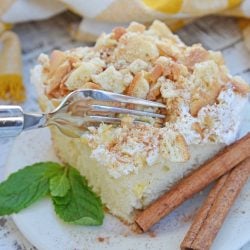 Eggnog Poke Cake
This Eggnog Poke Cake recipe is an easy pudding poke cake made with box cake mix and instant vanilla pudding, with delicious eggnog flavor.
View this recipe
Questions you might have about how to make a pavlova:
Why do some people add vinegar to meringue? An acid, such as a vinegar, can be added to a meringue mixture to help create a more stable foam when the meringue is mixed.
In scientific terms the acid helps to denature, or break down, the coils of amino acids in the egg white's proteins so that they become long strands instead of beady little bits.
Since you now have several egg yolks on your hands, here are a few recipes that only use egg yolks:
Add an egg yolk to any cake or brownie recipe to make them extra moist!
Use 2 egg yolks instead of 1 whole egg in recipes that call for eggs
Other acids, like citrus, can be used as well, but vinegar is the standard.
What is caster sugar? You'll commonly see caster sugar in meringue recipes. Caster sugar isn't popular in the US, but is basically a grain size between white granulated sugar and powdered sugar.
I've always used granulated sugar and never had any issues, but some swear by powdered sugar.
What is the difference between American meringue, French meringue, Italian meringue and Swiss meringue? Who knew there were so many dang types!!!!
French meringue is generally also American meringue. It is the most simple and doesn't include heat. Also, it is the least stable and the most temperamental. It doesn't become stable until baked and hardened.
Italian meringue uses heat and a simple syrup drizzled into whipped egg whites. It is stable enough to not need to be cooked and it often used as its own frosting, but also the base for sherbets, buttercreams and other desserts.
Swiss meringue is similar, as the whipping and sugar adding happen in a double boiler. It is a silky and smooth, but also more stable.
Can I use cream of tartar instead of cornstarch? Yes, you can, they are both stabilizers, and both will work for this recipe.
Can I use a different fruit than cranberry? You can use any fruit your heart desires! Other great options are cherries and strawberries. If you are short on time, grab a can of pie filling from the baking aisle and there ya go!
Do I need fresh cranberries or frozen? Either work. I used frozen for this batch, but fresh are just as good.
Can I freeze meringue? Meringue freezes fine, it just doesn't defrost all that good. Any moisture, including any ice crystals that get on it while frozen, will dissolve the delicate sugar base.
Can I freeze the cranberry sauce? Yes! The cranberry sauce freezes well. In fact, I have a batch in my freezer begging for some vanilla bean ice cream.
How far in advance can I make this? I would say no more than 1 day for the meringue, but you can make the cranberry sauce days in advance, more if you plan to freeze it.
How do I store leftovers? Unfortunately, this recipe isn't great for leftovers, after the sauce is applied, it makes the meringue soggy. So use this excuse to eat as much as you can!!!
Meringue alone needs to be stores in an airtight container at room temperature.
What do I serve it with? You can serve yours with vanilla ice cream or more fresh berries.
Can I use egg whites in a carton? You can, but they are super pasteurized and won't get as stiff. Double the cream of tartar and whip for additional time.
Holiday Meringue Wreath
If you're looking for the perfect showstopping holiday dessert, look no further than this Meringue Wreath! A beautiful holiday pavlova with whipped cream and fresh berries.
Instructions
Preheat oven to 225 degrees and move rack to the lower 1/3 of the oven.

Line a large baking sheet with brown paper bag or parchment paper.

In a stand mixer or large mixing bowl, beat egg whites for 4-5 minutes or until white, frothy and starting to peak.

Slowly, add sugar, continue beating until white and shiny.

In small increments, add vanilla, vinegar and cornstarch, continue to beat for 2-3 minutes. This whole process will take 10-12 minutes. Meringue should be stiff and shiny.

Bake for 2 hours, or until meringue is hard and lightly browned.

Allow to cool fully in the oven.

If you've tried this recipe, come back and let us know how it was
Nutrition
Calories:
254
kcal
,
Carbohydrates:
59
g
,
Protein:
3
g
,
Fat:
1
g
,
Saturated Fat:
1
g
,
Cholesterol:
5
mg
,
Sodium:
158
mg
,
Potassium:
102
mg
,
Fiber:
2
g
,
Sugar:
54
g
,
Vitamin A:
86
IU
,
Vitamin C:
11
mg
,
Calcium:
12
mg
,
Iron:
1
mg