Have you ever heard the phrase "imitation is the biggest form of flattery"? Well, consider this some serious flattery!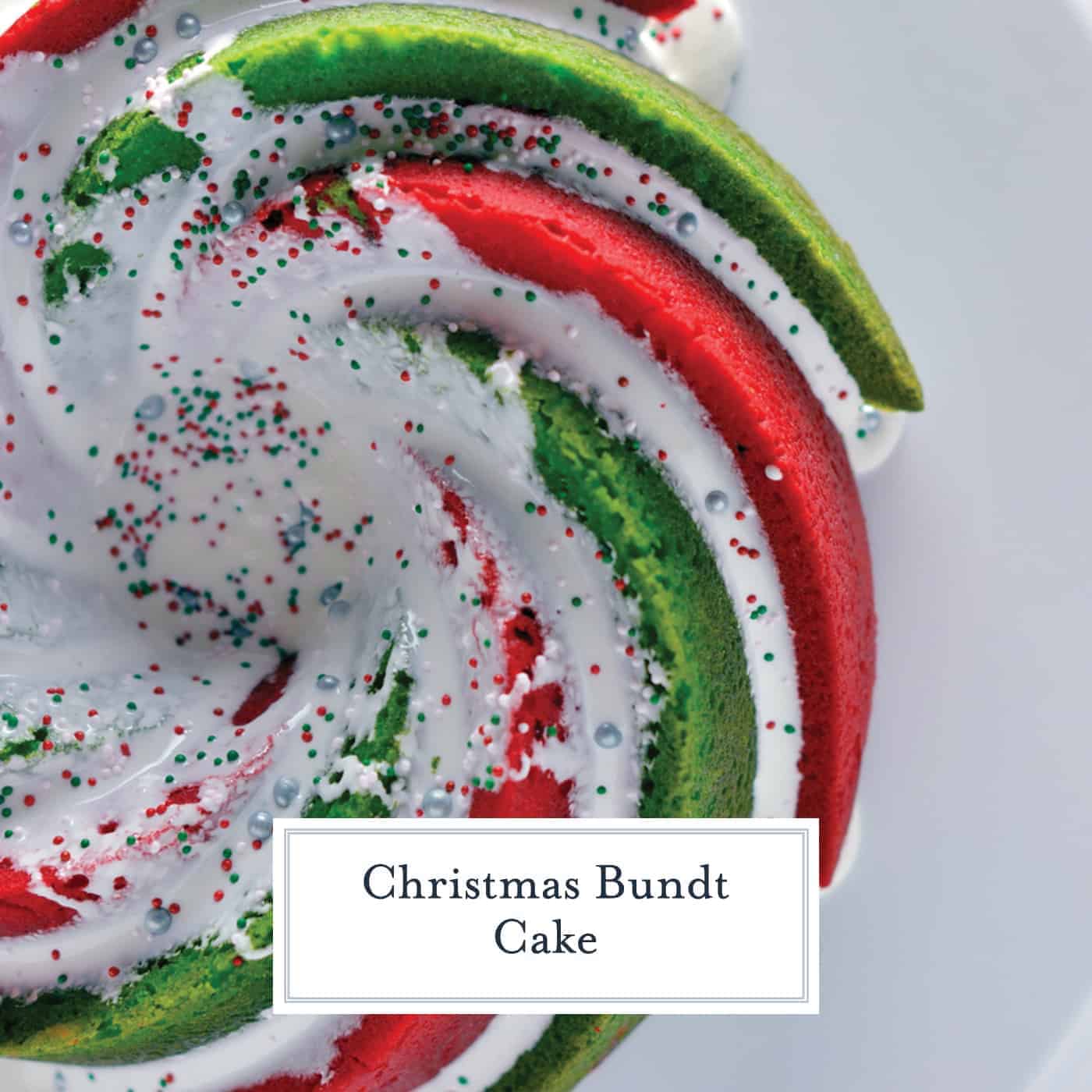 Ever since I saw the positively gorgeous photos of Liv for Cake's Rocky Road Bundt Cake floating around on Pinterest and Facebook, I was mesmerized.
Christmas Bundt Cake
The cake is just stunning, really, no words. The kind of cake you don't even want to cut into because it is so beautiful.
I wanted to create my own swirl cake for the holidays… but with my own recipe and different colors: Christmas Bundt Cake. I even ordered the Nordic Heritage Bundt Pan on Amazon same-day delivery.
I was so excited!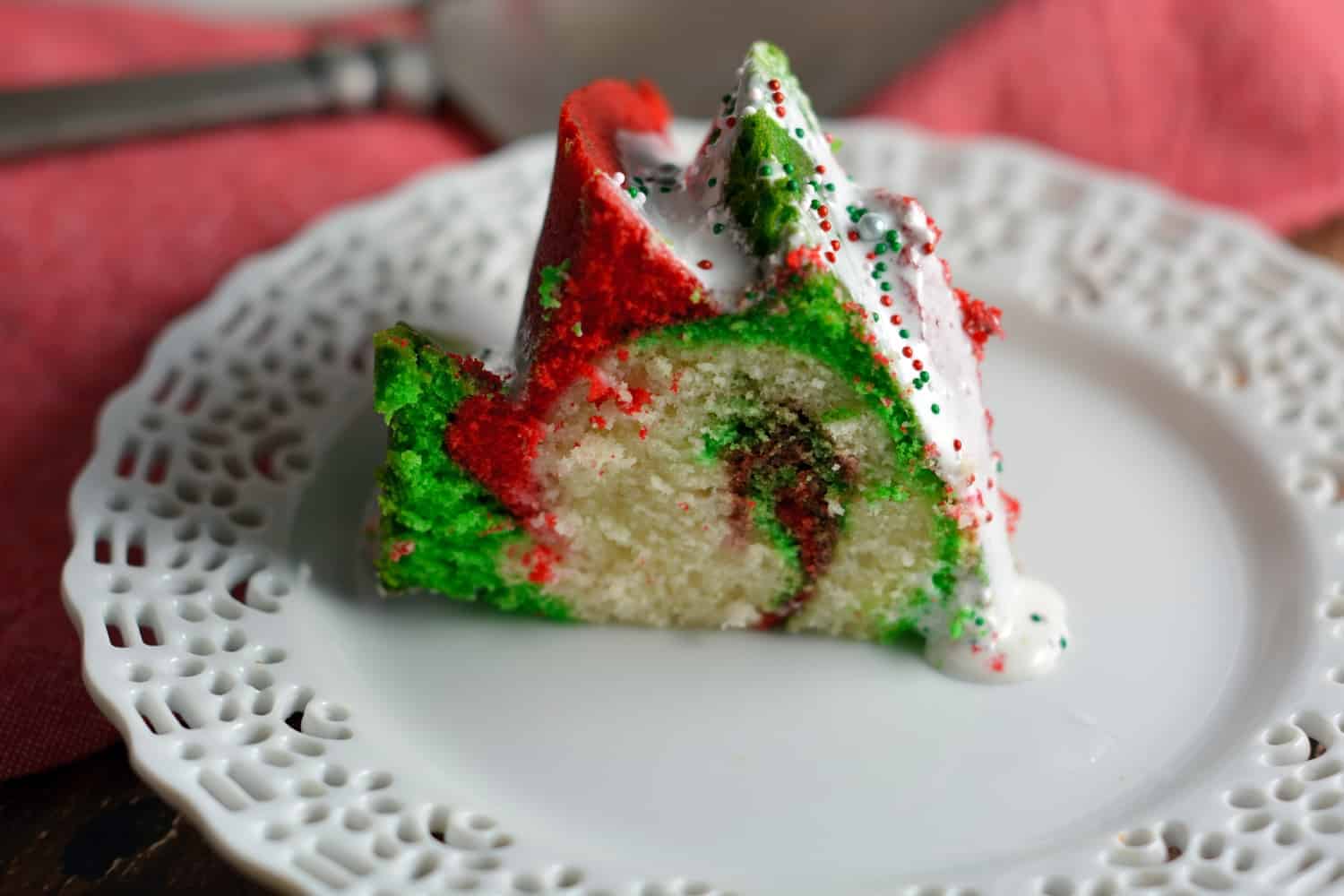 Christmas Cake
I discussed my idea of Christmas Bundt Cake with Olivia, the genius behind this glorious two-toned cake, and she was totally on-board, even anxiously awaiting the cake to come out of the oven with me (over Facebook instant messager).
Imagine both of our excitement when it turned out PERFECT! My own jaw dropping swirl cake. I was giddy with glee.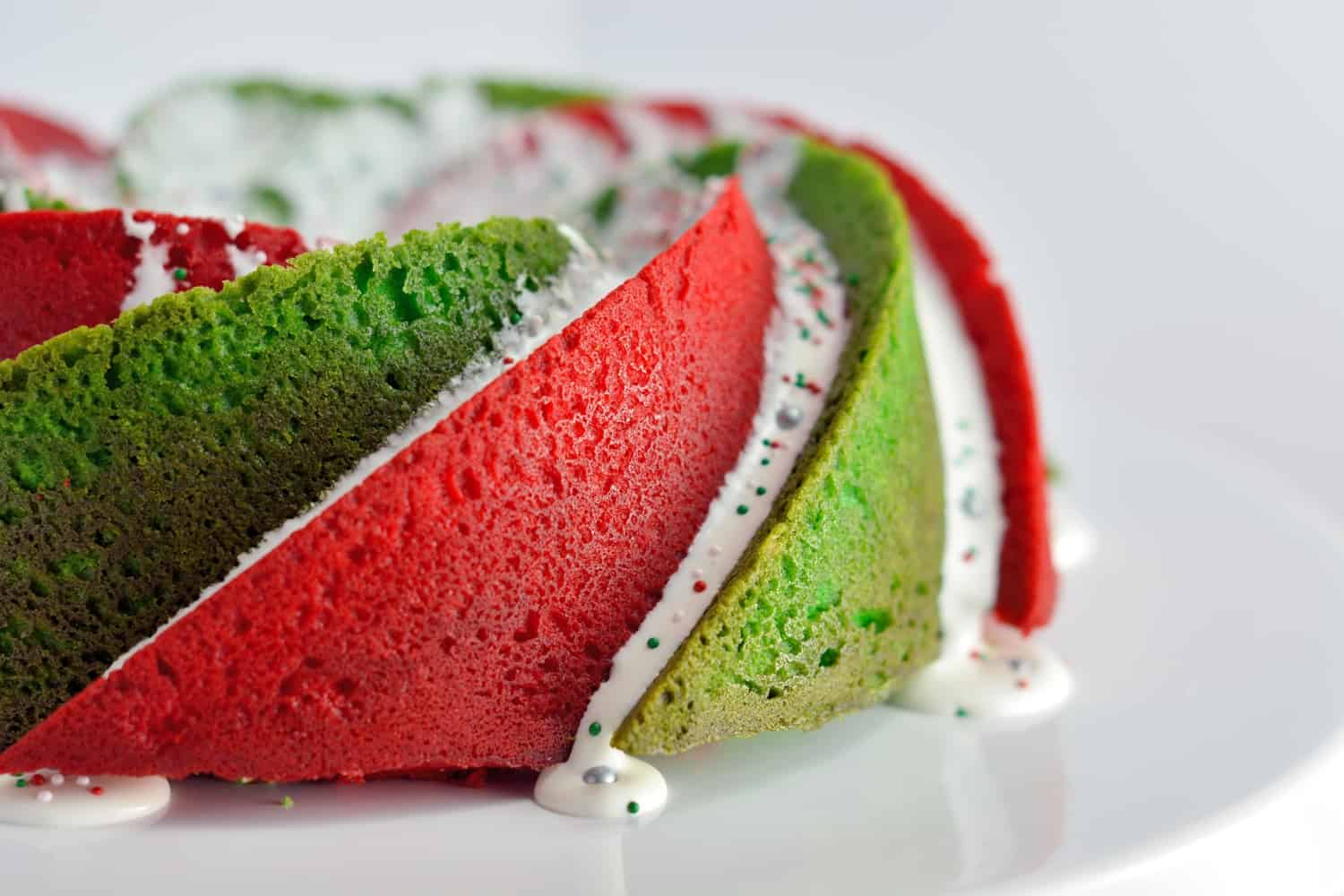 I used her handy dandy tutorial with just a few tweaks. I put my bundt pan in the freezer for a few hours, as well as the batter for about 30 minutes.
My thoughts were that if it was all cold, the batter would be stiff and not immediately sink. It seems that Olivia's cake batter was a little more dense and this step was not needed.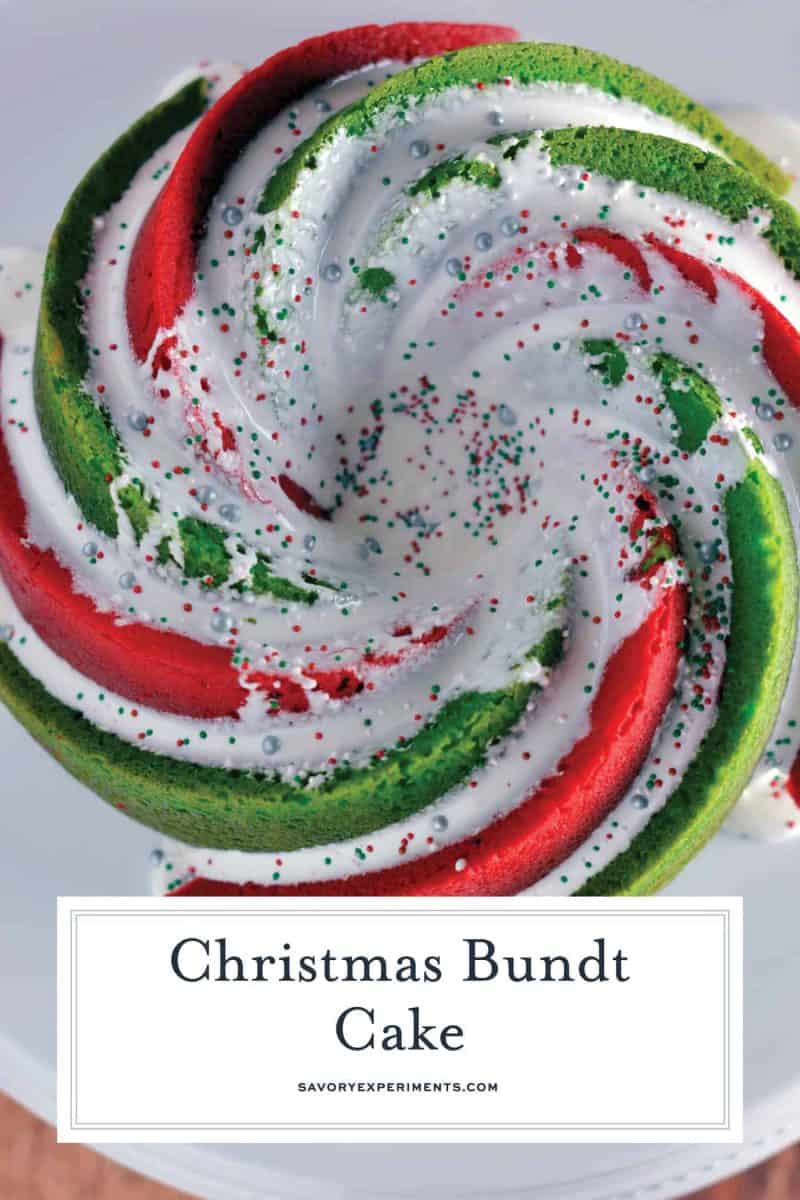 Variations
Christmas Swirl Cake is also all vanilla instead of alternating flavors. Vanilla is classic and traditional. I also had to be very careful of the color of the batter, keeping it very white, so the food coloring would be as vibrant as possible.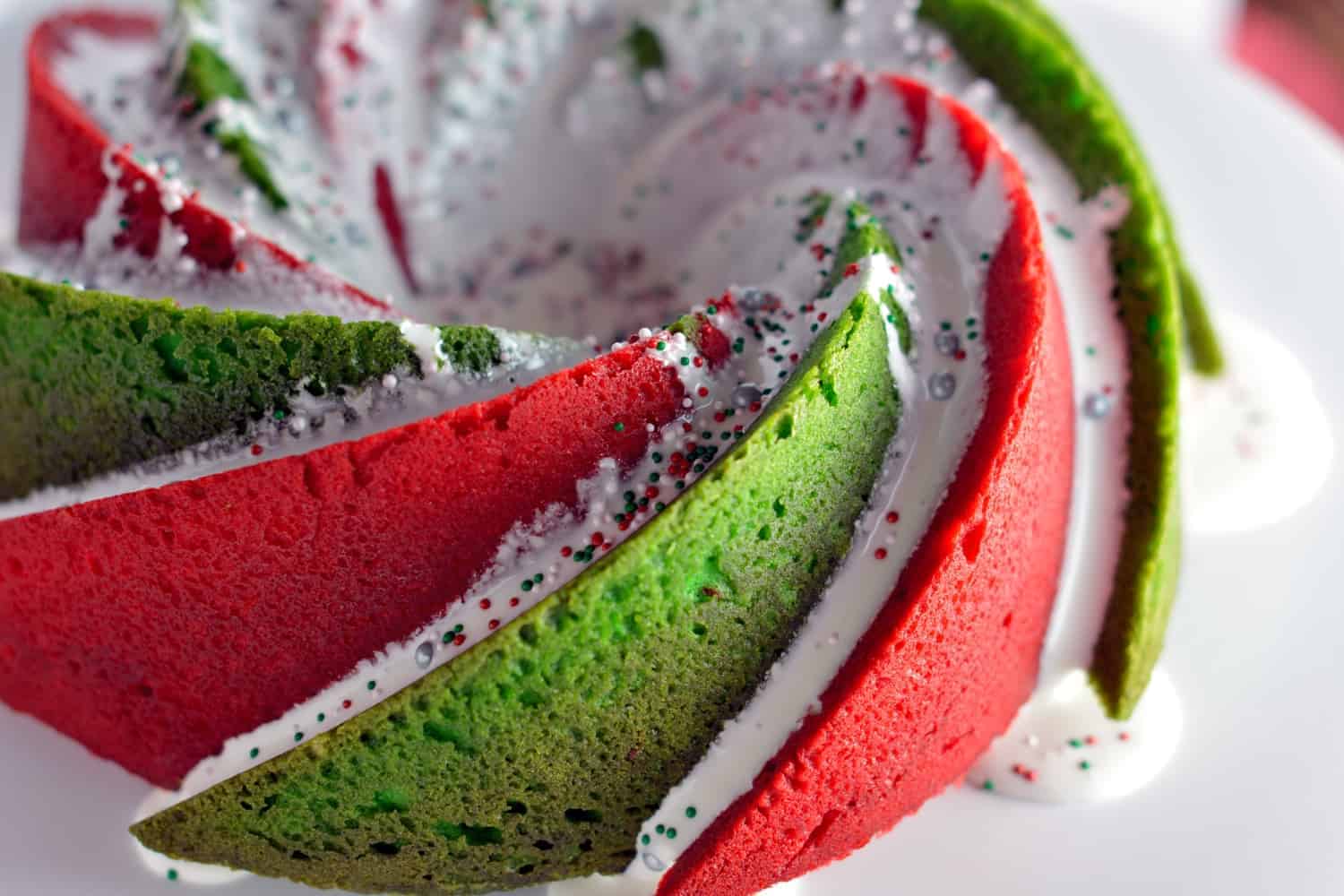 I did use her Marshmallow Fluff Frosting due to the stark white contrast and *sticky* factor when drizzling down the nooks and crannies.
Holiday Meringue Wreath
If you're looking for the perfect showstopping holiday dessert, look no further than this Meringue Wreath! A beautiful holiday pavlova with whipped cream and fresh berries.
View this recipe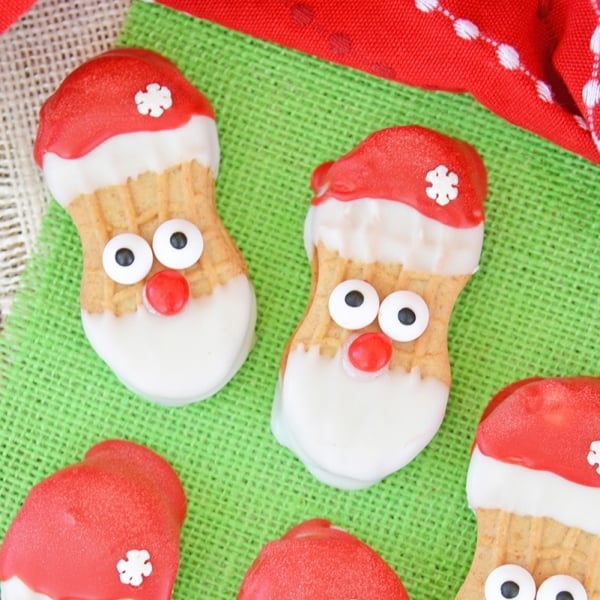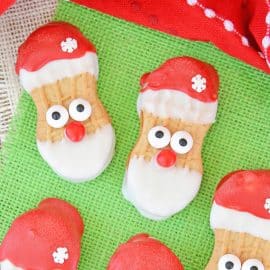 Santa Cookies
If you're looking an an easy, no-bake Christmas cookie, check out my Nutter Butter Santa Cookies! They're super festive, and simple to make.
View this recipe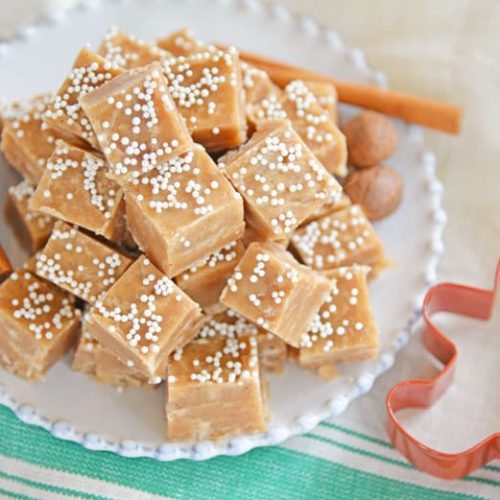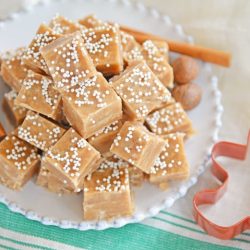 Gingerbread Fudge
If you've ever wondered how to make fudge, there is no better homemade fudge recipe than this! Gingerbread Fudge made the old fashioned way!
View this recipe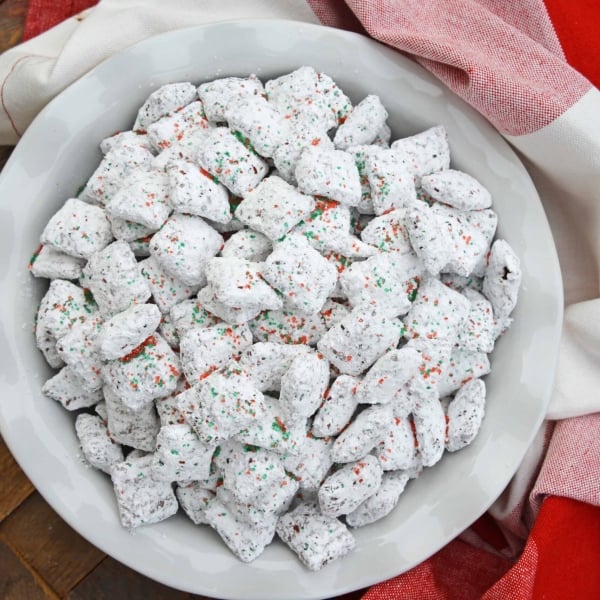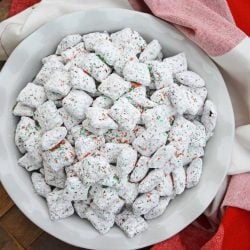 Christmas Puppy Chow
Christmas Puppy Chow transforms a traditional muddy buddy recipe into a festive Reindeer Chow mix! The perfect no-bake dessert for any party or event.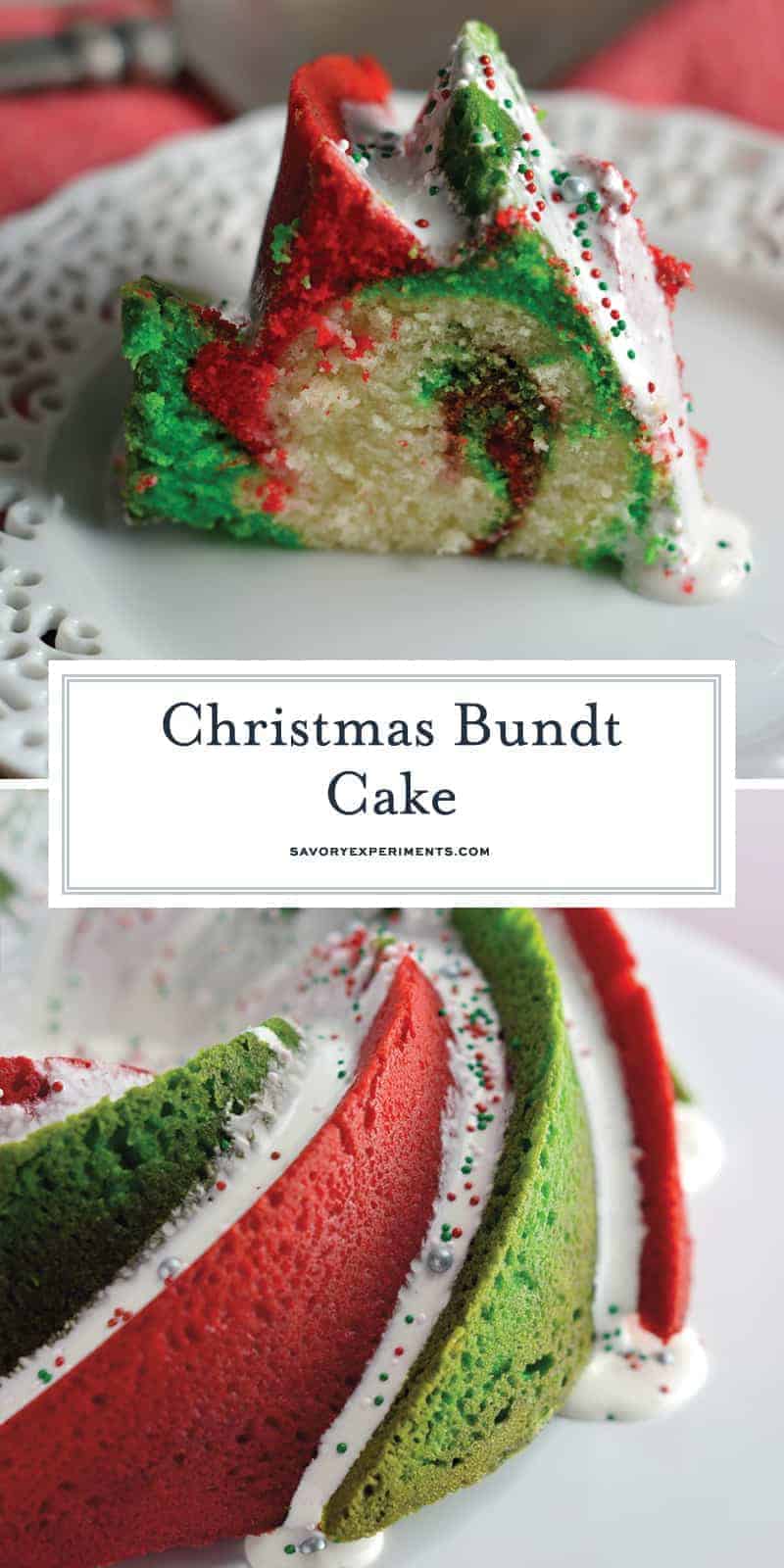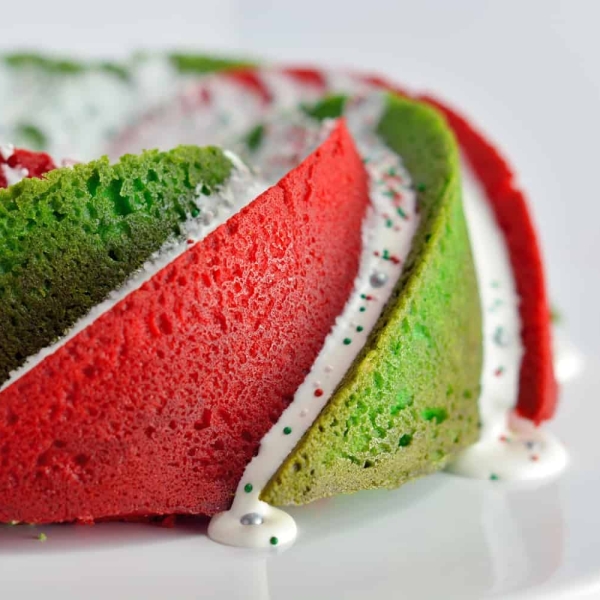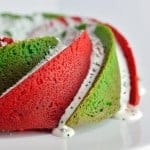 Christmas Swirl Bundt Cake
You won't believe how easy it is to create this beautiful and festive vanilla flavored Christmas Swirl Bundt Cake!
Instructions
Place dry bundt pan in the freezer for at least 2 hours.

In the bowl of a stand mixer or a large mixing bowl, beat butter until it lightens in color and is fluffy, approximately 5 minutes. Add sugar and incorporate.

Meanwhile, sift together flour, baking powder and salt, set aside. In another bowl, whisk together milk, clear vanilla extract and egg whites.

Alternate adding dry flour mixture and egg white mixture to butter until fully incorporated and then for 1 minute longer.

Measure 1 1/4 cup batter into a separate bowl and mix well with red liquid gel food coloring, approximately 1/2 teaspoon. The amount will vary greatly depending on brand, so add as much as you need to reach a red tone. Remember that the color will intensify while baking. Transfer red cake batter into a large piping bag, twist the top to secure and place in the freezer.

Repeat the same process with green liquid gel food coloring.

Place remaining white cake batter into the refrigerator until ready to use.

In about 30 minutes, preheat oven to 350 degrees. Remove bundt pan and batters from the freezer and refrigerator.

Spray bundt pan liberally with cooking spray. Pipe red cake batter into alternating swirls of bundt pan, using a skewer to nudge batter into crevices. Don't be overly concerned with where they meet, as this will be covered by frosting. Repeat with green. The bundt pan has an equal number of swirls, so you will have two swirls next to each other that are the same. I know, OCD folks are going to be going nuts!

Very carefully spoon remaining white batter directly into the center, making sure you don't mess up the piping on the sides. The white will creep up during baking, so don't worry that it is not all the way filled. Pipe the remaining red and green batter into the top of the white and then lightly swirl with a skewer.

Bake for for approximately 60 minutes, or until you can inset a skewer into the center and it comes out clean.

Allow to cool for 15- 20 minutes. Tap on the counter to loosen and then invert onto a cooling rack, FLIP it, pray everything loosened and then remove the bundt pan.

Allow to cool fully and then trim the bottom to allow the cake to sit evenly. Make Marshmallow Fluff Frosting and pouring over crevices.

Finish with holiday sprinkles. Take photos, post them on Facebook and wait for all of your friends to comment on your beautiful, amazing cake!

If you've tried this recipe, come back and let us know how it was!
Notes
Make sure you use a CLEAR vanilla, otherwise it will tint the cake batter.
Nutrition
Calories:
293
kcal
,
Carbohydrates:
42
g
,
Protein:
4
g
,
Fat:
12
g
,
Saturated Fat:
7
g
,
Cholesterol:
31
mg
,
Sodium:
185
mg
,
Potassium:
141
mg
,
Sugar:
25
g
,
Vitamin A:
375
IU
,
Calcium:
54
mg
,
Iron:
1
mg
If you need MORE Christmas dessert ideas, check out my Orange Cardamom Slice & Bake Cookies, Peppermint Mocha Cupcakes or Eggnog Cookies!
Recipes from Day 5 of Christmas Week! Please visit all our talented participants: