This post is sponsored by Yummly and KitchenAid, however, all thoughts and opinions are my own.
Eggs Benedict might be one of the most iconic of breakfast and brunch meals, but when you deconstruct the ingredients, the only that really brightens and brings the dish alive is hollandaise sauce.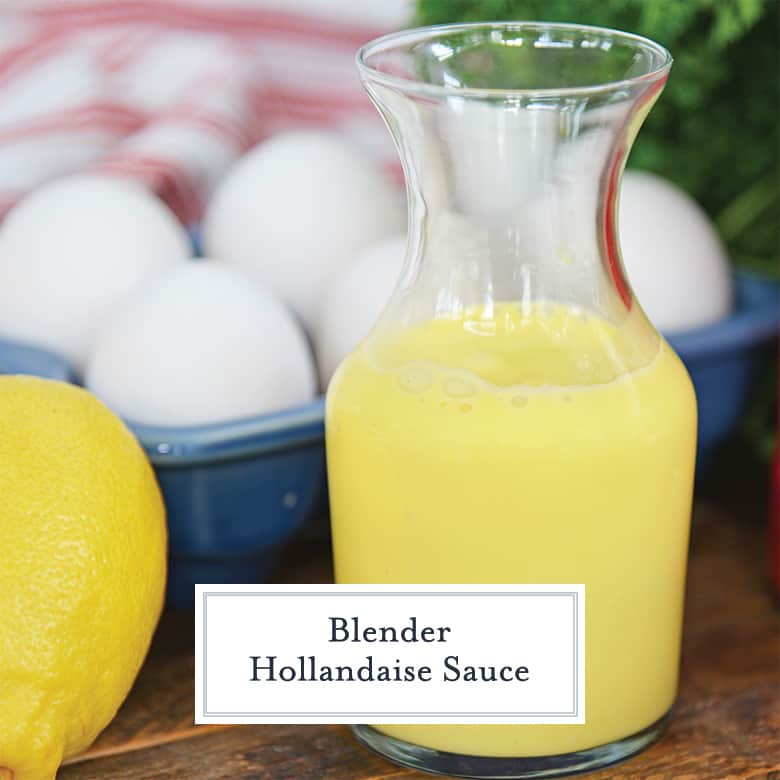 Wonderfully decadent hollandaise sauce. A sauce many are intimidated by, but here is an easy hollandaise sauce recipe anyone can make.
Make this super easy Blender Hollandaise Sauce in just 5 minutes! Perfect for Benedict, Béarnaise sauce bases and vegetables.
Hollandaise sauce is the star of the show, marrying all of the other ingredients together and giving a splash of acidity. But Hollandaise isn't only used for breakfast and benedicts.
The golden sauce is of French origin and shows up in many dishes for breakfast, lunch and dinner. In the US, we see Hollandaise sauce served over steak at fancy steak houses, crab cakes, crab imperial, veggies like broccoli and asparagus and even on a smoked salmon crostini.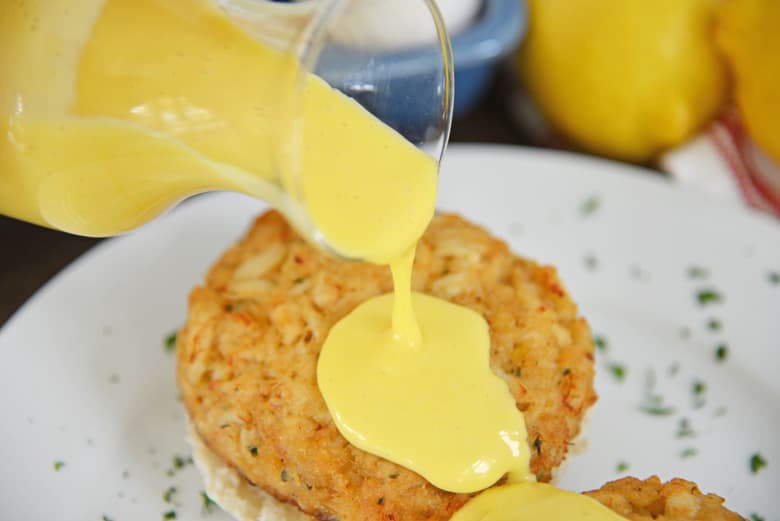 The number one question I get asked about making Hollandaise sauce is about the raw eggs. I can assure you that if you've ever eaten the sauce at a restaurant, you ate fairly raw eggs. And you lived… so, don't get too worried.
FACT: Although French in origin, Hollandaise was sometimes referred to as "Dutch Sauce".
Hollandaise is an emulsion, a blend of two ingredients that would generally separate. In this case, eggs and butter.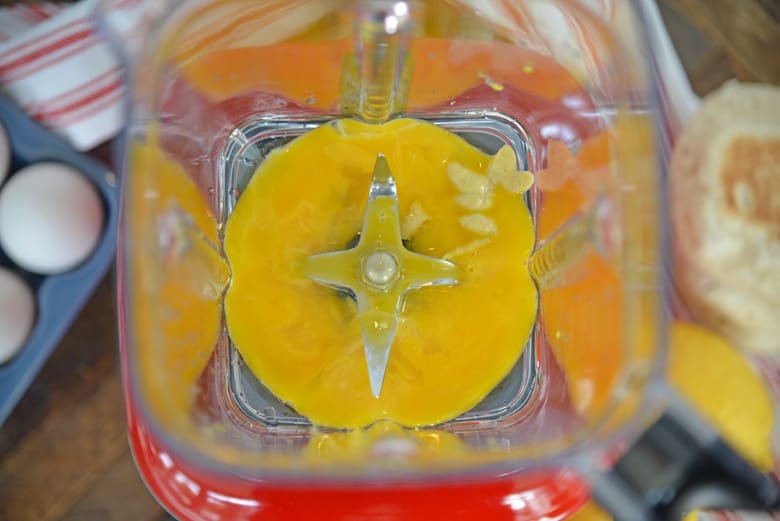 In order for these two usually immiscible liquids to blend, they need to be agitated at a high speed.
Complicating things even further, one of the ingredients are egg yolks, which if cooked too fast and without liquid will just be scrambled eggs.
The old school way of making Hollandaise was in a double boiler or saucepan and whisking so fast and hard that your arm would fall off. Then adding just enough heat to warm the sauce, but not so much that the eggs cooked.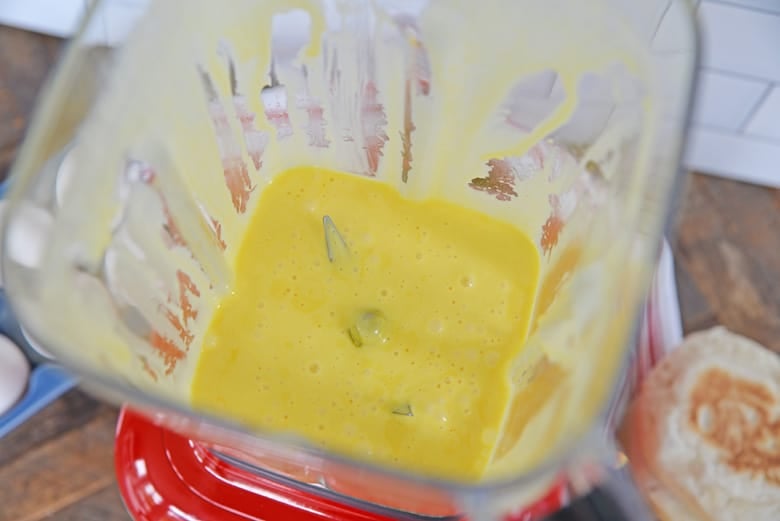 The answer to all of your Hollandaise sauce woes lies with the new KitchenAid Blender. Making hollandaise sauce in a blender is easy and foolproof.
FACT: Hollandaise sauce is one of the 5 French mother sauces.
You won't have to worry about lumpy hollandaise sauce or overheating. Only rich, velvety golden sauce.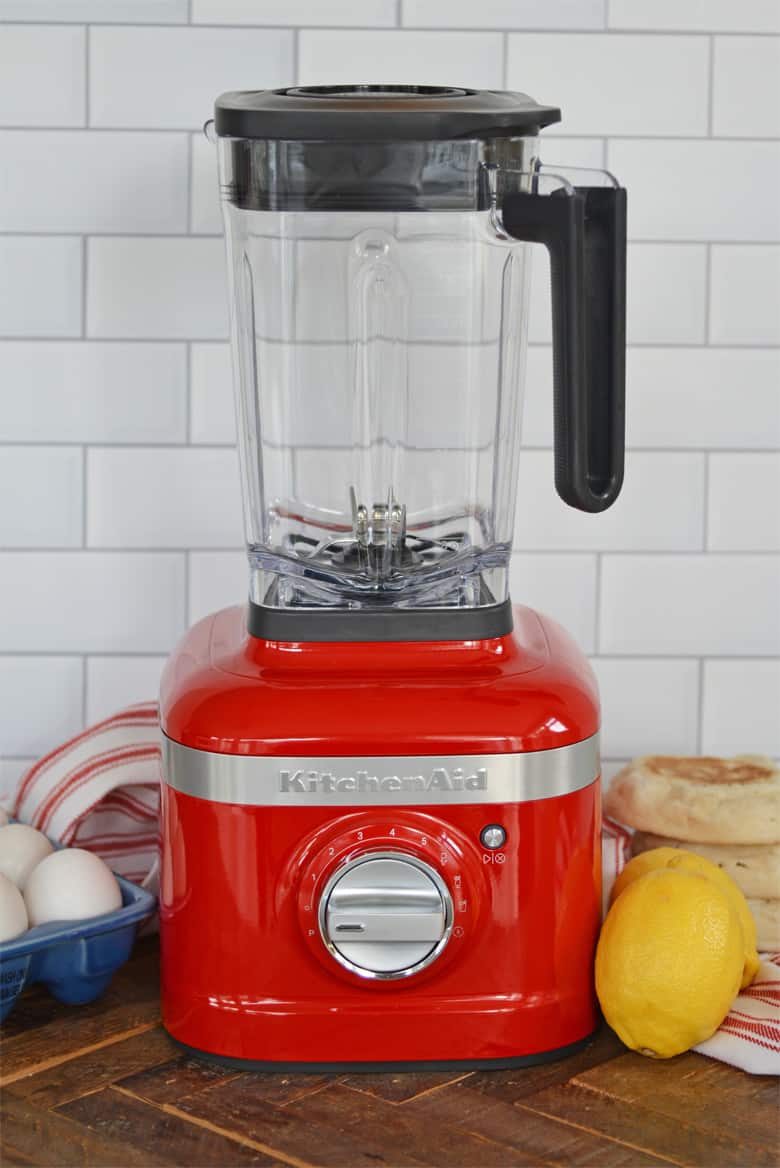 The new KitchenAid K400 not only looks pretty on your counter with 6 stylish color options, but touts some amazing attributes. I am loving this snazzy red which also matches my KitchenAid food processor and stand mixer.
The unique asymmetric blade pulls food towards the center to power through tough ingredients and ensure that everything blends evenly and requires less scraping down the sides.
It comes with 3 preset recipes programs: Ice Crush, Icy Drinks, and Smoothie, and also 5 variable speeds and a pulse function to fit the needs of any recipe.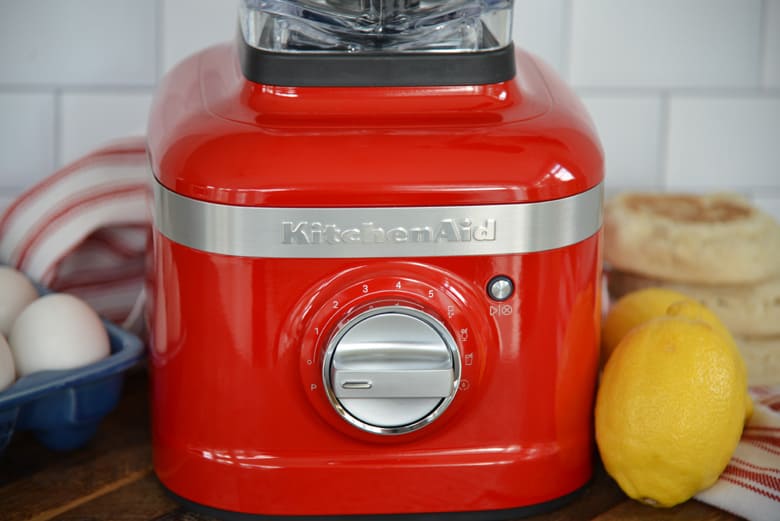 Use for smoothies, iced drinks, soups, sauces and even salsas. Go one step further and grab the blender accessories like a citrus press for fresh grapefruit and orange juice in a snap, a small batch jar for smaller jobs or the personal blender jar for those morning smoothies.
What can you serve hollandaise sauce with? The possibilities are endless and not just limited to breakfast.
Steak
Seafood
Sautéed or baked vegetables
Breakfast foods
And if you want to go the traditional route with benedicts, here are my favorite combos:
Classic Eggs Benedict- ham, poached eggs, chives
Crab Cakes Benedict- crab cakes poached eggs, Boursin cheese
Southwestern Benedict- Boursin cheese, salsa verde, poached eggs
Roast Beef Benedict- roast beef slices, poached egg, chives
Tex-Mex Benedict- shredded beef, salsa, poached eggs
BBQ Benedict- pulled pork, poached eggs, BBQ sauce, scallions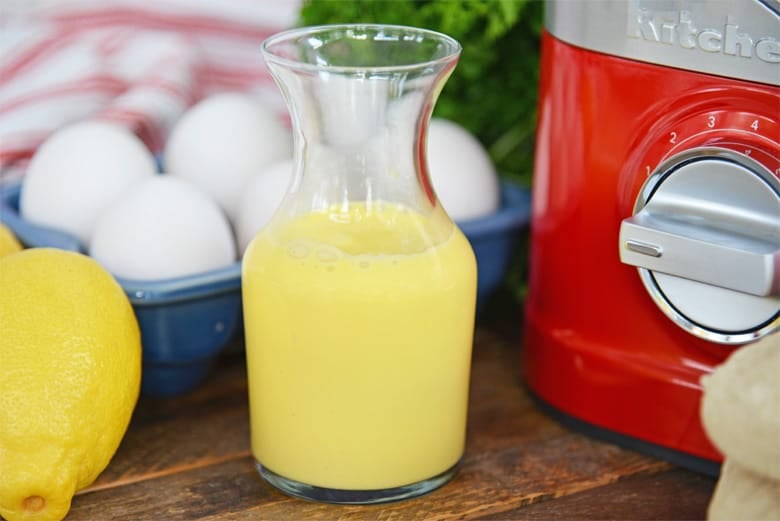 Questions you might have about how to make hollandaise sauce in a blender:
Is hollandaise sauce made with raw eggs? Yes! It is! So is mayonnaise. If you are worried, you can always buy pasteurized eggs.
You can also gently warm hollandaise sauce in a double boiler, but be careful to not heat over 150 degrees F or you risk the sauce cooking and become grainy.
Can I use clarified butter? You sure can! And here are instructions on how to make your own, or buy it at the store. It is called ghee. Just make sure to melt it before adding in a thin stream, same as you would regular butter.
Can I freeze hollandaise sauce? I don't suggest freezing hollandaise sauce since it does use raw eggs and is an emulsion. It will separate and be yucky when thawed with a much higher change of having related food illness.
Are hollandaise and Béarnaise sauce the same? They are the same base, but Béarnaise has some added flavors like shallots, peppercorns and fresh herbs like tarragon.
What does hollandaise sauce taste like? It a thick, creamy sauce that is yellow hue. The actual shade of yellow will vary depending on the egg yolk and added ingredients.
I, personally, like a lemony, fresh and bright hollandaise with a bite of acidity, but not a lot of pepper. Some people prefer to add cayenne pepper.
Why does hollandaise sauce separate? The number one reason is that the sauce got too hot. Hollandaise sauce can be warm, but not hot.
But when it comes down to it, Hollandaise sauce is an emulsification and those are, by definition, unstable.
Make sure you stir to keep those molecules together. The BEST way to make this happen or fix the issues is to give it a whirl in your KitchenAid K400.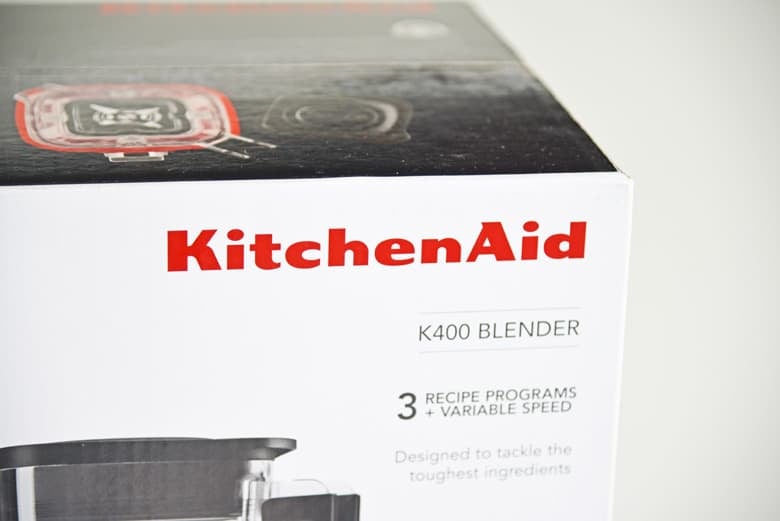 Allowing your sauce to get too cold will also separate because the fats will solidify. To fix this, heat slightly and also remix. If the sauce is too thick, add a small amount of white wine, lemon juice or water while blending.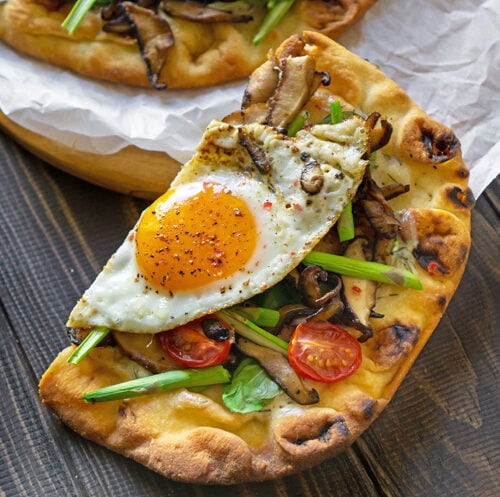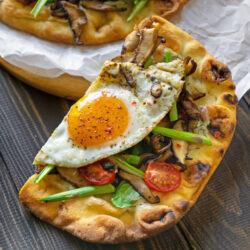 Vegetable Breakfast Pizza
When it comes to easy breakfast recipes, this Breakfast Pizza tops the list! With just a few ingredients and a homemade sauce, this pizza is the best!
View this recipe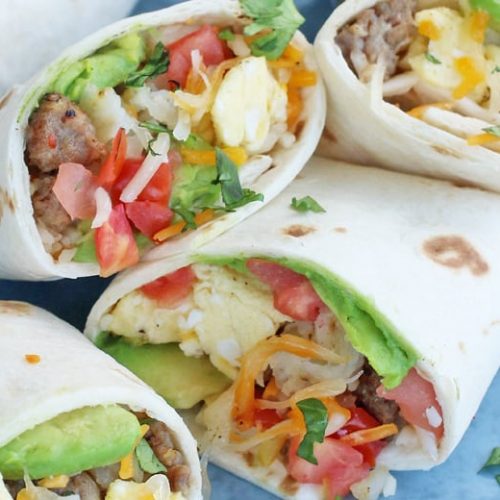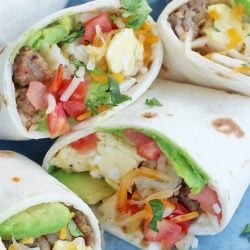 Easy Breakfast Burritos
If you're looking for the best breakfast burrito, you've found it with this easy, delicious breakfast burrito recipe! Easy to make and delicious to eat!
View this recipe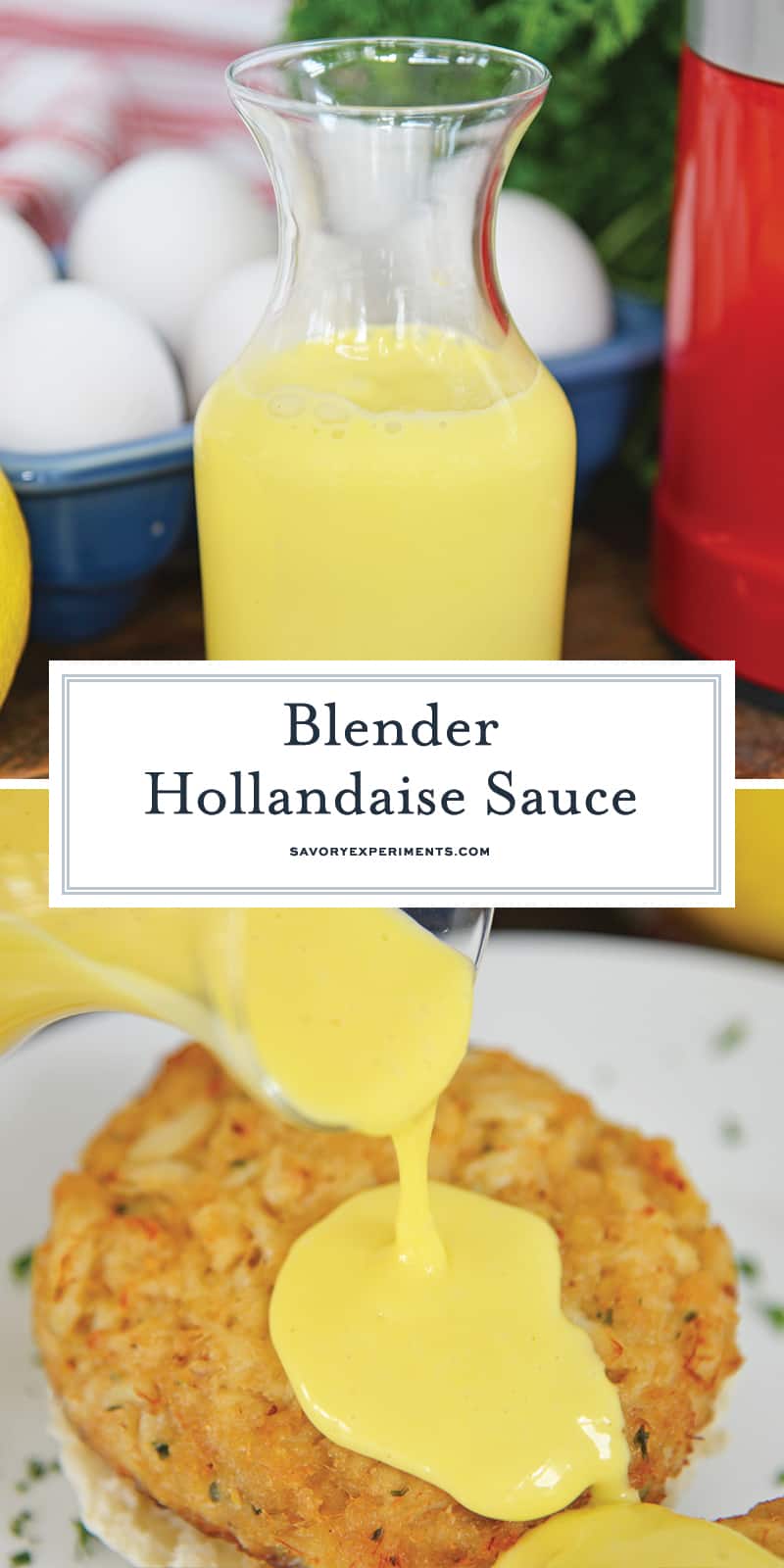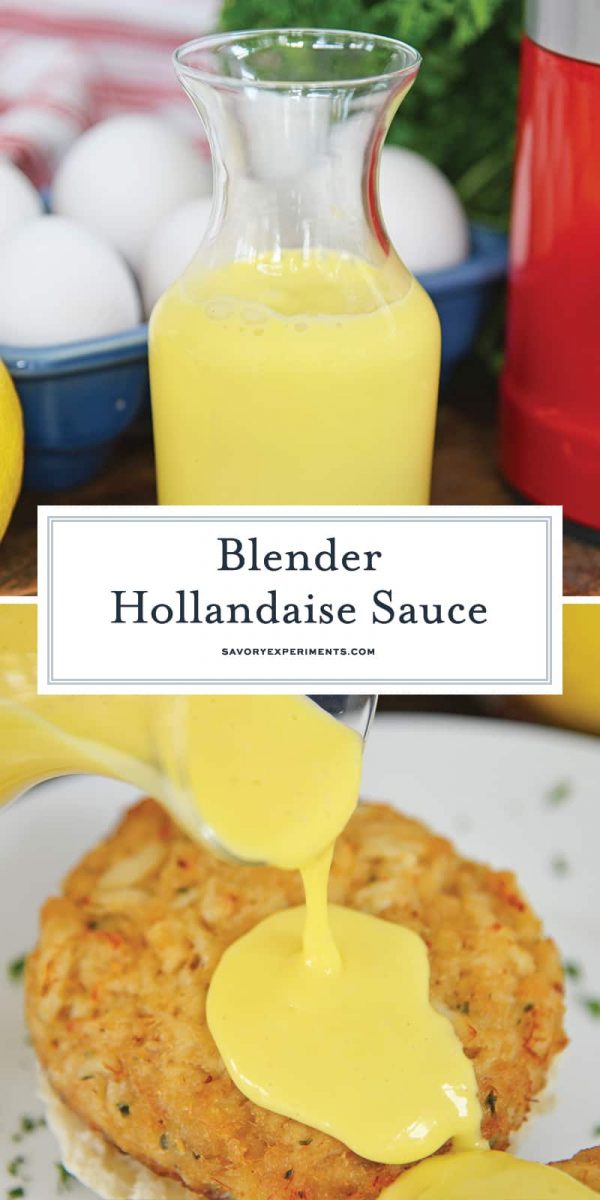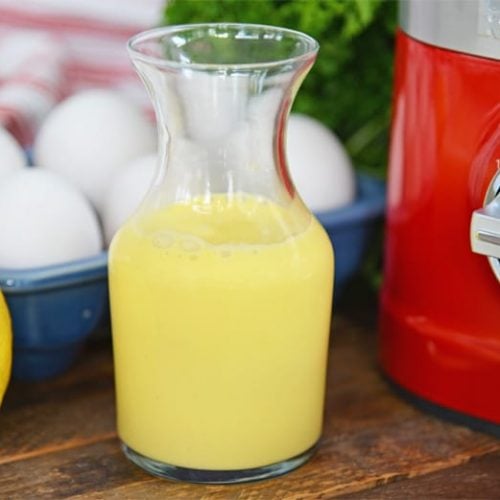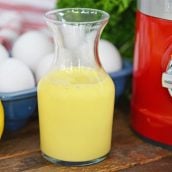 Blender Hollandaise Sauce
Make this super easy Blender Hollandaise Sauce in just 5 minutes! Perfect for benedict, Béarnaise sauce bases and vegetables.
Instructions
Combine egg yolks, Dijon mustard and lemon juice in a blender. Cover, and blend on high for 1-2 minutes. The mixture will blend and start to lighten.

Reduce blender speed and take out the middle stopped in the center of the lid. Slowly pour in butter in a steady stream while the blender is running. You might get a few spits and spatters.

Continue to mix until sauce has thickened, which will happen within 1 minute.

Add salt and optional hot sauce or white pepper, pulse to blend.

Sauce will be semi-warm from agitation in the blender, but you can heat further by setting the whole blender in large bowl of hot water or place sauce in a double boiler sauce pan on low heat, stirring constantly.

If you've tried this recipe, come back and let us know how it was!
Nutrition
Calories:
263
kcal
,
Carbohydrates:
1
g
,
Protein:
3
g
,
Fat:
28
g
,
Saturated Fat:
16
g
,
Cholesterol:
256
mg
,
Sodium:
33
mg
,
Potassium:
20
mg
,
Sugar:
1
g
,
Vitamin A:
969
IU
,
Vitamin C:
1
mg
,
Calcium:
30
mg
,
Iron:
1
mg