Making
lemon pepper chicken on the grill could not be easier! This recipe will show you how to make a delicious grilled lemon chicken in about 35 minutes! The perfect bbq meal for the summer time!
Grilled Lemon Pepper Chicken is made up of a simple marinade for foolproof chicken on the grill every time. When it comes to grilled chicken, this recipe is so simple and always turns out great. You will enjoy lemon pepper chicken time and time again!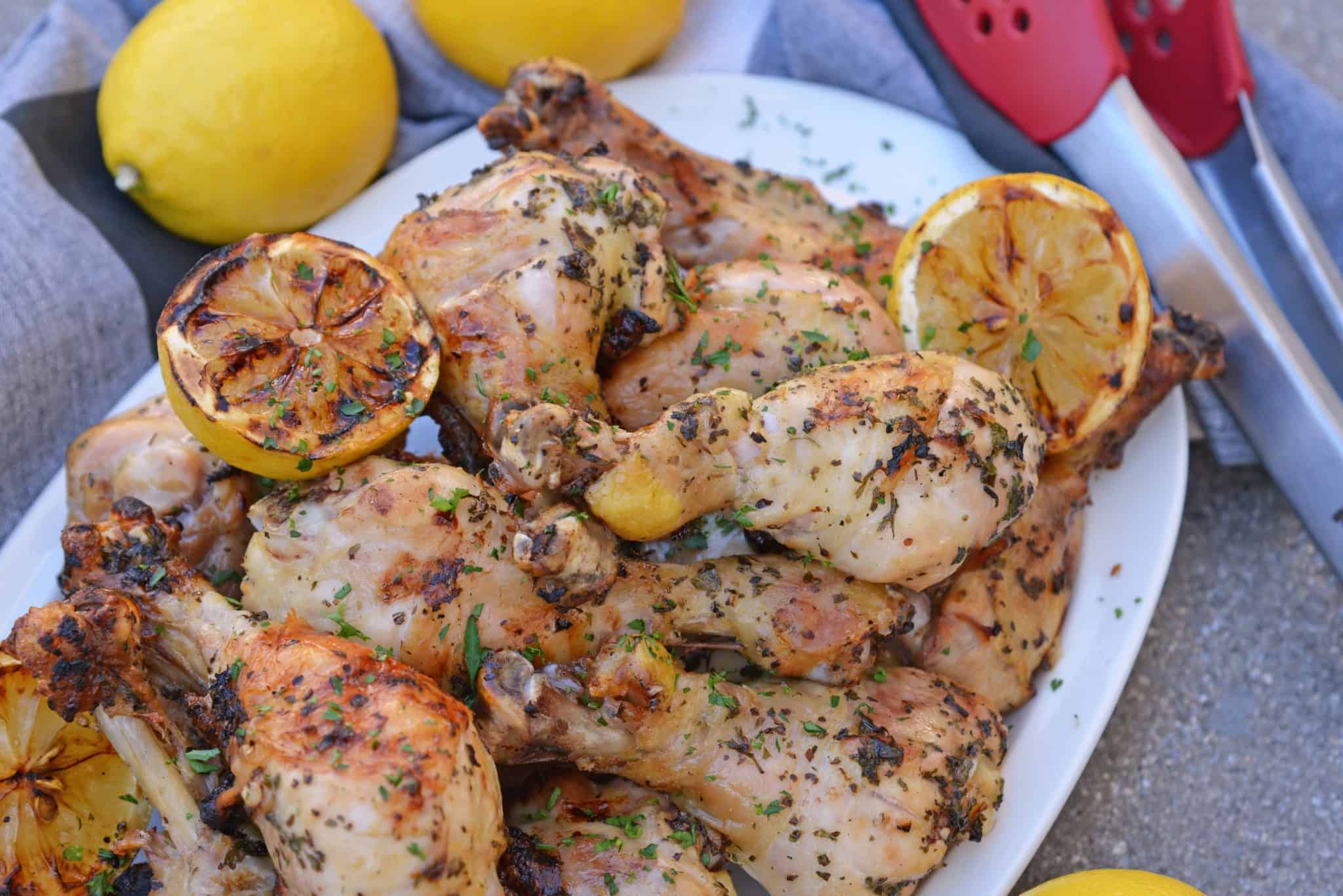 This is another recipe from dear mom: 
Grilled Lemon Pepper Chicken. It uses
 a simple marinade which  perfectly seasons moist grilled chicken!
You can substitute other cuts of chicken such as thighs or chicken breasts. I prefer to leave the skin on for the added flavor. I like to let it get nice and crispy on the grill, but you can remove the skin if desired. I try to marinate overnight, but you can marinate for as little as 2 hours if short on time.
There is just something wonderful about chicken cooked on the grill, it tastes so much better and lets you know summer is here! Over the summer I find myself making this recipe multiple times. There's just something about it that I can't get enough! When you can marinate the day before the flavor is amazing and will really help you create an amazing meal!
If you marinate for less time, I recommend setting aside some of the mixture for basting on the grill or boil it down for dipping.  One thing is for sure, this recipe is a foolproof way to make flavorful and moist
Grilled Lemon Pepper Chicken on the grill!
If you enjoyed this 
lemon chicken, make sure you check out these other easy chicken recipes:
Tools for Grilled Lemon Pepper Chicken: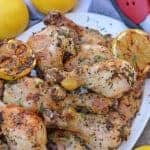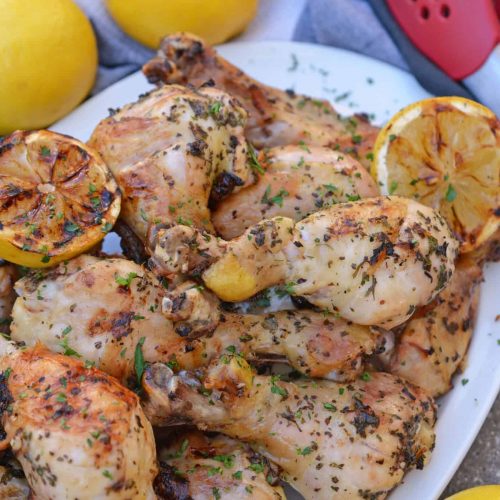 Grilled Lemon Pepper Chicken
Grilled Lemon Chicken- A simple marinade for foolproof chicken on the grill every time!
Ingredients
13-14

chicken drumsticks

skin on

1

cup

water

2

tablespoons

dry minced onion

4

garlic cloves

minced or pressed

1

tablespoon

black pepper

2

tablespoons

dried parsley

1

tablespoon

salt

1

tablespoon

dried basil

1

cup

lemon juice

Cooking Spray
Instructions
Combine all ingredients in an extra large airtight plastic bag. Seal and massage into chicken. Keep refrigerated for 2-24 hours. The longer it sits, the more flavor it will pack.

Heat grill to medium-high heat or surface temp of about 450 degrees. Lightly and carefully coat grill with cooking spray. Technically you should not use an aerosol near an open flame, but I think it works best.

Place chicken on the grill, turning every 7-8 minutes for 30-35 minutes. Remember that there are a lot of variables to cooking any meat, actual temperature weather, the cook, so times can vary greatly. Chicken should be an internal temperature of 190 degrees when measured away from the bone.

Remove and allow to rest for 5 minutes before serving. Enjoy your Grilled Lemon Chicken!