Bacon Potato Salad Recipe
Foodie friends, I have a confession to make.
I really don't care for mayo based potato salad. I know, I know, but it is just too much mayo for me. But I really, really, REALLY love potatoes and like having other non-mayo potato salad options for BBQs and potlucks.
Bacon Potato Salad can be served hot or cold and uses veggies and BACON! This is a NO MAYO potato salad! The perfect make ahead side dish.
I generally make my Herbed Potato Salad, which is super, but decided to make something a little more smoky to accompany my newest meatloaf recipe (as opposed to mashed potatoes).
I recently had a potato salad I adored at the Four Seasons here in Baltimore, so I decided to mimic it. 
There were tables of gloriously prepared foods: suckling pig, crab cake sliders, smoked oysters and shots of green garlic soup… but there was a giant bowl of smoked potato salad that I adored.
I marched right on over and had the suckling pig lady give me an extra sprinkle of Maldon sea salt and I was a happy camper.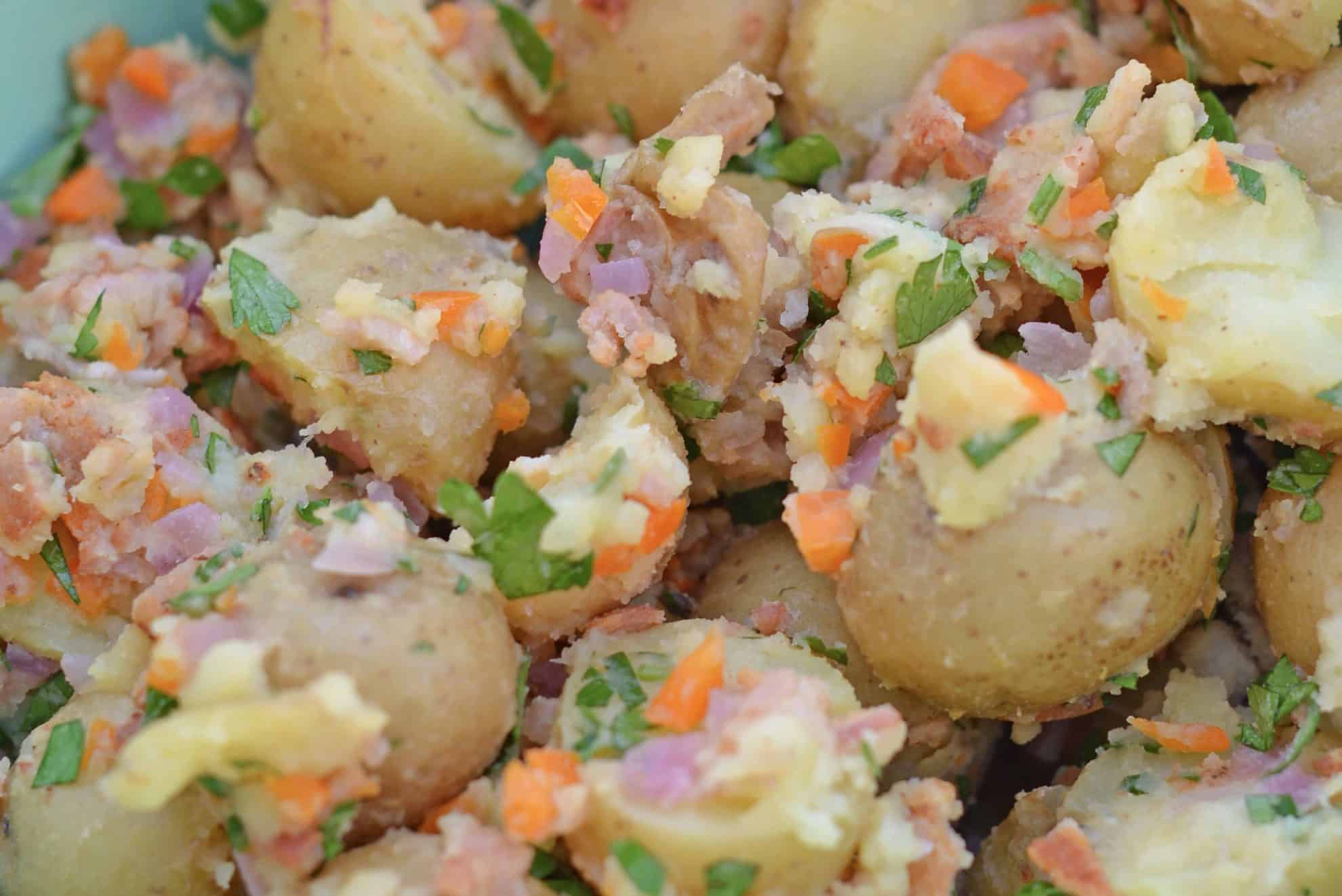 I texted the chef, a friend of mine, and he seemed a little surprised that of all the wonderful things presented, the potato salad was what stood out for me. Silly, I know.
PRO TIP: Good Extra Virgin Olive Oil– A good olive oil will taste like, well, olives, while a poorly made one will taste like vegetable oil. Gross. While people tend to favor Italian and Greek olive oils, I prefer to buy mine domestically.

There are some great ones out there from all over the world, but the reporting of ingredients isn't always the same and you could find that your super expensive olive oil was actually cut with vegetable oil. 
I decided something similar would be a fresh way to pair my Stuffed Meatloaf, starting with buttery new potatoes and pickled red onion. A little bell pepper for a nice snap in texture and bacon to add the smoky feature, since I was not planning on spending my afternoon heating up the smoker for potatoes.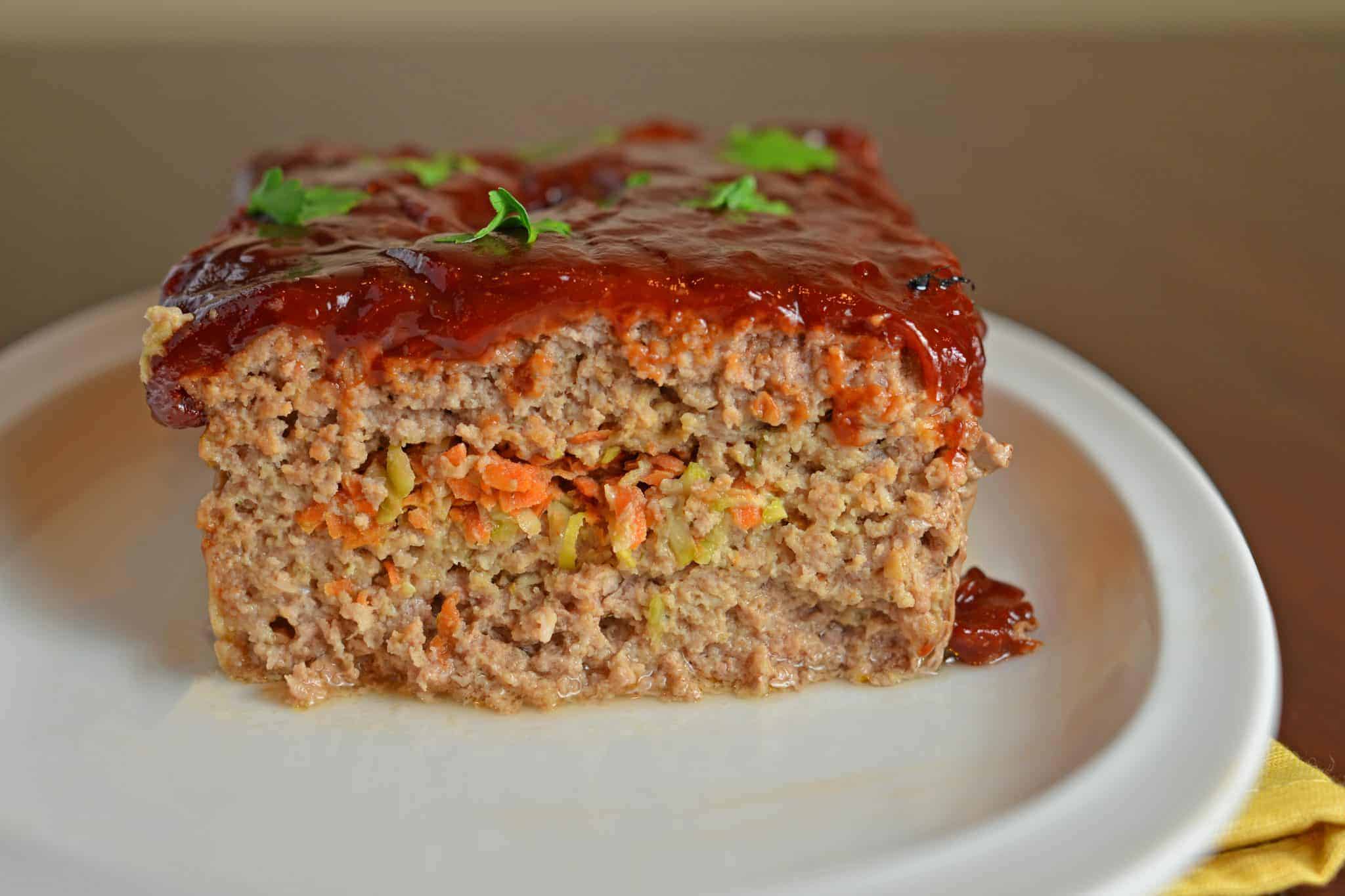 This potato salad includes potatoes (duh), bacon (which adds a little smoky flavor), carrots, pickled red onions, bell pepper and flat leaf parsley. But the most important thing is perhaps the ingredient I didn't use.
This is a no mayo potato salad! Which brought some of my guests to start asking about the different types of potato salad.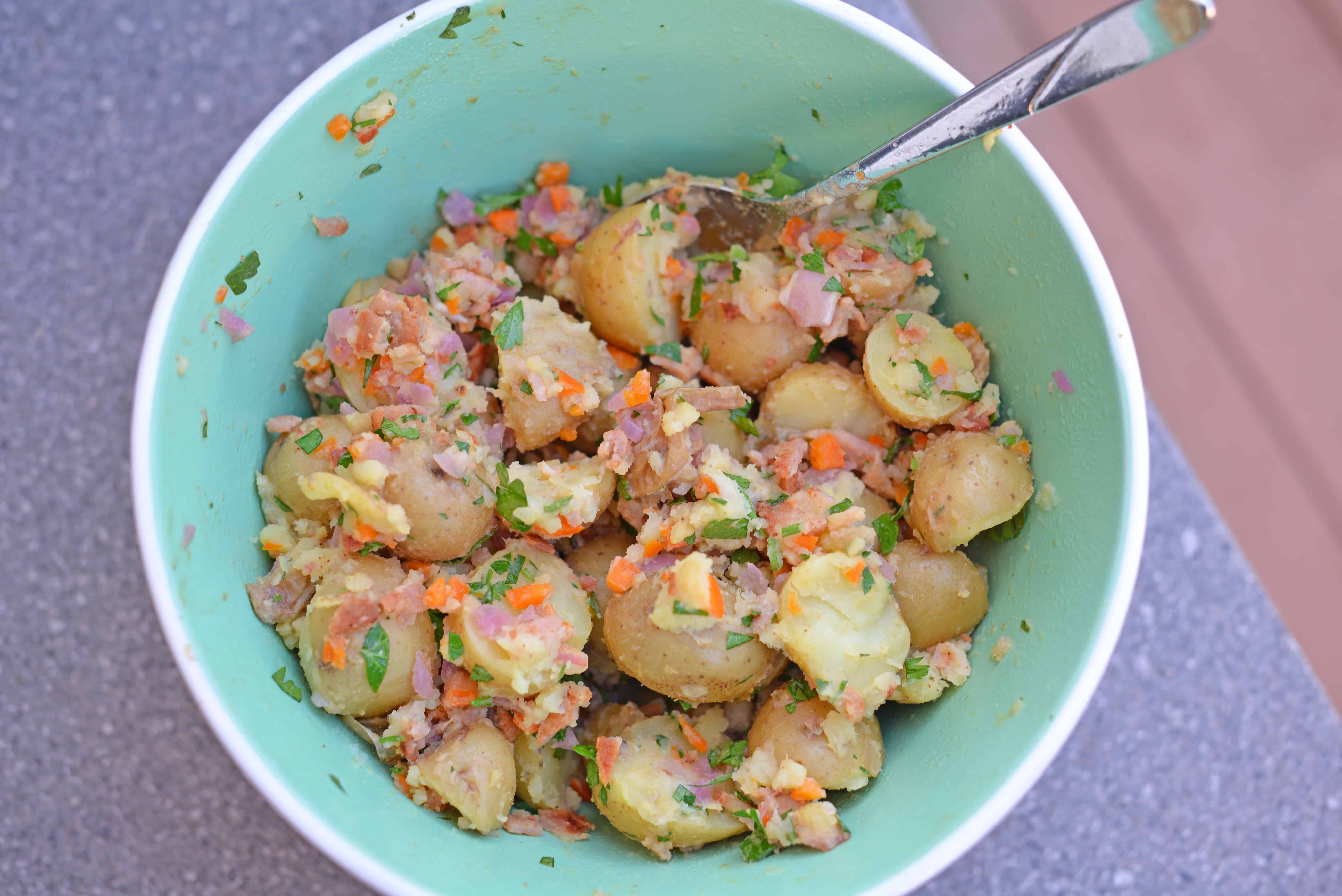 What is German Potato Salad? German Potato Salad is generally dressed with a Dijon vinaigrette and can be served warm or cold. Versus American Potato Salad, sometimes called Amish Potato Salad, that is dressed with a mayonnaise base.
PRO TIP: This potato salad recipe can be served hot or cold.
It was truly a hit and something I plan to make a lot this summer! It is also perfect for potlucks and BBQs as a bring-along dish. No heating required! Serve chilled or room temperture.
Other common potato salad ingredient you can use include finely chopped celery, dill pickles, pickle juice, boiled egg and other chopped veggies.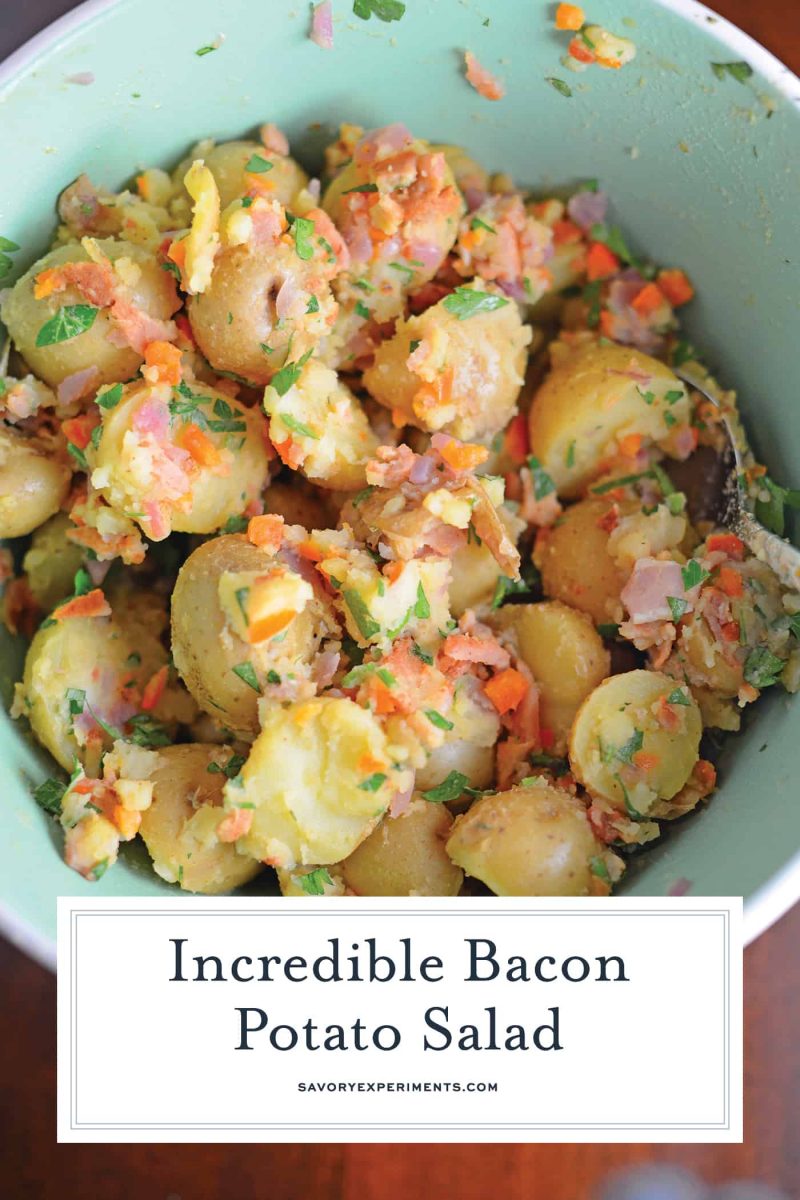 Instant Pot Mac and Cheese
Of all of the Instant Pot recipes, this pressure cooker mac and cheese is the best! If you like homemade creamy mac and cheese, Instant Pot Mac and Cheese is for you!
Almond Rice Pilaf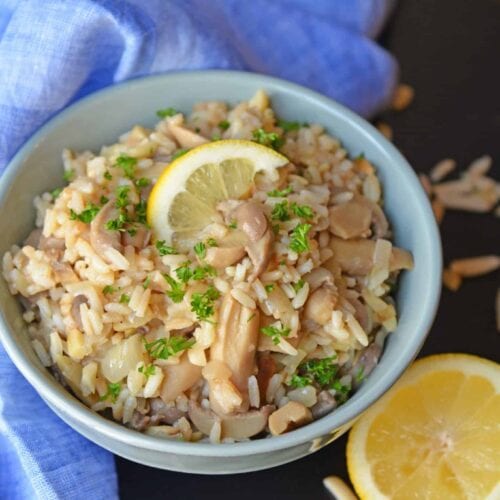 Almond Rice Pilaf is an easy side dish made with crunchy almonds, mushrooms and savory chicken broth and lemon juice to give it loads of flavor! An easy rice recipe the whole family will love.
Twice Baked Potato Casserole
You will love how simple it is to make this easy Twice Baked Potato Casserole! Everything you love about twice baked potatoes is wrapped up into one easy dish.

Tools for making potato salad:
Wood cutting board – wood won't dull your knives like plastic and if treated properly, has natural antimicrobial properties.
Good knife – Global is my favorite! They are worth the price, I promise. I am kind of obsessed with them and store them tucked away so no one else can use them. Including hubby. Hands off my good stuff!
Mixing Bowls– make sure to check out my article on Using the Right Mixing Bowl, you'd be surprised how many people aren't!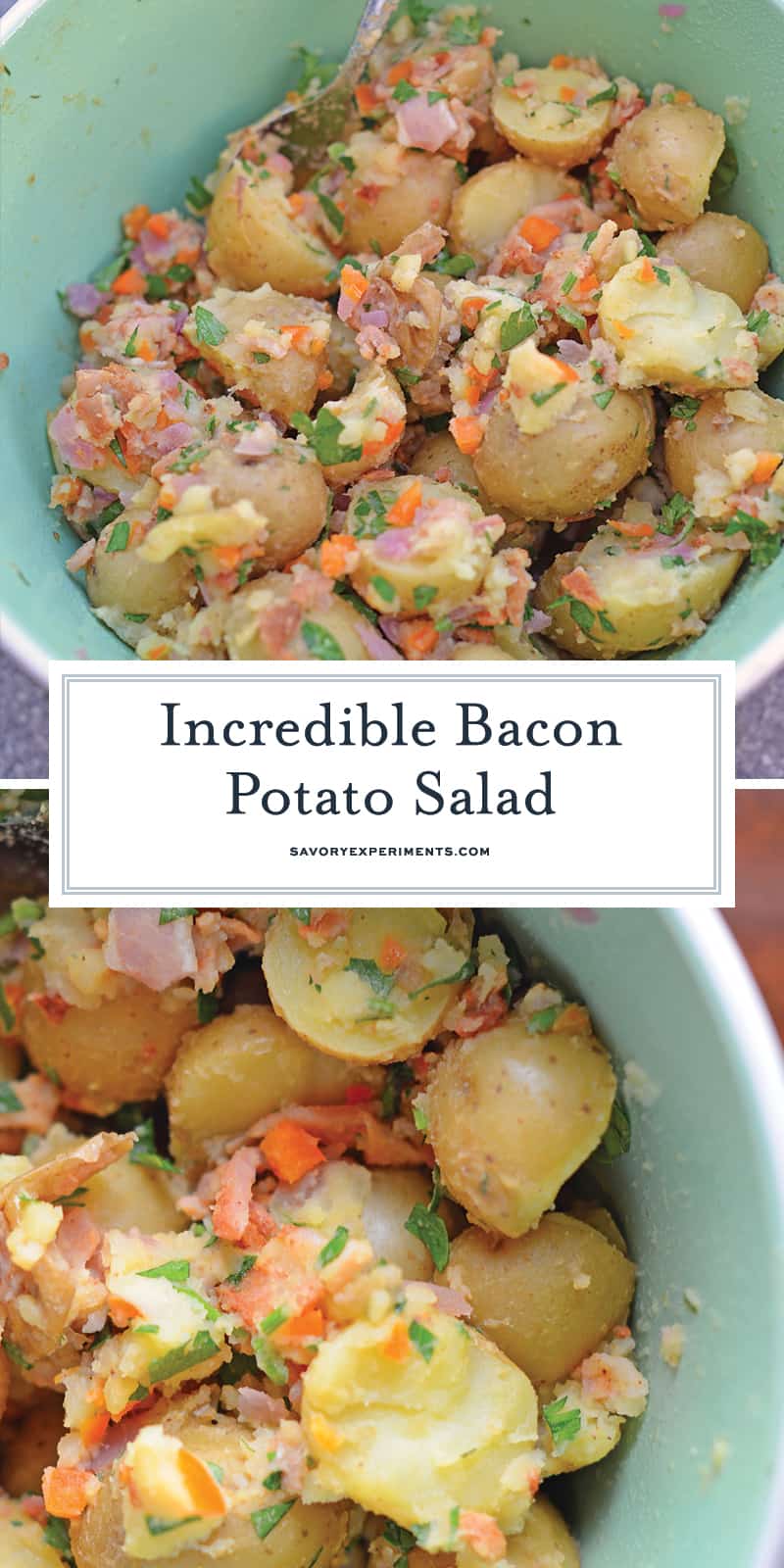 Questions you might have about how to make potato salad:
Can I make potato salad in advance? One of the benefits of potato salad is making it ahead. I would say no more than 24 hours ahead of time.
Can I freeze potato salad? This is one item I do not suggest freezing. It will just get mushy when you defrost it.
Can I add mayo to this bacon potato salad? If you want, be my guest! Add as much mayonnaise as you want!
Can I omit the bacon to make it a vegetarian potato salad? Sure you can!
Can I use red potatoes instead of new potatoes? You can use whatever type of potatoes float your boat. I happen to like new potatoes because they are generally small. If you do use red potatoes, pick the smallest one of the bunch. Then it will be a Red Potato Salad!
How long can potato salad be left out? Since this potato salad isn't mayo-based, it can stay out longer. I still wouldn't recommend more than 2 hours at room temperature, especially if it is hot and outdoors.
How long is potato salad good for? I would say about 5 days if kept covered and refrigerated properly. As with most things, it tastes best when eaten a day or two after making.
What are the best potatoes for potato salad? This is really personal perfecence, but many people like Yukon Gold Potatoes because they are buttery and creamy. I like new potatoes, with red potatoes being a close second.
Bacon Potato Salad can be served hot or cold and uses veggies and BACON! This is a NO MAYO potato salad! The perfect make ahead side dish.
CONNECT WITH SAVORY EXPERIMENTS!

Be sure to follow me on social media, so you never miss a post!

Facebook | Twitter | Youtube
Pinterest | Instagram

Get our FREE 8 Day E-Course on How to Be a Better Home Cook. Sign up HERE!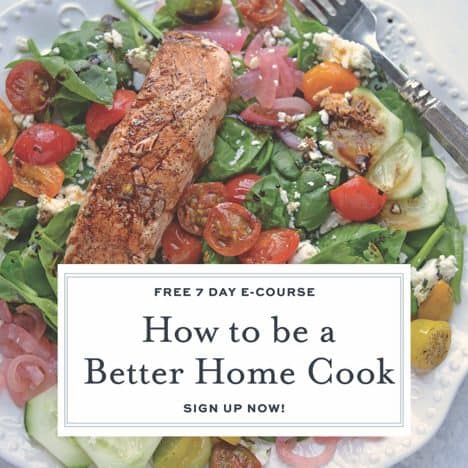 Bacon Potato Salad
Bacon Potato Salad can be served hot or cold and uses veggies and BACON! This is a NO MAYO potato salad! The perfect make ahead side dish.
Instructions
Fill a large Dutch oven or sauce pan half way with water, bring to a rolling boil, then add 1 tablespoon of salt and whole potatoes. Boil for 10-15 minutes, until potatoes are easily pierced with a fork. Drain.

Cut all potatoes in half, add 4-5 potato halves to a large mixing bowl. If desired, mash them a little.

In a small bowl, whisk together red wine vinegar, Dijon mustard, olive oil and salt.

Combine remaining ingredients to the bowl and salad dressing. Toss to combine evenly. Refrigerate until ready to serve.

If you've tried this recipe, come back and let us know how it was!
Nutrition
Calories:
111
kcal
|
Carbohydrates:
10
g
|
Protein:
3
g
|
Fat:
6
g
|
Saturated Fat:
1
g
|
Cholesterol:
9
mg
|
Sodium:
117
mg
|
Potassium:
361
mg
|
Fiber:
2
g
|
Vitamin A:
210
IU
|
Vitamin C:
14.7
mg
|
Calcium:
25
mg
|
Iron:
2.6
mg