Red Lentil Soup is a savory soup filled with aromatic spices and beautiful color. An easy soup recipe that will 'wow' your family and friends by how delicious it tastes and hide the nutrient rich red lentils.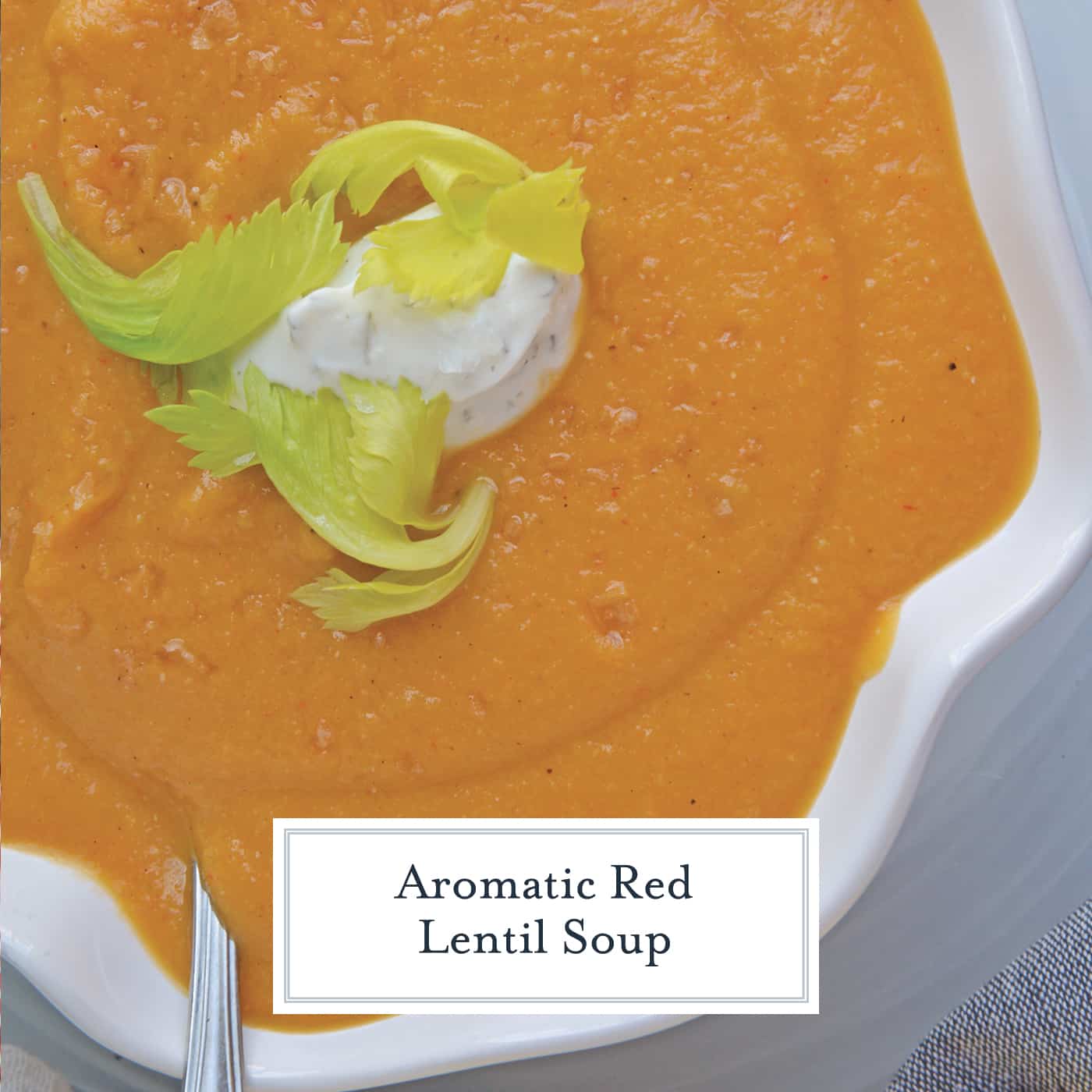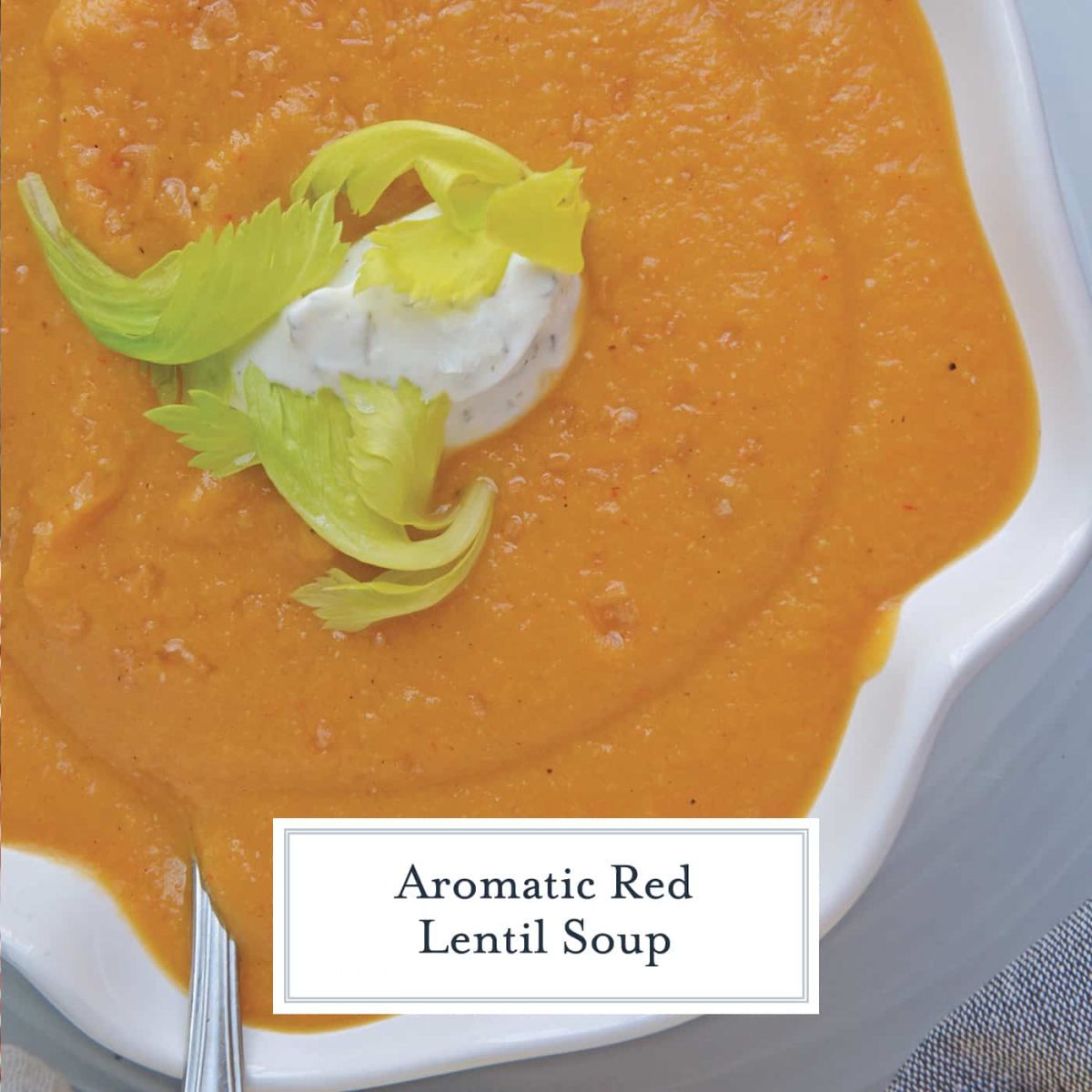 Red Lentil Soup is the best comfort food for a cold or rainy day. Packed full of vegetables and spices, this easy soup recipe is hearty enough for a meal.
This Middle Eastern Lentil Soup recipe is one of my favorites, I don't know why I don't make it more often. Hot soup combined with cool tzatziki and tangy lemon juice is a multi note dish your guests will rave about.
PRO TIP: Egyptian Lentil Soup also conveniently hides veggies and legumes from those who typically do not eat these items.
This easy lentil soup recipe is sometimes known as Middle Eastern Lentil Soup and also as Egyptian Lentil Soup. While Egypt is located in Northern Africa, it is commonly lumped with the other Middle Eastern countries and shares similar foods and food preparation methods.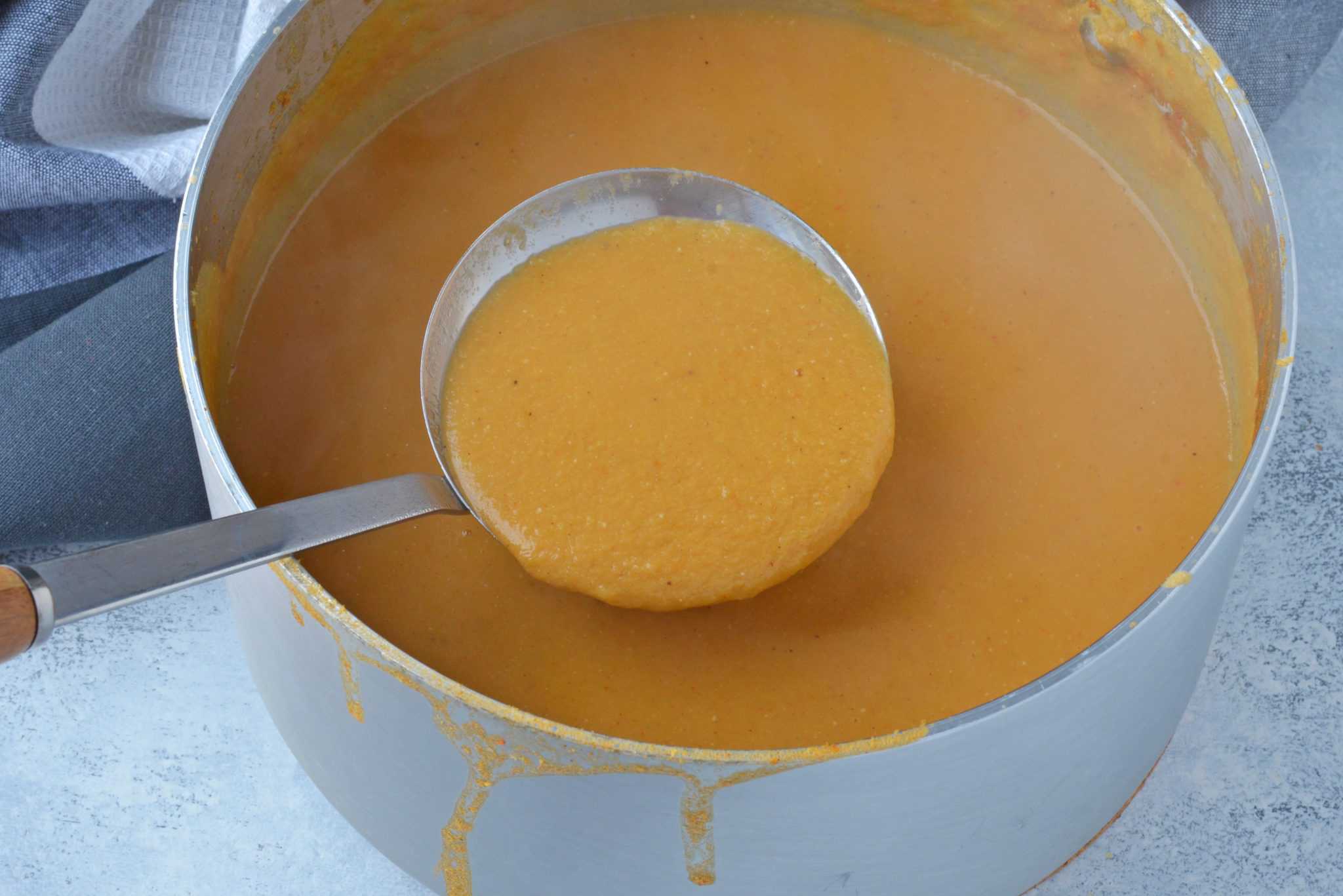 Lentil soup recipes can be made in a multitude of different ways and with a plethora of different ingredients. Anything from ham to sausage, or even just with spinach.
What are red lentils?
Lentils are a legume that come in a lens shape. In many areas they are referred to as dal. Red lentils are nutty and and sweeter than green lentils or brown lentils.
They also tend to get mushy when cooked, so they are perfect for making stews and soups. In fact, they are even used just to thicken sauces in some areas.
There are also a lot of health benefits to lentils including:
Linked to lower cholesterol
High in fiber which benefits weight loss and digestive health
Diabetes friendly
High in protein
Good source of slow burning energy
This recipe works great with celery, onion, tomatoes carrots, garlic and of course your red lentils, pureed into one hearty, smooth and scrumptious soup!
PRO TIP: Celery leaves are often discarded. Use them for garnish, flavor or in salads!
I am commonly asked if you can substitute green or brown lentils in this easy soup recipe. The answer is that you can, however, they both have a distinctly different texture and might not be as velvetly as you expect. Green lentils also take longer to cook.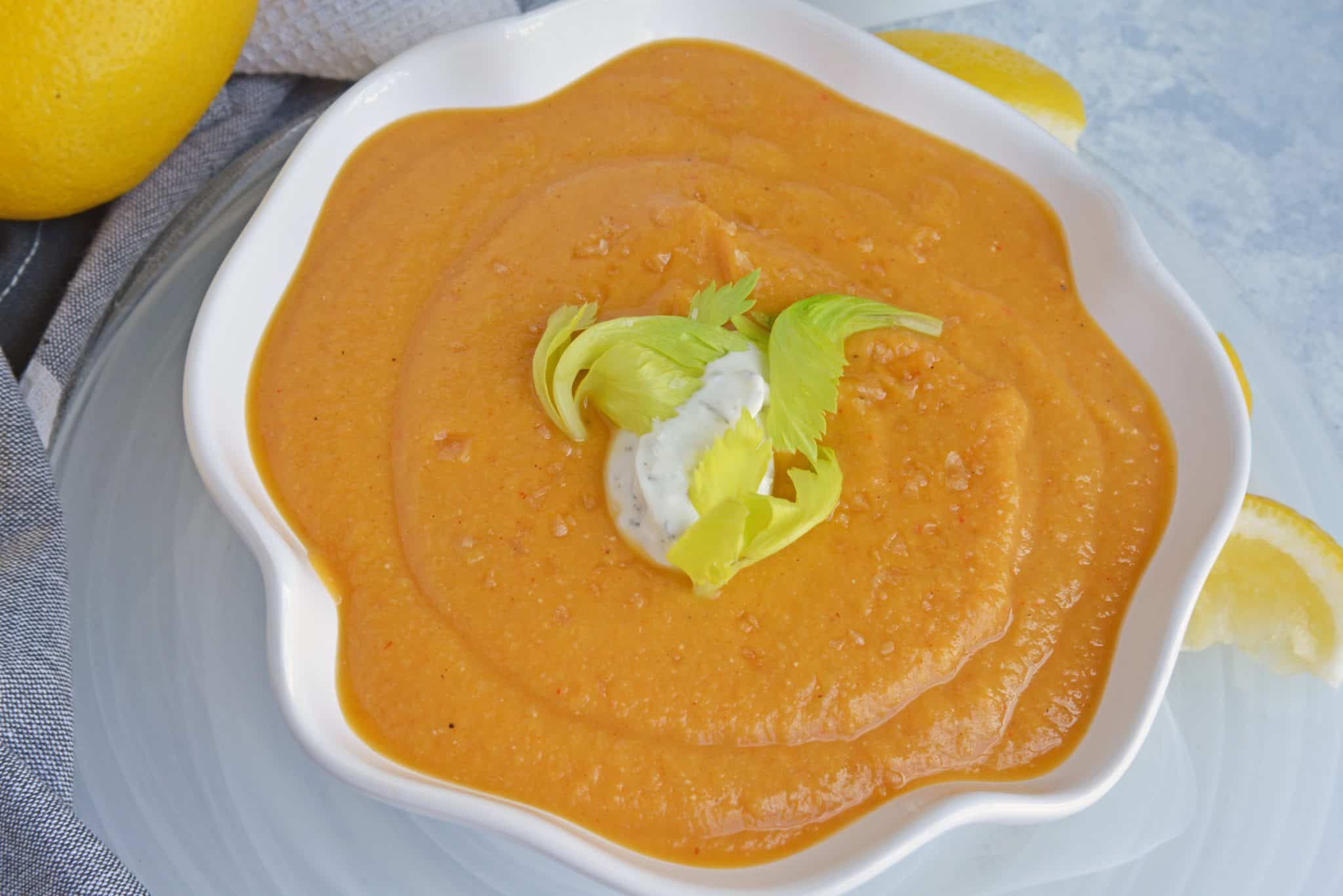 There are many ways to cook lentil soup. You can use a slow cooker, a large pot, or a dutch oven. I prefer to cook my red lentil soup in a dutch oven. Dutch ovens help to keep a consistent temperature throughout the entire contents of the pot.
PRO TIP: Adding something acidic to soup right before serving brightens the whole dish and elevates the meal. Vinegar and citrus are the most common.
The lid which has a tight fit, will keep any moisture and flavor contained within the dutch oven. They are great for making soups, stews and chilis along with browning meat, just to name a few uses! A true kitchen staple.
Dried lentils take considerably less time to cook than other legumes, so they are always a winner in my book!
Honestly, I don't know why I don't make soup more often. I think of it as an appetizer or light entree, but this lentil soup, especially with tzatziki topping, is just as filling and satisfying as many other entrees.
If you feel the need for protein, top it with a few steamed or pan fried shrimp. Scallops would also be a good pairing.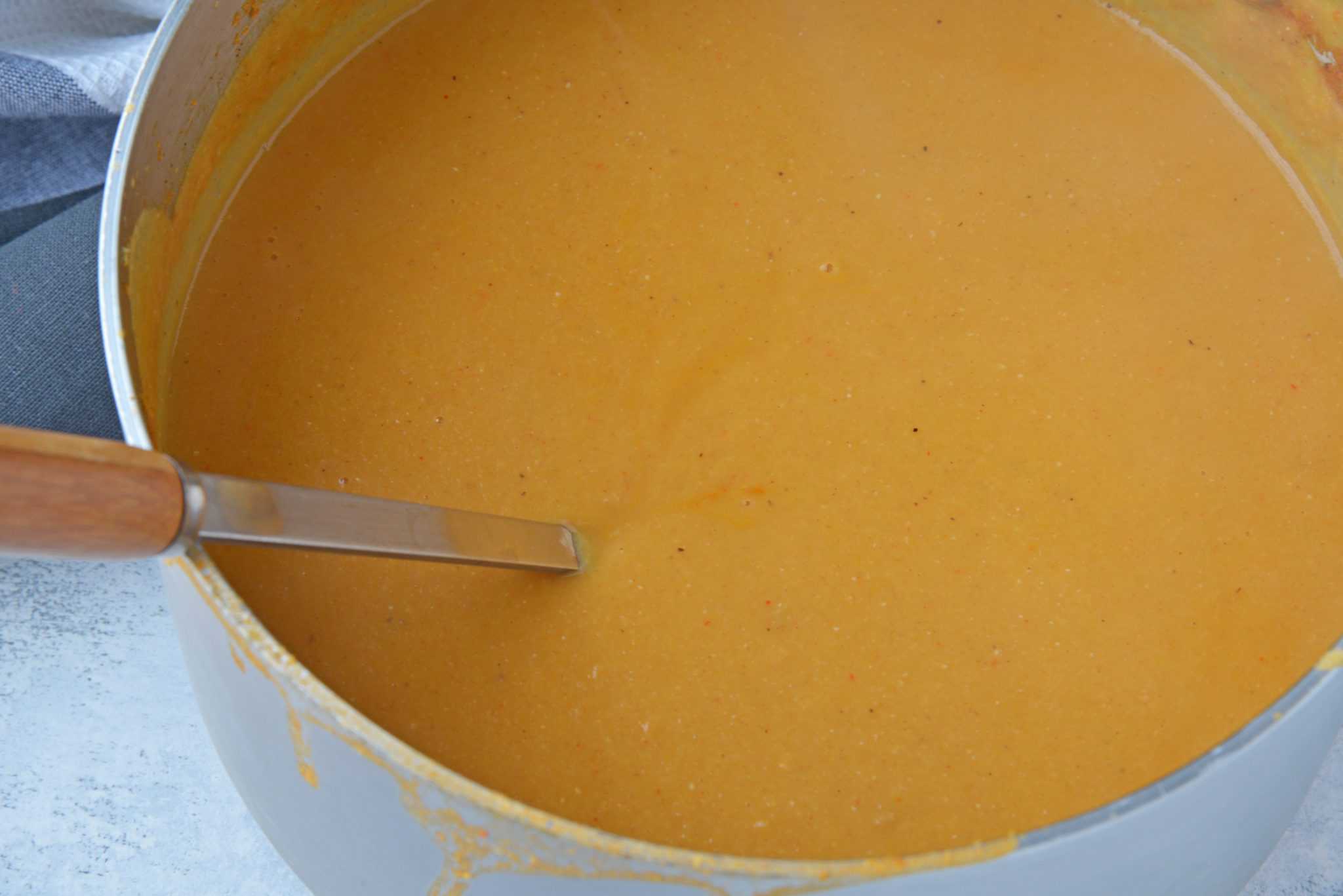 Here is a brief description on how to make lentil soup. Start out by melting the butter over medium heat, then add your onion, carrots, celery, garlic and diced tomatoes with the goal to soften the ingredients.
PRO TIP: Taste test for salt at the end of making soup.
Next add your spices and cook until fragrant. Throw in the lentils and vegetable stock and cook for about 30 minutes or until the lentils are soft. Puree and you are ready to serve!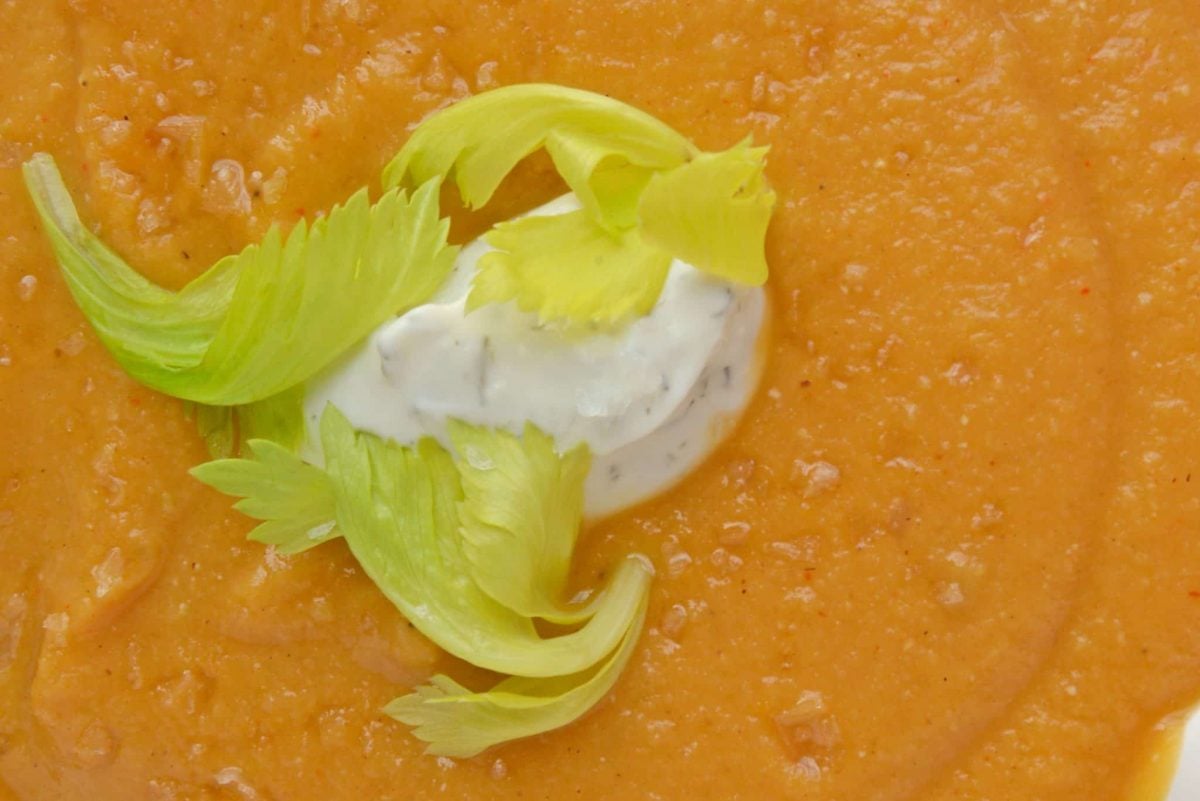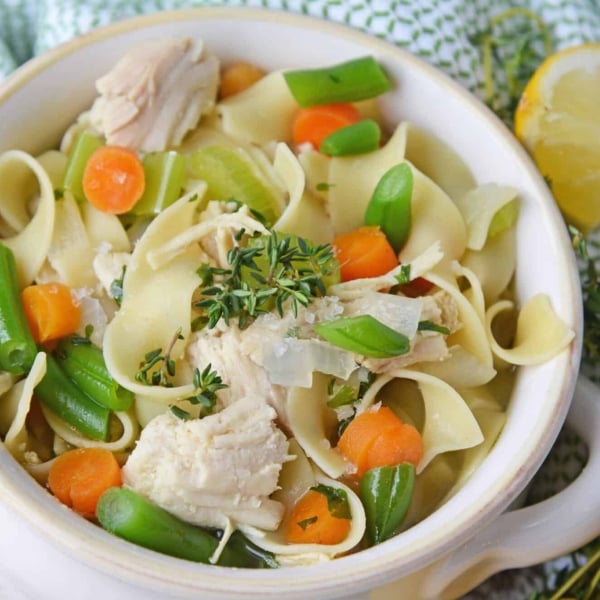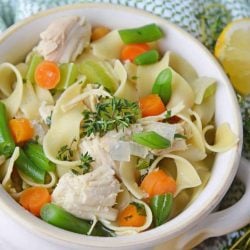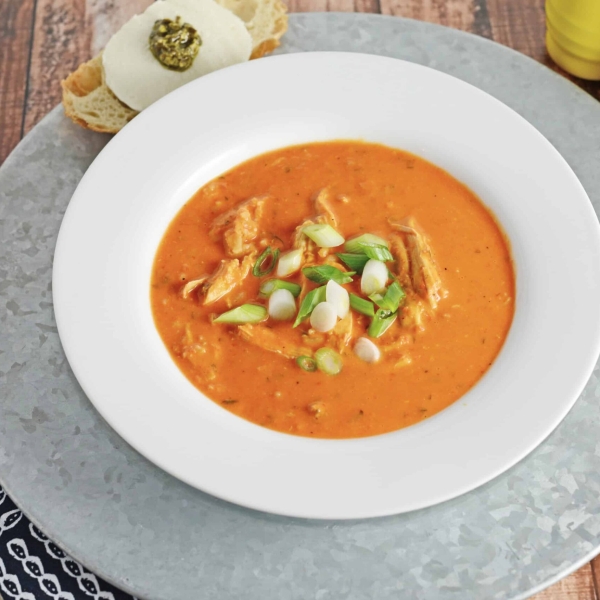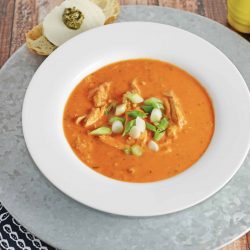 10-Minute Roasted Red Pepper and Hummus Soup
Gluten and dairy free soup made from pre-cooked items, only takes 10 minutes. Sub tofu for vegan version.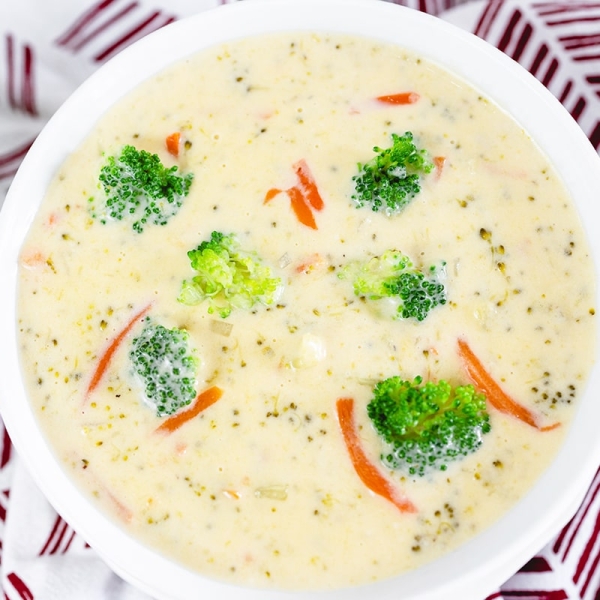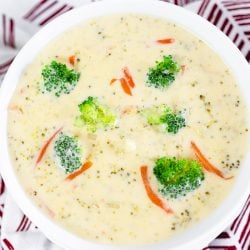 Tools for making red lentil soup:
Wood cutting board – wood won't dull your knives like plastic and if treated properly, has natural antimicrobial properties.
Good knife – Global is my favorite! They are worth the price, I promise. I am kind of obsessed with them and store them tucked away so no one else can use them. Including hubby. Hands off my good stuff!
Dutch Oven– every kitchen should have one! They are heavy. They are expensive. They are worth it!
Immersion Blender– Immersion blenders and sometimes known as stick blenders. They are easy to use and easy to clean. Since you can blend right in the cooking pot, you will have also one less thing to clean.
If you don't have an immersion blender, transfer the homemade soup to a food processor to blend and back to the cooking pot.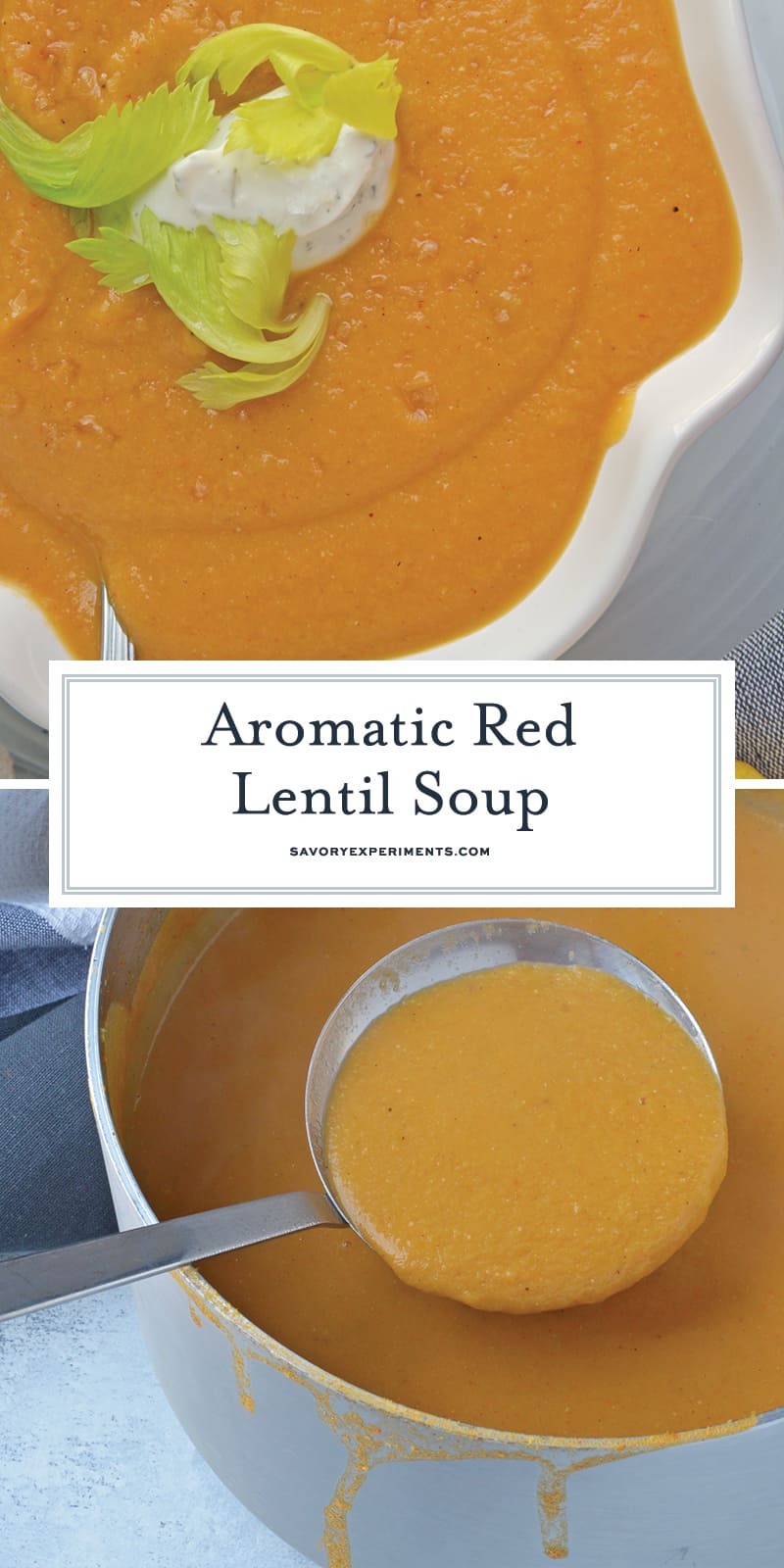 Questions you might have about how to make lentil soup:
Can I freeze lentil soup? Sure! Cook it and place it in an airtight container. It will stay good for up to 4 months. Correct seasoning with salt and pepper and citrus after thawing and right before serving.
Can I substitute green lentils or brown lentils for red? You can, but be mindful that red lentils are the softest in the family, so the texture will most likely change. You also need to cook green lentils for longer than brown or red. We have more recipes that use lentils if you want them!
Is lentil soup gluten free? This is a gluten free lentil soup recipe.
Can I make lentil soup ahead of time? You can make lentil soup in advance, but similar to freezing it, correct salt and acid seasonings before serving. Chilling utes flavors in soup considerably so while it was fine before you refrigerate it, it will dull.
What can I substitute for vegetable broth? You can use chicken broth instead. I hestitate to use plain water because this is the base and you won't have much flavor.
Can I use olive oil instead of butter? You can! I prefer butter for the creamy factor, but you can substitute a good quality olive oil. You can also give your finished bowl of soup a drizzle.
Can I add a protein to this vegetarian soup recipe? If you feel the need for protein, top it with a few steamed or pan fried shrimp. Scallops would also be a good pairing. I promise you, it is satisfying without a protein.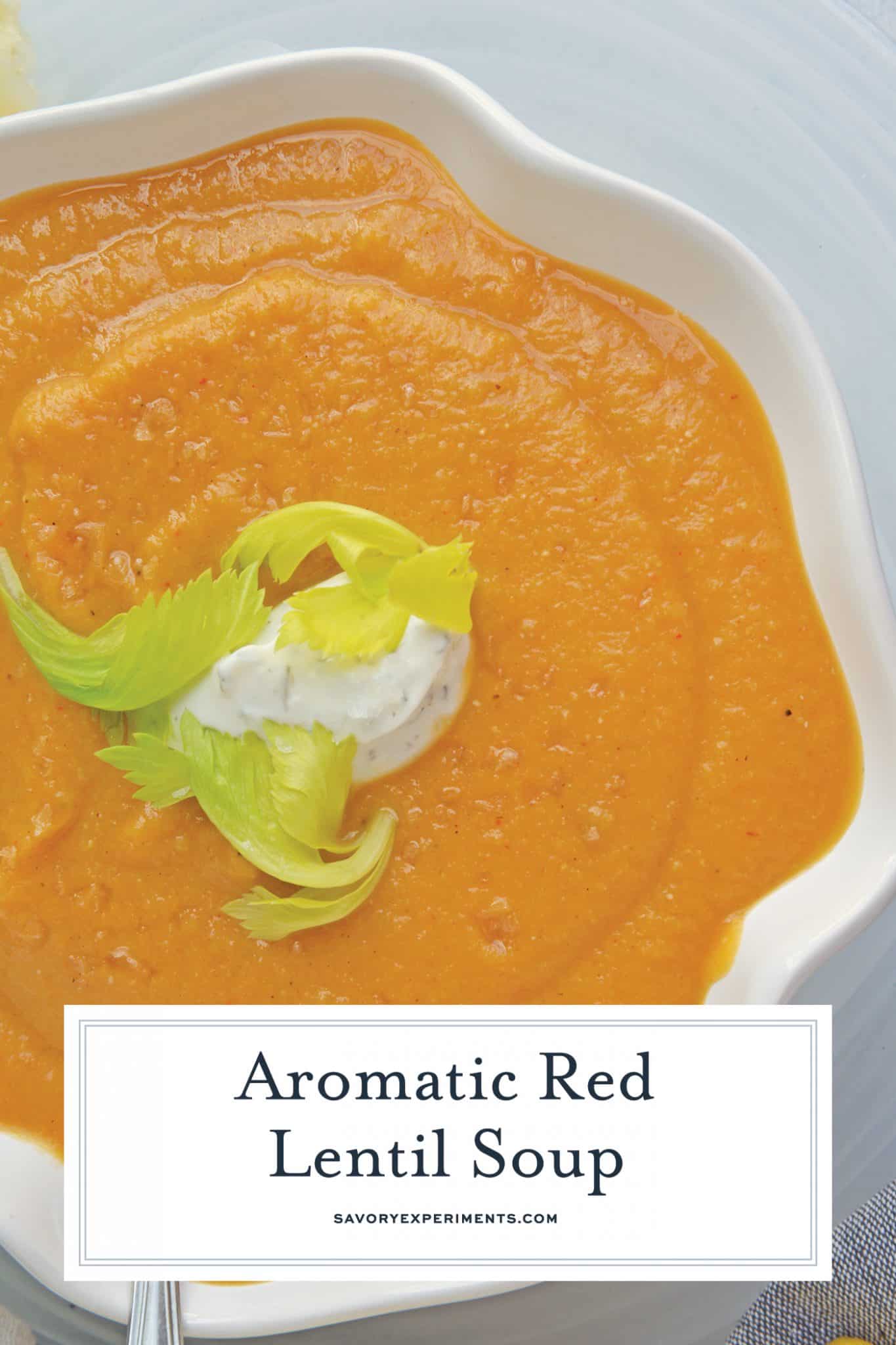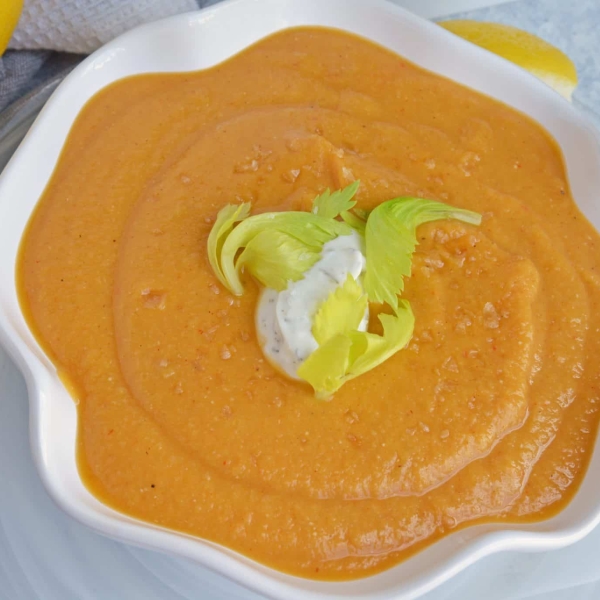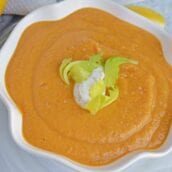 Red Lentil Soup Recipe
Red Lentil Soup is the best comfort food for a cold or rainy day. Packed full of vegetables and spices, this easy soup recipe is hearty enough for a meal.
Instructions
In dutch oven, melt the butter over medium-high heat. Add onion, carrots, celery, garlic and tomatoes. Saute over medium heat, stirring as necessary until ingredients soften, approximately 10 minutes.

Add cumin, coriander and chile powder, cook until fragrant, 3 minutes.

Add lentils and vegetable stock. Simmer over moderately low heat until the lentils are very soft, approximately 30 minutes. Stir 2-3 times to prevent lentils from sticking together.

Remove from heat and allow to cool for 10 minutes.

Using an immersion blender, puree the mixture directly in the Dutch oven. Season with fine sea salt.

Serve in a small soup bowl with a dollop of cold tzatziki in the center and fresh lemon wedges. Squeeze lemon juice onto soup right before eating.

If you've tried this recipe, come back and let us now how it was!
Notes
*If you don't have tzatziki, use plain Greek yogurt.
Nutrition
Calories:
298
kcal
,
Carbohydrates:
40
g
,
Protein:
13
g
,
Fat:
10
g
,
Saturated Fat:
4
g
,
Cholesterol:
19
mg
,
Sodium:
1415
mg
,
Potassium:
664
mg
,
Fiber:
15
g
,
Sugar:
7
g
,
Vitamin A:
4930
IU
,
Vitamin C:
22.8
mg
,
Calcium:
97
mg
,
Iron:
4
mg