This recipe is one of my favorites, I don't know why I don't make it more often. Hot soup combined with cool tzatziki and tangy lemon juice is a multi note dish your guests will rave about. It also convienantly hides veggies and legumes from those who typically do not eat these items.
Time: 1 hour
Serves: 8 as an appetizer
Ingredients for Egyptian Red Lentil Soup
1 medium white onion, chopped
3 carrots, chopped
3 celery ribs, chopped
4 garlic cloves, minced
3 vine riped tomatoes, skinned, seeded **see note
1 teaspoon ground cumin
1/2 teaspoon ground coriander
3/4 teaspoon ancho chile powder
2 cups red lentils
1 teaspoon fine sea salt
2 lemons, wedged
1 cup of prepared tzatziki (or plain Greek yogurt)

1. In dutch oven, melt the butter. Add onion, carrots, celery and garlic. Saute over medium heat, stirring as necessary until ingredients soften, approximatly 10 minutes. Add cumin, coriander and chile powder, cook until fragrant, 3 minutes. Add tomatoes and cook just until softened, 2 minutes.
2. Add lentils, 8 cups of water and fine sea salt. Simmer over moderately low heat until the lentils are very soft, 30 minutes, stirring 2-3 times throughout the process. The lentils have a tendency to stick in clumps, so you need to break them apart. Let sit 10 minutes before you go to the next step.
3. Using a stick blender, puree the mixture directly in the Dutch oven. If you do not have a stick blender, transfer to a food processor and puree. Return to Dutch oven. Continue to heat for 5 minutes.
4. Serve in a small soup bowl with a dollop of cold tzatziki in the center and fresh lemon wedges. Squeeze lemon juice onto soup right before eating. Enjoy your Egyptian Red Lentil Soup!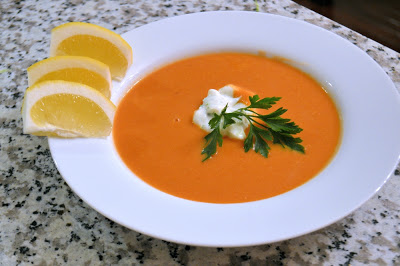 ** Note: To skin a tomato- Boil a small sauce pan of water about ¾ of the way full. Prepare a medium bowl with ice water directly to the side of the stove range. Using tongs, place the tomato in the boiling water for 5 seconds on the top and 5 seconds on the bottom. Remove from the water and using a small paring knife, cut an "X" in the bottom of the skin and place in the ice water. Repeat for all tomatoes. When finished the tomato skin should easily peel off with the tomato still raw and firm underneath. Be careful to not overcook in boiling water.
Now you want more, don't ya? Join me on
Facebook
for daily recipes and discussion, follow me on
Twitter
or see where I get some of my inspiration on
Pinterest
!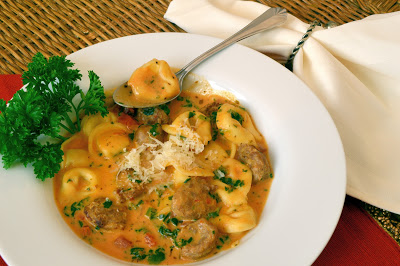 If you like this recipe, make sure to follow me on Pinterest for even more! 
Visit Savory Experiments's profile on Pinterest.