Do you love to make homemade pizza? Tomato Pesto Pizza might become your new favorite topping combination! I love pesto pizza and I love tomato pizza, so why not combine the two!?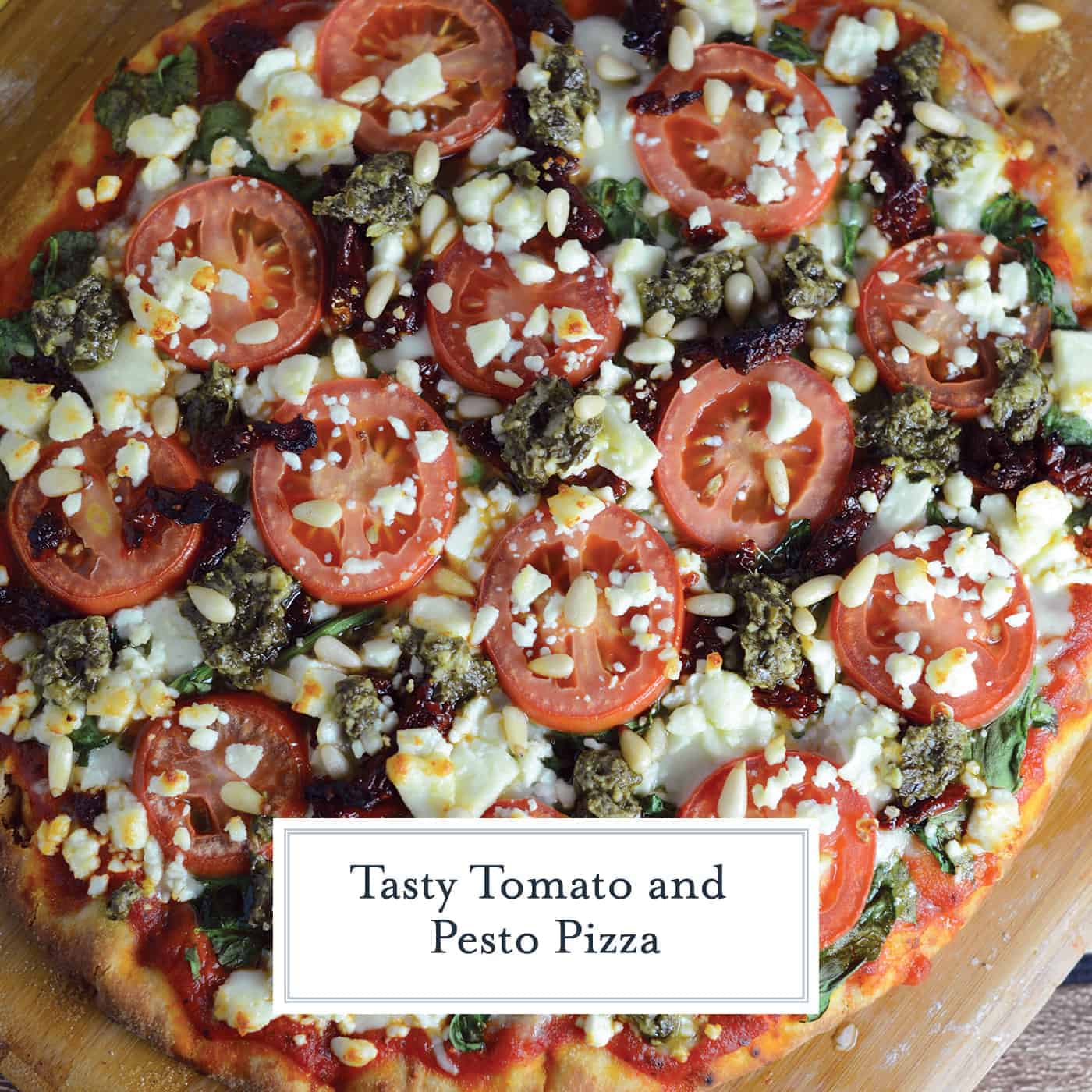 Tomato Pesto Pizza is an easy vegetarian pizza with fresh tomato slices, mozzarella and feta cheese, sun dried tomatoes, pesto and toasted pine nuts.
I do love pizza. Do you? More and more I find myself trying to come up with unique and tasty pizza creations, yet I always come to back to the basics with a tomato pie.
Tomato Pesto Pie uses three different types of tomatoes, along with two cheeses, fresh spinach, toasted pine nuts and a cool pesto finish.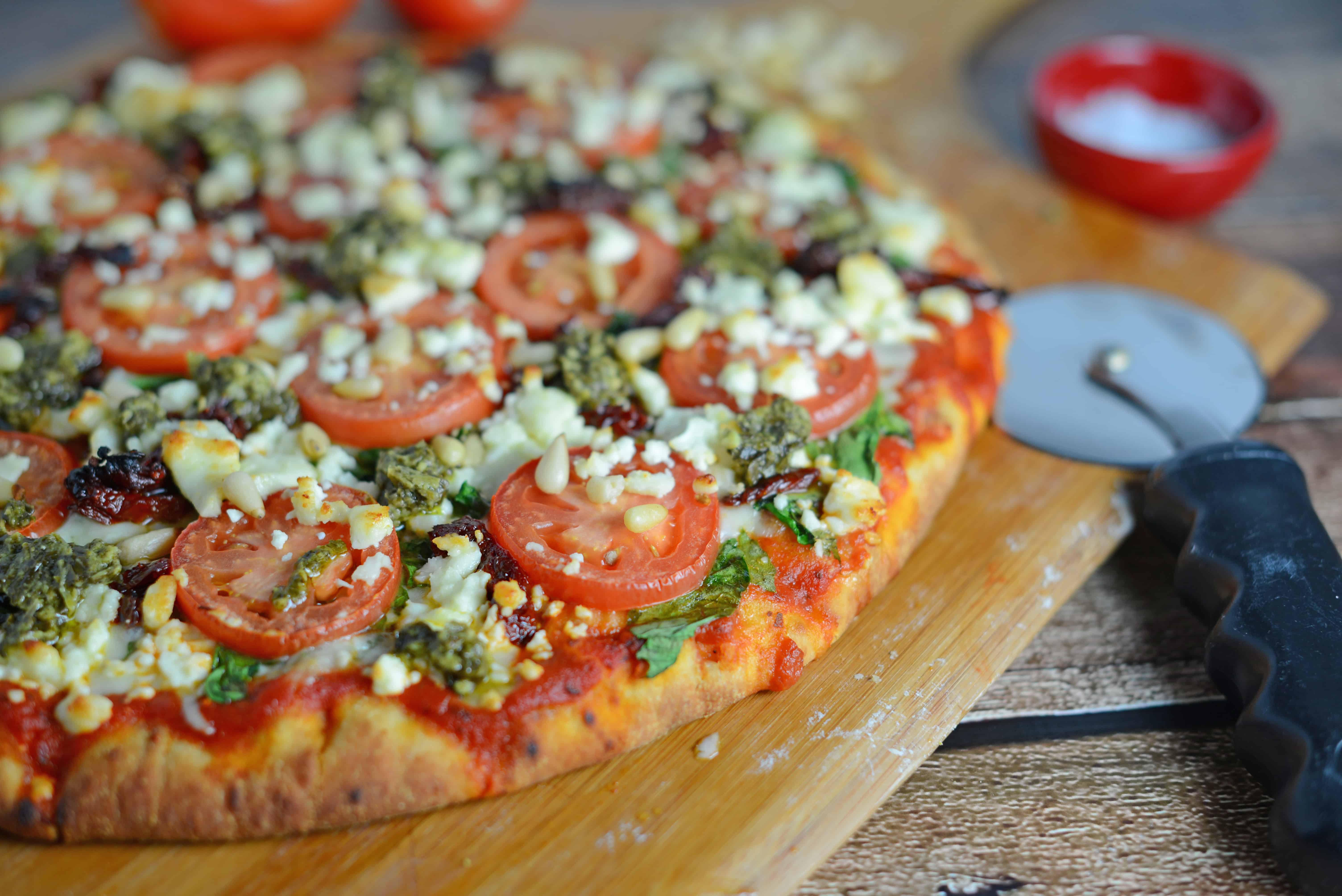 For the crust, make your own or opt for a premade store bought version. I personally love Stonefire flatbreads. They are packaged with the intention to be frozen, so I can buy a handful, freeze them and use them for a quick, weeknight meal.
PRO TIP: Using different varieties of tomatoes adds texture and flavor variety to elevate an otherwise basic pizza recipe.
If I'm using a fresh dough, having a pizza stone
is a must! I also find having a bread peel to be very useful. If you don't, you can always use a flat baking sheet
or flip over a rimmed sheet pan
. Clearly, fresh dough won't do so well when placed directly onto the rack.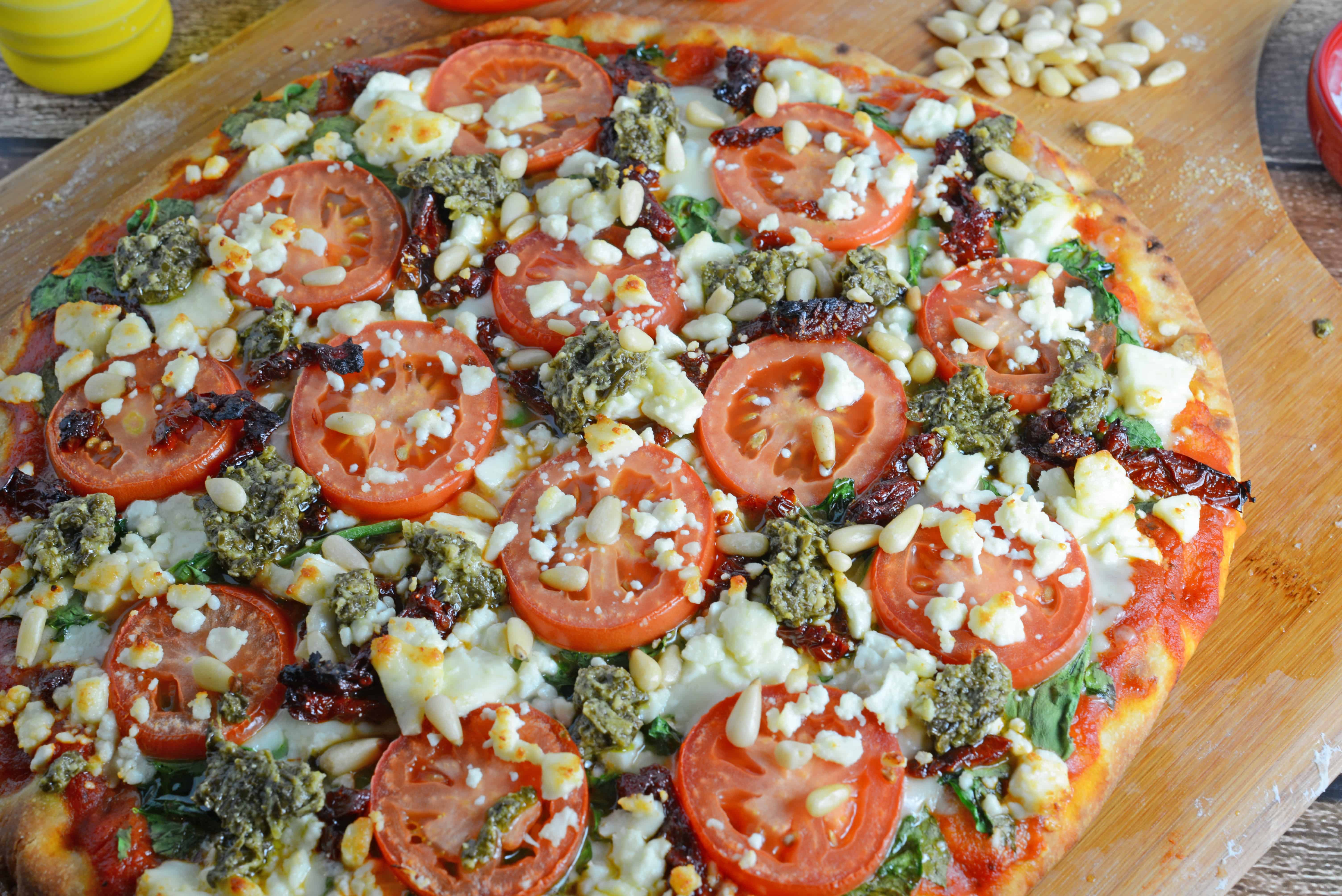 Also, using a low moisture mozzarella will prevent excess water making your crust soggy, but still make your pizza super cheesy!
PRO TIP: Use a small amount of cornmeal on your pizza peel or the baking stone, or both, to easily transfer the pizza back and forth.
These same toppings can be used for calzones, French bread pizzas or even on pasta. Three types of tomatoes and several greens really make a mouthwatering flavor bomb.
Pesto pizza topping can vary greatly and quite frankly, don't even feel like you have to follow any one recipe. For quick meals like this, I typically use a store bought pizza dough and jarred tomato sauce, but you can also use my 30-minute marinara.
If you are someone in your family is allergic to tree nuts, go ahead and omit the pine nuts. To get the most flavor out of pine nuts, also known as pignolia in Italian, brown them in a small frying pan first. It releases the natural oils and brings out the most flavor. You'll even smell their fragrance as you warm them.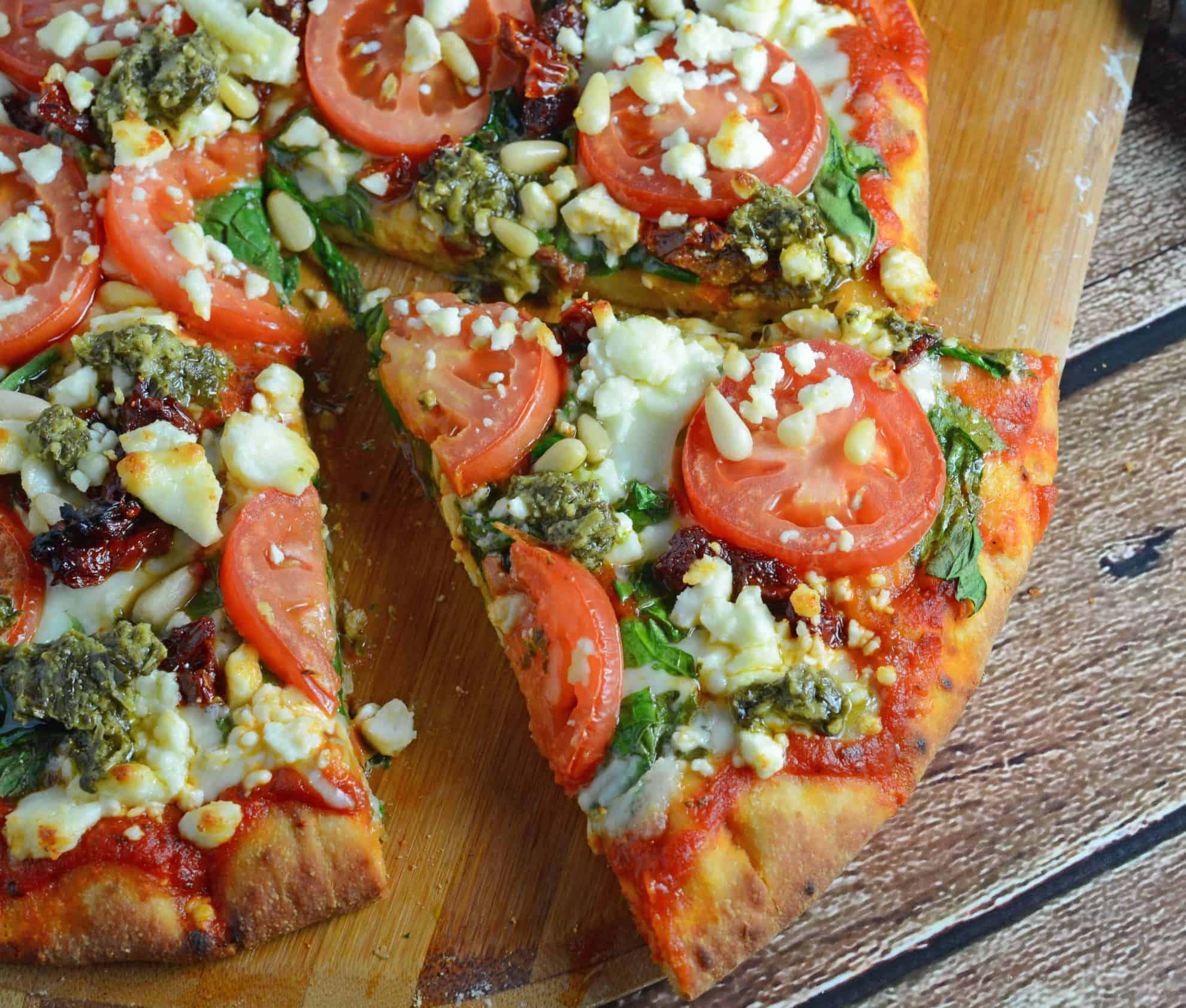 If you like this homemade pizza recipe, you'll love these others: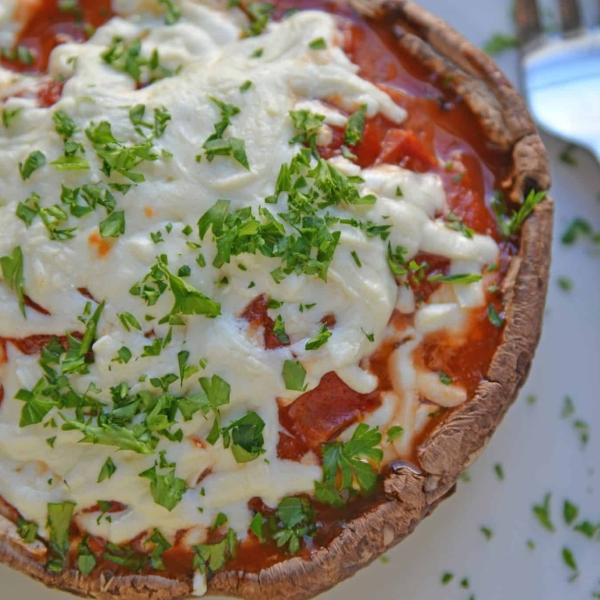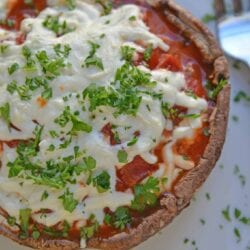 Quick Portabella Pizzas
This Quick Portabella Pizza is the ultimate low carb pizza and easiest stuffed portabella recipe with only 4 ingredients and ready in 20 minutes!
View this recipe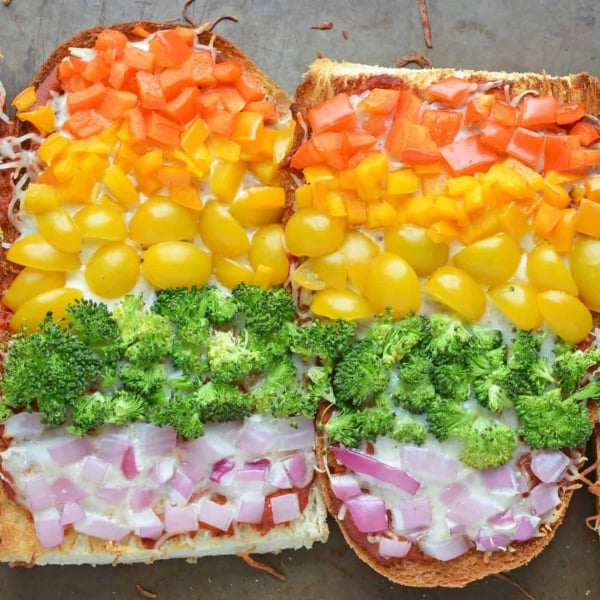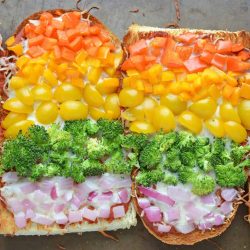 Rainbow French Bread Pizza
Rainbow French Bread Pizza is the perfect easy pizza recipe using pizza sauce and colorful fresh vegetables. Make this into a St. Patrick's Day pizza or have it any other time of the year!
View this recipe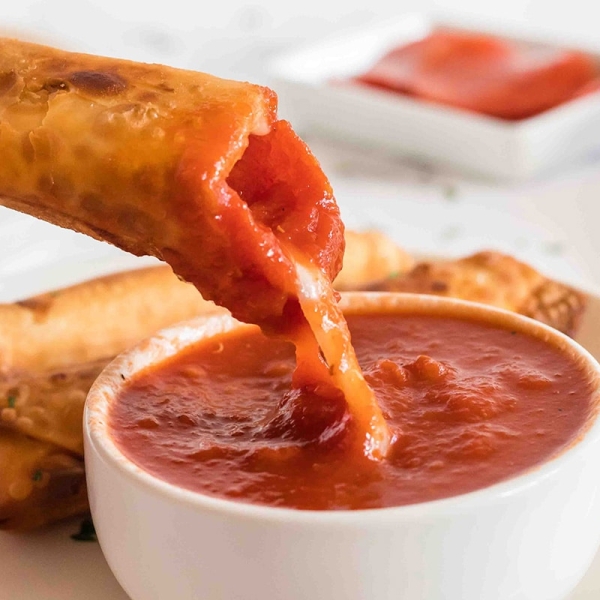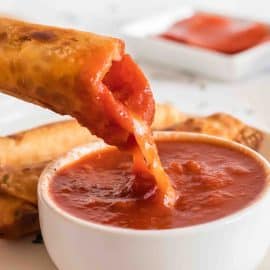 Pizza Logs
Crispy egg roll wrappers stuffed with gooey mozzarella cheese and zesty pepperoni, fried to a golden brown and dipped in marinara sauce.
View this recipe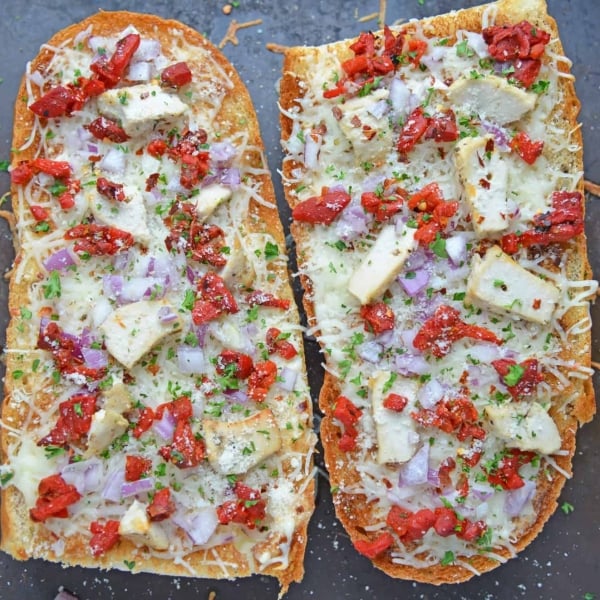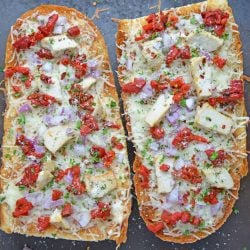 French Bread Alfredo Pizza
If you're looking for a homemade pizza recipe, look no further than this French Bread Alfredo Pizza. It's basically like chicken alfredo in pizza form!
View this recipe
Tools needed for making homemade pizza:
Pizza Cutter
– I used to swear I didn't need one, but I do!
Pizza Rocker
– If you are cutting a lot of pies, a pizza rocker is actually a better buy.
Rolling Mat– For rolling out any dough or cookies or just protecting your counters and work space!
Pizza Peel-
Perfect for transfering your freshly made vegetable pizza from the rolling mat to a hot pizza stone in the oven! Add a little cornmeal to the bottom so it easily slides on and off. I prefer wood, which also doubles as a kitchen accessory hanging on my wall.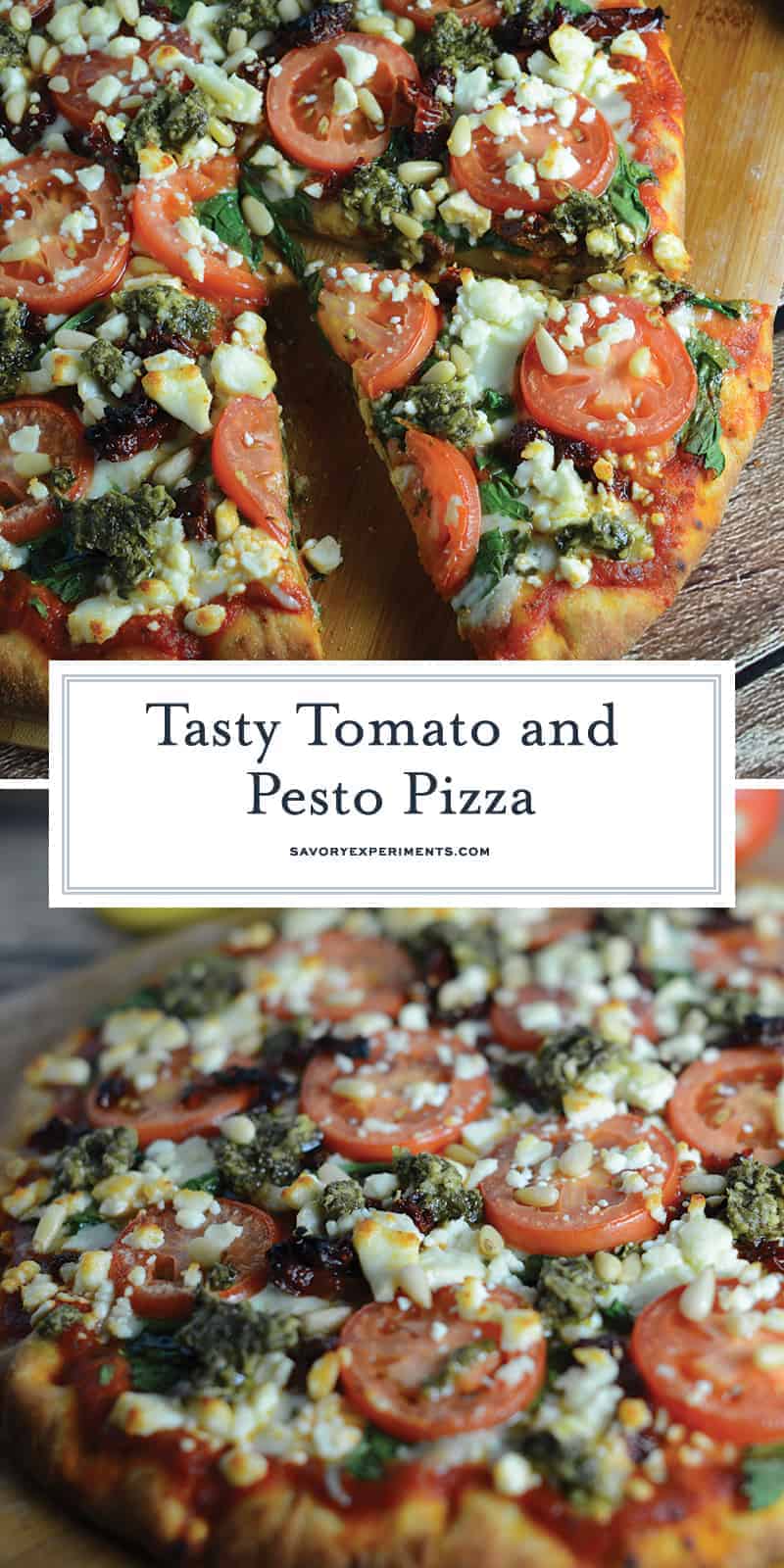 And lastly, in review, a few tips for making pizza at home:
Use a HOT oven. Some pizza ovens reach up to 800 degrees, sometimes even more, so try to get yours to at least 400 degrees.
Use a pizza stone and make sure you preheat it in the oven. The stone will get rid of some of the moisture, making sure your pizza crust nice and crispy.
Dust the pan with cornmeal, it not only helps with a crispy crust, but also with transferring it back and forth.
Refrigerate dough before baking, it is much easier to work with a cold dough than a room temperature one.
Stretch, don't roll your dough. You don't have to toss it in the air like at a pizza parlor, but use the stretching method.
Only use a thin layer of tomato sauce. Too much will result in a mushy crust.
Part skim mozzarella or one labeled "low moisture" is best for pizza because it doesn't have excess moisture to get your crust all yucky.
Rotate your pizza while cooking. All ovens have cool and hot spots, for best results, rotate at 180 degrees at least half way through cooking.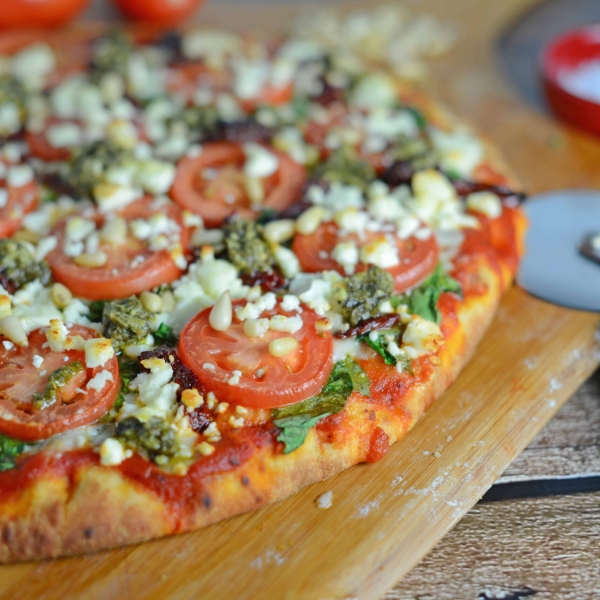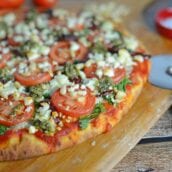 Tomato and Pesto Pizza
Tomato Pesto Pizza is an easy vegetarian pizza with fresh tomato slices, mozzarella and feta cheese, sun dried tomatoes, pesto and toasted pine nuts.
Instructions
Preheat oven to 400 degrees. If you using fresh dough and pizza stone, preheat pizza stone in the oven.

Arrange crust, flatbread or dough on work space.

Evenly spread marinara sauce over crust, top with mozzarella cheese, spinach, feat, sun dried tomatoes and roma tomato slices.

Bake for 8-12 minutes, or until cheese is melted and crust is lightly browned.

Remove and top with dollops of pesto and sprinkle with pine nuts. Allow to rest for 5 minutes before slicing and serving.

If you've tried this recipe, come back and let us know how it was!
Nutrition
Calories:
528
kcal
,
Carbohydrates:
58
g
,
Protein:
22
g
,
Fat:
23
g
,
Saturated Fat:
9
g
,
Cholesterol:
33
mg
,
Sodium:
1247
mg
,
Potassium:
483
mg
,
Fiber:
3
g
,
Sugar:
7
g
,
Vitamin A:
1590
IU
,
Vitamin C:
9.1
mg
,
Calcium:
433
mg
,
Iron:
4.4
mg