Easy Calzone Recipe
Calzone night is one of my family's favorite. I cut the dough into triangles and chop up all the ingredients. Everyone gets to make their own special creation and there is zero whining about "I don't want *^(R^T!"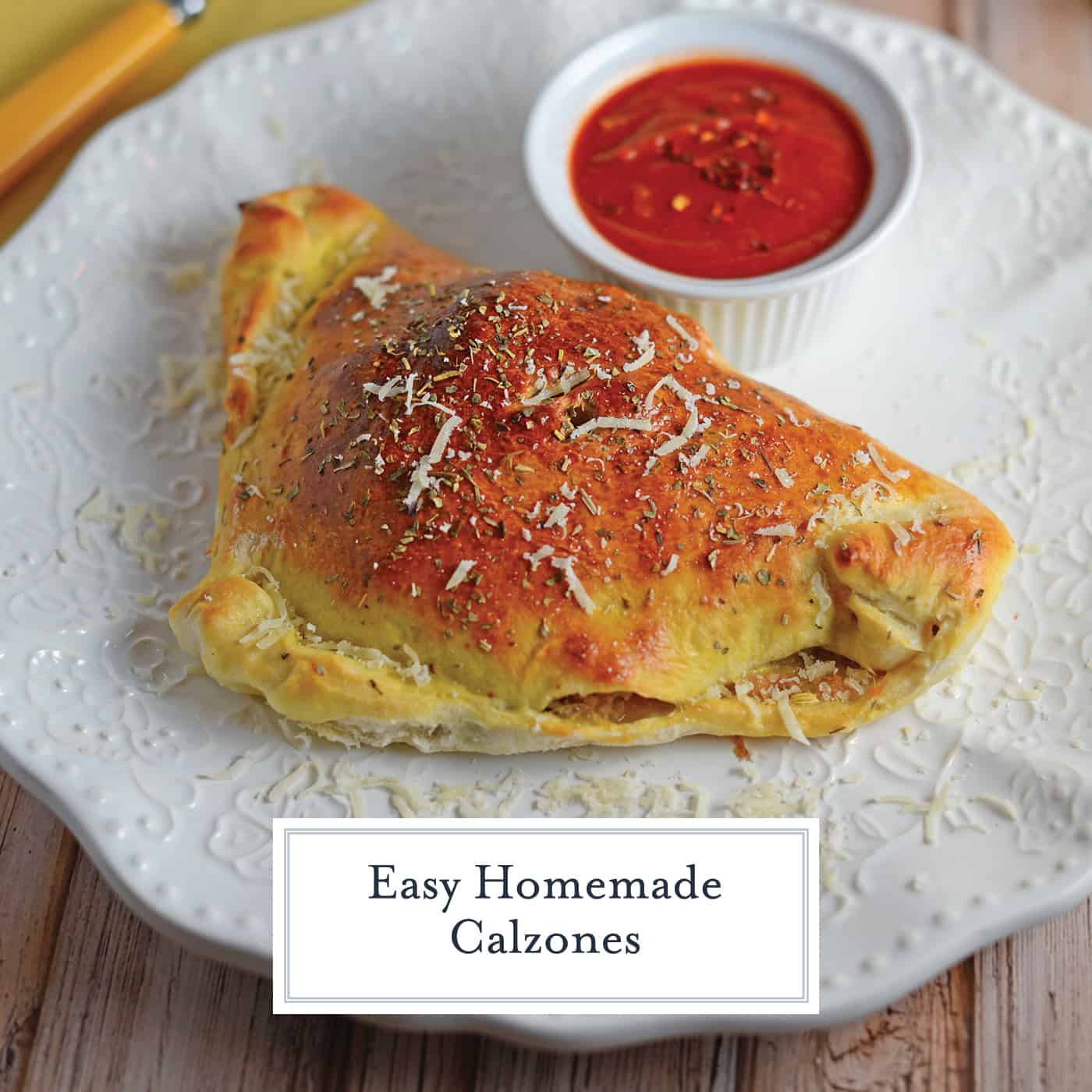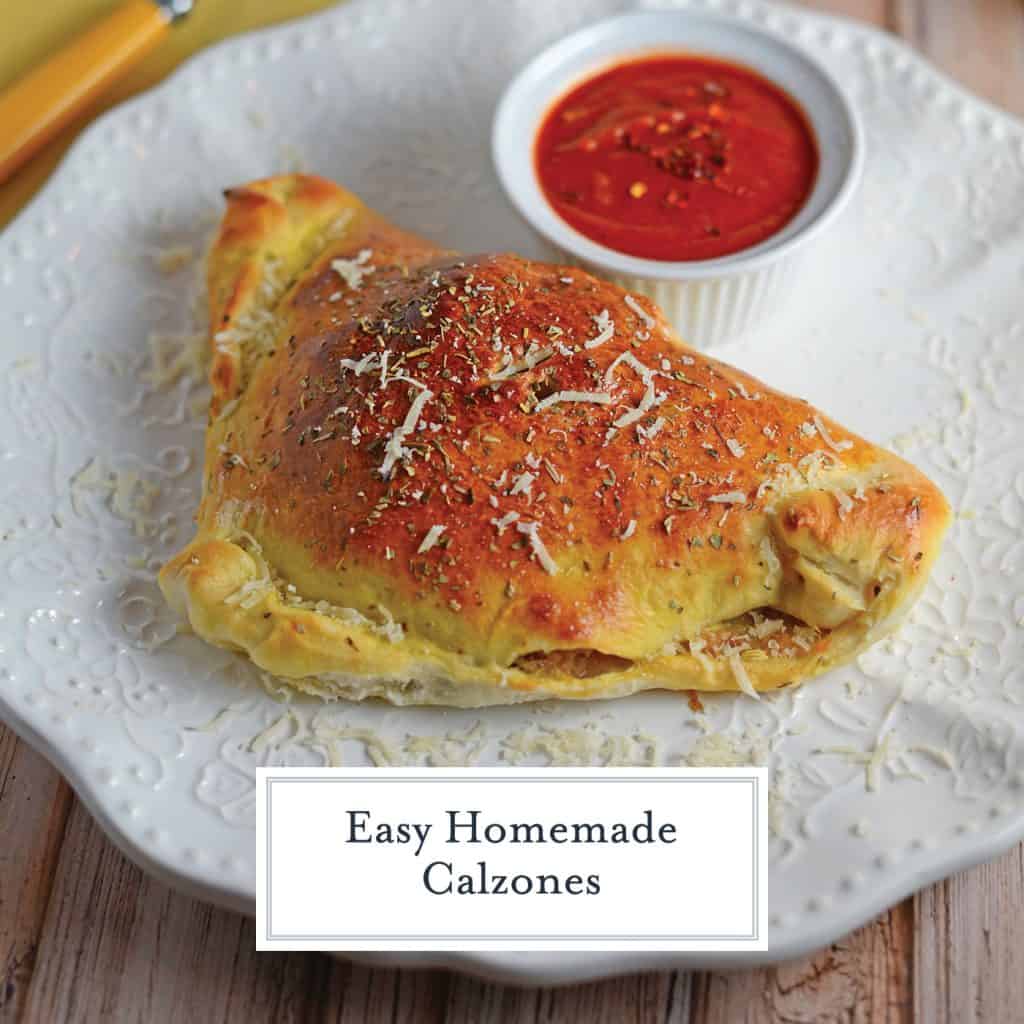 Easy and Cheesy Homemade Calzones are perfect for a family meal at home. Get the kids involved and have a calzone bar!
Easy Calzones are another "mommy" recipe and now a favorite of my husband who squeals like a pig when he knows it is calzone night.
They are a kid friendly cooking experience that allow each family member to make their own unique creation.
I find that individuals enjoy what they are eating when they have a sense of accomplishment and take pride in their food. And gosh darn it, who doesn't like calzones?
Answer: NO ONE!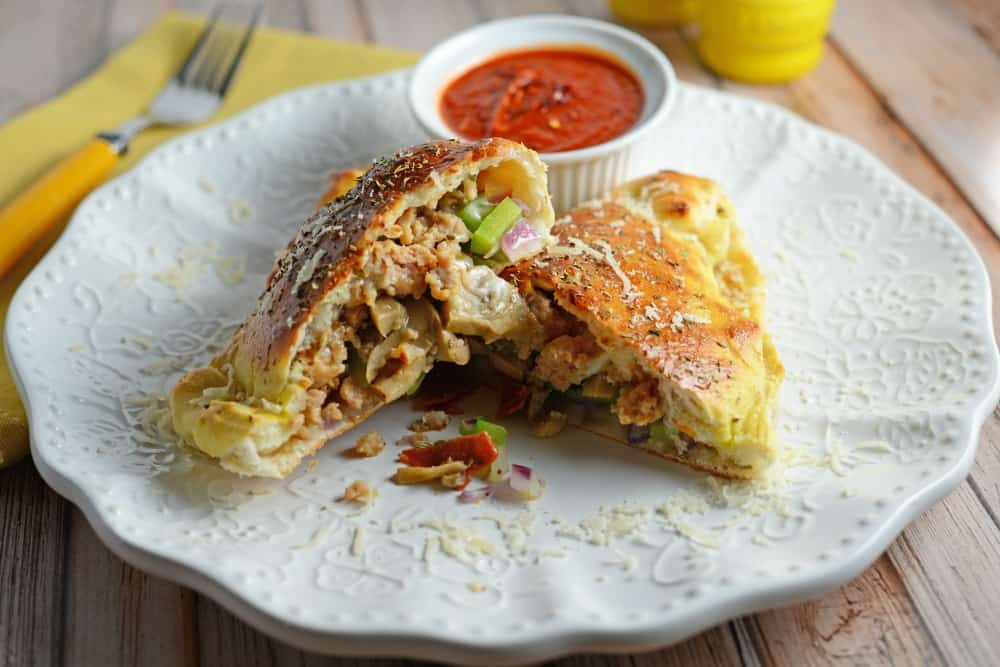 Set up all stuffing options along the side of the dough and allow each person to make their own calzone. I use small airtight containers so that I can easily pop the top on and clean up after everyone is done creating their masterpiece.
There are two ways to uniquely identify them. Either soak toothpicks in water and stick in the top in a unique shape or number, or slide just under.
For example, dad's calzone has three toothpicks, mom's has two.
Or you can make fun designs hashed on the top to allow the steam to release. Just make sure they aren't too ornate or big or else your stuffing will come bubbling out during the cooking process.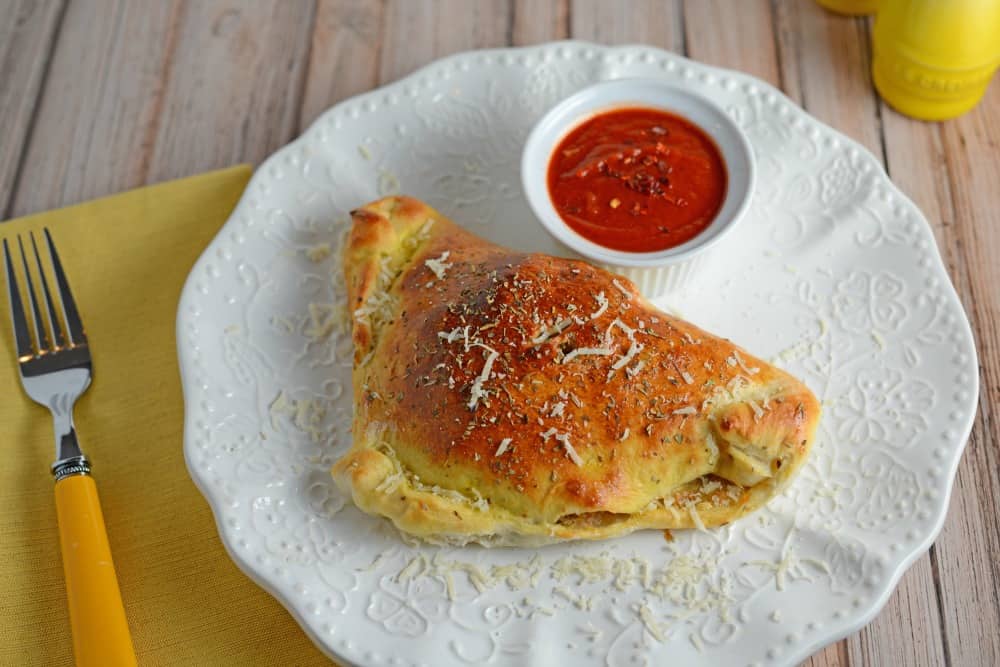 I often get asked what the difference is between calzones versus stromboli and the easy answer is very little. Both are pizza dough stuffed with cheese and marinara sauce.
However stromboli is generally rolled into a log shape and then sliced, while calzones are folded in half to a semi-circle or triangle shape.
FACT: There is much debate about whether a true calzone has marinara sauce on the inside or just for dipping.
Regardless of whether you are making a calzone or a stromboli, one thing is your enemy here. MOISTURE!
Moisture will make your precious pizza dough soggy and yuck. There are a couple of ways to prevent soggy pizza dough.
Make sure the ingredients that naturally hold moisture are as dry as possible. Drain, saute and even dab with a paper towel before adding to your calzone.
Use a low moisture cheese. Many cheese have a lot of water. Use a hard cheese like Parmesan or Pecorino Romano or look for "low moisture" on the packaging.
Using a sharp knife, cut slits in the top of your calzone. This will allow the steam to release. You can also make fun patterns to mark each individual's calzone.
Use a pizza stone. Pizza stones are great for keeping the underside nice and crunchy.
Dust the pizza stone or baking sheet with corn meal to soak up moisture and create a slight elevation allowing moisture to release and hot air to flow.
Cook to nice golden brown!
Have fun creating your Easy Calzones. Put on some fun music and have a family dance party while you are at it.
If you enjoyed this homemade calzones recipe, be sure to check out these other easy homemade recipes:
Tools for making this Easy Calzones Recipe:
Pizza Stone – for more than just pizza! Reheating anything with a crispy crust or baking bread. I like the rectangular ones, but round works too.
Rolling Mat– For rolling out any dough or cookies or just protecting your counters and work space!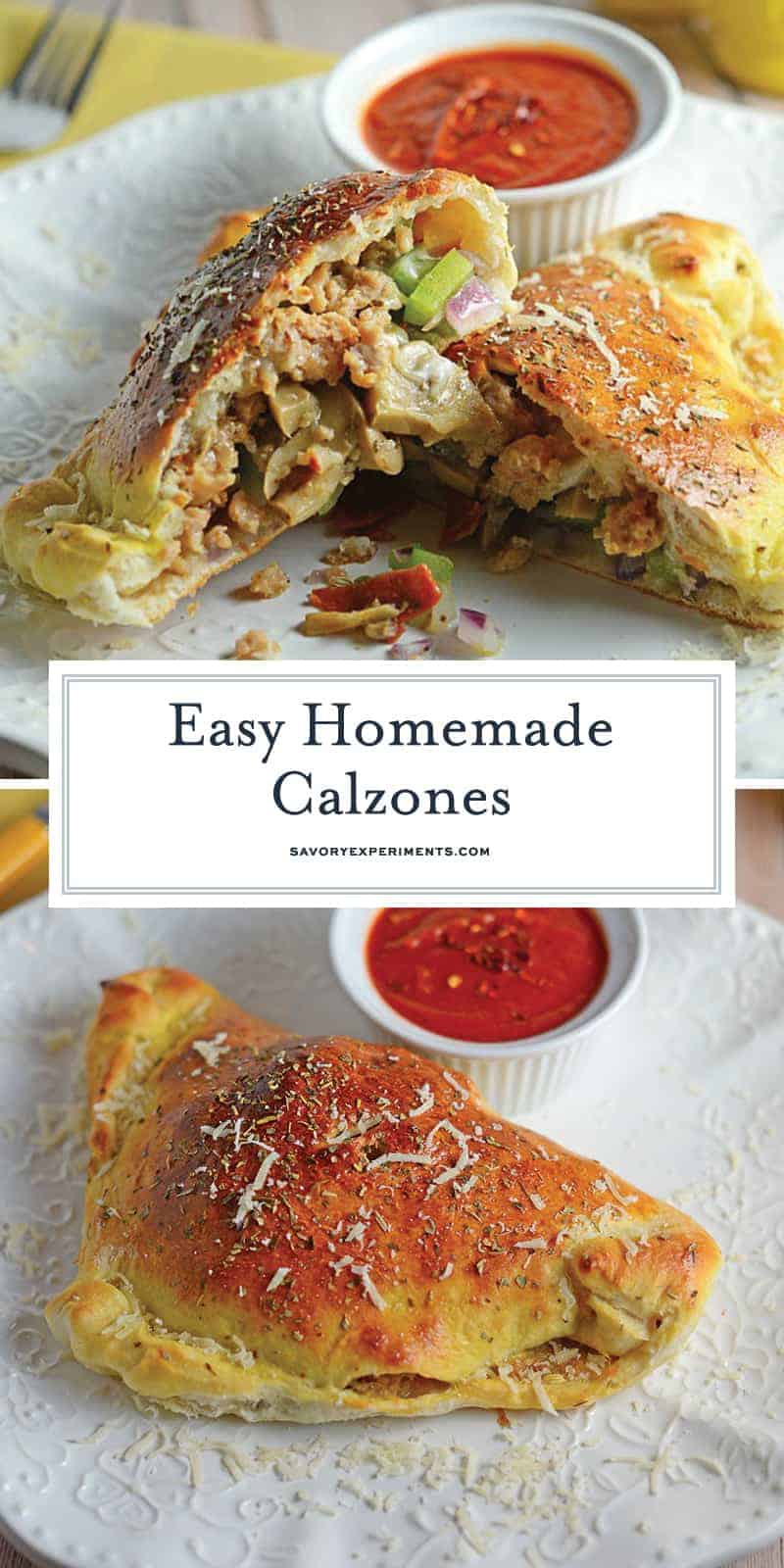 Questions you might have about how to make calzones:
What can I put in my calzone? The possibilities for calzone toppings are endless, but here are a few of my favorites:
Mushrooms (canned and drained or fresh and sauted- either way, get excess moisture out)
Bell peppers
Fresh tomatoes (squeeze out pulp)
Onion
Garlic
Sausage
Pepperoni
Banana Peppers
Black olives
Broccoli (blanched)
Lots of cheese!
Bacon
Artichokes (drained)
Bacon or ham
Fresh or dried herbs and spices
Crushed red pepper flakes
Pineapple
Jalapenos or other hot peppers
What kind of cheese can I use in my calzone? Any type you want! Here are my favorites for classic calzones, but you can get fancy and creative using whatever you'd like!
Mozzarella (low moisture)
Asiago
Ricotta (drained well)
Parmesan
Pecorino Romano
Provolone
Do I have to use marinara sauce (tomato sauce)? Nope! You can use an alfredo sauce, garlic sauce or no sauce at all. You pick! You can buy jarred marinara or make my quick 30 minute marinara.
Do I have to make my own pizza dough? No, in fact, I prefer a store bought dough. It just makes getting dinner on the table that much easier.
Can I make calzones in advance? You can! You can either make them and then bake when ready or even cook them and just reheat. The pizza stone works wonders for reheating and keeping the dough tasting freshly baked.
Can I freeze calzones? You sure can! I mean, that is basically what a hot pocket is, right? Baked the calzone how you like, allow it to cool complete so the condensation doesn't pool in the freezer bag.
Then package and freeze for up to 6 months. Simply heat in a 350 degree oven for about 15 minutes.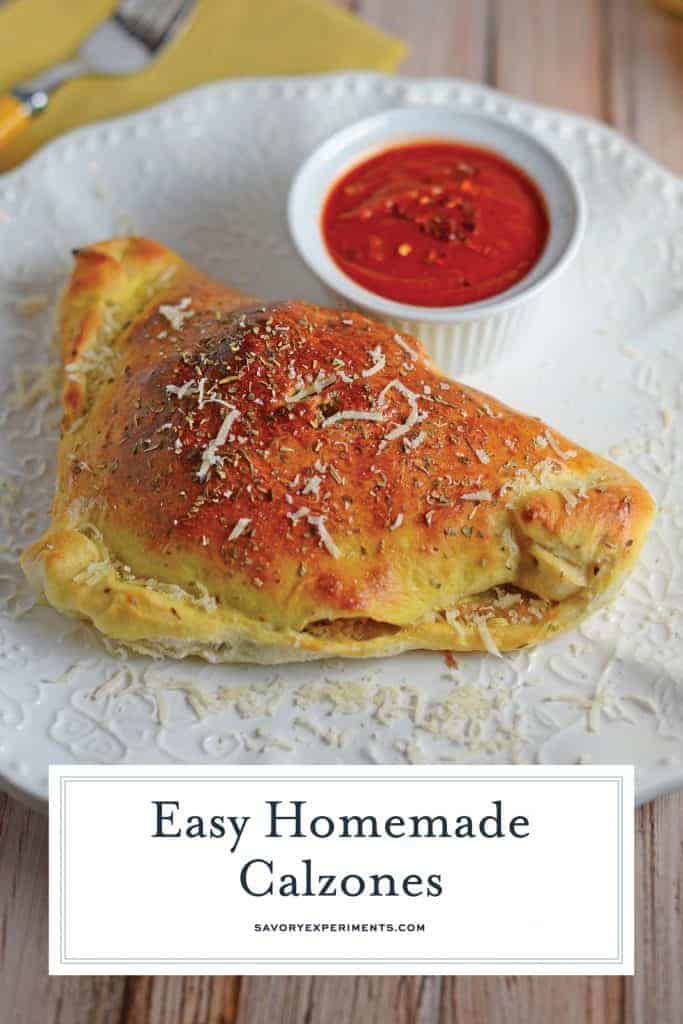 If you liked this Easy Dinner Recipe, snag a copy of my Easy Dinner Recipes Mini-Cookbook. Available here for only $0.99, here is a small collection of time-saving, hearty and satisfying dinners guaranteed to get you in and out in 30 minutes or less!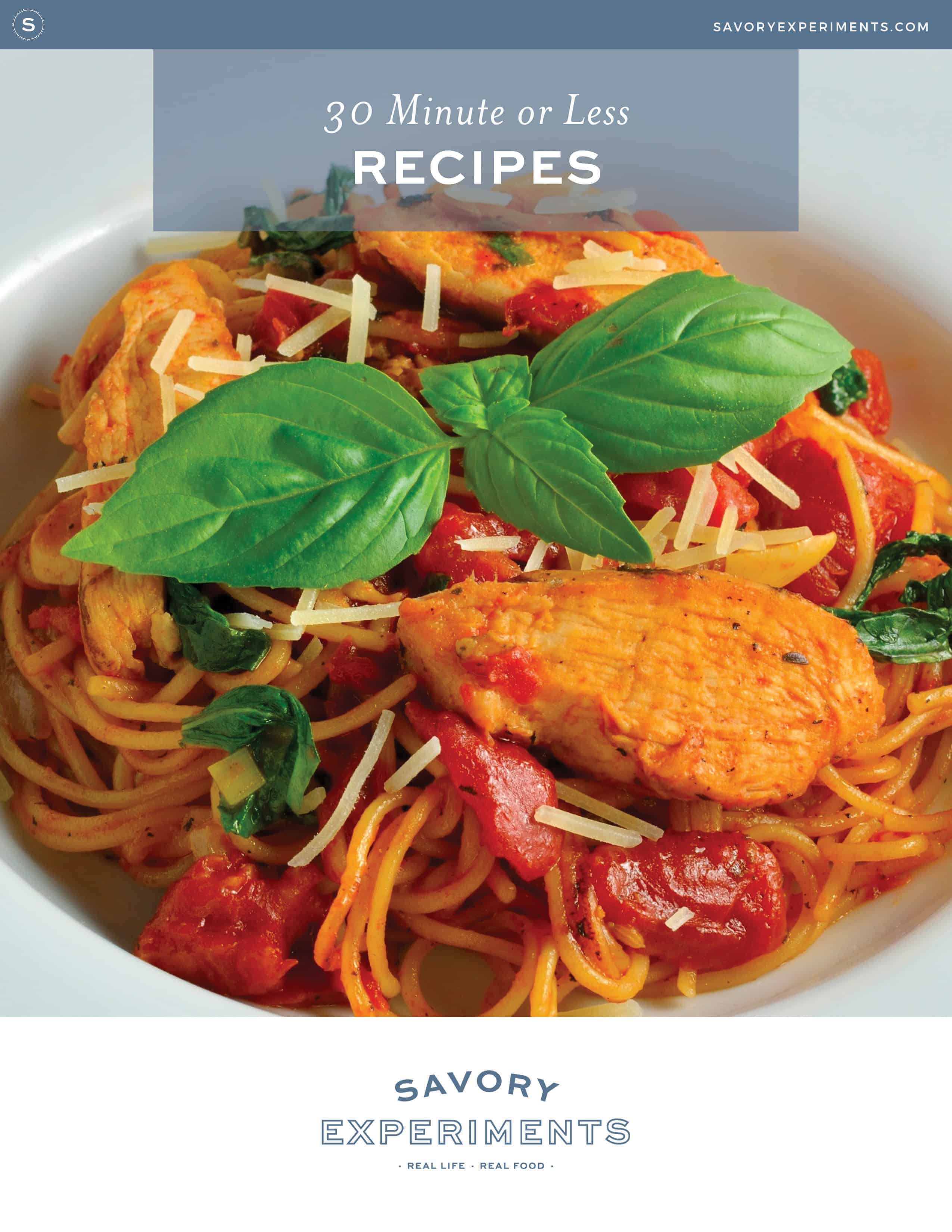 CONNECT WITH SAVORY EXPERIMENTS!

Be sure to follow me on social media, so you never miss a post!

Facebook | Twitter | Youtube
Pinterest | Instagram

Get our FREE 8 Day E-Course on How to Be a Better Home Cook. Sign up HERE!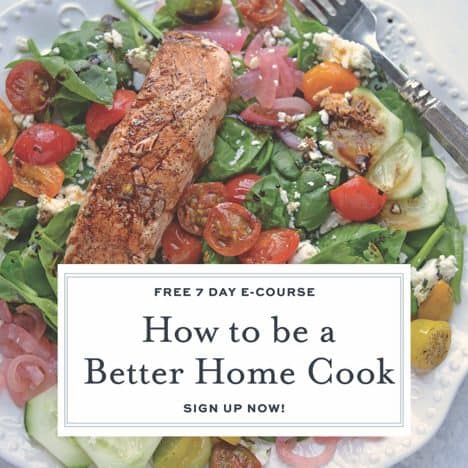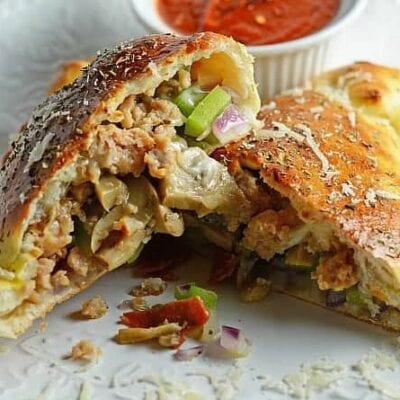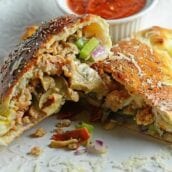 Print Recipe
Easy Calzones
Easy Homemade Calzone Recipe- With just a handful of ingredients, you'll be devouring these calzones in no time! Create a "make your own calzone bar" for a crowd or kids party.
Ingredients
1

tablespoon

corn meal

1

tube refrigerated pizza dough

2

cups

marinara sauce

2

links of Italian turkey sausage

cooked and crumbled, mild or spicy

1/2

cup

turkey pepperoni slices

cut into quarters

1

cup

mozzarella cheese

shredded

1/3

cup

diced green bell pepper

1/3

cup

diced red onion

1

small can of drained mushrooms

stems and pieces, cut

1

small can of black olives

drained

1

tablespoon

Italian seasoning

1

teaspoon

garlic powder

1

egg yolk

whisked

Parmesan Reggiano cheese

grated
Instructions
Heat oven to 400 degrees. Prepare pizza stone or baking sheet by dusting with cornmeal.

Roll out pizza dough to approximately 18×12 inches. It does not have to be exact.

Sprinkle the Italian seasoning and the garlic powder over the dough. Allow each family member or guest to build their own calzone by placing stuffers in the corner of one square of dough about 1/2 inch in. Top each with 1 tablespoon of mozzarella cheese (not too much) and a tablespoon of marinara sauce.

Fold dough over the tops and pinch together the seams. Using a very sharp knife, cut three one inch slits in the tops to allow the steam to escape. If you have holes, patch them using excess dough from corners.

Whisk egg yolk with a sprinkle of water and brush over the tops. Sprinkle with additional Italian seasoning.

Bake for 14-18 minutes, or until tops are lightly browned.

Heat remaining marinara sauce for dipping.

Remove calzones from oven and allow to sit for 3-5 minutes before serving. Top with marinara sauce and Parmesan Reggiano cheese. Crushed red pepper is optional for all you spice lovers!

If you've tried this recipe, come back and let us know how it was!
Nutrition
Calories:
544
kcal
|
Carbohydrates:
58
g
|
Protein:
36
g
|
Fat:
19
g
|
Saturated Fat:
7
g
|
Cholesterol:
149
mg
|
Sodium:
2427
mg
|
Potassium:
732
mg
|
Fiber:
4
g
|
Sugar:
11
g
|
Vitamin A:
865
IU
|
Vitamin C:
9.9
mg
|
Calcium:
202
mg
|
Iron:
6.1
mg