Sometimes I like to get out of my usual pepperoni pizza rut and get crazy with a gourmet pizza. Caribbean Jerk Chicken Pizza is one of my favs read why!
Caribbean Jerk Chicken Pizza is an easy homemade pizza recipe using spicy chicken, fresh vegetables and a touch of honey.
While visiting my aunt in the Rocky Mountains, we frequent a special pizza place that makes an inventive pizza using the magic touch of honey.
Between visits I crave the sweet, spicy and salty Caribbean Jerk Chicken Pizza. I decided to start making it at home to curb my cravings between visits.
The biggest tip for making jerk chicken pizza is to use a hearty crust, either pre-baked or make a thicker crust from pizza dough.
The toppings are heavy and need a good base. I've attempted it with a cauliflower pizza crust, but it just isn't sturdy enough.
And for this hearty crust, or any pizza crust really, you'll need the proper cooking equipment, since I'm doubting you have you a pizza oven in your home. If you do, I'm am very, very jealous.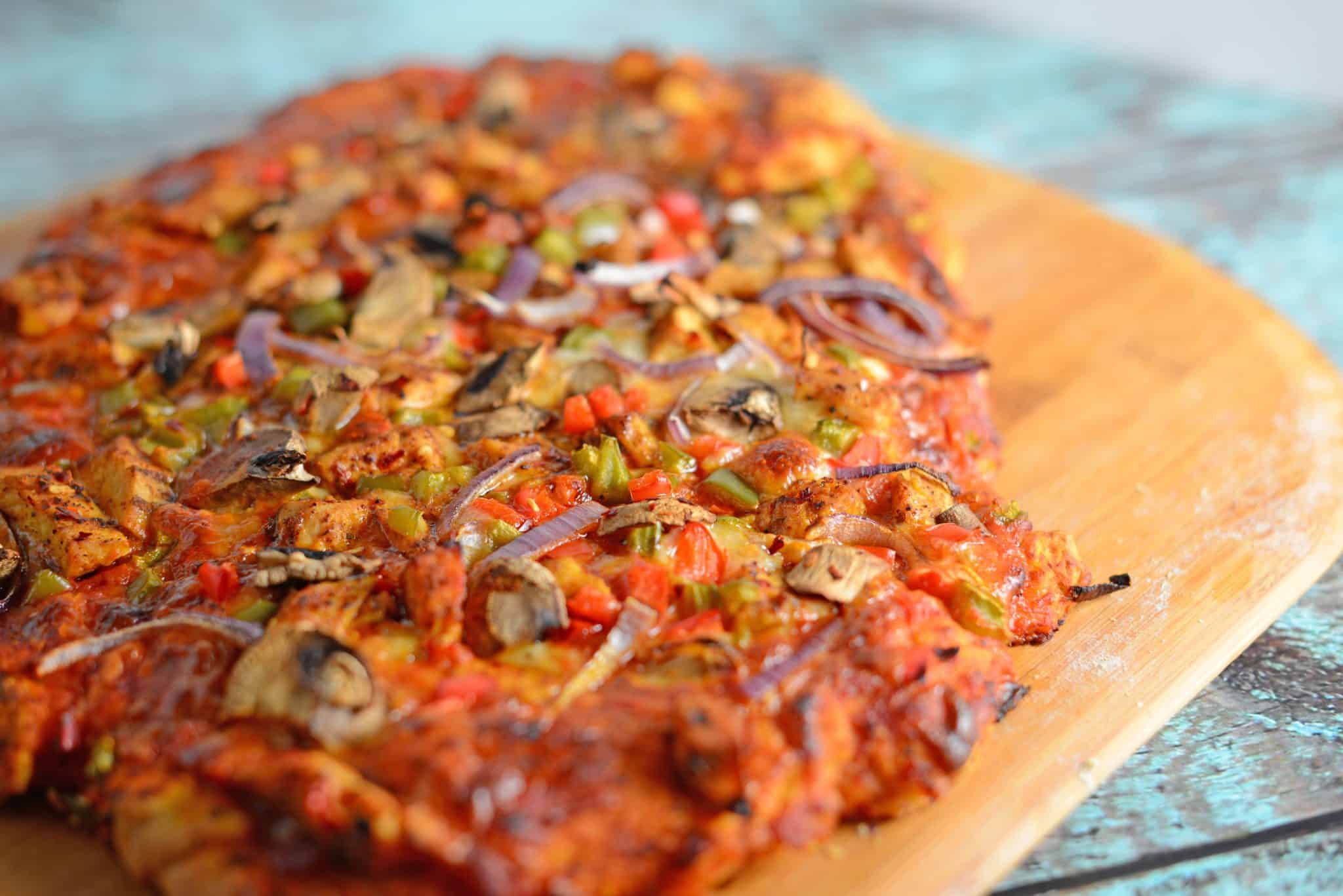 There are three ways to get a crispy pizza crust at home and without having a 1200 degrees stone oven. Both are dependent on what type of crust you are using.
A pre-made, pre-cooked crust goes directly on the rack for best results. When using a pizza dough, a baking peel and pizza stone dusted with cornmeal are your best bet.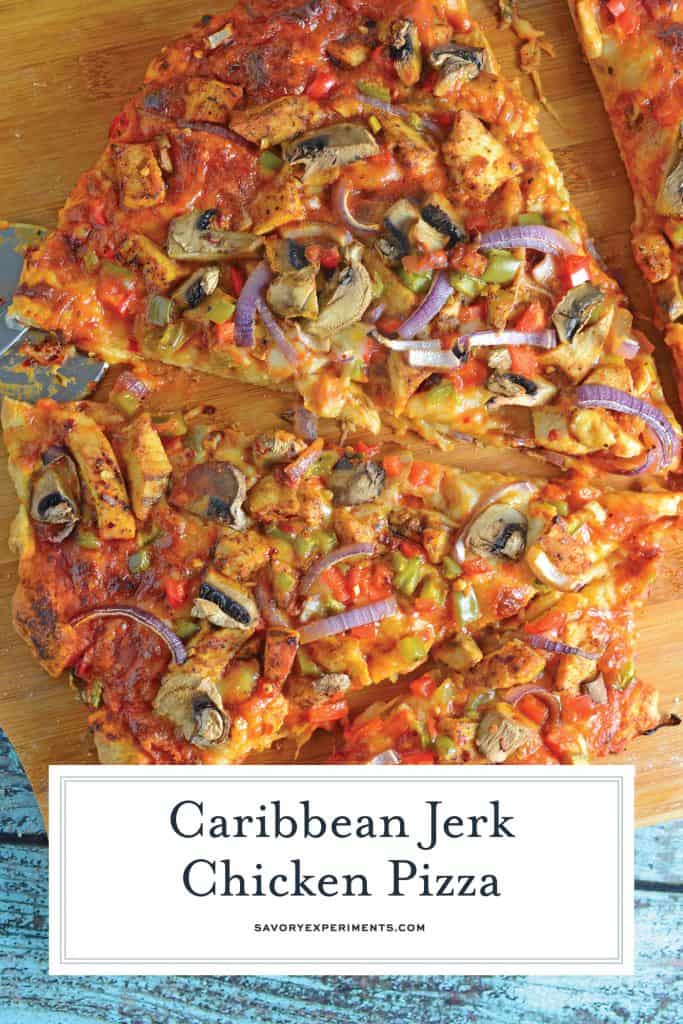 Lastly, you can grill your pizza. You'll want a prebaked crust, but it is the closest you'll get to a wood fire grilled pizza.
Of course you can use a regular baking sheet too, but typically made of aluminum and don't get nearly as hot.
One thing is certain, no matter what crust you choose, the topping for Caribbean jerk pizza chicken pizza just can't be beat. Mushrooms, red onion, bell pepper, tomato sauce, spicy chicken, mozzarella cheese and of course, honey will blow your mind!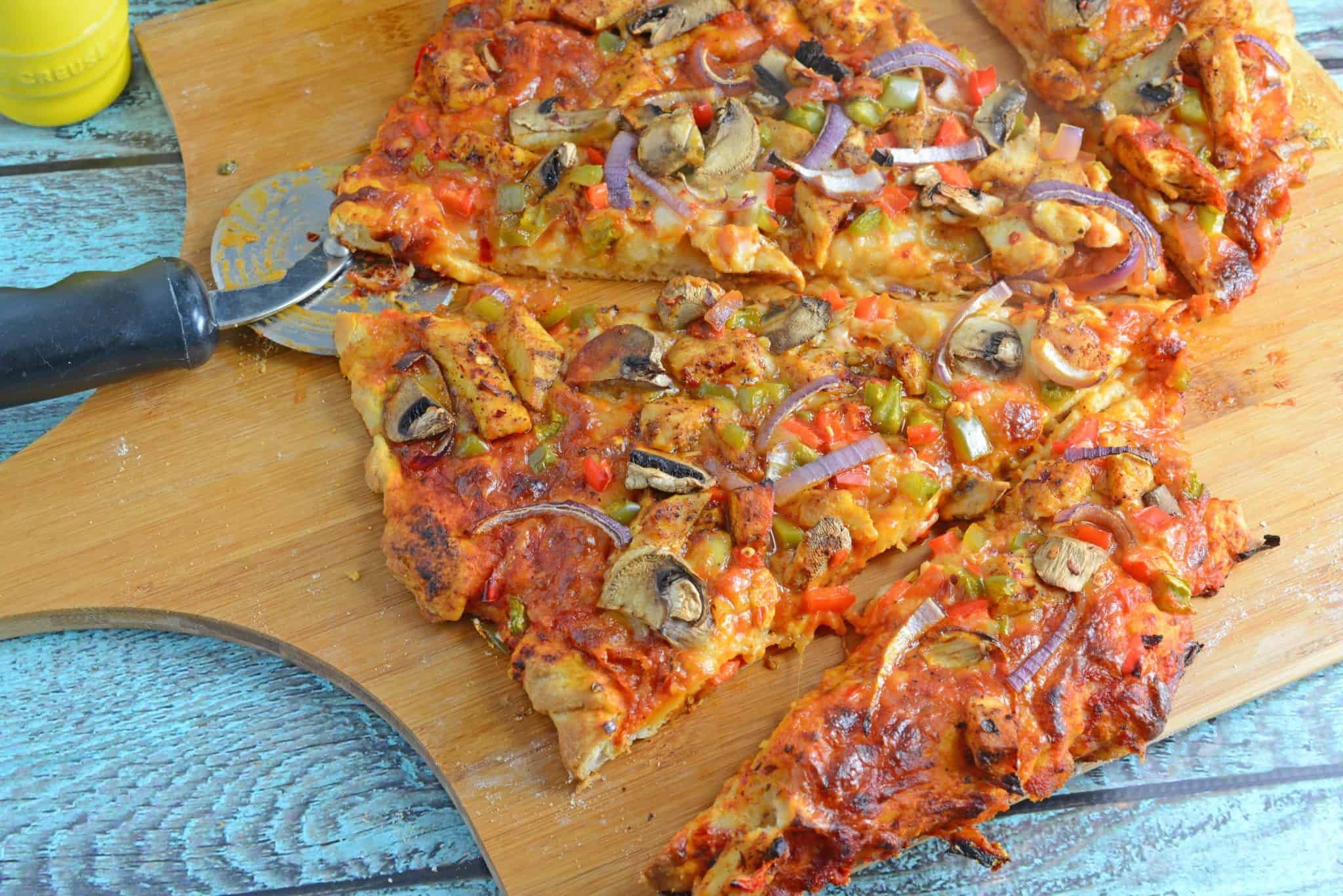 Serve this easy pizza recipe for lunch or dinner, or cut it into smaller squares to serve as an appetizer. Pair with a leafy green salad.
Tools for making Jerk Chicken Pizza:
Pizza Stone – Use this for making homemade pizza, calzones, strombolis and more! A pizza stone can also make grilled pizza.
Metal Bake Sheet – You can use this as a regular baking sheet when you aren't making pizza. While I prefer the pizza stone, this is the second best.
Bakers peel – the easiest way to get your pizza in and out of the oven if you are cooking directly on the racks.
If you like this easy pizza recipe, you'll love these others!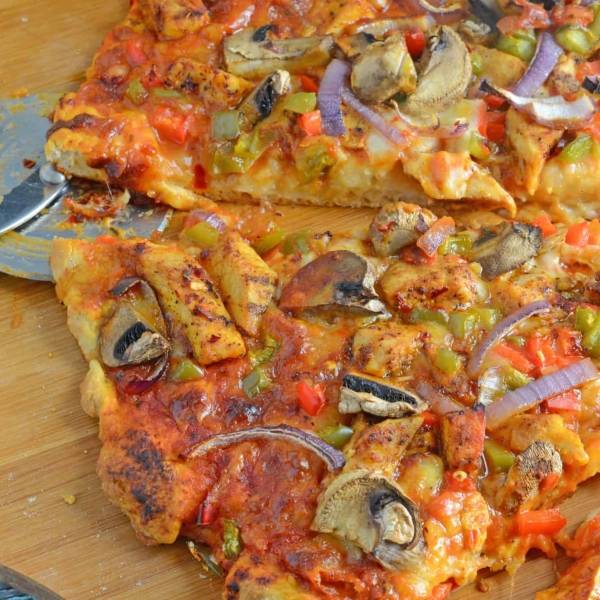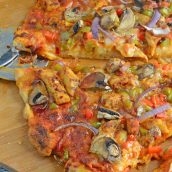 Caribbean Jerk Chicken Pizza
Caribbean Jerk Chicken Pizza Recipe- Sweet, spicy and salty pizza loaded with veggies, spicy chicken and drizzled with honey.
Ingredients
1

chicken breast

boneless, skinless

2

tablespoons

jerk seasoning

divided

3

tablespoons

extra virgin olive oil

divided

1

ball pre-made pizza dough or pizza crust

1/2

cup

pizza sauce

or marinara

1

plum tomato

ends removed, thinly sliced, then halved to half moon shapes

1/3

cup

green bell pepper

diced

1/3

cup

yellow bell pepper

diced

1/3

cup

red onion

diced

1/3

cup

mushrooms

sliced

1

cup

mozzarella cheese

shredded

1/2

cup

honey

1/2

cup

corn meal

yellow or white

2

tablespoons

flour

extra oil for pizza stone seasoning

if you are using a pizza stone
Instructions
Tenderize (beat) your one chicken breast slightly until evenly thick. Place in a small airtight bag with 2 tablespoons olive oil and 1 tablespoon jerk seasoning. Place in refrigerate for a minimum of 2 hours, maximum of 24. Remove and grill or cook on stove top until fully cooked. Chop or shred into small bite sized pieces. Set aside. *

Spread 1 tablespoon olive oil on chosen cooking platform (stone or metal pizza pan). Sprinkle with 1/4 cup cornmeal. Don't be shy with the cornmeal, it doesn't have a lot of taste and will help with a crispy crust! Preheat oven to 425 degrees with the pizza stone or metal pizza baking sheet inside. Pre-heating it with the oven will help your crust to bake evenly.

Use either a bakers peel or an inverted cooking sheet. Flour lightly and spread with 1/4 cup corn meal directly to the peel or baking sheet. This will help transfer the pizza to oven easily and crisp the crust. Transfer pizza dough to the peel or baking sheet.

Using a pastry brush, brush out 1 tablespoon olive oil onto naked pizza crust. This creates a barrier between the dough and the toppings that prevents the crust from getting soggy. Spread 1/2 cup tomato sauce over dough, continue with 1/2 cup mozzarella cheese. Sprinkle 1 tablespoon jerk seasoning evenly over the cheese and pizza sauce. Cheese on the bottom will help the toppings to stick. Continue to top with both colors bell peppers, onions, mushrooms and chicken. Top with remaining mozzarella cheese.

Gently transfer the pizza from the bakers peel or baking sheet onto the pizza stone or metal baking sheet in the oven. This could possibly be the most difficult part of this recipe, but I have faith you can do it! Cooking times may vary by oven and dough thickness with vary by pizza. I suggest starting with 15 minutes and then checking every minute. Ideally you want your edges to be browned, but not burnt and the cheese to be melted. Mine took 20 minutes.

Remove from oven and drizzle 2 tablespoons honey over top the entire pizza. Slice and serve!
Notes
You can use leftover chicken or pre-cooked chicken, just toss it in dry jerk seasoning.
Nutrition
Calories:
697
kcal
,
Carbohydrates:
105
g
,
Protein:
23
g
,
Fat:
22
g
,
Saturated Fat:
6
g
,
Cholesterol:
40
mg
,
Sodium:
1145
mg
,
Potassium:
501
mg
,
Fiber:
5
g
,
Sugar:
43
g
,
Vitamin A:
1710
IU
,
Vitamin C:
37.6
mg
,
Calcium:
161
mg
,
Iron:
4.9
mg