I love French bread pizzas almost as much as I love good pasta with alfredo sauce, so I decided to combine the two with this French Bread Alfredo Pizza recipe.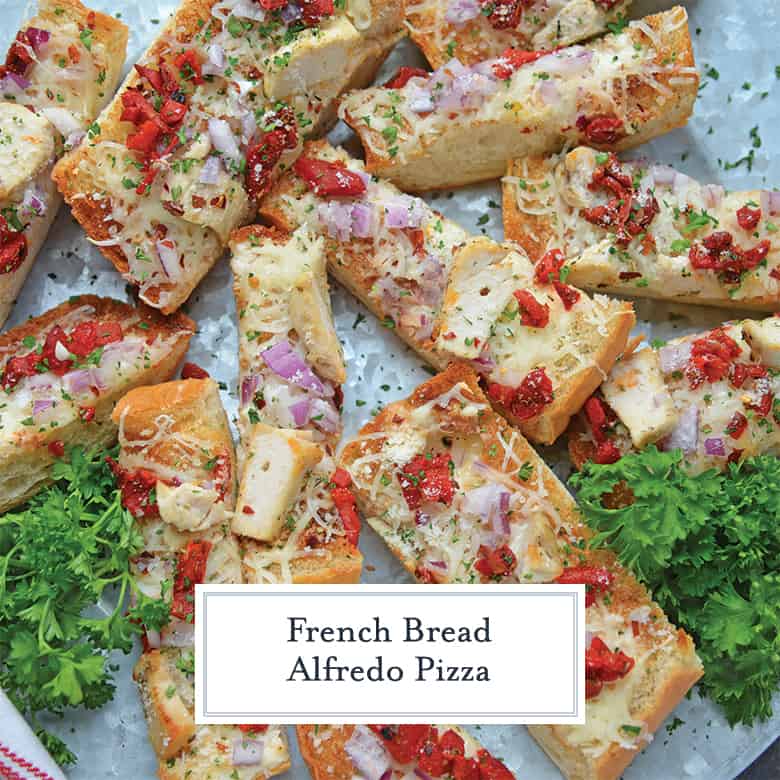 If you're looking for an easy and addictive homemade pizza recipe, look no further than this French Bread Alfredo Pizza. Think of it as chicken alfredo and pizza all in one.
Whatever happened to a good, old French bread pizza? I feel like French bread pizza and bagel pizzas were a huge food trend when I was younger. It was so easy to take a French bread pizza out of the freezer and pop it into the oven for an after-school snack!
I don't really hear about them anymore, but you better believe I still think about them, and the French Bread Alfredo Pizza was born.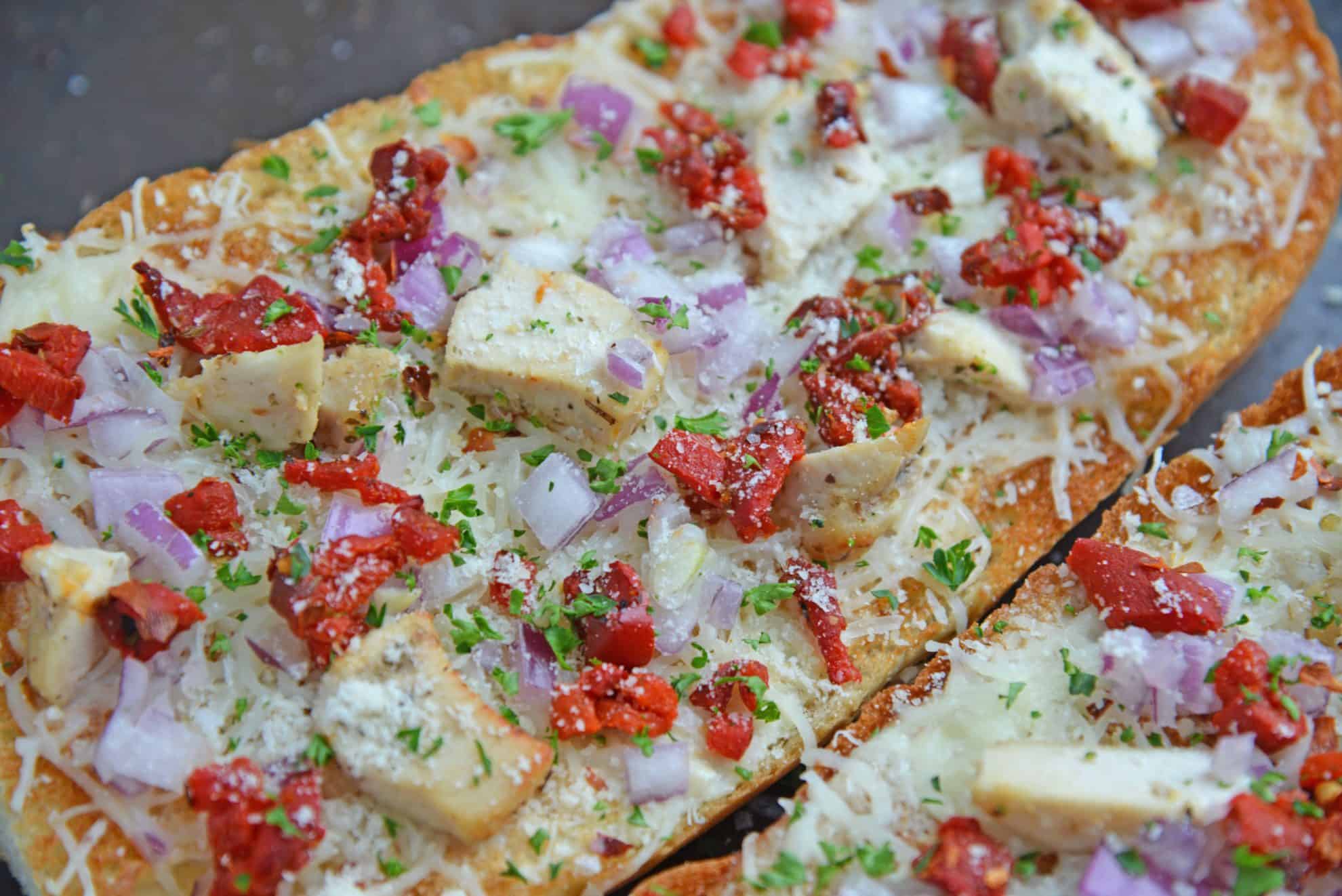 Why You'll Love French Bread Alfredo Pizza
Gather a bunch of toppings, whatever kind of sauce and cheese you prefer, and you're set!
Nostalgia – First and foremost, I am looking to capture those feelings and flavors from when I was younger. And I'm hoping to instill a love of French bread pizza for the younger generations.
Homemade – There's just something satisfying about making a pizza at home and not just pulling it from the freezer or ordering it through an app.
Family Activity – Being in the kitchen is one of my favorite things and is so sharing experiences with my family. This is a great dish to make with your loved ones.
Customizable – Pizza after all is one of the greatest customizable meals around and this one is no exception! My favorite part is that you don't have to worry about what everyone else wants on theirs- just make your own personal pizza with whatever toppings and sauces you like best!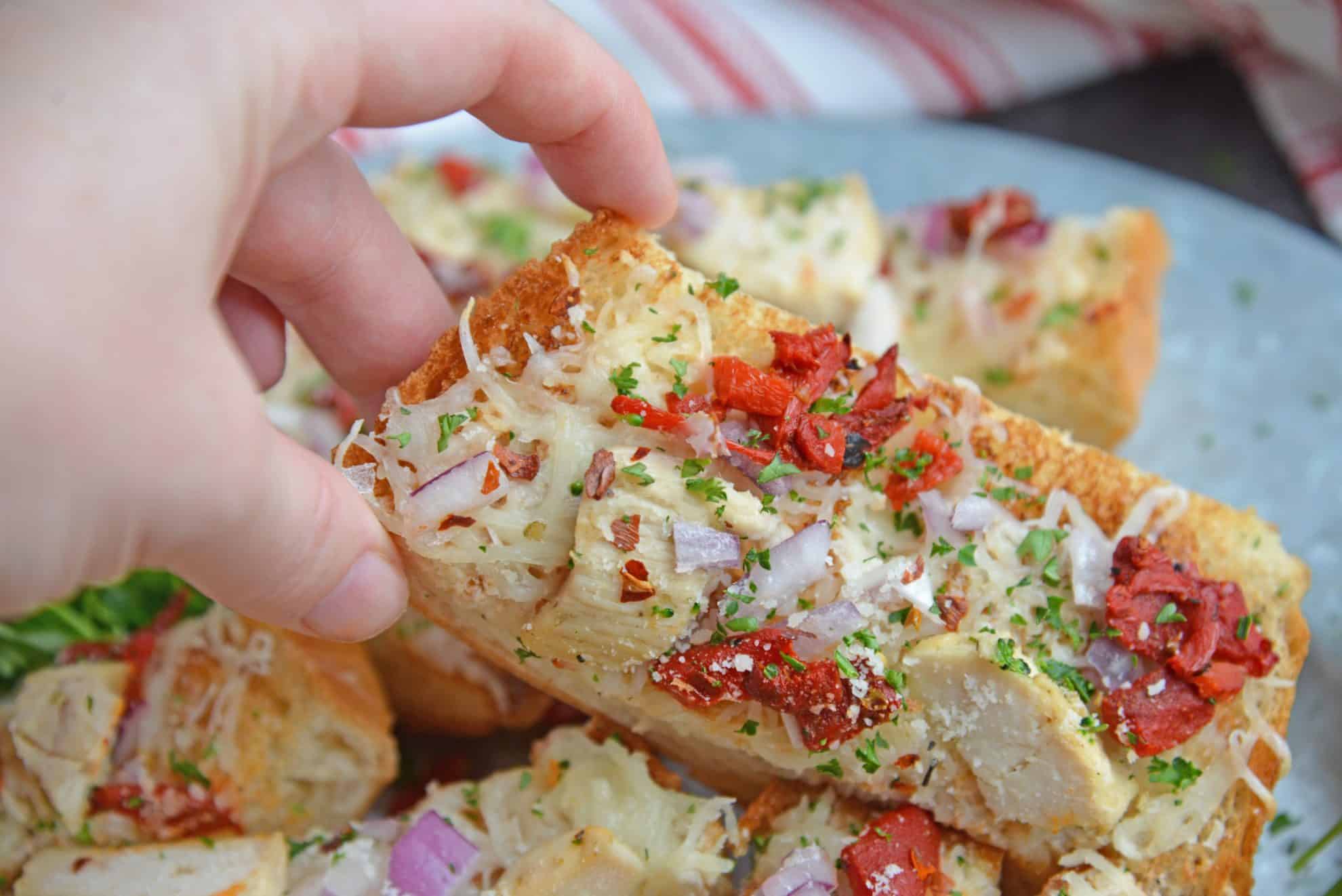 What is French Bread Alfredo Pizza?
The idea for this French Bread Alfredo Pizza came from our Broccoli Chicken Alfredo. I was left with some leftover alfredo sauce, but I didn't have enough for a whole meal. So I divided what I did have up for these delicious pizzas.
This pizza recipe is basically Chicken alfredo on bread. I added chopped red onion and roasted red bell pepper as my veggies and then crushed red pepper flakes for a little heat. No red sauce here!
The result was nothing short of pure magic and a whole lot of yum!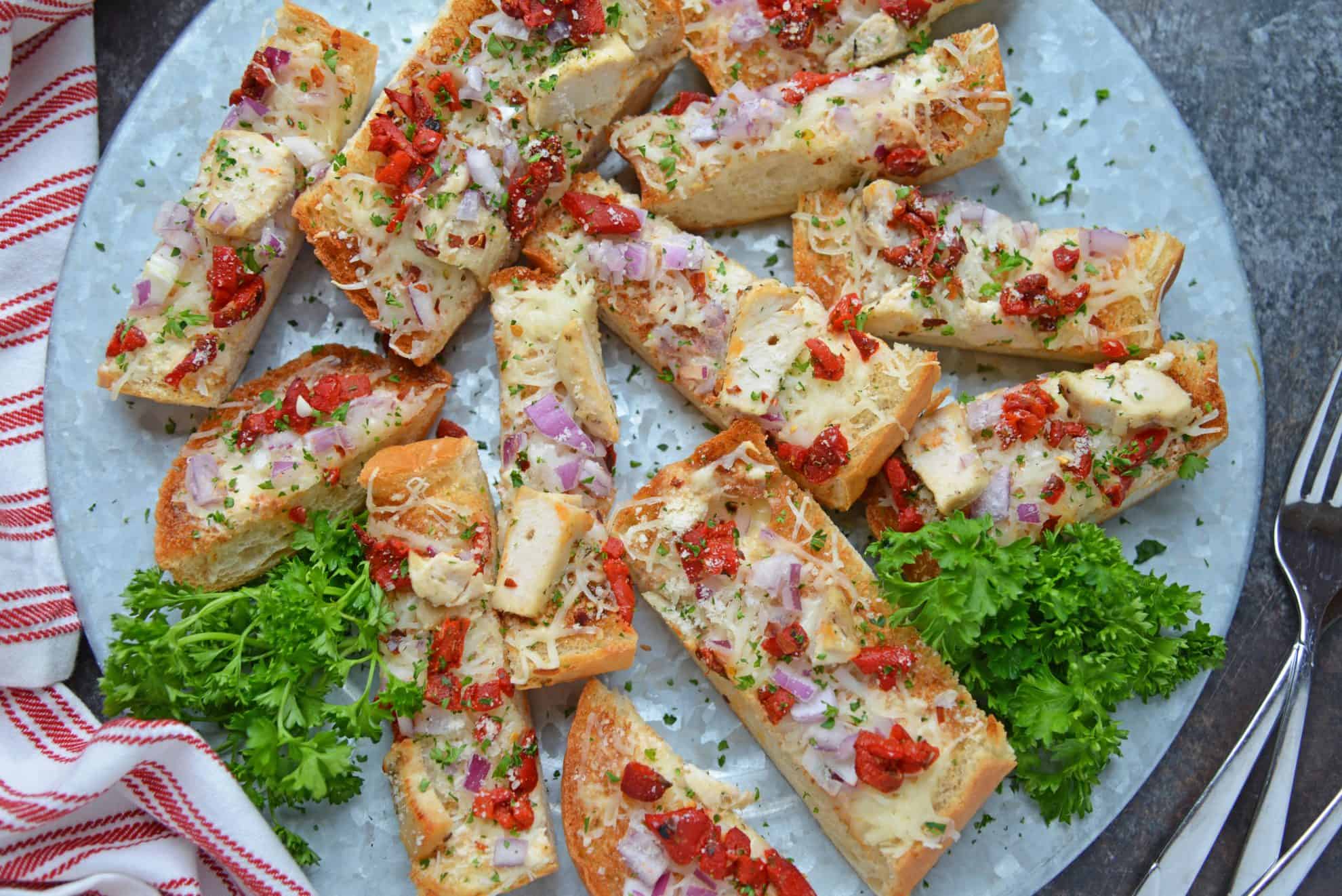 Ingredients
My favorite thing about this recipe is how easy it is – especially if you use leftover or store-bought alfredo sauce.
French Bread – Think of this as a wider, longer baguette with a much more tender crust. Use a sharp bread knife to cut it in half.
Alfredo Sauce – Be sure to have this at room temperature or warmed to make it more easily spreadable for your pizza topping. Make your own or if you are in a hurry grab a jar at the store.
Mozzarella Cheese – I prefer to shred my own because it is cheaper and it isn't coated in the starches that can make cheese last longer in the fridge but also make it gritty. Using the low-moisture variety will give you a better result and prevent any crust fogginess from the full-fat kind.
Chicken – Use any type of cooked light or dark meat you have. Grabbing a rotisserie chicken or some pre-cooked chicken breasts at the store is a great alternative too!
Red Onion – Gives a little bite and pep to this dish. If red onion is too much in the flavor department, try shallot or skip it altogether.
Roasted Red Pepper – I always keep a jar of these around because they are so versatile. Be sure to drain completely before using so you don't sog the bread down.
Crushed Red Pepper – Chile flakes on pizza are a must for me. Use as much or as little as you want.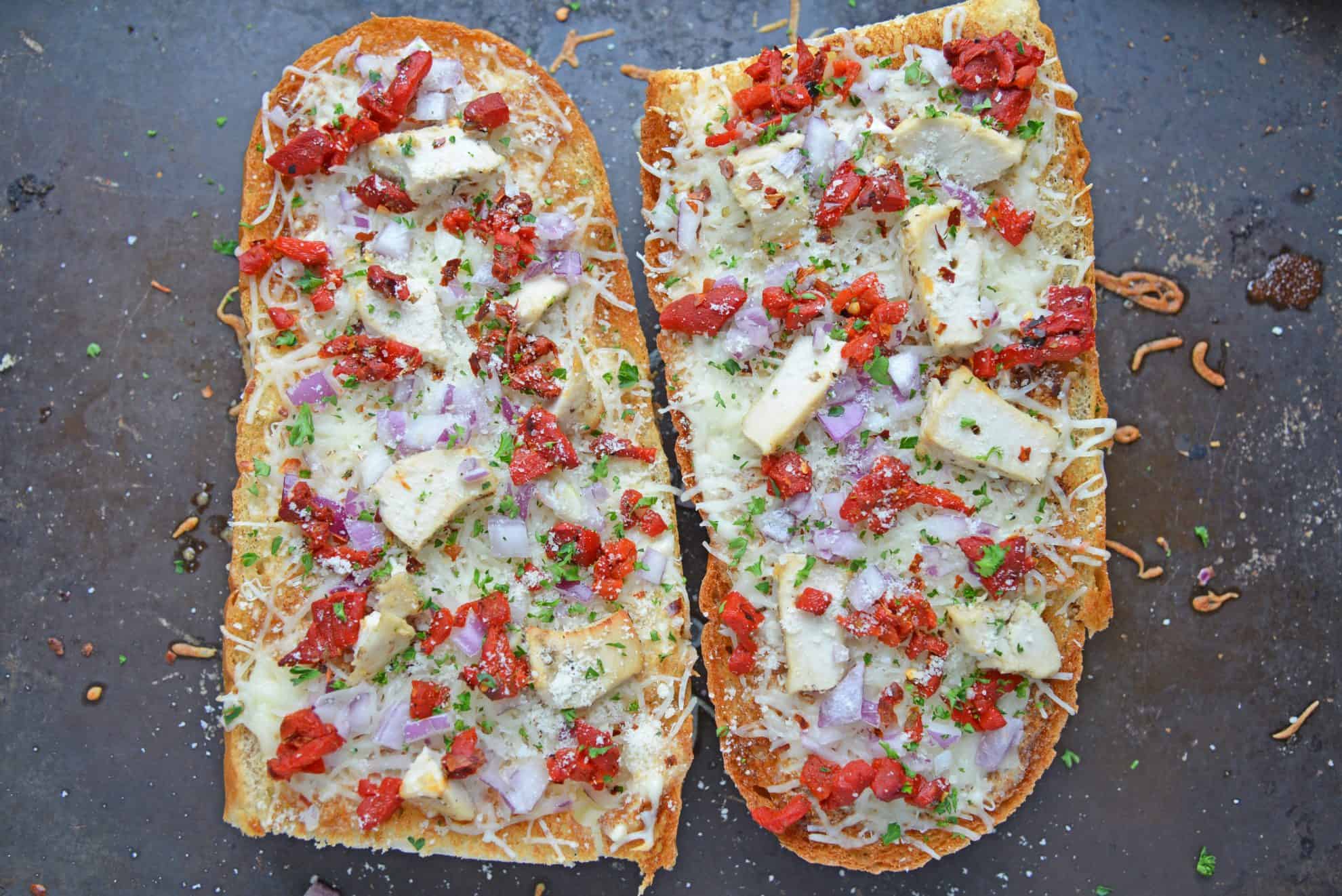 How to Make French Bread Alfredo Pizza
You will be blown away at how easy this white chicken pizza is to whip up!
Cut the bread. I like to cut lengthwise through the belly of the sandwich and then again down vertically leaving you with four pieces of bread. A serrated knife makes this task super easy.
Toast! This step makes sure your toppings don't soak into the bread below. Toasting the bread first creates a crispy barrier and base for toppings to sit on.
Top the pizzas. Alfredo sauce is first in place of red sauce. Use a spoon to dollop and then spread evenly. The rest is fairly straightforward – divide the other toppings evenly over the four slices of bread.
Bake. All ovens are different so keep an eye on your pizzas. They could take anywhere from 5-7 minutes.
Garnish! Add more red crushed red pepper here if you like.
What to Serve with French Bread Alfredo Pizza
There is no getting around the fact that there is a lot of bread happening here and I like to serve mine with things that tend to be vegetable-heavy for balance. Try some of my favorites:
Variations on French Bread Alfredo Pizza
There are so many toppings that pair well with white chicken pizza and the variations for this pizza are all about using different options.
For the recipe as written:
Some additional toppings you may like:
Broccoli – be sure to saute or blanch and allow to dry fully.
Sliced mushrooms – baby bella or crimini mushrooms would be wonderful!
Spinach – Baby spinach will wilt the best here.
Bacon – Cook off and drain on paper towels before topping the pizza with it.
Chopped green onions (scallions) – Add before or after the pizza comes out of the oven.
Tomatoes – Used sliced Roma tomato or quartered cherry tomatoes for a little sweet acidity!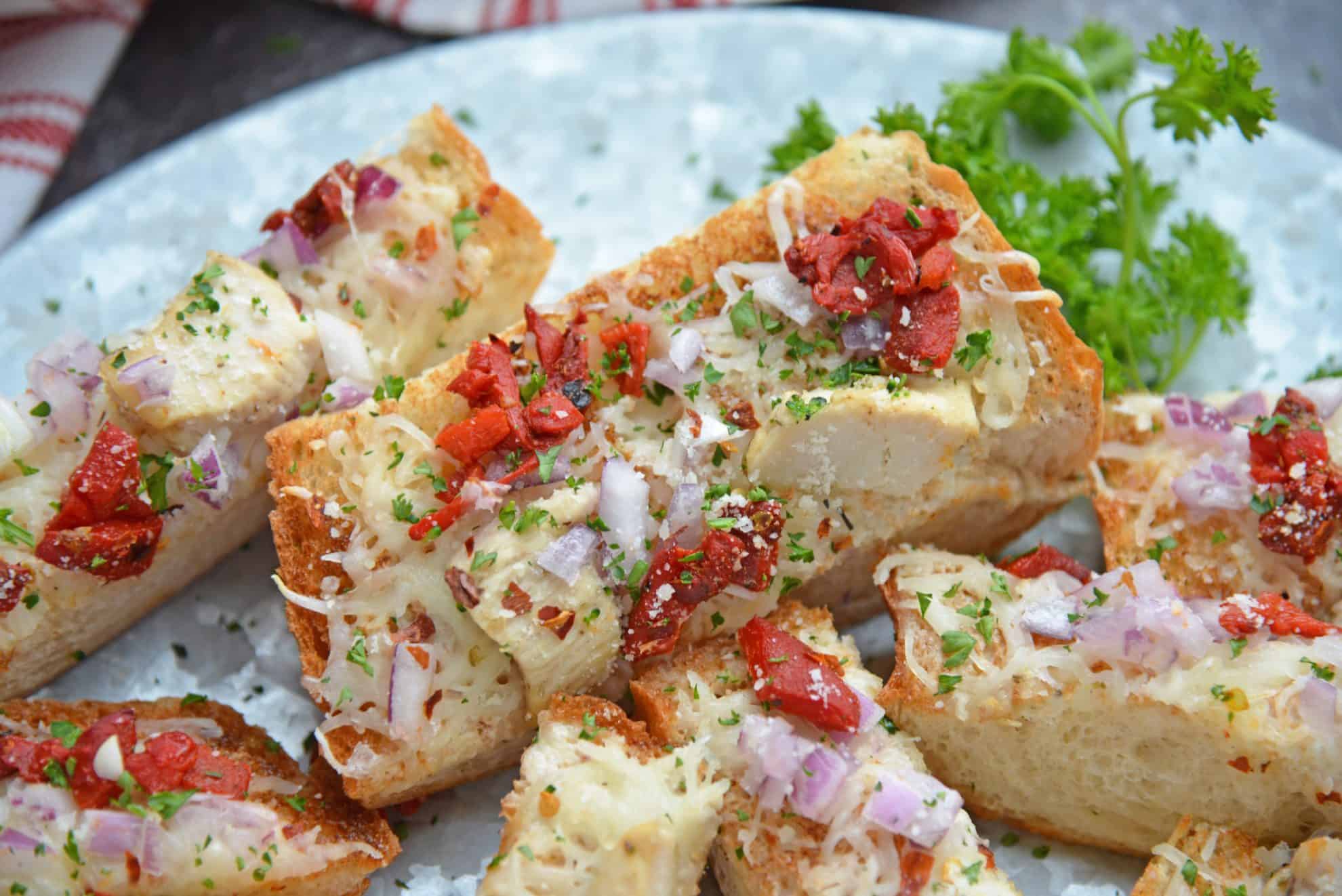 Storing and Freezing
Make Ahead: The alfredo sauce and the chicken can easily be made ahead if you are making these items from scratch. Both should last about 5 days in the fridge in airtight containers.
Storage: I like to slice any leftovers into little single servings and then wrap them up tightly in plastic wrap before popping them in the freezer. The smaller pieces make it easier to grab a late-night or after school snack OR to reheat it quickly.
Reheating: The easiest option is the microwave but be forewarned, you will lose some textural integrity. Preheat the oven to 375 F and bake until the cheese is melty and the chicken hot, about 5-10 minutes.
Freezing: Not my favorite recipe to freeze but definitely doable. Put your completely cooled leftovers in a freezer-safe container or better yet a freezer bag and press out any air. Freeze for up to 4 weeks. To reheat, allow it to thaw to room temperature and reheat according to the instructions above.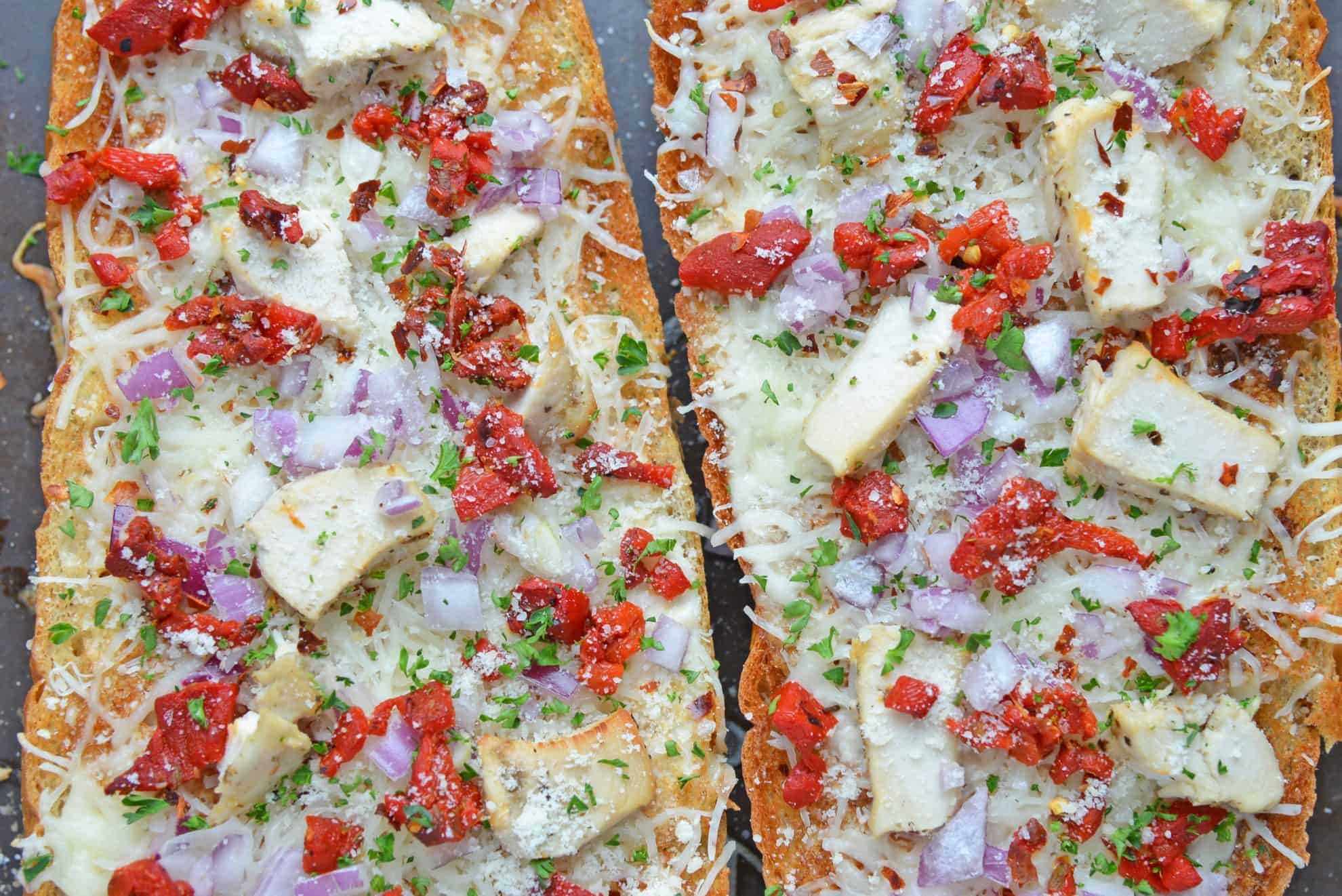 Questions About French Bread Alfredo Pizza
What is French Bread pizza made of?
Crusty French bread is used instead of traditional pizza dough and it is topped with a host of delicious toppings. I like mine with chicken, alfredo sauce, roasted red peppers, onions, mozzarella, and some crushed red pepper.
What is Alfredo pizza made of?
Generally speaking Alfredo pizza is a white variety of pizza and instead of using red sauce or marinara as the base for pizza toppings, it uses creamy alfredo sauce.
Why is it called French bread pizza?
We might all know and love the Stouffer's frozen variety but story has it, that French bread pizza was an invention created by a food truck owner that parked his truck on the campus of Cornell in Ithica, NY. The pizzas were a fan favorite of the students and the late-night crowds there.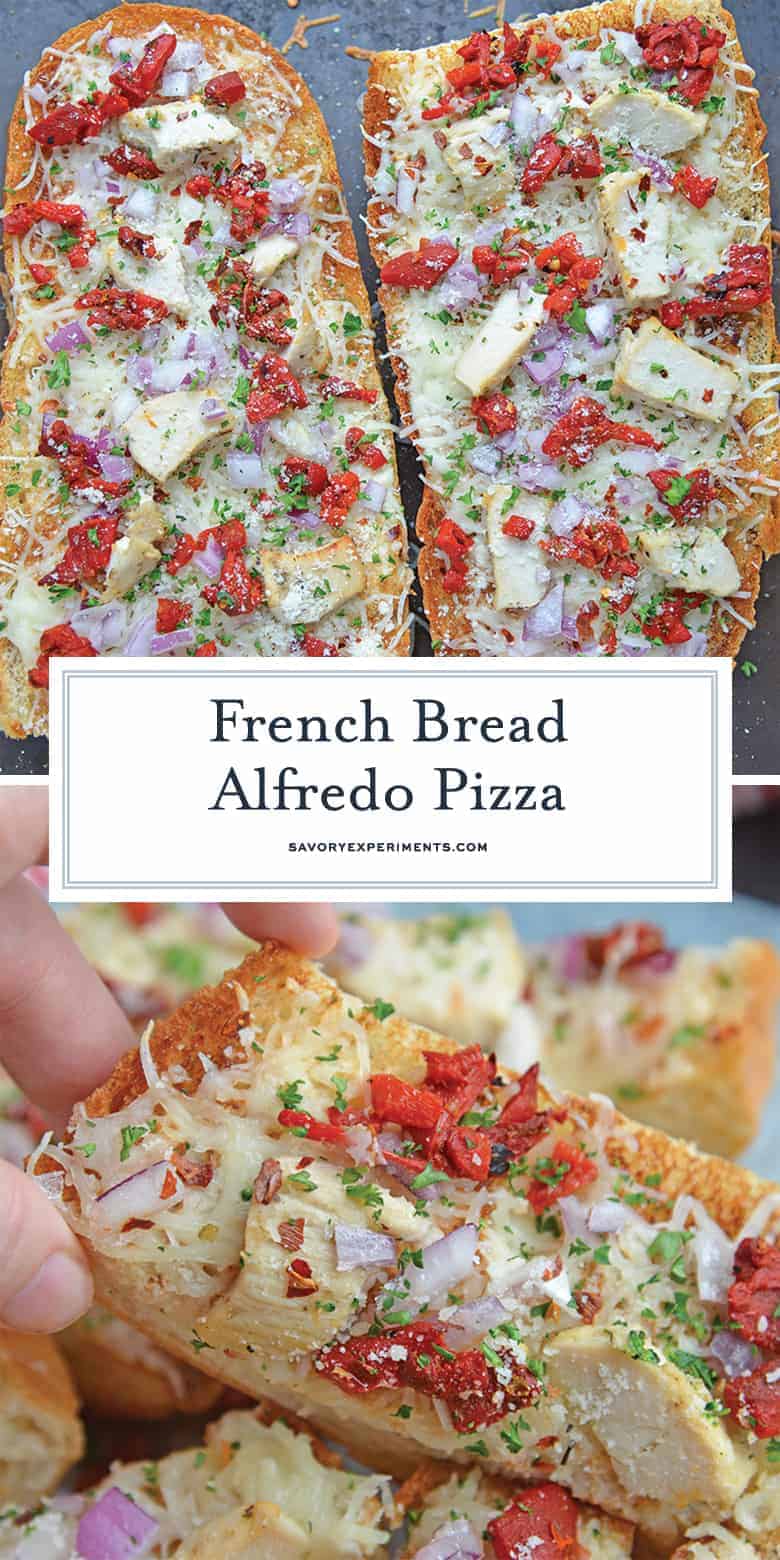 If you liked this Chicken Alfredo Pizza, check out these other homemade pizza recipes: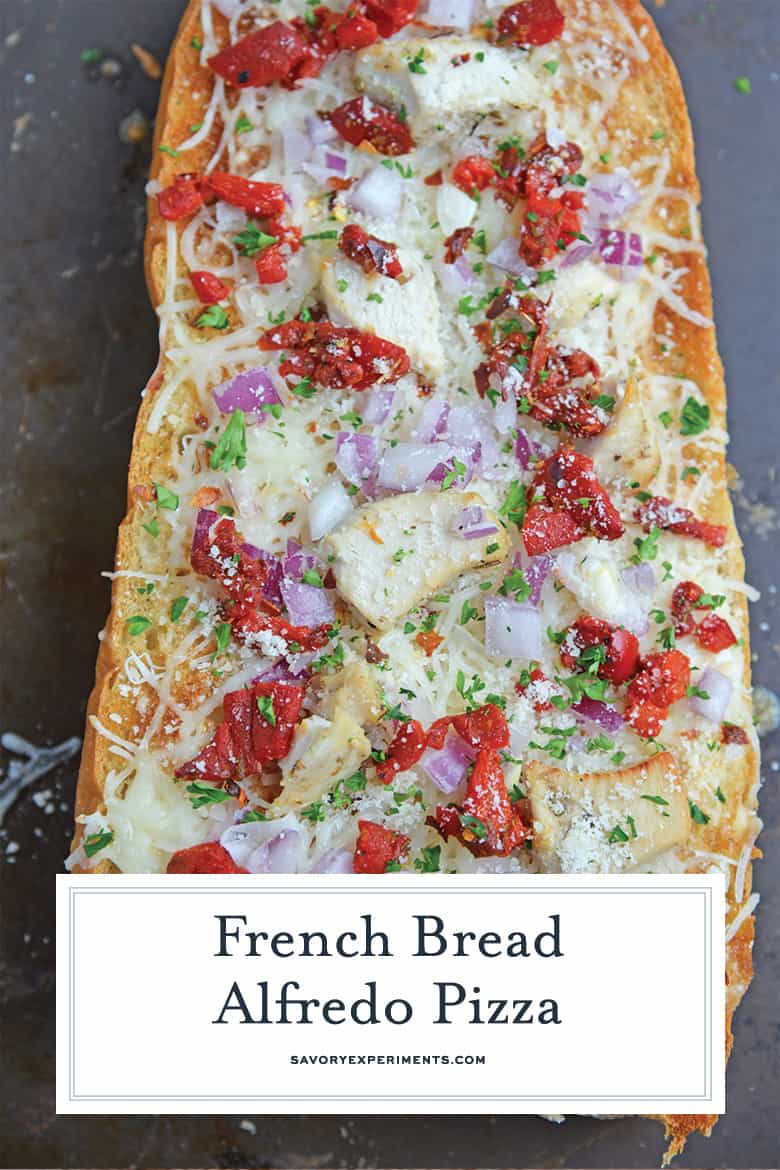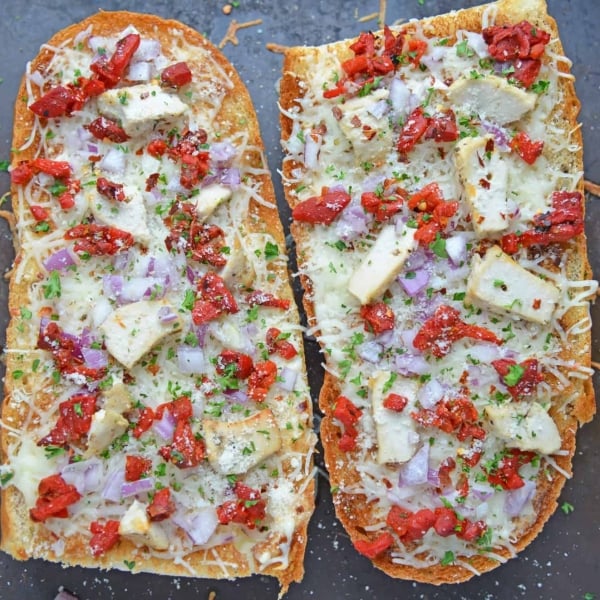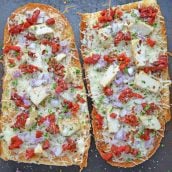 French Bread Alfredo Pizza
If you're looking for a homemade pizza recipe, look no further than this French Bread Alfredo Pizza. It's basically like chicken alfredo in pizza form!
Instructions
Cut loaf of French bread in half and then half again lengthwise. Like you were making a submarine sandwich.

Place them on a rimmed baking sheet, cut side up and toast for 5 minutes in the oven.

Remove and equally divide Alfredo sauce, chopped chicken, red onion and roasted red pepper on the 4 slices of bread.

Return to the oven and bake for 5-7 minutes or until cheese is melted and bubbly.

Remove and season with crushed red pepper flakes, if desired.

If you've tried this recipe, come back and let us know how it was!
Nutrition
Calories:
356
kcal
,
Carbohydrates:
58
g
,
Protein:
15
g
,
Fat:
7
g
,
Saturated Fat:
3
g
,
Cholesterol:
21
mg
,
Sodium:
767
mg
,
Potassium:
152
mg
,
Fiber:
3
g
,
Sugar:
3
g
,
Vitamin A:
85
IU
,
Vitamin C:
3.8
mg
,
Calcium:
82
mg
,
Iron:
3.7
mg