I love French bread pizzas almost as much as I love a good pasta with alfredo sauce, so I decided to combine the two with this French Bread Alfredo Pizza recipe.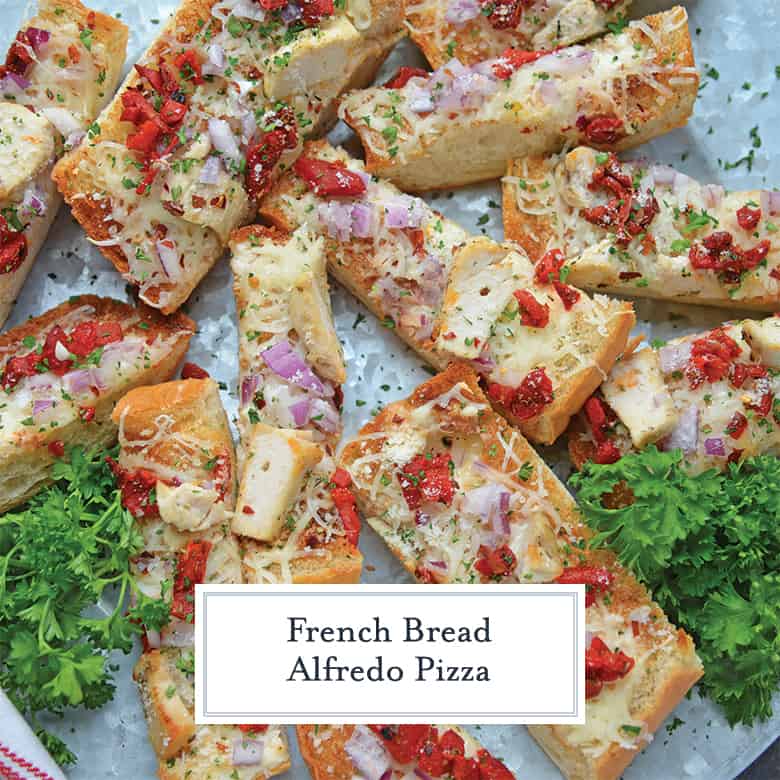 If you're looking for a homemade pizza recipe, look no further than this French Bread Alfredo Pizza. It's basically like chicken alfredo in pizza form!
What ever happened to a good, old French bread pizza? I feel like French bread pizza and bagel pizzas were a huge food trend when I was younger.
It was so easy to take a French bread pizza out of the freezer and pop it into the oven for an after school snack!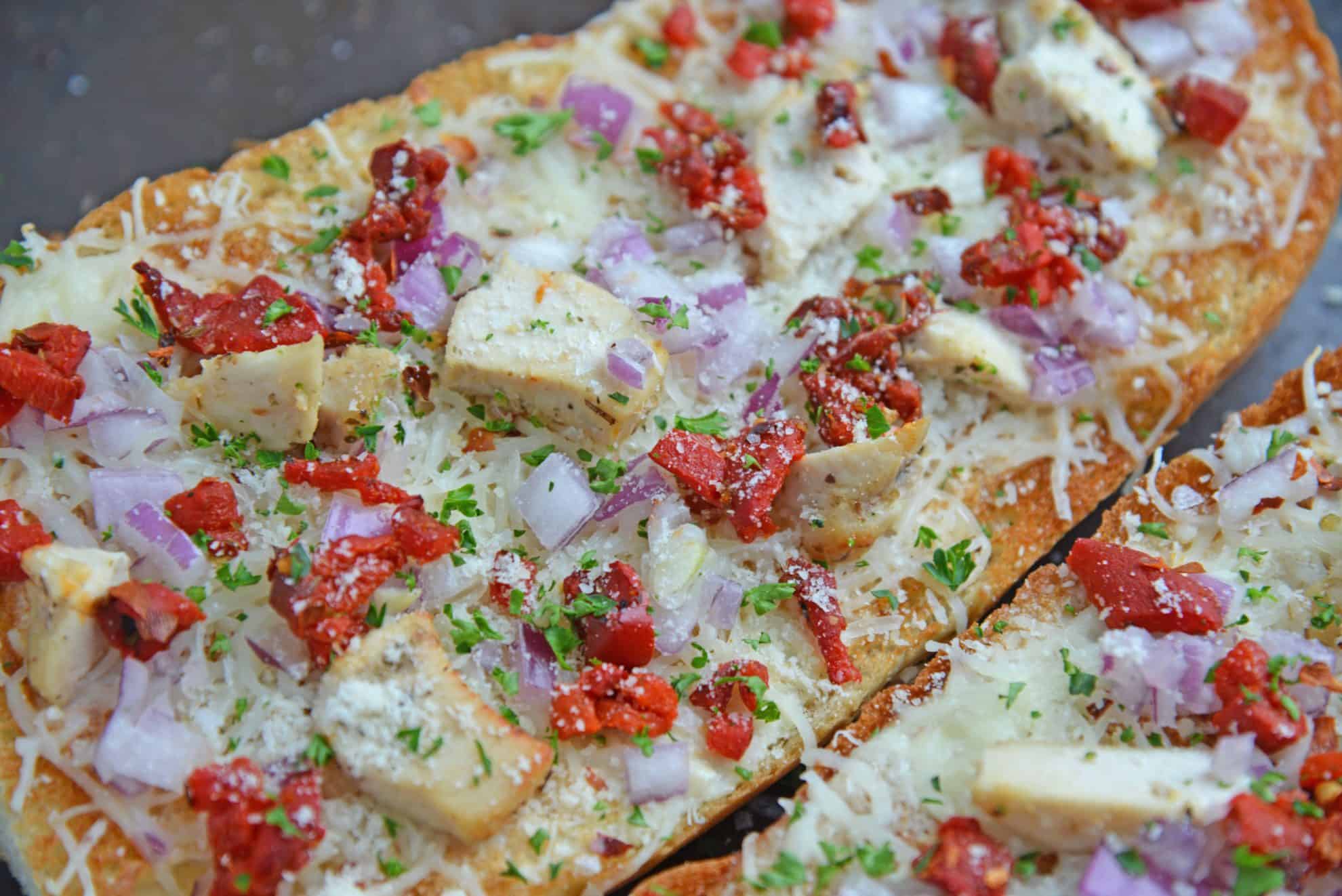 But apparently the craze has died, because I don't really hear about them anymore. Maybe it is because of all of the gluten free and carb free lifestyles these days. Well, I still eat carbs and I still like pizza, so I made a French Bread Alfredo Pizza!
Do you have a meal that you love making together as a family? Being in the kitchen is one of my favorite things, so sharing experiences with my family is important to me.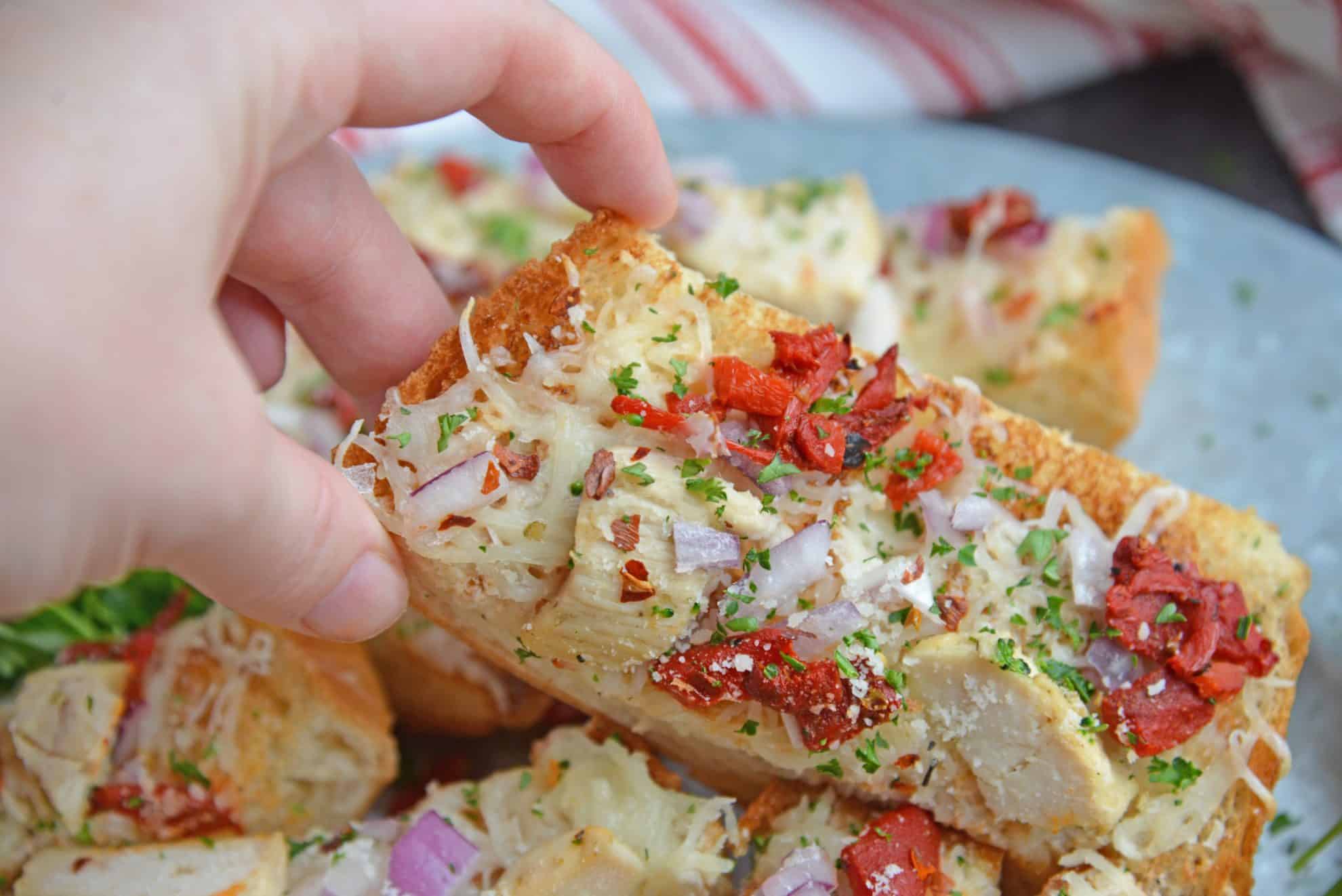 One of the things we love making is homemade pizza. Whether a traditional pizza with dough or a French bread pizza, there's just something satisfying about making a pizza at home.
Gather a bunch of toppings, whatever kind of sauce and cheese you prefer, and you're set! My favorite part is that you don't have to worry about what everyone else wants on theirs- just make your own personal pizza with whatever toppings and sauces you like best!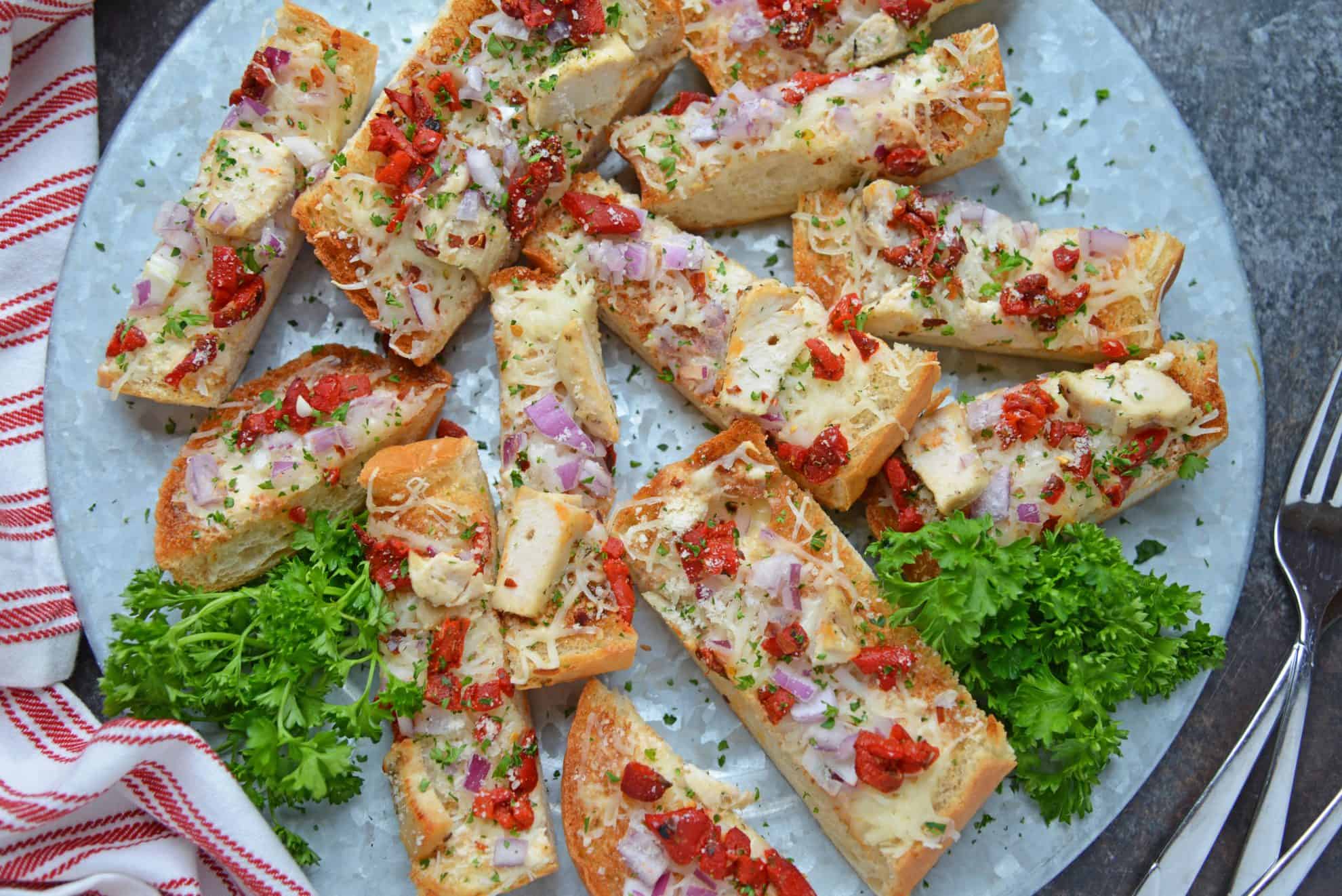 Plus, it's fun! A family activity that also makes dinner… double whammy! French bread pizzas are especially easy for the kids because there is no dough to roll out- less mess.
The idea for this French Bread Alfredo Pizza came from our Broccoli Chicken Alfredo. I was left with some leftover alfredo sauce, but I didn't have enough for a whole meal. So I divided what I did have up for these delicious pizzas. For a bit of a pep, try using the sauce from our Cajun Chicken Alfredo Recipe too!
This pizza recipe is basically Chicken alfredo on bread. I added chopped red onion and roasted red bell pepper as my veggies and then crushed red pepper flakes for a little heat.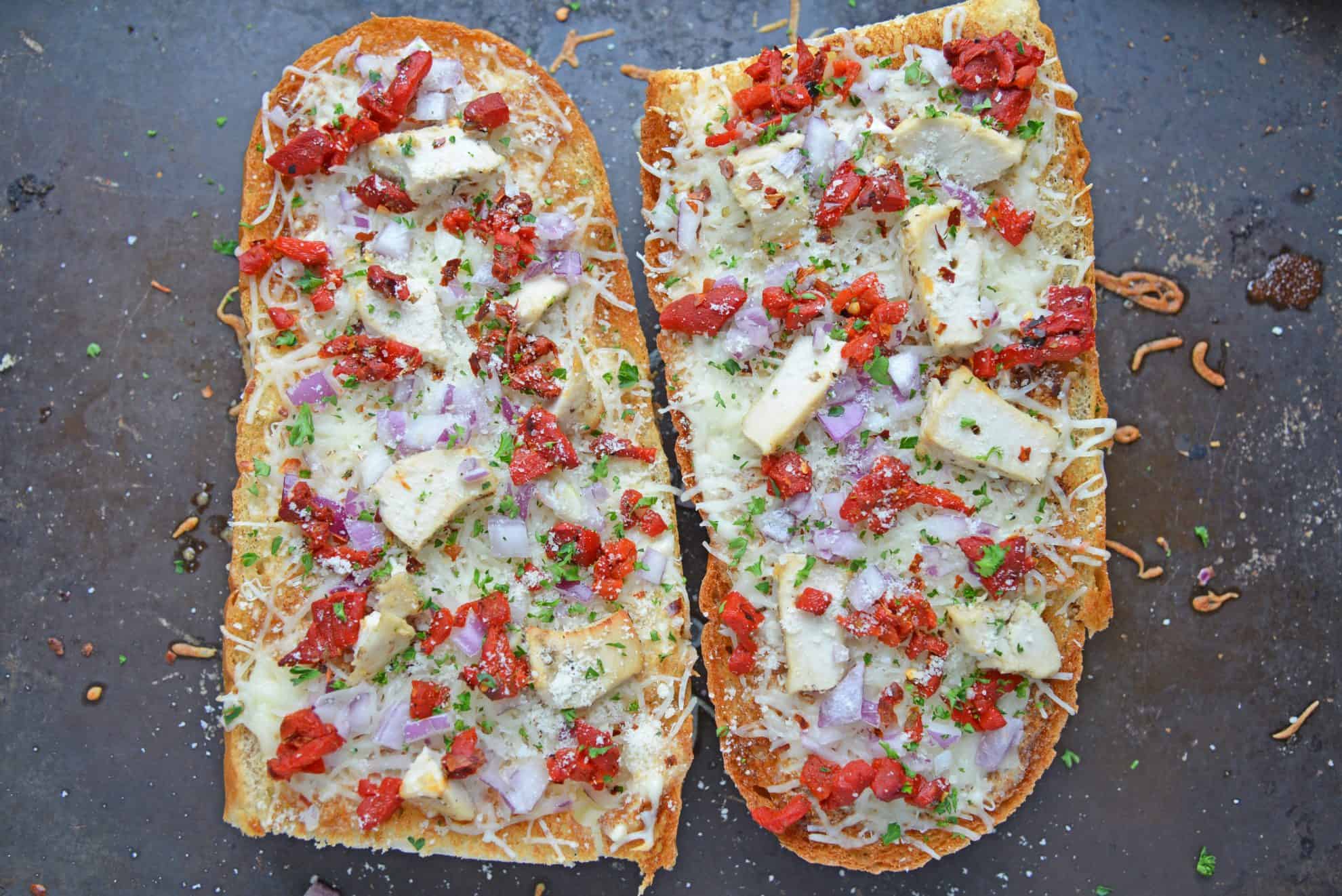 There are so many toppings that pair well on a white chicken pizza, so feel free to customize as you see fit. Some other good ideas include:
Broccoli
Sliced mushrooms
Spinach
Bacon
Chopped green onions (scallions)
Tomatoes
For this recipe I used mozzarella cheese, but feel free to use any Italian cheese blend you prefer. I do highly suggest looking for a part skim or low moisture label, as these cheeses don't have as much water content that is prone to making pizza soggy.
PRO TIP: Shred your own cheese! Not only is it cheaper, pre shredded cheeses are tossed in a powder starch to prevent clumping. This can make for a gritty texture.
For the Alfredo sauce, this is a great time use up just a little bit from a previous dinner or recipe. Make your own using butter, garlic, cream and cheese or grab a jar from the store.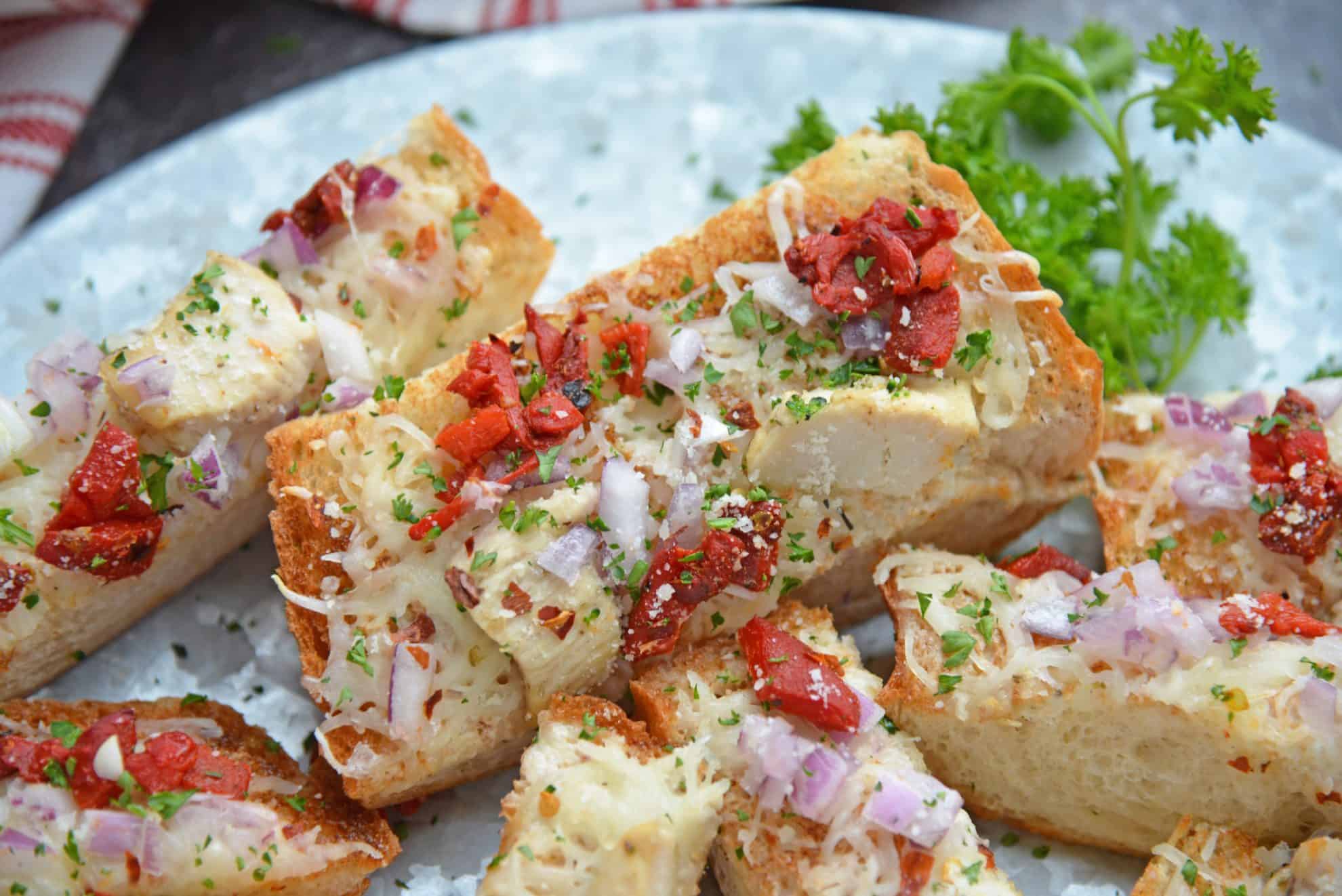 My favorite thing about this recipe is how easy it is (especially if you use leftover or store bought alfredo sauce). You simply cut a loaf of French bread in half, and then again lengthwise as if you're making a sandwich.
Then I like to "pre-toast" the bread for about five minutes to prevent it from getting soggy. After toasting, simply add your sauce and toppings, sprinkle with cheese and put back in the oven for 5-7 minutes. Done and done.
Once you take them out of the oven, you can season with red pepper flakes to add some extra heat if you desire. Serve with extra alfredo sauce for dipping, and you have yourself a French Bread Alfredo Pizza!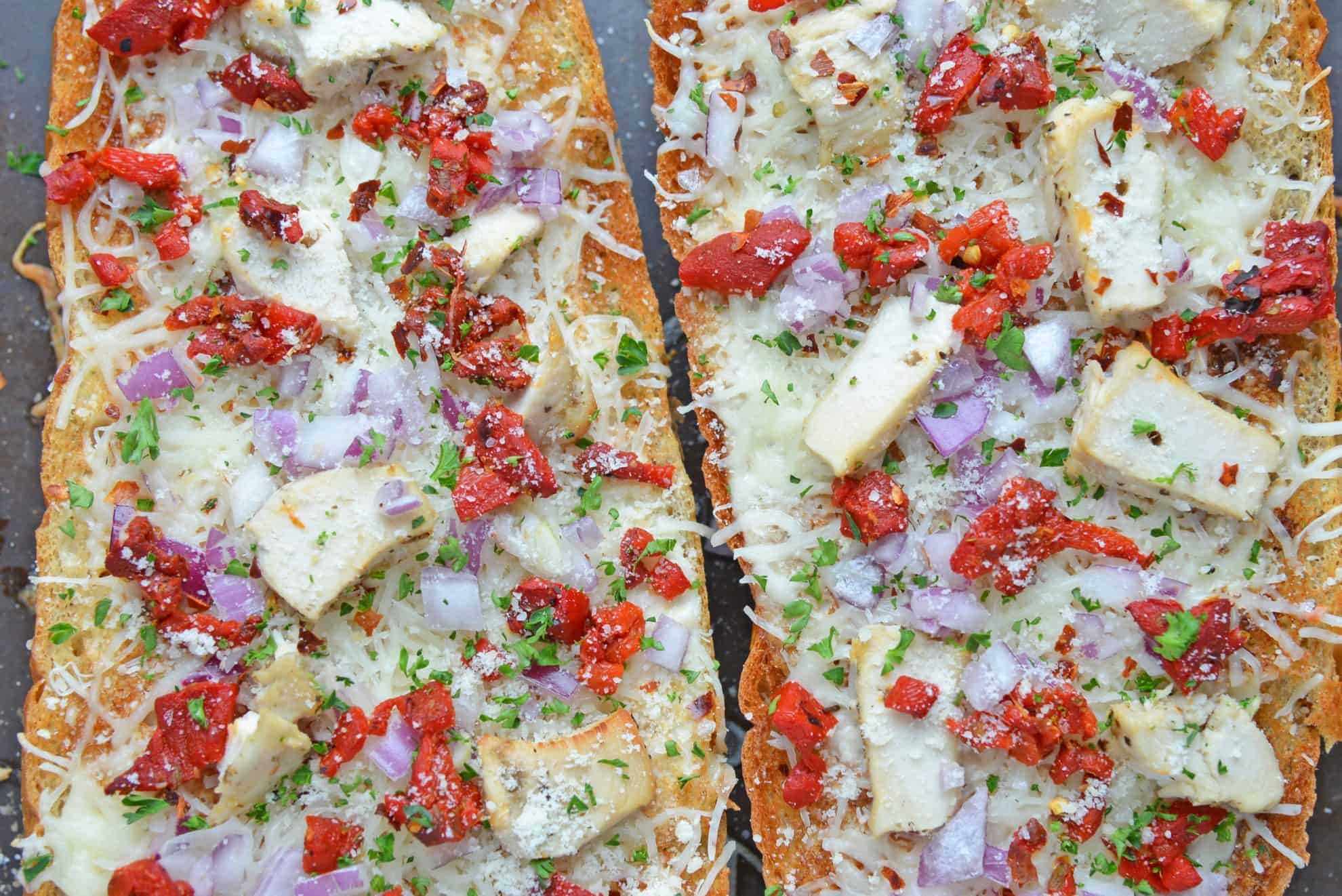 Questions you might have about how to make French bread pizza:
How to make French bread pizza not soggy? One way to do this is to use part skim or low moisture cheese. You can also try putting a layer of toppings, THEN a layer of sauce with more toppings on top of that.
Toasting the bread for 5 minutes ahead of time helps with this too.
What is French bread pizza? Essentially French bread pizza just uses a loaf of French bread instead of a traditional pizza crust. The French bread makes for a much crispier, crunchier base, and it's also a little thicker.
How to reheat French bread pizza? The best way to reheat French bread pizza is in the oven! Just heat the oven to 375 degrees and reheat the pizza on a cookie sheet for about 5-10 minutes.
Can you freeze French bread pizza? You sure can! Just wrap each French bread pizza in foil, put the wrapped pizzas in a freezer bag and pop them into the freezer.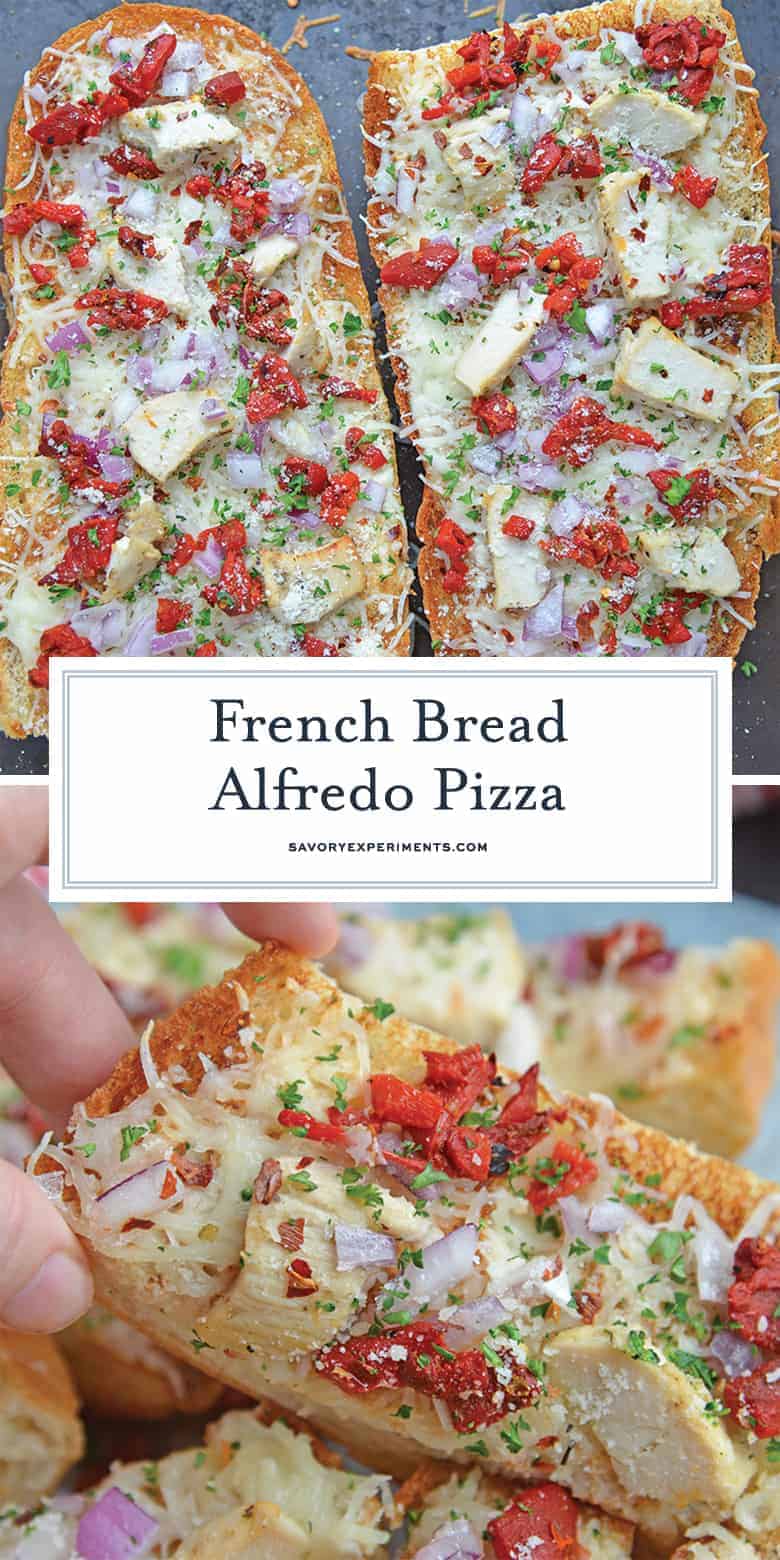 If you liked this Chicken Alfredo Pizza, check out these other homemade pizza recipes:
Tools for making White Pizza:
Bread Knife- Having a bread knife makes cutting any bread so much easier, especially if it is a super fresh loaf of bread with a tender crumb. It won't collapse or mush down. You can use any serrated knife.
Rimmed Baking Sheet– another kitchen staple! You'll use this for prep work, roasting and much more. I have 7 at my house.
Ramekins– If you are letting everyone make their own pizza, placing the ingredients in small ramekins if the easiest.
I also use them for individual sauce cups at dinner parties. Then you don't have to worry about double dipping!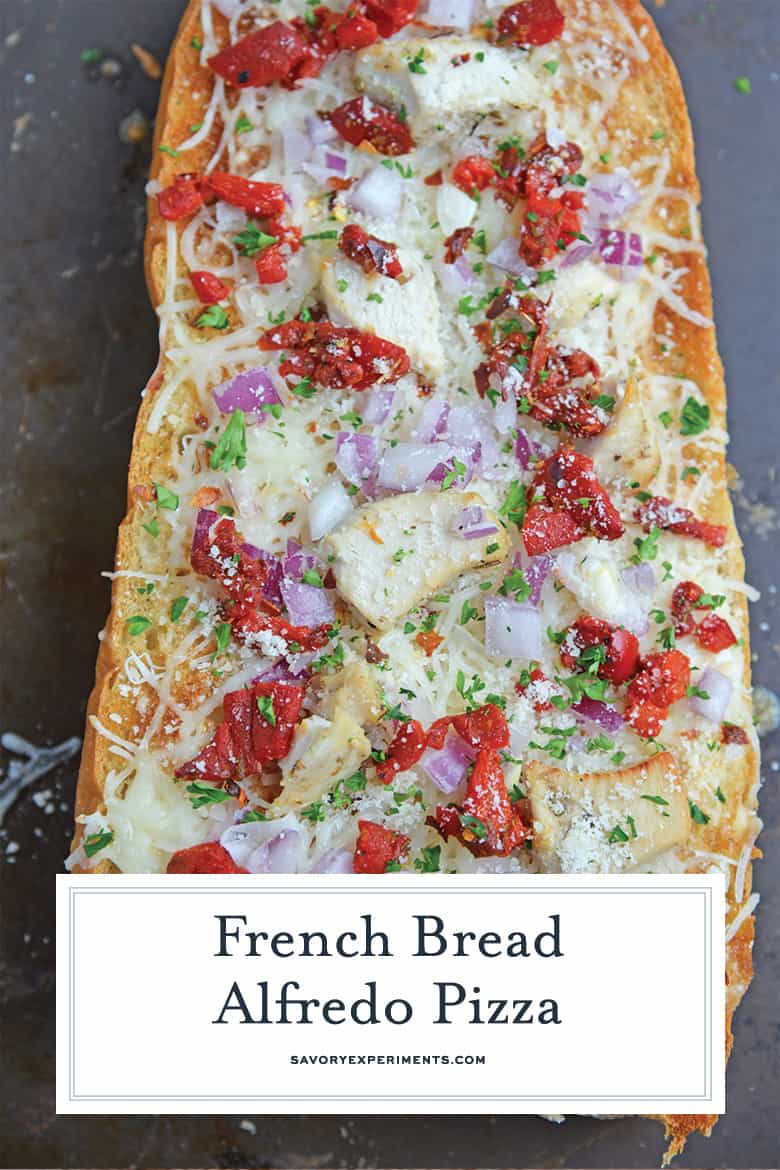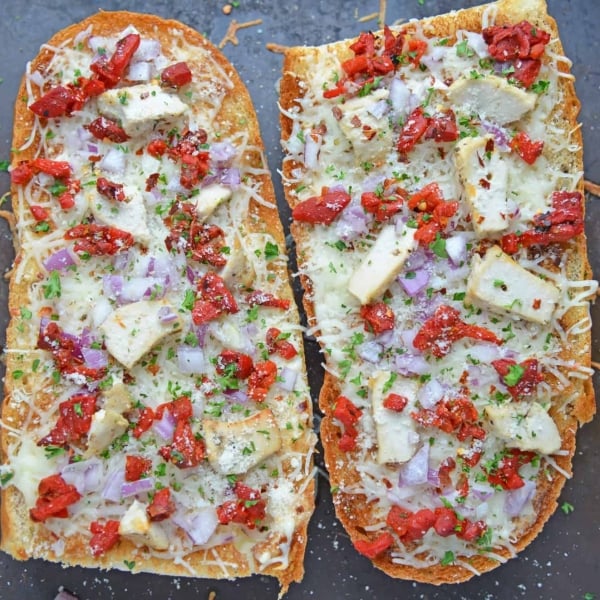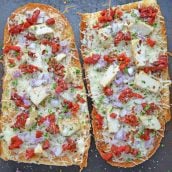 French Bread Alfredo Pizza
If you're looking for a homemade pizza recipe, look no further than this French Bread Alfredo Pizza. It's basically like chicken alfredo in pizza form!
Instructions
Cut loaf of French bread in half and then half again lengthwise. Like you were making a submarine sandwich.

Place them on a rimmed baking sheet, cut side up and toast for 5 minutes in the oven.

Remove and equally divide Alfredo sauce, chopped chicken, red onion and roasted red pepper on the 4 slices of bread.

Return to the oven and bake for 5-7 minutes or until cheese is melted and bubbly.

Remove and season with crushed red pepper flakes, if desired.

If you've tried this recipe, come back and let us know how it was!
Nutrition
Calories:
356
kcal
,
Carbohydrates:
58
g
,
Protein:
15
g
,
Fat:
7
g
,
Saturated Fat:
3
g
,
Cholesterol:
21
mg
,
Sodium:
767
mg
,
Potassium:
152
mg
,
Fiber:
3
g
,
Sugar:
3
g
,
Vitamin A:
85
IU
,
Vitamin C:
3.8
mg
,
Calcium:
82
mg
,
Iron:
3.7
mg