What is Fireman Chicken? Chances are if you don't live in upstate or western New York or have friends from that area, you may have never heard of it, but that is about to change. You might also know it as Cornell Chicken, perhaps?
Fireman Chicken, also known as Cornell Chicken BBQ, is a classic BBQ chicken marinade that originated in upstate New York, but is making its way through the states!
Foodie friends, I hereby introduce you to the king of all BBQ chicken recipes: Fireman Chicken, also known as Cornell Chicken BBQ.
Most say Fireman Chicken originated in Ithaca, New York, and the home of Cornell University, where every year the fire department has a fundraiser and makes pounds of their famous BBQ chicken.
Others claim it actually came from a fire company on the Eastern shore of Maryland. Who knows, really.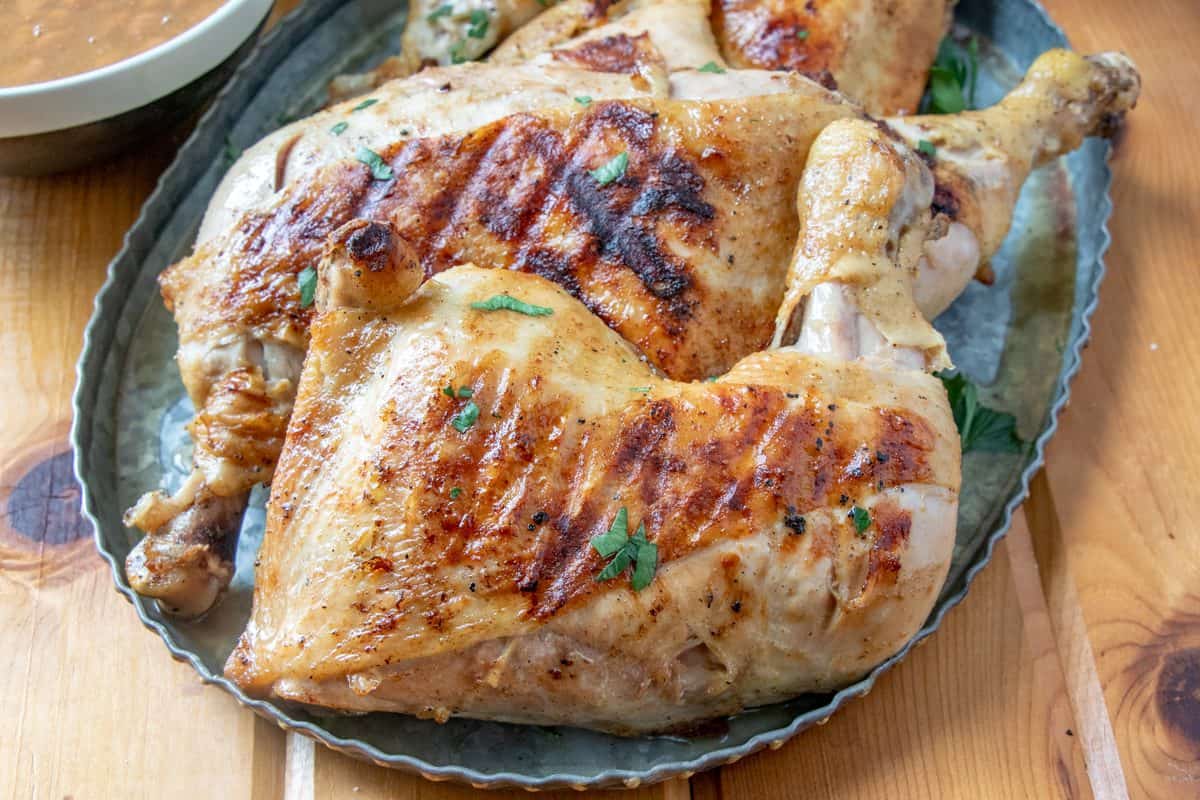 What I know is that because hubby and a few of his friends are from these parts, Fireman Chicken has become a staple at each and every one of our BBQs.
People love it, they crave it, they get excited when they find out we are making it!
The marinade is a simple vinegar-based sauce that differs from person to person. Some add paprika, others garlic, apple cider vinegar, poultry seasoning and some use raw egg instead of mayonnaise… even though mayo is actually raw egg.
It sounds odd, but results in a super moist chicken and a marinade that really sticks. My Fireman Chicken recipe is a hybrid of them all.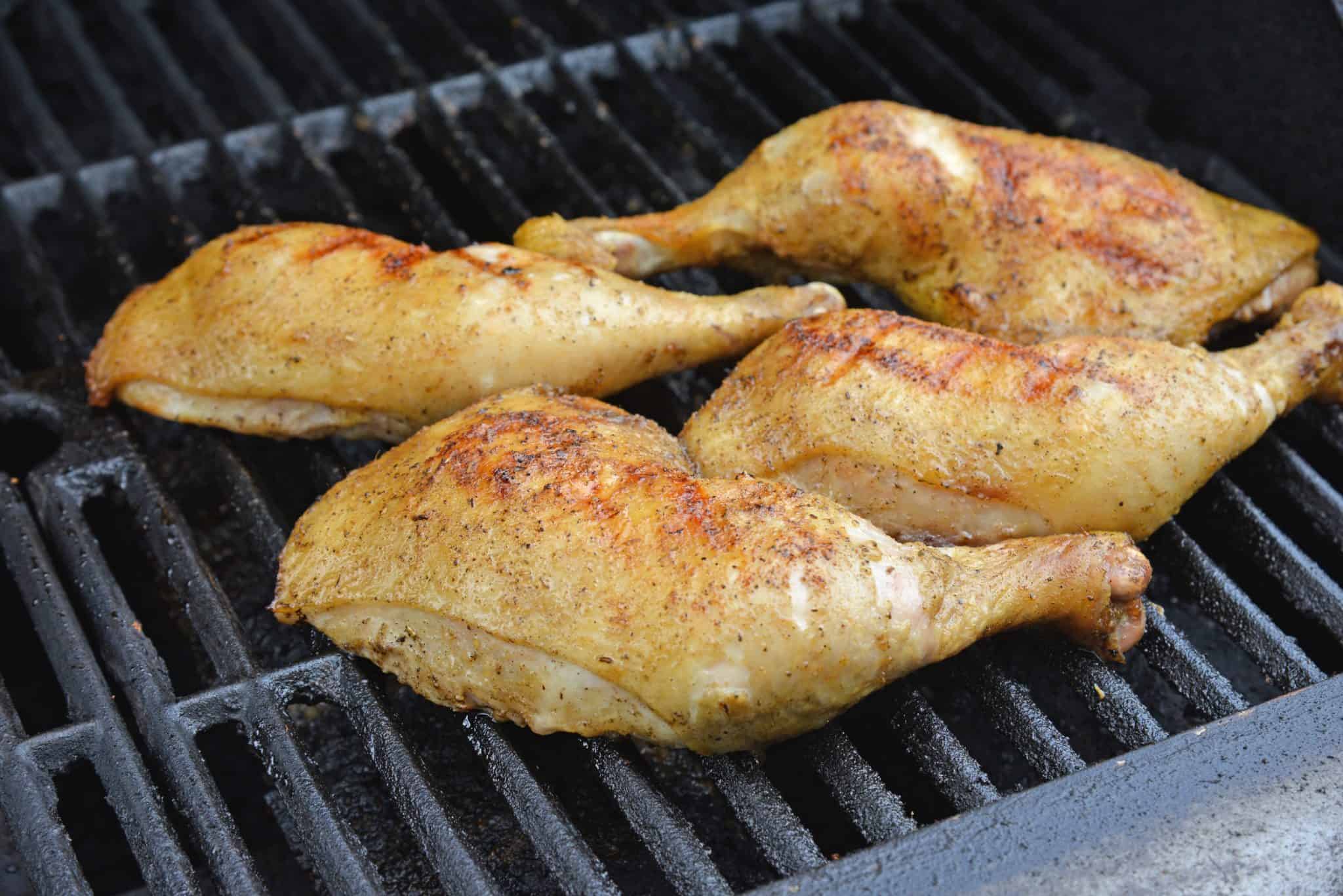 You can use any chicken pieces you want; thighs, drums, breasts. I suggest marinating for a minimum of 24 hours, but I have friends that swear it needs to be at least three days. I generally don't have the foresight to plan that far in advance.
The salt and refrigeration will keep your chicken and marinade from going bad. Just make sure to grill all pieces to an internal temperature of 165 degrees.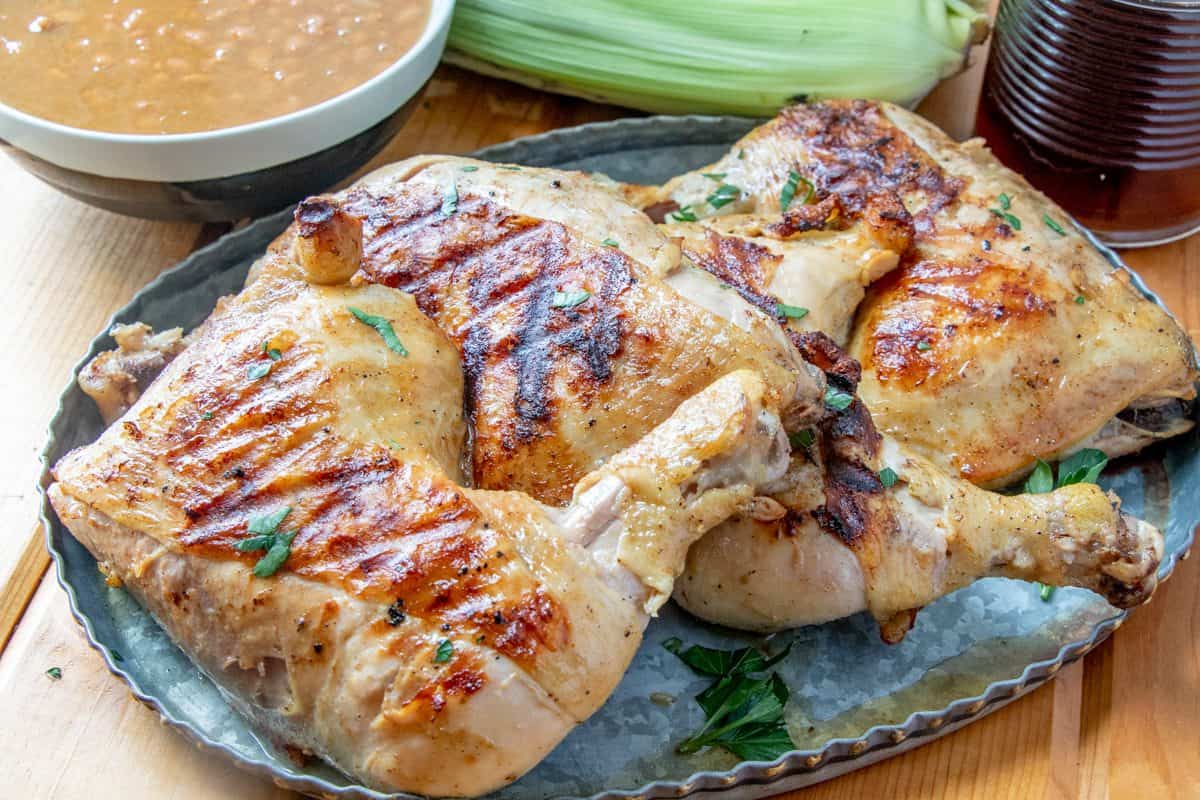 Serve your Fireman Chicken recipe with Baked Beans, Corn on the cob or a nice Kale Salad!
If you like our Fireman Chicken, here are even more BBQ classics: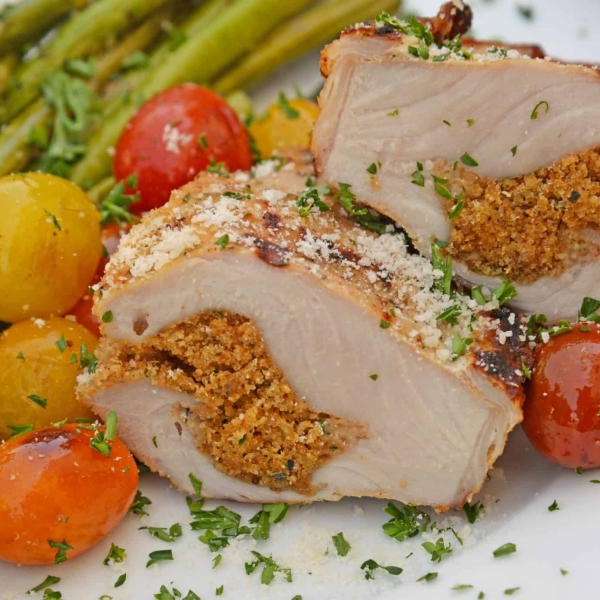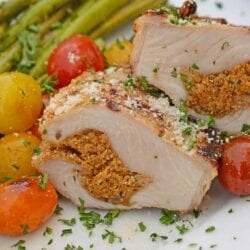 Grilled Stuffed Pork Chops
Grilled Stuffed Pork Chops are an easy grilled pork recipe. Herb marinated pork is stuffed with bread crumbs, herbs and Parmesan cheese and grilled to flavorful perfection in just 15 minutes!
View this recipe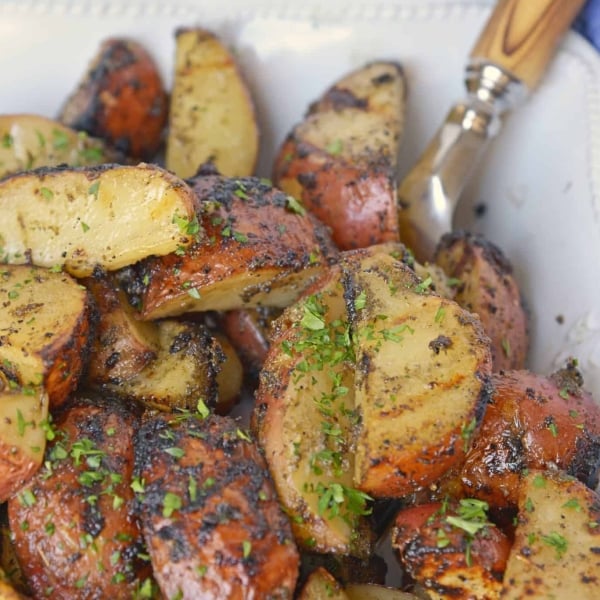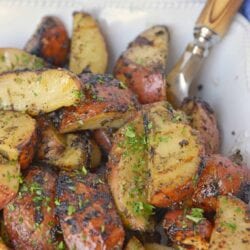 Herb Grilled Potatoes
Potatoes grill uses miracle whip (I called them Miracle Whip Potatoes growing up) and keeps those spuds nice and moist with loads of tangy flavor.
View this recipe
Tools for making Cornell Chicken:
Meat Thermometer– Every home kitchen should have a meat thermometer. Never take a guess as to if something is done again!
Mixing Bowls– make sure to check out my article on Using the Right Mixing Bowl, you'd be surprised how many people aren't!
Whisks– I buy whisks in multiple sizes. You never know which one you will need.
Grilling Tools– you are grilling, so make sure you have the right tools!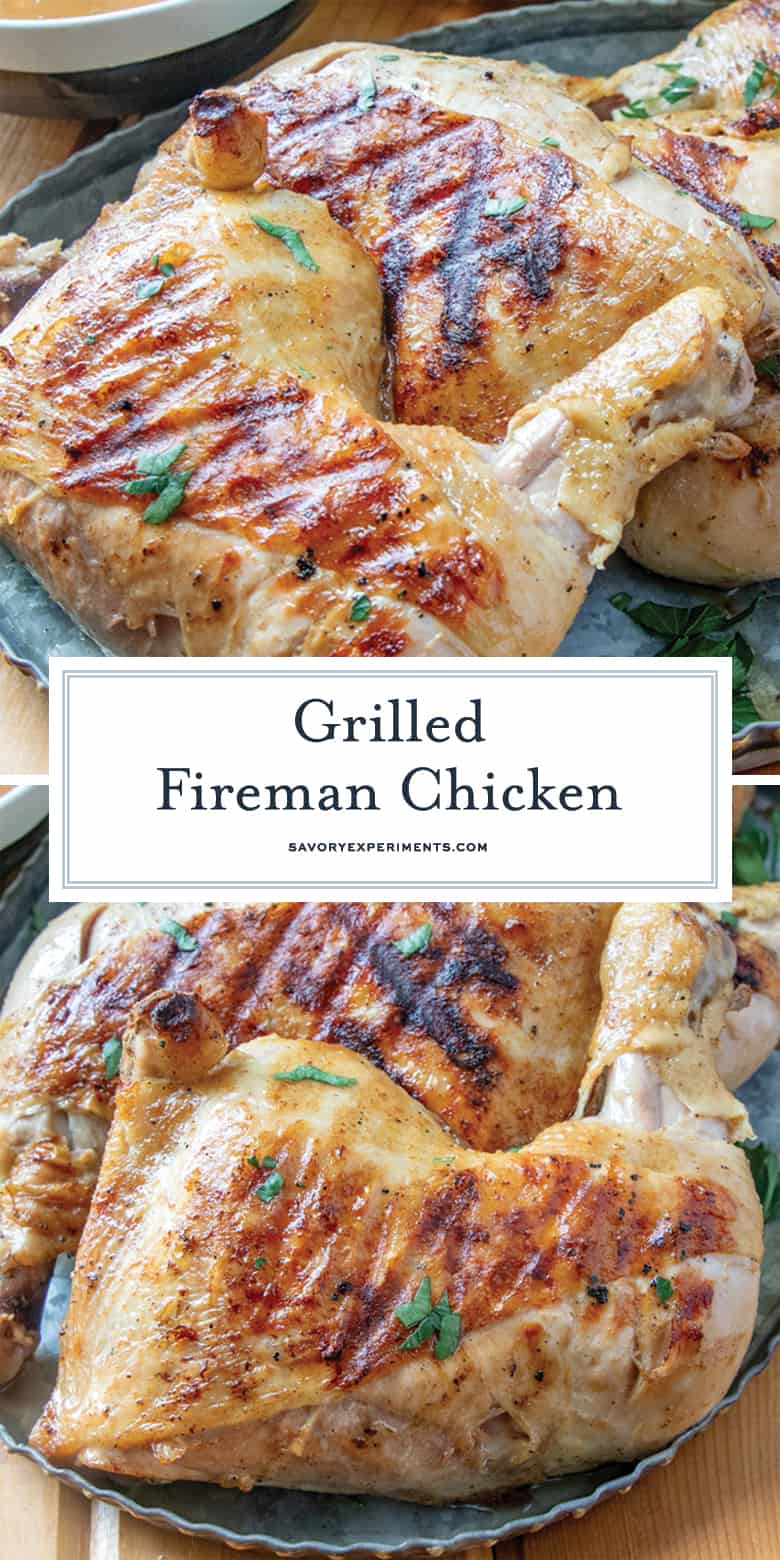 Questions you might have about how to make Cornell Chicken:
Do I have to use chicken quarters? Nope- use whatever chicken pieces you'd like. If you want to use a variety and save some money, learn how to cut up your own whole chicken.
I do prefer to use pieces with chicken skin, opposed to boneless skinless chicken breasts. It helps to hold in the flavor.
Can I make these ahead of time? If you are cooking for a large crew, I would suggest making them ahead of time. Chicken on the grill can be quite time consuming.
Do like the restaurants do and cook the chicken ahead of time, allowing you to just reheat it on the grill when it is time to serve.
Can I freeze Cornell Chicken? You can. I recommend freezing the chicken in the marinade and then defrosting when you are ready to cook. You can also freeze cooked chicken, but it tends to come out a little dry.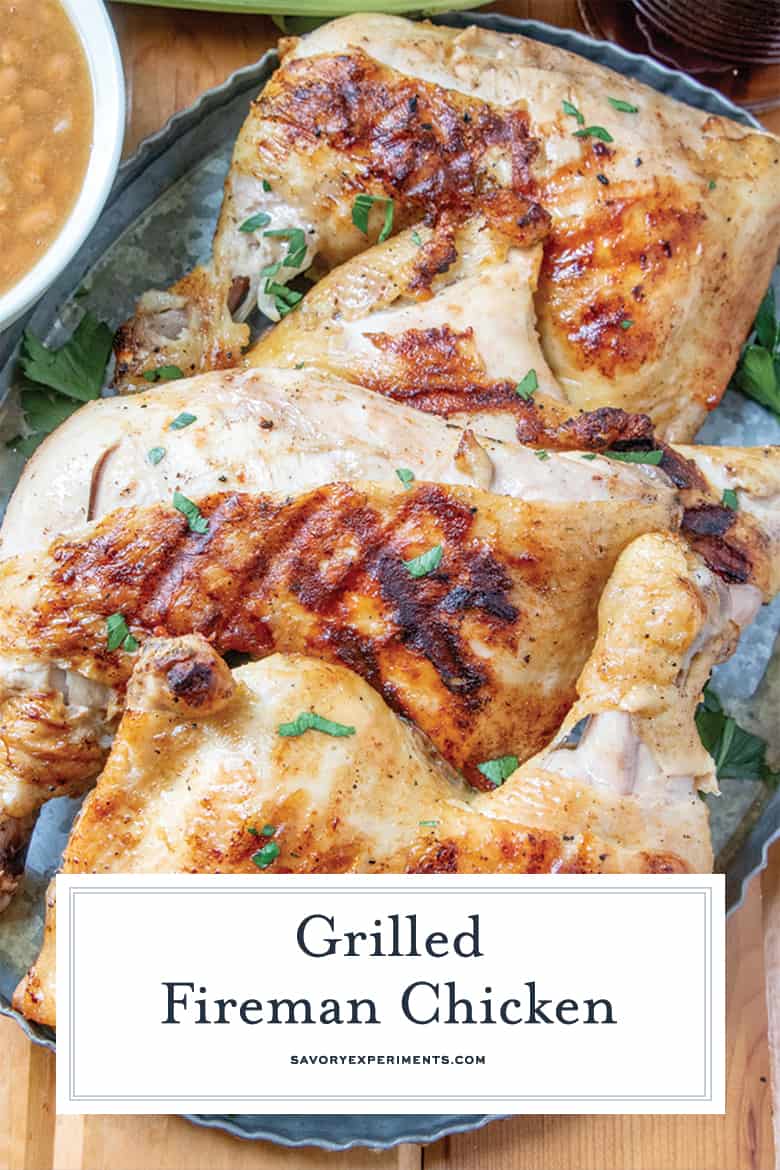 Can I use a different type of oil? You can use canola or any vegetable blended oil. I suggest vegetable oil only because it is fairly cheap. Don't go wasting money using an expensive olive oil.
Can I use the leftover marinade as a basting sauce? I never recommend using marinade that has raw meat in it for basting even if you boil it. Instead, make a little extra and set it aside for basting.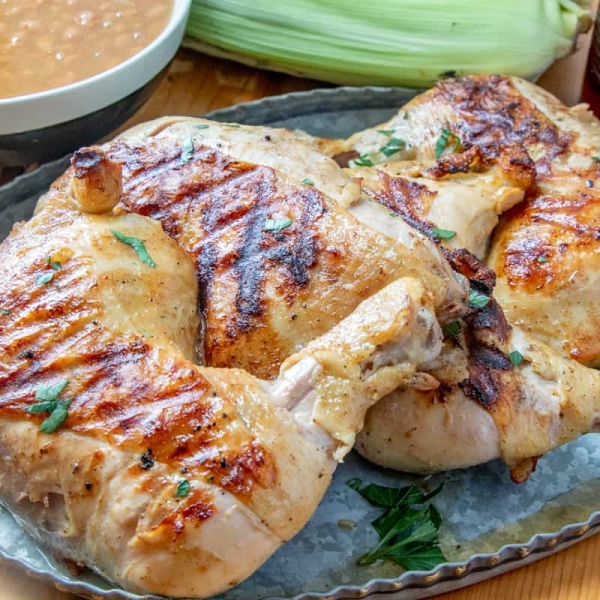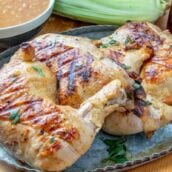 Fireman Chicken
Fireman Chicken, also known as Cornell Chicken BBQ, is a classic BBQ chicken marinade that originated in upstate New York, but is making its way through the states!
Instructions
In a medium mixing bowl, combine mayonnaise, vegetable oil, cider vinegar, fine sea salt, poultry seasoning, ground black pepper, garlic powder and paprika. Whisk until smooth.

Pierce chicken with a fork several times to allow marinade to really sink in.

Place chicken quarters into a large airtight plastic bag or other tight fitting container. Cover with marinade, reserving a 1/2 cup for basting. Refrigerate for a minimum of 2 hours, maximum of 24 hours.

Heat grill to medium-high heat. You can use either gas or charcoal, however make sure you have a long burning charcoal if you go that direction. Place chicken on the grill on indirect heat.

Use reserved marinade, basting the chicken throughout the cooking process. Cook over indirect heat for 35 minutes, turning and basting.

At 35 minutes, transfer to direct heat to get a crispy and good char marks. At this time, stop basting. If you are using different cuts of chicken, please adjust accordingly.

Remove from the grill and allow to rest for 5-10 minutes before serving. Discard any unused marinade.

If you've tried this recipe, come back and let us know how it was!
Nutrition
Calories:
590
kcal
,
Carbohydrates:
4
g
,
Protein:
24
g
,
Fat:
50
g
,
Saturated Fat:
14
g
,
Cholesterol:
153
mg
,
Sodium:
2041
mg
,
Potassium:
418
mg
,
Sugar:
1
g
,
Vitamin A:
405
IU
,
Calcium:
30
mg
,
Iron:
1.8
mg