Grilled Watermelon Steaks? Yep! It is the newest food craze and I decided to give it a whirl.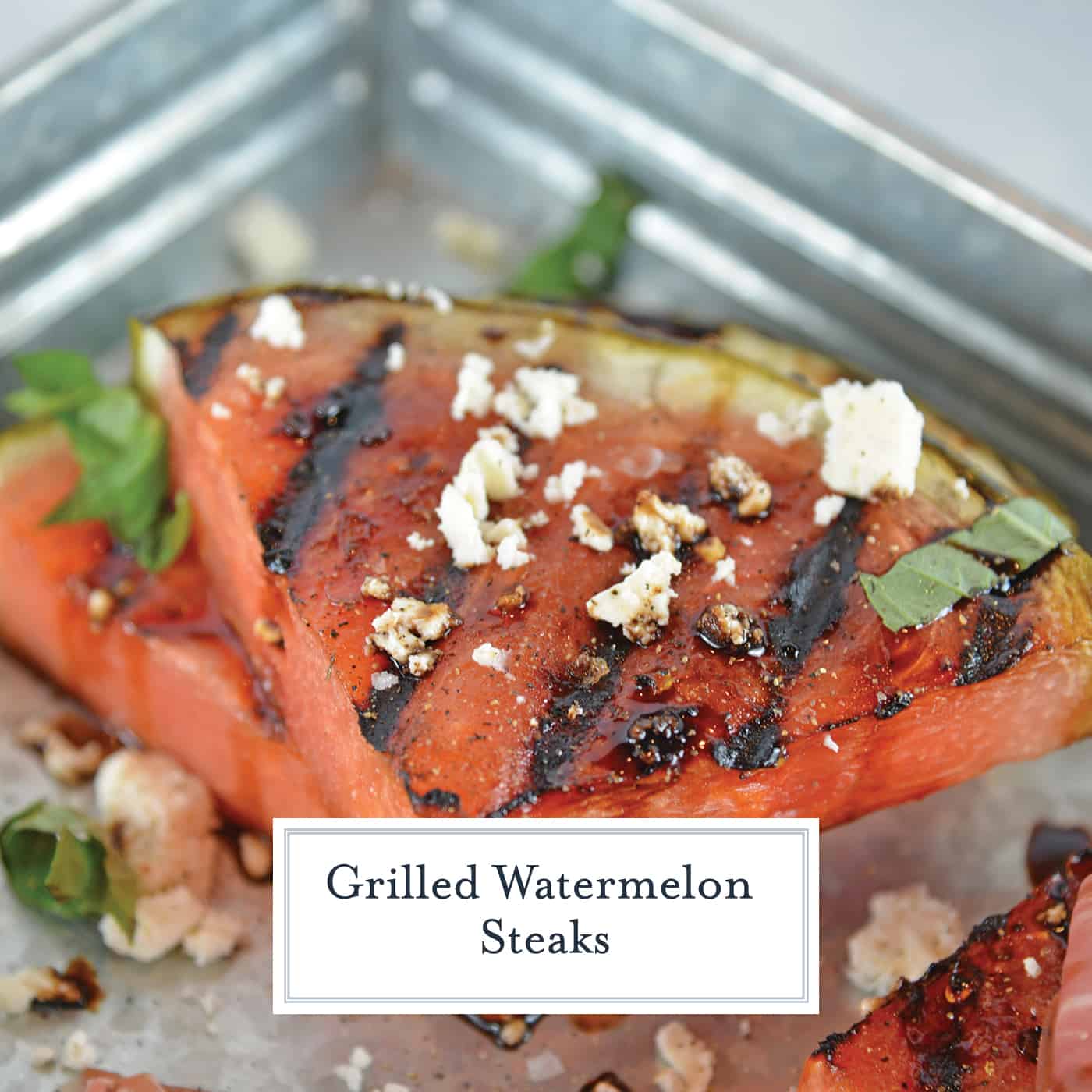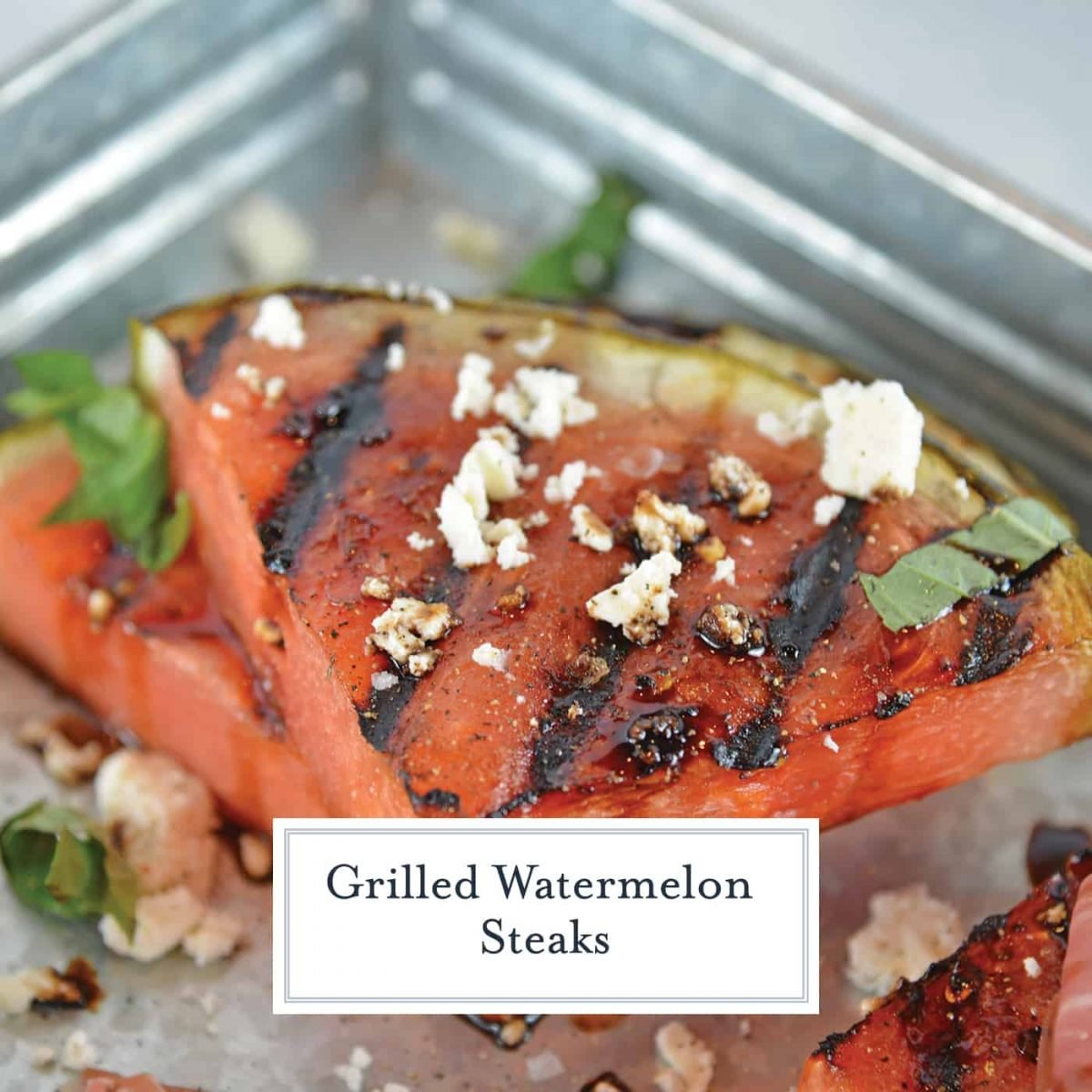 Grilled Watermelon Steaks with balsamic reduction and feta cheese are an easy BBQ side dish. Caramelized, juicy watermelon with savory cheese and sticky reduction is delicious!
I'm still not quite sure why they Grilled Watermelon "Steaks". Grilled Watermelon would have sufficed.
Some folks claim that a juicy slice of hot watermelon is similar to a grilled steak.
I think that is a bunch of stink. Nothing will ever replace a nice steak.
Nothing.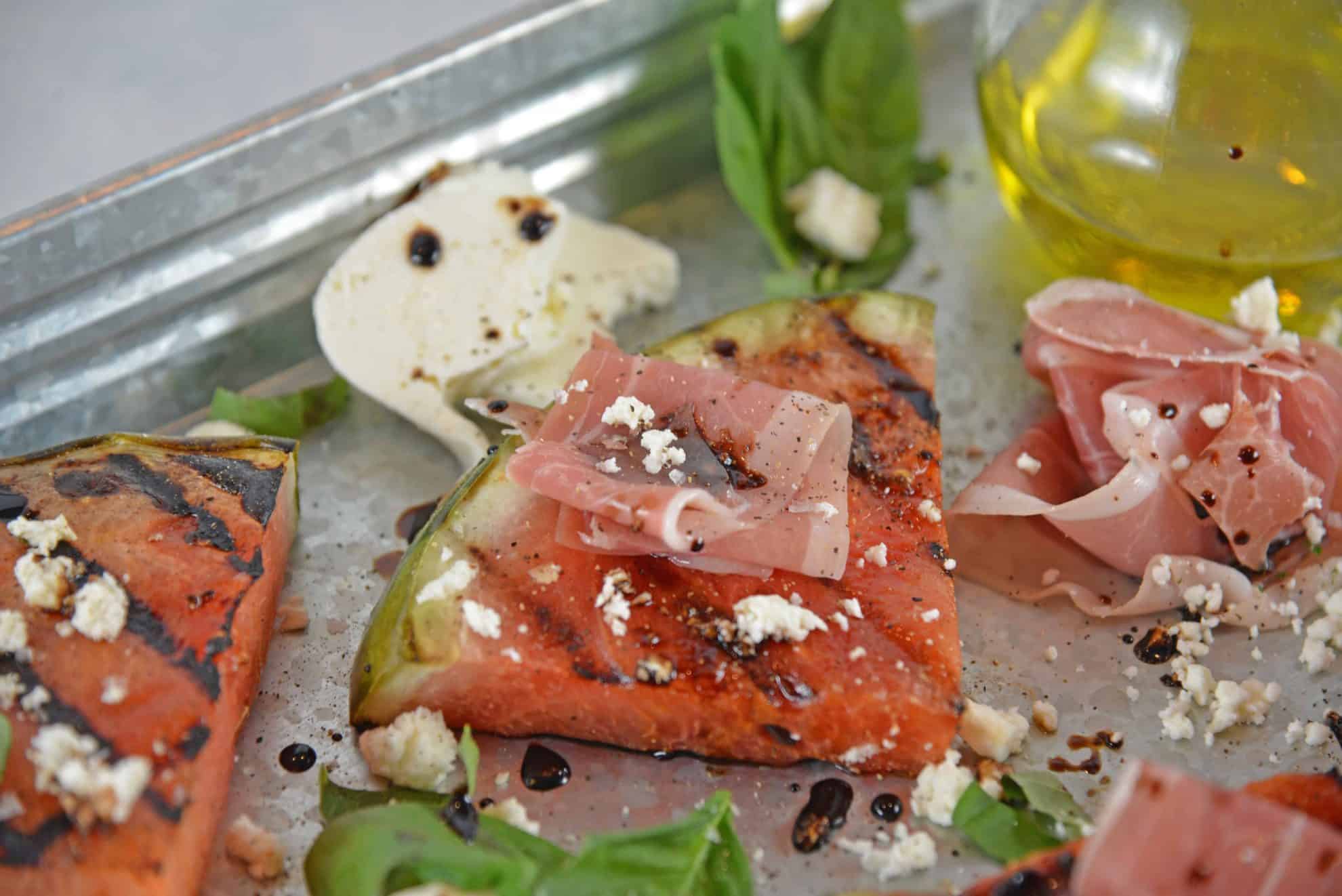 I WILL say that cooked watermelon is delicious and shouldn't be discounted. In fact, you should pair your watermelon steak with a real steak!
Double STEAK!
Using everyday ingredients like extra virgin olive oil, Maldon sea salt, freshly ground pepper, Balsamic Reduction Sauce and a sprinkle of feta make this a side dish winner!
Winner, winner, watermelon dinner!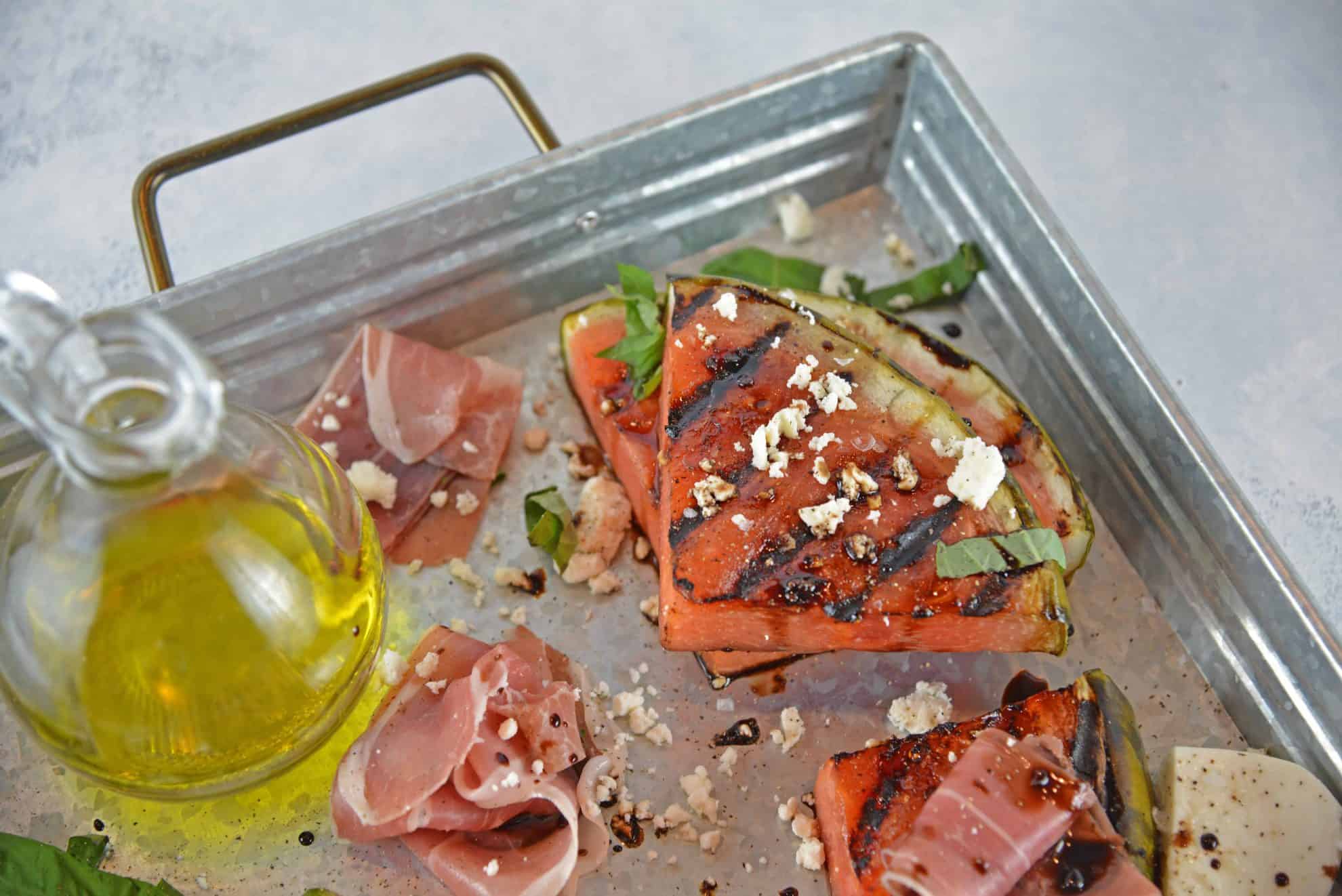 The natural juices juices and sugars of the watermelon caramelize on the grill, leaving it even more sweet than a freshly cut slice.
Salt is commonly used on fresh watermelon to enhance flavor, but even further exceienatues the natural flavor when heat is applied.
Balsamic Sauce adds acidity, as does the cheese while also adding salt. A well-balanced side dish that plates beautifully as well! I like to plate mine with prosciutto and fresh mozzarella as well.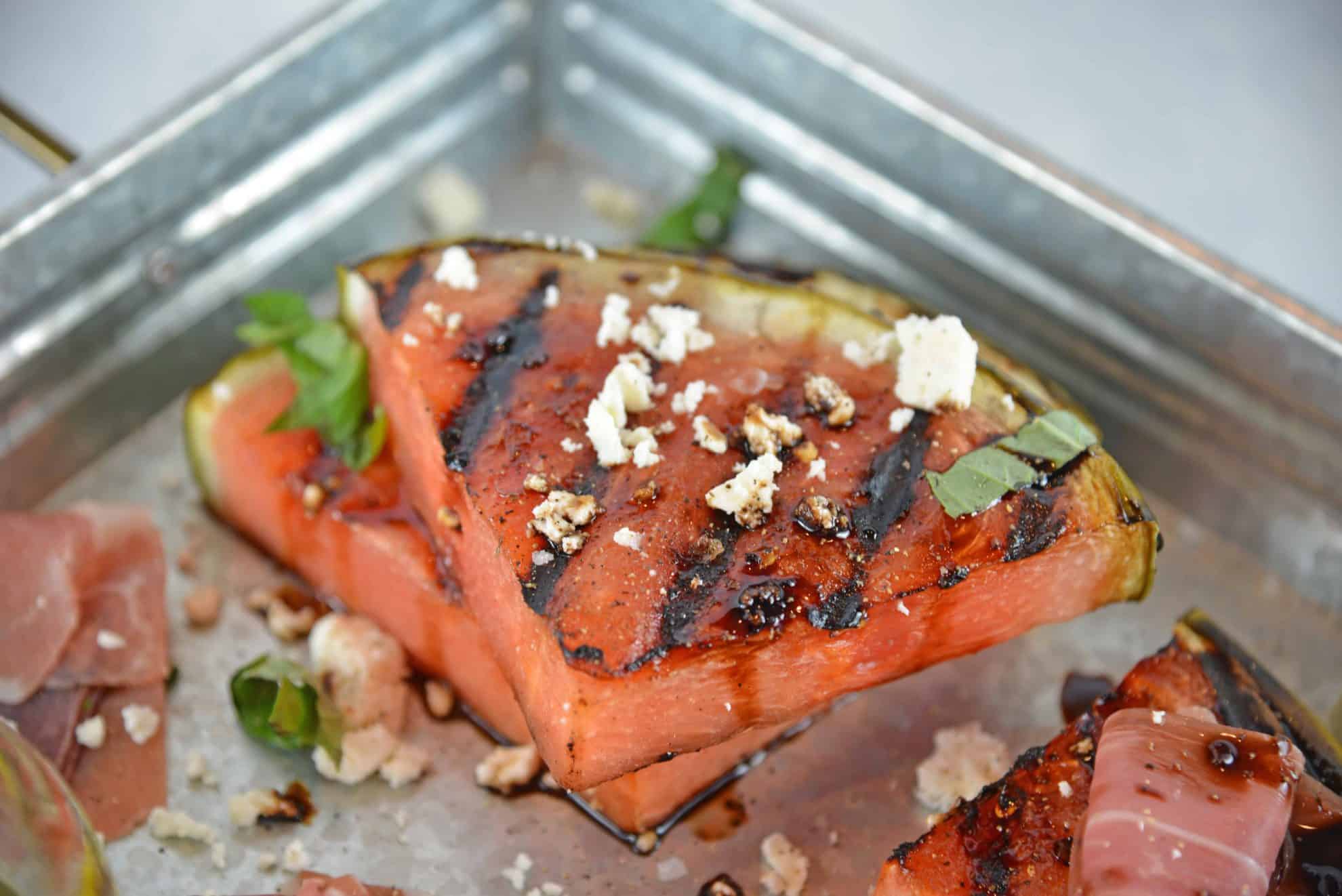 Some folks will ask how to grill watermelon. It is really easy! A little bit of oil just to prevent sticking and then place on indirect heat for a few minutes per side.
The goal is to have glorious grill marks and a caramelized outside, but a juicy, cool center. Like a medium rare steak.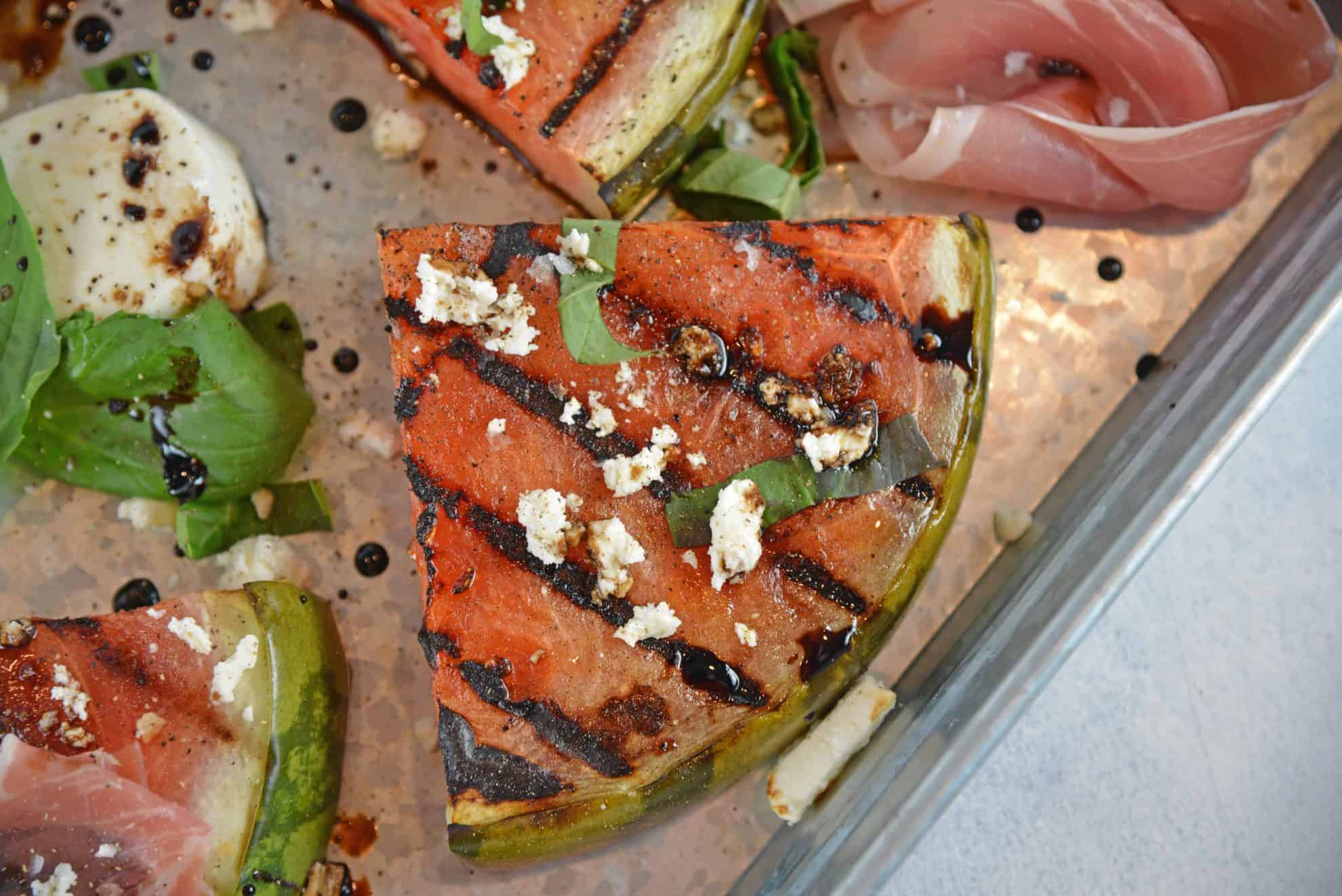 There are also numerous health benefits to watermelon. Here are a few:
Keeps you hydrated because it is so packed with water.
Contains Vitamin C, Vitamin A, Potassium, Magnesium, Vitamins B1, B5 and B6.
Has been linked to compounds that prevent cancer.
Has been linked to lower inflammation.
It tastes delicious and makes you happy.
Helps you feel full with low calories.
Citrulline, an amino acid in watermelon, reduces muscle soreness.
Improves heart health.
Want your Grilled Watermelon Steaks to be a sweet dish? No problem!
Slice and grill thick slices of Vanilla Pound Cake and omit the feta cheese. Voila! Dessert is served!
If you liked this grilled side dish, try some of these too!
Grilled Corn, Tomato and Cucumber Salad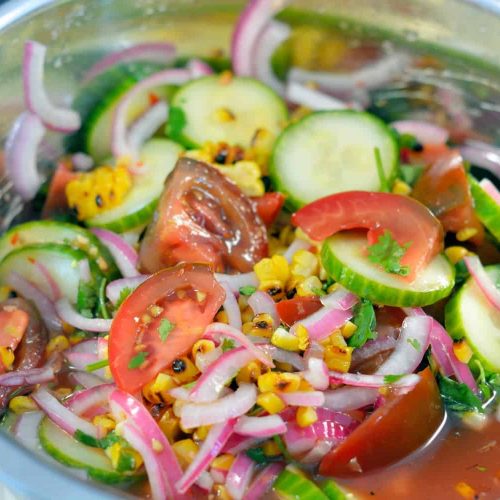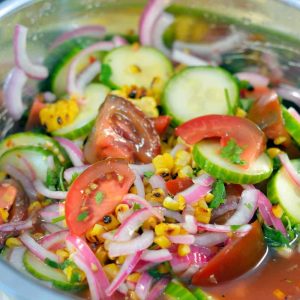 Grilled Corn Salad uses grilled corn, heirloom tomatoes, cucumber and red onion in a zesty homemade dressing. It will be your favorite summer salad!
Grilled Peaches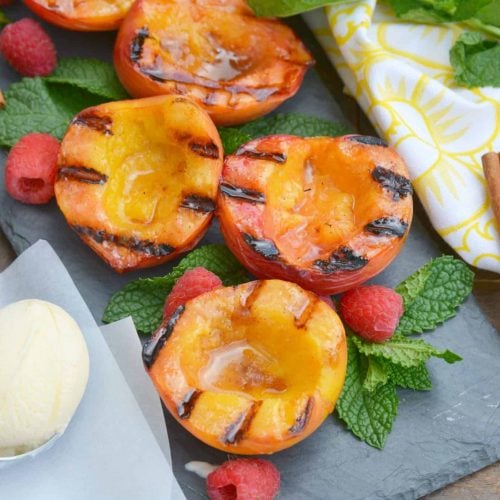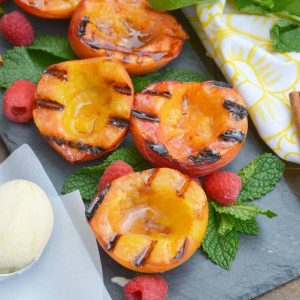 Grilled Peaches basted with cinnamon brown sugar and butter are the ultimate summer dessert idea. Add vanilla ice cream and fresh raspberries for dessert perfection!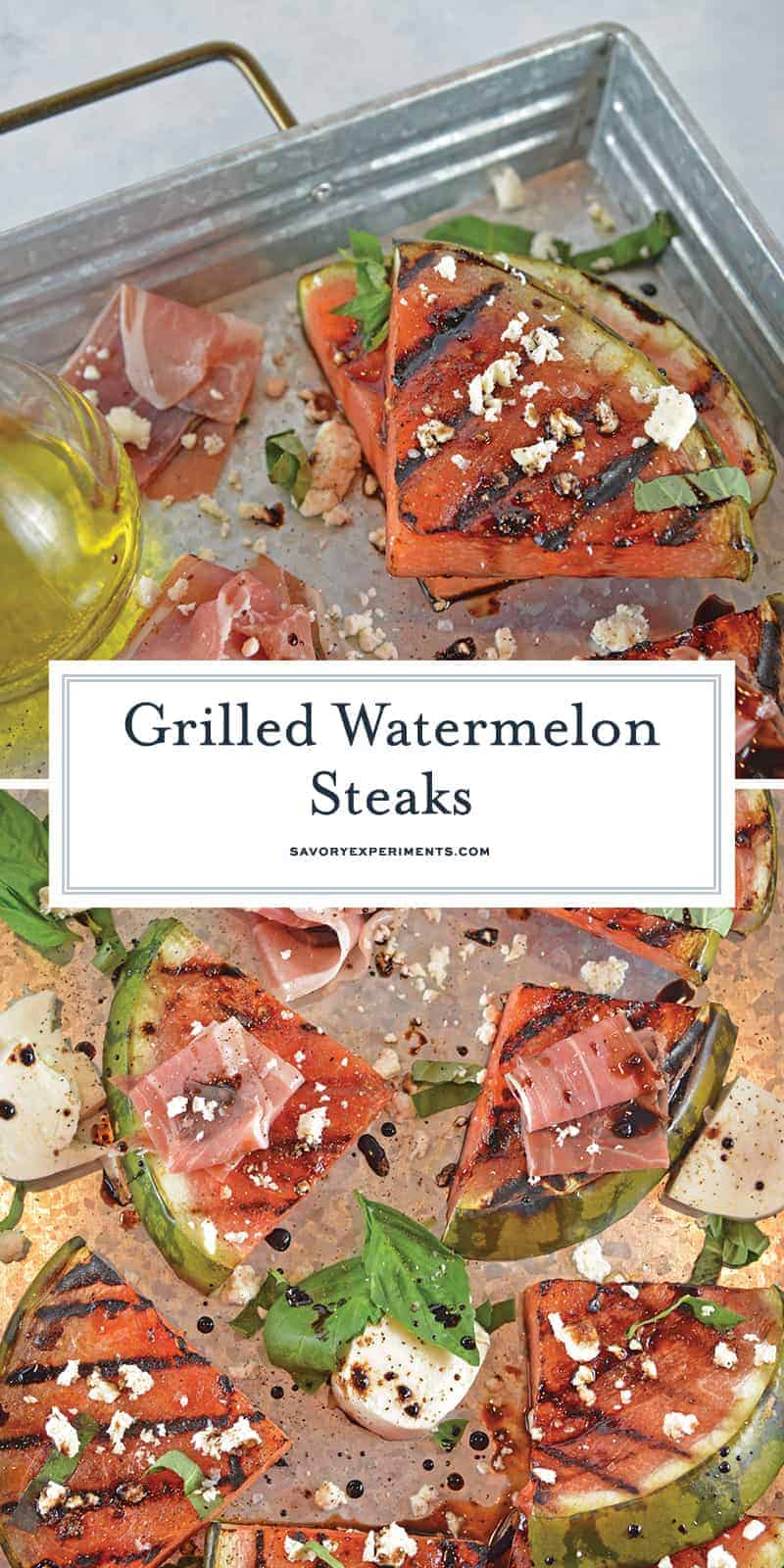 ---
Get our FREE 8 Day E-Course on How to Be a Better Home Cook. Sign up HERE!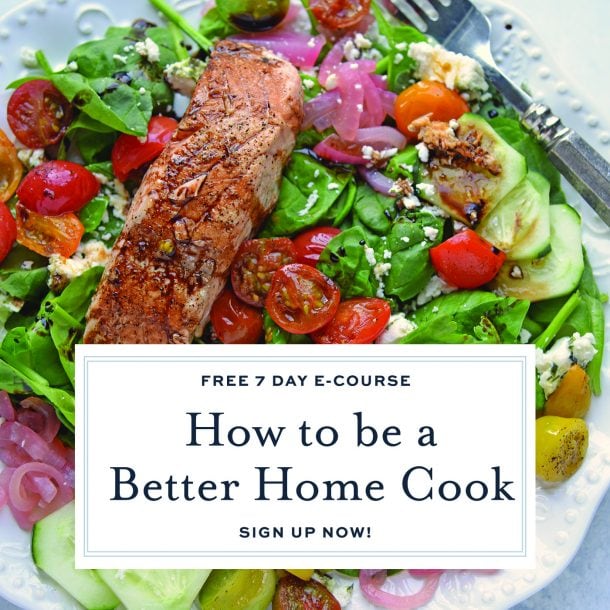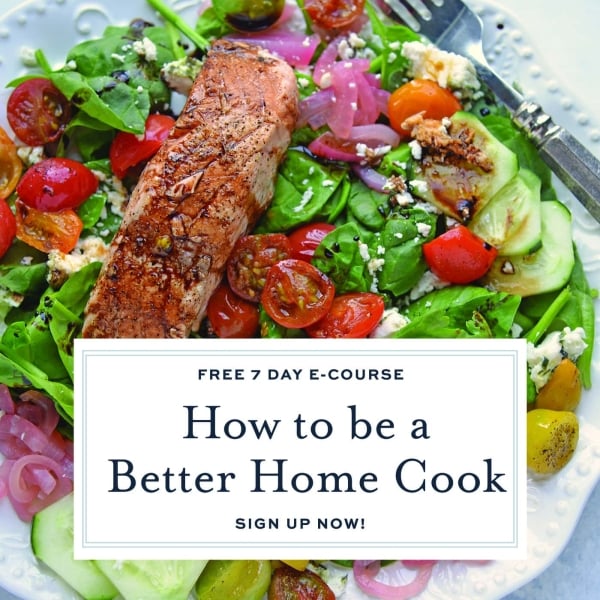 CONNECT WITH SAVORY EXPERIMENTS!

Be sure to follow me on social media, so you never miss a post!

Facebook | Twitter | Youtube 
 Pinterest | Instagram 
---
Grilled Watermelon Steaks
Grilled Watermelon Steaks with balsamic reduction and feta cheese are an easy BBQ side dish. Caramelized, juicy watermelon with savory cheese and sticky reduction is delicious!
Ingredients
Optional Pairings
Instructions
Baste watermelon slices with extra virgin olive oil.

Preheat grill to medium-high heat, cleaning and oiling grates.

Place watermelon slices on to direct heat, leaving in place to get grill marks and a good caramelization. Grill for approximately 3-4 minutes on each side.

Remove from the grill and season with Maldon sea salt, freshly ground black pepper, drizzle with balsamic reduction, crumbled feta cheese and fresh basil.

If you've tried this recipe, come back and let us know how it was!
Nutrition
Calories:
62
kcal
|
Carbohydrates:
1
g
|
Fat:
6
g
|
Saturated Fat:
1
g
|
Cholesterol:
3
mg
|
Sodium:
920
mg
|
Potassium:
4
mg
|
Vitamin A:
30
IU
|
Vitamin C:
0.2
mg
|
Calcium:
21
mg
|
Iron:
0.1
mg