And it is officially fall. Food blogs are filled with anything and everything pumpkin and ghoulish.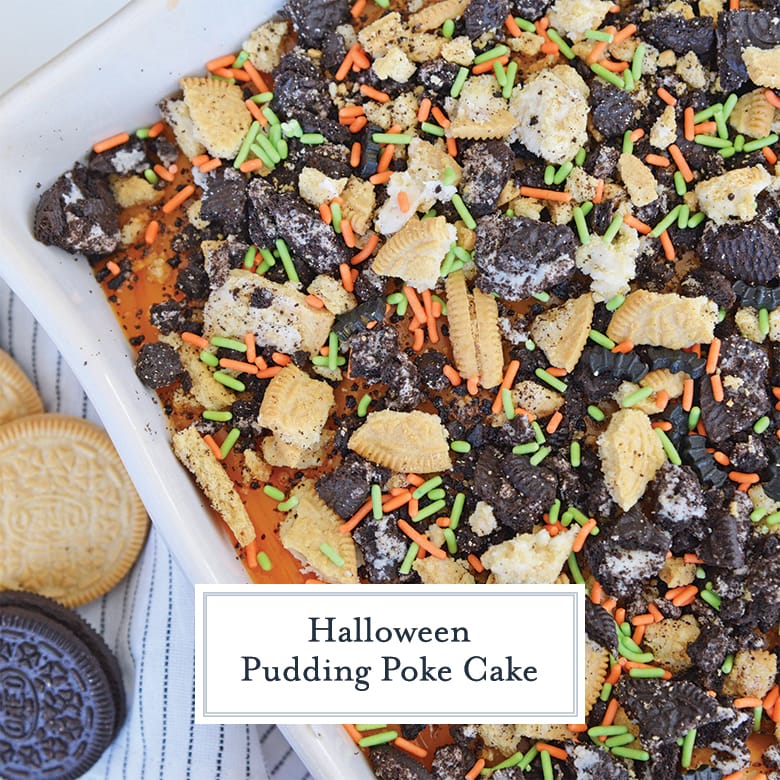 Halloween Desserts
Truth be told, I like Halloween, but I like the cutesy side, not the Zombies and spiders side, so my Halloween treats are generally simple, kid friendly and colorful.
This year I made a Halloween Oreo Poke Cake. Using boxed cake mix and instant pudding with America's favorite cookie, you will have a crowd pleasing dessert that will feed up to 20 people, all for about $10.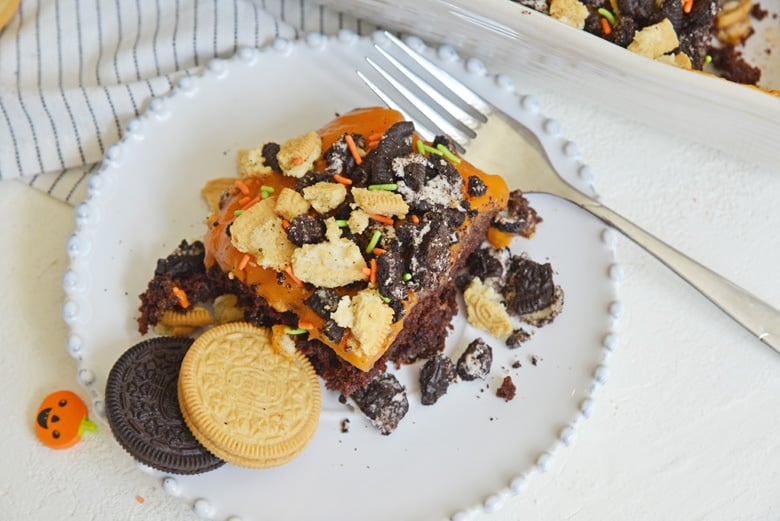 I have several other fun desserts for your spread. No Bake ghost cookies always please, caramel apples, candy corn cookies and of course, my Halloween Rice Krispie Cake!
How to Make a Poke Cake
There are several elements to make a poke cake. First, you'll need the ingredients which are easily customized to your liking. The basic are: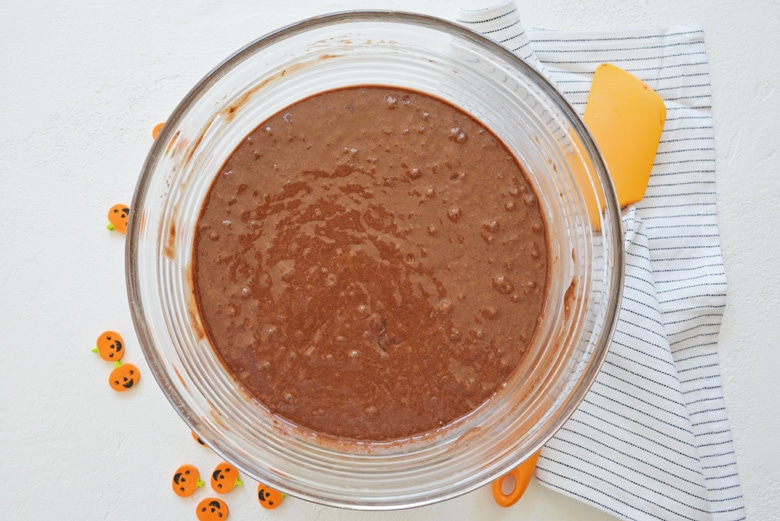 Cake– I used a chocolate cake mix
Pudding or filling– I used vanilla with orange food coloring
Topping- I like a crunchy topping, so I used crushed chocolate and vanilla Oreo cookies
The trick to any poke cake is to generously poke it with large holes. The pudding seeps on through, keeping the cake moist and flavorful for up to 3 days in the refrigerator.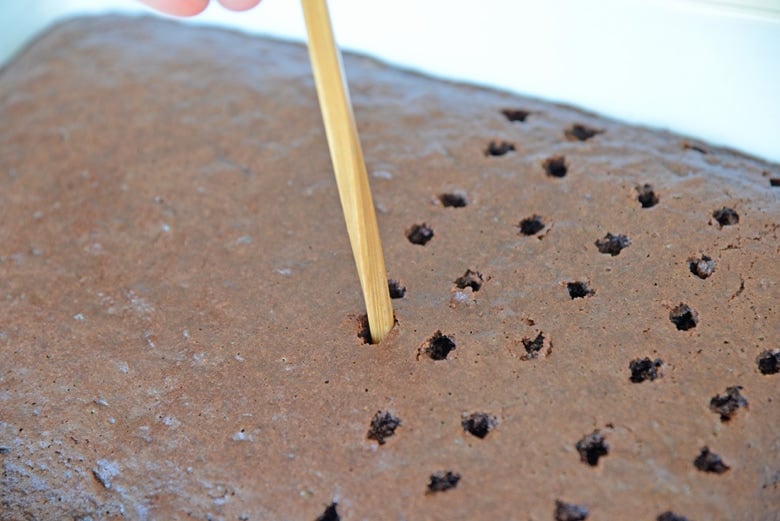 Poke your cake generously and make sure the holes are large enough for pudding. I use a chopstick or the round end of a wooden spoon.
When using instant pudding, it sets mighty fast. In order to get it to sink into the holes, it needs to be poured before it starts to thicken. Making sure the cake is still warm also assists to seeping into easing into every nook and cranny.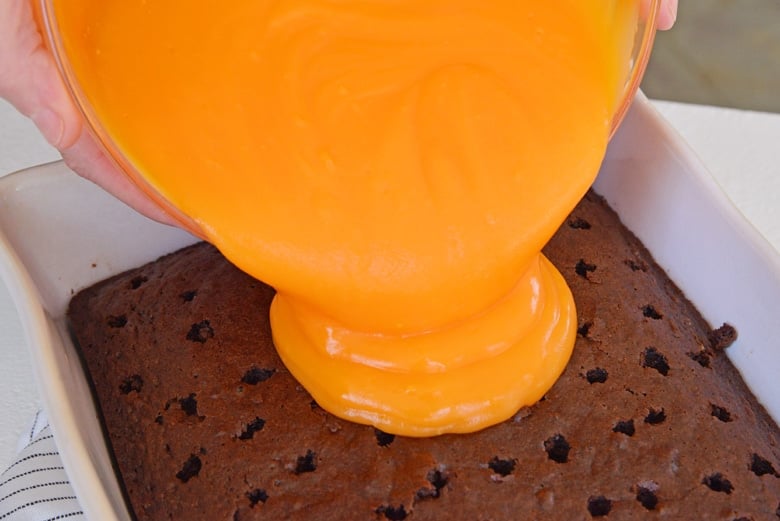 After filling with pudding, tap it several times on the counter to really help it sink down in. The cover and refrigerate to set.
PRO TIP: Don't add topping until you are ready to serve. Cookies will lose their crunch if they sit for more than 4-5 hours.
After it sets, add your topping, gently pressing into the pudding to stick. Mine is black and white which is a blend of classic and golden Oreos. I also add festive sprinkles.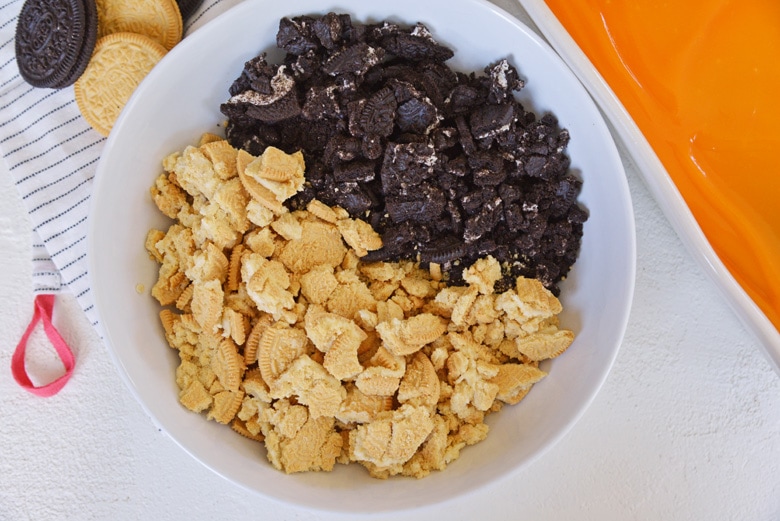 Variations
You can use any flavor of cake mix you'd like. Funfetti is always great and white cake with Halloween sprinkles is even more fun!
Pudding can also be customized. I wanted this bright orange color so I needed something white (or cream). Chocolate is a standard option, you can even do peach.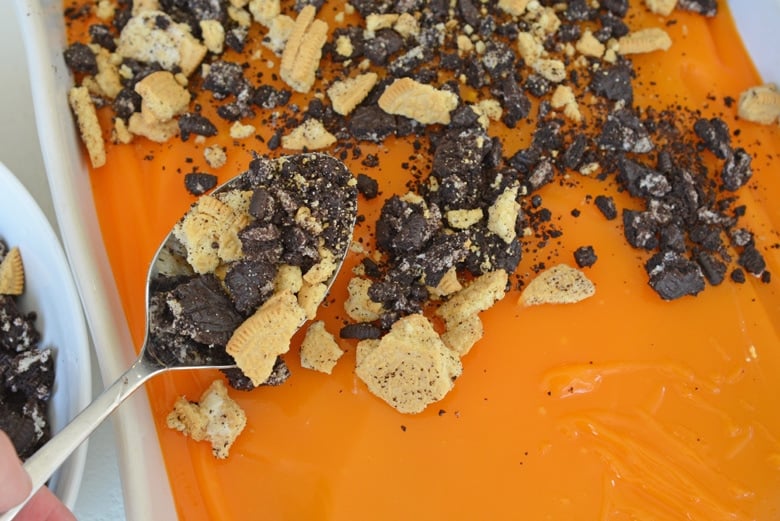 Or if you plan to make something like a dirt cake with a graveyard, pick mint or pistachio for green "grass".
The topping on this bad boy is Oreo, but Nilla Wafers and any other crunchy cookie work. I prefer a course chip so I place mine in a plastic bag and then whack it a few times. A food processor can be used for a finer crumb.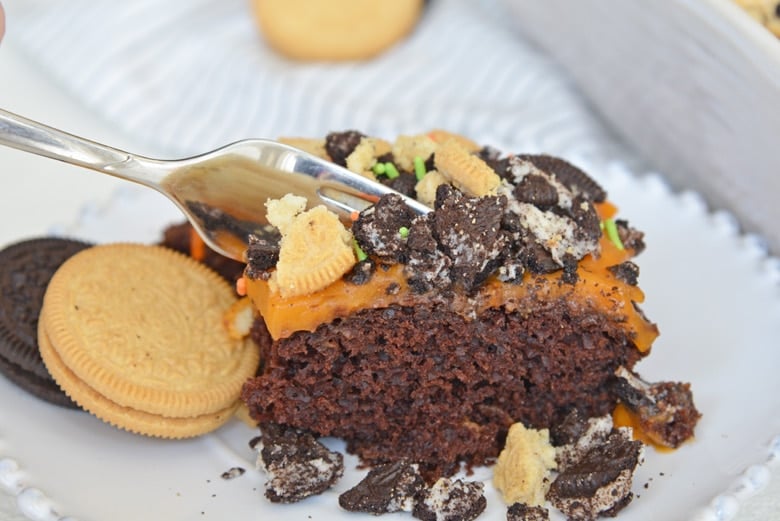 Alternatively, some people like whipped cream. You can't really do a traditional frosting because the texture of the pudding is impossible to spread evenly over.
Sprinkles are always a fun addition!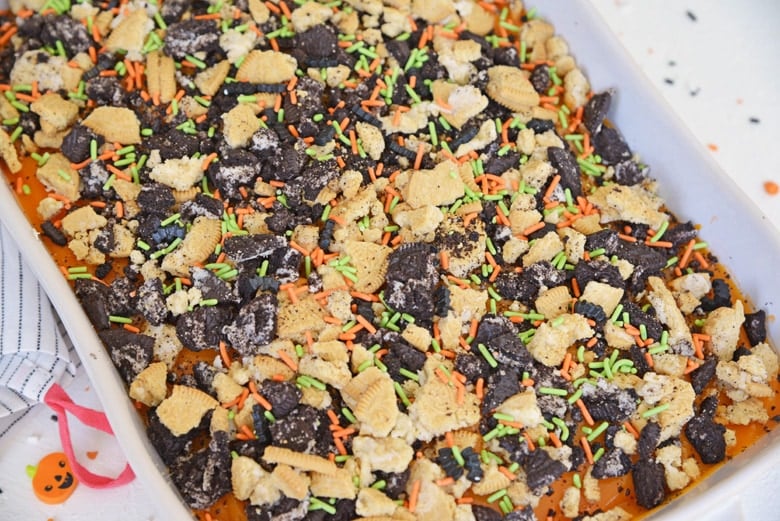 Make Ahead & Storage
This cake can be made up to a day in advance. Like any baked good, it is best sooner to be baked. Wait to add cookies until you are ready to serve. While it will still taste good, they lose their crunchy appeal pretty fast.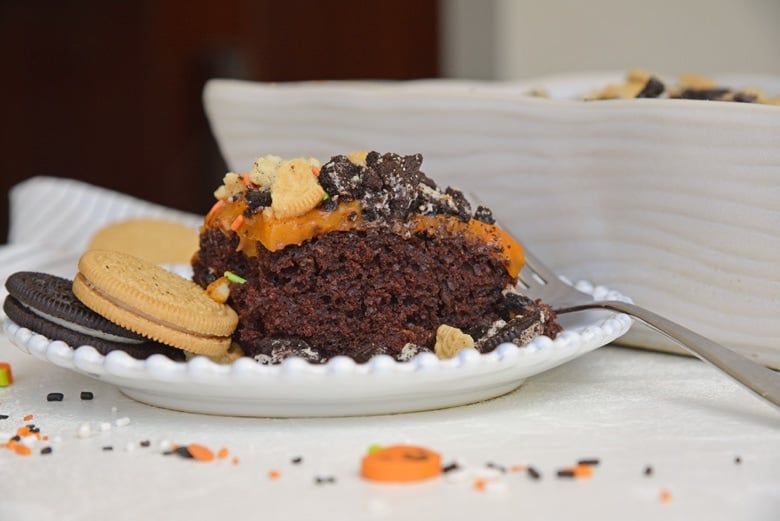 However, poke cakes (or pudding cakes) are unique because the pudding helps keep it moist and fresh. Store, covered, in the fridge for 3-5 days. If it lasts that long…
I do not recommend freezing this cake.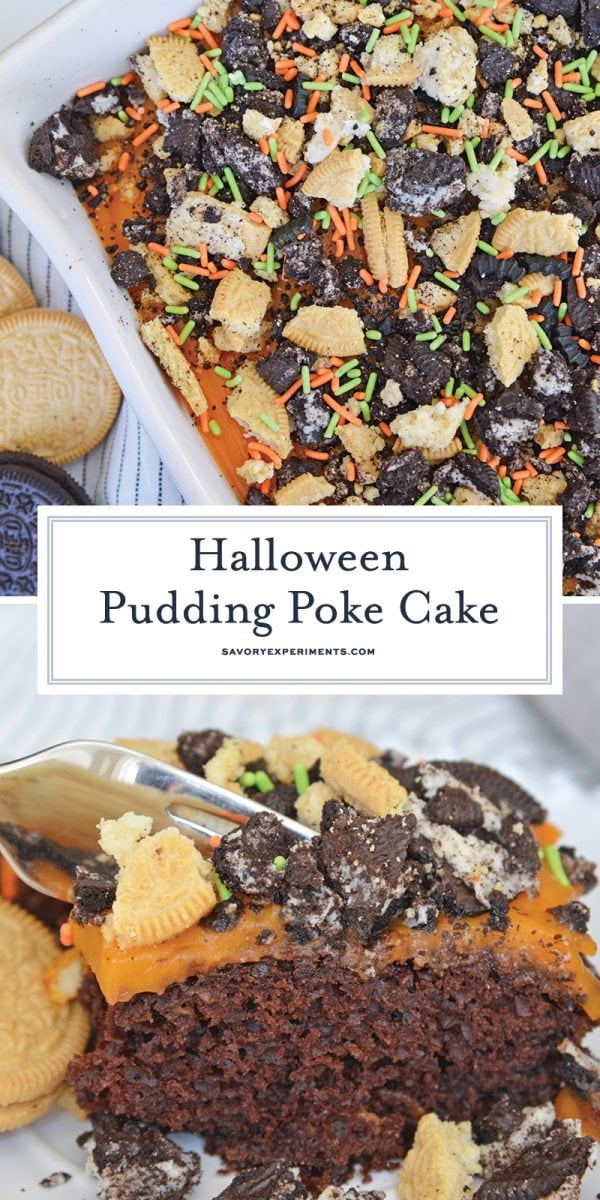 Check out these other easy Halloween desserts!