These mummy hot dogs, made with just three ingredients, are the perfect Halloween treat. Whether you're looking to make a fun party appetizer, a spooky dinner, or a festive snack, these are such a fun addition to the table.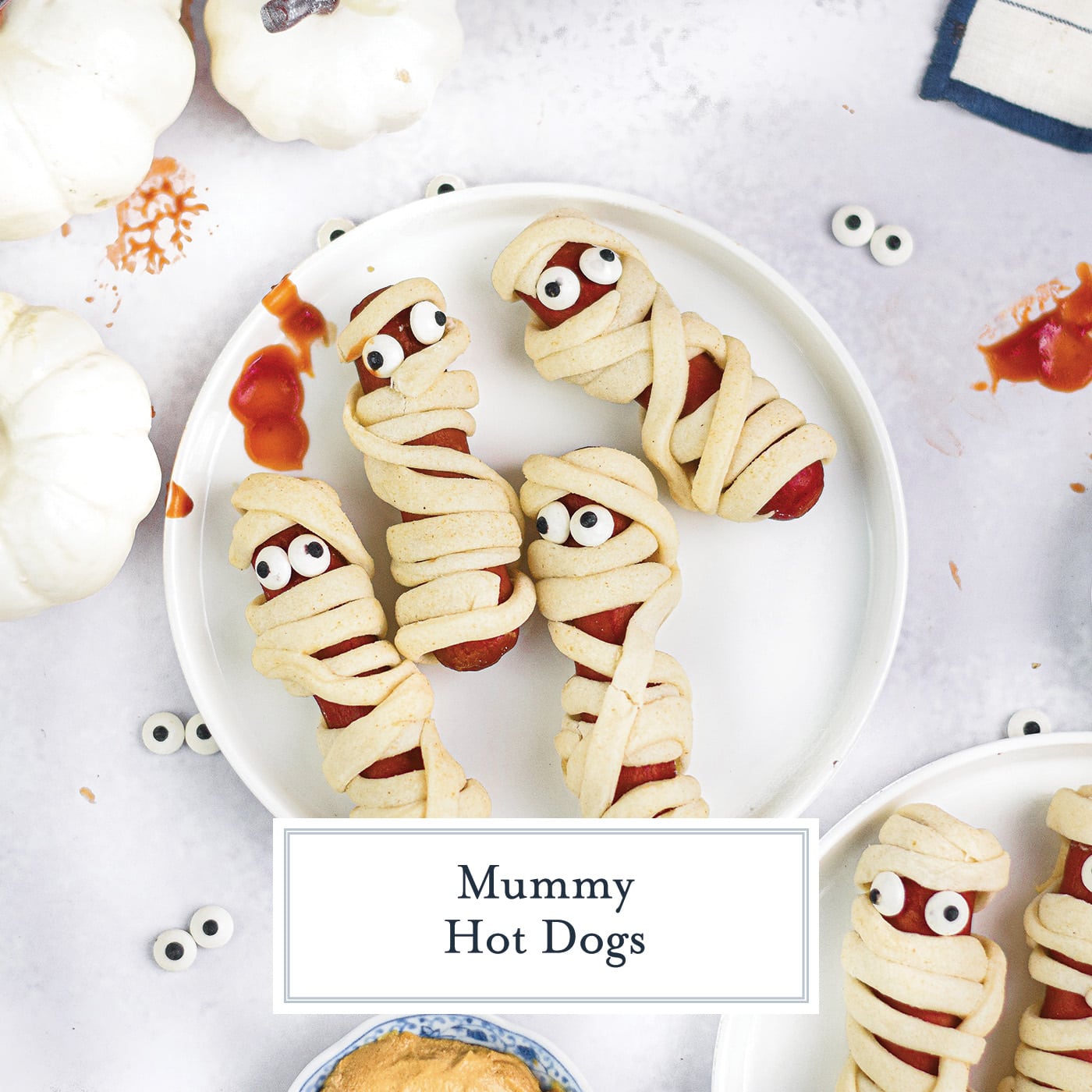 This mummy hot dogs recipe takes just minutes to make. You simply wrap premade dough around hot dogs to look like mummy bandages, leaving just a little room for the addition of the eyes after baking.
There are tons of sweet Halloween snacks to make, but if you're looking for something savory, this is a must-try during spooky season!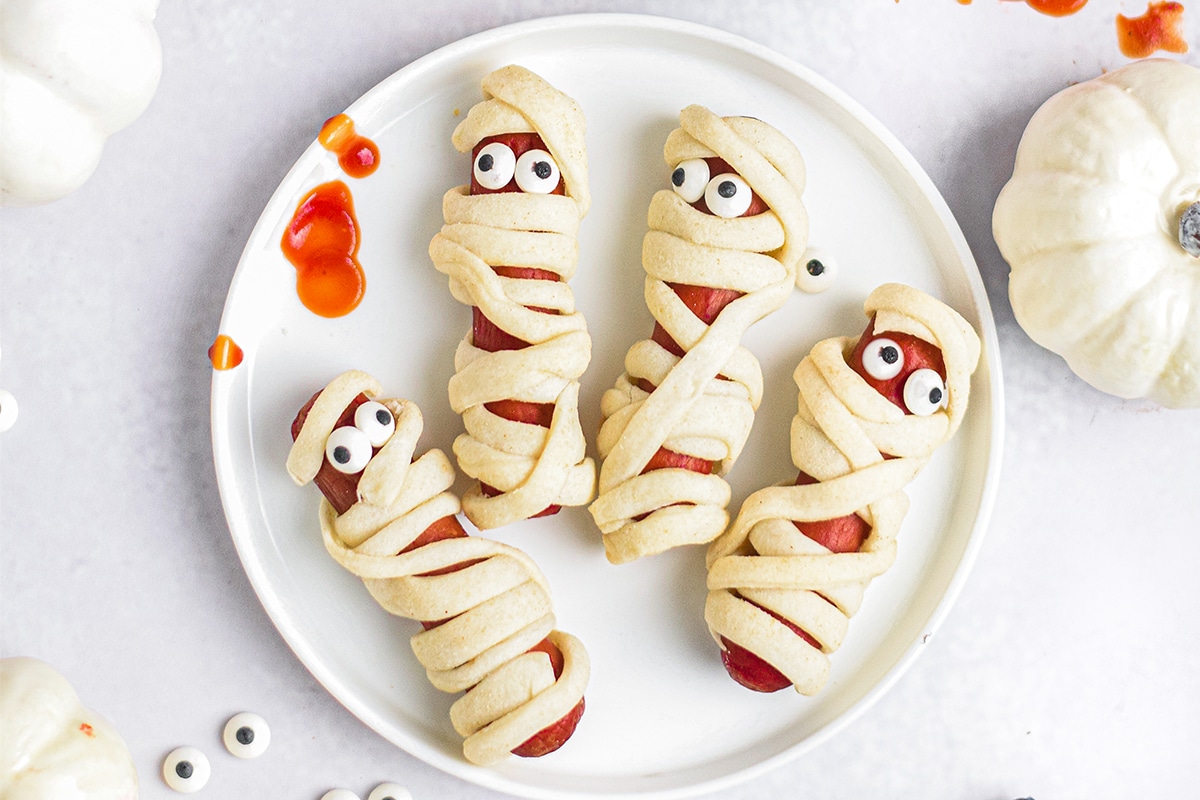 Why You'll Love Mummy Hot Dogs
A three ingredient snack that's fun, festive and ready in less than 30 minutes- what's not to love!
Cute – This adorable Halloween treat is always a hit — kids love them!
Convenient – Whether you're looking for the perfect Halloween appetizer for a party or you need a quick snack before trick-or-treating, these handheld mummy hot dogs are perfect.
Easy – There are only a few ingredients and you can make them quickly. Plus, there's hardly any cleanup!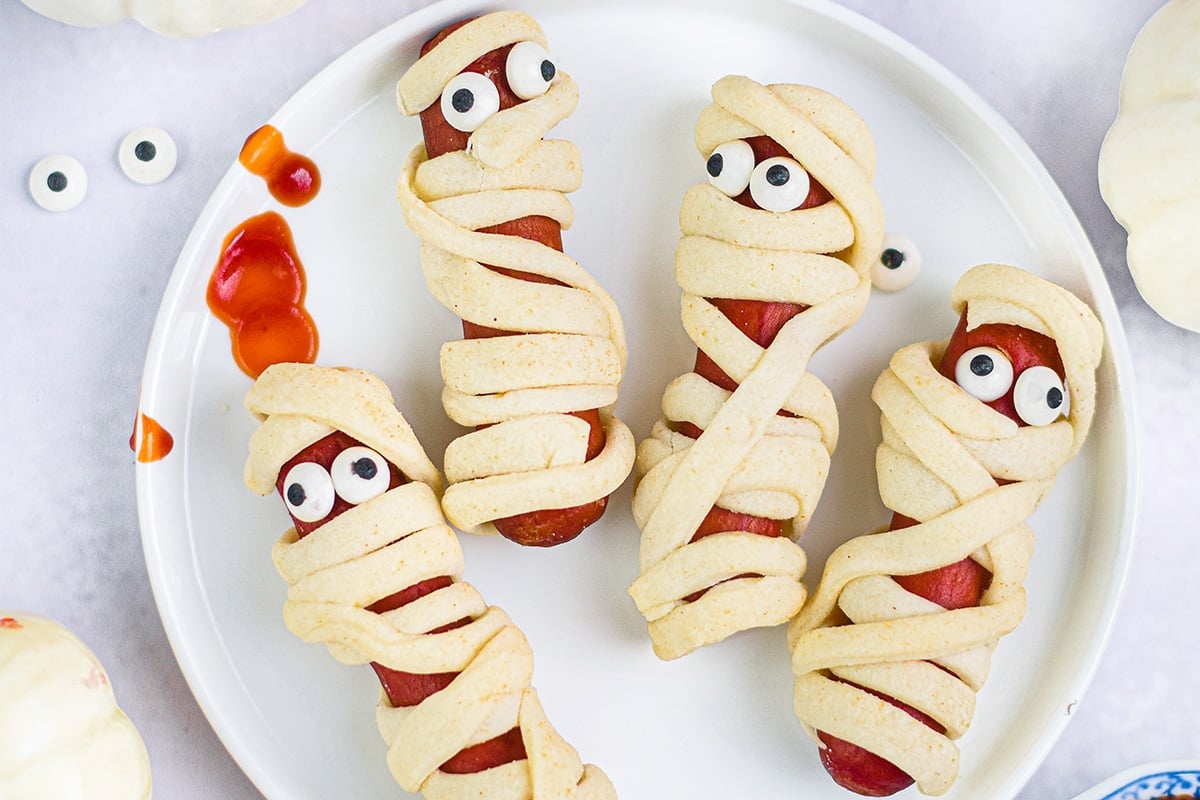 Ingredients
With just 3 simple ingredients, these cute hot dogs couldn't be easier.
Hot dog sausages – You can use any type of hot dog for this recipe, including beef, pork, chicken or turkey dogs — you can even use vegetarian alternatives. Just make sure they're fully cooked, as they will primarily be warmed in the oven.
Crescent roll dough – Find this pre-made dough for crescent rolls in the refrigerator section at the grocery store.
Candy eyes for decoration – If you can't find these at your local grocery store or craft store, you can buy them online.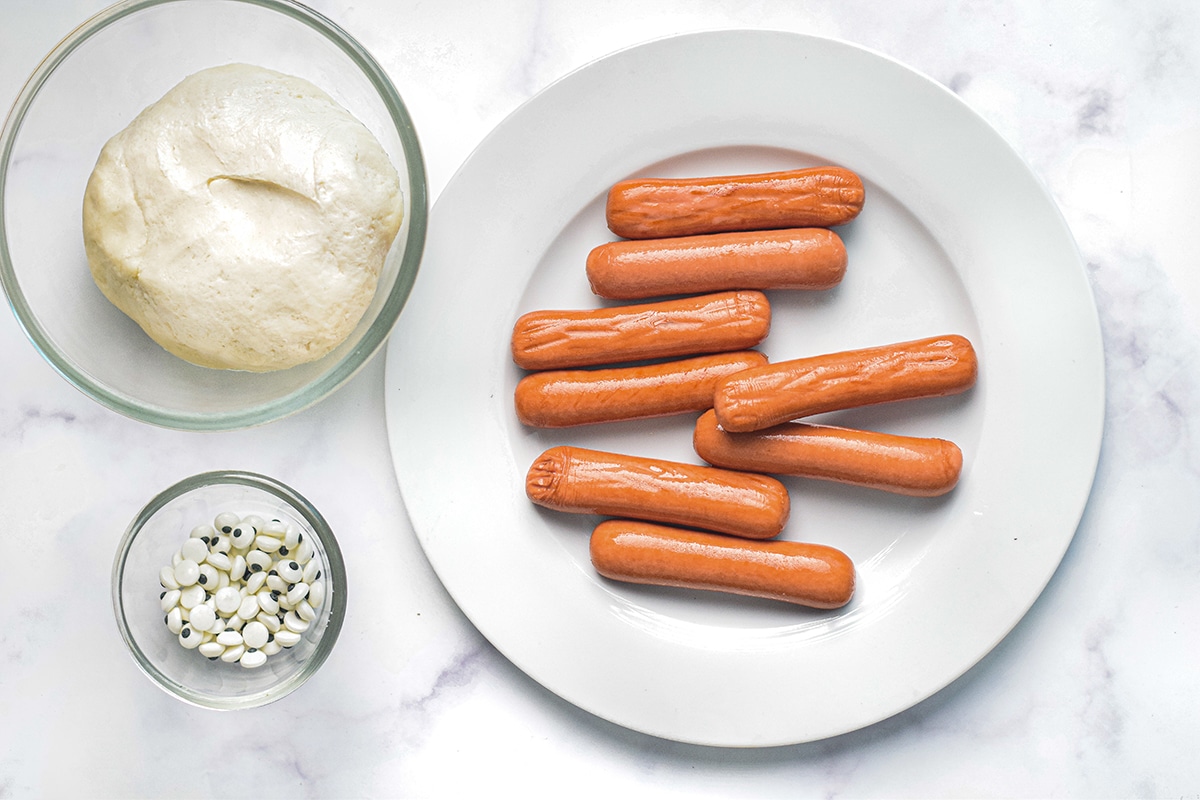 How to Make Mummy Hot Dogs
You're going to love how quick and easy it is to make these fun snacks.
Roll out and cut dough. On a flat surface, roll out the crescent dough sheets and slice into strips using a sharp knife or pizza cutter.
Wrap around hot dogs. Wrap one strip of dough around a hot dog from end to end, pressing each end of the strip into the other. Be sure to leave a space at one end for the mummy's face.
Repeat. Repeat with all of the hot dogs and dough, placing the wrapped hot dogs on a prepared baking sheet lined with parchment paper or sprayed with cooking spray once wrapped.
Bake. Place the cookie sheet in the preheated oven. Bake the hot dogs until they are warm, and the dough is a light golden brown.
Add eyes. After removing the hot dogs from the oven, allow them to cool briefly before putting two spots of mustard on top of the hot dog. Then, apply the candy eyes on top of the dots of mustard.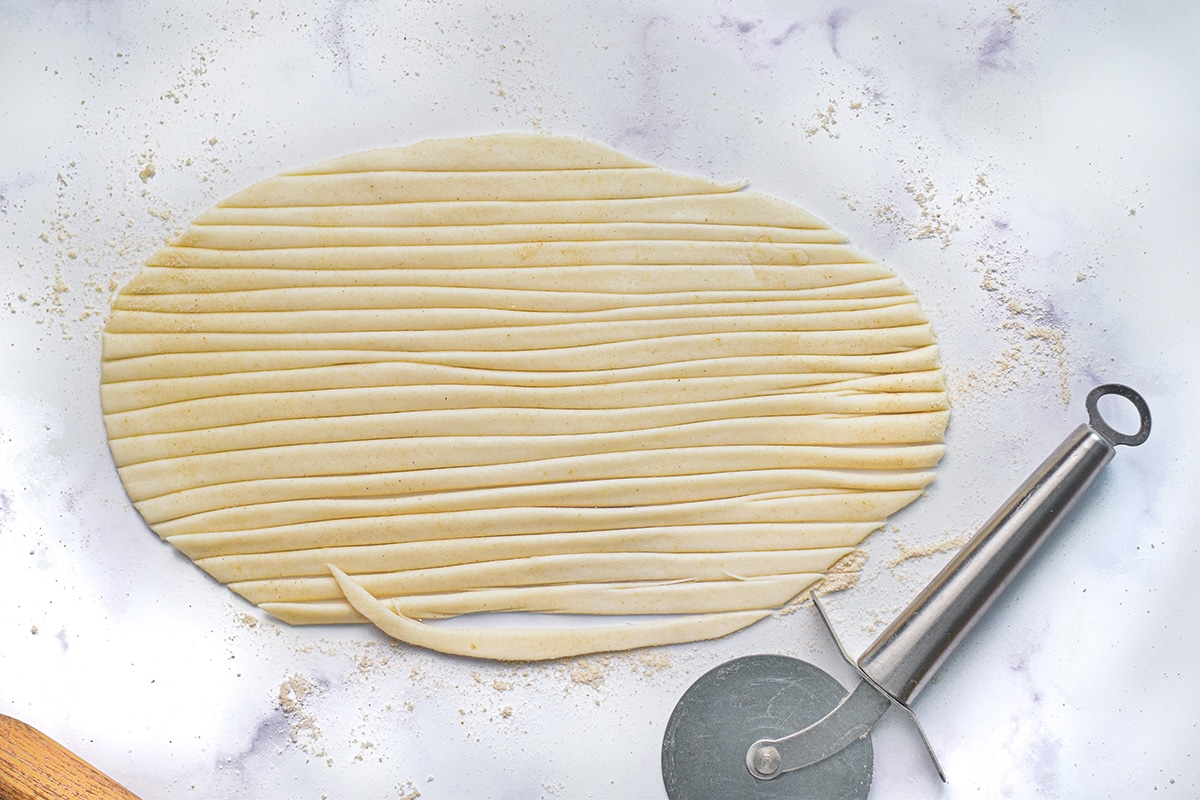 What to Serve with Mummy Hot Dogs
These mummy hot dogs are fun on their own, but you can also serve them with a side of french fries, zucchini fries, or a side salad for a complete meal. In addition to ketchup and mustard, try serving sauces like bacon ranch dip, Chick-fil-A sauce, or queso dip.
If hosting a Halloween party, there are plenty of fun and festive treats you can serve these with too. Mummy Oreo Cookies, Ghost Cookies or even Monster Bark would all be fun ideas.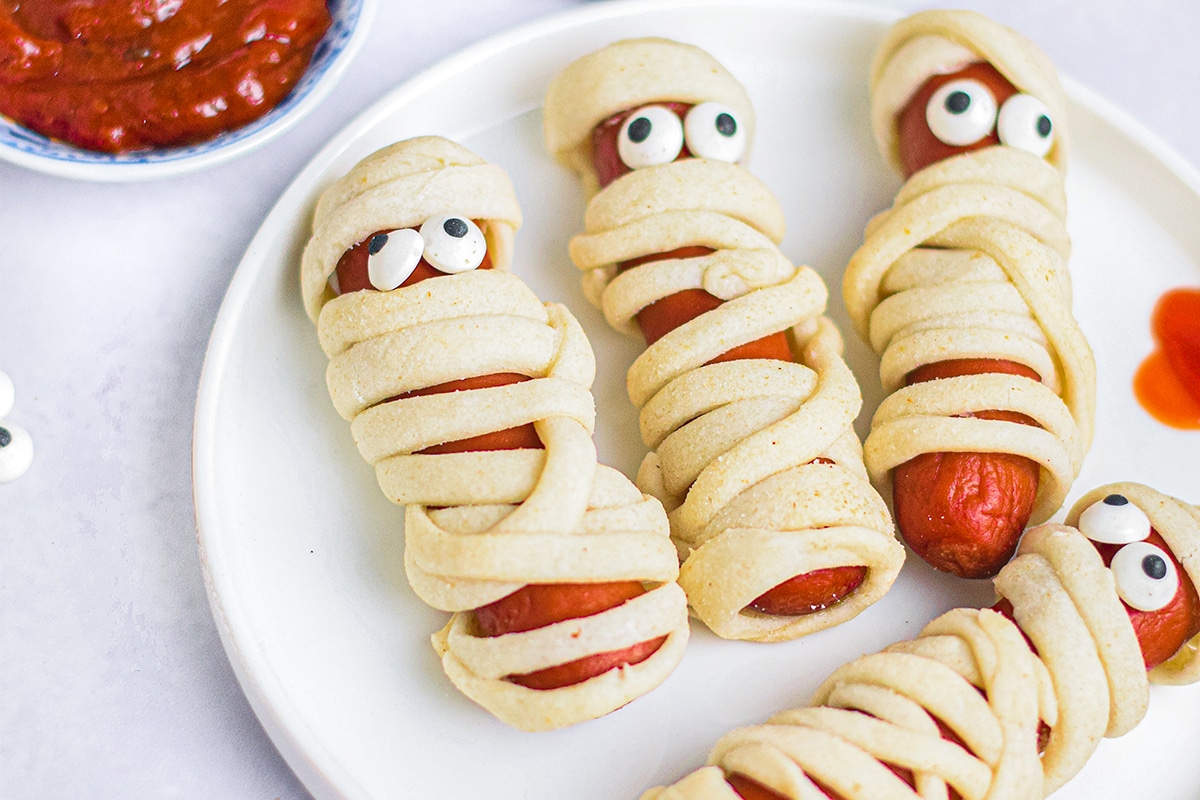 Tips for the Best Mummy Hot Dogs
Check out my tips for ensuring you make the perfect Halloween snacks!
Wrapping Technique – Try to keep the dough strips thin and evenly spaced. Don't worry about perfection – the quirky, uneven wrapping can add to the mummy effect!
Creating the 'Face' – The 'face' gap is important, not just for the candy eyes but also to ensure some part of the hot dog peeks through, adding to the mummy-like appearance.
Baking Time – Baking times may vary based on the type and size of the hot dogs you're using and your oven's specific characteristics. Keep an eye on them to avoid burning the dough.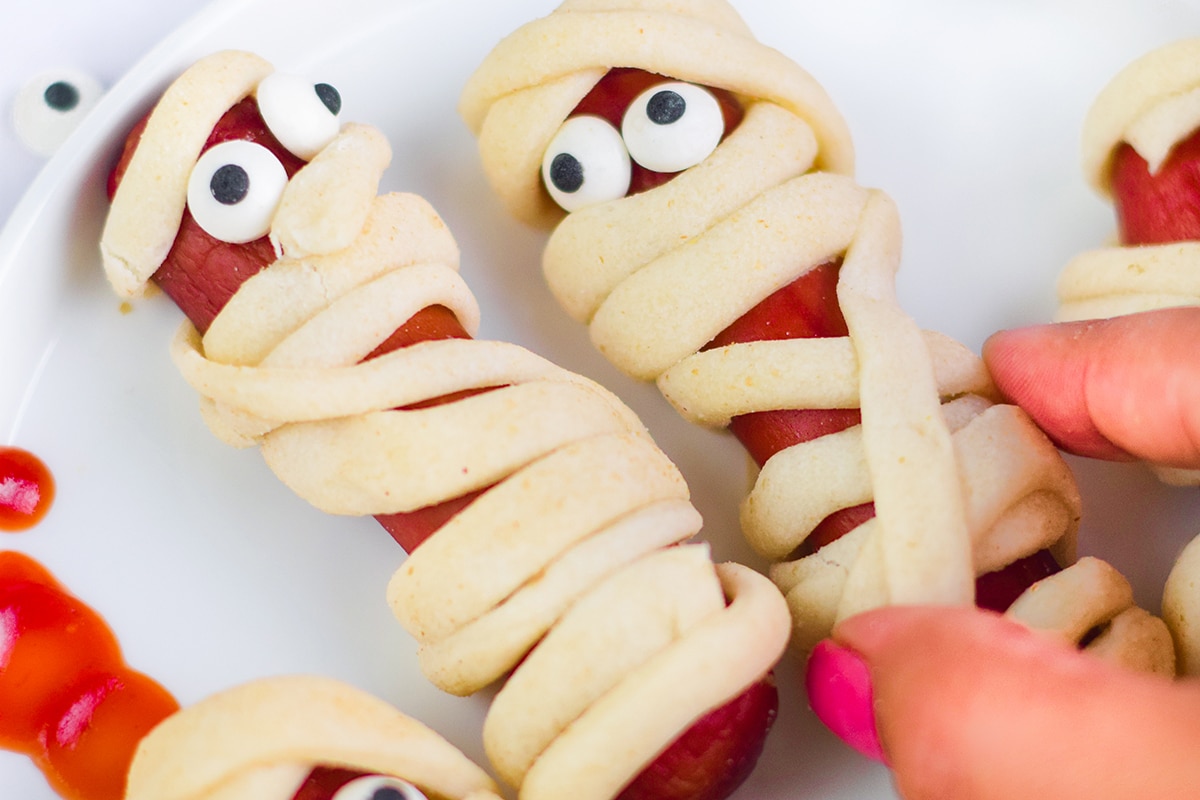 Variations
There are plenty of ways for you to make these Mummy Hot Dogs your own.
Eyes – If you don't have candy eyeballs, you can simply use mustard or ketchup to create eyes on your hot dog mummies. Also, you can use a small amount of cream cheese instead of the mustard for even more sticking power.
Sausages – Instead of regular hot dogs, use any type of sausage that you like. Or, substitute a plant-based sausage.
Pastry – Instead of crescent dough, use puff pastry or phyllo dough. You can also use pizza dough or make your own dough.
Cheese – Wrap the hot dog with a slice of cheese before wrapping it with pieces of dough.
Eggs – Use a pastry brush to apply an egg wash to the wrapped mummy hot dogs for shine.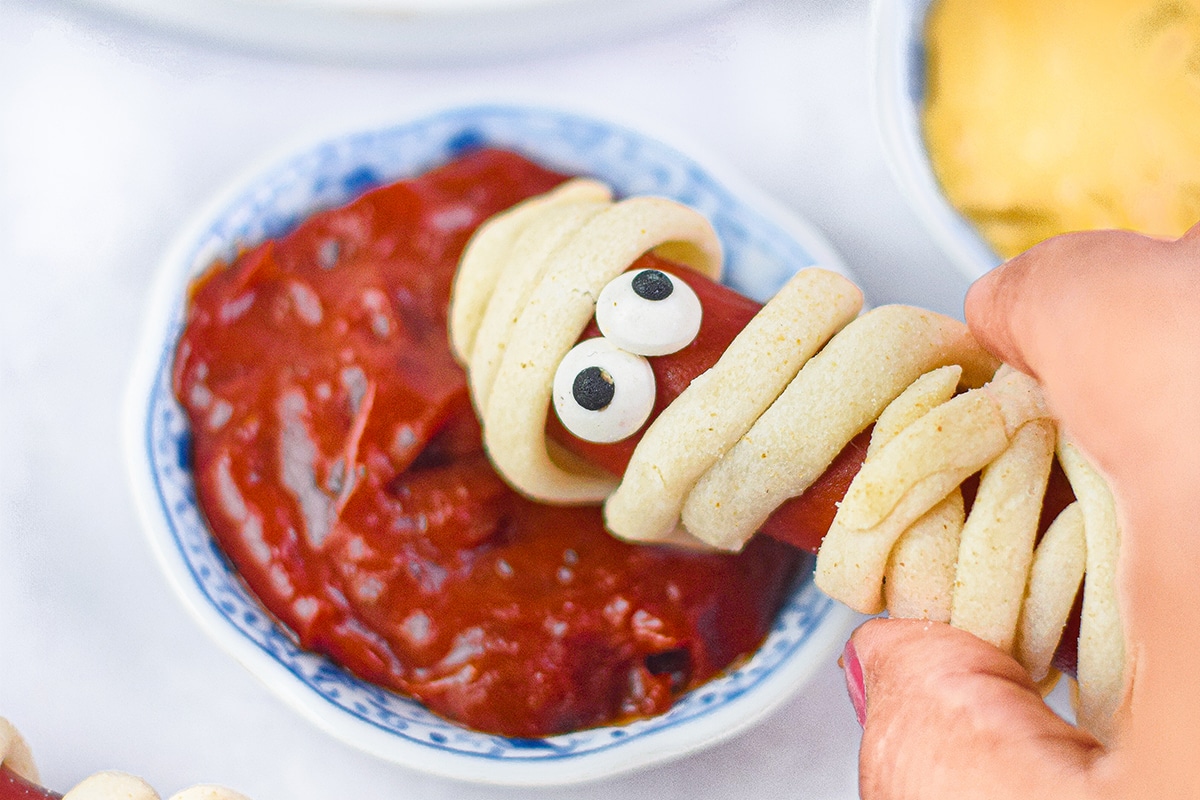 Storage and Freezing
Store any leftover mummy dogs in an airtight container and reheat in the oven or microwave.
Make-Ahead: Wrap the hot dogs ahead of time and store them in the fridge for up to 24 hours.
Refrigerator: Once they cool to room temperature, store hot dogs in a resealable plastic bag or airtight container in the fridge for 3-4 days. You can also wrap them individually with plastic wrap.
Freezer: You can freeze these hot dogs for up to 3 months.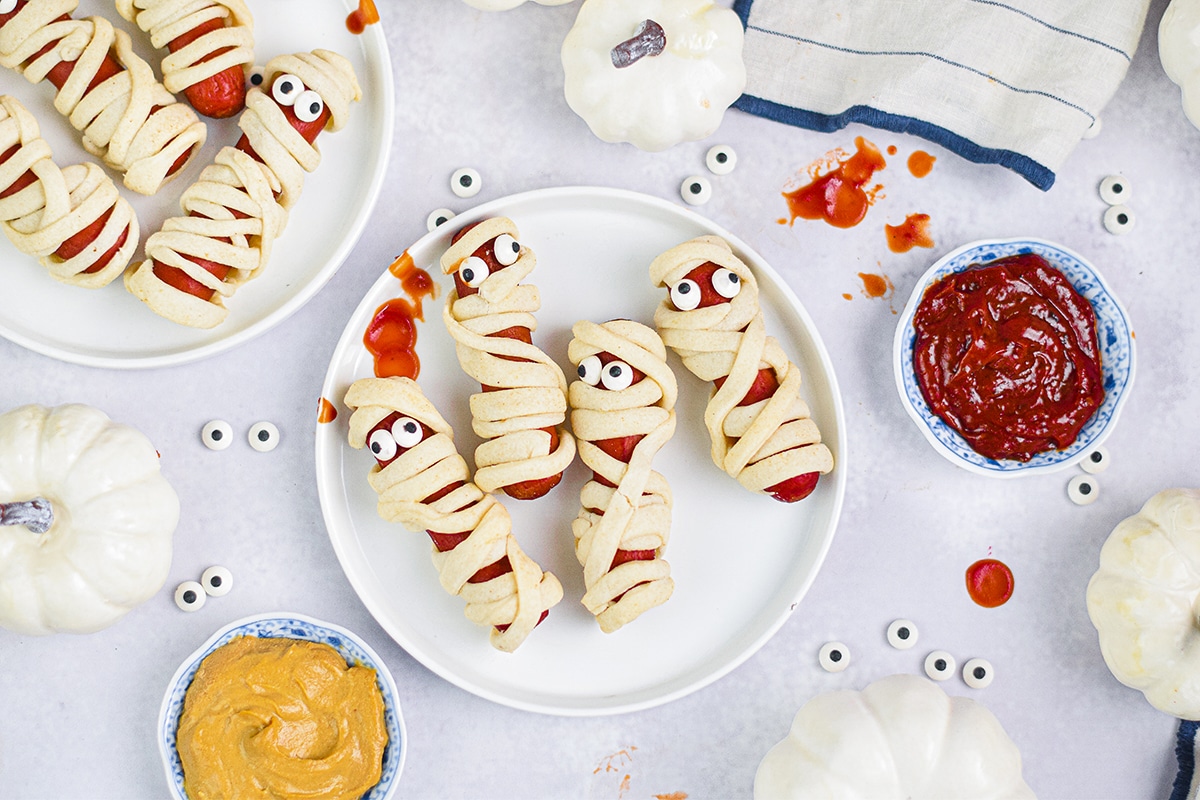 Common Questions About Mummy Hot Dogs
Do I need to cook my hot dogs first?
As long as you buy hot dogs that have been cooked already (and most have been), you do not need to heat them before wrapping them.
Are mummy hot dogs easy to make?
These mummy hot dogs are absolutely easy to make. You can even enlist the help of your kids in the kitchen!
Can you make mummy hot dogs in an air fryer?
Yes, you can use your air fryer to make these mummy hot dogs. Just make sure to leave space in between each of them so that the dough cooks properly and they don't stick together.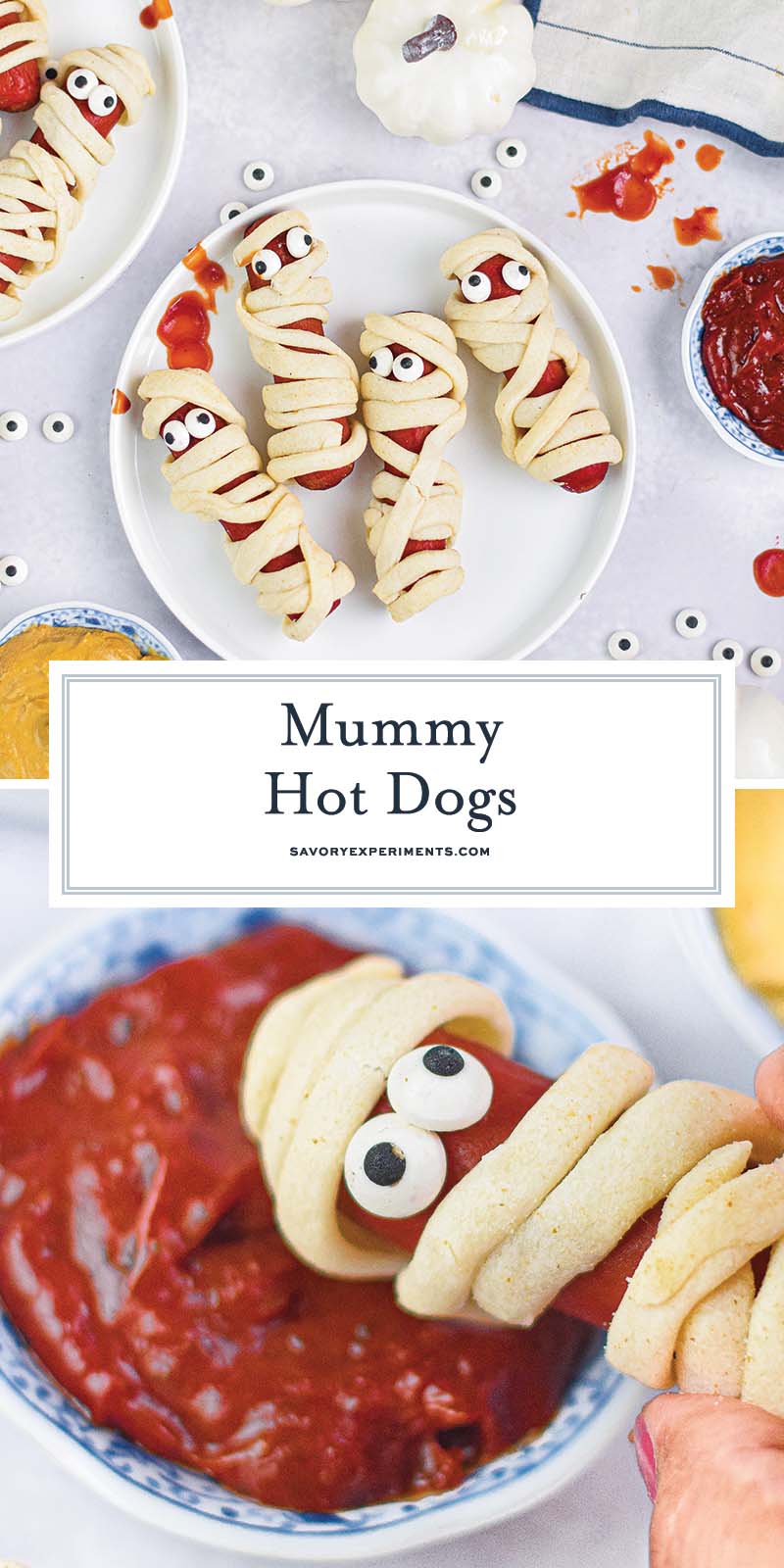 Other Fun Halloween Recipes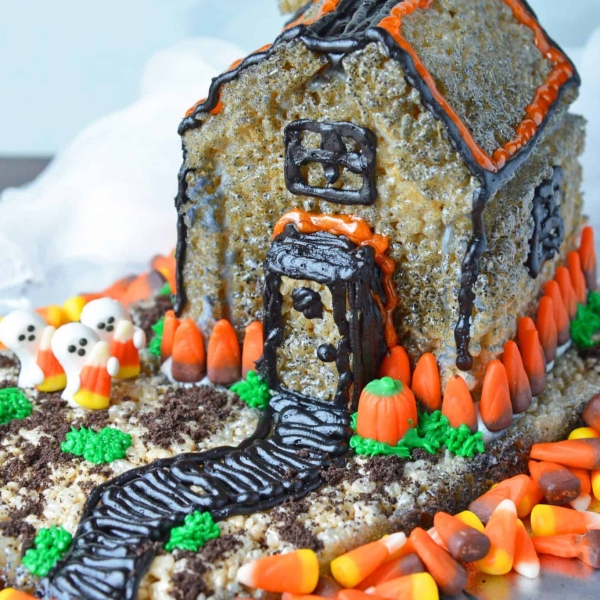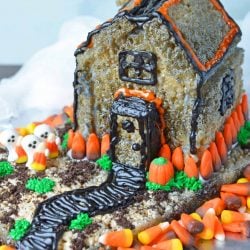 Rice Krispie Treat Haunted House
With this Rice Krispie Treat house template, you can make an adorable haunted house to display and then eat. Similar to a gingerbread house, this is part Halloween craft and party Halloween dessert. Fun and easy!
See The Recipe!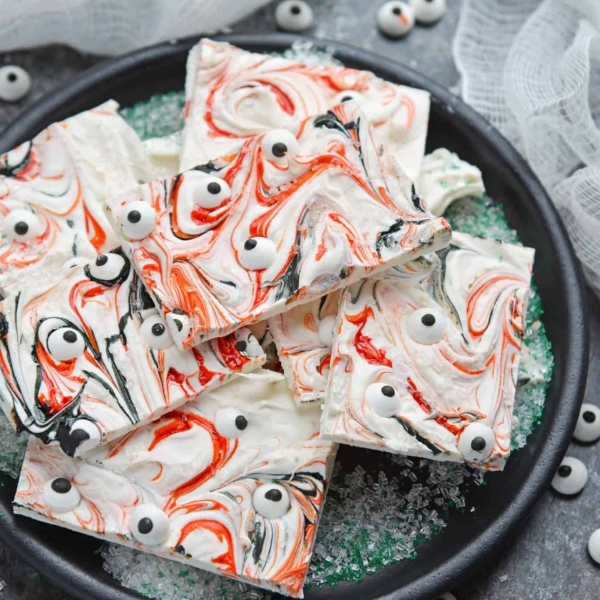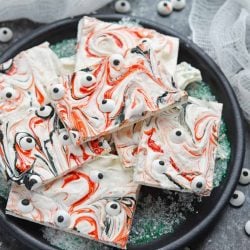 Monster Bark
Monster Bark is a quick and easy Halloween treat made with candy eyeballs. Always a hit with kids, it's the perfect Halloween dessert for any party!

See The Recipe!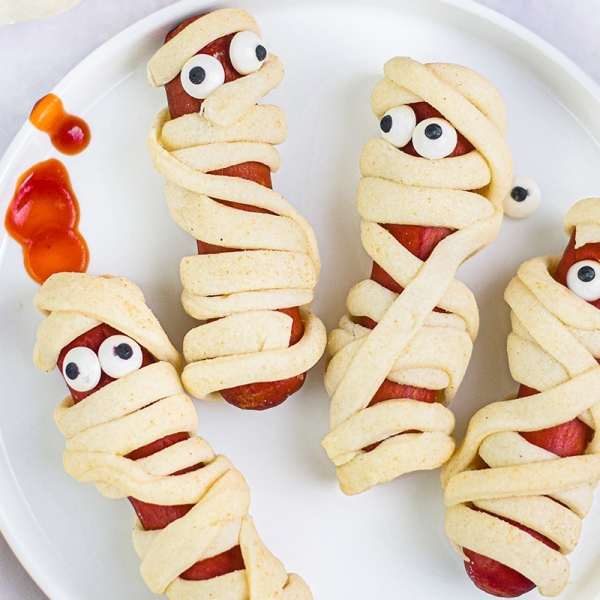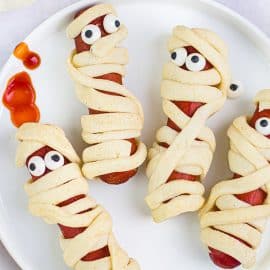 Mummy Hot Dog Recipe
These EASY Mummy Hot Dogs, made with just three ingredients, are the perfect easy, quick, and festive Halloween treat! Great for kids!
Ingredients
8

hot dogs

8

ounces

crescent dough sheet*

Candy eyes for decoration
Instructions
Preheat the oven to 375°F and line a rimmed baking sheet with parchment paper.

Unroll the crescent dough and cut it into strips that are approximately 1/4 inch wide. Select one strip and begin to wrap it around a hot dog, starting at one end and working your way to the other, much like a mummy's bandages. Make sure to press the end of each strip to the beginning of the next to secure them, hot dogs are a little wet. Remember to leave a small gap near one end to mimic the mummy's "face." For a more authentic mummy look, cross the strips over one another and leave some gaps in between.

Continue this wrapping process with the rest of the hot dogs, using the strips of dough to achieve a mummy-like appearance. Place the complete mummys on the prepare baking sheet.

Bake for about 12-15 minutes, or until the dough is golden brown.

Remove the hot dog mummies from the oven and allow them to cool before.

For the finishing touch, dab a little bit of mustard or ketchup on the back of each eye and attach in the eye area.

Serve with your favorite dipping sauce.

If you've tried this recipe, come back and let us know how it was in the comments or star ratings.
Notes
Crescent dough can be found in sheets or perforated, either will work you might just need to pinch together the edges.
Nutrition
Calories:
123
kcal
,
Carbohydrates:
10
g
,
Protein:
5
g
,
Fat:
7
g
,
Saturated Fat:
3
g
,
Polyunsaturated Fat:
1
g
,
Monounsaturated Fat:
3
g
,
Cholesterol:
20
mg
,
Sodium:
335
mg
,
Potassium:
66
mg
,
Sugar:
0.3
g
,
Vitamin C:
0.04
mg
,
Calcium:
11
mg
,
Iron:
1
mg
HAPPY HALLOWEEN!!!
Welcome to 2023's #HalloweenTreatsWeek event!
If you're new here, Welcome! If you're a returning haunt, welcome back!
#HalloweenTreatsWeek is a yearly Halloween blogging event that is hosted by Angie from Big Bear's Wife . You'll find that this fun and spooky event is an online, week-long event that is filled with some frightfully fun Halloween treats and recipes from some fantastic Halloween loving bloggers!
For this years 6th annual #HalloweenTreatsWeek event we have 18 hauntingly talented bloggers that are sharing their favorite Halloween recipes throughout the week! You can following the hashtag #HalloweenTreatsWeek on social media to collect all of these frightful recipes to use at your own Halloween parties and events!
Make Sure to check out all of the fun Halloween recipes that we're sharing this week!
Today's Halloween Offerings: