These Pumpkin Rice Krispie Treats are the perfect Halloween snacks for a party. This Halloween snack is a great way to bring some fun and festivity to any event.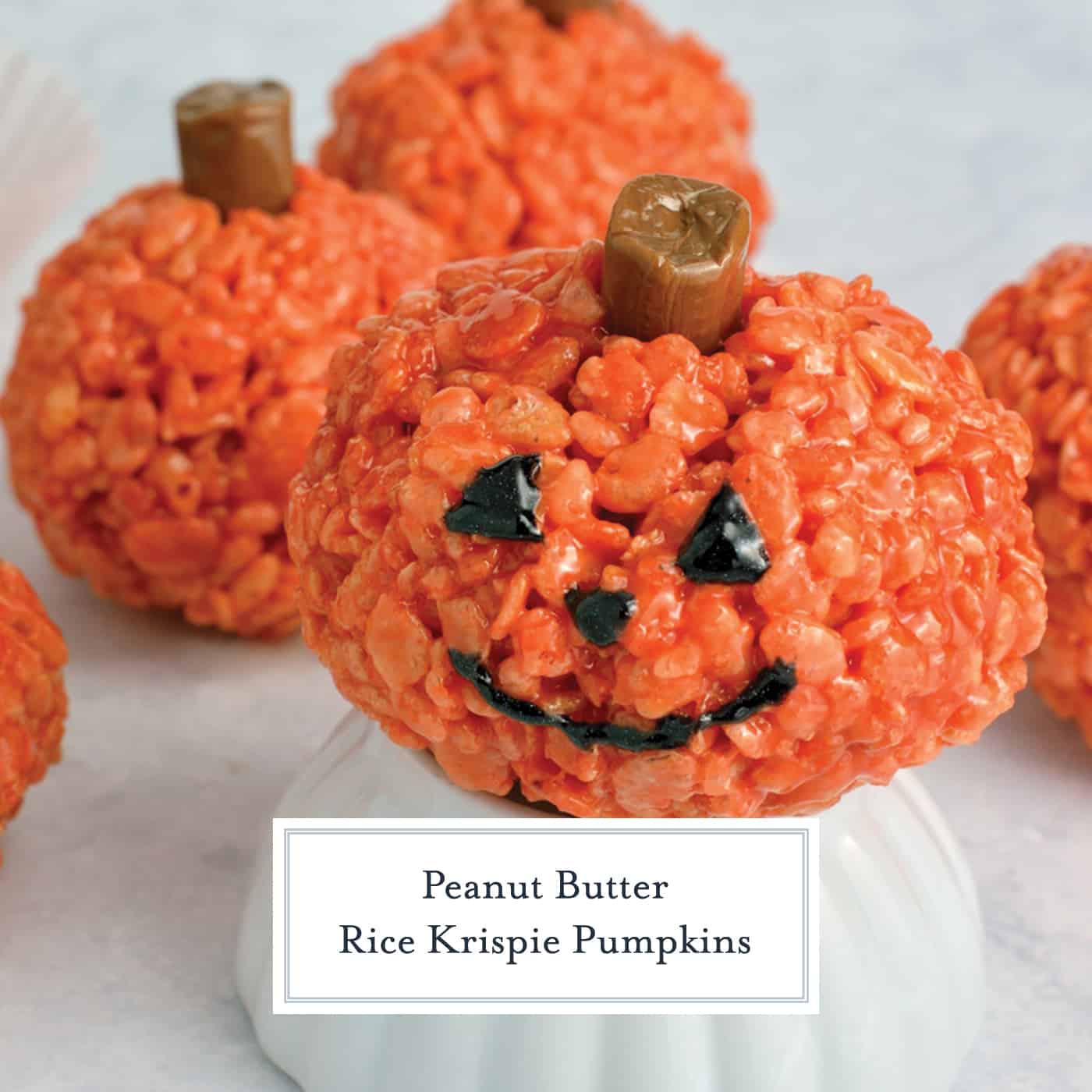 Pumpkin Rice Krispie Treats
This Pumpkin Rice Krispie Treats recipe puts a fun twist on an old classic. Molding them into jack-o-lanterns is also a great Halloween activity for kids.
Get them in the kitchen and let them decorate cooled Pumpkin Rice Krispie Treats! I used frosting, but you can create a whole pumpkin decorating bar.
Fill the wells of a cupcake tin with fun candy perfect for decorating Halloween treats. Some of my favorites include:
Spooky Halloween Sprinkles
Red Hot Cinnamon Imperials
Candy Gummy Worms (like the worm is coming out of the pumpkin)
Tootsie Rolls (as pictured for a stem)
Skittles, for a rainbow fun carved pumpkin
Licorice rope
Specialty Halloween Candies
Candy Corn
Rice Krispie Pumpkins
I love real, homemade Rice Krispie treats. Ever since the pre-packaged treat became available no one makes them from scratch anymore.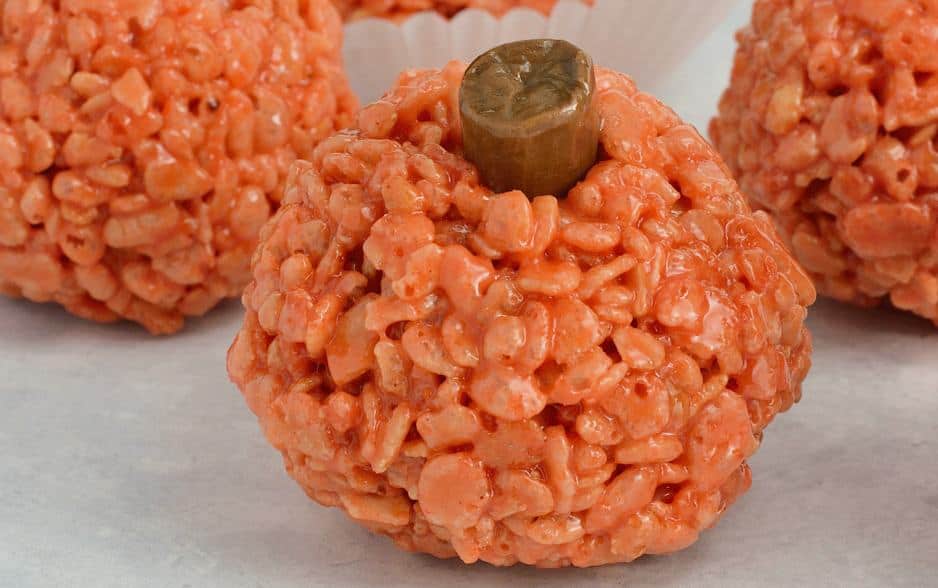 It is really a shame. They are a lot less sweet and lot more chewy. Your jaw might be sore after chowing down one. I can probably down an entire tray myself. I'm not proud of that (or am I….)
Lucky for us, Rice Krispie treats are classic and easy to make. The varieties of embellishments are endless, but one of my favorites is to add peanut butter!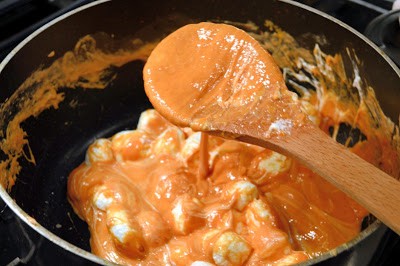 I used peanut butter because I wanted to cover up any residual taste from the red food coloring and because it enhanced the pumpkin color.
You can also make Caramel Rice Krispie Treats and decorate the same way. Or just go classic with no extra flavors. For more options, think of adding 1 teaspoon of any extract you like to a batch of plain Rice Krispie Treats. Vanilla, Pumpkin Spice, Almond and Hazelnut are my favorites.
Pumpkin Rice Krispie Treats are a great kids project, giving them creative license to decorate to their heart's content.
I'm not very artistic, so my Pumpkin Rice Krispie Treats were decorated by the steady hand of my neighbor, but feel free to get assorted frosting colors and make these really pop!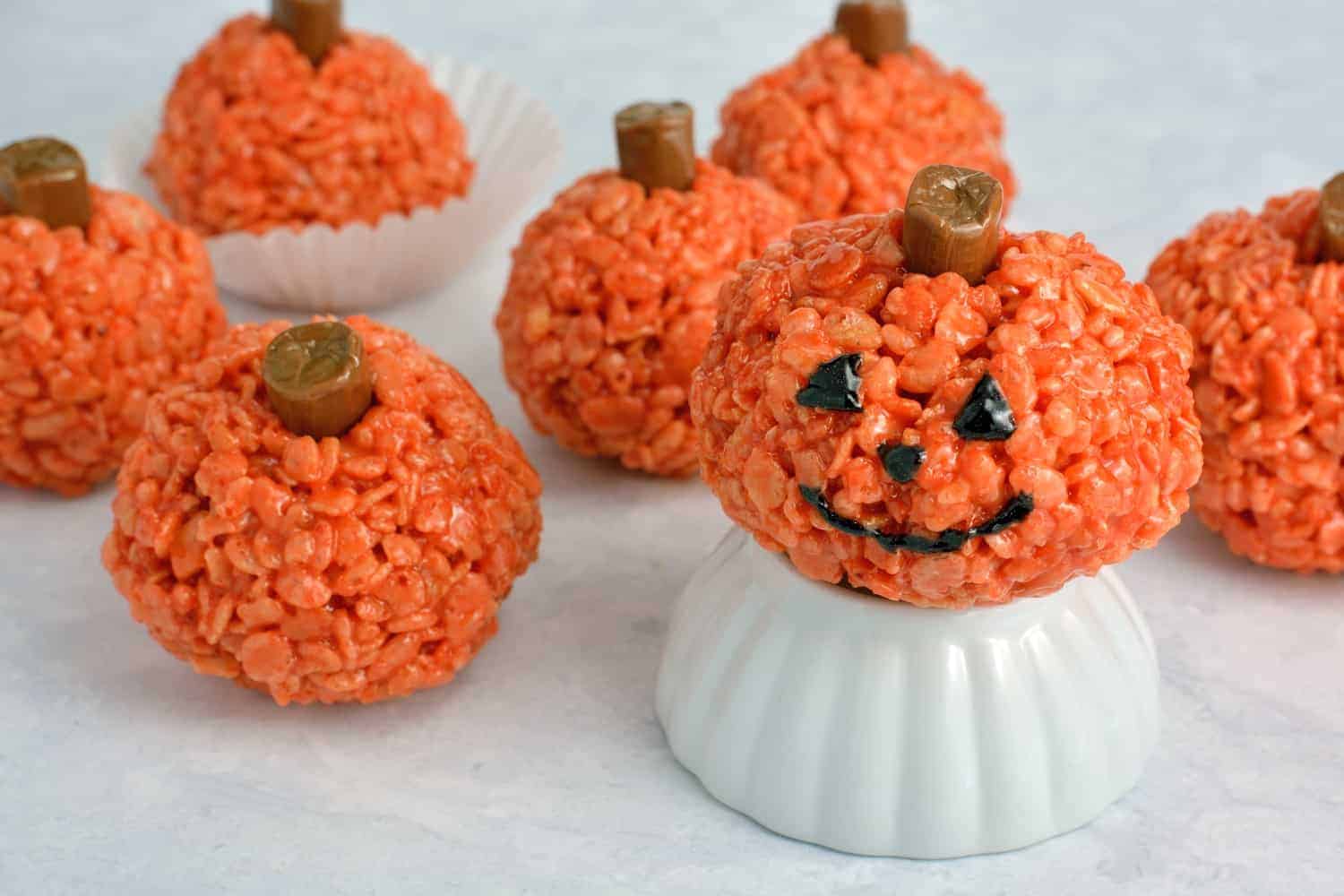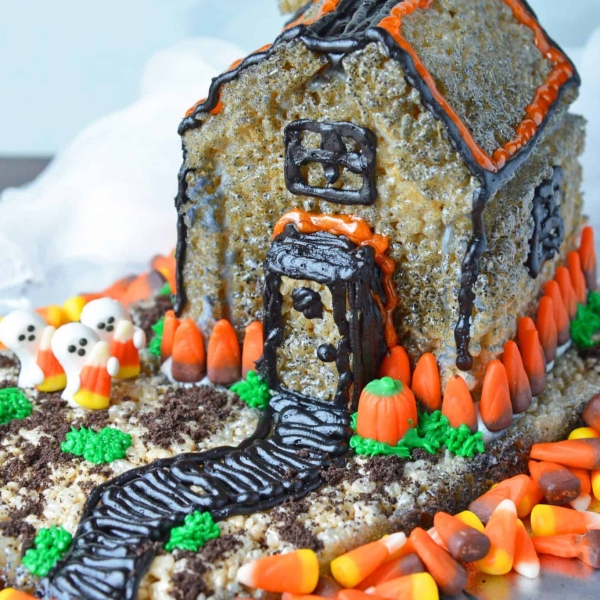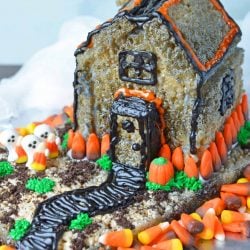 Rice Krispie Treat Haunted House
With this Rice Krispie Treat house template, you can make an adorable haunted house to display and then eat. Similar to a gingerbread house, this is part Halloween craft and party Halloween dessert. Fun and easy!
View this recipe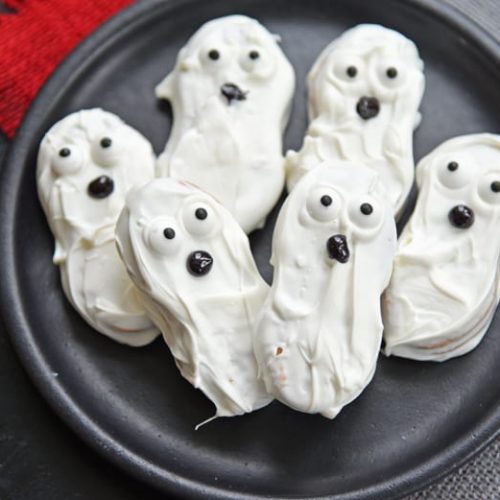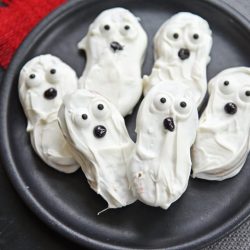 No Bake Ghost Cookies
No bake Halloween treats don't get any easier than these Ghost Cookies! Super cute and easy enough for the kids to help with!
View this recipe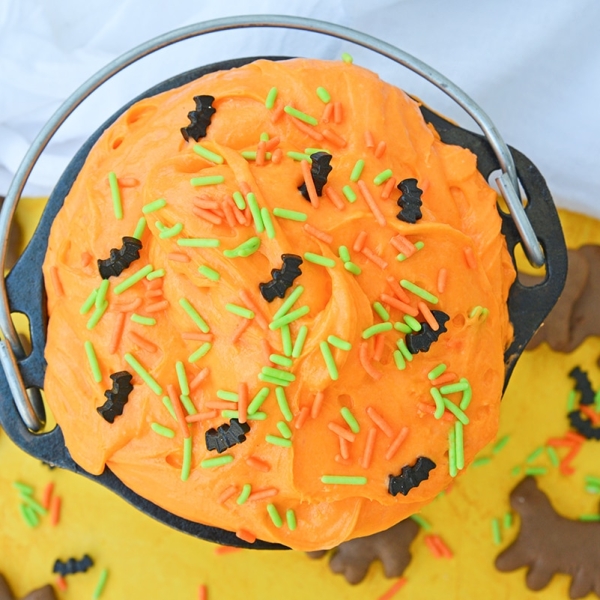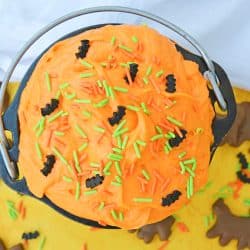 Halloween Dunkaroo Dip Recipe
This Halloween Dunkaroo Dip is a festive and easy cake batter dip that's perfect for Halloween parties. With just a few ingredients and no baking involved, it'll become one of your go-to Halloween desserts.
View this recipe
And these Halloween Party Foods!
Questions you might have about how to make Rice Krispie Pumpkins:
Can I make these ahead of time? Sure! In fact, I would suggest it just so they can cool a little. The frosting will melt off if you try to decorate them too warm.
How long will they last? Personally, I think any Rice Krispie Treat snack stays fresh for about 3 days.
How do I store these? At room temperature in an airtight container.
Can I freeze my Rice Krispie Treat pumpkins? I haven't tried it myself, but I am going out on a limb to say these probably aren't the best freezer friendly Halloween desserts.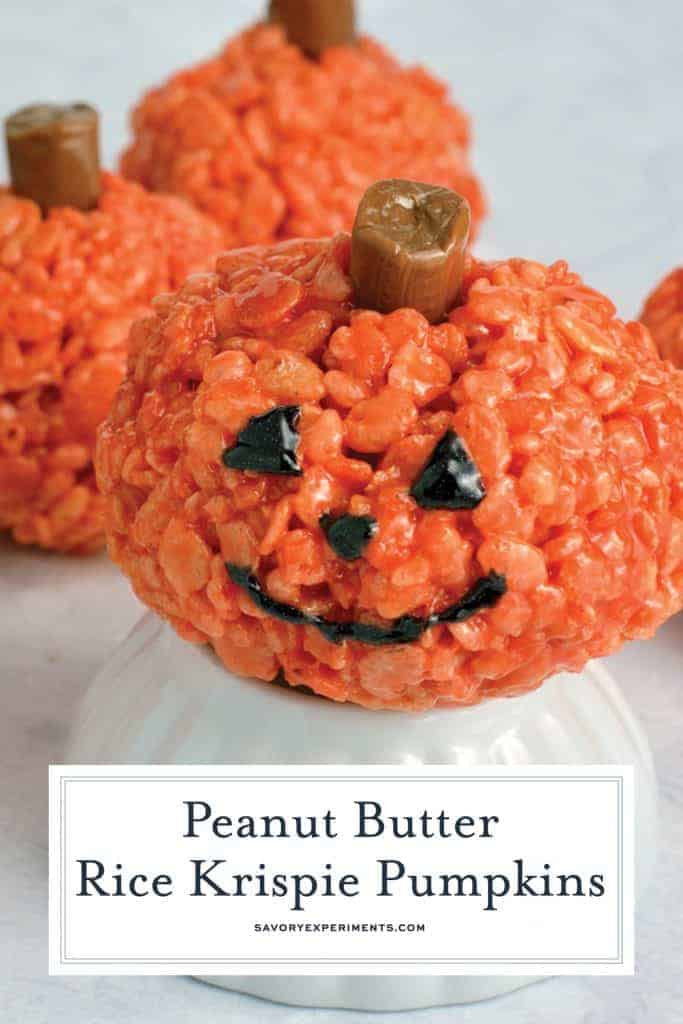 Tools for making Pumpkin Rice Krispie Treats:
Non Powdered Latex Gloves – Say what? Non powdered latex gloves are another one of my kitchen essentials. Anytime I chop a hot pepper (jalapeno, serrano, habanero), you risk the oils permeating your skin and it BURNS! They are also great for sticky foods, like making Rice Krispie treats!
Wooden Spoons– great for stirring anything sticky. I buy them in bulk and when they start to get yucky, I toss them. Make yours last longer by hand washing!
Heavy Bottom Sauce Pan– this will be one of your most used kitchen tools. Having something that is heavy bottom will distribute heat better and prevent burning whether you are using an electric or gas range.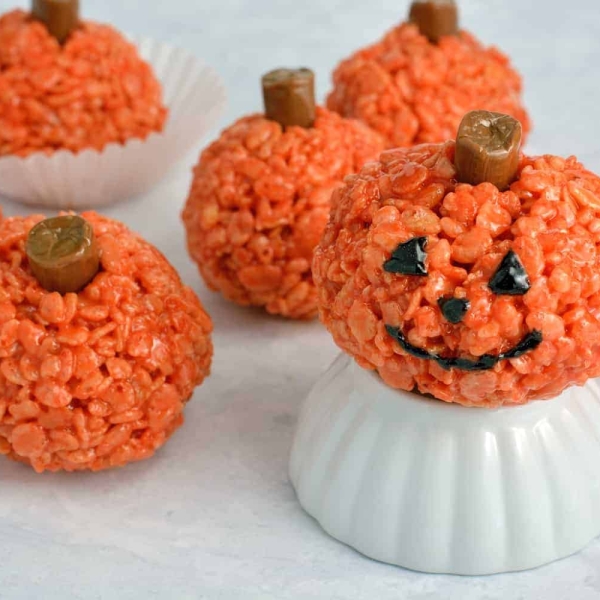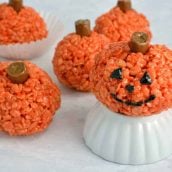 Pumpkin Rice Krispie Treats
Peanut Butter Rice Krispie Treat Pumpkins are perfect for any fall gathering or cute Halloween treat. Ready in only 20 minutes, everyone will love them!
Instructions
In a medium sauce pan melt butter and peanut butter over medium heat for 3 minutes stirring with a wooden spoon. Add marshmallows and food coloring. Continue to stir until marshmallows are melted and sticky like glue. A wooden spoon is important here because the mixture will stick less to this surface.

Remove from heat and stir in Rice Krispie cereal. Blend well.

Although I highly recommend wearing powder-free latex gloves, you can also use wax paper to mold the warm mixture into round balls.

Push a tootsie roll into the top for the stem. The heat from the pumpkin will create a malleable material so the tootsie roll can be gently bent. Ridges in the tootsie roll create a natural and woody effect.

Allow pumpkins to cool completely, then decorate with frosting.
Nutrition
Calories:
224
kcal
,
Carbohydrates:
35
g
,
Protein:
4
g
,
Fat:
8
g
,
Saturated Fat:
3
g
,
Cholesterol:
7
mg
,
Sodium:
144
mg
,
Potassium:
87
mg
,
Sugar:
17
g
,
Vitamin A:
1020
IU
,
Vitamin C:
8.8
mg
,
Calcium:
5
mg
,
Iron:
4.5
mg