Tis the season for apples dipped in sweet heaven goodness. I've seen caramel apples and candied apples used interchangeably, but there is a very distinct difference, so what is that difference?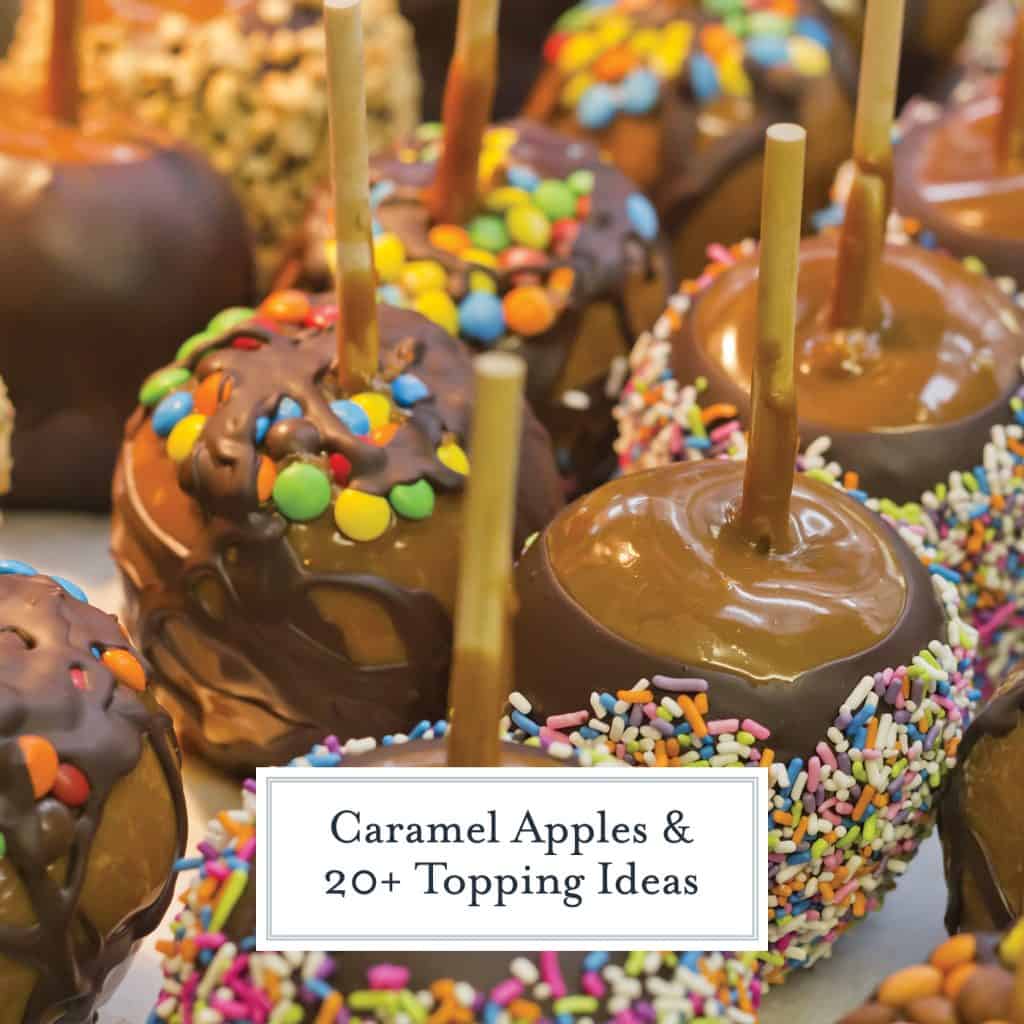 Caramel Apple Recipe
Caramel apples are just that, covered in ooey, gooey caramel and sometimes rolled in a variety of goodies or drizzled in chocolate.
A traditional autumnal and Halloween favorite, caramel apples used to be a frequent trick-or-treaters booty, but since the "razor blade" scare their appearance in candy bags has slowed significantly.
PRO TIP: Using sticks found outdoors is all cute and fall festive, but caramel apples carry a lot of weight. Use a popsicle stick or dowel as a handle.
But if we are being 100% honest, it is also a little difficult to carry around a caramel apple in your treat-or-treat bag.
Below is a homemade caramel apple recipe, still ooey, gooey and rich, but a lot less sweet than melting your typical caramel pieces.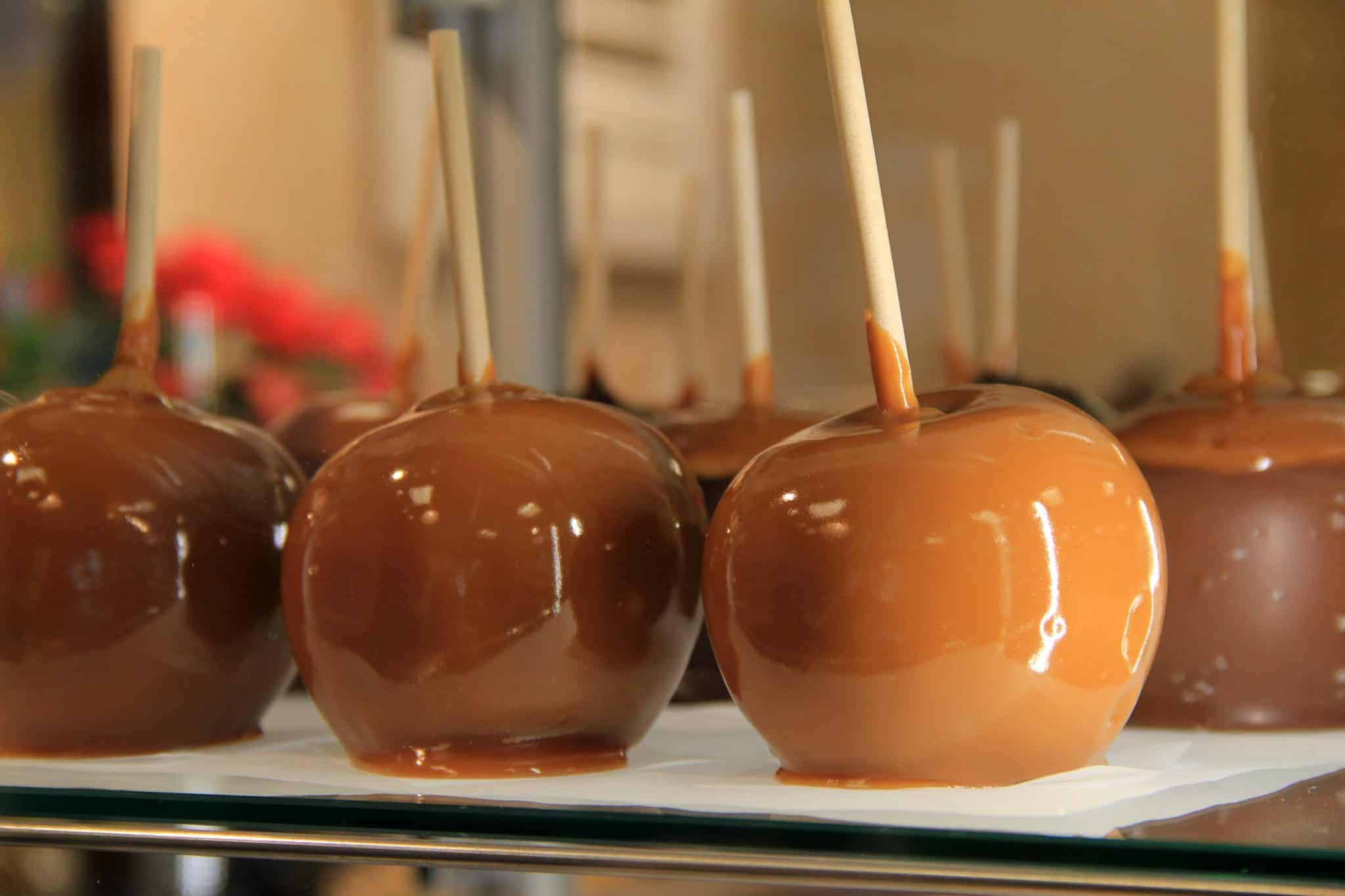 I find that a less sugary caramel allows me to eat more with less of a stomach ache. I suppose that caramel is actually candy too, right?
PRO TIP: Set caramel apples on parchment or wax paper to set. This can easily be peeled off.
Close your eyes and just imagine how that deliciousness is going to stick to your teeth. Oh, yea!!!!
PRO TIP: Make sure your apples are very dry before dipping so the caramel can stick to them!
Candied Apples
A candied apple is coated in a sugar candy layer similar to Red Hots candy, but without the cinnamon. The iconic candy apple is bright red; reminiscent of Snow White's poisoned apple.
Beware of making these on a humid day or storing them in a humid area. The candy coating will not harden or will literally melt off.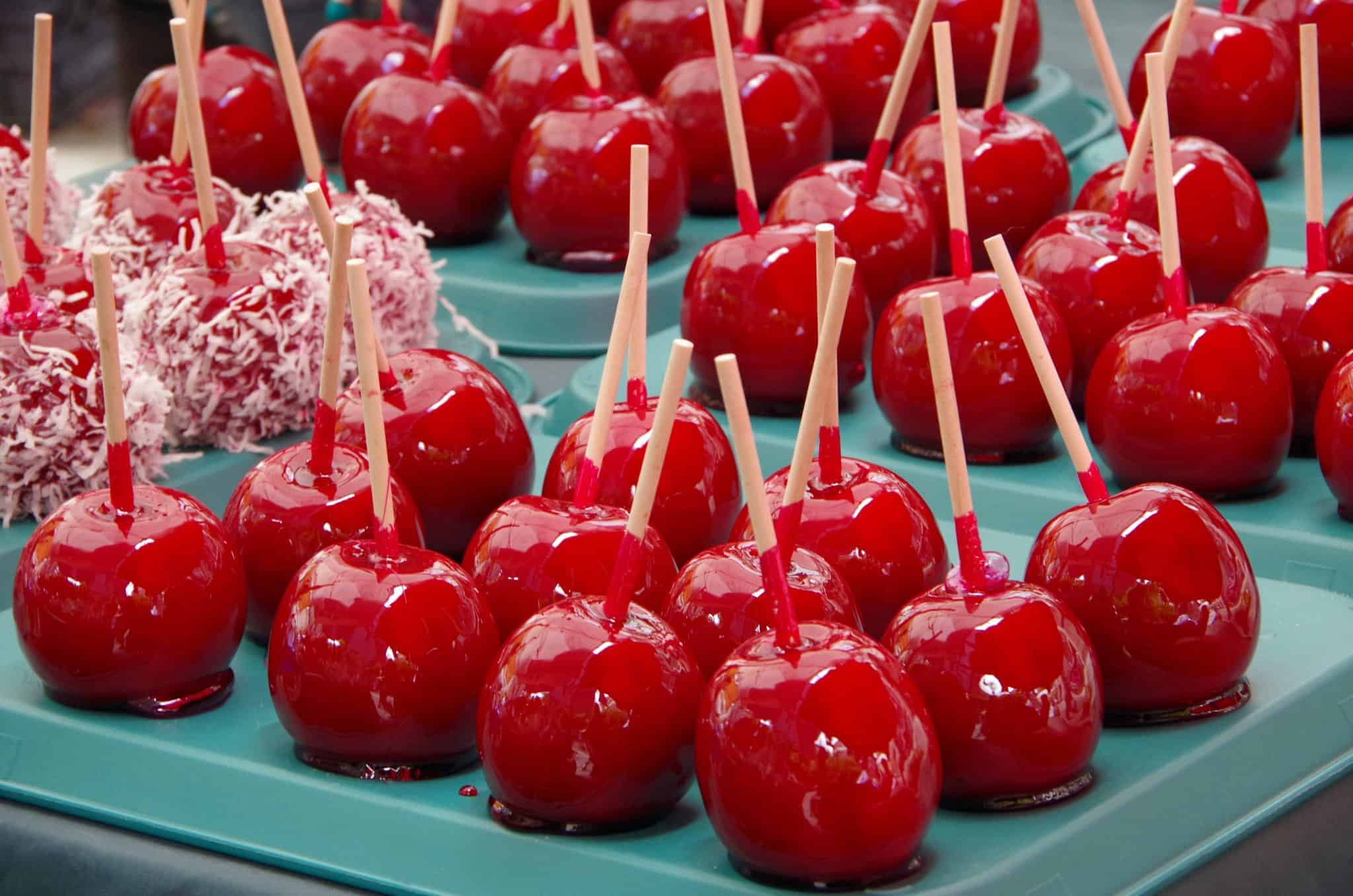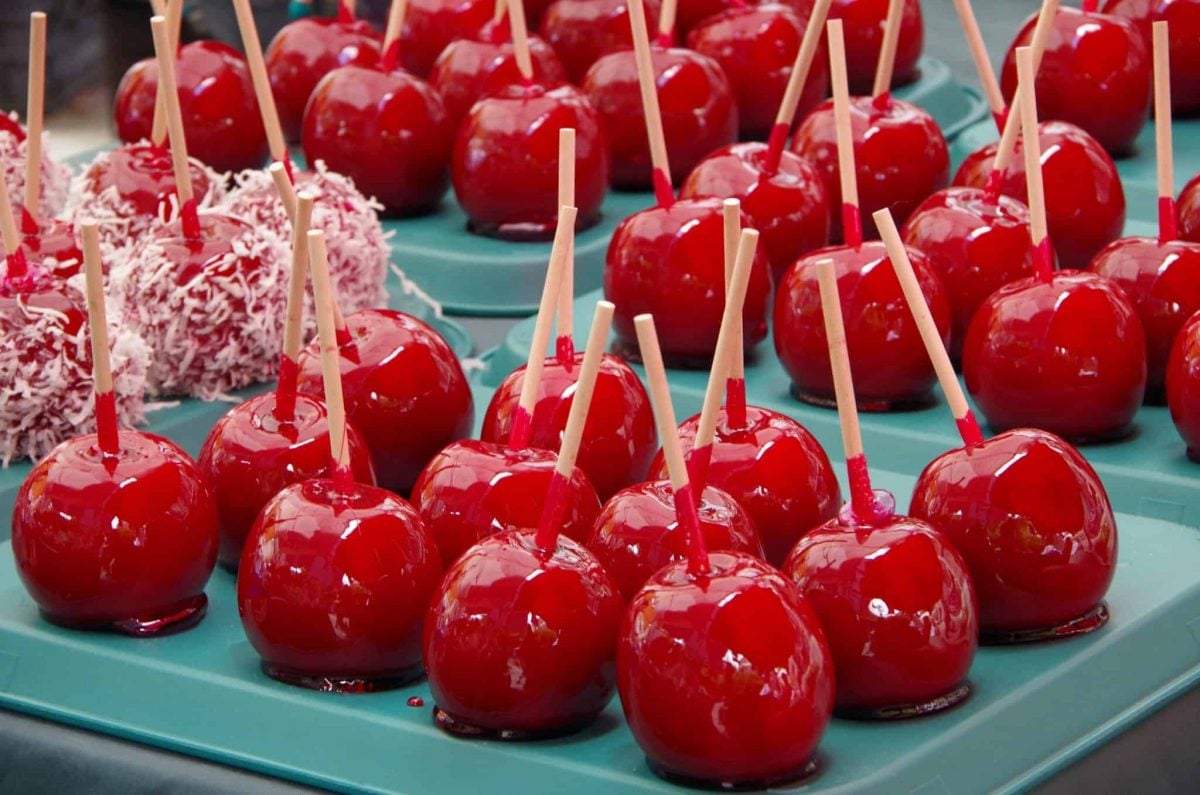 These are visually stunning and can be eaten or merely displayed. A cinnamon stick or rustic stick handle adds to the appeal and staging.
While toppings can also be added to a candied apple, they are most iconic on caramel apples.
Candy Apple Toppings
The list of possibility is endless, but here are a few of my favorites. I'd love to hear some of your favorites in the comments!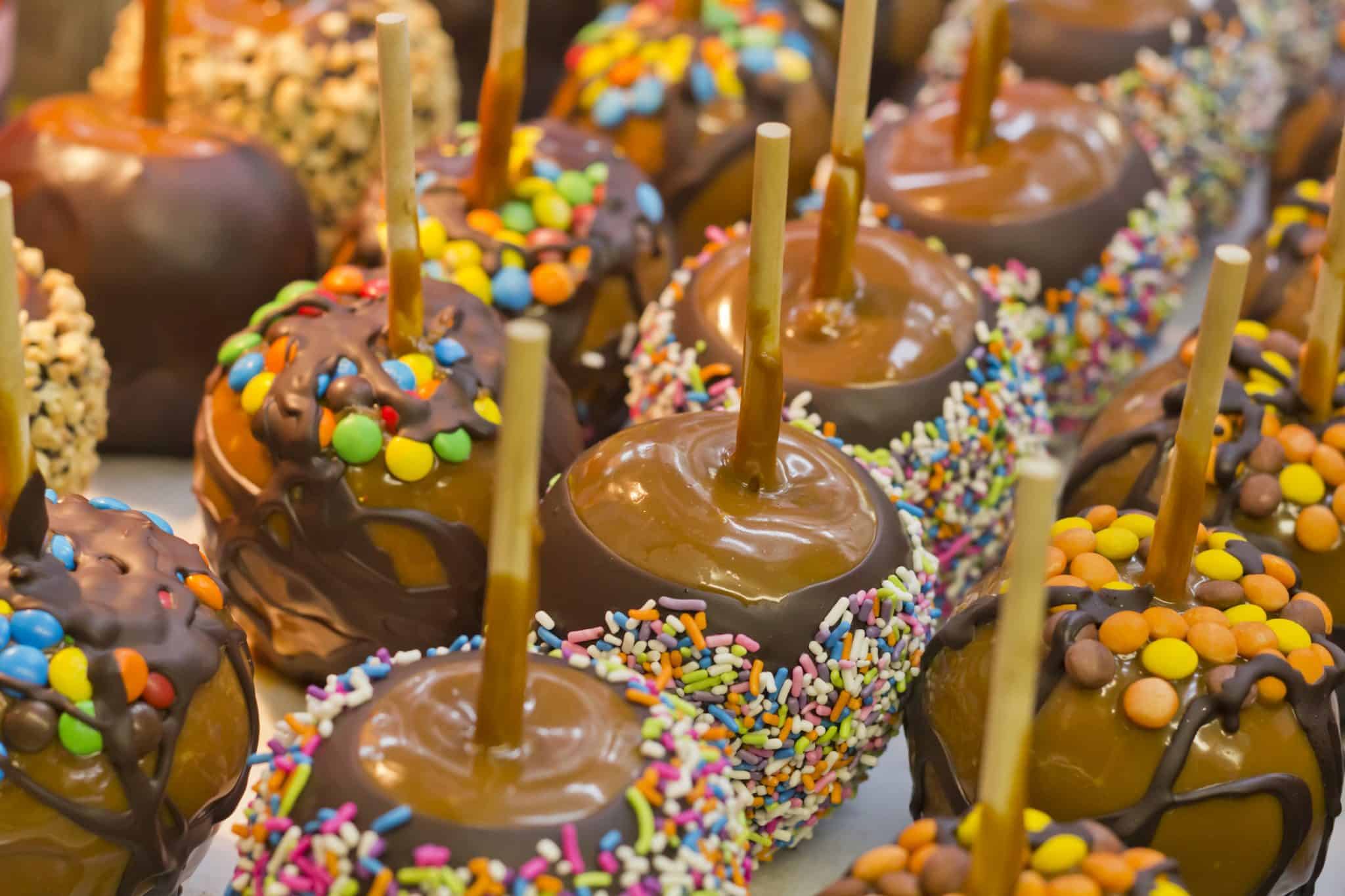 20+ Ideas for Caramel Apples:
Flaked coconut
Reeses Pieces
M & M's
Dark Chocolate Drizzle
White Chocolate Drizzle
Freshly Popped Popcorn
Sliced mini marshmallows
Toffee Pieces
Graham Cracker Crumbs
Butterfinger Bar
Snickers Bar
Crushed Peanut Pieces
Sea Salt
Chopped Pecans
Chopped Walnuts
Chopped Macadamia Nuts
Decorate with Frosting (Jack-o-lantern Faces)
Crushed Oreos
Crushed Vanilla Wafers
Sprinkles
Mini Chocolate Chips
Cinnamon Candies (Red Hots)
Crushed Pretzels
White Chocolate Chips
Mini Chocolate Chips
Butterscotch Chips
Cinnamon and Sugar
Flaked Coconut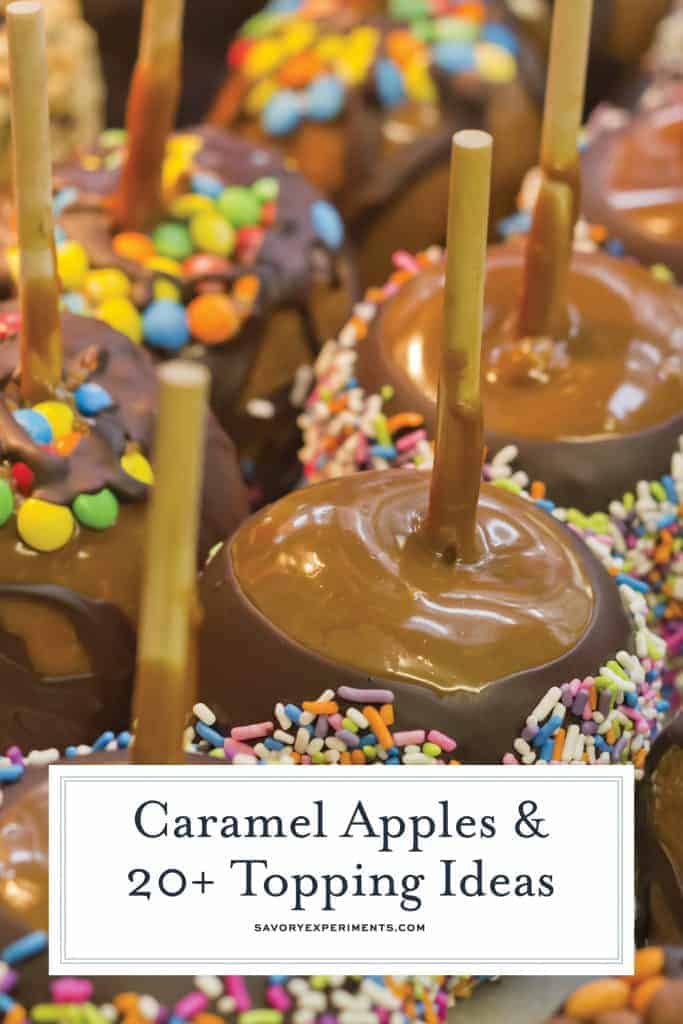 Nothing is more pretty than a tray of assorted and colorful bites. Try making one (or more) of these other Halloween treats to make a beautiful display!
And even more caramel apple inspired recipes…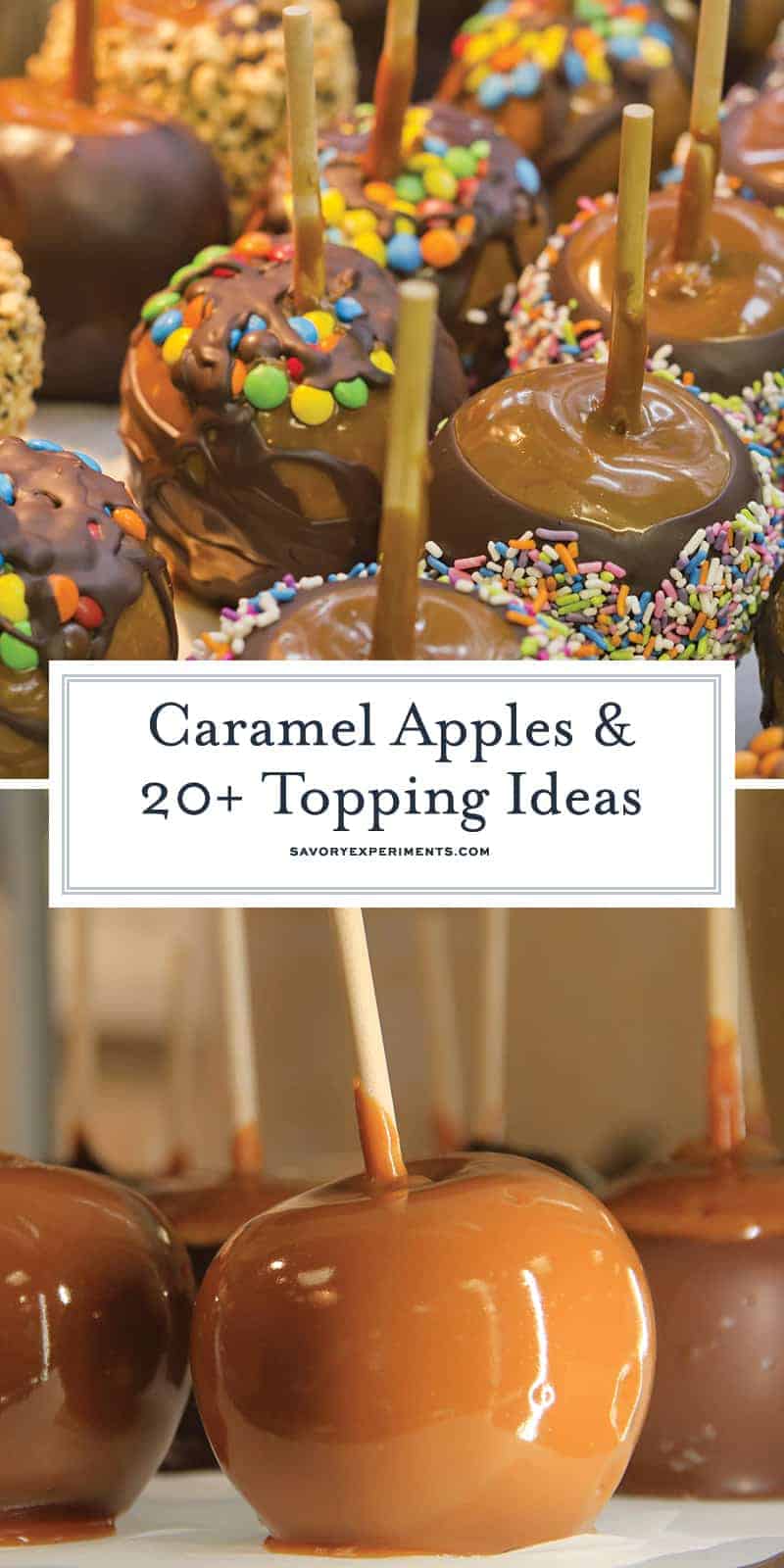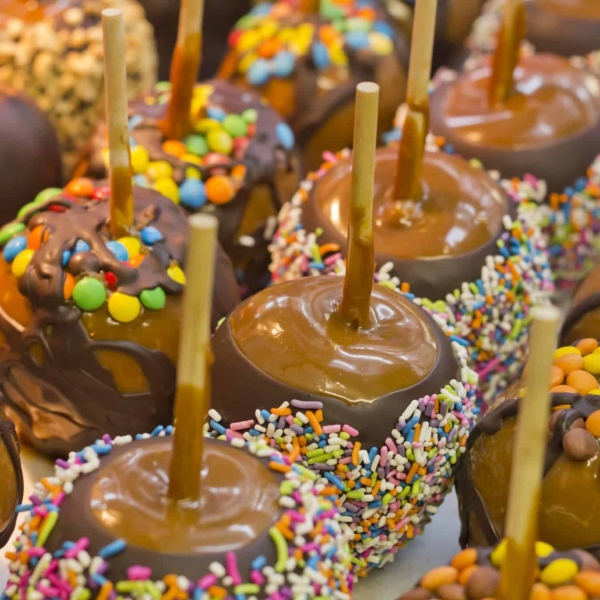 Caramel Apple Recipe
Classic caramel apples recipe with 20+ ideas to roll them in. Perfect for a fall dessert idea or a Halloween treat!
Instructions
Wash and dry apples. Any moisture left on the skin will prevent the caramel from sticking. Insert Popsicle sticks into the stem of the apple as the handle. Lay wax paper on a baking sheet and spray with cooking spray. On smaller, separate sheets lie out desired toppings (if desired).

Mix sugar, corn syrup and water in a heavy medium sauce pan. Bring to a boil over medium heat. Whisk until sugar is fully dissolved. After sugar has dissolved do not stir or whisk any longer. Gently swirl the pan to move around every couple of minutes.

When the mixture has turned an amber, caramel color, remove from heat and whisk in cream, butter, vanilla and salt. When liquid hits the pan it will sizzle, spit and the sugar mixture might solidify. That is okay! Keep whisking and sugar will dissolve and combine into a thick gorgeous caramel.

Allow caramel to cool slightly until it coats the back of a spoon without rolling off. When you reach this stage, work fast to roll apples in caramel, spooning sauce over the top. Tap off any excess and then immediately roll in toppings. Press toppings into the caramel. Set on baking sheet and allow to set. Work fast. If the caramel sets up too much you can heat slightly until it becomes workable again.

More ideas for caramel apple toppers are listed below. Caramel apples are best eaten the day of making or while still warm. Enjoy!

If you've tried this recipe, come back and let us know how it went!
Nutrition
Calories:
496
kcal
,
Carbohydrates:
103
g
,
Fat:
11
g
,
Saturated Fat:
7
g
,
Cholesterol:
37
mg
,
Sodium:
20
mg
,
Potassium:
209
mg
,
Fiber:
4
g
,
Sugar:
96
g
,
Vitamin A:
505
IU
,
Vitamin C:
8.3
mg
,
Calcium:
26
mg
,
Iron:
0.3
mg