If you're looking for the ultimate no-bake Halloween treat for your Halloween party, look no further than these adorable Ghost Cookies!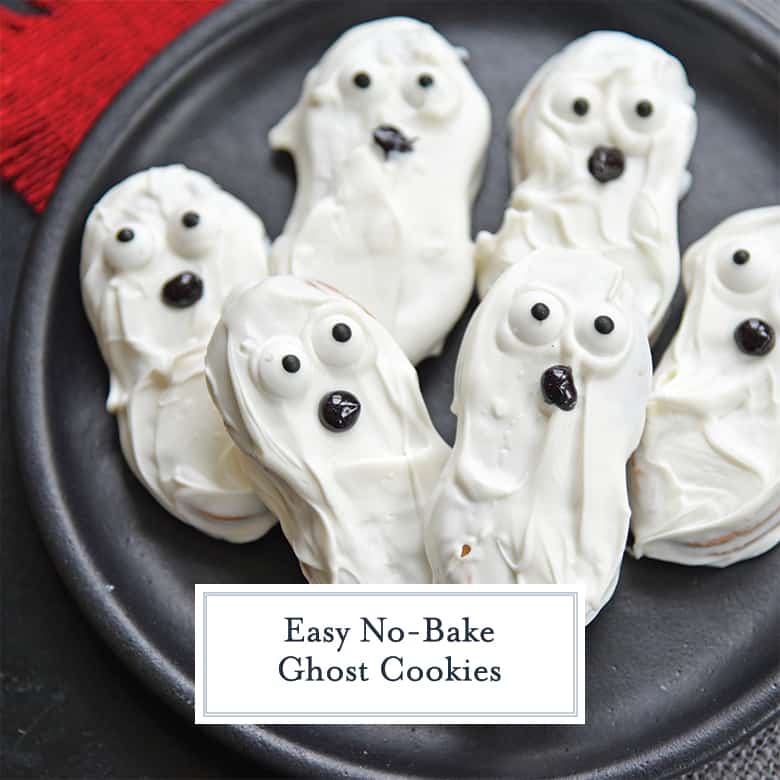 No bake Halloween treats don't get any easier than these Ghost Cookies! Super cute and easy enough for the kids to help with!
These easy ghost cookies require ZERO baking and only 4 ingredients. It just does't get any easier than that. The ingredients are:
Nutterbutter Cookies
White Chocolate
Candy Eyes
Black frosting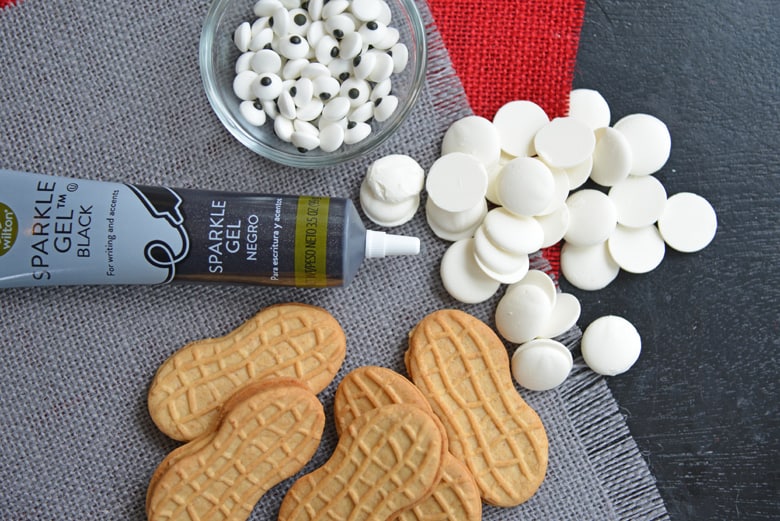 I'm not one for ghoulish and gross Halloween candy or treats. I don't want to think about eating brains or zombie limbs.
PRO TIP: When melting chocolate, go slowly and only until it is smooth with stirring. If you overheat, it gets thick and clumpy.
I prefer something cute and sweet, but still spooky. These Nutterbutter Ghosts do the trick. I even give them names while I make them.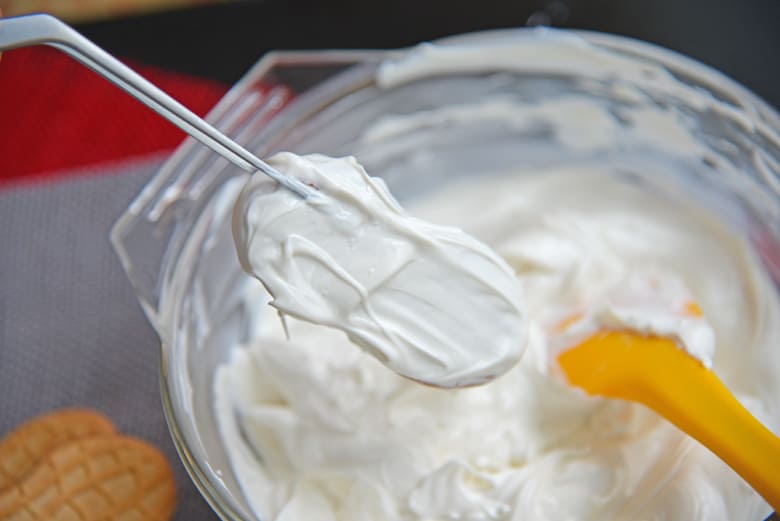 I'm a weirdo… I know. This is Bob, Brian and Art. They all lost their heads to a 2-year-old named Vivian soon after this picture was taken.
And while store bought treats might seem easier, these cookies are almost as easy! Just a few notes before you get started on your own ghost cookies.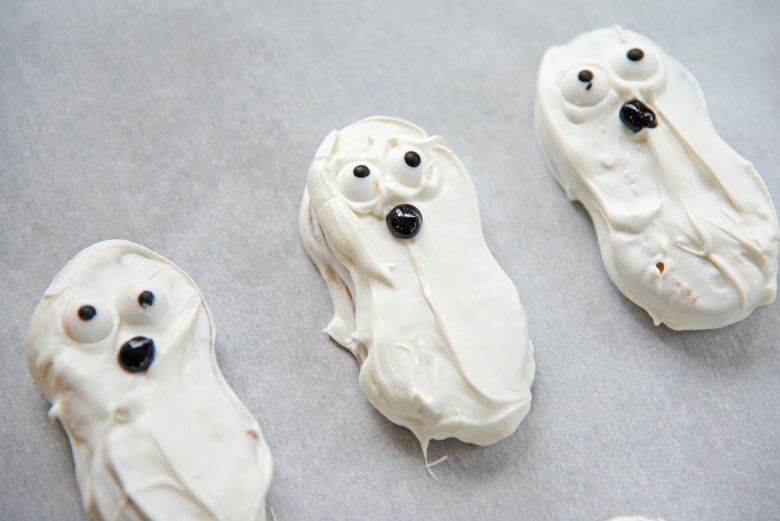 ONE. I like using Candy Melts or melting chocolate. What is the difference between melting chocolate and regular white chocolate chips?
Melts or melting chocolate already has some sort of fat in it. This helps it melt, dip and dry smoother.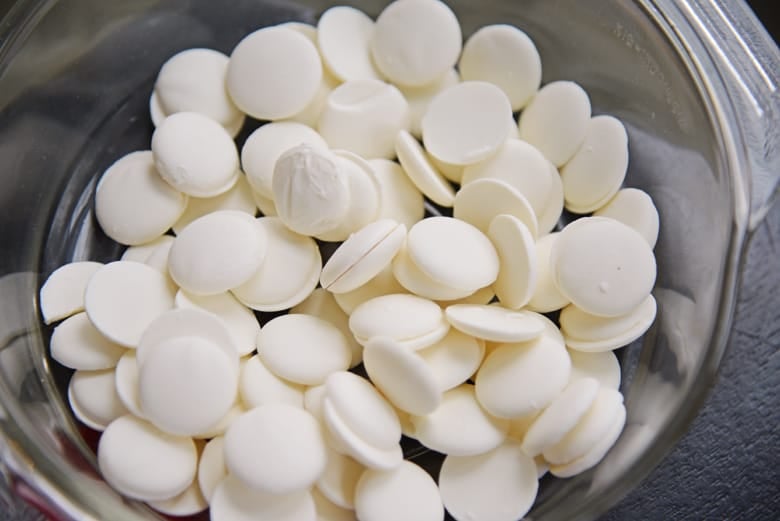 If you want to use white baking chocolate or white chocolate chips, that is fine. Simply add 1 teaspoon of shortening or butter for every 1/2 cup.
PRO TIP: When melting chocolate in the microwave, set it to 50% power or the defrost function for better and more even melting.
TWO. I recommend using a glass bowl for melting. Since I am doing it in a microwave instead of a double boiler (which is a totally fine option), glass holds heat longer so the chocolate stays dippable for longer.
But this comes with a safety hazard. Glass gets (and stays) HOT! Use pot holders and set it on a trivet. Avoid getting burned!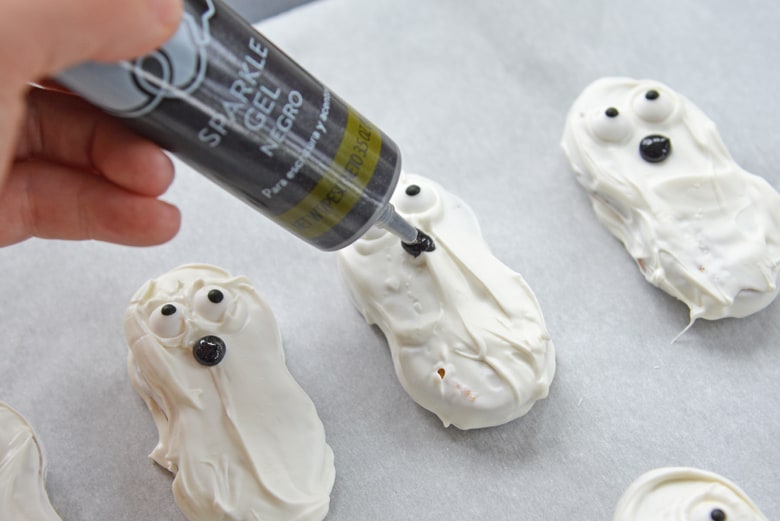 THREE. Some are tempting to place their dipped ghosts onto a dry rack so the excess chocolate drips off, but this usually ends with cookies stuck to the rack.
Yep, the chocolate drips alright, drips right around all the metal grates and then you can't get them off without breaking the chocolate shell.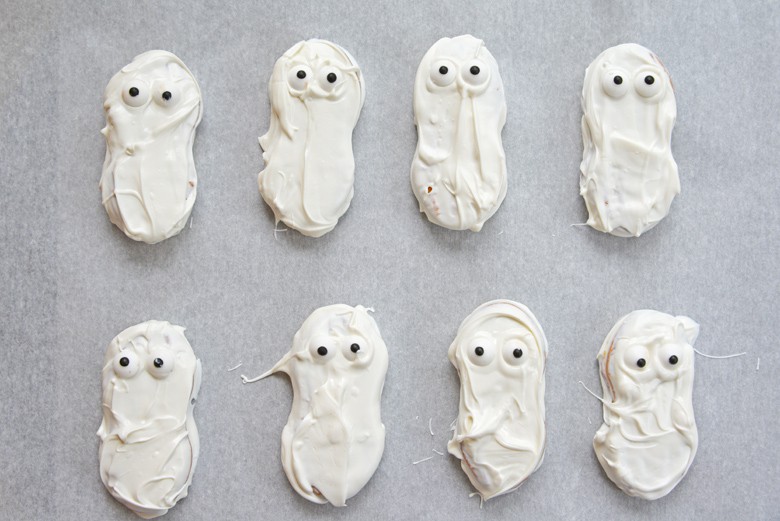 Instead, tap off as much excess as possible and then place on a Silpat, wax paper or parchment paper. They will easily peel off after setting.
Use a fork or tweezers (yes, I have tweezers in my kitchen) to dip so it can drip off easily and there isn't too much space not being covered during the dip.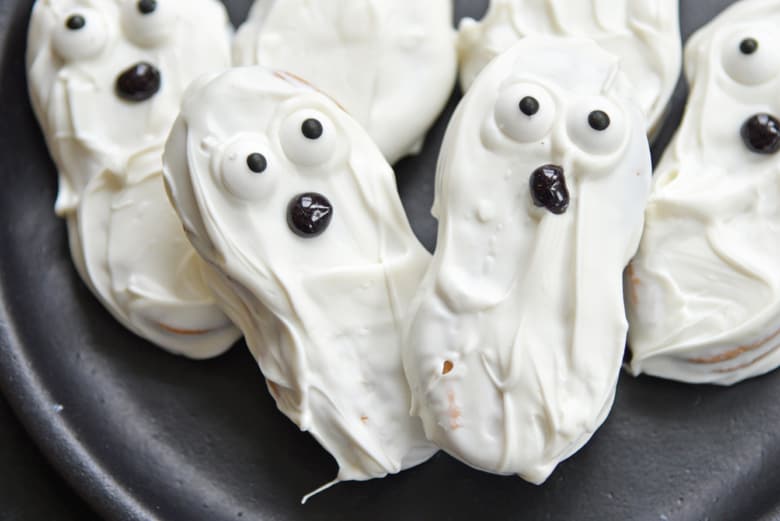 FOUR. You can adhere the eyes while the chocolate is still wet or with a dab of frosting. If you don't want (or can't find) the candy eyeballs, just use dabs of frosting.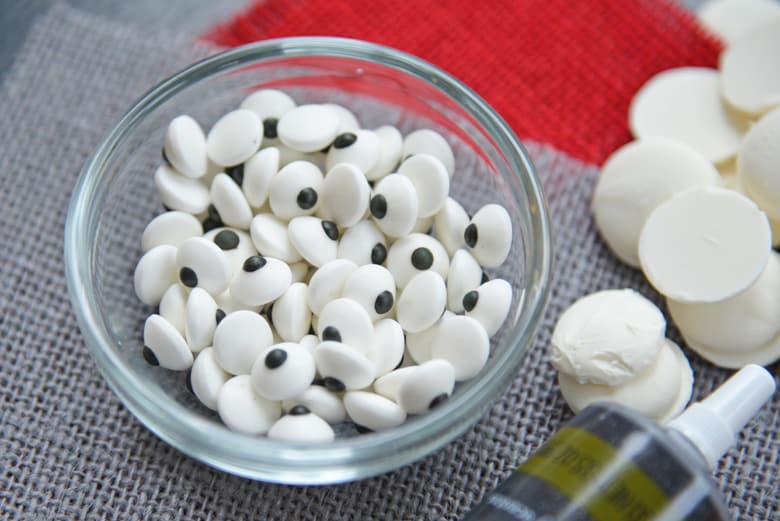 Questions you might have about how to make Ghost Cookies:
Can I make these in advance? Sure! In fact, you kind of have to in order for the white chocolate to set and to decorate.
How do I store these Halloween cookies? At room temperture in an airtight container. You can use parchment paper or wax paper between layers to prevent sticking.
Can I use a different type of cookie? I feel horrible that some folks can't enjoy these nutter butter cookies because they are made with peanut butter, but I haven't found a suitable substitute yet based on their unique shape.
If you have one, I'd love to know about it!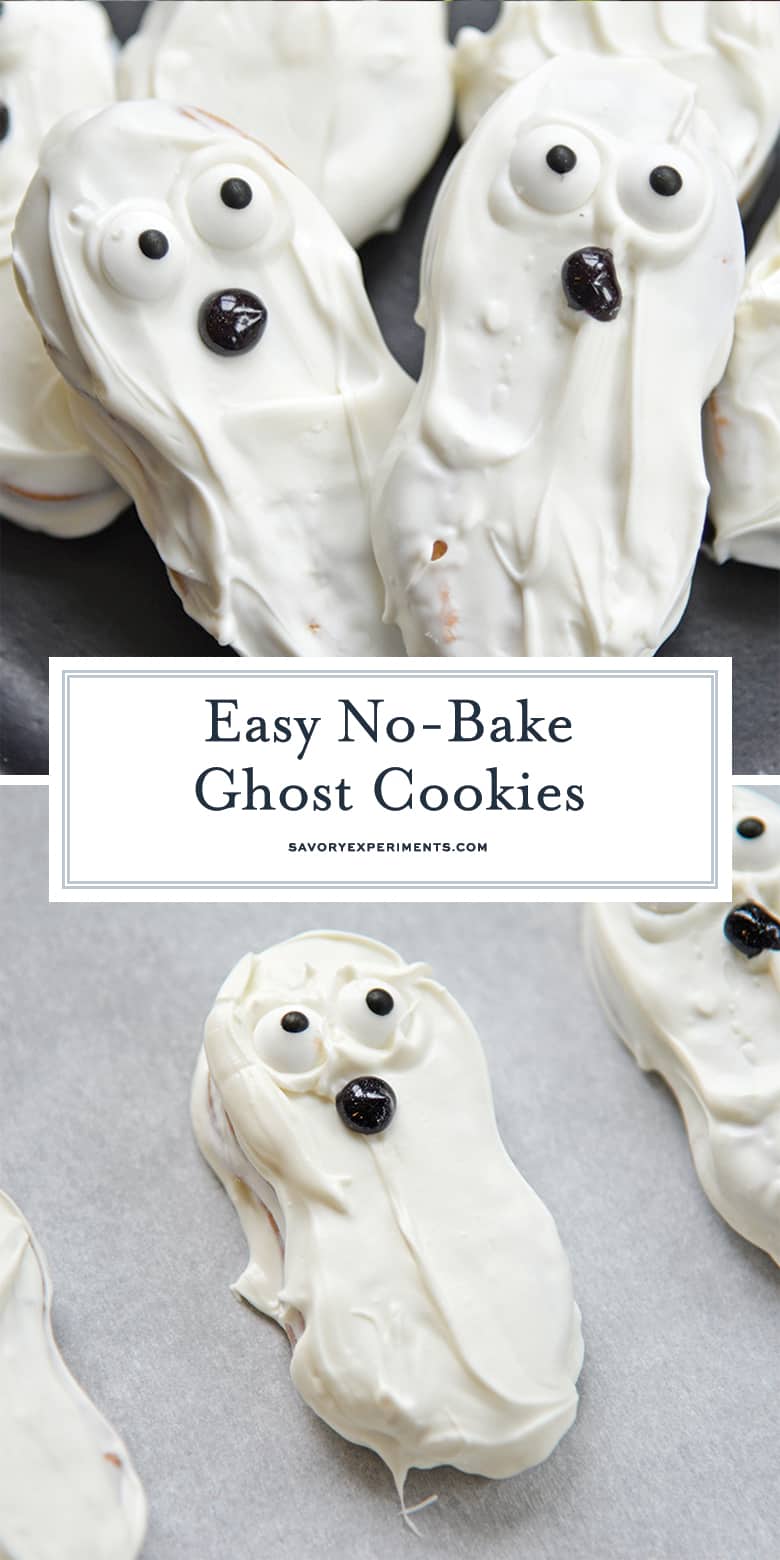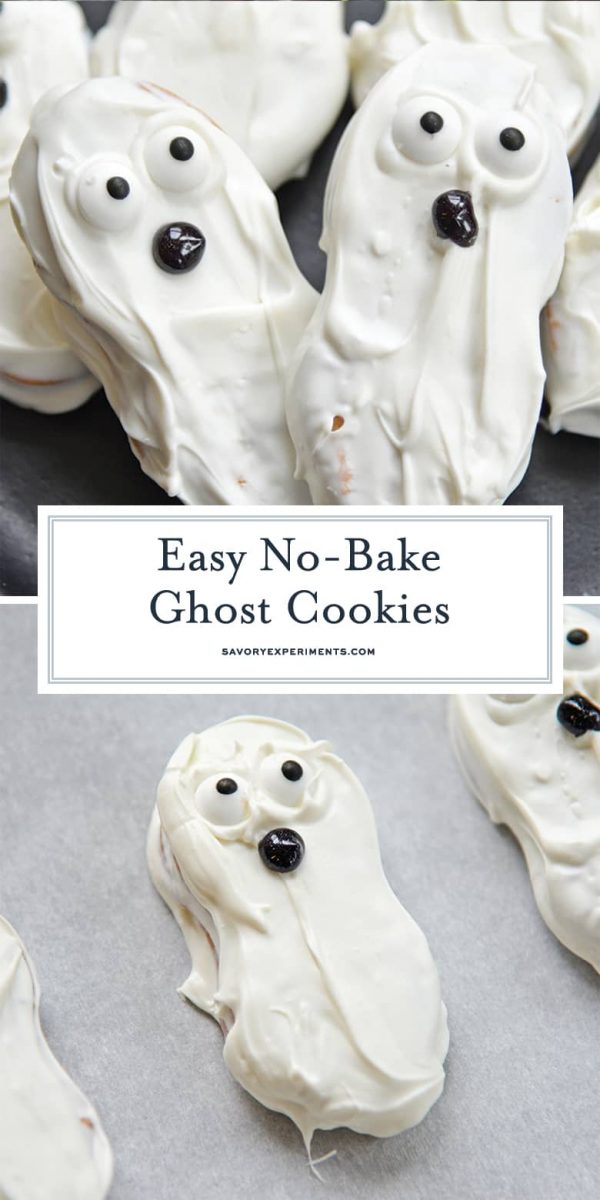 If you liked these no bake Halloween cookies, check out these other cute Halloween treats:
Halloween Dunkaroo Dip
This Halloween Dunkaroo Dip is a festive and easy cake batter dip that's perfect for Halloween parties. With just a few ingredients and no baking involved, it'll become one of your go-to Halloween desserts.
Halloween Rice Krispie Treat Cake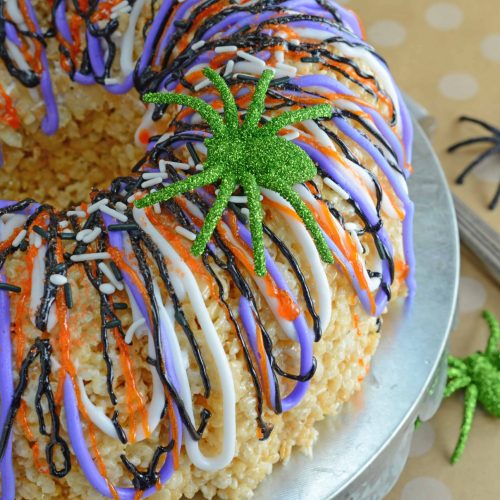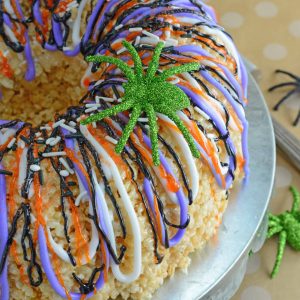 Halloween Rice Krispie Cake is stuffed with fluff! What better way to celebrate the holiday than with a giant homemade rice krispies treat?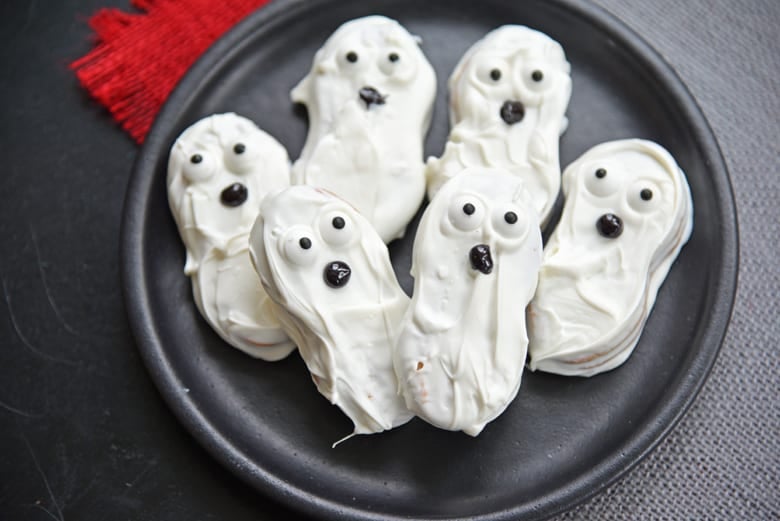 CONNECT WITH SAVORY EXPERIMENTS!

Be sure to follow me on social media, so you never miss a post!

Facebook | Twitter | Youtube
Pinterest | Instagram

Get our FREE 8 Day E-Course on How to Be a Better Home Cook. Sign up HERE!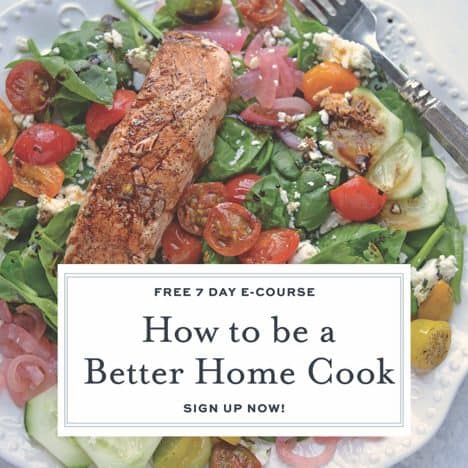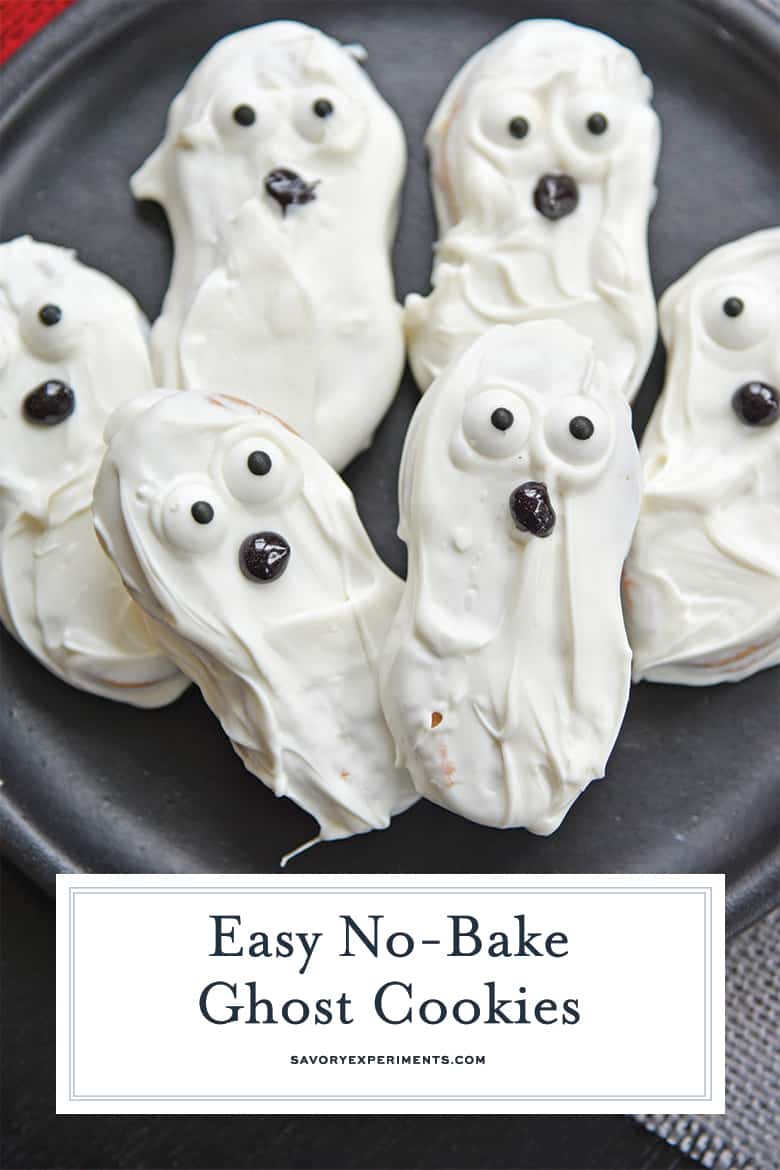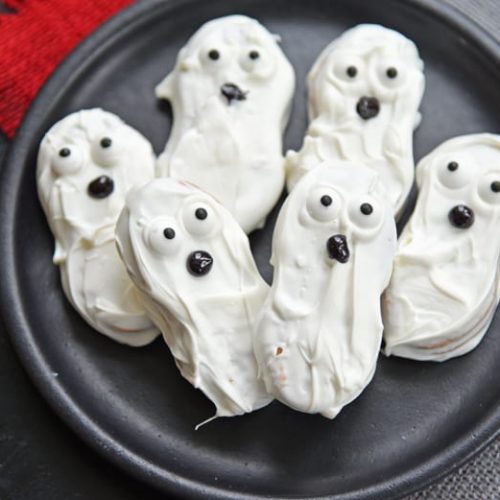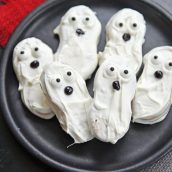 Print Recipe
No Bake Ghost Cookies
No bake Halloween treats don't get any easier than these Ghost Cookies! Super cute and easy enough for the kids to help with!No bake Halloween treats don't get any easier than these Ghost Cookies! Super cute and easy enough for the kids to help with!
Ingredients
12

Nutterbutter Cookies

8

ounces

white candy chocolate

16

candy eye balls

black frosting
Instructions
Melt white candy chocolate in a double boiler or in the microwave according to the package directions.

Dip Nutterbutter Cookies in white chocolate, tapping to remove excess chocolate. Set on wax or parchment paper to set.

When dry, add candy eyeballs and a mouth using black frosting. Allow to set before layering to store.

If you've tried this recipe, come back and let us know how it was!
Nutrition
Calories:
106
kcal
|
Carbohydrates:
12
g
|
Protein:
1
g
|
Fat:
6
g
|
Saturated Fat:
4
g
|
Cholesterol:
4
mg
|
Sodium:
25
mg
|
Potassium:
54
mg
|
Fiber:
1
g
|
Sugar:
12
g
|
Vitamin A:
6
IU
|
Vitamin C:
1
mg
|
Calcium:
38
mg
|
Iron:
1
mg