If you're looking for the ultimate no-bake Halloween cookie for your Halloween party, look no further than these adorable Ghost Cookies!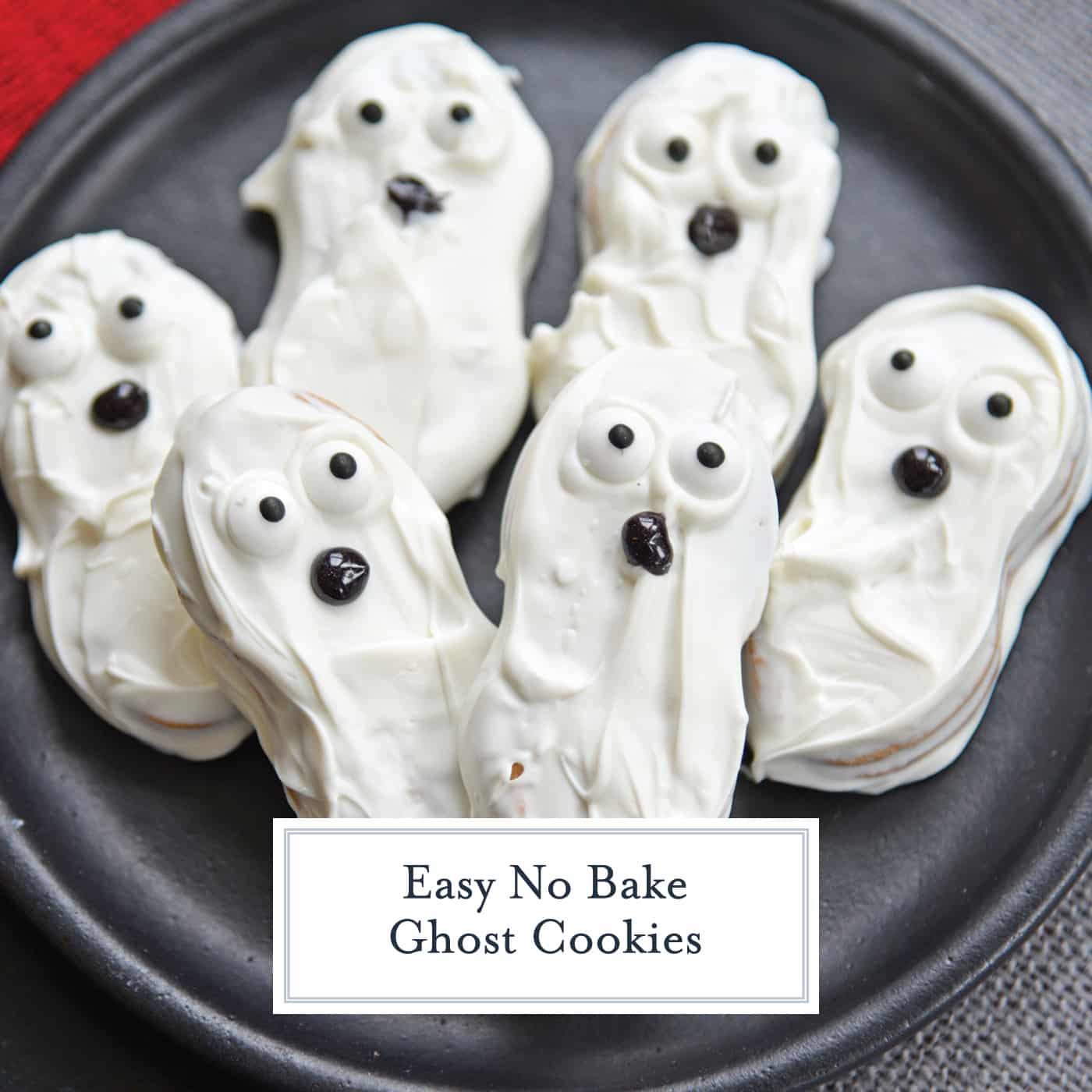 No bake Halloween treats don't get any easier than these Ghost Cookies! Super cute and easy enough for the kids to help with!
If you read us with any regularity, you'll know we love a cute Halloween cookie recipe, but aren't so into the blood and guts part of it. Not even the ghoulish stuff.
I like cute treats and these little ghosts, I'm going to call them Casper's are as friendly as it gets.
Why You'll Love These Ghost Cookies
Super easy cookies that are fun, festive and perfect for Halloween- what's not to love!
Easy Halloween cookies – Whether you're looking for a fun treat for a Halloween party, or an easy treat for the kids to make, these Nutter Butter Ghosts are perfect.
Great for kids of all ages – These Nutter Butter ghost cookies are loved by both kids and adults. Sure to please everyone!
No bake cookies – Because they're no bake, they're even easier for little hands to help in the kitchen. And the best part, they only take 15 minutes!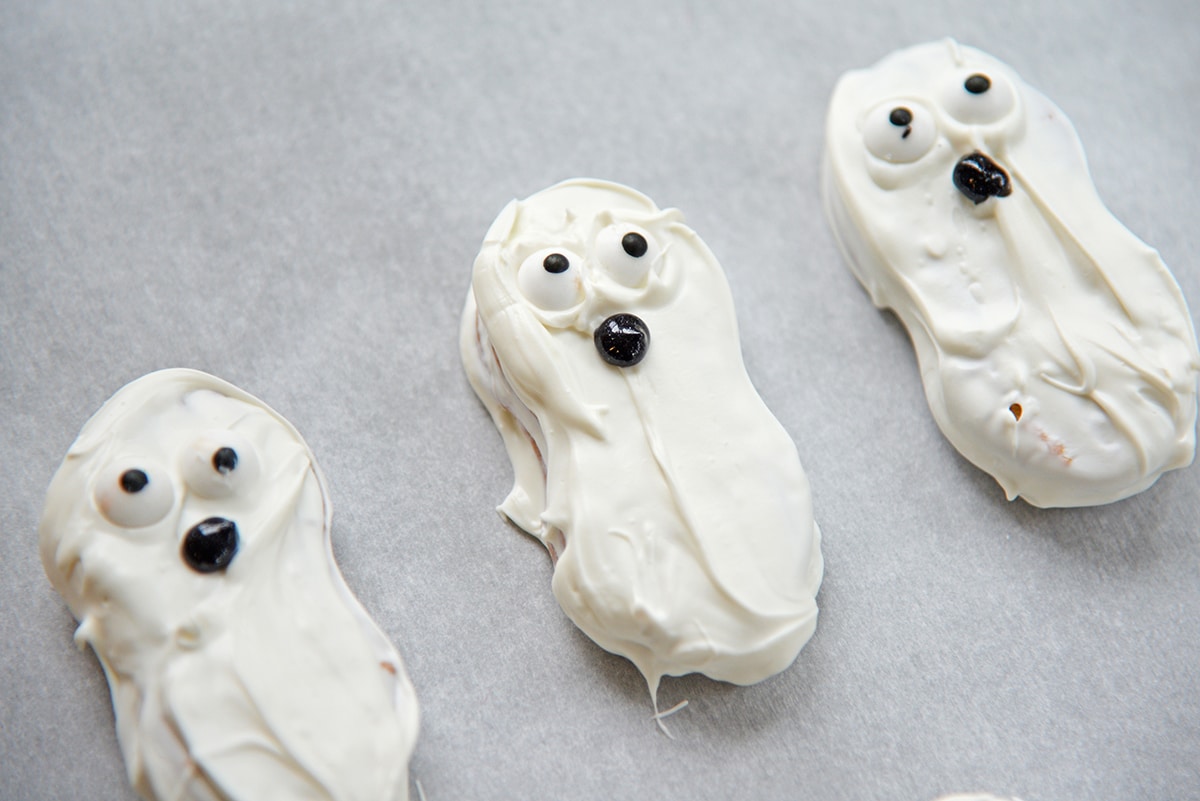 Ingredients for Ghost Cookies
These easy ghost cookies require ZERO baking and only 4 ingredients. It just doesn't get any easier than that.
Nutterbutter Cookies– the perfect shape for so many things! You can use any oblong or oval cookie.
White Chocolate– I prefer Candy Melts because it is already tempered and doesn't run the risk of getting cloudy and clumpy.
Candy Eyes – Get these at the craft store or grocery store. Alternatively, just use more dots of black frosting. I think the eyes really make them come to life though.
Black Frosting– for the mouth. I used glitter because, well, we all need some glitter in our lives.
PRO TIP: When melting chocolate, go slowly and only until it is smooth with stirring. If you overheat, it gets thick and clumpy.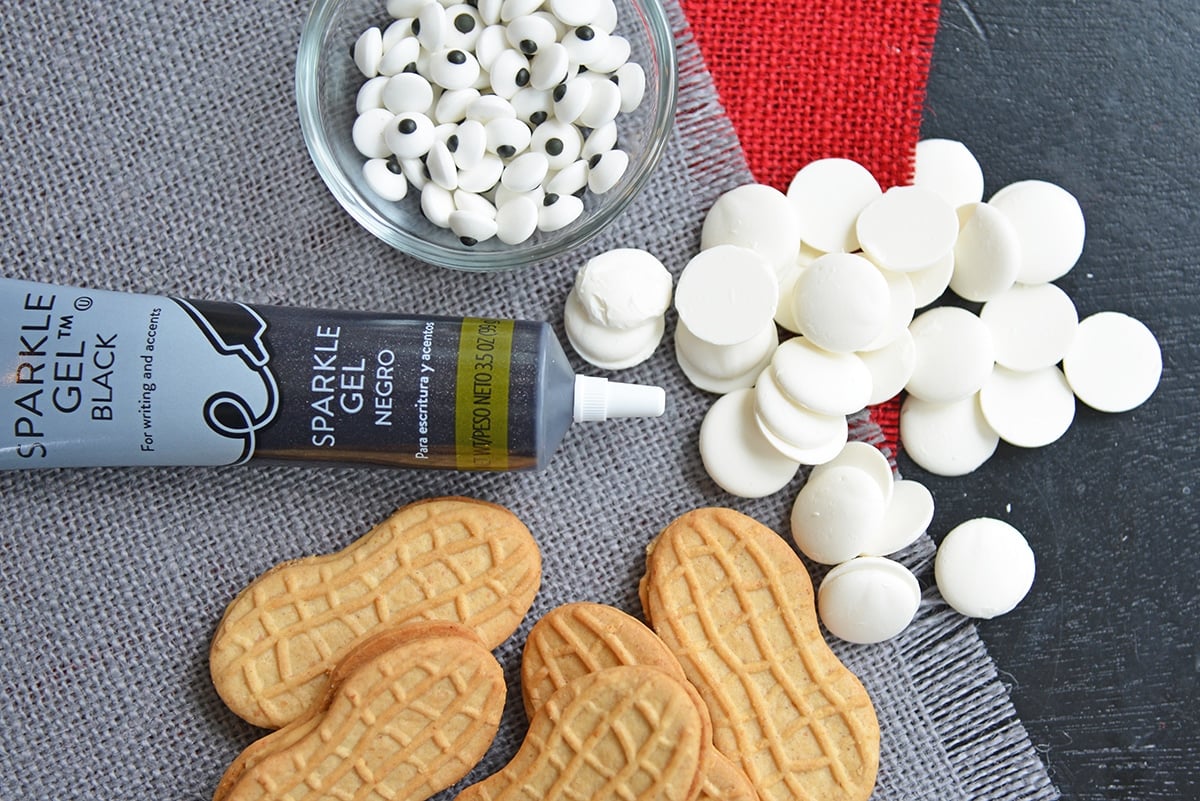 Halloween Cookies
When it comes to Halloween treats, I prefer a cute treat rather than spooky treats. These Nutterbutter Ghosts do the trick. I even give them names while I make them.
I'm a weirdo… I know. This is Bob, Brian and Art. They all lost their heads to a 2-year-old named Vivian soon after this picture was taken.
And while store bought treats might seem easier, these easy Halloween treats are almost as easy! Just a few notes before you get started on your own ghost cookies.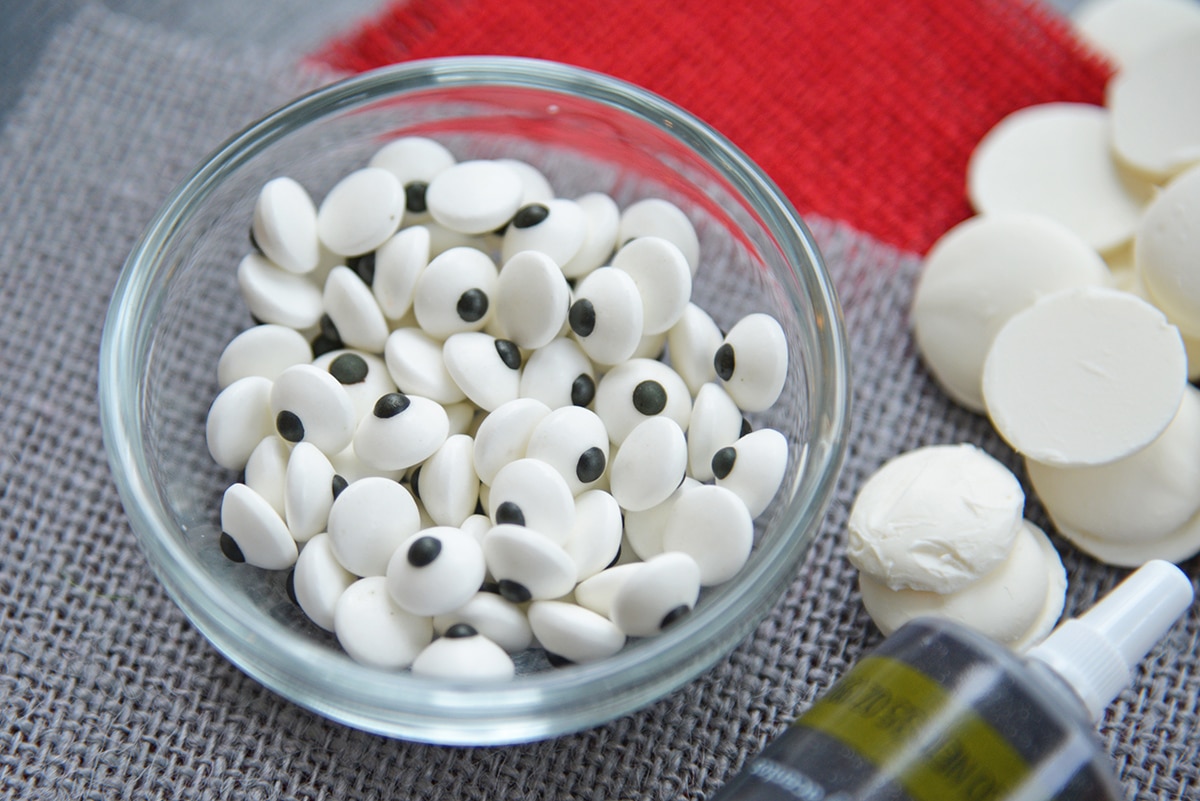 How to Make Ghost Cookies
These cookies are a great way to get the kids involved in making this easy Halloween treat. Check out how easy they really are!
Melt chocolate. Melt white candy chocolate in a double boiler or in the microwave according to the package directions.
Dip cookies. Dip Nutterbutter Cookies in white chocolate, tapping to remove excess chocolate. Set on wax or parchment paper to set.
Decorate. When dry, add candy eyeballs and a mouth using black frosting in a piping bag. Allow to set before layering to store.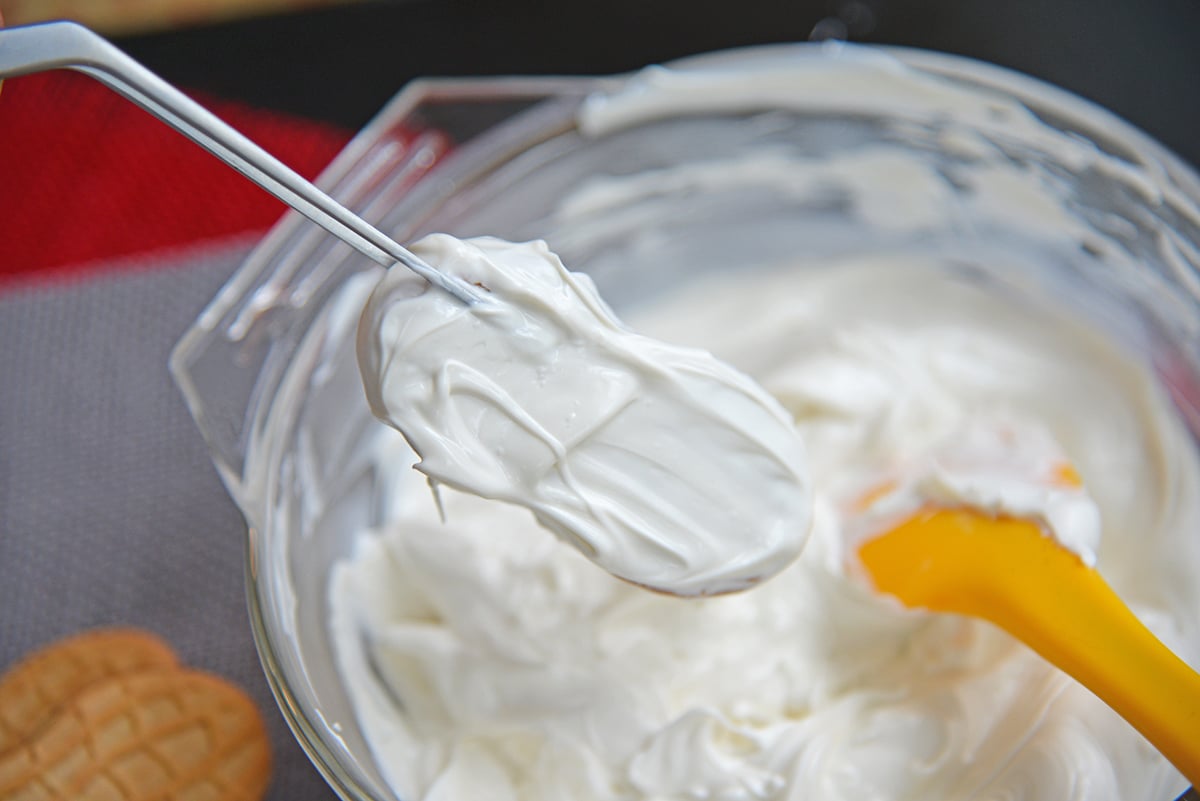 Ghost Cookies Tips
I have a few tips to ensure you make the best ghost cookies recipe every single time.
Chocolate. I like using Candy Melts or melting chocolate like almond bark. If you want to use white baking chocolate or white chocolate chips, that is fine. Simply add 1 teaspoon of shortening or butter for every 1/2 cup. When melting chocolate in the microwave, set it to 50% power or the defrost function for better and more even melting.
Melting. I recommend using a glass bowl for melting. Since I am doing it in a microwave instead of a double boiler (which is a totally fine option), glass holds heat longer so the chocolate stays dippable for longer. But this comes with a safety hazard. Glass gets (and stays) HOT! Use pot holders and set it on a trivet. Avoid getting burned!
Drying. Some are tempting to place their dipped ghosts onto a wire rack so the excess chocolate drips off, but this usually ends with cookies stuck to the rack. Instead, tap off as much excess as possible and then place on a Silpat, wax paper or parchment paper. They will easily peel off after setting.
Eyes. You can adhere the eyes while the chocolate is still wet or with a dab of frosting. If you don't want (or can't find) the candy eyeballs, just use dabs of frosting.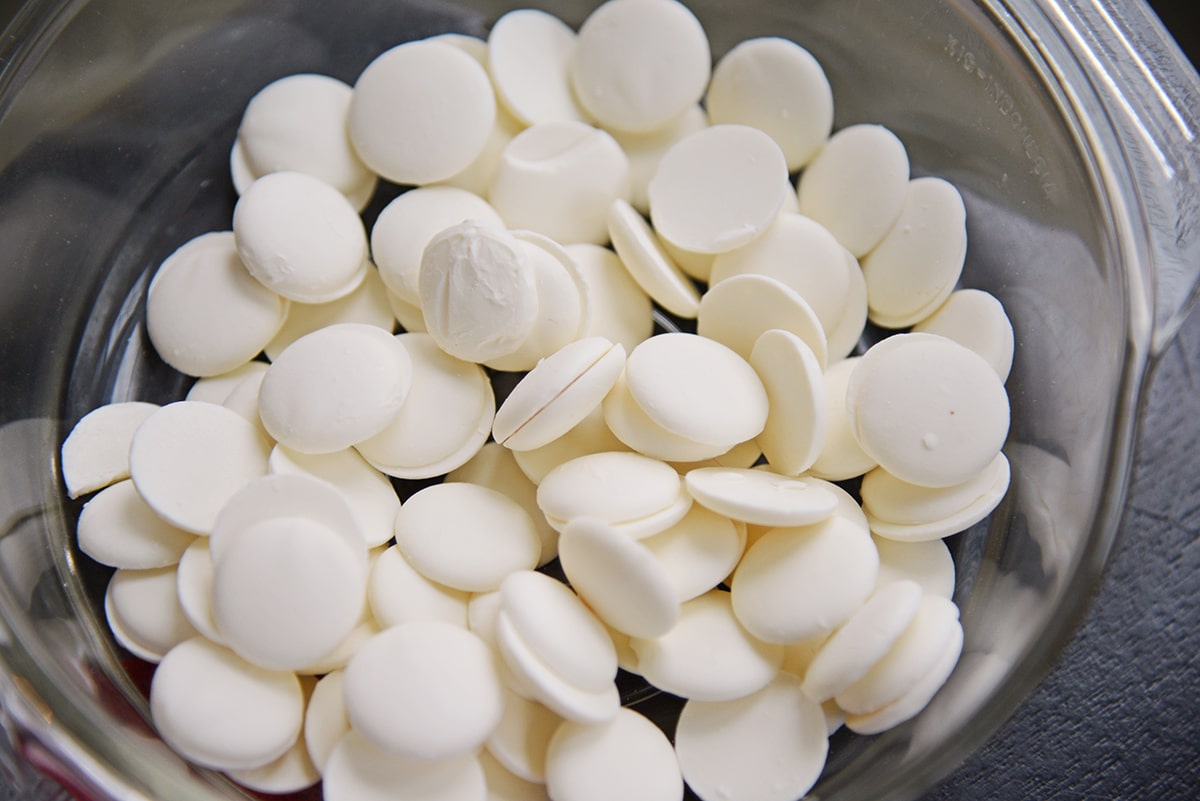 Variations
There are a few ways you can make these ghost cookies your own!
Eyes – Instead of using candy eyes, you could use black icing or even mini chocolate chips stuck into the melted chocolate.
Cut out cookies – If you're not a fan of peanut butter cookies, you could use ghost cookie cutters to cut sugar cookie dough. Decorate with royal icing or still dip in the white chocolate.
Different colors – Although ghosts are traditionally white, you can use food coloring to make your chocolate different colors. Green, purple and orange are great for Halloween.
Cookies – Instead of Nutter Butters, you could also use Milano cookies. They have the same general shape.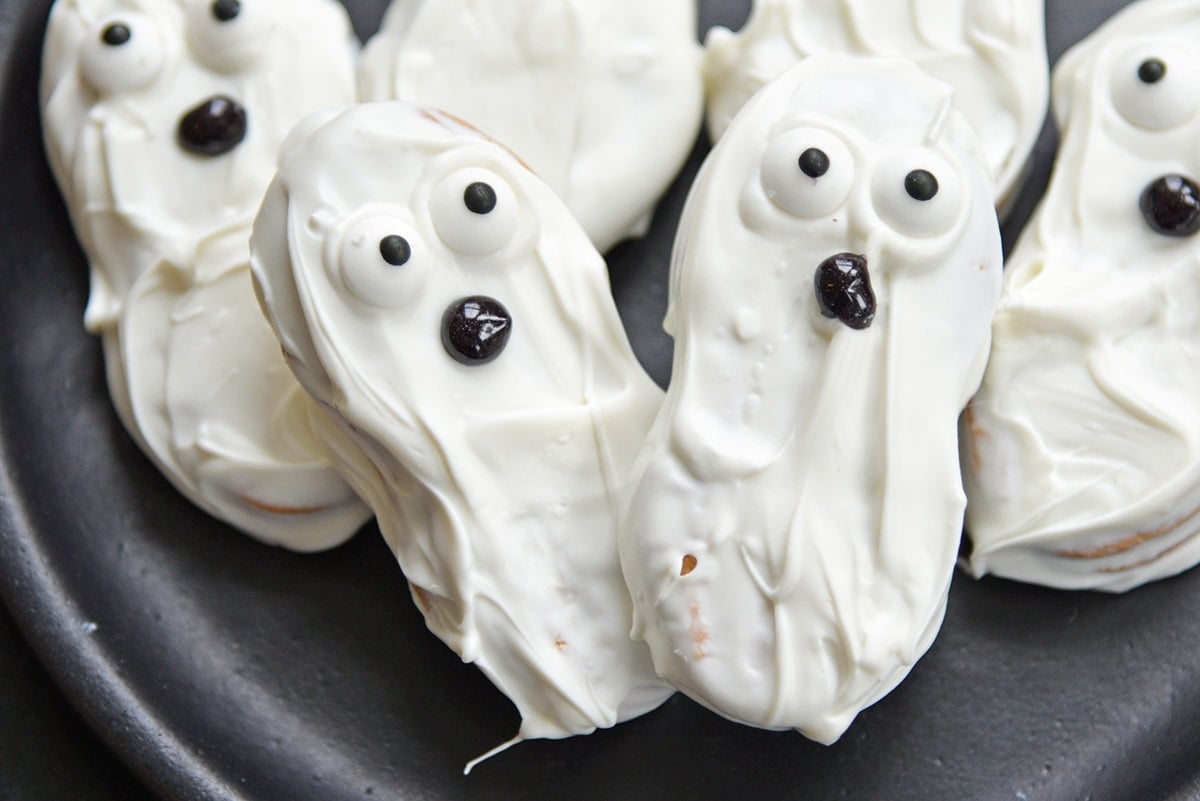 How to Serve Ghost Cookies
These cookies are the perfect treat to serve with other easy Halloween dessert recipes. Because these cookies are a dessert, you might think about other desserts like Monster Rice Krispie Treats, Ghost Brownies, Halloween Chocolate Sugar Cookies or even classic chocolate chip cookies.
They'd also be a great sweet treat to pair with your other perfect Halloween party food like these Mummy Hot Dogs or Halloween Snack Mix.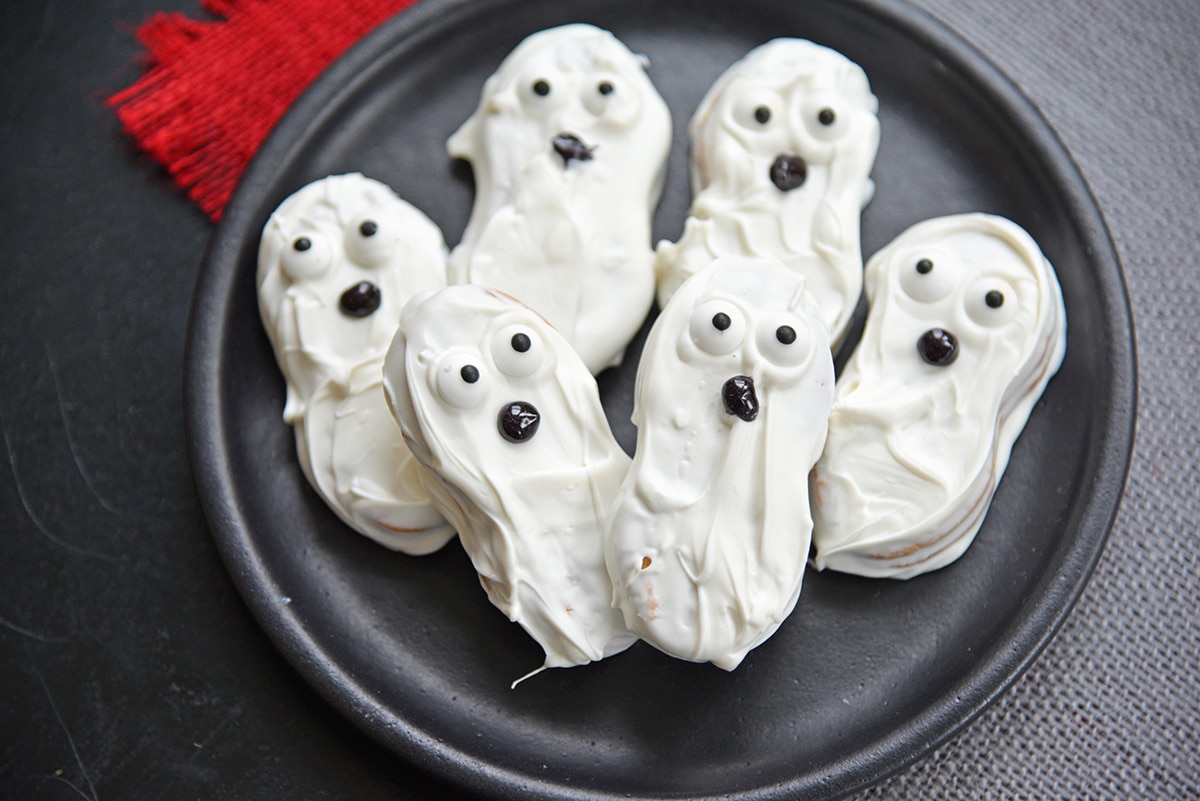 Make Ahead, Storage & Freezing
Make ahead: You can definitely make them ahead of time. In fact, you kind of have to in order for the white chocolate to set and to decorate.
Storage: Store at room temperature in an airtight container. You can use parchment paper or wax paper between layers to prevent sticking.
Freezing: You can totally freeze these little suckers.
Frequently Asked Questions
What is the difference between melting chocolate and regular white chocolate chips?
Melts or melting chocolate already has some sort of fat in it and is tempered. This helps it melt, dip and dry smoother. Although you will want some folds and creases to create depth and a realistic ghost.
Can I make these in advance?
Sure! In fact, you kind of have to make these cute little ghost cookies in advance in order for the white chocolate to set and to decorate.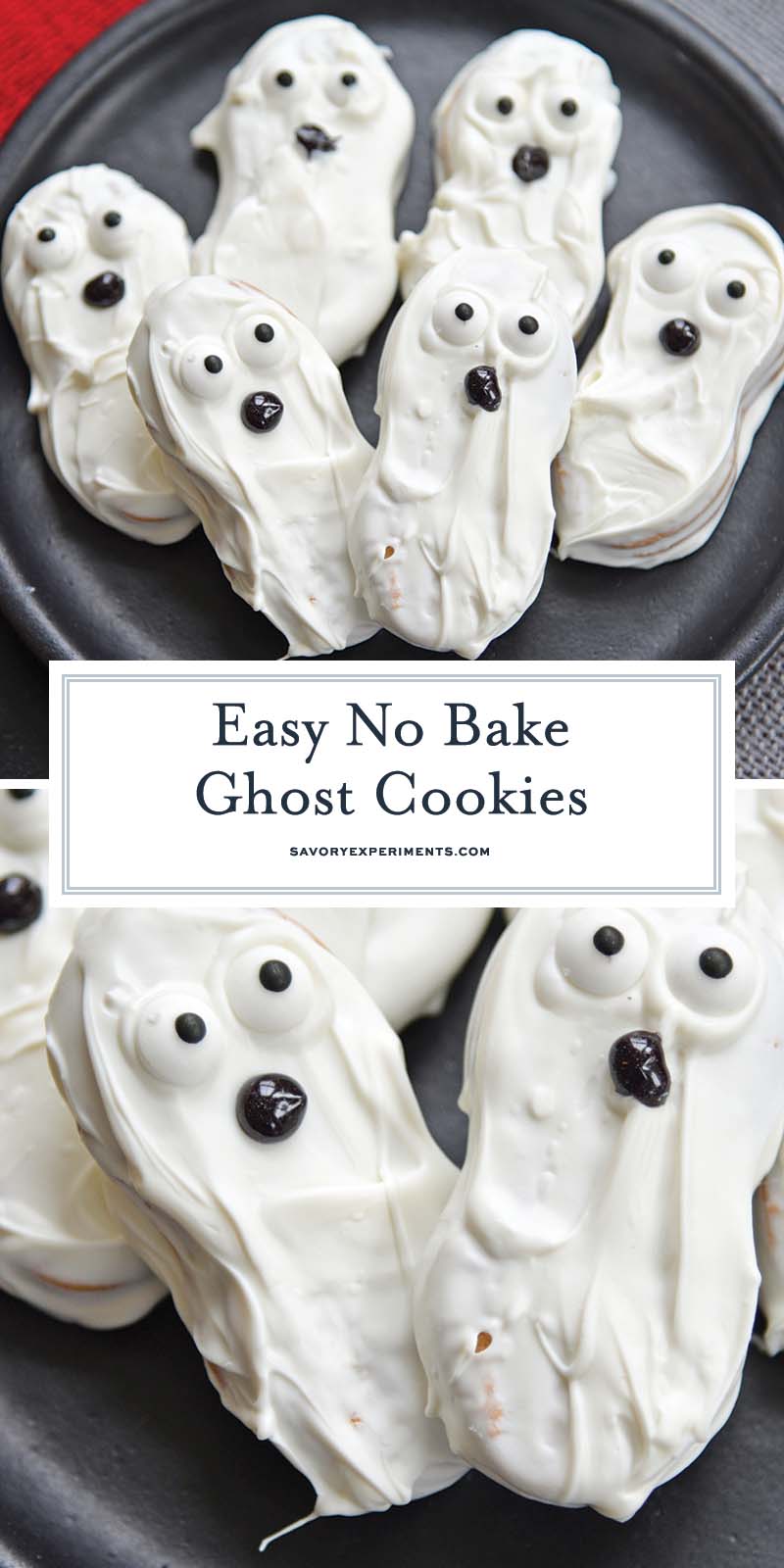 More Cute Halloween Treats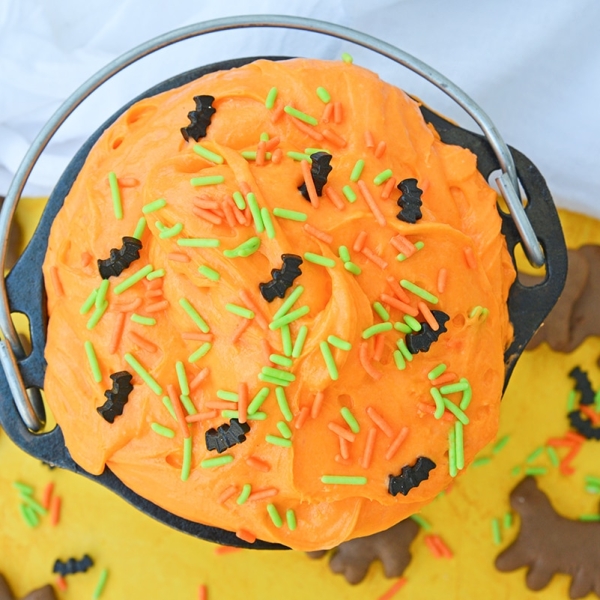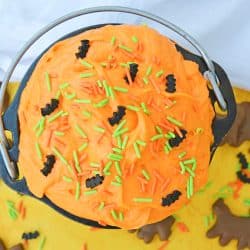 Halloween Dunkaroo Dip Recipe
This Halloween Dunkaroo Dip is a festive and easy cake batter dip that's perfect for Halloween parties. With just a few ingredients and no baking involved, it'll become one of your go-to Halloween desserts.
See The Recipe!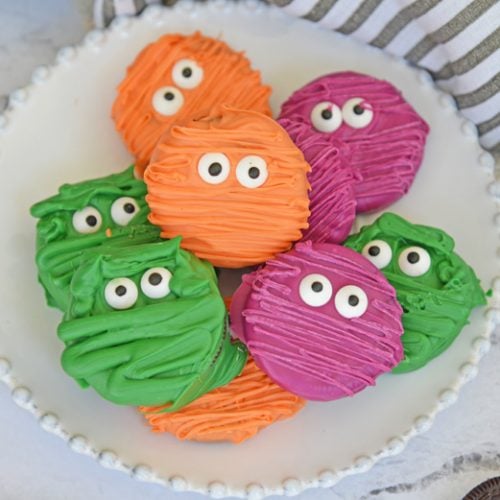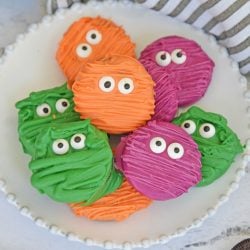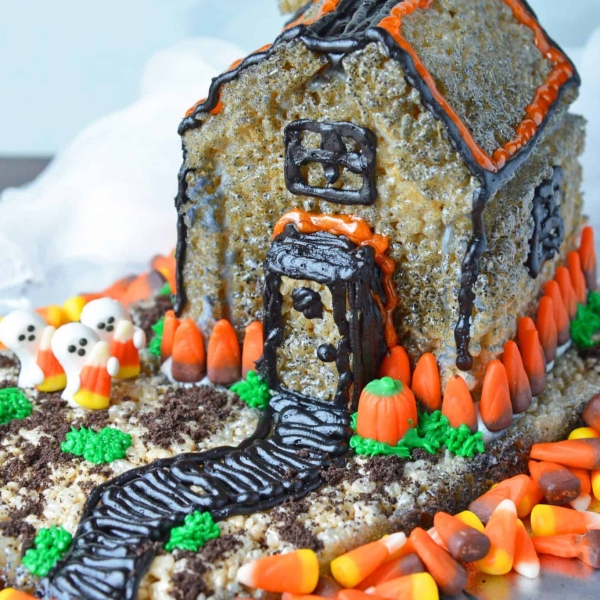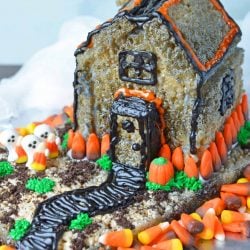 Rice Krispie Treat Haunted House
With this Rice Krispie Treat house template, you can make an adorable haunted house to display and then eat. Similar to a gingerbread house, this is part Halloween craft and party Halloween dessert. Fun and easy!
See The Recipe!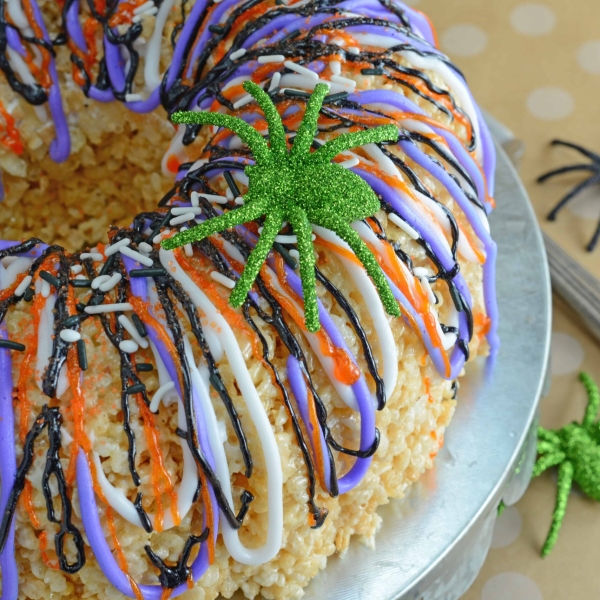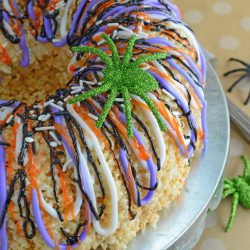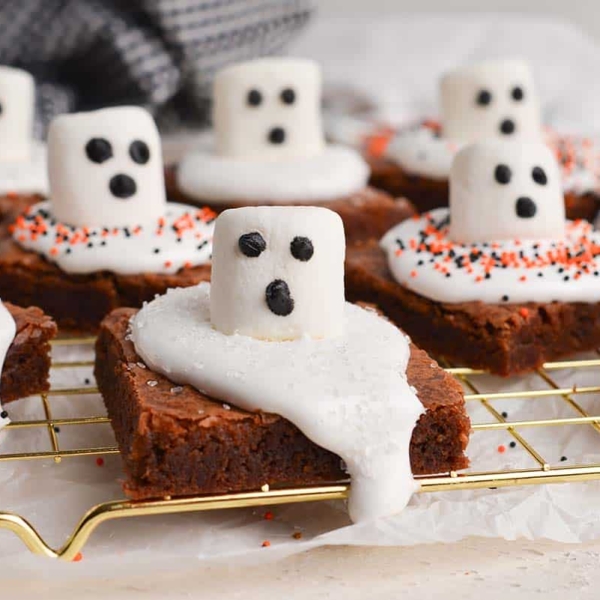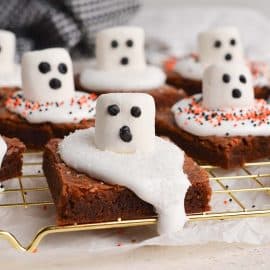 Ghost Brownies
These EASY Ghost Brownies are made with a base of store-bought or homemade brownies and use marshmallows and fluff to make a ghost topping!
See The Recipe!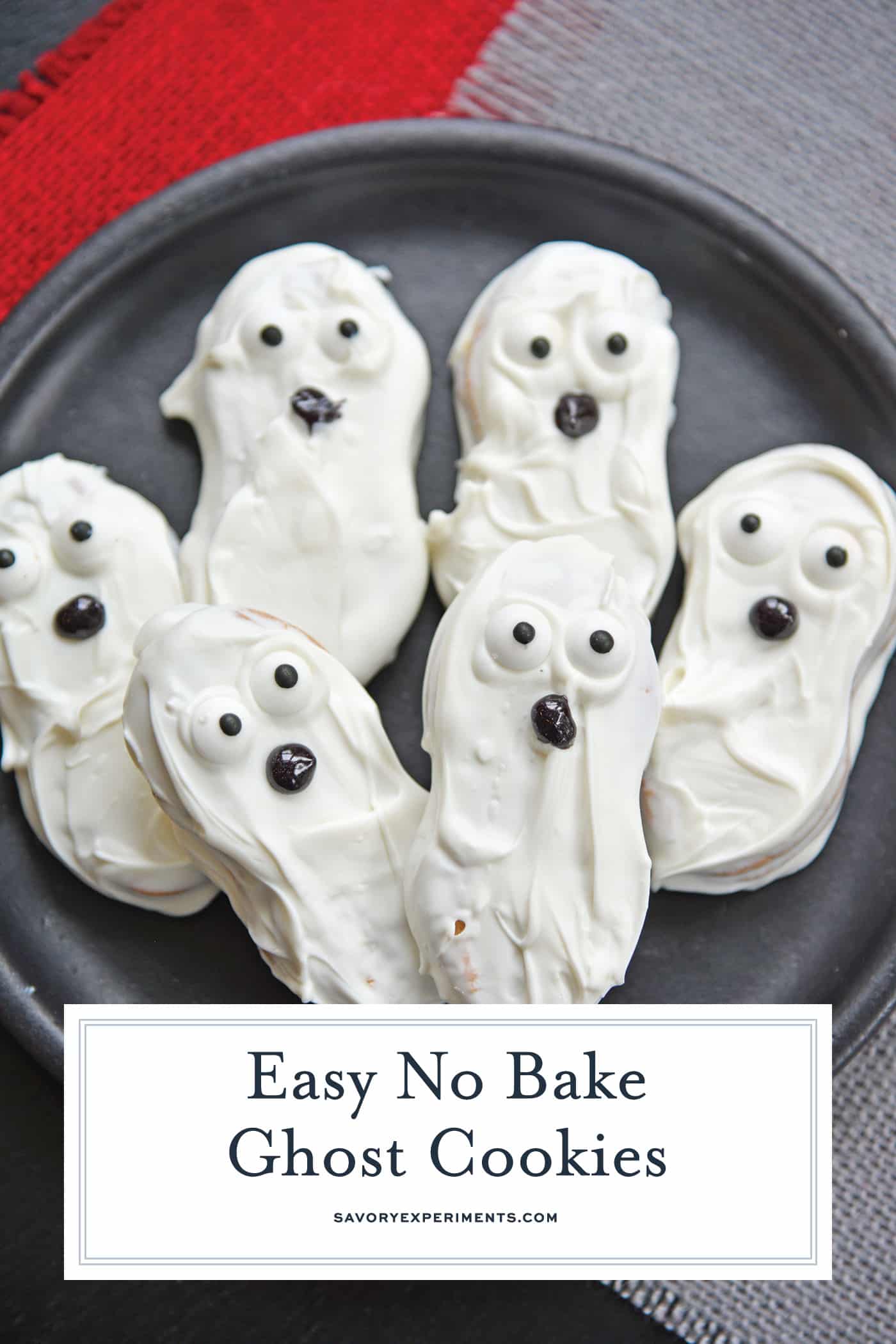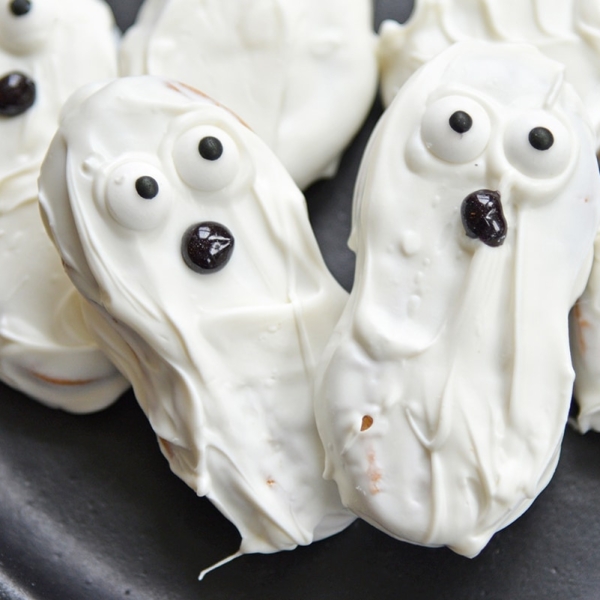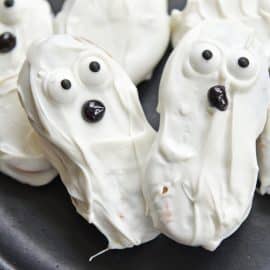 No Bake Ghost Cookie Recipe
No bake Halloween treats don't get any easier than these Ghost Cookies! Super cute and easy enough for the kids to help with!
Ingredients
12

Nutterbutter Cookies

8

ounces

white candy chocolate

black frosting
Instructions
Melt the white candy chocolate in a double boiler or in the microwave according to the package directions.

Dip the Nutterbutter Cookies in the melted white chocolate, tapping to remove excess chocolate. Set on the wax or parchment paper to set.

When they are dry, add the candy eyeballs and a mouth using a small dab of black frosting. Allow to set before layering to store, using parchment between each layer.

If you've tried this recipe, come back and let us know how it was in the comments or star ratings.
Nutrition
Calories:
106
kcal
,
Carbohydrates:
12
g
,
Protein:
1
g
,
Fat:
6
g
,
Saturated Fat:
4
g
,
Cholesterol:
4
mg
,
Sodium:
25
mg
,
Potassium:
54
mg
,
Fiber:
1
g
,
Sugar:
12
g
,
Vitamin A:
6
IU
,
Vitamin C:
1
mg
,
Calcium:
38
mg
,
Iron:
1
mg