Candy Corn Sugar Cookie Recipe
These Halloween sugar cookies are a fun and festive way to help you celebrate Halloween! They look great and taste amazing. They're a classic twist on your typical Halloween cookies.
The kids will love them!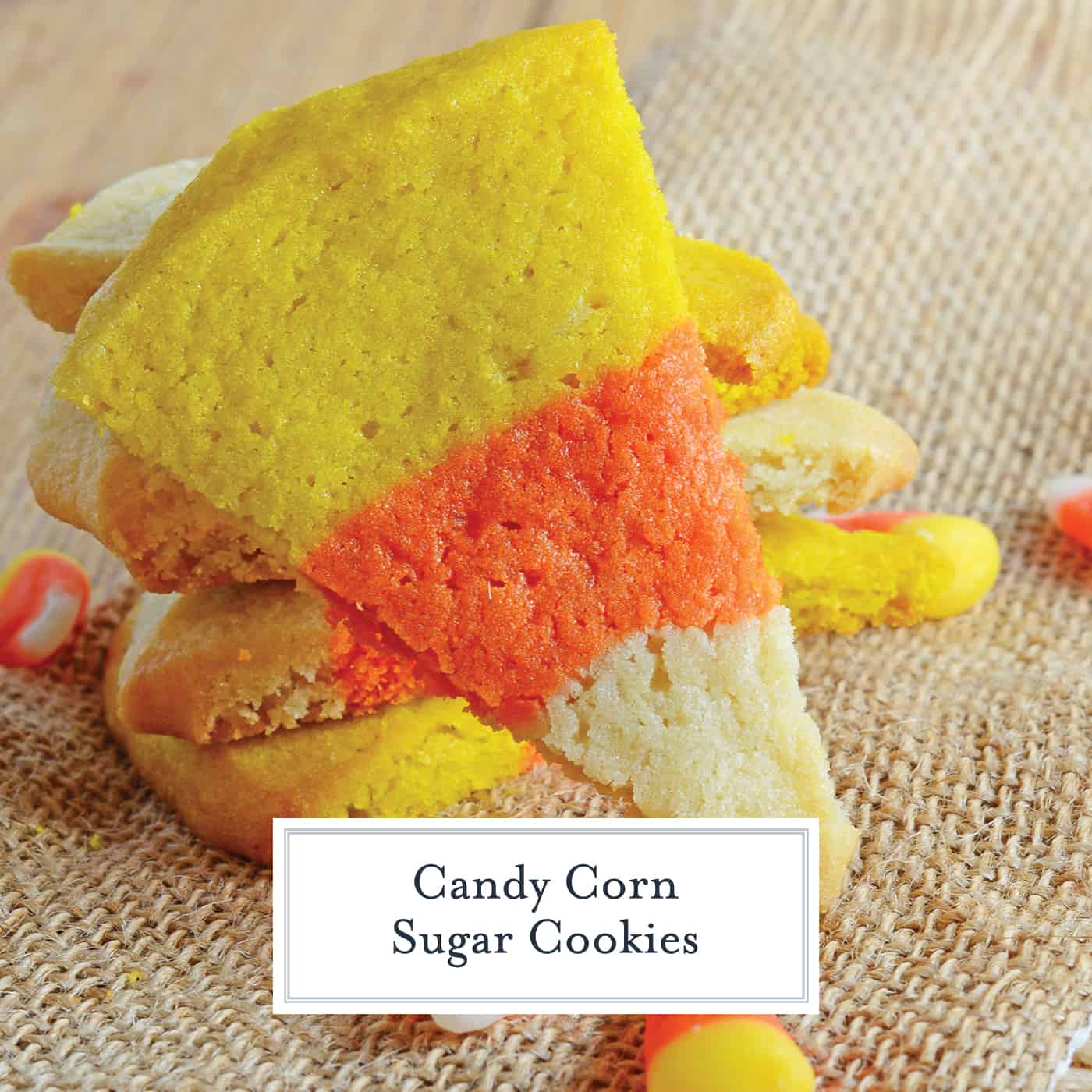 Candy Corn Sugar Cookies are the perfect Halloween Cookie! These festive and easy to make Halloween treats are perfect for any costume party!
Why did I decide to make Candy Corn Sugar cookies? It seems that all of my favorite candy is holiday themed, among them is candy corn.
Rich in honey and sugar I can only withstand a few bites. They also happen to be iconic to Halloween and fall even though they are available year round.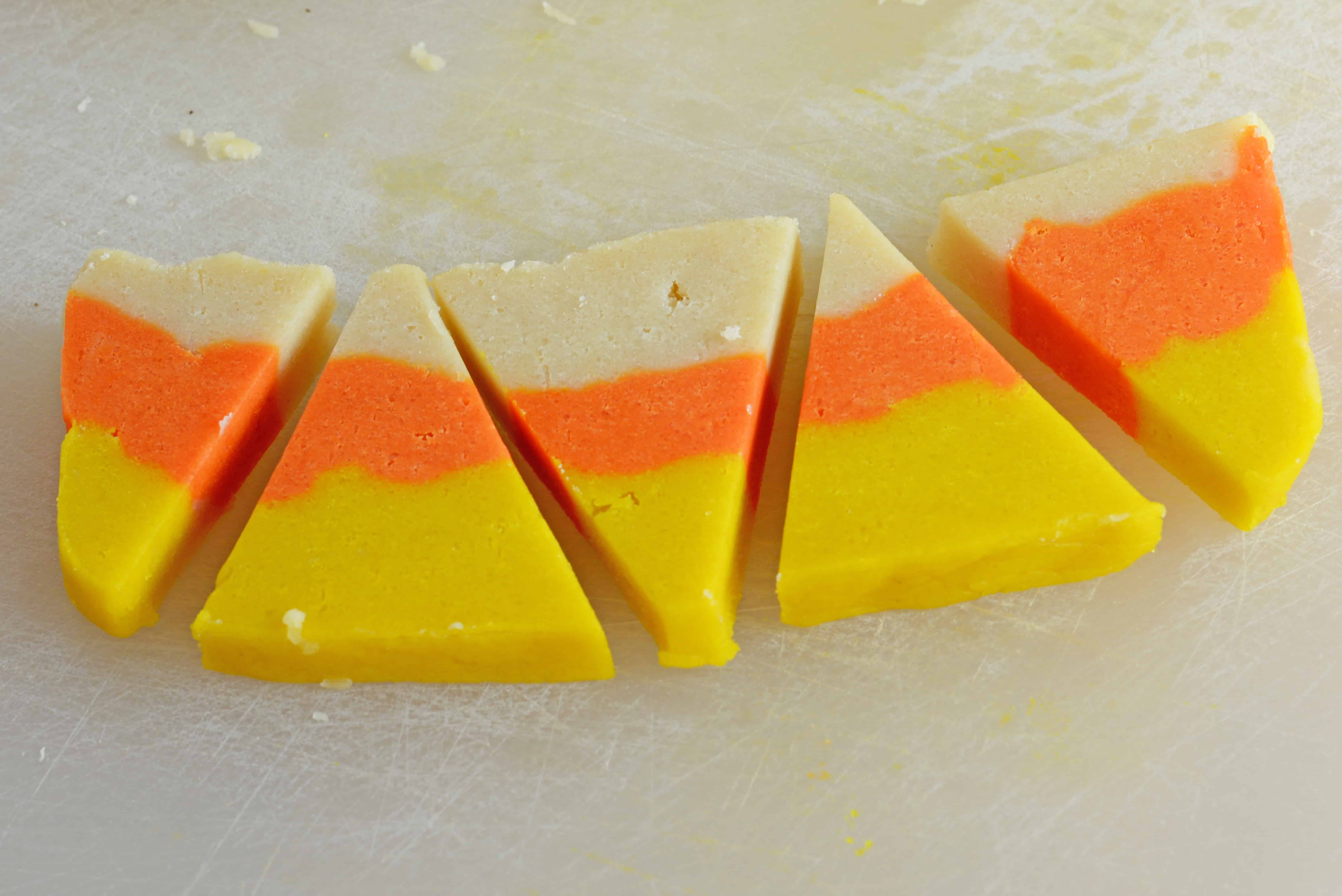 Candy Corn Sugar Cookies only resemble the look of candy corn, not the taste. I figured if I needed something less sweet, that I could create all the festive nature with less sugar!
The taste is a traditional vanilla flavored sugar cookie without being super sweet. If you want honey, substitute a tablespoon or so of honey for sugar. You can also flavor your sugar cookies with almond or other flavors or extract.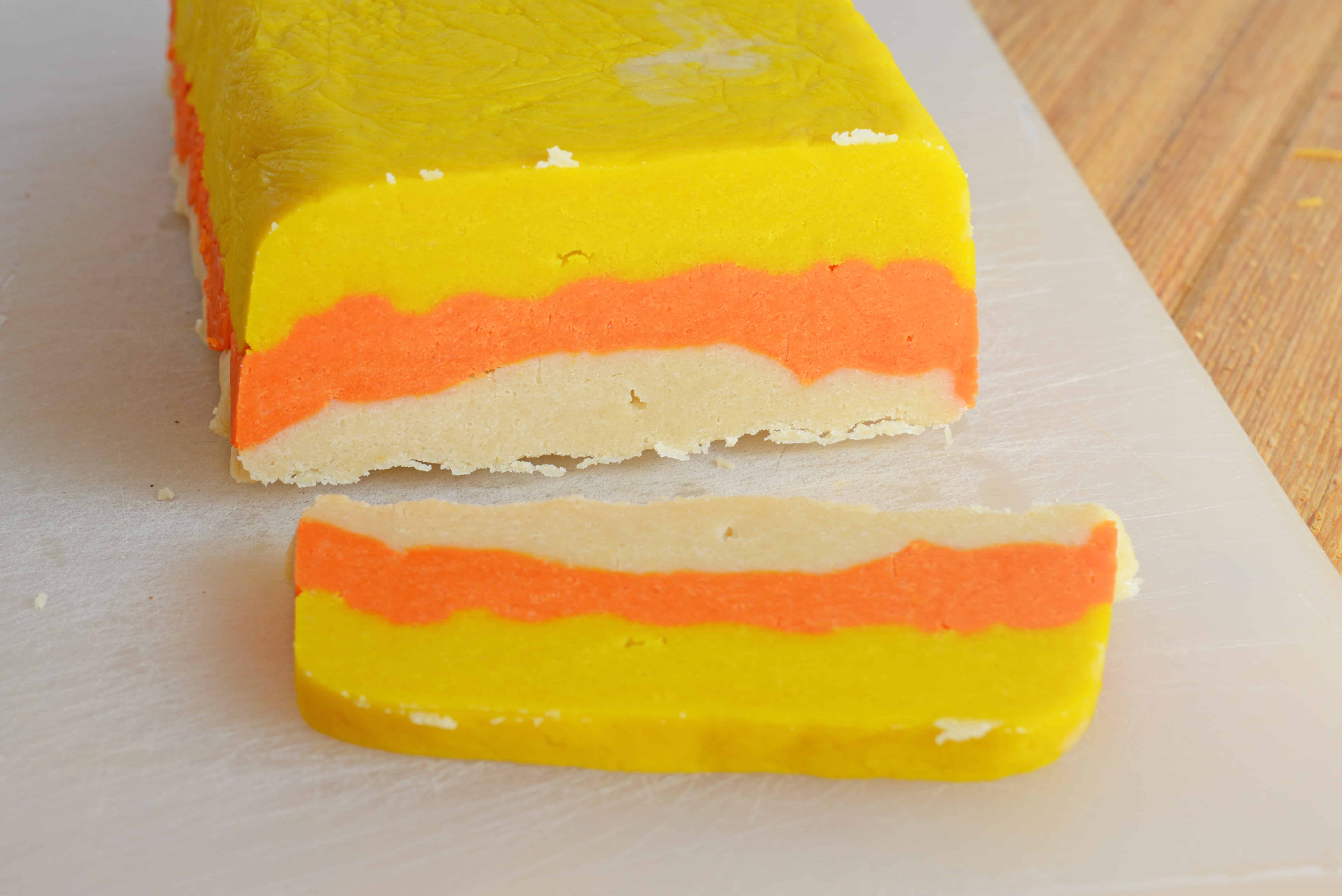 The layering process is unique to these cookies for sure. And it also means that every other cookie will be "backwards" to the traditional candy corn.
Having a stand mixer, or at the very least a handheld electric mixer, to make sure the food coloring is equally distributed throughout the dough. It will also save your arms from being super sore from mixing!
Of course you can choose to decorate with frosting or press real candy corn's into the cookie right after you take it out of the oven if you do want something a little more sweet.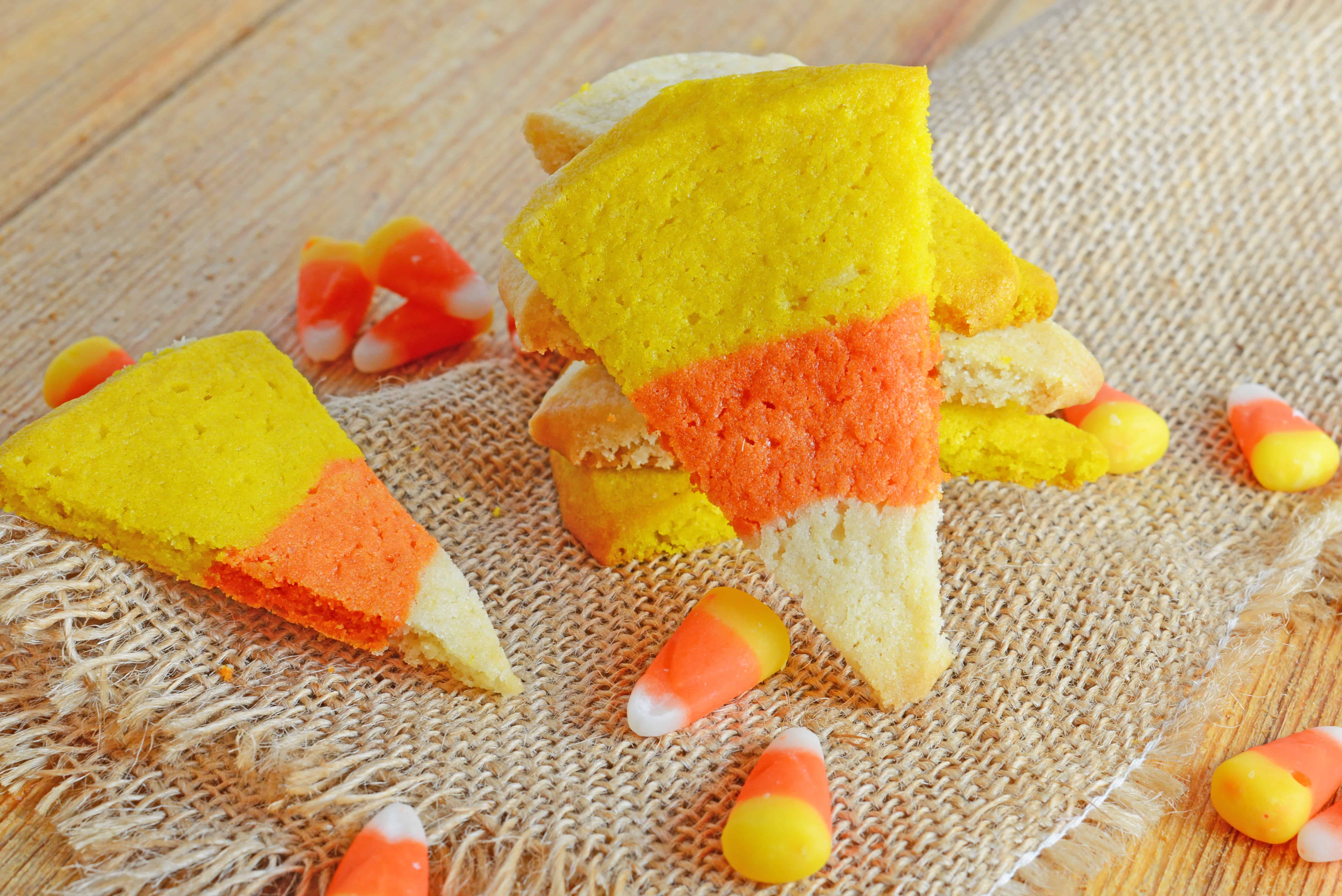 If you loved these Halloween Cookies be sure to check out these other easy Halloween desserts: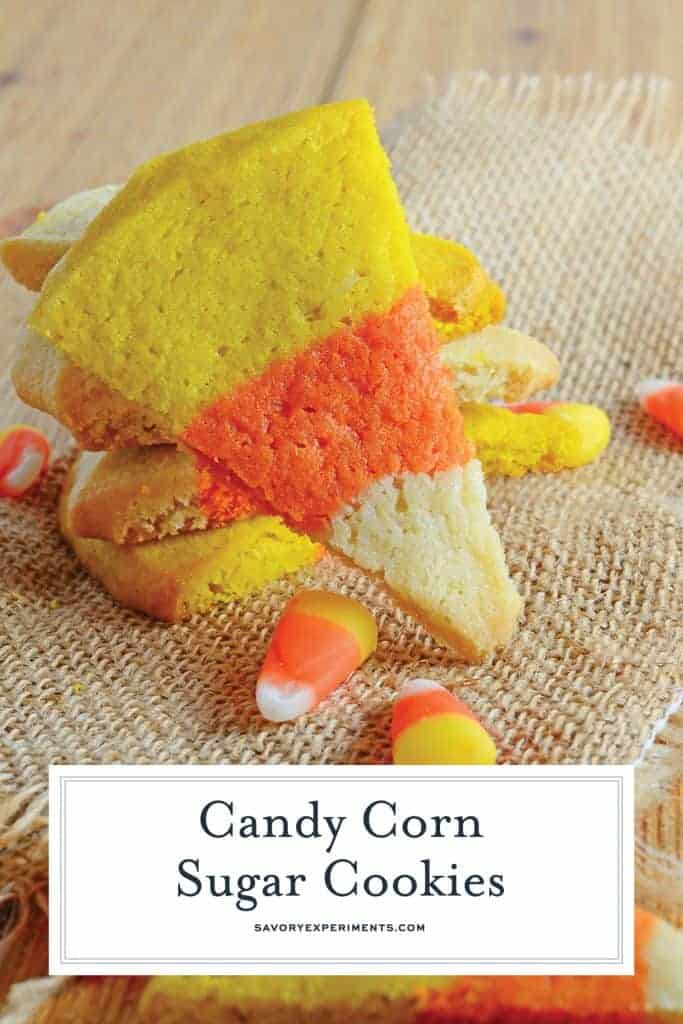 Tools for making Candy Corn Sugar Cookies:
Rolling Mat– For rolling out any dough or cookies or just protecting your counters and work space!
Insulated Cookie Sheet– Insulated cookie sheets allow hot air to circulate around the entire cookie, resulting in even baking.
Stand Mixer– I lived for years without one and I can tell you with 100% confidence that life with one is easier and it is worth the investment.
Sifter– Sifting makes all of your baked goods smooth and fluffy. No more lumps! I prefer a hand crank so I can switch directions and get more sifted through faster.
Bread Pan – for layering and refrigerating the dough.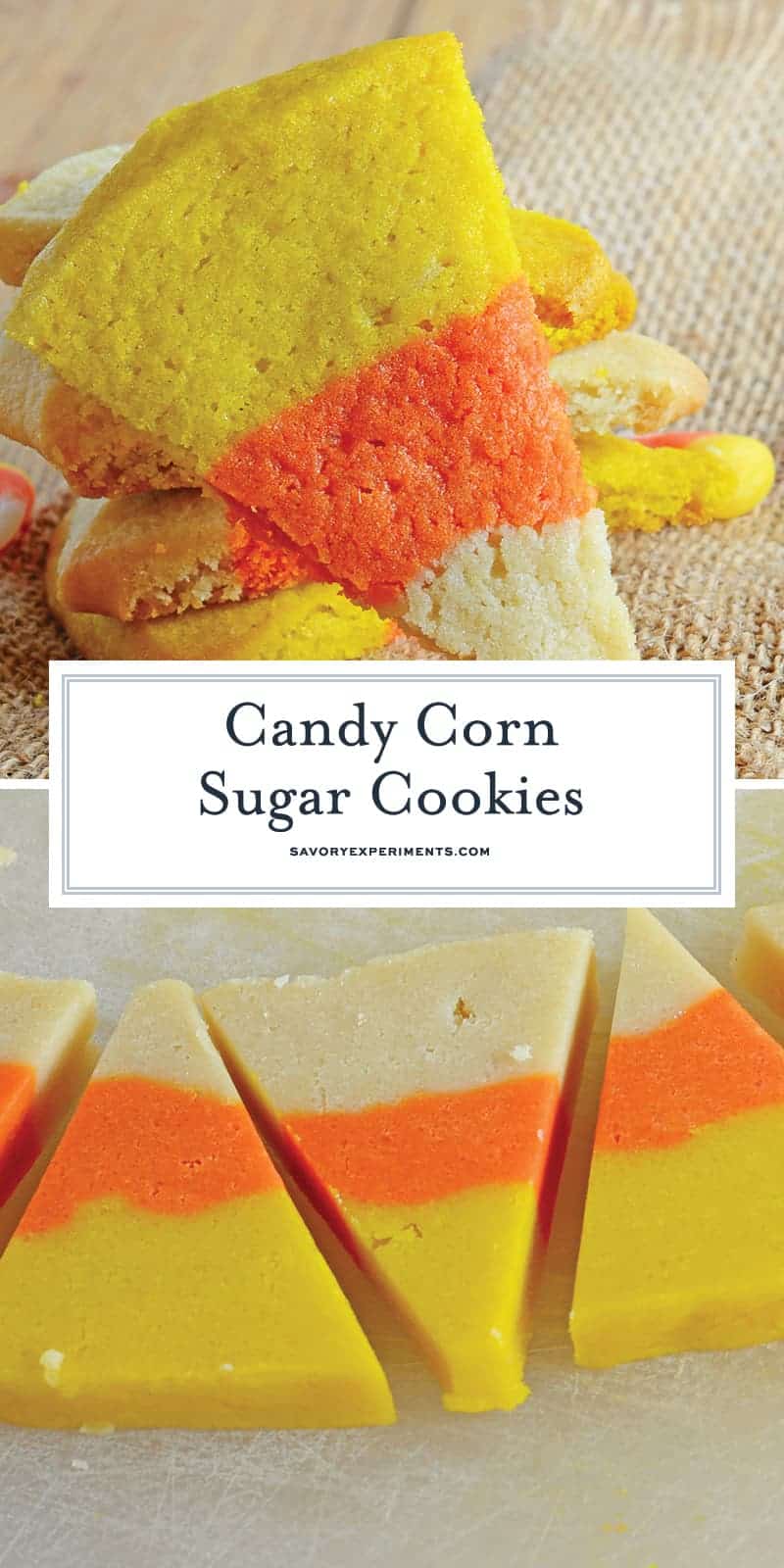 CONNECT WITH SAVORY EXPERIMENTS!

Be sure to follow me on social media, so you never miss a post!

Facebook | Twitter | Youtube
Pinterest | Instagram

Get our FREE 8 Day E-Course on How to Be a Better Home Cook. Sign up HERE!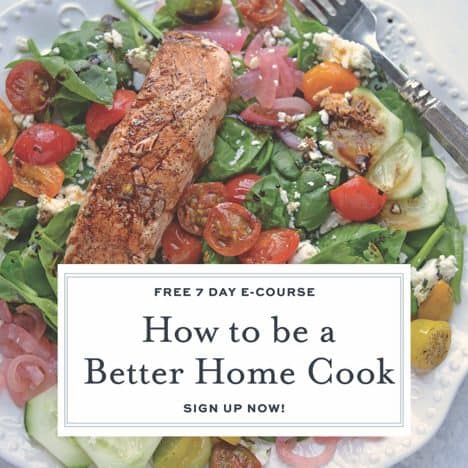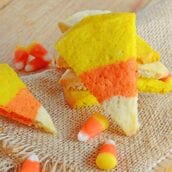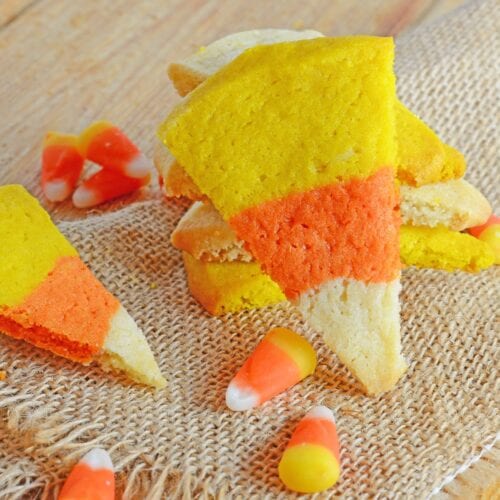 Print Recipe
Candy Corn Sugar Cookies
Candy Corn Sugar Cookies are the perfect Halloween Cookie! These festive and easy to make Halloween treats are perfect for any costume party!
Ingredients
2

cups

unsalted butter

, softened

2 1/2

cups

sugar

2

eggs

, room temperature

3

teaspoons

vanilla

1

teaspoon

salt

5 1/2

cups

flour

1

teaspoon

baking soda

Red Food Coloring

Yellow Food Coloring
Instructions
Using an electric mixer and a large mixing bowl or a stand mixer fitted with a paddle attachment, cream butter and sugar until light and fluffy.

Add egg and vanilla, mixing well.

Sift together flour, salt and baking soda. Slowly (to avoid a flour bomb) add to cookie dough until fully blended. Dough will be dense. Your mixer might have a hard time mixing by the time you have added all of the flour.

Divide dough into three separate bowls. Return one bowl to the bowl of the stand mixer or to the large mixing bowl. Add 14 drops of yellow food coloring and 6 drops of red food coloring. Mix well to avoid streaking. All food colors are different; you might tweak the amount of drops to achieve the perfect candy corn orange coloring. Remove orange dough and set aside.

Rinse the bowl and mixing element. Add second bowl of plain dough with 14 drops of yellow food coloring. Mix well. As before, add more if the coloring is slightly off or not bright enough. The last bowl will be plain or "white".

Line an 8 or 9 inch bread pan with heavy duty plastic wrap or parchment paper. Now you will layer the dough. Mash the yellow dough down into the bottom of the pan, pressing it into the corners and spreading it evenly. Next add the orange dough and repeat. Lastly, add the white dough. Press dough down firmly with your fingers to ensure that there are no air bubbles in between layers. Cover and refrigerate a minimum of 2 hours to set the dough.

Preheat oven to 375 degrees. Remove dough from refrigerator and gently pull the lining, with dough, out from the bread pan. You will have a cookie dough loaf. Slice the loaf into 1/4 inch slices.

Cut the slice into wedges, the shape of candy corn. You will most likely discard (or sample) a small amount of dough from either end.

Arrange on a baking sheet lined with parchment paper about 2 inches apart. The dough will expand slightly and you don't want your corn sticking together!

Bake for 7-10 minutes or until cookies look slightly under cooked. Do not allow them to brown. Remove and allow to cool for several minutes on the baking sheet. If needed, trim the edges of the cookies before transferring to a cooling rack.

If you've made these, come back and let us know how it went!
Nutrition
Calories:
218
kcal
|
Carbohydrates:
28
g
|
Protein:
2
g
|
Fat:
10
g
|
Saturated Fat:
6
g
|
Cholesterol:
36
mg
|
Sodium:
100
mg
|
Potassium:
26
mg
|
Sugar:
13
g
|
Vitamin A:
330
IU
|
Calcium:
7
mg
|
Iron:
0.9
mg