Cake Cone Witch Hats are a Halloween treat that is such a fun activity to do with the kids. Everyone will love getting to make and decorate their own cupcake cone … as well as getting to eat it!
Witch Hat Cake Cones
Cake Cone Witch Hats are the perfect halloween activity for kids! All you have to do is bake cake into a waffle cone, cap it with a cookie, and let them decorate their own treats!
Cake Cone Witch Hats were initially brought to my attention by my friend Nathalie. She saw them on a magazine cover while at the grocery store.
Of course, we spent an entire Sunday Sunday afternoon making our own! All adults, no kids, not weird. I swear.
We still aren't entirely sure if the cones she spied were cake cones or not, but really, what is the point of having a frosted cone if it isn't filled with anything?
And I am a woman who loves a good cake or cupcake, so naturally, they needed cake.
Use whatever cake you want, too! Funfetti, yes please! Chocolate, go for it. Vanilla, yes, you purist.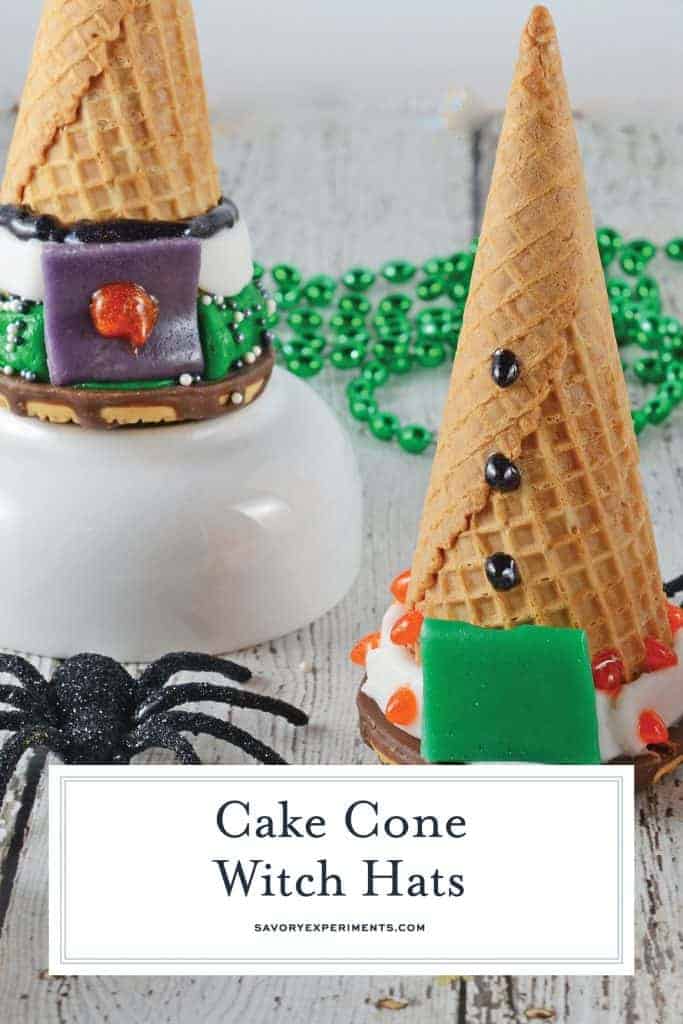 How to Make Cake Cones
ONE. If you don't own a cake cone holder, don't worry, all you need is a bundt pan. Cover it with heavy duty aluminum foil and then carefully poke a hole for each cone.
Unless you are a weirdo obsessed with baking cakes in bundt pans (like me!), you can bake them in stages.
TWO. Then bake, allow them to cool and frost them (also known as the glue) and top with a Fudge Stripe cookie to seal. I like to allow mine to set a little so the "lid" doesn't come sliding off during the decor phase.
THREE. Next, grab a bunch of frosting tubes with tips and random candy to decorate. For the witch hat buckles, I used Rips Licorice or Airheads snipped to a square.
I hope you and your family have a fun and safe Halloween, complete with Cake Cone Witch Hats!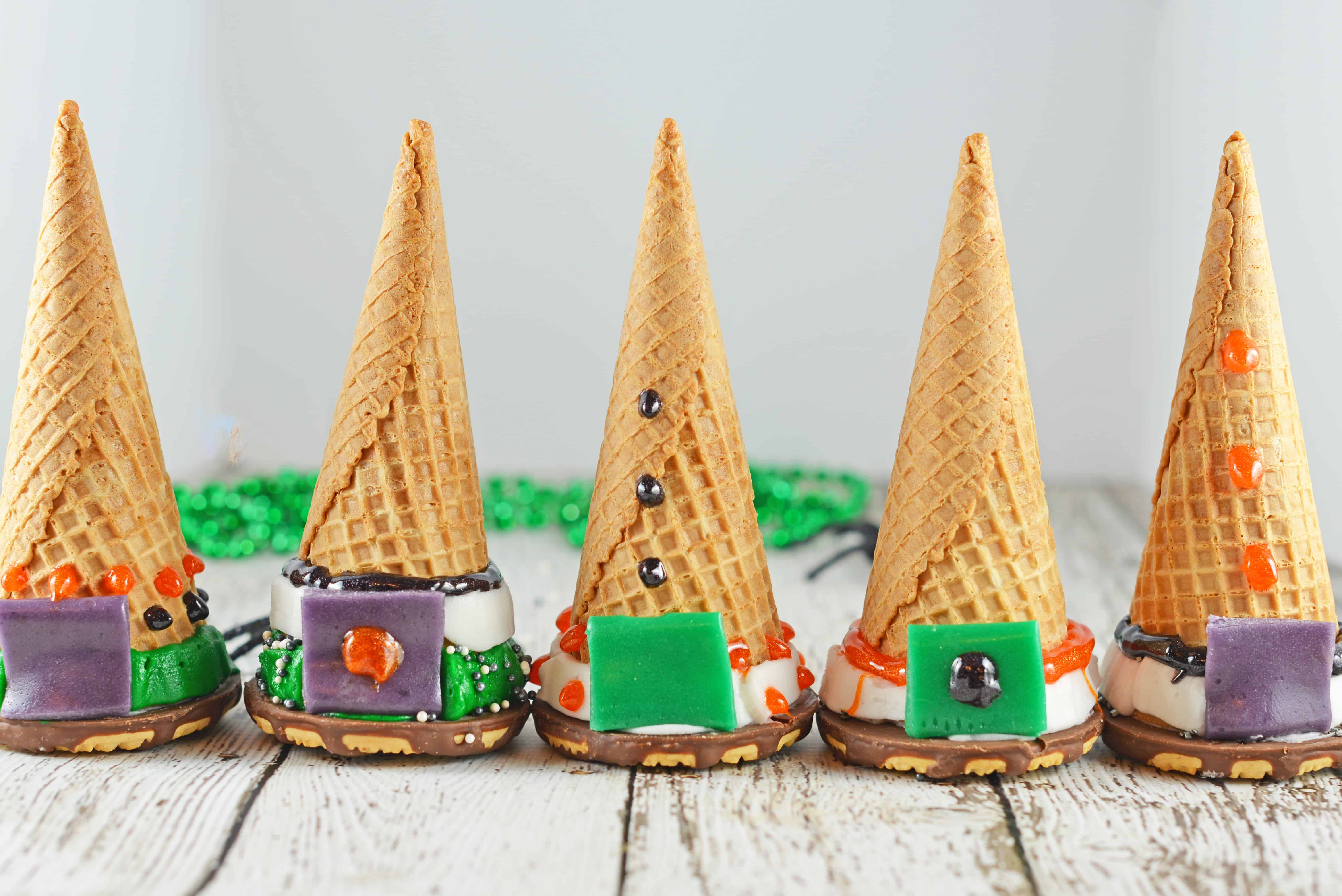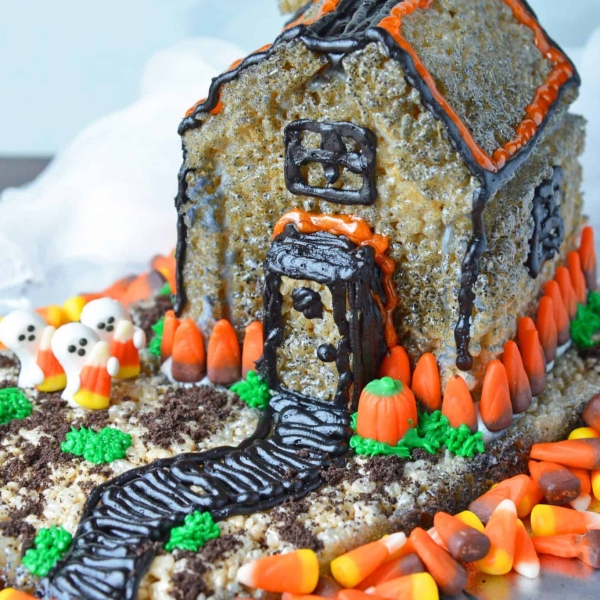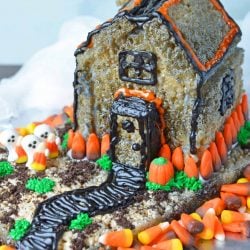 Rice Krispie Treat Haunted House
With this Rice Krispie Treat house template, you can make an adorable haunted house to display and then eat. Similar to a gingerbread house, this is part Halloween craft and party Halloween dessert. Fun and easy!
See The Recipe!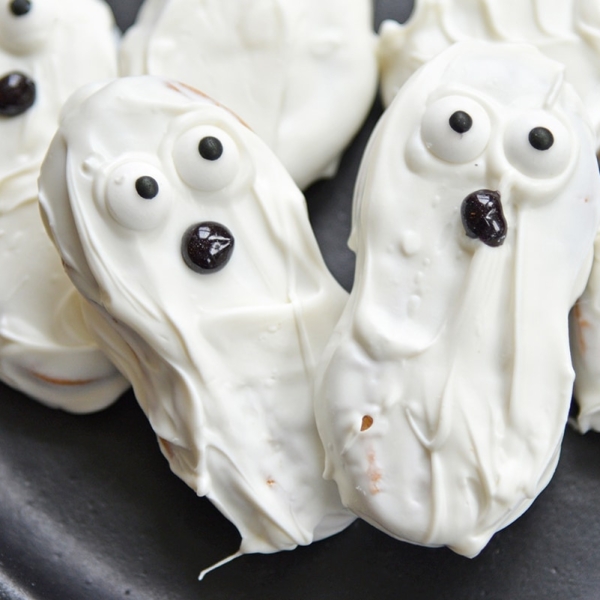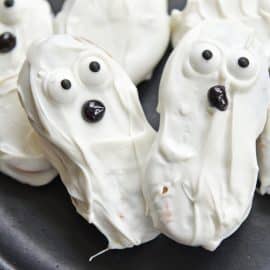 Tools for making Cake Cones:
Bundt Pan– Any shape will do since the cones don't "take shape". The traditional is great but the swirl is also a lot of fun and can be made into fun colored cakes as well.
Cake Cone Holder – If you don't want to mess around with a DIY cake cone holder, just get a premade one!
Cake Cone Witch Hats
Cake Cone Witch Hats are the perfect Halloween activity for kids! Bake cake into a waffle cone, cap it with a cookie and let them decorate their own treat!
Ingredients
24

waffle cones

look for ones with an even rim

1

box

yellow cake mix

Ingredients to Prepare Yellow Cake Mix- see box

1

cup

chocolate frosting

24

fudge stripe cookies

or other favorite cookie

Candy for decorating

Frosting tubes
Instructions
Preheat oven to 350 degrees. Cover a bundt pan with heavy duty aluminum foil, wrapping tightly. Use two layers if you are concerned about the sturdiness. Using a sharp knife poke 12 small holes around the circle. Insert waffle cones so they are secured upright for filling and baking. If you are making 24 you will only do half at a time. If you are only making 12, see note below for cake instructions.

Prepare cake mix as directed on box. Fill each sugar cone 2/3 full. Bake on the second to lowest rack for 14-16 minutes or until tops spring back when gently pressed. Remove and allow to cool. It is okay if the cake mix has bubbled at the top. You can choose to trim this so they fit flush against the cookie or prop them on the cookie making the hat look slightly tilted.

When cones are fully cooled, frost the cake tops with chocolate frosting, cap with a Fudge Stripe cookie. Place on a wax or parchment paper lined cookie sheet. Allow frosting to set.

Decorate as desired.

If you've tried these, come back to let us know how it went!
Notes
To make only 12 cake cones and a small round cake, grease an 8-inch cake pan lightly with cooking spray. Pour remaining batter into the pan. Bake according to directions on the box for a 2 8-inch cakes. Allow cake to cool and decorate as desired.
Nutrition
Calories:
331
kcal
,
Carbohydrates:
47
g
,
Protein:
2
g
,
Fat:
7
g
,
Saturated Fat:
1
g
,
Sodium:
303
mg
,
Potassium:
71
mg
,
Sugar:
26
g
,
Calcium:
54
mg
,
Iron:
1.5
mg